No, Mr. Trump, we are not disloyal
Jews are not the 'other' in America
Once again, President Trump uses anti-Semitic tropes and dog whistles. Recently, Trump questioned Jewish Americans' loyalty to this country as if Jews are not Americans. His latest round of insults is deeply offensive.   
The Jewish community overwhelmingly votes Democratic in the United States.  In the 2016 presidential election, 71 percent of Jewish voters cast their ballots for the Democratic nominee, Hillary Clinton. In 2008, Jews voted 78 percent for Barack Obama. Trump, in comments to the press, suggested that Jews are disloyal because they vote Democratic—disloyal to America, to Israel and yes, to him. It is shocking.
The president is trafficking in anti-Semitism. It wasn't enough to bless Nazis marching in the streets of Charlottesville or demand that the Jewish community be grateful to him for his policies toward Israel. Trump's words and policies are filled with anti-Semitism, racism, xenophobia, homophobia, and Islamophobia.
The anti-Semitic trope that Jews are disloyal is an old one dating back centuries. It became the excuse for stirring up violence against the Jewish community in many places.  Whether in 15th century Spain leading to the Inquisition or ancient Rome, or Germany in the mid-20th century, the charge of disloyalty is a serious one.
Jews were always seen as "other."  Napoleon's France was the first time Jews were permitted the rights of citizenship. The Jews exiled from our homeland, the Land of Israel, by the Romans in the year 70 were never seen as native Italians, or Russians or Poles. Jews were "Other."
One of the most vivid examples of the charge of disloyalty was the case of French Army Captain Alfred Dreyfus. He was accused and convicted of treason in 1894 for passing army secrets and weapons to the Germans, even though he maintained his innocence. There was ample evidence that anti-Semitic officers concocted the story and that it was someone else who betrayed the country, not Dreyfus. And yet he was found guilty a second time, in 1899, and sentenced to life on Devil's Island. His case and his cause became symbolic for all the Jews of France who endured great anti-Semitism at the end of the 19th century and the beginning of the 20th century.
We, too, must not and cannot let Trump's trope about Jewish American loyalty slide by.  We must assert our position that Jews in America are not "other." We are proud American citizens who bring our Jewish values to our political outlook. We are not disloyal because we vote. Rather, we are patriots because we vote our conscience and our values.  Our loyalty is not to a party or to person. Our loyalty is to our country, the United States of America, and to our God.
Like many groups, the Jewish community has issues that are important to us. We are worried deeply by the attack on immigrants and refugees—having been both in recent memory.  We are worried deeply about climate change and the erosion of protections for wildlife and the earth because our religious teachings demand that we care for God's creation. We are worried deeply about the homeless and the failing safety net in this country because our tradition is to care for the poor, the widow, the orphan and stranger in our midst. 
Judaism teaches that it is the community that must help the poor and impoverished and sets up a system to do so.  We are worried about the security of our elections and the targeting of our free press as our tradition teaches that the word "truth" is one of God's names.  And yes, we are worried that our love for our ancient homeland, Israel, has been jeopardized by Trump and the GOP making it a political football, chipping away at the bipartisan support so necessary for America's strongest ally because of the shared values that we have with one another.
Mr. Trump, the Jewish community will continue to vote, continue to lift up our values and to call out your bigotry whenever it shows. And we will, as a Jewish community, unite more strongly in resisting your political tactics that seek to make Israel and the Jewish people a wedge issue in the upcoming political season.
Underfunded, undermined & unabashedly victorious in Brazil
Country's LGBTQ politicians are bringing diversity to democracy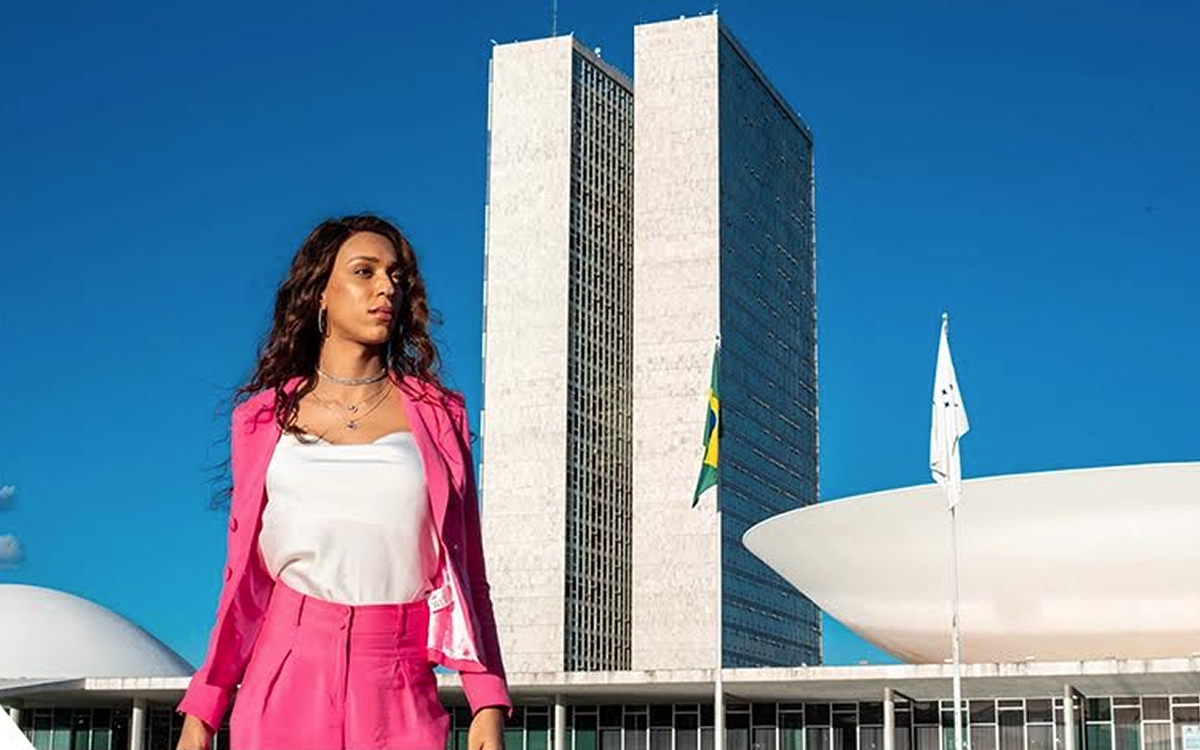 SÃO PAULO — Imagine a group of 18 winners where you'll find only one white man. The recent election in Brazil not only brought back former President Lula, but also doubled the numbers of out LGBT+ representatives in both the national and state legislatures. Out of these 18 elected officials; 16 are women, 14 are black and five are trans. There is only one white man in the group.
Women, LGBT+ and Black people have always showcased political leadership in their communities. But the path to occupy a space in Brazilian institutional politics is often violent and expensive. In recent years, many organized social movements have directed their efforts to set the agenda for public debate into the intersectional realm and support community leaders. In a poll VoteLGBT conducted in 2017 during the São Paulo Pride parade, the biggest in the world, only 45 percent of Pride participants surveyed thought that identity matters when choosing a candidate. In 2022, 85 percent believed so.
Despite the many obstacles and violence they face, Brazilian LGBT+ leaders are gaining political power, often being the most voted individuals in their states or cities. Many trans women who won big in their cities in 2020 advanced to higher positions in 2022. Four LGBT+ people (all women) were elected to congress: Three of them Black and two of them trans, a major breakthrough for LGBT+ political participation.
In Brazil, campaigns are publicly funded. Taxpayers' money goes to parties' leadership who can pretty much do whatever they want with it. There are rules made to fight the underrepresentation of women and Black population, but they are often corrupted by fraud.
Party leaders are often older rich white cis men who focus their efforts and financial support to old allies. LGBT+ politicians receive an average of 6 percent of the legal limit for what parties can provide to a single candidate. When interviewing 30 of those who ran in 2020, we came across three trans women who didn't have enough to eat during their campaigns and still won their seats. Our vote is the cheapest in the election market.
Once elected, LGBT+ officials often face discrimination from their peers in the chambers, many times from their own parties. In a poll we did in 2021 we found that more than half of LGBT party members reported facing discrimination. And those who decided to report it found that there's no accountability for LGBTphobia inside the parties.
Not to mention the constant death threats that (especially) Black and (especially) trans women face when elected or running for office. City Counselor Benny Brioly, who is Black and trans, had to flee the country in 2020 after public security forces refused to offer her protection, which was her legal right. In 2022 she kept getting death threats from a congressman, from his official Cabinet's email. Erika Hilton and Duda Salabert, the first trans women elected for congress in 2022, had to conduct campaign activities with armed security and bulletproof vests.
It seems like the world is looking for the tools we are developing to fight extremism and LGBTphobia. International organizations have long supported many of those initiatives. The partnership and support from organizations like the National Democratic Institute and the LGBT Victory Institute have been fundamental to promote a comprehensive approach to such a complex issue.
VoteLGBT's innovative research strategies have a political and historical importance due to the lack of official data about the LGBT+ population in Brazil. Research has been fundamental for us, not only to give visibility to our issues and set the agenda for public debate, but also to better strategize where to allocate resources. Since 2021 we have been investigating the parties, conducting in-depth interviews with candidates and LGBT caucus. We've produced a list of 327 out LGBT candidates in the 2022 election cycle with their racial and LGBT+ identity self declared. That had never been done before.
We've offered direct support through organizing a series of webinars, creating downloadable toolkits, conducting pressure campaigns on parties, lobbying the Supreme Electoral Court for them to produce official data on our leadership, creating a gallery with over 300 LGBT+ candidates and their priorities, and offering confidential psychological support, especially after such a violent campaign.
It would be dishonest, though, to claim any part of such astounding victories. Each of those candidates struggled to run their underfinanced and understaffed campaign, and still created strategies to reach and amplify their audience brilliantly. Also, we are not the only ones on the task. There are other organizations who are great examples and partners.
Brazil's recent election results show us that an intersectional approach to the issue of political representation is not only possible, but potent. LGBT+ candidates earned over 3.5 million votes. Of those votes, a third went to trans women. Seven in 10 went to a Black candidate. Brazilian voters are showing us what kind of democracy they are willing to fight for. Without diversity there is no democracy.