September 24, 2019 at 11:46 am PDT | by Karen Ocamb
Breaking: Rep. Katie Hill calls for Trump's impeachment (Updated)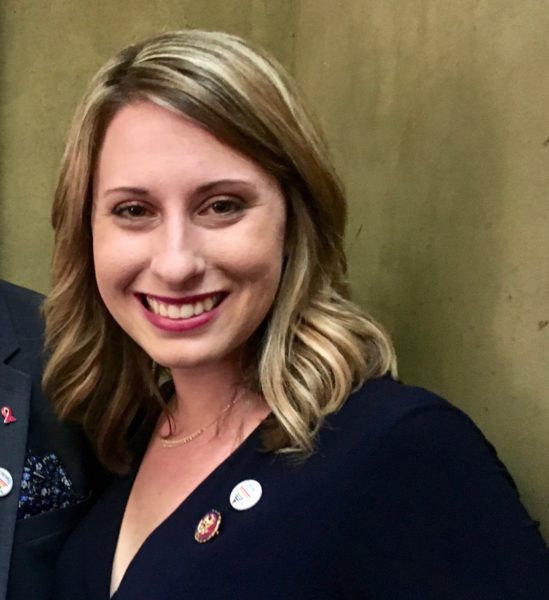 Rep. Katie Hill, an out bisexual from Southern California's 25th District, announced her decision to vote for the impeachment of President Donald Trump.
"I believe in our country, in the Constitution, and in the checks and balances we have in place to protect our democracy. Those rules have ensured that our government is and will always be of the people, by the people, and for the people," Hill said in a statement on Set. 24. "At this point, I believe a threshold has been crossed by this President and those checks and balances are in jeopardy."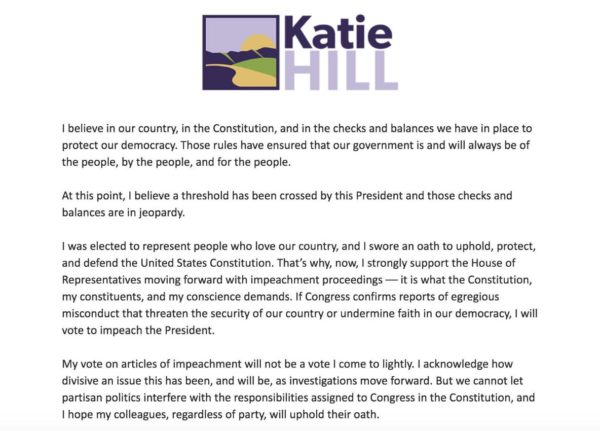 Hill is now one of 167 out of 235 House Democrats supporting impeachment. She joins other freshman congressmembers from SoCal—Gil Cisneros, Katie Porter, Harley Rouda and Mike Levin—who turned their red seats blue and face intense re-election pressure from Republicans anxious to take those seats back.
UPDATE: House Speaker Nancy Pelosi announces formal impeachment inquiry. As of 3:59pm, 188 members of the House have announced they support impeachment out of 218 members needed to impeach.
Rep. Adam Schiff agrees:

Out Rep. Mark Takano released this statement on the impeachment of President Trump. Rep. Takano had previously announced his support for Congress to formally launch impeachment proceedings against the president in August.
"In August, I called on Congress to move forward with formal impeachment proceedings against President Donald Trump. That call has become even more urgent following reports that the President attempted to pressure Ukraine's leader into investigating an American political opponent by withholding U.S. military aid. The President and his Administration are acting further in contravention of the law by preventing the Director of National Intelligence from issuing a mandatory report to Congress on the whistleblower complaint made against the president – preventing Congress once again from fulfilling its Constitutional oversight role and investigating possible wrongdoing. Congress must see the whistleblower's complaint first-hand.

"The president's actions represent an egregious abuse of power and they serve as a textbook definition of corruption with the intent to undermine our democratic process. Soliciting interference in our elections by a foreign power is unlawful and un-American. As I have said before, under our system of checks and balances, Congress has a duty to use the powers granted by our Founders to seek remedy and restore the people's faith in our government. No person is above the law, and that includes the person who holds the highest office in the land. The path forward for Congress is clear; President Trump must be impeached."
UPDATE: Out Los Angeles County Democratic Party Chair Mark J. González released the following statement:
"Today's decision by House Speaker Nancy Pelosi to begin an impeachment inquiry of President Donald Trump did not come lightly. We know that our grassroots Democratic Party activists have been calling for President Trump's impeachment for some time. We are thankful that Speaker Pelosi is taking President Trump's latest attempt at collusion with a foreign country as the serious matter that it is.

We hold all of our Elected Leaders to a high standard that includes not betraying one's country for their own gain. Our Constitution has withstood many challenges, but none more so threatening than from President Trump at this time. This is a time of action that is above partisanship and more about putting our Country first."
The movement towards impeachment has been swift since Rep. Adam Schiff, Chair of the House Intelligence Committee, disclosed that an intelligence whistleblower issued a complaint deemed by the inspector general to be an "urgent concern," which, under federal law, is supposed to be turned over to Congress by the acting director of national intelligence. The White House has refused to allow the report to be turned over under "executive privilege."
News reports quickly started to reveal that the report involved Trump calling the leader of the Ukraine the day after Special Counsel Robert Mueller testified before Congress and asking him eight times to essentially dig up dirt on Joe Biden's son Hunter, who worked for a gas company in that country, in order to hurt his presumed challenger in the 2020 elections. Trump has admitted making the call and subsequently that he held up about $4 million in funds allocated to US ally Ukraine in its fight against Russia.
While the Mueller report focused on candidate Trump and his campaign's involvement with Russian agents to win the 2016 election, this involves the sitting President of the United States asking a foreign government for help in winning the 2020 election and possibly using allocated federal national security funding as leverage.
That was too much for Schiff who said on Sunday, "we may have crossed the Rubicon".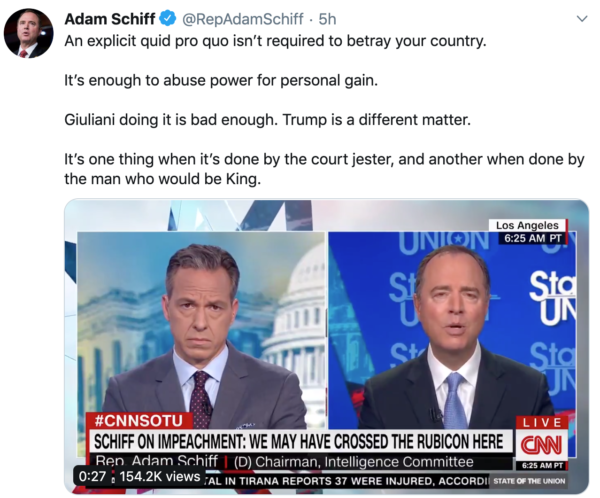 Hill is one of the freshmen Democrats Pelosi has been trying to protect to keep the House in the 2020 elections. And in an interview with the Los Angeles Blade last April, Hill backed Pelosi's experience.
"Honestly, I think that what we have to just say across the board is that impeachment is a political process. If we don't have the votes in the Senate, there's no point," she said. "So what we have to do instead is bring to light all the information for the American people and make sure that they have that information going into the election and can make their own decision."
But Trump's latest actions have left many sworn members of Congress no other choice. Pelosi is expected to issue a statement sometime today about whether the House will go forward with an impeachment inquiry, and if so, how.
Meanwhile, Trump has called for release of the declassified transcript of his call with the Ukrainian leader, though there are already rumblings about whether there might have been other calls and whether this transcript can be trusted.
That trust should be determined after the House Intelligence Committee hears from the whistleblower.

UDATE 9/25, 7:50AM: White House releases summary of phone call between Trump and the Ukrainian leader, in which the president asks the Ukrainian for a favor right after talking about a military purchase. Some think this is a quid pro quo that constitutes an impeachable offense. There are now 211 House members supporting impeachment out of the 218 needed.  
This is a developing and profoundly historical story.