Emmy Awards see LGBT highs, viewership lows
Billy Porter makes history in memorable hat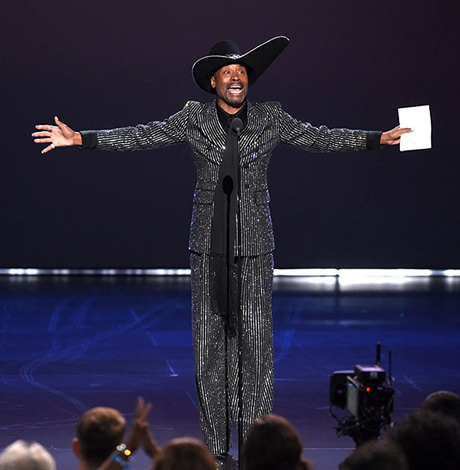 A host wasn't the only thing missing at the 71st Annual Emmy Awards. Viewers stayed away in droves, driving the show's ratings into the furthest recesses of the basement. Airing on Fox, the least-watched Emmys ever can at least claim credit for giving credence to one presenter's bold declaration.
"Television has never been so damn good," crowed Bryan Cranston, which might explain why a paltry 6.9 million people tuned in. Perhaps their time was spent bingeing on the shows that won big that night.
HBO's "Game of Thrones" slayed the competition, with awards for Outstanding Drama Series and Outstanding Supporting Actor in a Drama Series. Peter Dinklage's win saw him top six others, including fellow "Thrones" actors Alfie Allen and Nikolaj Coster-Waldau. Tellingly, only one Supporting Actor nominee came from a network TV show (Chris Sullivan, for "This Is Us"). Everyone else in the category hailed from cable and subscription services (Jonathan Banks and Giancarlo Esposito, of AMC's "Better Call Saul" and Michael Kelly, from Netflix's "House of Cards").
That lopsided representation from sources other than network television was the river that ran through the Emmys, in both wins and nominations.
HBO's "Barry" saw Outstanding Supporting Actor in a Comedy Series nominations for Anthony Carrigan and Henry Winkler, alongside Tony Hale and Stephen Root, of HBO's "Veep." Netflix's "The Kominsky Method" put Alan Arkin in competition for the award. Shutting out network TV entirely was the category's final nominee, and winner: Tony Shalhoub, for Amazon Prime's "The Marvelous Mrs. Maisel."
Not quite the snoozefest its ratings suggest, the Emmys did manage to produce a few new notable moments of LGBT visibility.
Billy Porter made history, as the first openly gay black man to stand at the podium accepting the award for Outstanding Lead Actor in a Drama Series.
The crown jewel of FX's well-cast, '80s-set NYC underground ball culture scene show "Pose," dapper Porter's win for the role of Prey Tell saw the actor declare, "I am so overwhelmed and I am so overjoyed to have lived long enough to see this day." Quoting James Baldwin to reflect his own journey, Porter noted it, "Took many years of vomiting up all the filth that I had been taught about myself and halfway believed before I could walk around this earth like I had the right to be here," then declared, "I have the right. You have the right. We all have the right."
Answering in the affirmative the question, "Does anyone still wear a hat?" and proving there's no better son than a gay one, Porter praised "my mama Clorinda," noting, "There's no stronger, more resilient woman who has graced this earth. I love you, Mommy." The actor also sent "Much love to the Actors Fund nursing home," as well as his castmates, his sister, his manager of 29 years, "Pose" creator Ryan Murphy, and his husband, Adam Porter Smith.
"I screamed when Billy Porter won," recalls Frank DeCaro, whose recently released "Drag: Combing Through the Big Wigs of Show Business" chronicles drag artistry from the beginning of time to the present. "I said he would win an Emmy for Pray Tell the moment he sang 'Home,' from 'The Wiz,' in Season 1. This is the TV our little gay hearts asked for when we were growing up!"
And it's not just the win that makes DeCaro's heart flutter. "Pose," he says, is "important television. It lets us into the lives of transgender people, and helps those of us who aren't trans understand in a way that no speech or public service announcement ever could."
DeCaro cites "unabashed moments of pure happiness" as the series' most groundbreaking contribution. "That day-at-the-beach episode," he recalls, "was the most radical thing ever. Nothing bad happened to the girls. Nothing! They were happy from beginning to end. Everyone deserves round-the-clock joy once in a while—and trans characters, as best I know, have never had that on television. It's time."
Longtime ally Patricia Arquette, who won the Outstanding Supporting Actress in a Limited Series or Movie award for her work on Hulu's "The Act," used her public platform to further transgender visibility.
"…In my heart, I'm so sad I lost my sister Alexis, and that trans people are still being persecuted," said Arquette, referring her HIV-positive sibling, who died of a heart attack in 2016.
Noting that she is "in mourning every day of my life," Arquette spoke directly to her sister, declaring, "I will be [mourning] the rest of my life for you until we change the world, so that trans people are not persecuted… They're human beings. Let's give them jobs. Let's get rid of this bias that we have everywhere."
"Obviously, the big winner of the night was Patricia Arquette," said Los Angeles-based drag queen Jackie Beat, who tweeted, immediately after the speech, "It makes perfect sense that Patricia Arquette was dressed like an angel tonight."
Beat told the Blade she appreciates "what a tireless ally she has been for the entire LGBT community, but especially our Trans brothers and sisters. I think it's incredible that she consistently uses the very limited time she has in front of millions to make a point or support a cause."
Referencing that 2015 acceptance speech upon winning the Best Supporting Actress Oscar for her work in "Boyhood," Beat says she "was so disheartened by the subsequent backlash" Arquette received, when she made an appeal for wage equality. "I saw people on social media calling her an 'entitled White woman,' " recalls Beat, noting, "I have known Patty for 30 years, and she is the real deal. The Arquette kids were raised in a f**king commune, not a gated community. We liberals need to stop attacking the very people who are obviously on our side and fighting the good fight. Mark my words, this will be our downfall… So, thank you Patricia, not only for your fearless and vanity-free performances, but also for fighting for what's right. And for keeping the spirit of our sister Alexis alive through activism."
"RuPaul's Drag Race" drag mother extraordinaire, RuPaul Charles, snatched yet another Emmy, winning again in the Outstanding Host for a Reality or Competition Program category.
For "Big Wigs" author DeCaro, it was "a landmark moment and a sign of real progress. A drag queen—and let me add, a flamboyant gay man of color—won a fourth Emmy Award, and then kissed his husband on the mouth, as you do when you're married and something great happens."
DeCaro called that moment "fantastic," imagining the impact it had on "that kid sitting at home, feeling alone, watching the Emmys, and seeing that. When I was at my most impressionable age, the only gays I saw on TV were either tragic or closeted. Now they're real and wear dresses for money. I'd call that a definite improvement."
'And Just Like That' ditches preachiness to become addictive TV
Second season wraps Aug. 24 with Samantha Jones cameo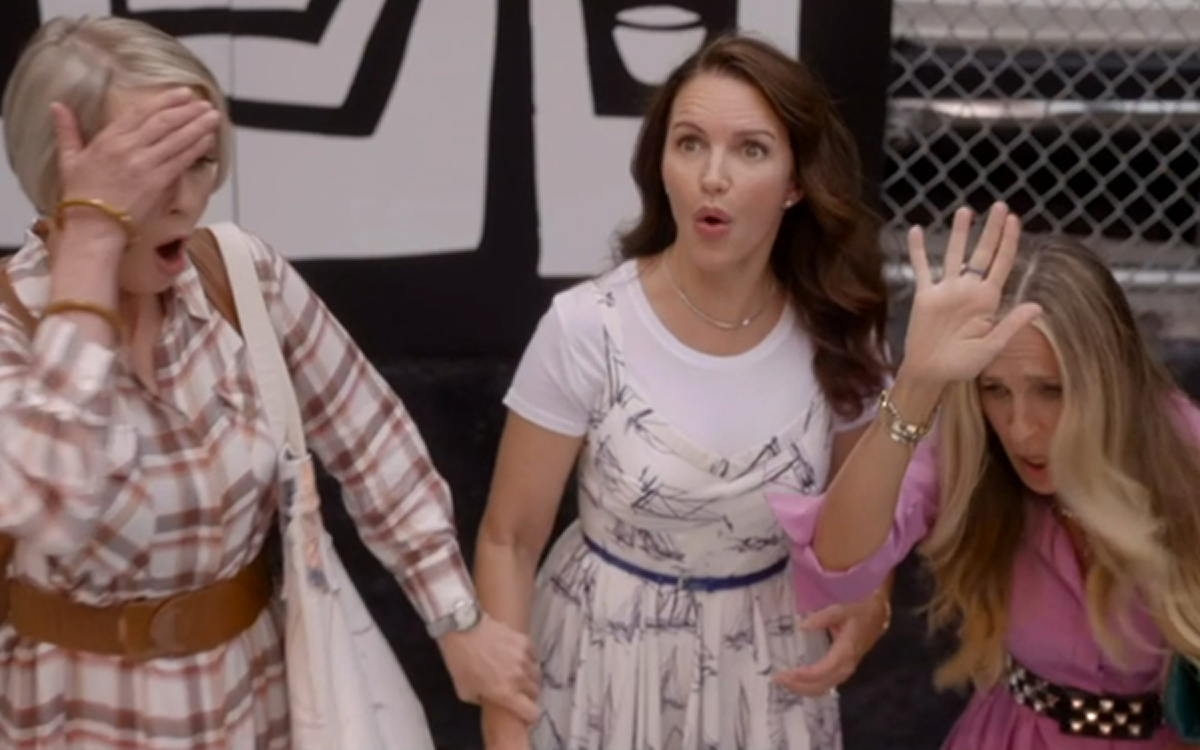 "Do you know where your children are?" New York TV station WNYW asks the parents in its audience every night.
This isn't a worry for Charlotte York Goldenblatt (Kristin Davis) or Lisa Todd Wexley (Nicole Ari Parker) two of the main characters featured on season two of "And Just Like That," (AJLT), the "Sex and the City" reboot, airing weekly on Max through Aug. 24. Their children (from elementary school kids to teens) are safely ensconced at a posh summer camp. While their off-spring are away, Charlotte, who back in the day ran an art gallery, is having sex so good it's like fireworks on the Fourth of July with her husband Harry (Evan Handler), a highly successful divorce lawyer.
Lisa, a distinguished documentarian filmmaker, and her husband Herbert (Christopher Jackson), a wealthy investment banker who's thinking about running for New York City comptroller, devote themselves to their work. And to enjoying the rare treat of having a drink at a swanky bar by themselves (sans children).
Meanwhile, corporate (turned human rights) lawyer Miranda Hobbes (Cynthia Nixon) knows all too well where her son Brady (Niall Cunningham) is. He's living with Steve (David Eigenberg), his dad, in their Brooklyn townhouse. Miranda's relationship with Che Diaz (Sara Ramirez), a nonbinary, bisexual, Mexican, Irish comedian who's making a TV sitcom pilot with Tony Danza (playing himself), has brought Miranda, Steve and Brady into therapy.
Carrie Bradshaw, writer, (Sarah Jessica Parker), Seema Patel, a hot real estate agent, (Sarita Choudhury) and Dr. Nya Wallace (Karen Pittman), a Columbia Law School professor, are so busy grieving, having exit-out-of-grief sex and mourning stolen Birken bags that they wouldn't have time for children. Nya is divorcing her musician husband Andre Rashad (LeRoy McClain) after many years of marriage because he wants kids and she doesn't.
Yes! It's summer in the city, "And Just Like That," the fab ladies are back! With less sizzle than in "Sex and the City," but still fun watch. No matter how hard the writers try, no amount of additional characters could make up for the absence of Samantha Jones, the utterly fabulous PR maven, who was an integral part of "Sex and the City." Even the highly talented Samantha Irby, a bisexual producer and writer of AJLT, couldn't create a character as captivating as Samantha, who is slated to make a cameo in the final episode.
But the sophomore season of "And Just Like That" has its share of style and juice. How can you resist a series that, in the seven episodes that have aired to date, has given us a (fictional) Met gala and a "cum slut?"
The first season of AJLT spent much time trying to make "Sex and the City" (SATC) more diverse.
It succeeded in many ways. Che, Seema, Lisa and Nya, the new featured characters of color, have intriguing stories. They have good chemistry with the original SATC characters. Yet, it sometimes felt heavy-handed and joyless.
The current season of the show, mostly, dispenses with the exposition and preachiness of season 1. In this season, sex and glam fashion are back in the city.
The episode of "AJLT," when Charlotte becomes Harry's Kegel coach to help him with his "dust balls" when he can't ejaculate and Carrie talks of "Casper, the friendly cum," is nearly as good as SATC's "funky spunk" episode.
The women on AJLT are fab. But one of the most enjoyable characters is Anthony Marantino (Mario Cantone), who runs the Hot Fellas bakery. In one hilarious scene, he turns to his BFF Charlotte when he desperately needs to find a Hot Fella to appear with him on Drew Barrymore's talk show. This being AJLT, Charlotte instantly finds a hot Italian poet who more than fits the bill. Dressed in his Hot Fellas uniform, the poet's "package" is so great, that looking at him makes Barrymore sweat.
In another scene, Lisa, wearing a dress (designed by Valentino) with a huge train that won't fit into a cab, has to walk 10 blocks to the Met Gala. "It's not crazy," she says to Herbert, who's holding her train, "It's Valentino."
"And Just Like That" isn't prestige TV. It's more important: it's addictive entertainment.