Trans March on DC called 'first major step' in visibility campaign
Participants march past Justice Department, Trump International Hotel
WASHINGTON— Organizers and observers said between 1,500 and 3,000 people turned out on Saturday for the first ever National Transgender Visibility March on Washington in which scores of participants held signs proudly declaring their status as transgender or gender nonconforming Americans.
The march kicked off at 11:35 a.m. on Sept. 28 from Freedom Plaza in downtown D.C. following the completion of a two-and-a-half hour rally. It traveled along Pennsylvania Avenue, N.W., from 13th to 4th Streets, where the march ended four blocks from the U.S. Capitol.
Among the speakers at the rally was trans actress of "Pose" and "American Horror Story" fame Angelica Ross, who made an impassioned call for unity, inclusiveness and compassion within the transgender and overall LGBT rights movements and those movements' allies.
Also expressing strong support at the rally for the march and trans rights were D.C. Congressional Delegate Eleanor Holmes Norton and Sheila Alexander-Reid, director of D.C. Mayor Muriel Bowser's Office of LGBTQ Affairs.
Reid read an official proclamation issued by the mayor declaring Sept. 28, 2019, Trans Visibility Day in D.C.
Many of the marchers carried signs saying, "Trans Lives Matter." Several told the Washington Blade they were moved and inspired as they walked past the buildings along Pennsylvania Avenue that they said symbolize the people and the institutions they are calling on to change to ensure their equal rights and dignity.
Among the buildings the marchers walked past were the FBI Headquarters, the Trump International Hotel, and the Justice Department, which, under the administration of President Trump, has taken positions against transg rights in pending federal court cases.
"This is amazing," said trans activist Maggie Downs, who said she traveled from Florida to attend the march. "I'm here for black trans lives and trans children's lives, and then my own rights," she said as she walked past the Trump hotel.
"We're here not to be invisible, which is what this administration is trying to do to us," she told the Blade.
Marty Drake, an official with the Montgomery County Pride Center who marched with the group Maryland Trans Unity, said this was not the first time he has walked past the Trump hotel in a protest march.
"It's always a treat going by the Trump hotel in any march," he said. "This group was very polite. The shouts of 'shame, shame, shame,' were a lot politer than some of the other marches I've been at," he said. "It was remarkable that a lot of people simply waved at the Trump Hotel."
Several speakers at the rally, including Rodrigo Heng-Lehtinen, deputy executive director at the D.C.-based National Center for Transgender Equality, said an important objective of the trans rights movement is securing passage by Congress of the Equality Act, an LGBT civil rights bill that includes strong protections for trans people.
"Today's march is about the power and visibility to get us equality," he said. "At a lightening pace, Americans have seen our power at work as transgender people have moved from a side issue that our neighbors didn't even know a lot about to a priority in the halls of power and the presidential campaign," he told the rally.
"A community long forced into the darkness is now finally stepping into the daylight," Heng-Lehtinen said. "But what the grassroots organizers of this march and what you know is that progress for any of us is not enough unless it is progress for all of us."
Alphonso David, president of the Human Rights Campaign, one of the nation's largest LGBT civil rights groups, described as a crisis the large number of murders of mostly black trans women over the past several years in the U.S.
"As we gather here in the capital of the greatest country on earth there is a crisis raging across our country," David, a long time civil rights attorney, told the rally. "There is a crisis that is shattering dreams and shattering lives. There is a crisis that has been largely overlooked by the media," he said.
"It is a crisis that has taken the lives of more than 150 transgender people in the past five years, most of them black transgender women," he continued. "It is a crisis that none of us can ignore anymore. We have to stand up. We have to speak out," he said.
"For those of us who are gay or are lesbian or bisexual or queer or who are straight, we have to stand up for the transgender community, said David. "We have to stand up for the transgender community and stand up for them as if they are our family because you are our families."
As in all protest marches in the nation's capital, D.C. police have a policy of not releasing estimates of the number of people who turn out for such events. In the case of Saturday's Trans Visibility March, although no official crowd estimate was released, it was clear to observers that the march was about three and a half blocks long as it traveled along Pennsylvania Avenue in the east bound lanes, which make up half the width of the famous street.
D.C. police closed the entire section of Pennsylvania Avenue between 13 and 4th Streets, where the march ended and many marches gathered at John Marshall Park, a small park located at 4th Street and Pennsylvania Avenue between the Canadian Embassy and the U.S. District Courthouse.
Among those walking in the rear of the march were members of the D.C. Police LGBT Liaison Unit. Also helping to oversee the police escort of the march and the closing of nearby streets was Lt. Brett Parson, who oversees the police liaison units.
"It was a sizable crowd," Parson told the Blade. "And it was cooperative and it was well organized and we were proud to be there to provide safety and security," said Parson, who noted that the entire march and rally went off without incident or any safety related problems.
Among the buildings the march passed near the end of its route on Pennsylvania Avenue were the Newseum, which currently includes an LGBT exhibit on the 50th anniversary of the Stonewall riots. People standing in front both buildings waved at and cheered marchers as they passed in front of the two buildings.
"I think it was fantastic," said Lucky Alexander, the assistant national strategy director for the National Trans Visibility March, as he stood in John Marshall Park following the march. "We got a lot of diversity in the crowd. We didn't have any hiccups as far as any counter protesters," he said. "I think we did a fantastic job."
Added Alexander, who traveled to D.C. from Los Angeles: "I would estimate 3,000 people at least and give or take maybe more than that" attended the march and rally.
Longtime D.C. trans activist Dee Curry called the march a highly successful "first step" in what she noted are plans for an annual trans march on Washington, including one next year in the midst of the 2020 presidential election campaign.
"This is an amazing start to a movement," said Curry, standing at John Marshall Park, named after the first U.S. Supreme Court chief justice, where the marched ended. "I think that the numbers reflect that there is a consensus that we need to step up and do some things," she said. "And I think this will be a catalyst so this will be much bigger next year."
Other speakers at the rally included trans activist Bamby Salcedo, president and CEO of the Trans [email protected] Coalition; Jodie Patterson, chair of the HRC board of directors; Justin Nelson, president of the National LGBT Chamber of Commerce; Carter Brown, founder and executive director of Black Trans Men, Inc.; and trans activists Apyphanie Dawn and Lynn Morrison.
D.C. transgender activist Earline Budd, who was scheduled to speak, had to cancel due to illness, according to Alexander-Reid.
The Blade will be publishing soon the text of excerpts from most of the speakers at the rally.
VP Harris and Second Gentleman join Pride walk to rally at Freedom Plaza
The Capital Pride Alliance, the organization which produces the annual event organized the intersectional LGBTQ+ walk and celebration.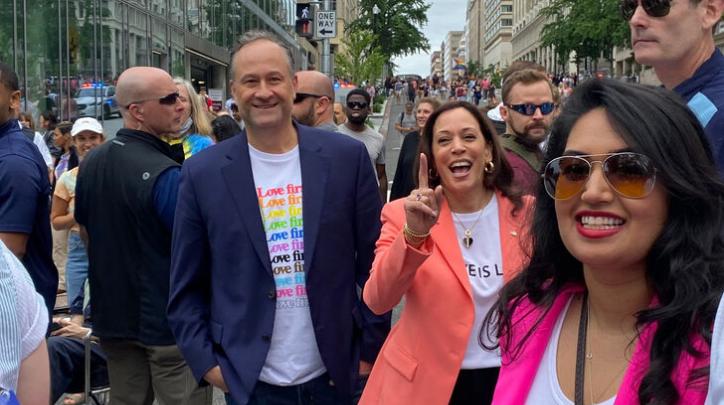 WASHINGTON – To the shock of on-lookers who then burst into cheers Saturday afternoon, Vice-President Kamala Harris and her husband, the Second Gentleman Douglas Emhoff, joined in walking with the Pride marchers on 13th Street NW in the District by the Warner Theatre headed to Freedom Plaza.
Accompanying the Vice-President, White House Pool reporter Eugene Daniels noted the Vice President and second gentleman walked with crowd down 13th and stopped at the Pennsylvania Avenue and E Street NW intersection at the corner of the Freedom Plaza where she talked to the crowd for a bit. Daniels could not hear much but reported that she did say:
"We still have so much to do. We celebrate all the accomplishments. Finally marriage is the law of the land. We need to make sure that our transgender community are all protected."
"There is so much more work to do and I know we are committed."
The crowd chanted her name over and over. She stayed for about ten minutes waving and talking.
The Capital Pride Alliance, the organization which produces the annual event in the nation's capital, because of the pandemic as the District was reopening, had set-up and organized the intersectional Pride Walk and Rally at Freedom Plaza, LGBTQ+ walk and celebration.
At around 12:30, the march departed down P Street NW and traveled to Logan Circle and then headed south on 13th Street to Freedom Plaza. The march ended at Freedom Plaza where a 1:30 p.m. rally was held and where D.C. Mayor Muriel Bowser was one of those who spoke.
Vice President Kamala Harris and Second Gentlemen Douglas Emhoff march in Capital Pride Walk & Rally today. #pride pic.twitter.com/2e3Jyaa7yi

— Washington Blade (@WashBlade) June 12, 2021
Orlando marks the fifth anniversary of the Pulse massacre
"I echo our mayor to say to the survivors and family members of Pulse: it's okay to not be okay. This was a tragedy."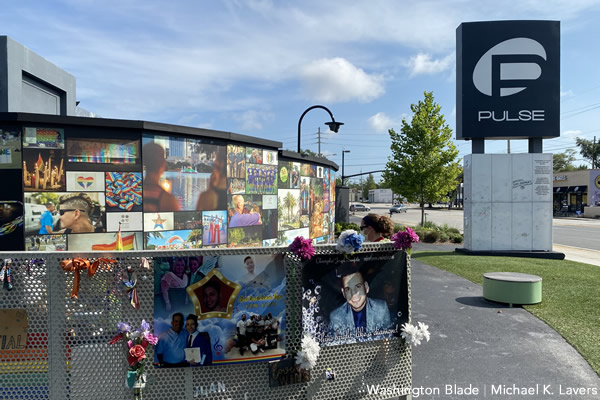 ORLANDO, FL – On that morning five summers ago this date, survivors gathered, stunned and grieving over the horror that had been visited upon them and others frantically calling phones that would never be answered again while a community took stock of the mass murder that had claimed the lives of forty-nine innocents. June, 12, 2016 joined a litany of dates of death and suffering in American history this time impacting the LGBTQ community and beyond.
Saturday, survivors and community leaders gather in Orlando, Florida to commemorate and honor those 49 American lives lost in that act of senseless gun violence.
"Orlando was called to action on June 12, 2016. Our city was asked to find in ourselves the strength to respond with empathy when faced with an unthinkable act of violence. We are still working every day to honor the 49 angels and every person impacted by the Pulse tragedy with action. Together, we continue to make Orlando a more inclusive, welcoming and equitable community for all," Orlando Mayor Buddy Dyer said. ""Orlando United" was our call to action five years ago, but it is up to us all to ensure that this isn't simply a slogan that we bring out annually as we mark the time that's passed since the tragedy. Instead, it must be part of our core commitment to real change."
"We're still very much in the healing phase and trying to find our way," Pulse owner Barbara Poma told the Blade on Tuesday during a telephone interview.
The massacre at the time was the deadliest mass shooting in modern U.S. history. Nearly half of the victims were LGBTQ Puerto Ricans. The massacre also sparked renewed calls for gun control.
Poma told the Blade that she expects construction will begin on a "Survivor's Walk" at the site by the end of the year. A museum — which she described as an "education center" that will "talk about the history of the LGBT community and its struggles and stripes for the last century or so … about why safe spaces were important to this community" and what happened at Pulse and the global response to it — will be built a third of a mile away.
"We really feel it is important to never forget what happened at Pulse and to tell the story of that," said Poma.
Poma noted the onePULSE Foundation of which she is the executive director met with representatives of the 9/11 Tribute Museum and the Oklahoma City National Memorial and Museum to discuss the memorial. Poma when she spoke with the Blade acknowledged the plans have been criticized.
"This kind of opposition is not unique to these kind of projects," she said. "It's just important to know that really what we're trying to do is make sure what happened is never forgotten and those lives were never forgotten," added Poma.
In a rare bipartisan move, a bill that designates the former Pulse nightclub a national memorial was passed by unanimous consent in the U.S. Senate this past Wednesday.
"The tragedy at Pulse rocked our community and served as a reminder of the work we have to do to uproot hate and bigotry. We're proud of the bipartisan coalition of Florida Congressional leaders for leading the effort to recognize this hallowed ground as a national memorial site.," Brandon J. Wolf, the Development Officer and Media Relations Manager for LGBTQ advocacy group Equality Florida and a Pulse survivor told the Blade. "Our visibility matters. May the 49 lives stolen never be forgotten. And may we always honor them with action."
Wolf was inside the club at the time of the shooting and lost his two best friends, Juan Ramon Guerrero and Christopher Andrew (Drew) Leinonen, who were among the 49 murdered during the rampage. Wolf had managed to escape but the event has forever left him scarred.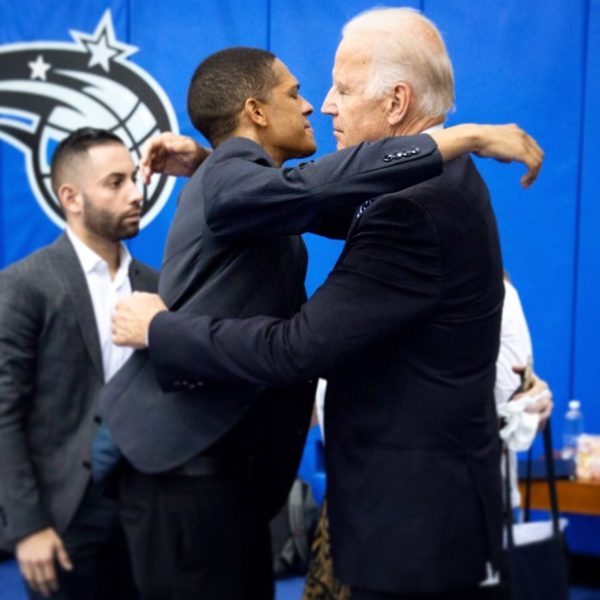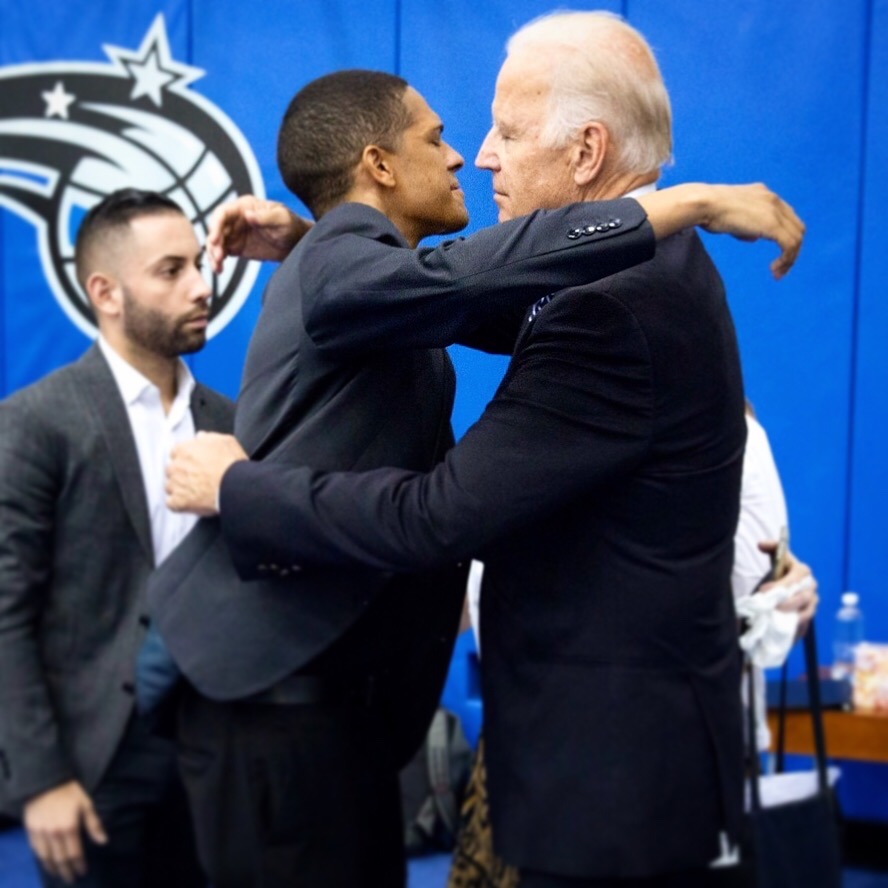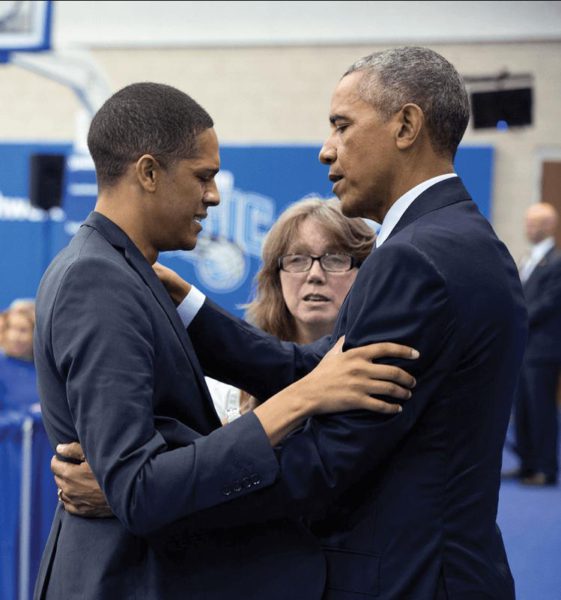 Since that terrible night Wolf has been a force for advocacy in gun control and LGBTQ equality rights and is a nationally recognized leader in those endeavors to include by President Joe Biden.
"Pulse is hallowed ground and what happened on June 12, 2016 must never be forgotten. " Wolf added.
"I echo our mayor to say to the survivors and family members of Pulse: it's okay to not be okay. This was a tragedy. The nation may have watched and grieved with us, but the pain that you may be feeling is personal. I want you to know that we embrace you with love, not as symbols but as yourselves. If you are struggling, there is help available, and I encourage you to reach out," said U.S. House Representative Val Demings (D-FL)
"It can be hard to find the words, because the truth is that no words can make this right for the survivors and families of those we lost. That's why five years ago we promised to 'honor them with action,' not just with words. As we move forward from this anniversary, it is my prayer that all of us will recommit ourselves to that mission, to ensure that every Pulse survivor—and every American—can live in a nation where each person is safe to go out to a nightclub or any other place, where our LGBTQ community is protected, where the highest-quality mental health support is available to those who need it, and where we treat gun violence as the threat that it is to our loved ones. I know that we can do better, and as we commemorate this sorrowful anniversary, I believe that we must do better."
In Washington, California U.S. Senator Alex Padilla, co-sponsor of legislation to make Pulse a National Memorial reflected,
"It is my hope that this memorial will serve as an enduring reminder of the pain and loss felt in Orlando five years ago and as a testament to the resilience and strength of the LGBTQ+ community. It is also an important reminder of the need recommit ourselves to end the senseless cycle of gun violence that has touched too many families across the country and taken too many of our loved ones," Padilla told the Blade in an emailed statement.
"It's an epidemic that has claimed far too many LGBTQ+ lives, particularly in Black and Latino communities. We will never let the memory of the victims of the Pulse Nightclub mass shooting fade away– and this memorial is an important part of their enduring legacy," he added.
Join the The Dru Project in front of the mural at the Student Union for a vigil for the 49 people lives lost during the Pulse shooting 5 years ago. Starting at 11 AM on Sunday. Bring flowers, love, and memories to share. pic.twitter.com/exIX8msvj0

— UCF LGBTQ Services (@UCF_LGBTQ) June 11, 2021
The White House on Saturday released a statement from President Biden who had traveled and met with survivors and the families of the victims 5 days after the massacre while he was the vice-president of the United States under President Barack Obama.
"Five years ago today in Orlando in the middle of Pride Month, our nation suffered the deadliest attack affecting the LGBTQ+ community in American history, and at the time, the deadliest mass shooting by a single gunman.

Within minutes, the Pulse nightclub that had long been a place of acceptance and joy turned into a place of unspeakable pain and loss. Forty-nine people were there celebrating Latin night were murdered, even more injured, and countless others scarred forever – the victims were family members, partners and friends, veterans and students, young, Black, Asian and Latino – our fellow Americans.

A few days later, I traveled with President Obama to pay respects to them and their families, to thank the brave first responders and the community who found strength and compassion in each other, and to pledge that what happened would not be forgotten.

Over the years, I have stayed in touch with families of the victims and with the survivors who have turned their pain into purpose, and who remind us that we must do more than remember victims of gun violence and all of the survivors, family members, and friends left behind; we must act.

In the coming days, I will sign a bill designating Pulse Nightclub as a national memorial, enshrining in law what has been true since that terrible day five years ago: Pulse Nightclub is hallowed ground.

But there is more we must do to address the public health epidemic of gun violence in all of its forms – mass shootings and daily acts of gun violence that don't make national headlines.

It is long past time we close the loopholes that allow gun buyers to bypass background checks in this country, and the Senate should start by passing the three House-passed bills which would do exactly that. It is long past time we ban assault weapons and high capacity magazines, establish extreme risk protection orders, also known as "red flag" laws, and eliminate gun manufacturers' immunity from liability.

We must also acknowledge gun violence's particular impact on LGBTQ+ communities across our nation. We must drive out hate and inequities that contribute to the epidemic of violence and murder against transgender women – especially transgender women of color. We must create a world in which our LGBTQ+ young people are loved, accepted, and feel safe in living their truth. And the Senate must swiftly pass the Equality Act, legislation that will ensure LGBTQ+ Americans finally have equal protection under law.

In the memory of all of those lost at the Pulse nightclub five years ago, let us continue the work to be a nation at our best – one that recognizes and protects the dignity and safety of every American."
Additional reporting by Michael K. Lavers
Wal-Mart founder's family sets up $1M fund for LGBTQ groups in Arkansas
"Our state is in a moment of reflection where each of us must send a message of acceptance to the LGBTQ community- 'you belong here.'"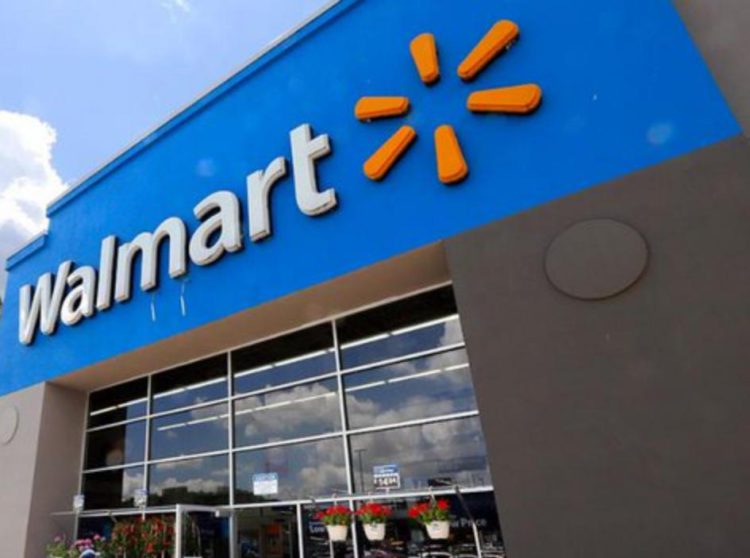 BENTONVILLE, AR. – In an announcement made Thursday by the Alice L. Walton Foundation, named for the daughter of Wal-Mart founder Sam and his wife Helen Walton, family members working through the foundation are launching a $1 million fund for groups assisting LGBTQ people in the retail giant's home state of Arkansas.
"Organizations from across our state are leading the efforts needed to build a sense of community," said Alice Walton. "Let's support this important work that ensures everyone in Arkansas can live their lives with equity and dignity."
The $1 million fund will distribute grants of $25,000 and above for Arkansas-based organizations that provide critical services to the LGBTQ community. National entities with a local presence, established in-state partnerships and strong community relationships will also qualify.
"Our state is in a moment of reflection where each of us must send a message of acceptance to the LGBTQ community that says – 'you belong here,'" said Olivia and Tom Walton in a statement. "It is also a time for action by recognizing LGBTQ Arkansans face growing challenges that need community-driven solutions."
"This fund will allow LGBTQ-serving nonprofits in our state to expand their impact on communities and help Arkansans pull together to build a more welcoming and supportive environment for us all," said Heather Larkin, president of Arkansas Community Foundation.
The initiative was launched following a legislative session in Arkansas that was marked by new laws restricting the rights of transgender people. The state is being sued over one of those measures, which bans gender confirming treatments for transgender youth. Unless blocked by a federal judge, the ban will take effect July 28, The Associated Press reported.
Reacting to the announcement Adrienne Collins from Central Arkansas Pride said,
"There are many organizations eager to stand up for a more inclusive, accepting environment for all who live in and visit our state. We are committed to showing up every day to ensure Arkansas' LGBTQ community has the support needed to thrive."
The grant selection committee will include leadership and representation from the LGBTQ community. Organizations interested in learning more about the fund can visit arcf.org/lgbtq.