New HRC president lights up crowd at annual dinner
David announces transgender justice initiative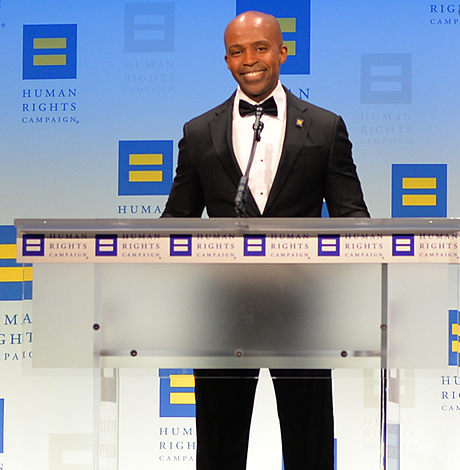 Alphonso David energized the room at the Human Rights Campaign's annual national dinner Saturday night, receiving thunderous applause as he announced new initiatives for LGBT people facing challenging times.
As much of Washington reels from the Ukraine-call scandal that has landed President Trump at the center of an impeachment inquiry in Congress, the new president of the Human Rights Campaign made himself a beacon of hope for the estimated 3,500 people in attendance at the 23rd national dinner.
A key component of David's speech was identity. He began his remarks with the question, "Who are you?" then listed several identities, including immigrant, gay, transgender and straight as individuals in attendance cheered when he mentioned their identities.
But David's speech took a turn when he said those identities "will either serve as a tool to achieve liberation and as a tool to further oppress us."
Blaming Trump for a "moral recession," David said Trump uses identity "as a sword and to create false hierarchies to force us into believing that we lose something by simply recognizing someone else as a human being."
"We have witnessed a dramatic rollback of our democracy at the hands of this president, who holds the rule of law in contempt, as we learned this week," David said. "And as we saw recently, he even holds weather reports in contempt, and you can tweet all of that."
David said Trump wants people to believe recognizing others make them lose something, but the loss isn't what Trump wants you to think.
"By adopting or acquiescing to Trump's baseless factionalism, we're losing something much larger and something much more significant than what Trump tells you," David said. "We're losing our souls, losing our government as a place that respects and represents all of us, losing our democracy as we know it."
Lighting a way forward to "weather the storm, this existential crisis that we face in this country," David announced a trio of new initiatives the Human Rights Campaign would undertake under his new stewardship of the organization.
The first was a new transgender justice initiative, which David described before reading the names of transgender people who were killed this year.
"For too long, our system has failed the transgender community," David said. "And by depending on that system, we have also failed the transgender community. We must look outside of the existing paradigm to support transgender people in the community they call home."
According to the Human Rights Campaign, the effort will focus on economic empowerment; capacity-building programs; targeted task forces in communities hardest hit hard by the epidemic of anti-trans violence; and expanded public education campaigns.
Decrying voter suppression efforts, David also announced a new partnership with the "Fair Fight" voter-initiative led by former Georgia gubernatorial candidate Stacey Abrams, whom he called "the rightful governor of Georgia."
Voter suppression efforts, David said, also "often target members of the community, young people and transgender people."
"With his partnership, we fight to protect and support our right to vote," David said. "And in so doing, we can elected a pro-equality Senate that will follow the House's lead and pass the Equality Act. We can elect a president that will sign the Equality Act into law."
Finally, David pledged to expand the footprint of the Human Rights Campaign — both by opening offices in New York and Los Angeles and extending legal efforts by filing lawsuits and advancing cases by national and internationally.
"Equality does not stop at our borders, Mr. Trump, and we cannot allow ourselves to be affected by your hypo-nationalism," David said. "And as the world's largest LGBT organization, it is imperative that we stand and stand tall with our partners in nations around the world."
The audience, which had cheered David throughout his speech, gave him a standing ovation when he pointed out he's the first person of color to lead the Human Rights Campaign.
"As I stand before you as the first person of color to lead the Human Rights Campaign in its nearly 40 year history, I promise you that I will fight as hard and as long as necessary to make the dream of full equality a reality for all us," David said. "All I ask in return is that you make that same promise."
David concluded his speech the way it began with the question, "Who are you?" But the second time around, he asked his audience to consider it differently.
"I say that whoever you are, however you identify, see yourself in the person who looks nothing like you," David said. "Our next greatest achievement is realizing the dream of full equality for all of us, and let it begin tonight, right here in this room with each and every one of us."
Massah David and Miatta David Johnson, the younger sisters to Alphonso David, introduced Alphonso David after a video played describing their experience in Liberia and having to flee amid conflict.
The star of the night was gay singer Ricky Martin, who accepted the HRC national visibility award after taking part in the Puerto Rico protest that led to resignation of former Gov. Ricardo Rosello over his leaked anti-gay and misogynistic text messages.
"Some of the residents of the islands wanted to impeach the governor of Puerto Rico," Martin said. "But the majority said, 'No. We don't want to impeach. We want him out, and we want him out now! Not once in 15 days was a drop of blood shed, but we got rid of him."
With Trump restricting the number of refugees who can be admitted into the United States to a cap of 18,000 a year, Martin dedicated his award to LGBT refugees "leaving their countries because they feel threatened."
Senate Minority Leader Charles Schumer (D-N.Y.), the political speaker for the dinner, received thunderous applause when he said he supports the impeachment inquiry set up by House Speaker Nancy Pelosi (D-Calif).
"Congress has a serious job ahead of us," Schumer said. "We are in rare constitutional waters. You have my word that Speaker Pelosi and I will treat this matter with the gravity and seriousness and dignity and demands."
Mixing both the political and personal, Schumer talked about his experience with former Rep. Barney Frank, who's gay, and his daughter, Allison, recalling the time she came out to him before she married.
"At dinner, my daughter Allison told my wife Iris and me that she was gay," Schumer said. "After dinner Iris asked me, 'How do you feel?' I said, 'Whoa, sort of brand new. Ask me again in the morning.' You know, sometimes your mind processes things overnight and you wake up and it's resolved. Well, the next morning, here's how I felt. I said to myself, 'She's the same person love so much the day before, but now I love her even a little more because she carried the knowledge of her sexuality, and carried it with such strength and grace and dignity."
Leading the audience in a chant in which he asked "What will we do?," and they responded, "Ditch Mitch," Schumer pledged to support LGBT people if Democrats win a majority in the Senate.
"As majority leader, one of the first things I will do is put the Equality Act on the floor, and I believe it will pass," Schumer said.
Ryan Russell, a football player who recently came out as bisexual, also delivered remarks at the dinner on his experience of coming out.
"Visibility is essential in my life," Russell said. "There won't be any until there's a first. I'm lucky that people in my life, the higher power above and the man in the mirror allowed me to be that person."
Transgender actor Dominique Jackson, who stars on "Pose," was honored onstage with the HRC national equality award.
"As a trans women of color, we face violence, we face brutality, we face so much," Jackson said.
Talking about her experience as a transgender woman of Caribbean descent, Jackson said people "talk about love, but we forget about humanity."
"I'm a human being, just like each and every one of you," Jackson said. "It's time that we stop with the aesthetic, it's time that we stop with the privilege, it is time that we realize that if one man has a billion dollars, and an entire community can can benefit. If you just give up that billion dollars a million and help that community survive, then you're really doing something, you're part of the community."
Making quips the audience was "spending money you don't have" at the dinner, likening that to the expensive shoes she buys herself, Jackson forcefully insisted several times she rejected any offering of tolerance and demands their respect.
Nik Harris, a Florida-based gay activist, told a moving story about being closeted as a young adult, but watching her teenager brother — who is also gay — being sent to conversion therapy.
"I often wonder how different my baby brother's experience would be if I had the courage to come out first," Harris said. "If I had tackled some of the difficult conversations so may baby brother didn't have to. My brother survived, but he still carries the painful scars. Even now, at 33 years old, this successful stylist in Hollywood questions his very existence."
Hudson Young, a board member of the Human Rights Campaign, urged his audience "particularly those of us who are cisgender and white, to speak out and do more to give more, to be willing to be uncomfortable, and to use our privilege to benefit others."
Sherie Hughes, another Human Rights Campaign board member, won resounding applause when as she listed intersectional movements, including support for Black Lives Matter, denunciation of anti-Semitism and believing survivors of sexual misconduct.
"We know that there is no success in the movement for the LGBTQIA equality without our voices joining in the demand for fairness and inclusion for all people," Hughes said.
The dinner paid tribute to Cathy Nelson, senior vice president of the Human Rights Campaign, who is departing the organization after 30 years of service. The Gay's Mens Chorus of Washington and Grammy-nominated singer Alice Smith performed at the start of the event. Singer Thelma Houston concluded the dinner.
Among those recognized at the dinner were Pennsylvania State Rep. Brian Sims, Virginia State Sen. Adam Ebbin, founder of Freedom to Mary Evan Wolfson, Dennis and Judy Shepard, Jane Clementi of the Tyler Clementi Foundation, Mara Keisling of the National Center for Transgender Equality, Earl Fowlkes of the Center for Black Equity and National Transgender Visibility March organizer Marissa Miller.
White House announces 17 Presidential Medal of Freedom recipients
The nation's highest civilian honor, the Presidential Medal of Freedom will be presented to those named at the White House on July 7, 2022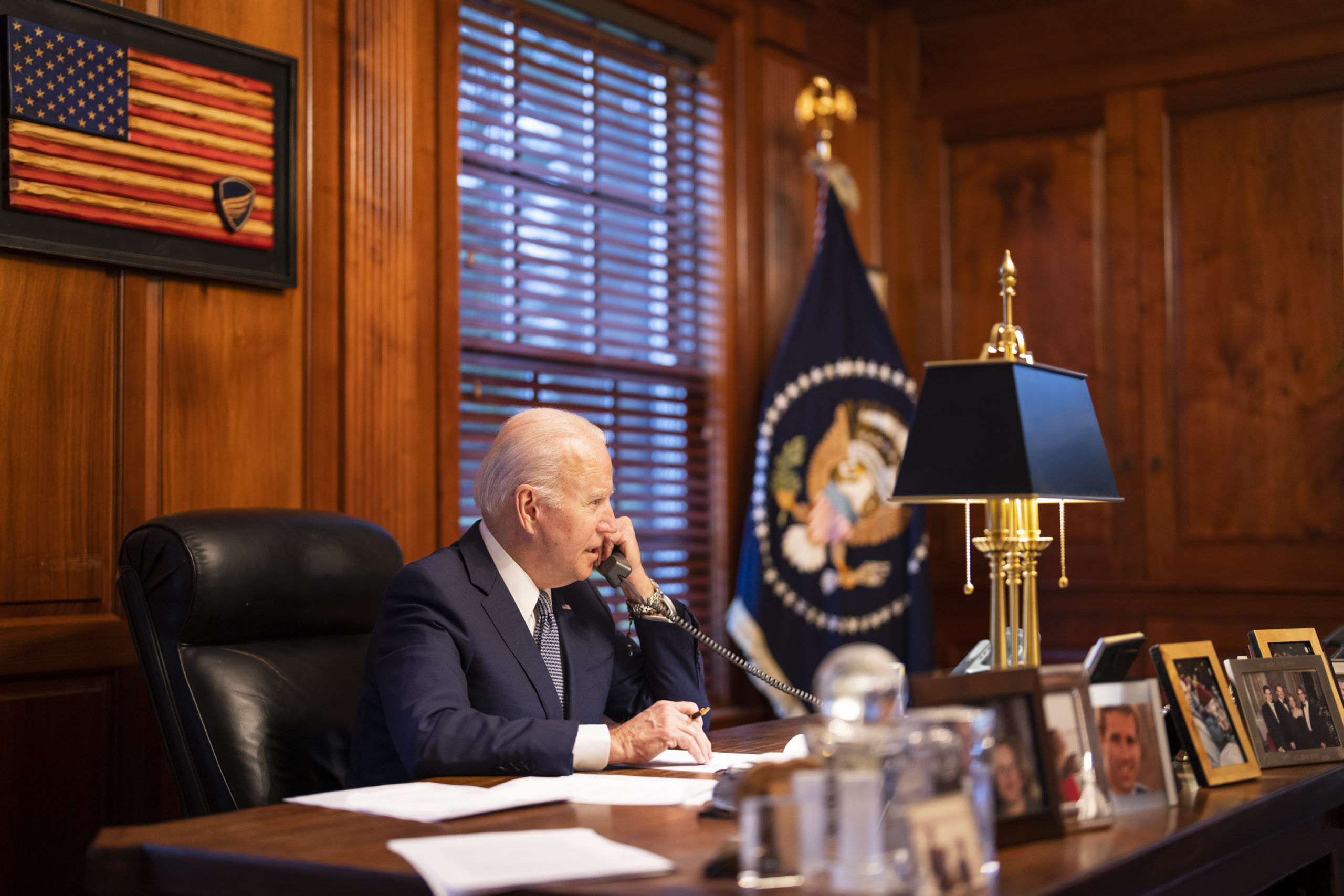 WASHINGTON – The White House today released President Joe Biden's selection of recipients for bestowing the nation's highest civilian honor, the Presidential Medal of Freedom. The awards will be presented at the White House on July 7, 2022.
Included among the seventeen honorees are Megan Rapinoe, the Out Olympic gold medalist and two-time Women's World Cup champion. She also captains OL Reign in the National Women's Soccer League. She is a prominent advocate for gender pay equality, racial justice, and LGBTQI+ rights.
Also selected by the president for a posthumous recognition was Richard Trumka, the powerful labor leader and longtime Democratic ally of the LGBTQ+ community who passed away last August. Trumka had led the AFL-CIO since 2009 and who throughout his career, was an outspoken advocate for LGBTQ+ Americans, social and economic justice.
The Presidential Medal of Freedom is the Nation's highest civilian honor, presented to individuals who have made exemplary contributions to the prosperity, values, or security of the United States, world peace, or other significant societal, public or private endeavors.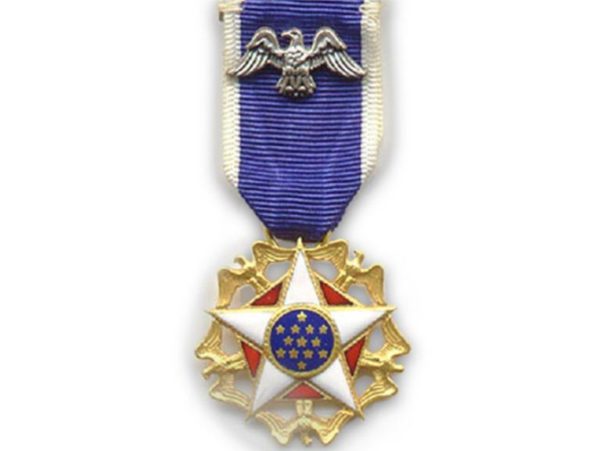 The following individuals will be awarded the Presidential Medal of Freedom:
Simone Biles
Simone Biles is the most decorated American gymnast in history, with a combined total of 32 Olympic and World Championship medals. Biles is also a prominent advocate for athletes' mental health and safety, children in the foster care system, and victims of sexual assault.

Sister Simone Campbell
Sister Simone Campbell is a member of the Sisters of Social Service and former Executive Director of NETWORK, a Catholic social justice organization. She is also a prominent advocate for economic justice, immigration reform, and healthcare policy.

Julieta García
Dr. Julieta García is the former president of The University of Texas at Brownsville, where she was named one of Time magazine's best college presidents. Dr. García was the first Hispanic woman to serve as a college president and dedicated her career to serving students from the Southwest Border region.

Gabrielle Giffords
Former Congresswoman Gabby Giffords was the youngest woman ever elected to the Arizona State Senate, serving first in the Arizona legislature and later in the U.S. Congress. A survivor of gun violence, she co-founded Giffords, a nonprofit organization dedicated to gun violence prevention.

Fred Gray
Fred Gray was one of the first black members of the Alabama State legislature since Reconstruction. As an attorney, he represented Rosa Parks, the NAACP, and Martin Luther King, who called him "the chief counsel for the protest movement."

Steve Jobs (posthumous)
Steve Jobs (d. 2011) was the co-founder, chief executive, and chair of Apple, Inc., CEO of Pixar and held a leading role at the Walt Disney Company. His vision, imagination and creativity led to inventions that have, and continue to, change the way the world communicates, as well as transforming the computer, music, film and wireless industries.

Father Alexander Karloutsos
Father Alexander Karloutsos is the former Vicar General of the Greek Orthodox Archdiocese of America. After over 50 years as a priest, providing counsel to several U.S. presidents, he was named by His All Holiness Ecumenical Patriarch Bartholomew as a Protopresbyter of the Ecumenical Patriarchate.

Khizr Khan
Khizr Khan is a Gold Star father and founder of the Constitution Literacy and National Unity Center. He is a prominent advocate for the rule of law and religious freedom and served on the United States Commission on International Religious Freedom under President Biden.

Sandra Lindsay
Sandra Lindsay is a New York critical care nurse who served on the front lines of the COVID-19 pandemic response. She was the first American to receive a COVID-19 vaccine outside of clinical trials and is a prominent advocate for vaccines and mental health for health care workers.

John McCain (posthumous)
John McCain (d. 2018) was a public servant who was awarded a Purple Heart with one gold star for his service in the U.S. Navy in Vietnam. He also served the people of Arizona for decades in the U.S. House of Representatives and U.S. Senate and was the Republican nominee for president in 2008.

Diane Nash
Diane Nash is a founding member of the Student Nonviolent Coordinating Committee who organized some of the most important civil rights campaigns of the 20th century. Nash worked closely with Martin Luther King, who described her as the "driving spirit in the nonviolent assault on segregation at lunch counters."
Megan Rapinoe
Megan Rapinoe is an Olympic gold medalist and two-time Women's World Cup champion. She also captains OL Reign in the National Women's Soccer League. She is a prominent advocate for gender pay equality, racial justice, and LGBTQI+ rights.

Alan Simpson
Alan Simpson served as a U.S. Senator from Wyoming for 18 years. During his public service, he has been a prominent advocate on issues including campaign finance reform, responsible governance, and marriage equality.
Richard Trumka (posthumous)
Richard Trumka (d. 2021) was president of the 12.5-million-member AFL-CIO for more than a decade, president of the United Mine Workers, and secretary-treasurer of the AFL-CIO. Throughout his career, he was an outspoken advocate for social and economic justice.

Wilma Vaught
Brigadier General Wilma Vaught is one of the most decorated women in the history of the U.S. military, repeatedly breaking gender barriers as she rose through the ranks. When she retired in 1985, she was one of only seven women generals in the Armed Forces.

Denzel Washington
Denzel Washington is an actor, director, and producer who has won two Academy Awards, a Tony Award, two Golden Globes, and the 2016 Cecil B. DeMille Lifetime Achievement Award. He has also served as National Spokesman for the Boys & Girls Clubs of America for over 25 years.

Raúl Yzaguirre
Raúl Yzaguirre is a civil rights advocate who served as CEO and president of National Council of La Raza for thirty years. He also served as U.S. Ambassador to the Dominican Republic under President Barack Obama.
Florida 'Don't Say Gay' law goes into effect, negative impact already felt
LGBTQ youth, already at higher risk of depression, anxiety, & suicide than their peers, report their mental health being negatively impacted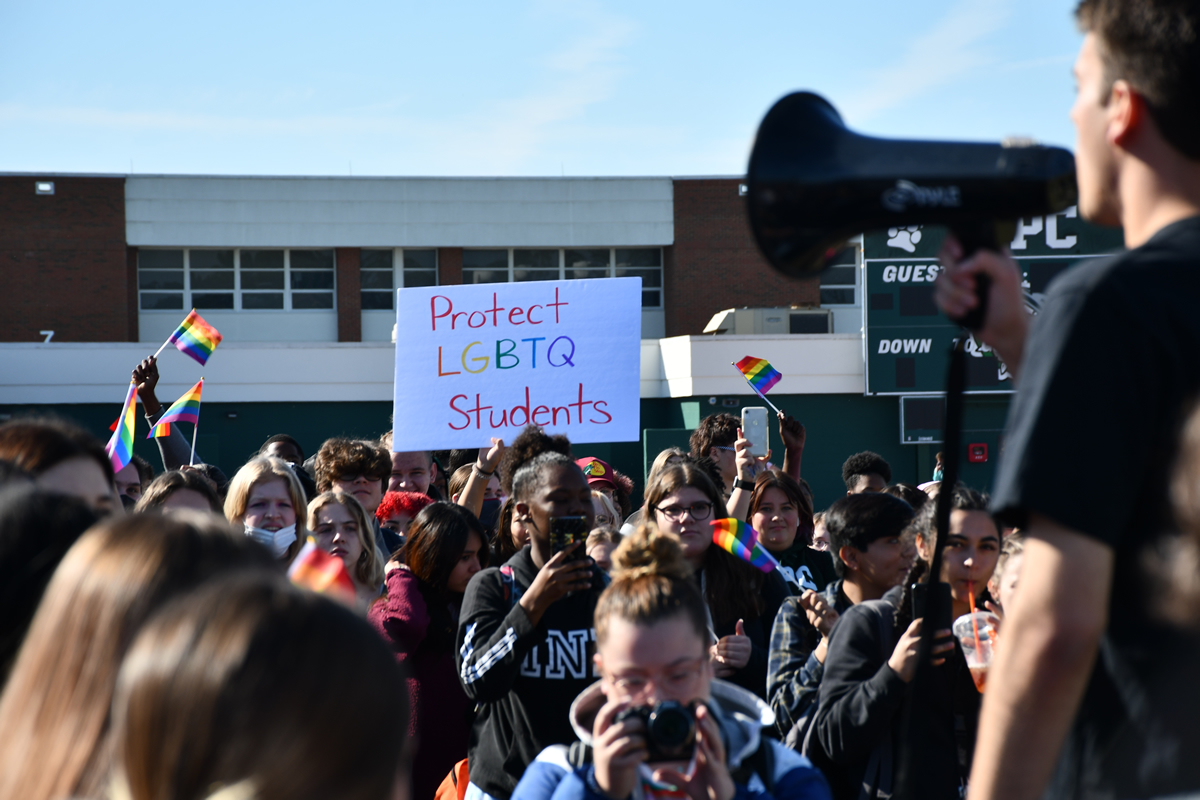 TALLAHASSEE – Florida's HB 1557, known as the Don't Say LGBTQ law, took effect today. The law, which bans classroom instruction on sexual orientation and gender identity in grades K-3 and restricts that instruction in grades 4-12, will immediately begin impacting efforts to make Florida classrooms more inclusive.
But its impacts have already been felt for months. Educators and school staff have shared the chilling effects they are experiencing across the state. Books with LGBTQ characters are being pulled from shelves. Rainbow "safe space" stickers are being peeled from classroom windows. LGBTQ educators are being asked to avoid speaking about their families. As the law officially goes into effect, these impacts will escalate.
In the same district, teachers in queer relationships are being advised to remove any family portraits. Staff can't even wear rainbow clothing.

We always knew what this was about, silencing LGBTQ+ people.

— Jack Petocz (@Jack_Petocz) June 28, 2022
"Since the inception of this hateful policy, lawmakers have assured the public that it would not lead to censorship or erasure of LGBTQ people," said Joe Saunders, Equality Florida Senior Political Director. "But our community has always known the truth. The Don't Say LGBTQ law has always been fueled by anti-LGBTQ animus and designed to further stigmatize the LGBTQ community, ban books about us, erase us from classrooms, and force us back into the closet. It is a bigoted and dangerous law that is making Florida less safe for students and families, and we will work tirelessly to see it repealed."
Throughout the legislative process, lawmakers scoffed at the suggestion that HB 1557 would have negative impacts on the LGBTQ community, even as they refused to clarify its dangerously vague language and prevent the eventual law from doing harm.
A bipartisan contingent of lawmakers offered up dozens of amendments to the bill, attempting to narrow its overly-broad scope and clarify the most vague components. These amendments came after assertions from their colleagues that the bill's intent was narrow. However, those reasonable amendments were rejected by bill sponsors Representative Joe Harding, Senator Dennis Baxley, and their allies, leaving its language broad and discriminatory.
As a result, the chilling effects were swift and sweeping. Across the state, censorship of LGBTQ lives began in earnest and has continued until today. In Palm Beach County, School Superintendent Mike Burke began by circumventing the district's material review process to remove multiple books featuring LGBTQ characters, citing concern about the implications of the Don't Say LGBTQ law. He followed the move in recent weeks by issuing guidance to educators across the district for them to remove books currently being challenged and place them "in a classroom closet" and scour their shelves for other titles that may include LGBTQ characters or mention topics like racism or oppression.
Growing up, I spent countless nights trying to change who I am. Praying to God I could wake up different, what I had preconceived as "normal."

Today, "Don't Say Gay" goes into effect, but I'll keep proudly expressing my identity, so no child feels lesser than or not worthy. ❤️ pic.twitter.com/3LzAIAjg1i

— Jack Petocz (@Jack_Petocz) July 1, 2022
Districts statewide have taken drastic steps in response to the Don't Say Gay law. Graduation speeches have been scrubbed of references to LGBTQ advocacy. Yearbook pages have had images of Don't Say LGBTQ walkouts blacked out. Conservative religious activists have successfully initiated challenges to dozens of books in multiple school districts. Rainbow-colored COEXIST banners and Pride flags have been stripped from school walls.
In total, LGBTQ+ equality rights advocacy group Equality Florida has received over 50 complaints of censorship aimed at the LGBTQ community since the bill was signed into law in March.
I wrote an OP ED for @nytopinion about my experience growing up gay and non-binary and how the #DontSayGay bill would effect people like me. https://t.co/UPjmtExjnu

— Will Larkins☮️ (@ProudTwinkie) March 12, 2022
Most recently, Orange County Public Schools garnered national attention after reports emerged that during seminars designed to discuss the potential implementation of the Don't Say LGBTQ law, school administrators were advised to begin removing rainbow "safe space" stickers from classroom windows, ask LGBTQ educators to remove family photos from their desks, and avoid talking about their loved ones at work for fear of running afoul of the new law. While exactly what advocates for equality had warned of, the revelation shocked educators across the district, who took to the next board meeting to express their deep concerns and demand written clarification.
All of these chilling effects come as LGBTQ youth, those already at higher risk of depression, anxiety, and suicidal ideation than their peers, report their mental health being negatively impacted by anti-LGBTQ policies and the debates that surround them. And they come amidst a surge in online harassment against LGBTQ people nationwide and threats of violence against LGBTQ spaces and Pride celebrations fueled by the dehumanizing anti-LGBTQ+ rhetoric launched by the DeSantis Administration in defense of the Don't Say LGBTQ bill.
In March, the governor's spokeswoman Christina Pushaw took to Twitter to traffic in age-old, anti-LGBTQ tropes to rescue the mired legislation, tropes that have since been parroted by Fox News hosts, right-wing influencers, and have exploded into the digital harassment and threats of violence running rampant across the country.
Equality Florida hosted a virtual press conference with lawmakers and those directly impacted on Friday morning. Those who have been impacted by the Don't Say LGBTQ law can share their stories at freetosaygay.org.
White House Press Secretary Karine Jean-Pierre released a statement as Florida's "Don't Say Gay" Law took effect Friday:
Today, some of Florida's most vulnerable students and families are more fearful and less free. As the state's shameful "Don't Say Gay" law takes effect, state officials who claim to champion liberty are limiting the freedom of their fellow Americans simply to be themselves. Already, there have been reports that "Safe Space" stickers are being taken down from classrooms. Teachers are being instructed not to wear rainbow clothing. LGBTQI+ teachers are being told to take down family photos of their husbands and wives—cherished family photos like the ones on my own desk.
 
This is not an issue of "parents' rights." This is discrimination, plain and simple. It's part of a disturbing and dangerous nationwide trend of right-wing politicians cynically targeting LGBTQI+ students, educators, and individuals to score political points. It encourages bullying and threatens students' mental health, physical safety, and well-being. It censors dedicated teachers and educators who want to do the right thing and support their students. And it must stop.
 
President Biden has been very clear that every student deserves to feel safe and welcome in the classroom. The Department of Education will be monitoring this law, and any student or parent who believes they are experiencing discrimination is encouraged to file a complaint with the Department's Office for Civil Rights. Our Administration will continue to fight for dignity and opportunity for every student and family—in Florida and around the country.
South Bend Indiana Rainbow Story Hour disrupted by Proud Boys
Seven men — all Proud Boys — entered the library and began arguing with staff and patrons. Several displayed white supremacist symbols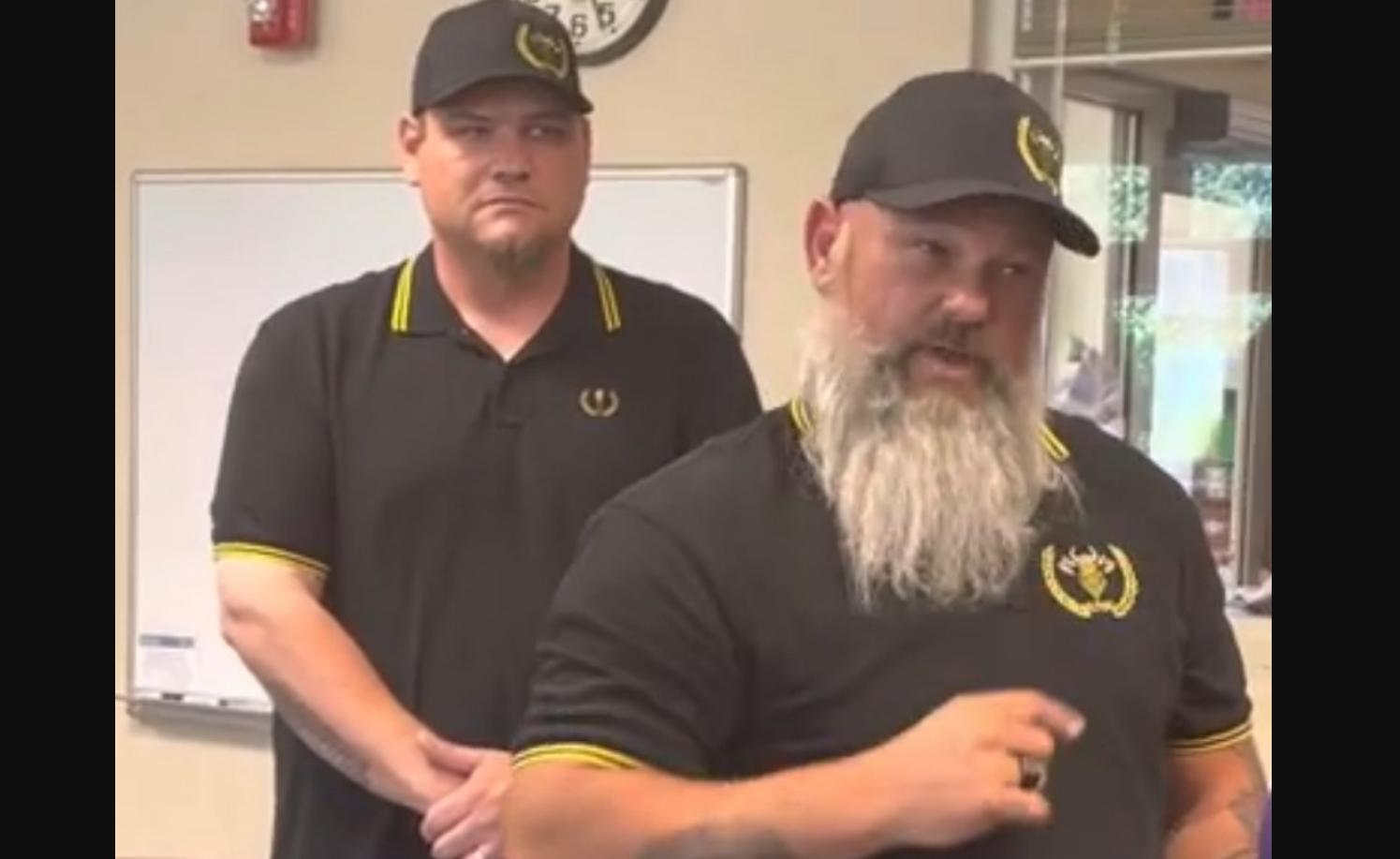 SOUTH BEND, In. – A Pride Month children's Rainbow Story Hour event at the St. Joseph County Public Library's Virginia M. Tutt Branch on Monday was disrupted after the far-right anti-LGBTQ+ group, the Proud Boys, walked in and began loudly arguing with staff and library patrons.
At one point during the confrontation, one of the group unfurled a flag reading "Michiana Proud Boys," appearing to identify the men as a local chapter of the white nationalist hate group.
This latest incident follows Proud Boys targeting LGBTQ+ Pride month events- especially Drag Queen Story Hour events- in Sparks Nevada, Wilmington North Carolina, Alameda California, Boise Idaho, many promulgated by highly influential far-right social media stars like Chaya Raichik, the Brooklyn real estate agent behind @LibsOfTikTok who has highlighted these events she calls out as inappropriate and sexualizing children to her more than 1.3 million followers on Twitter.
South Bend's NPR outlet WVPE reported that the event was a partnership between the library and TREES, a Michiana organization that provides resources for the local transgender community and operates the Tree House Gender Resource center in downtown South Bend.
But before the event was set to start, seven men — all Proud Boys — entered the library and began arguing with staff and patrons. Several displayed white supremacist symbols, according to photos posted on social media.
Police were called — and the group left after about 40 minutes — but they caused so much disruption that the event had to be canceled.
"This definitely came as a shock," library system communications manager Marissa Gebhard told WVPE. "We were not anticipating any problems."
The library plans to reschedule the event in a few months, and Gebhard said the system wants everyone to feel safe and welcome at its branches.
The Proud Boys recognized one person because Purple for Parents (a local hate group focused on schools) had doxxed her before.

This disruption is extremely concerning because it seems to be a part of coordinated disruptions of similar events across the country. 2/4 pic.twitter.com/QumqYn4Bxd

— Indiana Mutual Aid Coalition (@INMutualAid) June 28, 2022