Equality California celebrates 20 years of legislative activism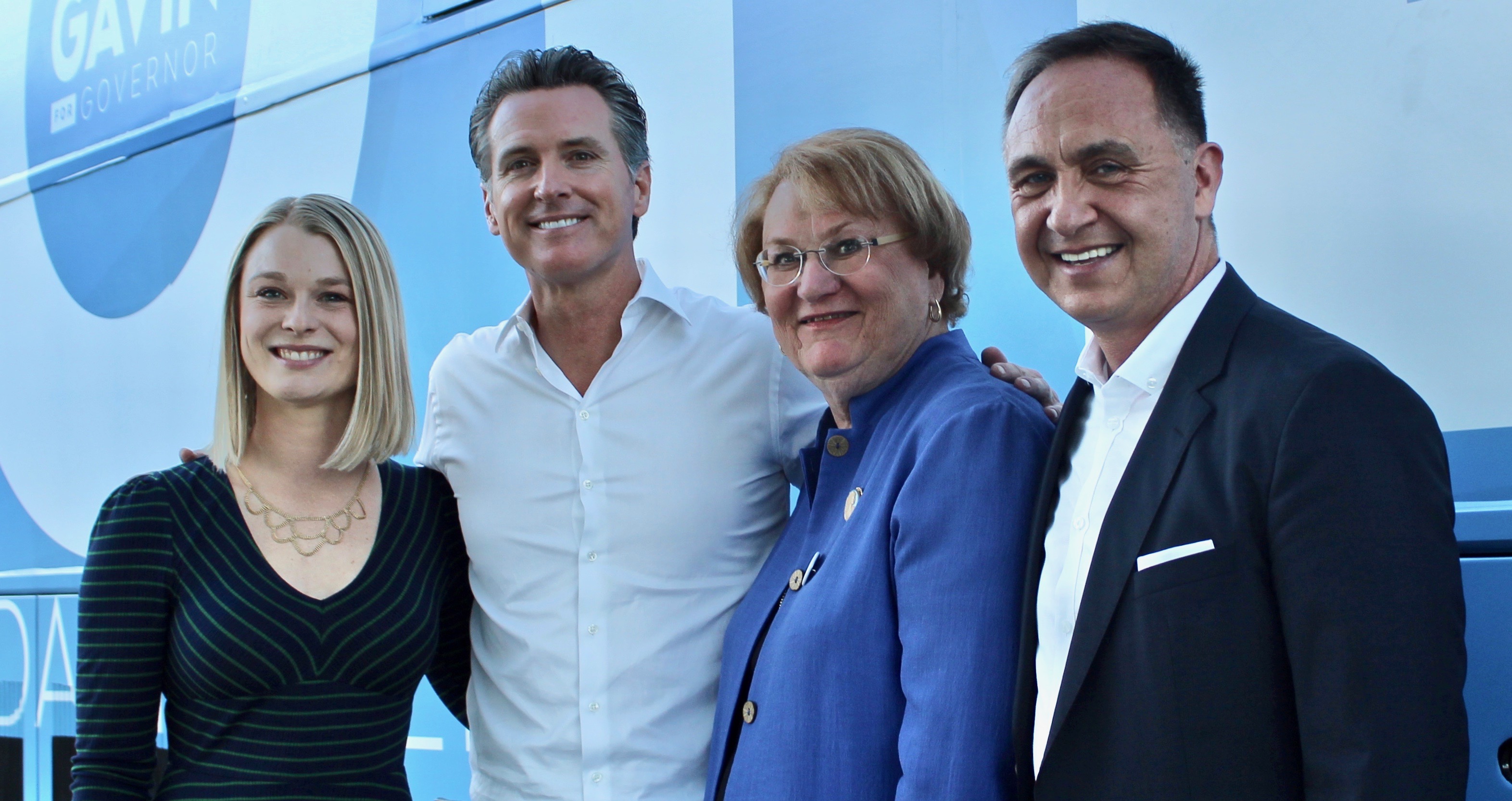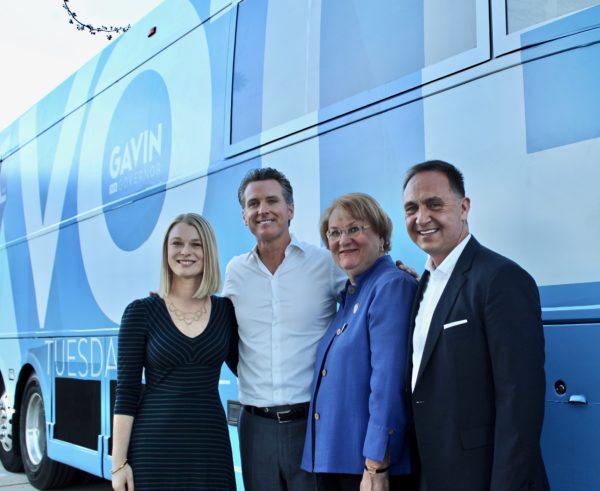 Bisexual Palm Springs City Councilmember Christy Holstege, gubernatorial candidate Gavin Newsom, trans Palm Springs City Councilmember Lisa Middleton, Rick Zbur, executive director of Equality California (Photo courtesy EQCA)
History doesn't just make itself. History happens at an inflection point when fed up individuals come together and organize to make change. Different groups take different approaches to an issue but for change to stick, it needs to become law.  This is particularly true for LGBTQ people who are still not equal to their fellow citizens under federal and many state and local laws. That's why Equality California's 20 years of successful legislative activism has become a model for other statewide LGBTQ civil rights organizations.
But Equality California stands on the shoulders of brave souls who paved the way through the dark, tangled thicket of entrenched and institutionalized homophobia.
California has a long track record of creating change, starting with the Mattachine Society, the Daughters of Bilitis, ONE Magazine, the Society for Individual Rights (SIR) in the 1950s. In the 1960s, gay and lesbian activism intertwined with the anti-Vietnam War, Women's Liberation and Gay Liberation movements.  But ironically, the Black Cat and Stonewall rebellions in the late 1960s also sent people "scurrying into closet" fearing exposure through police arrests at bar raids, according to attorney and businesswoman Diane Abbitt.
"There was a lot of shame. People were terrified of losing their jobs. A lot of them were teachers and professional people," Abbitt tells the Los Angeles Blade. "And it impacted businesses. There was a lesbian bar in Redondo Beach where the police kept coming in on the pretext that they were looking for a runaway."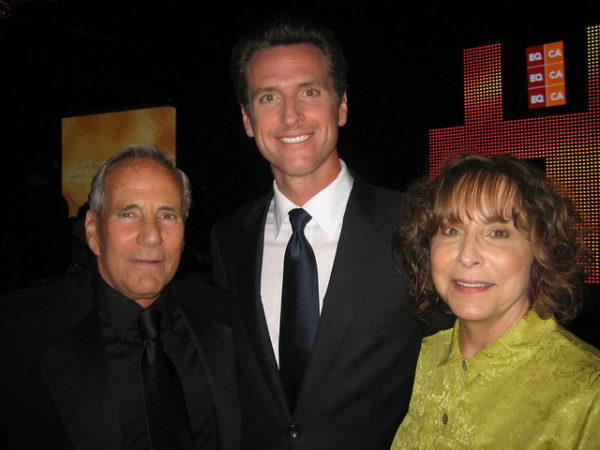 Checkbook activist and Equality California Board member Diane Abbitt, with EQCA honoree San Francisco Mayor Gavin Newsom and consultant Bob Burke in 2008. (Photo by Karen Ocamb)
By the 1970s, the fight for equal protection under the law hit the political scene and the California Legislature. In 1971, the Alice B. Toklas Memorial Democratic Club of San Francisco formed to train activists to become political professionals and engage with the Democratic Party. In 1975, Stonewall Democratic Club was founded in Los Angeles and Assemblymember Willie Brown arduously secured passage of a consenting adults law that didn't exactly decriminalize homosexuality—sodomy or oral copulation laws remained on the books—but private consensual activity between adults over 18 was no longer illegal. In 1977, Assemblymember Art Agnos started pushing for a gay rights job bill and Harvey Milk was elected to the San Francisco Board of Supervisors. The following year, a statewide coalition of activists defeated the anti-gay Briggs initiative and Milk was assassinated.
Meanwhile in LA, the Municipal Elections Committee of Los Angeles (MECLA) became the first gay political action committee (PAC) contributing money to local pro-gay politicians. "We wanted to change the quality of life for gay people so they could be who they are – and they wanted to do that through political action," says Abbitt, MECLA's first female board co-chair who later served on the EQCA board and became PAC chair. MECLA became so prominent, Gov. Jerry Brown gave the keynote speech at a 1979 roast for philanthropist businessman Sheldon Andelson.
There were a record 71 openly lesbian and gay delegates to the 1980 Democratic Convention, 17 of whom came from California. The Democratic Party Platform included a gay rights plank. But Democratic President Jimmy Carter lost to former California Republican Gov. Ronald Reagan in 1980 and everything changed.
Though the first AIDS cases reported to the CDC in 1981 of five gay men from Los Angeles exploded into "1,112 and Counting," as Larry Kramer put it in 1983, the religious conservative Reagan administration did little to nothing. But AIDS brought together the leaders of numerous LGBT groups to form LIFE AIDS Lobby to push AIDS legislation in Sacramento.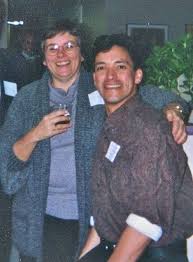 LIFE Lobby Board Co-Chair attorney John Duran and Executive Director Laurie McBride at AIDS Action event during Bill Clinton's Inauguration in Jan. 1992 (Photo by Karen Ocamb)
LIFE worked with allies like Willie Brown and David Roberti, whose openly gay aide Stan Hadden wrote bills and coordinated the legislative response. LIFE also pushed back on anti-gay/AIDS bills and other measures such as the AIDS quarantine initiatives.  John Duran, a volunteer attorney for ACT UP/Orange County, joined the LIFE AIDS Lobby board and wound up serving as co-chair from 1988-1992, working with executive director, Laurie McBride. By the time Republican Gov. Pete Wilson vetoed AB 101 in 1991, LIFE Lobby included members as diverse as transgender ACT UP/LA AIDS activist Connie Norman and Log Cabin Republican Club co-founder Frank Ricchiazzi.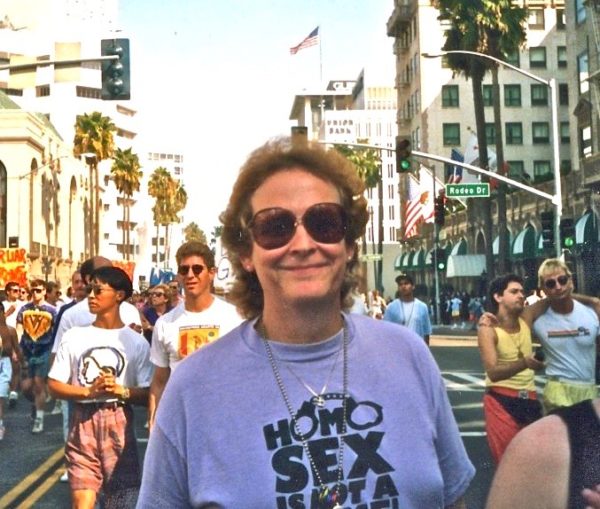 The late AIDS Diva Connie Norman marching in AB 101 protests in Beverly Hills in 1991 (Photo by Karen Ocamb)
In the 1990s, state politics was dominated by conservative anti-gay Republicans. Out attorney Sheila James Kuehl took on the challenge, becoming the first openly gay person in the California Legislature and the first member of the LGBT Legislative Caucus. But in 1998, despite the turning point of Democrat Gray Davis's election as governor and the promise of new life-saving AIDS medications, LIFE Lobby ran out of money and folded.
But longtime politicos recognized the need for political and legislative activism and California Alliance for Pride and Equality (CAPE) quickly emerged from the ashes in 1999 with longtime San Francisco politico Jean Harris as executive director. Geoff Kors, a graduate of Stanford Law School and a lawyer in private practice, was one of nine members who sat on CAPE's Board of Directors—which now constituted individual board members, not representatives from different statewide organizations.
When Harris left in 2003 – having helped pass Assemblymember Carole Migden's AB 25 domestic partner registry bill and Kuehl's AB 537, the first statewide LGBT-inclusive anti-bullying law – Kors stepped in as executive director and changed the organization's name to Equality California.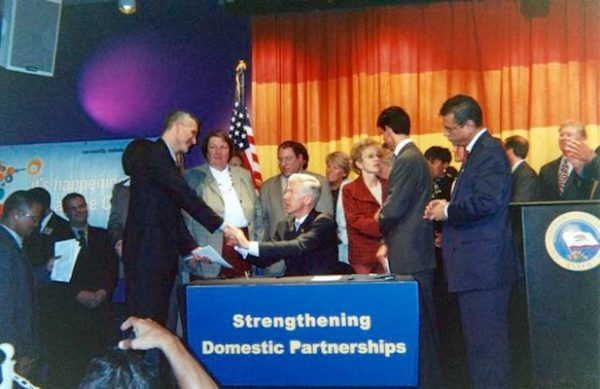 Kors grew the organization into a national model. First, in 2003, working with gay friend Assemblymember Mark Leno, they secured passage of Leno's AB 196 adding gender identity to employment and housing protections. That year, he also helped secure passage of AB 205, Assemblymember Jackie Goldberg's expanded domestic partnership bill that was essentially civil unions by another name.
In 2004, as the Religious Right pressured President G. W. Bush to pass a federal constitutional amendment banning gay marriage, Equality California merged with Marriage Equality California and focused on both affirmative and counter measures. In 2005, Leno's first marriage bill, AB 849, passed the Legislature, only to be vetoed by Gov. Arnold Schwarzenegger. Marriage equality became a key gay and lesbian civil rights issue but marriage equality was upended by the passage of Prop 8 in 2008. It was eventually overturned.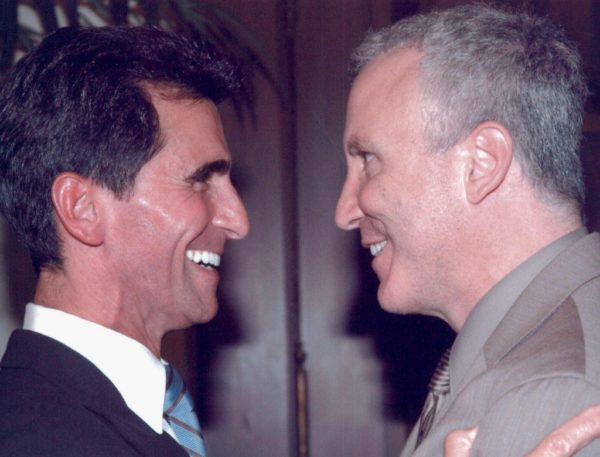 Assemblymember Mark Leno and Equality California Executive Director Geoff Kors excited over passage of Leno's marriage equality bill. (Photo courtesy Kors) 
Kors left Equality California in March 2011 after a hugely successful tenure, concluding with passage of State Sen. Mark Leno's SB 4, the FAIR Education Act that established an inclusive curriculum.
Kors was followed by Roland Palencia, who served a year, followed by incredible ally Laurie Hasencamp, who stabilized the troubled organization, then John O'Connor who joined the organization in December 2012. During their tenures, Equality California worked to pass Ted Lieu's SB 1172 "reparative therapy" bill to protect LGBT youth from psychological abuse; Assemblymember Tom Ammiano's AB 1266, the School Success and Opportunity Act, protecting and prohibiting the exclusion of trans students from classes and activities; and Assemblymember Susan Bonilla's AB 2501, prohibiting use of the "panic defense" based on sexual orientation or gender identity.
When O'Connor left, Rick Zbur, a longtime political and environment activist, retired in 2014 from his senior law partnership with Latham & Watkins to take the executive director job, which also includes working with the Equality California Institute and the community Equality Council.
Equality California has expanded, re-branded and flourished under Zbur's leadership, broadening the scope of the organization's mission to focus on intersectionality and look at health disparities, especially in people of color communities, and the rights of trans people and LGBT undocumented immigrants. The expansion included hiring Valerie Ploumpis as National Policy Director based in Washington DC and launching Silver State Equality in Nevada.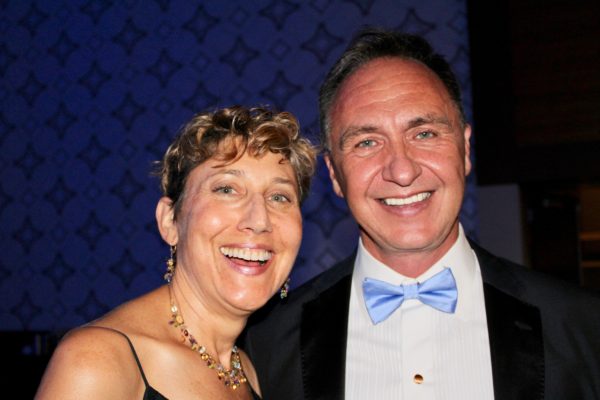 National Policy Director Valerie Ploumpis and Executive Director Rick Zbur (Photo by Karen Ocamb)
This year, Equality California had 13 bills and resolutions; seven passed the legislature; one has been signed into law; and six bills were turned into two-year bills.
"It was a challenging year for us. I've got to admit that. Part of that is because our bills are more challenging and in many ways, we're tackling tougher issues that impact our community in significant ways," Zbur tells the Los Angeles Blade. "Many of the strategies that we are pursuing cost money. So that is something that we've got a lot of work to do to educate the legislature about the need to prioritize our community as they're allocating budgetary resources. We've got a lot of work to do next year to get those six bills passed."
Gov. Newsom signed AB 711 by Assemblymember David Chiu. "That basically ensures that local educational agencies in California are required to update the records of their former students who identify as transgender, so that their legal name and their gender are accurately reflected in documents like high school diplomas and school transcripts." Says Zbur.
Assemblymember Todd Gloria's AB 493, Safe and Supportive Schools, is on Newsom's desk but minus a key component – Mandatory Teacher and Staff Training Element, which was pulled because the budgetary funding was insufficient.  "We have an agreement and understanding with the governor's office that we will bring back the mandatory training elements of the bill next year. They made a commitment to us to work on a funding package as part of next year's budget," says Zbur. "We're optimistic that the governor and his staff have actually prioritized LGBTQ school safety as an issue to tackle in sort of a comprehensive way next year."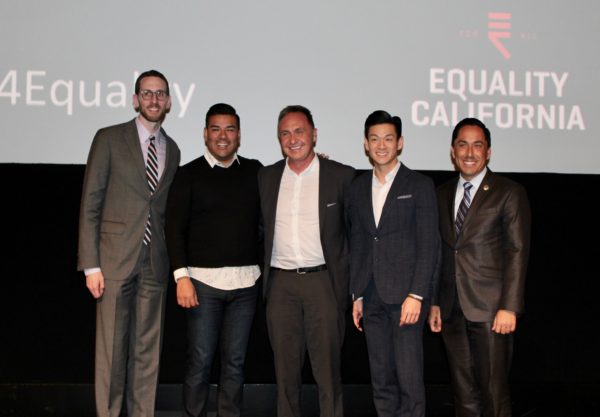 State Sen. Scott Wiener, then-Insurance Commissioner candidate Sen. Ricardo Lara, Equality California Executive Director Rick Zbur, LGBT Legislative Caucus Chair Assemblymember Evan Low, and Assemblymember Todd Gloria at an EQCA event. (Photo by Karen Ocamb)
Another major bill awaiting a signature is SB 159, PrEP and PEP Access Expansion bill by Sen. Scott Wiener. The bill "basically authorizes pharmacists to furnish PrEP and PEP to patients without a prescription, which eliminates one of the key barriers to getting coverage," says Zbur. Now, if someone can't get a doctor's prescription over the weekend, PrEP and PEP is over available at an emergency room.
"That costs a lot of money and for people that have inadequate insurance, it is a huge barrier. So this bill would fix those circumstances," says Zbur. "It also prohibits insurance companies from requiring prior authorization from insurance companies for at least that initial prescription for PrEP."
Another bill, SB 495 by Senator Maria Elena Durazo, tackles child custody determinations, modifying the family code "to prohibit discrimination on the basis of sexual orientation or gender identity of a parent or legal guardian or relative when granting and making decisions on custody of a child, which is an important new non-discrimination protection that is now embedded in our law."
Additionally, AB 785, by Senate Assemblymember Richard Bloom "streamlines the transfer of donor medical information for families in donor conceived individuals" is also on Newsom's desk.
The tough two-year bills include the complicated Intersex Bodily Autonomy bill, which was pulled early to allow for more education. "Basically it protects the rights of intersex Californians to ensure that they can provide informed consent before medically unnecessary and sometimes irreversible and harmful procedures are performed on them as babies," says Zbur. "At its core, this is about protecting and respecting an individual's own determination of their gender identity."
Another now-two-year bill by Senator Wiener, SB 132, the Transgender Respect Agency and Dignity Act, primarily dealing with how trans inmates are housed in prison. "We, as a coalition, elected to take a pause and work on some details on the bill that we think will allow us to get it passed next year," Zbur says. "As you might expect, there's a high amount of engagement with the California Department of Corrections."
And then there was the dustup with Assembly Appropriations Chair Lorena Gonzalez, who placed Wiener's SB 145 Sex Offender Registry bill on suspense without explanation, turning it into a two-year bill. The bill would fix the state's discriminatory practice of treating LGBT young people differently than their non- LGBTQ peers when engaging in voluntary sexual activity
"We obviously expressed our concern about how this bill was treated. But we are planning on working with the Assembly Appropriations Chair next year and are dedicated to continuing to fight to get this through," says Zbur.
"I think [Gonzalez] considers herself an ally. But I think she really doesn't fully understand our issues. It's inappropriate for her to really try to pit a bill that is trying to fix discrimination against LGBTQ people against folks in the criminal justice advocacy area, who would oppose any sort of increased criminalization of something."
Apparently, Gonzalez hated the bill. "She wanted this gone. She had concerns about the underlying law. That's something that she should do as a separate bill. We obviously took issue with the fact that she wanted to tie concerns that she had with the underlying law to an LGBTQ bill to fix discrimination for our community," Zbur says.
Two other bills, SB 741 and AB 650, "got bollixed up because of some of the details," says Zbur. One allows trans Californians to update their marriage certificates and birth certificates while still protecting their privacy and the other is about LGBTQ data collection. A third bill, AB 307, by Eloise Gomez Reyes and Senator Wiener regards a homeless youth grant program for which there was no money in the budget.
"One of the challenges that we're facing is that many of the things that we need to do in California do cost money now," says Zbur. "So we've got a lot of work to do to really hold our legislators and legislature accountable to prioritize the needs of our community. These bills are essentially a drop in the bucket compared to the broader state budget. But really, just the commitment isn't there yet among many of the folks that are making these decisions. So we've got a lot of work to do and that's what we're going to be focusing on next year."
CNN commentator and outspoke Trump critic Ana Navarro (Photo by Karen Ocamb) 
Zbur says their Equality California 20th Anniversary Awards on Sept. 28 at the J.W. Marriott Hotel "should be the biggest gala that we've ever had," with an expected attendance of more than 1200 people. The honorees are Jill Soloway, creator and executive producer of the Amazon original series Transparent, with the Equality Visibility Award;  CNN political commentator Ana Navarro with the Ally Leadership; Latham & Watkins, LLP and attorney Amy Quartarolo, who will be honored together with the Community Leadership Award –  Latham & Watkins, contributed almost $3 million in free legal services to Equality California over the last three years; and past Equality California Board President Andreas Meyer, who led the organization's board of directors from 2012-2016.
Meyer was Board president when Zbur was hired and "developed the strategy that the organization is following now—one that is very intersectional and really focused on addressing the disparities in health and wellbeing that our community faces."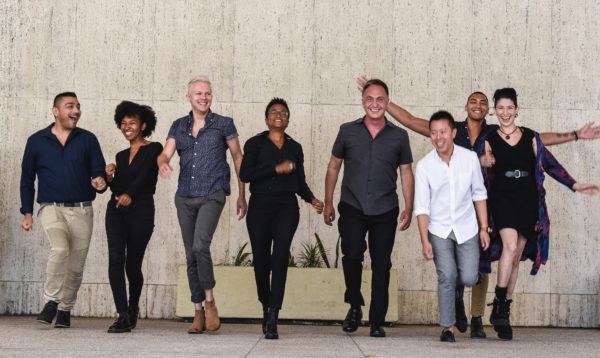 Equality California staff: From left: Program Director Robbie Rodriguez, Program Associate Marisa London, Communications Director Samuel Garrett-Pate, Director of Finance & Administration Valecia Phillips, Executive Director Rick Zbur, Managing Director Tony Hoang, Program Manager Jeremy Payne, Grants Associate Allie Hughes (Photo by Claudia Unger & Francesca Di Amico, courtesy of Equality California)
Zbur also says he is "actually very lucky to have an incredibly committed board and an incredibly committed staff. I mean it's really a team effort. But when I came in, it was a time in which a lot of folks were asking the question: why do we need Equality California? We were so associated with the fight for marriage equality and that was behind us. Andres was an incredibly important leader of our organization during that transition," as were Jackie Thomas and Joyce Rowland at the Equality California Institute.
"For two decades, Equality California has led the Golden State's fight for LGBTQ civil rights and social justice," says Zbur. "And after 20 years in this fight — even in these challenging times — I couldn't be more hopeful. I have hope for our future because like our fledgling board back in 1999, I know the next generation of leaders are unafraid, unjaded and don't give a damn what the cynics have to say."
License plate recognition cameras deployed in Melrose District
"If you commit a crime on Melrose we're gonna stop you, we're gonna catch you, and we're gonna prosecute you"
LOS ANGELES – After a series of recent violent 'smash & grab' crimes along with a rise in physical assaults and robberies, the City of Los Angeles is installing automated license plate recognition cameras in the Melrose business corridor and surrounding neighborhoods.
Speaking with reporters Tuesday, Los Angeles City Councilmember Paul Koretz announced that the city partnered with community organization Melrose Action and is implementing the installation of 12 cameras.
"It's just another step to send a message that if you commit a crime on Melrose we're gonna stop you, we're gonna catch you, and we're gonna prosecute you," Koretz said and added the cameras being installed will "provide a next level of surveillance."
Melrose Action raised more than $30,000 and Koretz contributed another $10,000 to get the program off the ground, according to a news release announcing the project.
Melrose Action co-founder Peter Nichols told the Los Angeles Times he has been disturbed by recent crimes in the area.
"We went through a homicide cycle. Then we then we went through an armed robbery cycle that lasted for several months," Nichols told the Times. "Now the latest is the smash-and-grabs."
License plate readers have come under fire over potential privacy issues as usage has grown among law enforcement agencies, the Times reported.
The Times also noted that the California state auditor said last year that the LAPD and three other law enforcement agencies had not provided sufficient privacy protections.
Koretz told KTLA that the images will be shared among local law enforcement agencies including the LAPD and the Los Angeles County Sheriff's Department.
********************
Gay celebs to help Project Angel Food deliver 2,000 Thanksgiving dinners
The Hollywood-based charity provided 1 million meals in 2020 to people with COVID, cancer, HIV/AIDS & more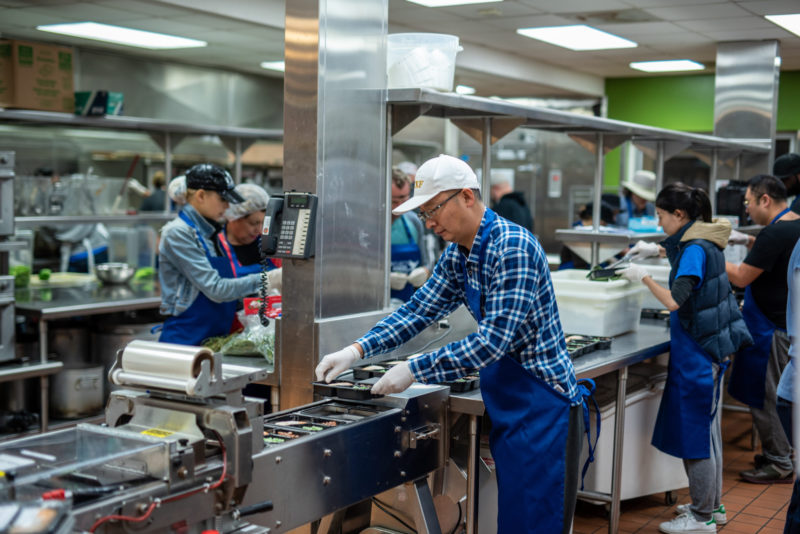 LOS ANGELES – Melissa Rivers and some of L.A.'s best known out gay celebrities will be pitching-in this Thanksgiving to help Project Angel Food provide a holiday meal to thousands of critically-ill clients and their caregivers.
The holiday helpers include KTLA-TV's Gayle Anderson, actors Megan Hilty, Juan Pablo Di Pace, Peter Porte as well as 2018 Los Angeles Blade Best of Gay L.A. Winner Chef Stuart O'Keeffe, among others.
In 2020, with the coronavirus raging, Project Angel Food delivered a record 3,000 traditional turkey dinners, and a total of one million meals last year.
Over the past 32 years, Project Angel Food has delivered more than 13 million meals to people with serious medical issues since its start in 1989. It was founded by Marianne Williamson, along with David Kessler, Ed Rada, Howard Rosenman and Freddie Weber; At first, it was an outreach program of the Los Angeles Center for Living,
"That was the height of the AIDS crisis, so everyone in Hollywood converged upon Project Angel Food to make it successful and to take care of our people who were dying," CEO Richard Ayoub told the Los Angeles Blade. "Bette Midler, Judith Light, Sheryl Lee Ralph. Elizabeth Taylor. Shirley MacLaine, Whoopi Goldberg, the list goes on and on and on." In recent years that list went on to include Halle Berry, Adam Lambert, Jesse Tyler Ferguson and even Prince Harry and Meghan Markle.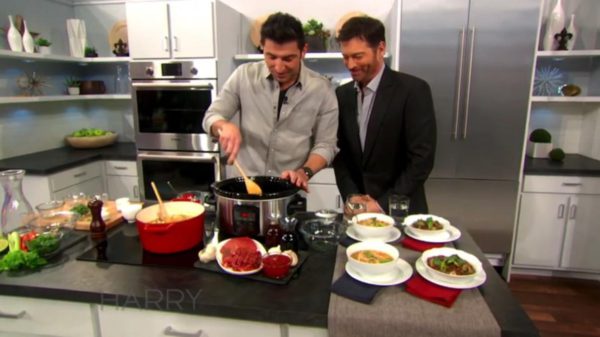 What's important to Project Angel Food's clients, however, isn't so much who's delivering as much as what they're bringing and why, Ayoub said.
"Today we have about 2,400 clients," he said, noting at least 500 of them are living with HIV as their main diagnosis. "These long-term survivors of AIDS and HIV, they're the ones we want to continue to honor and celebrate and take care of, so they're going to need us as long as it takes, and we're going to be there for them."
But then there is what Ayoub called "the second pandemic:" COVID-19. "The people with diabetes, heart disease, lung disease, people who are immune-suppressed, they are the most susceptible to get COVID. And if they get it, they're the most likely to die," he said. "So we want to make sure that they don't get out of their houses if they don't have to, and that they get all the right food that they need to keep them healthy."
And the same inflation problems plaguing all of us have hit the Vine Street nonprofit, too, Ayoub said.
"Our goal is to continue to feed the people we have, and by doing that, it is costing us more money today than it did last year," said Ayoub. "We just bought a brand new van, the very same kind of van we bought last year. But it costs $10,000 more because of supply chain problems. Food is 30% more. Fuel: We're paying $5 a gallon when you and I drive around town. Now, can you imagine doing that times 12? We have 12 vans that cover all 4,500 square miles of our county."
Ayoub noted that as many Americans get together this week for the traditional feast, politics may divide us, but there's one essential thing that brings everyone together: Food.
"It's one of the basic needs of any human being, and that is a nonpolitical issue," Ayoub told the Blade. "I think that's why we have Democrats and Republicans and independents supporting us and have always supported us, because you can't argue with someone who is sick and homebound and has the need for a meal that will nourish them and in some cases, help them heal."
Project Angel Food may have attracted some famous names to help out, said Ayoub, but right now the charity has some very immediate needs that everyday people can help them meet.
"Three things people can do. One, they can volunteer. We have a shortage of volunteers in our kitchen for the first time in our history," he said. "We need your help. Of course, we always accept donations, and angelfood.org/donate is a good place to go. And then third, spread our message. Get our message out there to your friends and family, and just make sure everyone's aware that there's no one else in L.A. County that does what we do at Project Angel Food." 

Click here to find out more about Project Angel Food, its mission and the Thanksgiving food drive.
'There's no place like home,' The Ariadne Getty Foundation Senior Housing
"This is probably the most important home I've ever had- My new home is my sanctuary. It is safety. It is my place of peace"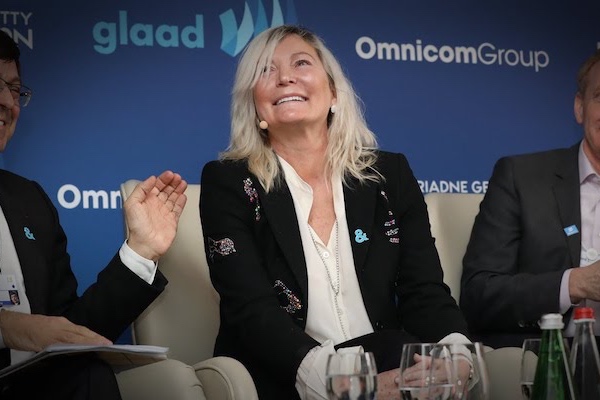 LOS ANGELES – The impact of a philanthropist's work on a community may often be felt although the public at large may not actually be informed on the character of that person sometimes mistaking the physical recognition such as naming rights on buildings as ego driven.
This simple truth is hardly applicable to the Ariadne Getty Foundation's founder and namesake, Ariadne Getty, as her work is not driven by ego, instead an unyielding devotion to community.
In Los Angeles the Getty family name can be found in public spaces that enhance the culture and education of Angelenos, the two most notable being the J. Paul Getty Museum at the Getty Center and the Getty Research Institute Library.
At LA's central library one of the largest exhibition spaces carries the family's name.
Ariadne Getty's significant philanthropic efforts however, are more focused on a marginalised community and aren't comprised of a grouping of public spaces adorned with plaques. This quiet unassuming mother of two instead prefers to direct efforts into funding organizations that directly benefit the LGBTQ+ community.
Her foundation has been underwriting the efforts of the Los Angeles LGBT Center and GLAAD. Getty joined the board of directors of the latter in 2016 and on Feb 1, 2018 at the World Economic Forum in Davos, Switzerland, Getty pledged $15 million to the organization, which focuses on media and increasing the visibility and acceptance of the LGBTQ community.
Getty is the mother of two twenty-something children who are members of the LGBTQ+ community and is the mother-in-law to a high profile Trans social media influencer who is married to one of her kids. While naturally focused on the younger set as a result, she also has deep compassion for LGBTQ+ seniors telling journalist Karen Ocamb in an interview this past January;
"I'm particularly excited about the seniors," Getty says. "My heart goes out to them so much because they've lost lots of their friends and they're lonely and the Center [LA-LGBT] provides such a hub of activity. And I love the fact that we're going to be joining the youth with the seniors, because the seniors will be able to educate the youth about really the history and the hardships of getting to where we are today, where we still have so far to go. But this is a far cry from being gay in the '40s or the '50s — let alone during the '80s with AIDS. I think people, as they get older, get afraid of new things like technology and I think that the youth can help the seniors with just staying up to date and feeling a part of that side. That's definitely the thing that makes me the happiest: they're in a Center where they're surrounded by people. There's no room for loneliness."
Getty had a dream. "My goal has always been that I'll be somebody that would give to community, to be a part of philanthropy on a larger scale," she told Ocamb. "It's been many years that I've known that — I can't shy away from the question completely — that I would inherit money. And the first thing that I did was set up the foundation and that's become my passion."
The Ariadne Getty Foundation Senior Housing is a result of Getty's focus. Located on the LA LGBT Center's Anita May Rosenstein Campus off Santa Monica Blvd. in Hollywood, the 70,000-square-foot building has 98 affordable housing units for seniors ages 62 and above. It also has a series of large common spaces and interconnected courtyards and areas for its residents tied to the larger Rosenstein campus. While the building bears the Getty name, the focus very much reflects the spirit of her ambition to offer a secure and communal safe space for LGBTQ+ seniors.
"The lack of affordable housing in this country is at an all-time high and presents even greater hardships for the LGBTQ community given the many biases which continue to exist. It's an even greater problem amongst LGBTQ seniors," Getty told journalist Greg Hernandez in a Blade interview conducted in March of 2020.
Getty's assertion that a lack of housing presents greater hardship for LGBTQ+ seniors has been backed by studies released by the Williams Institute on Sexual Orientation and Gender Identity Law and Public Policy at the UCLA School of Law and in a study that showed LGBTQ+ people are being left out of generational wealth for many reasons including family rejection, systematic barriers and a lack of financial education.
With almost half of LGBTQ+ adults saying they have been excluded by a family member or close friend as a result of their sexual orientation or gender identity, according to a study by the Pew Research Center, a lack of familial financial support is a common problem for many in the community.
It is that disconnect from family or death of a partner or spouse that leaves a substantial portion of LGBTQ+ seniors alone. Many of them at risk for homelessness which has reached epic crisis levels in Los Angeles.
An estimated 65,000 LGBTQ seniors live in Los Angeles—68 percent of whom live alone. Many struggle to afford housing and other necessities. They are four times less likely than their heterosexual counterparts to have children and grandchildren to support them and twice as likely to live alone.
These factors were reflected in the high demand during the application process to become a potential resident of the Getty Foundation/LA Center Senior Housing two years ago.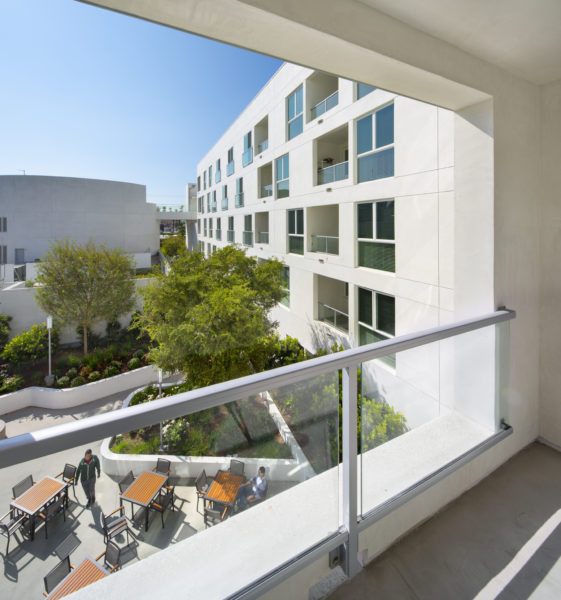 On Tuesday the formal dedication in a press-only event culminated the years-long process that opened the Senior Housing, celebrating the latest resource for the community. The process though had also been very much affected by the coronavirus pandemic. Prior to the Tuesday event, the in-house communications team at the LA LGBT Center interviewed Getty.
The Ariadne Getty Foundation Senior Center is the "cherry on the top" which completes the Center's dream of building an intergenerational campus—congratulations! How do you feel knowing that the Senior Center is finally open, particularly when we experienced delays due to the pandemic?
"I'm feeling a big sigh of relief knowing there are more LGBTQ seniors who finally have the housing and care they need and deserve. For decades, LGBTQ seniors have been on the frontlines advocating for equality. Without the progress they achieved and their personal sacrifices, the LGBTQ community would not have the same rights it does today. Covid-19 has been incredibly challenging, but even before the pandemic, LGBTQ seniors faced disproportionate rates of homelessness," Getty answered.
"Unfortunately, the pandemic deepened disparities, making the The Los Angeles LGBT Center's The Ariadne Getty Foundation Senior Center an urgent need not only for the Los Angeles community, but as an example and inspiration for communities nationwide. It's only right that we meet this urgent need and repay their decades of hardships with the services LGBTQ seniors need to live and age with dignity and respect. The Senior Center is another step towards achieving that goal and ensuring that the most vulnerable seniors receive the care they deserve."
In an email to the Blade, Getty's children Nats and August Getty expressed their admiration and support for their mother's charitable work as now physically evident with the completion of the Senior Housing.
"We couldn't be prouder to have a mom who cares so deeply for the LGBTQ community. Since we came out as queer, our mom and her foundation, The Ariadne Getty Foundation's commitment to LGBTQ equality has only deepened – and the new Los Angeles LGBT Senior Center's Ariadne Getty Foundation Senior Housing is a standing tribute to that commitment. Because of her advocacy and philanthropy, she has helped create a home where LGBTQ seniors can live and age with dignity and respect.
As out-queer, young adults, our ability to be our authentic selves comes on the back of the tireless advocacy of LGBTQ elders. It is only right that these seniors receive the care and support they deserve. We are thankful our mom has helped make that a reality."
In addition to Getty's foundation, the Senior Housing received support from investors and government agencies, including the City of Los Angeles; Los Angeles County; City of West Hollywood; State of California; California Community Reinvestment Corporation; Federal Home Loan Bank of California; and Wells Fargo Bank.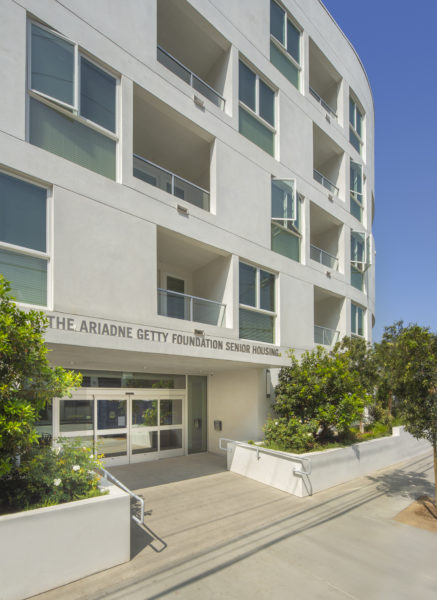 Also partnering was property management company Thomas Safran & Associates. In a phone interview Tuesday, the company's President Jordan Pynes told the Blade that community was the primary focus that was incorporated into every aspect of the design. From the physical layout to the interconnectivity with the center's main campus, every element was purpose driven to make sure that residents had the ability to mingle and build that sense of community.
Joining in the interview call, Kevin Napoli, co-founder of the LENA Group, Inc. told the Blade that all the elements of the design were based on the larger campus, but stressed that the focus was on the interconnected courtyards and common spaces. The effect to engender interactions between all members of the center's community and the seniors.
Senior Housing residents will have access to the full range of wraparound services and support provided by the Center, including case management; home-delivered meals; in-home care and benefits assistance; connection to health and mental health care; HIV support and wellness; counseling and support groups; and more than 100 monthly activities and events provided for free or at low-cost.
"We are immensely proud to finally open the doors of The Ariadne Getty Foundation Senior Housing following months of construction interruptions caused by the COVID-19 pandemic—but the wait was worth it," said LA LGBT Center CEO Lorri L. Jean. "Just in time for Thanksgiving and the upcoming holidays, our residents can celebrate with each other in a safe, warm environment where they are able to live freely and fearlessly as their authentic selves. We have many reasons to be grateful this year, and are particularly thankful for Ariadne Getty, her foundation, and our affordable housing developer partner Thomas Safran & Associates, who stepped up to work with us to improve the lives of many low-income seniors!"
"This is probably the most important home I've ever had," said new resident Lisa Chilton. "For 10 years, whether it was renting a room or sleeping on various sofas, I had been in many other people's space, trying to stay small, and following their schedules. My new home is my sanctuary. It is safety. It is my place of peace."