Equality California celebrates 20 years of legislative activism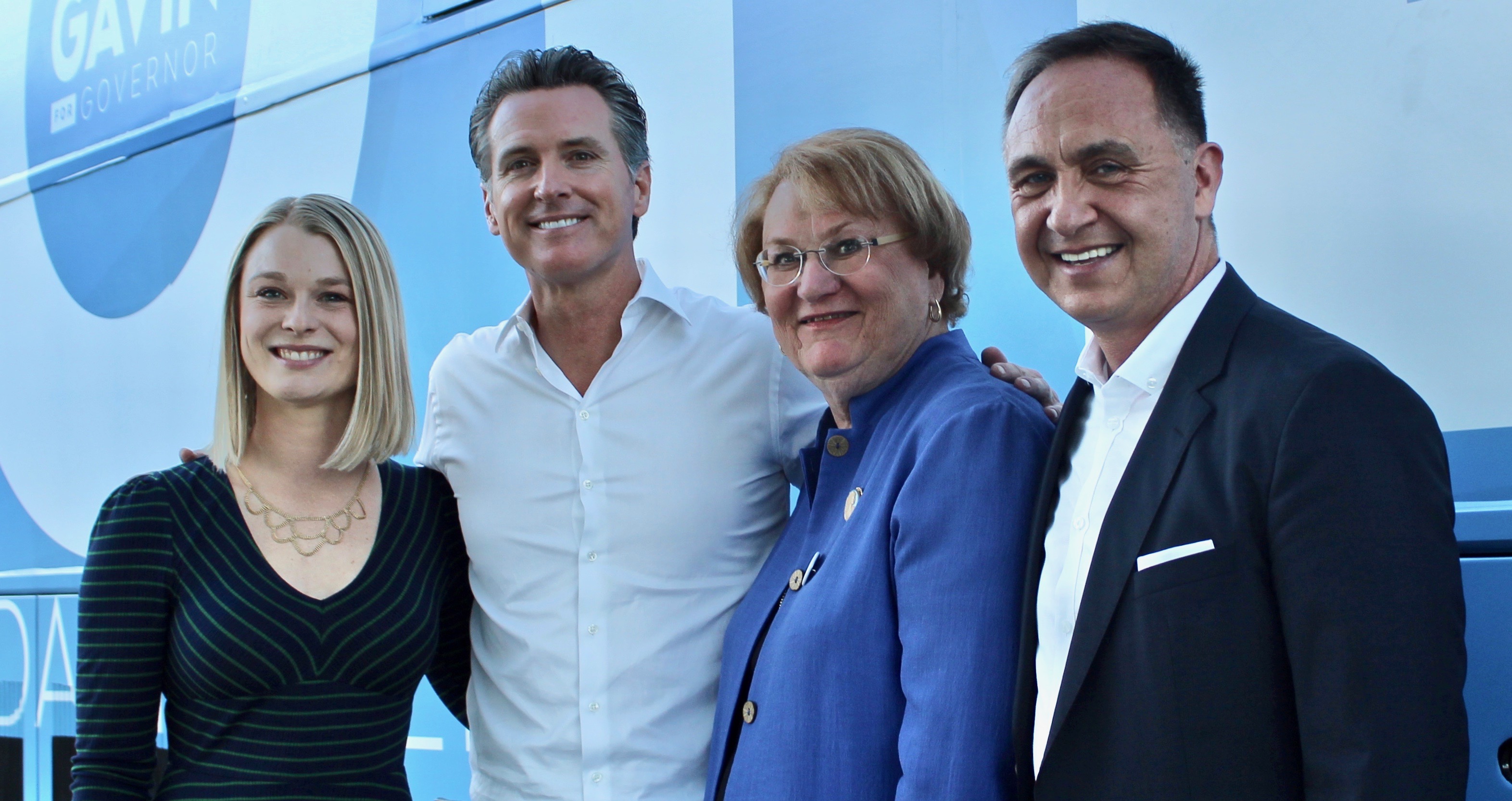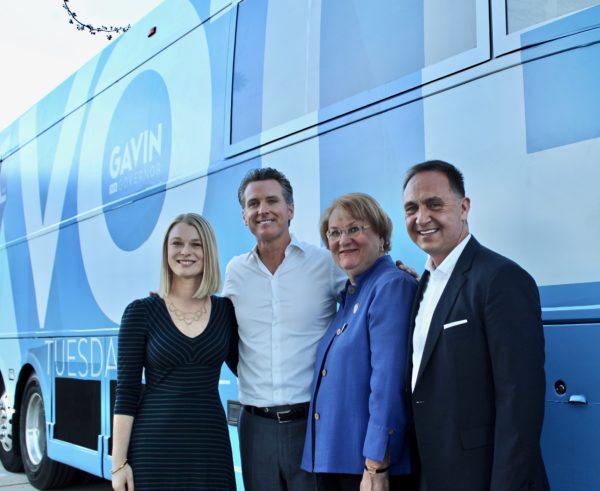 Bisexual Palm Springs City Councilmember Christy Holstege, gubernatorial candidate Gavin Newsom, trans Palm Springs City Councilmember Lisa Middleton, Rick Zbur, executive director of Equality California (Photo courtesy EQCA)
History doesn't just make itself. History happens at an inflection point when fed up individuals come together and organize to make change. Different groups take different approaches to an issue but for change to stick, it needs to become law.  This is particularly true for LGBTQ people who are still not equal to their fellow citizens under federal and many state and local laws. That's why Equality California's 20 years of successful legislative activism has become a model for other statewide LGBTQ civil rights organizations.
But Equality California stands on the shoulders of brave souls who paved the way through the dark, tangled thicket of entrenched and institutionalized homophobia.
California has a long track record of creating change, starting with the Mattachine Society, the Daughters of Bilitis, ONE Magazine, the Society for Individual Rights (SIR) in the 1950s. In the 1960s, gay and lesbian activism intertwined with the anti-Vietnam War, Women's Liberation and Gay Liberation movements.  But ironically, the Black Cat and Stonewall rebellions in the late 1960s also sent people "scurrying into closet" fearing exposure through police arrests at bar raids, according to attorney and businesswoman Diane Abbitt.
"There was a lot of shame. People were terrified of losing their jobs. A lot of them were teachers and professional people," Abbitt tells the Los Angeles Blade. "And it impacted businesses. There was a lesbian bar in Redondo Beach where the police kept coming in on the pretext that they were looking for a runaway."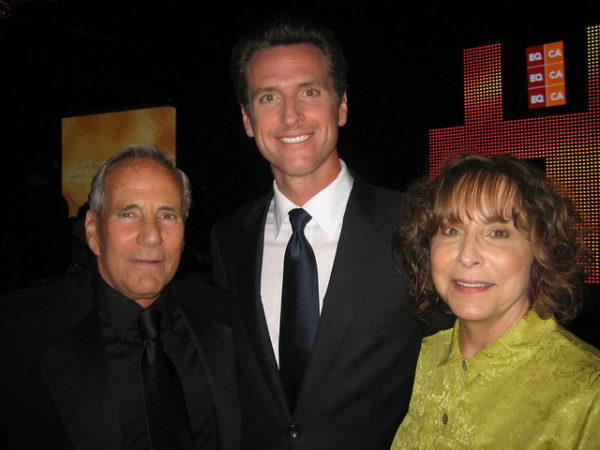 Checkbook activist and Equality California Board member Diane Abbitt, with EQCA honoree San Francisco Mayor Gavin Newsom and consultant Bob Burke in 2008. (Photo by Karen Ocamb)
By the 1970s, the fight for equal protection under the law hit the political scene and the California Legislature. In 1971, the Alice B. Toklas Memorial Democratic Club of San Francisco formed to train activists to become political professionals and engage with the Democratic Party. In 1975, Stonewall Democratic Club was founded in Los Angeles and Assemblymember Willie Brown arduously secured passage of a consenting adults law that didn't exactly decriminalize homosexuality—sodomy or oral copulation laws remained on the books—but private consensual activity between adults over 18 was no longer illegal. In 1977, Assemblymember Art Agnos started pushing for a gay rights job bill and Harvey Milk was elected to the San Francisco Board of Supervisors. The following year, a statewide coalition of activists defeated the anti-gay Briggs initiative and Milk was assassinated.
Meanwhile in LA, the Municipal Elections Committee of Los Angeles (MECLA) became the first gay political action committee (PAC) contributing money to local pro-gay politicians. "We wanted to change the quality of life for gay people so they could be who they are – and they wanted to do that through political action," says Abbitt, MECLA's first female board co-chair who later served on the EQCA board and became PAC chair. MECLA became so prominent, Gov. Jerry Brown gave the keynote speech at a 1979 roast for philanthropist businessman Sheldon Andelson.
There were a record 71 openly lesbian and gay delegates to the 1980 Democratic Convention, 17 of whom came from California. The Democratic Party Platform included a gay rights plank. But Democratic President Jimmy Carter lost to former California Republican Gov. Ronald Reagan in 1980 and everything changed.
Though the first AIDS cases reported to the CDC in 1981 of five gay men from Los Angeles exploded into "1,112 and Counting," as Larry Kramer put it in 1983, the religious conservative Reagan administration did little to nothing. But AIDS brought together the leaders of numerous LGBT groups to form LIFE AIDS Lobby to push AIDS legislation in Sacramento.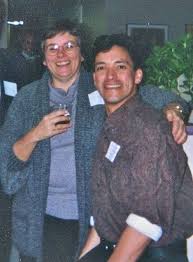 LIFE Lobby Board Co-Chair attorney John Duran and Executive Director Laurie McBride at AIDS Action event during Bill Clinton's Inauguration in Jan. 1992 (Photo by Karen Ocamb)
LIFE worked with allies like Willie Brown and David Roberti, whose openly gay aide Stan Hadden wrote bills and coordinated the legislative response. LIFE also pushed back on anti-gay/AIDS bills and other measures such as the AIDS quarantine initiatives.  John Duran, a volunteer attorney for ACT UP/Orange County, joined the LIFE AIDS Lobby board and wound up serving as co-chair from 1988-1992, working with executive director, Laurie McBride. By the time Republican Gov. Pete Wilson vetoed AB 101 in 1991, LIFE Lobby included members as diverse as transgender ACT UP/LA AIDS activist Connie Norman and Log Cabin Republican Club co-founder Frank Ricchiazzi.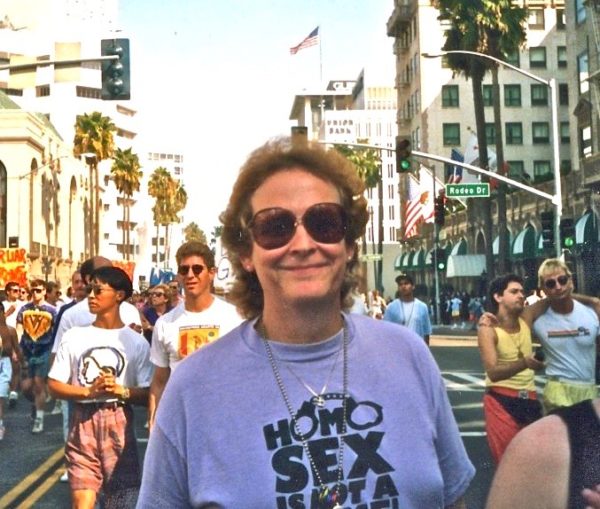 The late AIDS Diva Connie Norman marching in AB 101 protests in Beverly Hills in 1991 (Photo by Karen Ocamb)
In the 1990s, state politics was dominated by conservative anti-gay Republicans. Out attorney Sheila James Kuehl took on the challenge, becoming the first openly gay person in the California Legislature and the first member of the LGBT Legislative Caucus. But in 1998, despite the turning point of Democrat Gray Davis's election as governor and the promise of new life-saving AIDS medications, LIFE Lobby ran out of money and folded.
But longtime politicos recognized the need for political and legislative activism and California Alliance for Pride and Equality (CAPE) quickly emerged from the ashes in 1999 with longtime San Francisco politico Jean Harris as executive director. Geoff Kors, a graduate of Stanford Law School and a lawyer in private practice, was one of nine members who sat on CAPE's Board of Directors—which now constituted individual board members, not representatives from different statewide organizations.
When Harris left in 2003 – having helped pass Assemblymember Carole Migden's AB 25 domestic partner registry bill and Kuehl's AB 537, the first statewide LGBT-inclusive anti-bullying law – Kors stepped in as executive director and changed the organization's name to Equality California.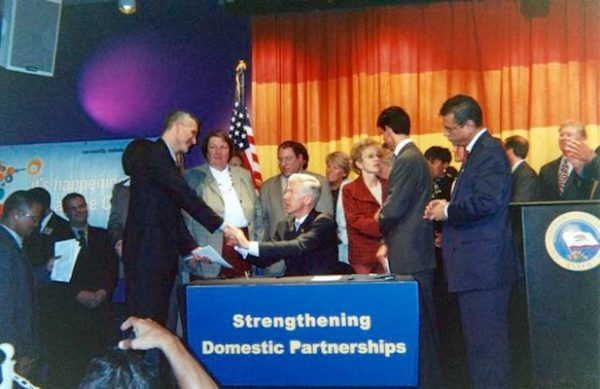 Kors grew the organization into a national model. First, in 2003, working with gay friend Assemblymember Mark Leno, they secured passage of Leno's AB 196 adding gender identity to employment and housing protections. That year, he also helped secure passage of AB 205, Assemblymember Jackie Goldberg's expanded domestic partnership bill that was essentially civil unions by another name.
In 2004, as the Religious Right pressured President G. W. Bush to pass a federal constitutional amendment banning gay marriage, Equality California merged with Marriage Equality California and focused on both affirmative and counter measures. In 2005, Leno's first marriage bill, AB 849, passed the Legislature, only to be vetoed by Gov. Arnold Schwarzenegger. Marriage equality became a key gay and lesbian civil rights issue but marriage equality was upended by the passage of Prop 8 in 2008. It was eventually overturned.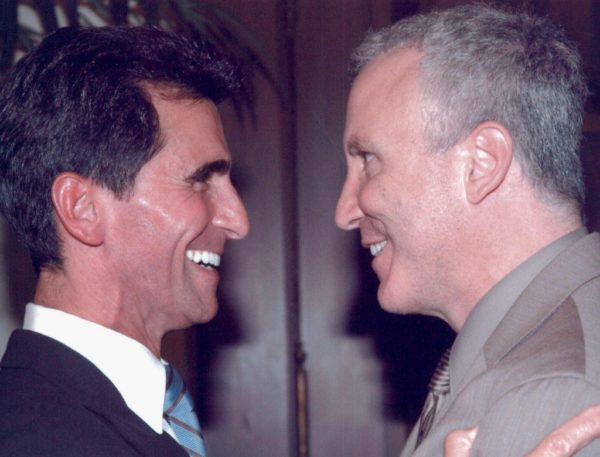 Assemblymember Mark Leno and Equality California Executive Director Geoff Kors excited over passage of Leno's marriage equality bill. (Photo courtesy Kors) 
Kors left Equality California in March 2011 after a hugely successful tenure, concluding with passage of State Sen. Mark Leno's SB 4, the FAIR Education Act that established an inclusive curriculum.
Kors was followed by Roland Palencia, who served a year, followed by incredible ally Laurie Hasencamp, who stabilized the troubled organization, then John O'Connor who joined the organization in December 2012. During their tenures, Equality California worked to pass Ted Lieu's SB 1172 "reparative therapy" bill to protect LGBT youth from psychological abuse; Assemblymember Tom Ammiano's AB 1266, the School Success and Opportunity Act, protecting and prohibiting the exclusion of trans students from classes and activities; and Assemblymember Susan Bonilla's AB 2501, prohibiting use of the "panic defense" based on sexual orientation or gender identity.
When O'Connor left, Rick Zbur, a longtime political and environment activist, retired in 2014 from his senior law partnership with Latham & Watkins to take the executive director job, which also includes working with the Equality California Institute and the community Equality Council.
Equality California has expanded, re-branded and flourished under Zbur's leadership, broadening the scope of the organization's mission to focus on intersectionality and look at health disparities, especially in people of color communities, and the rights of trans people and LGBT undocumented immigrants. The expansion included hiring Valerie Ploumpis as National Policy Director based in Washington DC and launching Silver State Equality in Nevada.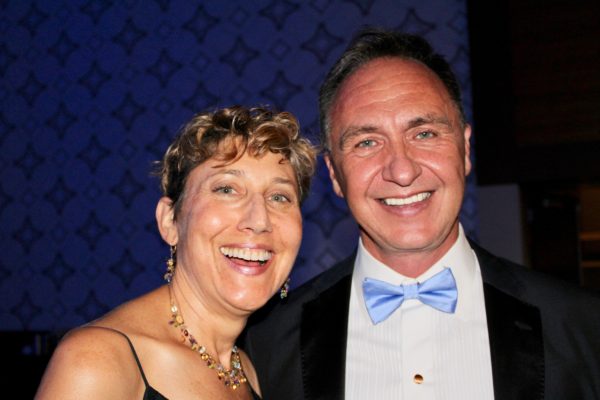 National Policy Director Valerie Ploumpis and Executive Director Rick Zbur (Photo by Karen Ocamb)
This year, Equality California had 13 bills and resolutions; seven passed the legislature; one has been signed into law; and six bills were turned into two-year bills.
"It was a challenging year for us. I've got to admit that. Part of that is because our bills are more challenging and in many ways, we're tackling tougher issues that impact our community in significant ways," Zbur tells the Los Angeles Blade. "Many of the strategies that we are pursuing cost money. So that is something that we've got a lot of work to do to educate the legislature about the need to prioritize our community as they're allocating budgetary resources. We've got a lot of work to do next year to get those six bills passed."
Gov. Newsom signed AB 711 by Assemblymember David Chiu. "That basically ensures that local educational agencies in California are required to update the records of their former students who identify as transgender, so that their legal name and their gender are accurately reflected in documents like high school diplomas and school transcripts." Says Zbur.
Assemblymember Todd Gloria's AB 493, Safe and Supportive Schools, is on Newsom's desk but minus a key component – Mandatory Teacher and Staff Training Element, which was pulled because the budgetary funding was insufficient.  "We have an agreement and understanding with the governor's office that we will bring back the mandatory training elements of the bill next year. They made a commitment to us to work on a funding package as part of next year's budget," says Zbur. "We're optimistic that the governor and his staff have actually prioritized LGBTQ school safety as an issue to tackle in sort of a comprehensive way next year."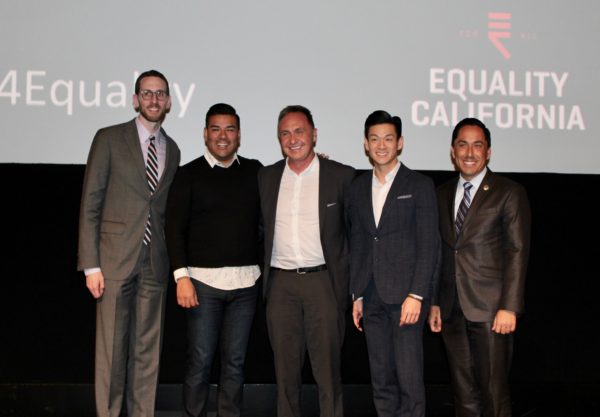 State Sen. Scott Wiener, then-Insurance Commissioner candidate Sen. Ricardo Lara, Equality California Executive Director Rick Zbur, LGBT Legislative Caucus Chair Assemblymember Evan Low, and Assemblymember Todd Gloria at an EQCA event. (Photo by Karen Ocamb)
Another major bill awaiting a signature is SB 159, PrEP and PEP Access Expansion bill by Sen. Scott Wiener. The bill "basically authorizes pharmacists to furnish PrEP and PEP to patients without a prescription, which eliminates one of the key barriers to getting coverage," says Zbur. Now, if someone can't get a doctor's prescription over the weekend, PrEP and PEP is over available at an emergency room.
"That costs a lot of money and for people that have inadequate insurance, it is a huge barrier. So this bill would fix those circumstances," says Zbur. "It also prohibits insurance companies from requiring prior authorization from insurance companies for at least that initial prescription for PrEP."
Another bill, SB 495 by Senator Maria Elena Durazo, tackles child custody determinations, modifying the family code "to prohibit discrimination on the basis of sexual orientation or gender identity of a parent or legal guardian or relative when granting and making decisions on custody of a child, which is an important new non-discrimination protection that is now embedded in our law."
Additionally, AB 785, by Senate Assemblymember Richard Bloom "streamlines the transfer of donor medical information for families in donor conceived individuals" is also on Newsom's desk.
The tough two-year bills include the complicated Intersex Bodily Autonomy bill, which was pulled early to allow for more education. "Basically it protects the rights of intersex Californians to ensure that they can provide informed consent before medically unnecessary and sometimes irreversible and harmful procedures are performed on them as babies," says Zbur. "At its core, this is about protecting and respecting an individual's own determination of their gender identity."
Another now-two-year bill by Senator Wiener, SB 132, the Transgender Respect Agency and Dignity Act, primarily dealing with how trans inmates are housed in prison. "We, as a coalition, elected to take a pause and work on some details on the bill that we think will allow us to get it passed next year," Zbur says. "As you might expect, there's a high amount of engagement with the California Department of Corrections."
And then there was the dustup with Assembly Appropriations Chair Lorena Gonzalez, who placed Wiener's SB 145 Sex Offender Registry bill on suspense without explanation, turning it into a two-year bill. The bill would fix the state's discriminatory practice of treating LGBT young people differently than their non- LGBTQ peers when engaging in voluntary sexual activity
"We obviously expressed our concern about how this bill was treated. But we are planning on working with the Assembly Appropriations Chair next year and are dedicated to continuing to fight to get this through," says Zbur.
"I think [Gonzalez] considers herself an ally. But I think she really doesn't fully understand our issues. It's inappropriate for her to really try to pit a bill that is trying to fix discrimination against LGBTQ people against folks in the criminal justice advocacy area, who would oppose any sort of increased criminalization of something."
Apparently, Gonzalez hated the bill. "She wanted this gone. She had concerns about the underlying law. That's something that she should do as a separate bill. We obviously took issue with the fact that she wanted to tie concerns that she had with the underlying law to an LGBTQ bill to fix discrimination for our community," Zbur says.
Two other bills, SB 741 and AB 650, "got bollixed up because of some of the details," says Zbur. One allows trans Californians to update their marriage certificates and birth certificates while still protecting their privacy and the other is about LGBTQ data collection. A third bill, AB 307, by Eloise Gomez Reyes and Senator Wiener regards a homeless youth grant program for which there was no money in the budget.
"One of the challenges that we're facing is that many of the things that we need to do in California do cost money now," says Zbur. "So we've got a lot of work to do to really hold our legislators and legislature accountable to prioritize the needs of our community. These bills are essentially a drop in the bucket compared to the broader state budget. But really, just the commitment isn't there yet among many of the folks that are making these decisions. So we've got a lot of work to do and that's what we're going to be focusing on next year."
CNN commentator and outspoke Trump critic Ana Navarro (Photo by Karen Ocamb) 
Zbur says their Equality California 20th Anniversary Awards on Sept. 28 at the J.W. Marriott Hotel "should be the biggest gala that we've ever had," with an expected attendance of more than 1200 people. The honorees are Jill Soloway, creator and executive producer of the Amazon original series Transparent, with the Equality Visibility Award;  CNN political commentator Ana Navarro with the Ally Leadership; Latham & Watkins, LLP and attorney Amy Quartarolo, who will be honored together with the Community Leadership Award –  Latham & Watkins, contributed almost $3 million in free legal services to Equality California over the last three years; and past Equality California Board President Andreas Meyer, who led the organization's board of directors from 2012-2016.
Meyer was Board president when Zbur was hired and "developed the strategy that the organization is following now—one that is very intersectional and really focused on addressing the disparities in health and wellbeing that our community faces."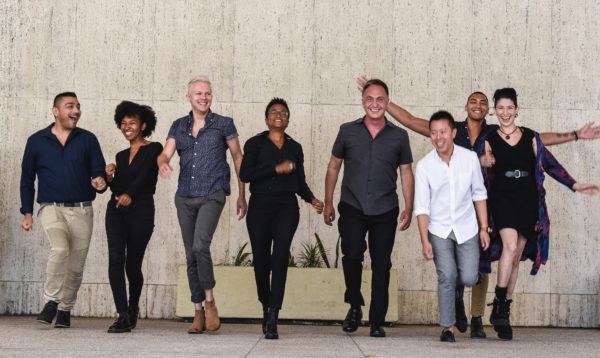 Equality California staff: From left: Program Director Robbie Rodriguez, Program Associate Marisa London, Communications Director Samuel Garrett-Pate, Director of Finance & Administration Valecia Phillips, Executive Director Rick Zbur, Managing Director Tony Hoang, Program Manager Jeremy Payne, Grants Associate Allie Hughes (Photo by Claudia Unger & Francesca Di Amico, courtesy of Equality California)
Zbur also says he is "actually very lucky to have an incredibly committed board and an incredibly committed staff. I mean it's really a team effort. But when I came in, it was a time in which a lot of folks were asking the question: why do we need Equality California? We were so associated with the fight for marriage equality and that was behind us. Andres was an incredibly important leader of our organization during that transition," as were Jackie Thomas and Joyce Rowland at the Equality California Institute.
"For two decades, Equality California has led the Golden State's fight for LGBTQ civil rights and social justice," says Zbur. "And after 20 years in this fight — even in these challenging times — I couldn't be more hopeful. I have hope for our future because like our fledgling board back in 1999, I know the next generation of leaders are unafraid, unjaded and don't give a damn what the cynics have to say."
Testimony in first week of Buck trial paints a portrait of pure evil
Buck can be heard in the background; "Go one more time," encouraging Moore to smoke more meth while Buck films him.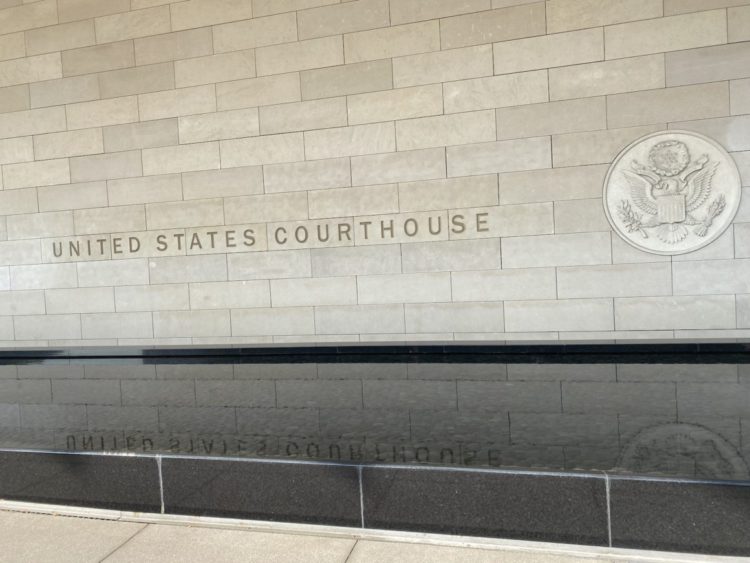 LOS ANGELES – Disturbed by the graphic nature of the video evidence that was presented in court last week as the trial of Ed Buck got underway, U. S. District Court Judge Christina A. Snyder cautioned Assistant United States Attorney Lindsay Bailey and the prosecution team to be careful "how aggressively they present evidence that could traumatize jurors," the Los Angeles Times reported.
"It may well be that we offer counseling to them at the end of the case," Snyder said.
Buck, who has been charged on multiple Federal counts of distribution of controlled substances resulting in death, had solicited dozens of young Black men over the years to engage in deviant sexual acts as he forcibly injected them with methamphetamine.
In USA v. Edward Buck, Buck is charged in a nine-count first superseding indictment with distribution of methamphetamine resulting in death, in violation of 21 U.S.C. §§ 841(a)(1), (b)(1)(C) (Counts 1 and 2); distribution of methamphetamine, in violation of 21 U.S.C. §§ 841(a)(1), (b)(1)(C) (Counts 2 through 6); maintaining a drug premises, in violation of 21 U.S.C. § 856(a)(1) (Count 7); and enticement to travel for purposes of prostitution, in violation of 18 U.S.C. § 2422(a) (Counts 8 and 9).
Buck was also charged with one count of using his West Hollywood residence, described in court by prosecutors as the "gates of hell" for the purpose of distributing narcotics such as methamphetamine, and the sedatives gamma hydroxybutyric acid (GHB) and clonazepam.
Testimony by a former Los Angeles resident Carlos, a homeless man who was living on the streets and paid by Buck to do errands and clean Buck's apartment painted a graphic picture of the overwhelming amount of depravity Buck engaged in.
Buck would solicit his victims on social media platforms, including Grinder, and on Adam4Adam, a gay hook-up site. Buck's profile solicited men who shared his underwear fetish and wanted to "party and play." His profile also contained a 'Rose' emoji which symbolized that he was generous or in plain terms, willing to pay cash for his "party and play."
PnP or party and play — also called "chemsex"— is a subculture of drug use that occurs while having sex. PnP has been widely associated with gay men and with men who have sex with other men, although it spans sexual preferences.
Jurors heard testimony from Carlos the Times noted and others that Buck's preference was to personally inject victims, and he pressured or incentivized victims to let him do so, sometimes offering large cash bonuses to coerce a victim to agree to an injection or additional injections. At other times, Buck simply injected victims while they were unconscious.
While the testimony of Buck's accusers and victims was shocking, prosecutor's use of the videos offered jurors a disturbingly graphic look at the chilling indifference displayed by Buck as he victimized those unfortunate to enter his flat.
Los Angeles County Sheriff's Department veteran homicide detective, Sergeant Paul Cardella, testified that the LASD seized approximately eight of Buck's digital devices and Buck's iCloud account, which upon execution of a search warrant the investigators discovered messages, photographs, and about 2,400 videos with roughly 1,500 documenting his party-and-play sessions.
The LASD investigation was aided by investigators from the U.S. Drug Enforcement Administration (DEA) and the Federal Bureau of Investigation (FBI).
The videos included sessions with Gemmel Moore, the 26 year old declared dead after a drug overdose in Buck's Laurel Avenue flat in July of 2017. Moore was the first death to occur prosecutors said.
Veteran Black community activist and writer Jasmyne Cannick summarized the details:
"Gemmel was nearly naked except for the white underwear he is wearing.  Ed Buck is filming him.
Gemmel tells Ed Buck that he doesn't want his face in the video. Buck clearly ignores Gemmel's request because we can see Gemmel's face.
He tells Gemmel not to worry because he's going to erase the video and that he's only recording to let Gemmel see what he looks like.
In the video, you can see Ed Buck smoking crystal meth and blowing the smoke into a rubber tube of which the end is inside of the white underwear. Ed Buck is being sexually aroused watching the smoke from the meth come out of the underwear Gemmel has on.
In another video, Gemmel is shown smoking meth from a pipe and Ed Buck has the camera focused on Gemmel's erect penis in white underwear with a rubber tube and smoke coming out of it.
Buck can be heard in the background saying, "Go one more time," encouraging Moore to smoke more meth.
We were shown a screenshot from a video taken July 31, 2016, of naked Gemmel Moore with Ed Buck being seen through a mirror in the background filming.
There were multiple videos shown to the jury of Gemmel Moore smoking meth in white underwear with Ed Buck.
In one video Gemmel tells Ed Buck that he doesn't know if he can handle another slam and that he's high.
Ed Buck responds that he's there to make Gemmel "offers and indecent proposals."
Slamming' is the term used to describe the action of injecting meth, typically in relation to gay and bisexual men.
Gemmel tells Ed Buck in the video that he doesn't like tweaking.
Tweaking is a slang term that means to be under the influence of methamphetamine. Tweaking is also defined as "to malfunction or to react with extreme emotion." The odd actions and behaviors that can take place after meth use are known as tweaking, while the user is called a tweaker.
Ed Buck is injecting Gemmel Moore with meth in his arm and tells him that he'll get over it.
One particularly disturbing video–and they were all disturbing–Gemmel Moore is unconscious and Ed Buck is playing with his penis. Buck is seen grabbing, twisting, and posing Gemmel's penis for the camera.
A video from September 6, 2016, shows Gemmel Moore telling Ed Buck that's he's high AF and him asking Buck to remove the dozens of socks tied tight around his penis. In this video, Gemmel is almost completely buried under a pile of mostly white-colored underwear.
GEMMEL MOORE: I need to take this thing off my dick and stroke it.
ED BUCK: No, you don't. Only I get to touch your dick.
GEMMEL MOORE: I am so vulnerable.
ED BUCK: Yes, you are. Yes, you are."
For Carlos, who has moved to Las Vegas to be near his toddler and ex-wife, it was a painful ordeal to take the witness stand he tells the Los Angeles Times. "I fight every day not to commit suicide," he testified. "It's really hard."
Carlos started to cry. "I thought I put Ed Buck behind me."
Christopher Darden, a lawyer for Buck, told the jury his client was on trial "for conduct that millions of people engage in." He dismissed the witnesses against Buck as manipulative escorts and drug abusers who used Buck for his money, the Los Angeles Times reported.
"The evidence is going to show that these grown men made a conscious decision to go to Ed Buck's apartment for whatever reason," Darden said in his opening statement.
KTLA reports that some SoCal bars are requiring proof of vaccinations
According to the local cultural scene media outlet L.A. Taco, that requiring proof list is rapidly expanding daily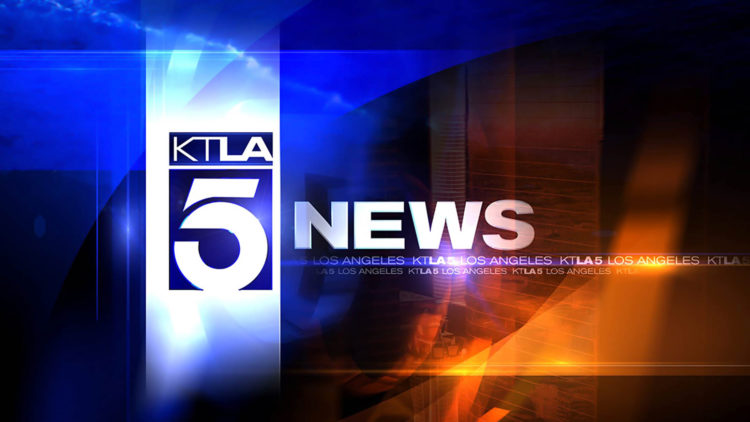 LOS ANGELES – Erin Myers and Steve Kuzj report for the KTLA 5 Morning News that there are now some Southern California bars requiring customers to show proof of vaccination to enter in hopes of stopping the spread of the highly contagious delta variant.
Also, according to the local cultural scene media outlet L.A. Taco, that list is rapidly growing.
WATCH:
LAPD under scrutiny for excessive force in Wi Spa confrontation
LAPD officers recorded firing projectiles 10 times and striking people with batons nine times according to body cam footage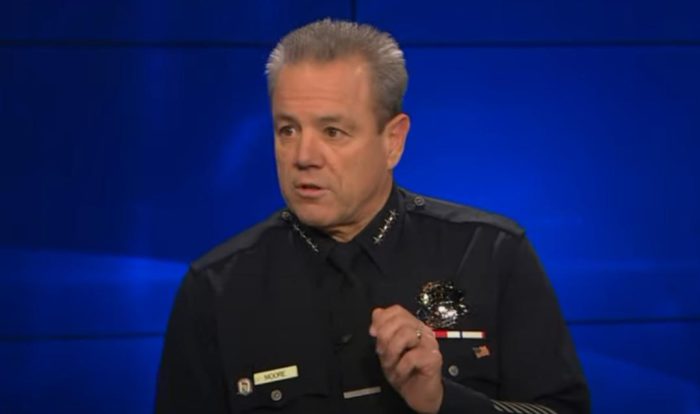 LOS ANGELES – During a meeting of the civilian Los Angeles Police Department's Board of Police Commissioners Tuesday, Los Angeles Police Chief Michel Moore said that department investigators were reviewing reports of excessive force by LAPD officers during protests over transgender rights at a Koreatown Spa this past Saturday.
According to Chief Moore, officer's from the LAPD Rampart Division had arrested 41 people, 40 individuals who were cited for failure to disperse after an unlawful assembly was declared and one for possession of illegal or prohibited items at a protest. He said LAPD officers recorded firing projectiles 10 times and striking people with batons nine times according to body cam footage.
Multiple videos were shared on social media that showed confrontations with the LAPD, several protestors depicted were allegedly injured by officers and on the videos claimed that they posed no threat.
The Chief told the Board of Commissioners his department would investigate all allegations of misconduct, he emphasized that those videos posted on social media only showed certain perspectives and alleged that activists were "essentially shopping clips and snippets" online that distort facts.
KABC 7 ran a video that shows an LAPD officer shoot a non-lethal round at a protester at close range as officers in riot gear responded to a clash between the two groups.
For the second time in less than a month violent protests over Transgender rights erupted at the intersection near Wilshire Boulevard and South Rampart Boulevard outside the Wi Spa located at 2700 Wilshire Blvd.
The protests erupted earlier this month after a transphobic video was posted on Instagram regarding an incident at the spa which allows its patrons to use its facilities according to their gender identity. An Instagram user Cubana Angel posted a video using transphobic terms as she complained to staffers about a Trans female patron.
The spa's Trans-inclusive policy was defended by activists from the far left which led to a clash that resulted in several assaults with far right groups including the white nationalist group The Proud Boys, and adherents of the QAnon with T-shirts that mention the term 'Pedowood,' a baseless theory about a secret cabal of Satanist child abusers in government, entertainment and the media."
There is increasing doubt among activists, law enforcement and staff at the Wi Spa whether there was ever was a transgender person there to begin with. A prominent trans activist told the Blade Tuesday confidentially that none of the local Trans activist community believe that there was a trans person in the first place.