August 30, 2019 at 1:36 pm PDT | by Karen Ocamb
Equality California launches political organization in Nevada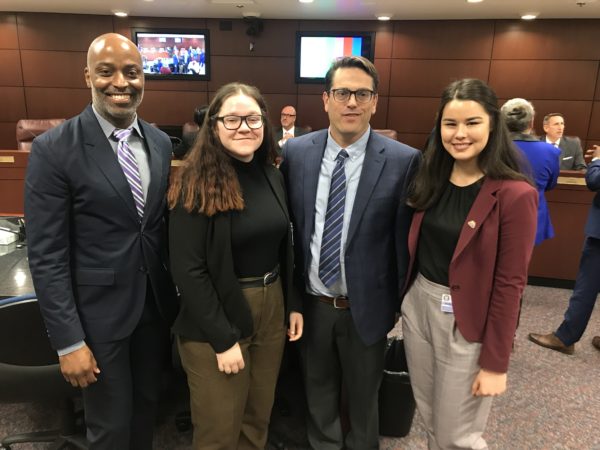 This is breaking the old mold of LGBTQ organizations arguing over who gets what cut of an ever-dwindling funding pie. Instead, Equality California is baking a bigger pie.
On Aug. 29, Equality California announced the launch of Silver State Equality, a new Las Vegas-based statewide LGBTQ advocacy organization, just as political season is heating up in that early primary state.
"Equality California is proud to launch Silver State Equality, Nevada's LGBTQ civil rights organization," Equality California Executive Director Rick Zbur told the Los Angeles Blade. "Together, California and Nevada are leading the nation on LGBTQ civil rights and social justice, united by our shared commitment to create a world that is healthy, just and fully equal for all LGBTQ people. Defeating Donald Trump and protecting the pro-equality majority in the U.S. House of Representatives is one of Equality California's top priorities in 2020, and Silver State Equality hopes to play a key role in doing just that in a pivotal battleground state."
Since Silver State Equality is so closely affiliated with Equality California, the new organization has access to the nation's largest statewide LGBTQ civil rights organization, including staff, resources and some funding.
André C. Wade, former executive director of the LGBTQ Community Center of Southern Nevada, is Silver State Equality's director overseeing politics, including the upcoming 2020 elections; lobbying to pass pro-LGBTQ equality legislation in the state legislature, as well as through Congress; advancing LGBTQ and social justice legal rights in the courts; and taking on a myriad of other LGBTQ-related issues.
Equality California already worked quietly behind the scenes during the 2019 Nevada legislative term to help bipartisan passage of Senate Bill 97, sponsored by the Nevada Youth Legislature, banning the so-called "gay and trans panic defense" since the bill was modeled on the California legislation. Equality California also helped pass State Senator David Parks' SB Bill 284, creating an Advisory Task Force on HIV Exposure Modernization that will look for ways to update laws on HIV transmission.
"Our goal is to make Nevada an even more equitable and inclusive place to live. A lot of progress has been made over the years to protect LGBTQ Nevadans from discrimination, but we have much more work to do to achieve full, lived equality," State Director André Wade said in a press release. "We want Nevada to lead the rest of the country as we build a world that is healthy, just and fully equal for all LGBTQ people. And with the 2020 election — perhaps the most consequential in our lifetime — right around the corner, we're ready to get to work."
"Together with the team at Silver State Equality, we are making Nevada a better place to live for everyone," said Sen. Parks. "In the late 1980s, more than 50 laws were enacted across the country to criminalize and prosecute people living with HIV, something Nevada simply cannot tolerate or accept in 2019.  I am extremely pleased with the passage of SB 284 and look forward to continuing to work with Silver State Equality, as well as healthcare professionals and public health officials to create policies and laws more supportive of those with HIV and update archaic statutes, regulations and policies that remain in place."
This new, more formal LGBTQ association between California and Nevada is a logical, almost natural one. Aside from Las Vegas serving as a nearby quick mini-vacation spot, Angelinos have been helping Nevada politically since 2008 when presidential candidate Barack Obama and his surrogates asked California Democrats to trek into the state and volunteer door knocking or get out their cell phones at red carpet and grassroots events and do remote phone banking.  Angelinos cared about the early Nevada Democratic primary way before it became politically fashionable.
Right now Wade is the only paid Nevada staff. But, aside from advice and help from the Equality California, Silver State Equality has a roster of advisors that indicate its intention to develop into a full-throttle LGBTQ advocacy organization. The advisory board includes: Nevada State Senator David Parks (D-Las Vegas); Nevada State Senator Melanie Scheible, Esq. (D-Las Vegas), Consumer Advocate Attorney at Legal Aid of Southern Nevada; Nevada State Senator Dallas Harris, Esq. (D-Las Vegas),  administrative attorney for Clark County; Shaun Swanger, Sr. Vice President of attractions, retail and leasing for Caesars Entertainment; Ed Chansky, Esq.,  shareholder of Greenberg Traurig, LLP in Las Vegas; Ruben Murillo, Jr., retired special education teacher and former president of the Nevada State Education Association; Amy Hill, Reno- based senior director of public affairs and government relations at Walmart; Rachel Anderson, Esq., general counsel for the office of the Nevada Attorney General and professor of law at UNLV's William S. Boyd School of Law; Ann McGinley, Esq., William S. Boyd professor of law at UNLV's William S. Boyd School of Law; and Jonathan Lee, Esq.,  Richard Harris Law Firm in Las Vegas.
Silver State Equality is holding its first fundraiser—the 2019 Nevada Equality Awards —on Nov. 6 at Jimmy Kimmel's Comedy Club at The LINQ Promenade in Las Vegas. Honorees and special guests will be announced in the coming weeks. For information visit SilverStateEquality.org.
PHOTO: From left: Silver State Equality State Director André Wade, Nevada Youth Legislature Chair Olivia Yamamoto, Williams Institute Founding Executive Director Brad Sears, Nevada Youth Legislature Co-Chair Rachel Rush after a legislative hearing on Senate Bill 97, which banned use of the "gay and trans panic defense" in Nevada.(Photo courtesy Equality California)