Buttigieg thrills LA, though voters still looking around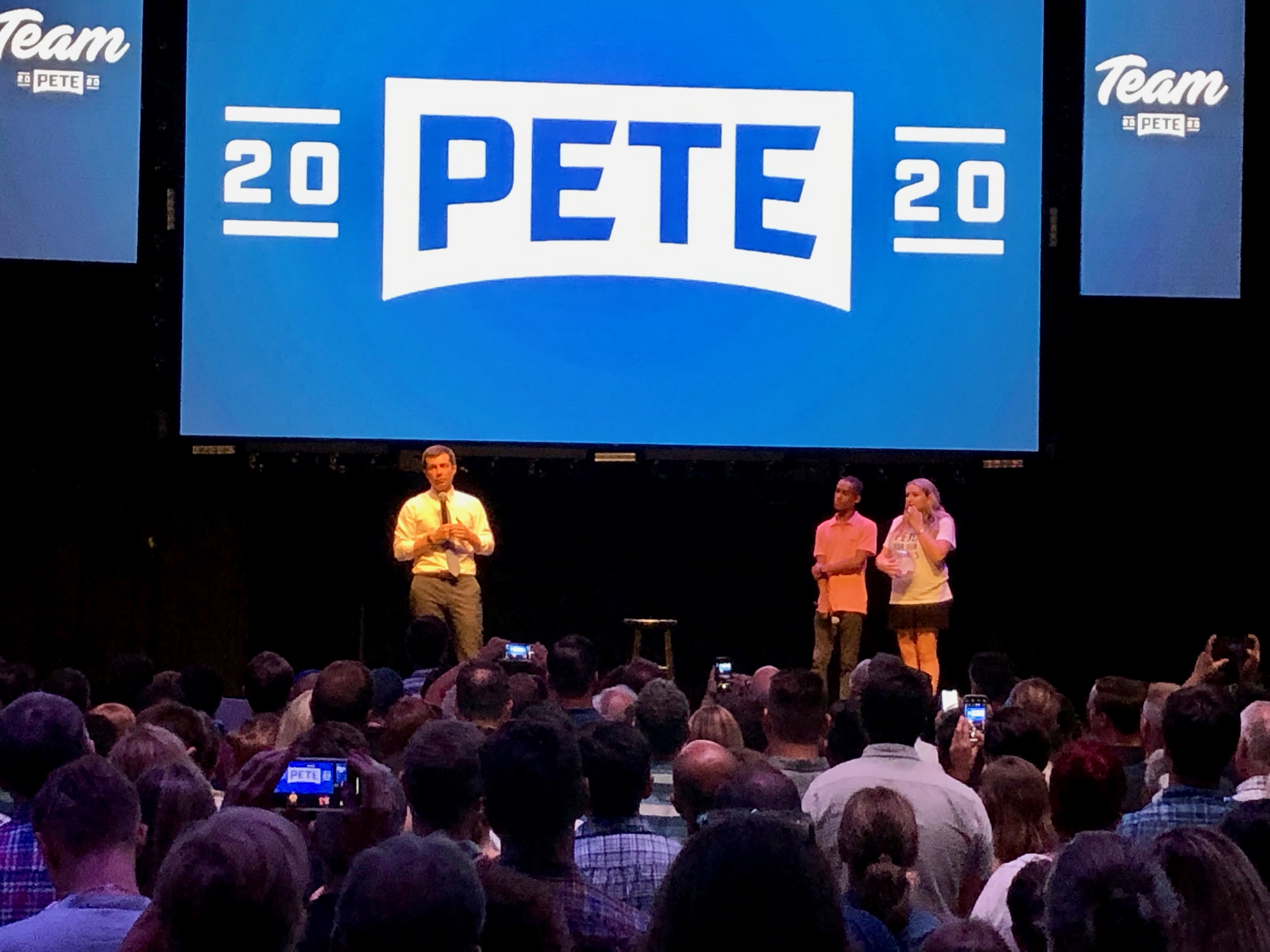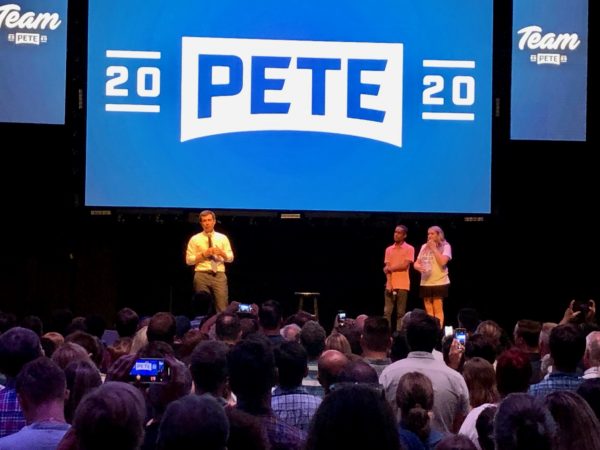 Democratic presidential candidate Pete Buttigieg could barely get through five sentences before being interrupted by applause from the packed crowd of about 1,500 people at the Avalon Nightclub in Hollywood Aug. 27. But one question toward the end of the nearly 40-minute grassroots fundraiser asked by an undecided voter prompted laughter, applause and got directly to the point.
"I'm completely undecided. So what can you say to convince me to vote for you? What makes you different from all the other candidates?"
"Well, the good news is this is the most diverse field of candidates that we've ever put forward. There's just so many of them," said Buttigieg, 37, who rarely speaks about his competition. "But you've got options. Hopefully part of what's different you can tell just by the issues that I'm speaking to and the way I'm recapturing values for our side of the aisle. I definitely have a different story. This is your only chance to vote for a Maltese American Episcopalian gay millennial president."
And Afghanistan veteran. And moral, married gay millennial.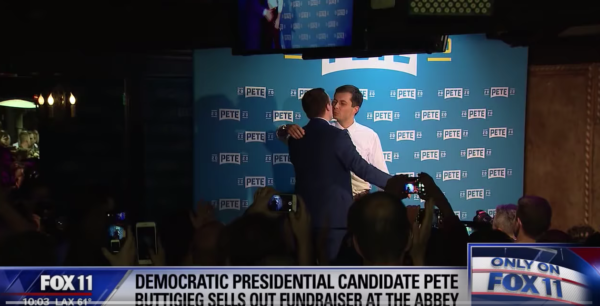 Buttigieg first talked about his husband after hitting the Avalon stage. "Every time we've come to LA, we find more and more new friends. Chasten and I feel lifted up by the energy that you bring," Buttigieg said with ease and confidence. Chasten has become a big crowd draw, as well, sometimes appearing solo but most often serving as his husband's warm up act.
In fact, the married gay mayor of South Bend, Ind. has been warming the hearts and pocketbooks of Angelinos since March 14 when he dazzled a packed crowd at a West Hollywood nightclub. They were anxious to see the phenom who so wowed a CNN Town Hall at the South by Southwest conference in Austin, Texas, that he eclipsed Texan Beto O'Rourke's Vanity Fair presidential destiny cover.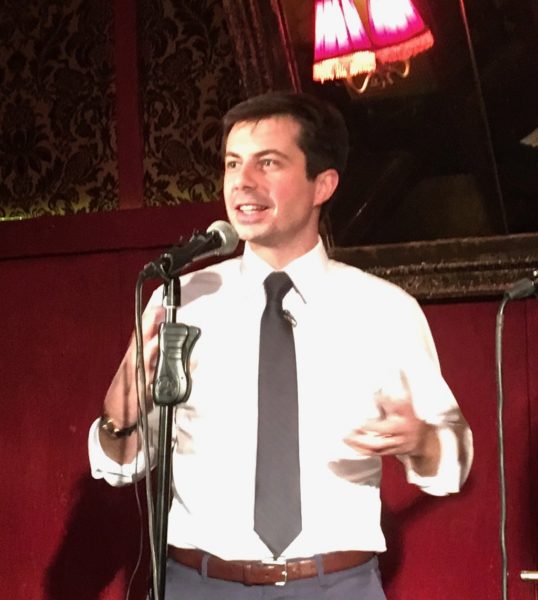 South Bend, Indiana Mayor Pete Buttigieg in West Hollywood on March 14 (Photo by Karen Ocamb)
Days after his WeHo stop, Buttigieg proved he was running a different kind of campaign by appearing in an interview on Fox News Sunday. Both Wallace and longtime political analyst Brit Hume were impressed. And when President Donald Trump sniped at Fox, Hume had a curt reply: "Say this for Buttigieg," Hume wrote on Twitter. "He's willing to be questioned by Chris Wallace, something you've barely done since you've been president. Oh, and covering candidates of both parties is part of the job of a news channel."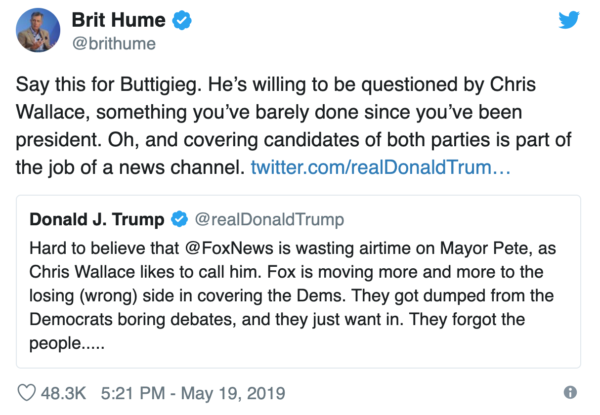 Since Buttigieg's first WeHo stop, California has led in the campaign's fundraising, with LA topping all other regions.  But California is not only the nation's political ATM, it also holds its delegate-rich primary on Super Tuesday March 3—with early voting.
Buttigieg has surprised establishment donors. "One of the other leading Democratic presidential contenders, Sen. Kamala Harris (D-Calif.), is a 'favorite daughter' who should be far out ahead in contribution totals. Leading California donors have strongly supported her previous successful campaigns for state attorney general and the U.S. Senate. As a detail-driven prosecutor who also is an Asian-African-American woman, she checks the boxes for both head and heart, both Silicon Valley and the big studio boardrooms," reports Joe Ferullo in his opinion column in The Hill on Aug. 26.
"But Buttigieg came on strong in the spring and has not let up. In the second quarter of this year, he topped all candidates in nationwide fundraising, bringing in close to $25 million. A sizable share came from California: Harris raised $3.18 million here, but Buttigieg took in $3.75 million — more than half of that from big-money sources in Silicon Valley and Hollywood."
Buttigieg works for his money, hitting events in San Jose and San Francisco—and unexpectedly joining a rally by rideshare drivers demanding that Uber and Lyft classify them as employees in the gig economy.
"Where I come from gig is another word for job," said Buttigieg, the San Francisco Chronicle reported Aug. 27. "Which means if you're working a gig that makes you a worker then you ought to be protected as a worker."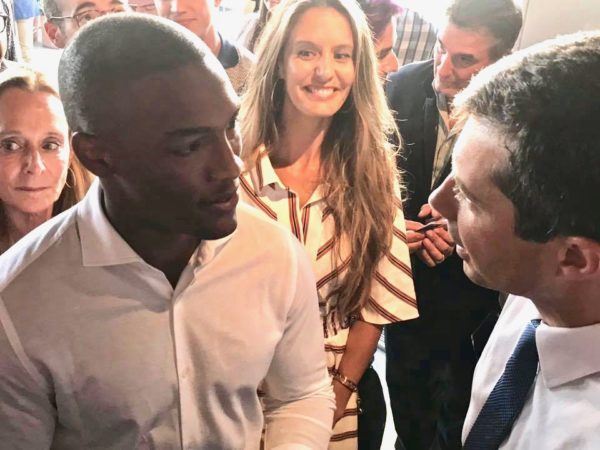 Jordan Fudge speaks with Mayor Pete (Photo courtesy John Gile)
From San Francisco, Buttigieg headed to a private fundraiser in the Hollywood Hills hosted by gay couple Steve Warren and Johnnie Ingram with HBO President Casey Bloys and his husband, Alonzo Wickers, an attorney. The crowd included LGBT African Americans Jordan Fudge, GLAAD Board Member and Partner at Sinai Ventures, and "independent thinker" James Jacquet.
There were a number of prominent Hollywood lesbians at the reception, as well, including real estate agent Kathryn Shafer.
It's an important point, considering a widely distributed Aug. 27 Politico story entitled "Why some lesbians don't want Pete Buttigieg to be president."
Essentially, it's a story about the difficult divided loyalties of politically minded lesbians who recognize the intelligence and significance of Mayor Pete's candidacy but really think it's time for a woman president.
"Mayor Pete, he's a trailblazer," said political consultant Campbell Spencer, who is drawn though not committed to Kamala Harris. "But I'm one of these women who thinks we are way overdue for having a woman in the White House. That's a lens through which I'm going to filter my decision."
"As a woman, as a lesbian, as someone who was all in for Hillary Clinton and as someone who was a historic first myself [as out Houston mayor], I would love to see a woman at the top of the ticket," said LGBTQ Victory Fund CEO Annise Parker, who plans to vote for Buttigieg, the Victory Fund's endorsed candidate. "And talking with other women inside the community and not, we understand the importance of Pete's candidacy — but dammit, we're half the population. It's time" for a woman president.
The next day, Parker issued a direct fundraising appeal for Buttigieg, with a photo of her hugging Victory Fund's endorsed candidate.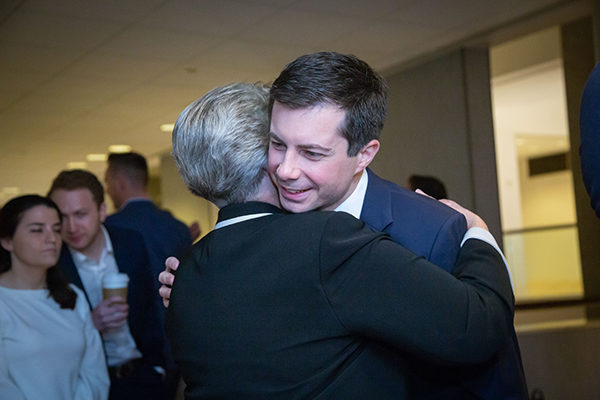 "From his plans on protecting the LGBTQ community to improving women's health to his blueprint for dismantling racist systems, Mayor Pete has ideas that can be enacted as soon as we take the White House back," Parker writes. "There are so many presidential candidates – many of them historic and exciting in their own right – but Mayor Pete is changing the game for our community and he needs our support. From his daring speech at our National Champagne Brunch that rattled right-wing extremists to his presence in the presidential debates, Mayor Pete has proven time and again that his voice on the national stage is critical."
Buttigieg is one of the 10 candidates who qualified for the Democratic debate on Sept.12.
And Buttigieg is good on stage. The "Conversation with Mayor Pete" at the Avalon was low-dollar ($25) to enable more grassroots attendance and the largely white audience whose ages ranged from young millennial to older 60s-era supporters were thrilled.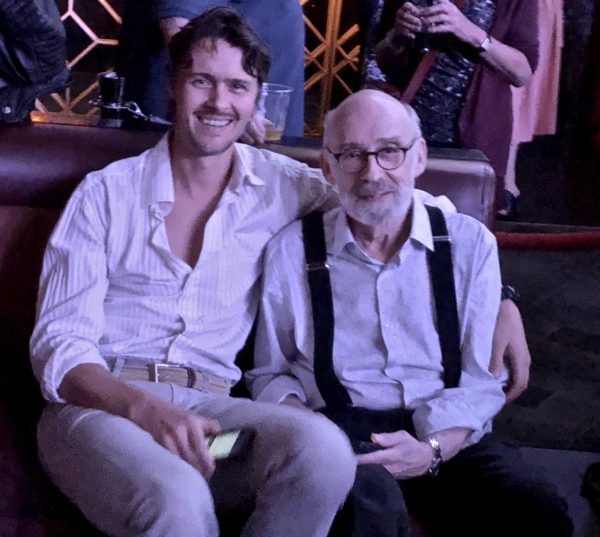 "I like Mayor Pete because he's one of the few people who thinks when he opens his mouth," Simon Miller, 40, accompanying Arthur Seidelman, 80, told the Los Angeles Blade. But the two have not yet committed to a candidate.
Shepard Fairey, the artist who created the famous "Hope" post for Barack Obama's 2008 campaign, served as DJ, spinning an eclectic mix of songs ranging from James Brown to Nirvana. Journalist Ted Johnson reports that Fairey has not said he'll produce a poster for Buttigieg but the gay mayor is his favorite candidate "so far."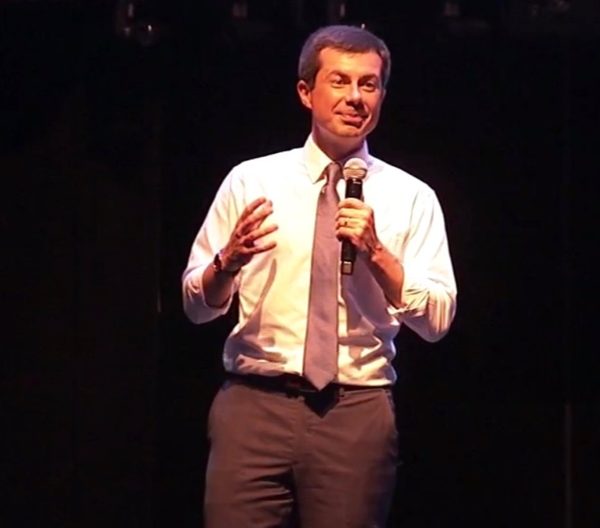 Screenshot of KABC News live online feed
Buttigieg kick off his remarks answering the first and perhaps most important questions voters have of any candidate: why you, why now, and why do you want to be President?
"But first of all, let me just state the case. I'm running for President because I believe our country is running out of time. This is our shot and if we don't act we will find ourselves in a few short years past the point of no return. You know scientists have told us we've got 12 years short of the horizon of catastrophe on climate change. That was a year ago.

Part of my message, part of my sense of urgency grows from the awareness that this is even bigger than the emergency represented by the Trump Presidency. Don't get me wrong, we definitely need a new president as quickly as possible—both because of the things that this White House is doing and the things that this White House is not doing.

People around the country are barely able to keep up economically. They're choosing whether to buy prescription drugs or whether to buy groceries, and the President's got us arguing over whether to buy Greenland.

That's the world that we're in right now. It's got to change, but I would also argue that you don't get a President like this under ordinary circumstances. A guy like this would never have come within cheating distance of the Oval Office in the first place, unless there was something else going on. Unless we were already in a kind of crisis as a country. I think we've been feeling that.  We feel the ground shifting beneath our feet—the consequences of an economy that doesn't work even when it's growing.

Think about what it means that right now: the GDP is going up and the life expectancy is going down. Think about what it means that those two things can happen at the same time in the same country. Inaction on issues from climate to endless war to gun violence has brought us to this point, and we have got to respond with a sense of urgency that recognizes that the choices we make now are going to decide what the next half century in American life is going to look like.

That's why I am determined not just to win the Presidency, but to use the Presidency for all of us to win the era….

So what does that era look like? It looks like one where we are governing according to our values. And it is time to put an end to the idea that the very word 'values' ought to make somebody think of conservatives and Republicans. Because their idea of values is something to beat us over the head with and tell us we don't belong. The values I'm talking about are not conservative values. They are American values.

And they have progressive implications. That's what we mean when I talked about a Presidency built around the idea of freedom.

Now our friends on the other side would have you think all it took to make us free was to cut taxes and regulations on corporations—forgetting that freedom is going to require a lot more than that because freedom means being free to live the life of your choosing and you don't have that. If you're living in a country where it is possible to work full time and live in poverty, or living in a country where you don't know where your healthcare coverage is going to come from. If you are not free to go start a small business because you don't know where your healthcare is going to come from, then we got a problem in this country. It's why health care is freedom.

Living in a free country means you ought to be free to choose your spouse without a County clerk doing it for you, based on their idea of a religion.

It means women knowing they can make their own reproductive healthcare decisions without being dictated upon by a male bunch of politicians. And while women are leading the fight for their rights, there needs to be men at their side and backing them up. So do we have some male feminists in the house?"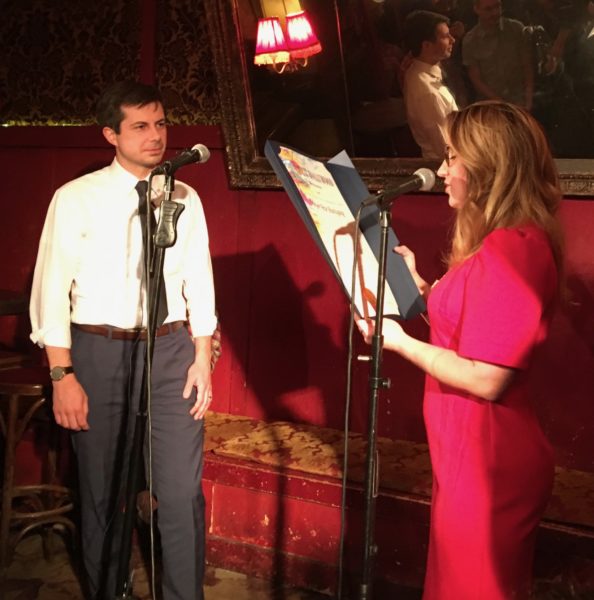 West Hollywood's Lindsey Horvath gives city commendation to Mayor Pete Buttigieg on March 14, 2019 (Photo by Karen Ocamb)
Buttigieg held another high dollar fundraiser ($250 to $2,800 per person)—a luncheon at the Sunset Towers in West Hollywood—on Wednesday, Aug. 28, with West Hollywood Mayor Pro Tem Lindsey Horvath, a longtime friend who introduced him at the gathering in March.
Though a campaign insider said the campaign is not focusing on polls since it is August and polls are fluid—nonetheless, it is instructive to note that Buttigieg remains in the top five among the plethora of candidates.
Additionally, the latest Quinnipiac University poll shows all top five candidates would defeat Trump if the election were held today with Buttigieg holding a 9-point lead, 49-40. This is good symbolic news for voters worried he might not be able to beat Trump in a head-to-head matchup.
Buttigieg's prodigious fundraising has enabled him to hire 200 additional staff, 60 of whom he says are "smart, committed, and most importantly, they're nice" – and they're on their way to Iowa. Obama's surprise win in the Iowa primary in 2008 turned momentum around in his campaign.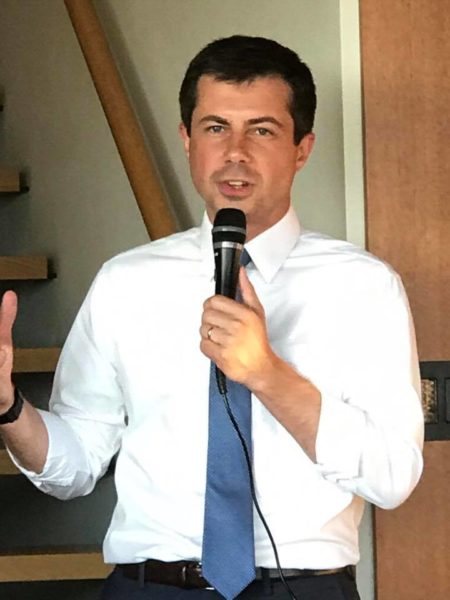 Mayor Pete at West Hollywood fundraiser August 27, 2019 (Photo courtesy John Gile)
One character trait that may help woo Iowa voters otherwise unwilling to listen to a gay candidate is the sincerity with which Buttigieg talks about his faith.
"My faith tradition and any other one that I've ever heard of encourages us to seek out leaders with the hearts of servants who walk in humility and decency," he said. "So don't let anybody tell you that Christian faith or anything compels you to support or even condone what is going on in the White House today. It's just not true."
But what many in the Avalon audience discussed later was his candor about being an awkward 7th grader, a grade his husband taught.
"Honestly, most of what I remember from seventh grade is of not being sure if I belong. I had not even begun to figure out what it meant to be gay. I was also just really awkward," Buttigieg said.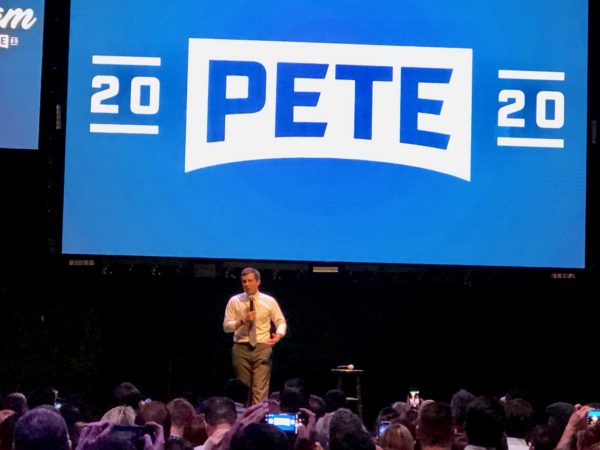 "I think belonging is a big part of why we need to stitch back together in this country. I think part of what is leading to the challenges we've got with that sort of despair and addiction has to do with the crisis of belonging," as does racism and the shifting economy, Buttigieg said. "We can build a culture [of decency] on this campaign that will ripple out before the first vote is even cast."
And while the audience shares "a very dim view" of Trump, "we're not allowing him to dominate our conversation about the future," Buttigieg said. "Are you ready to build up a sense of hope and belonging and make this country what it could be? You've got to spread the word to people who may not know that they have a role, may not know how much power they have in the process. I'm pretty sure that you can help me win the Presidency and I can help you win the era."
It's a point Buttigieg stresses on his website: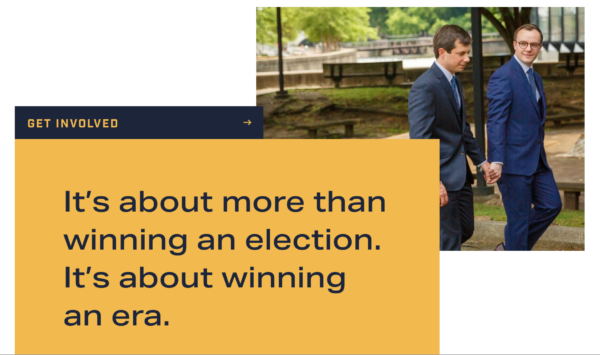 Correction: An earlier version of his story reported that "Empire" director Lee Daniels, actor Meredith Baxter and Hollywood casting director Tammy Billick attended the Hollywood Hills #LGBTQ fundraiser. In fact, they contributed and support Mayor Pete but did not attend that specific fundraiser. – KO
Los Angeles Mayor: Supreme Court decision "fundamentally un-American"
Mayor Eric Garcetti spoke to the Los Angeles Blade reflecting on Friday's U.S. Supreme Court reversal of Roe v. Wade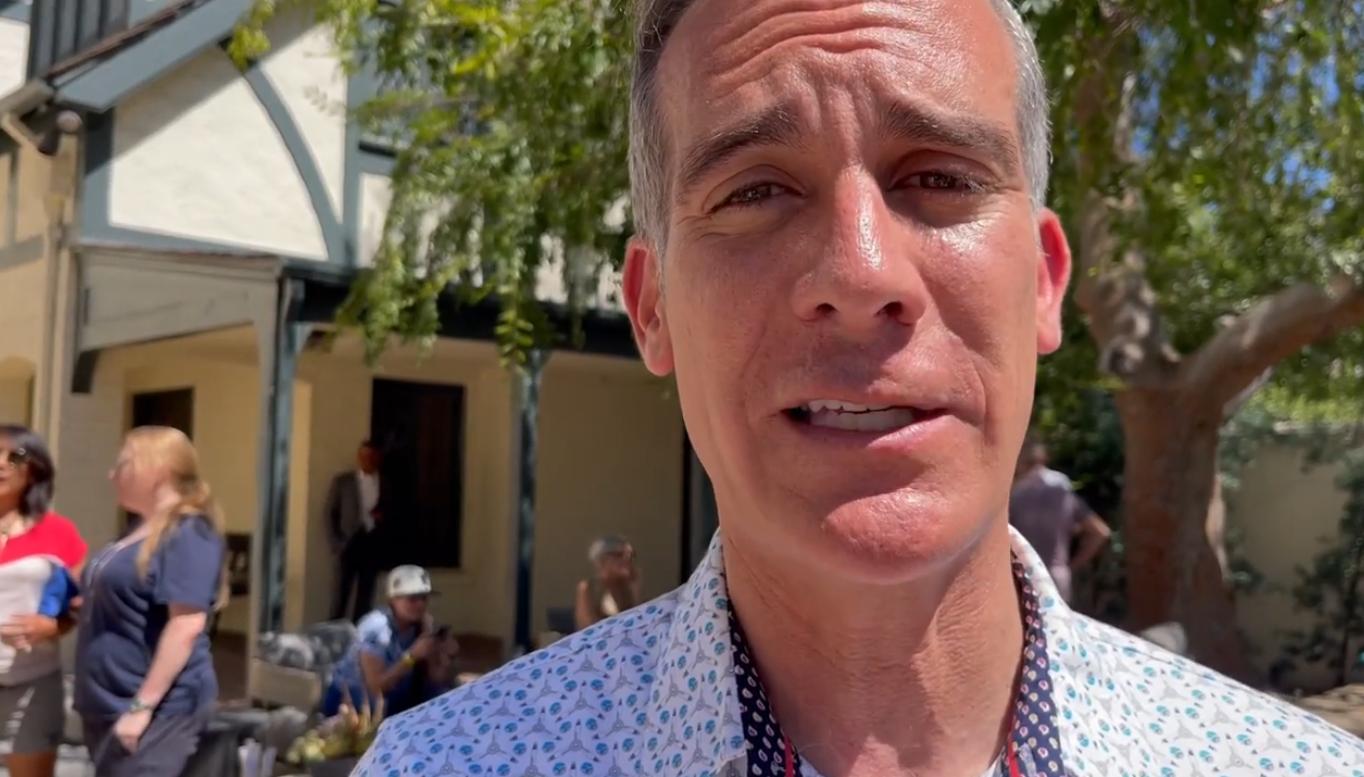 LOS ANGELES – During the Los Angeles Mayor's Pride Garden Party held at The Getty House, the official residence of the mayor Saturday afternoon, Mayor Eric Garcetti spoke to the Los Angeles Blade reflecting on Friday's U.S. Supreme Court reversal of Roe v. Wade.
Garcetti noted that "here in LA we defend those rights" after taking aim at the actions of the high court Friday in the ruling on the Mississippi case of Dobbs v. Jackson Women's Health clinic. "Make no mistake, we have to be active," Garcetti added.
WATCH:
Reminder: 101 closed through DTLA until 10pm Sunday
The closure began at 10 p.m. Saturday and will be completed by 10 p.m. Sunday, the Los Angeles Bureau of Engineering announced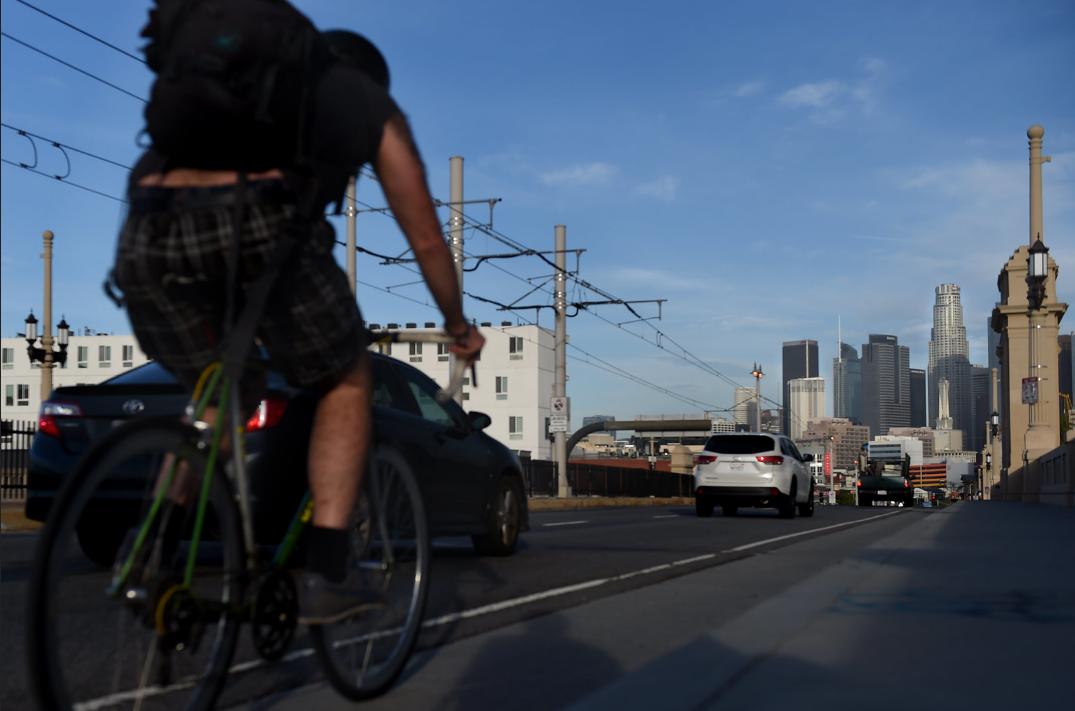 LOS ANGELES – (KTLA) Motorists are being reminded that the stretch of 101 through the downtown area of Los Angeles is shut down for road restoration and reconstruction work.
KTLA reported the closure began at 10 p.m. Saturday and will be completed by 10 p.m. Sunday, the Los Angeles Bureau of Engineering announced.
The 24-hour closure between State Route 60 and the 10 Freeway interchange is needed for the Sixth Street Viaduct Replacement Project, which aims to replace the original, seismically-deficient structure built in 1932, authorities said.
During the closure, the California Department of Transportation will also be doing slab replacement work along the same stretch of the 101 Freeway.
The closure will center around the east side of the viaduct construction site in Boyle Heights. While the stretch is closed, drivers headed west on State Route 60 from the Pomona area will not be able to access the 101, officials said.
Off-ramps and on-ramps in the area will also be closed during as road work gets underway.
Drivers who reach the closure will see signs directing them to a detour.
The new $588 million viaduct is expected to be completed in Summer of 2022, stretching between Boyle Heights and the Arts District.
Officials say it is the largest bridge project in the history of Los Angeles.
LA-DWP & Mayor Garcetti announce new outdoor watering restrictions
Sprinkler watering will be allowed Monday & Friday at odd-numbered addresses in the city, and even-numbered addresses on Thursday & Sunday

LOS ANGELES – In a press conference Tuesday Los Angeles Mayor Eric Garcetti and officials from the Los Angeles Department of Water and Power (LADWP) announced that outdoor watering in the city will be restricted to two days a week starting June 1.
The announcement comes as the Metropolitan Water District of Southern California declared an unprecedented water shortage emergency two weeks ago, imposing restrictions after MWD's board voted to adopt the emergency measures to "reduce non-essential water use" in certain areas. Cities and smaller water suppliers that get water from MWD are required to start restricting outdoor watering to one day a week, or to find other ways to cut usage to a new monthly allocation limit.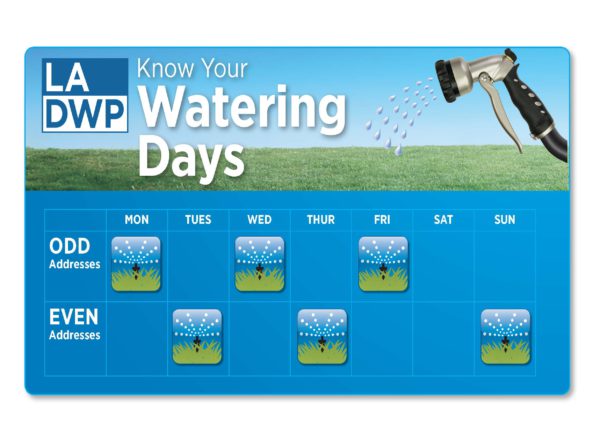 In Tuesday's press conference Mayor Garcetti said L.A.'s two-day limit was still more lenient than the one imposed by the Metropolitan Water District of Southern California, which has ordered many of its member agencies to restrict outdoor watering to once a week.
Sprinkler watering will be allowed on Monday and Friday at odd-numbered addresses in the city, and even-numbered addresses on Thursday and Sunday.