September 1, 2019 at 1:18 pm PDT | by Karen Ocamb
Gay Milo Yiannopoulos was Boston 'Straight pride' grand marshal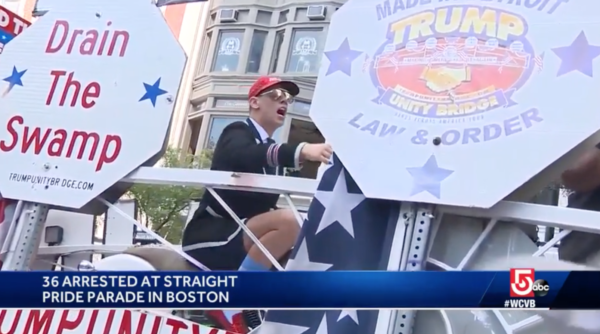 The Trump-supporting organizers of the "Straight pride" parade in Boston Saturday tried to resurrect gay flame-throwing provocateur Milo Yiannopoulos, using him as their grand marshal for what counter-protesters considered a white supremacist exhibition. The "Super Happy Fun America" organizers apparently didn't care that Yiannopoulos has been shunned by the alt right since he was forced to resign in Feb. 2017 as a senior editor at Breitbart News and rebuked by Conservative Political Action Conference for joking about pedophilia and having sex with a Catholic priest when he was a teenager.
"You're misunderstanding what pedophilia means," Yiannopoulos, who called Donald Trump "daddy," told the hosts of a podcast in 2016. "Pedophilia is not a sexual attraction to somebody 13 years old who is sexually mature. Pedophilia is attraction to children who have not reached puberty."
Yiannopoulos was notorious for couching provocative outrageous remarks in humor and calling it free speech on college campuses, a tactic that pleased "snowflake" hating conservatives, caused outraged protests outside the venue, and created headaches for campus administrators spending lots of money to keep the peace. He reveled in the protests at UCLA IN 2016, though the Bruin Republicans cancelled his "Dangerous Faggot" campus tour appearance the following year.
"We as a club support free speech no matter the viewpoint, yet everyone's safety is of our utmost concern," the Bruin Republicans explained. After criticism, the club later issued an update: "To clarify: we are not canceling the event due to the threat of protesters. Milo canceled on us due to the fact that we could not meet his accommodations."
The backlash riot at the University of California, Berkeley and the cancellation of Yiannopoulos' appearance in 2017, pre-pedophilia remarks,  became a flash point for conservatives touting the intolerance of the left. Even Trump chimed in, adding his own threat.
But pedophilia was a bridge too far. Yiannopoulos told Facebook fans, "I do not support pedophilia" and pushed back against "establishment Republicans" who he claimed were trying to "discredit me" and "suggest I am soft on the subject." But he has been a political pariah ever since.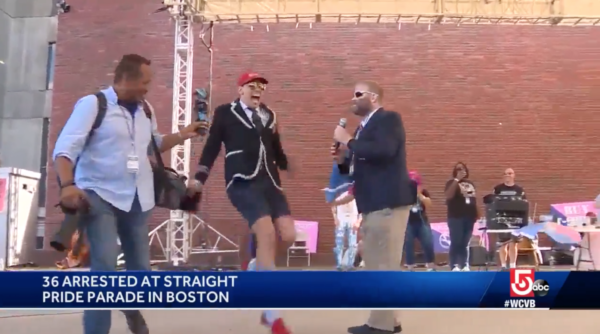 Milo Yiannopoulos prances onstage at 'Straight pride' rally Aug. 31, 2019 (Photo screengrab)
So what exactly was the Super Happy Fun America organization hoping to get by selecting gay, Trump-loving, shunned British provocateur Milo Yiannopoulos as their perfect spokesperson for the white straight pride rally? The notion of "straight pride" alone was enough to draw a massive counter-protest, but apparently not a lot of people at the straight rally at City Hall Plaza cared to find out what their spokesmen had to say.
Yiannopoulos, however, was delighted.  "My fellow homosexuals have been embarrassing me for decades," he told AFP.  "Finally I found my crowd."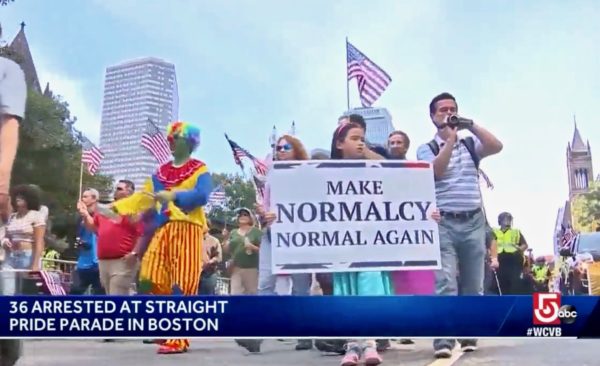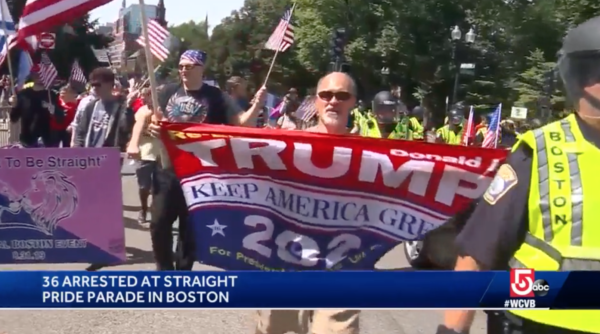 Otherwise, the "straight pride" parade came off as more of a Trump parade than a testament to heterosexuals as America's new victimized "oppressed minority."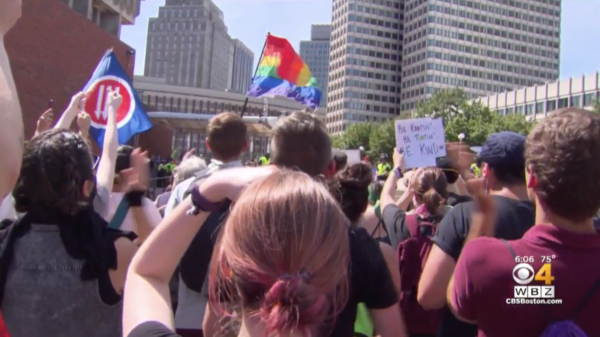 But after the event, police used pepper spray and arrested 36 people after as counter-protesters threw eggs and dirt at riot-clad police, accusing them of protecting Nazis, some of whom prominently displayed Nazi tattoos during the parade.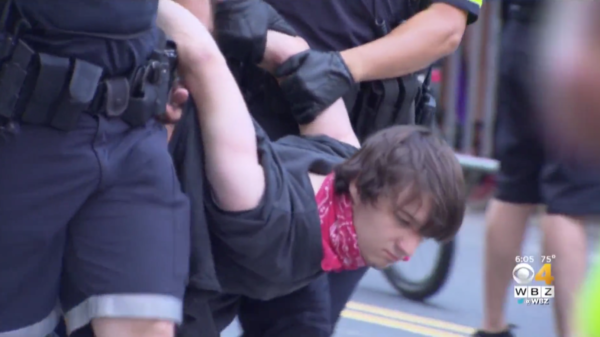 In the end, Twitter seemed to have the most Super Happy Fun: