September 3, 2019 at 12:52 pm PDT | by Karen Ocamb
Trump coming to Beverly Hills during Emmy Week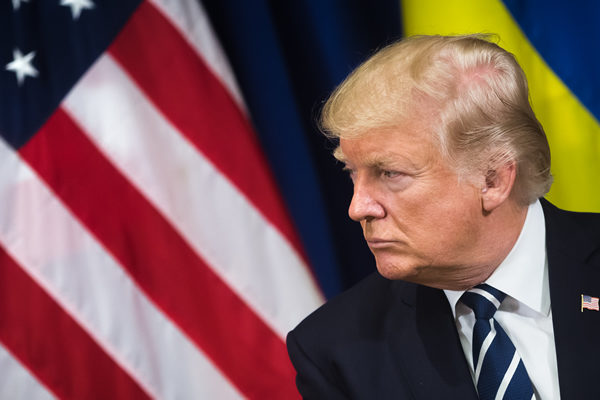 Donald Trump has scheduled a re-election fundraiser in Beverly Hills during the week of the 71st annual Emmy Awards. Given Trump's latest tirade against Hollywood and Fox News, the red carpet interviews before the parties and the live Sept. 22 Fox broadcast could prove very "resistance"-oriented. And surely someone will reference the scathing take down in Los Angeles Magazine, "The Biggest Loser: Why Donald Trump Couldn't Hack It in Hollywood."
But Twitter waits on no one. Will & Grace stars Debra Messing and Eric McCormack each jumped on the platform asking the Hollywood Reporter to publish the list of attendees "so the rest of us can be clear about who we don't wanna work with," McCormack tweeted. The "public has a right to know," Messing tweeted.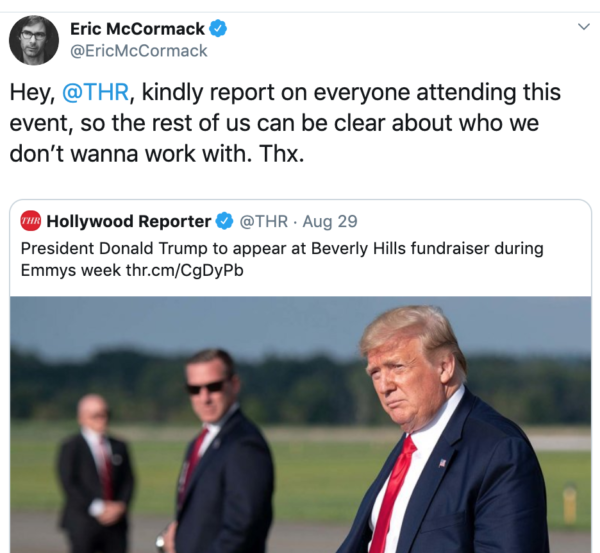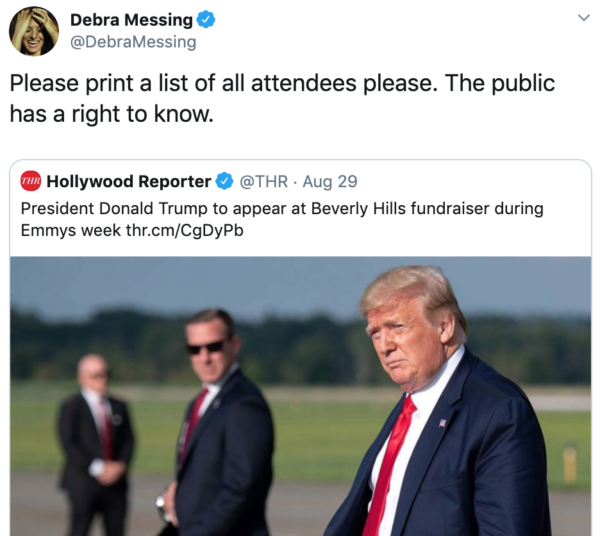 The backlash was just as immediate. "I'm embarrassed for both of them," said Seinfeld star John O'Hurley, according to The Wrap. "They're both smart people. They do wonderful work but they're pushing a case that falls apart from the sheer weight of its lunacy, as though the Hollywood community needs to be purged of this social and intellectual hygiene problem called conservative thinking."
However, even famous conservatives have had it with Trump after the reality TV host president tweeted his displeasure with Fox News. "The New FoxNews is letting millions of GREAT people down!" Trump tweeted after Fox journalists interviewed Democrats. "We have to start looking for a new News Outlet. Fox isn't working for us anymore!"
Fox News star Neil Cavuto replied on air: "First of all, Mr. President, we don't work for you. I don't work for you. My job is to cover you, not fawn over you or rip you."
But Hollywood is tired of being Trump's go-to whipping post to divert attention from other issues. The most recent display was a few weeks ago on the White House lawn refusing to answer a question about whether his rhetoric has had any influence on the epidemic of gun violence following the mass shootings in El Paso, Texas and Dayton, Ohio before heading to fundraisers in the Hamptons that raised $12 million for his re-election campaign.
"Hollywood is really terrible," Trump answered. "You talk about 'racist.' Hollywood is racist. What they're doing, with the kind of movies they're putting out, it's actually very dangerous for our country. What Hollywood is doing is a tremendous disservice to our country."
The San Francisco fundraiser is a luncheon on Sept. 17 from which Trump will then fly down to Beverly Hills for a gala hosted by Republican National Committee chair Ronna McDaniel, RNC co-chair Tommy Hicks Jr., campaign manager Brad Parscale and Trump Victory finance chair Todd Ricketts. Tickets range from $1,000 to $100,000 per couple for a Trump photo opp. The next day, Trump will head to San Diego for another campaign event.
Four days later, the Emmys at the Microsoft Theatre will consume Hollywood and the world of entertainment in which Trump once dabbled. And this year the ceremony is rich with LGBTQ talent and nominees, including Pose with six nominations, including Best Drama Series and Best Actor in a Drama Series for Billy Porter; RuPaul's Drag Race with nine nominations, including Best Reality Competition Show and a nod for RuPaul for Best Host for a Reality or Competition Program; Queer Eye with six nominations, including for Outstanding Structured Reality Program; trans trailblazer Laverne Cox has her third Emmy nomination for Guest Actress in a Drama Series for Orange is the New Black; Schitt's Creek with nominations for Best Comedy Series, Best Actor in A Comedy Series for Eugene Levy and Best Actress in a Comedy Series, Catherine O'Hara; Saturday Night Live standout Kate McKinnon with her seventh nomination for Best Supporting Actress; Australian comedian Hannah Gadsby nominated for her special Hannah Gadsby: Nanette, for Best Variety Special (Pre-Recorded) and Best Writing in a Variety Special (Pre-Recorded). Plus nominations for veteran lesbian stars Ellen DeGeneres for host of Ellen's Game of Games, Cherry Jones for The Handmaid's Tale, Jane Lynch for The Marvelous Mrs. Maisel and Wanda Sykes for her special Wanda Sykes: Not Normal.
And if the nominees, presenters and producers don't drum up their own quips, Allen Salkin's investigation into Trump's Hollywood days in Los Angeles Magazine is a trove of material from which to pull.
For instance, Salkin notes that in 1990 Trump told Playboy: "The ultimate job for me would have been running MGM in the '30s and '40s—pretelevision."
"Maybe that's the tragedy of Trump. Though he reportedly learned his straight-to-camera scowl by studying Clint Eastwood's Dirty Harry, and his appetites and parental bankroll were well suited for louche movie moguldom in the pre-#MeToo era, Trump ultimately decided to take a safer path," Salkin writes. "He gave up on USC to major in business at the University of Pennsylvania before going to work for his father, Fred, at the family's real estate company. When President Trump unleashed a stream of puerile insults west, telling reporters "Hollywood is racist … really terrible," it can be heard as the tirade of a frustrated inner child, stomping on the sandcastle built by a clique of cooler kids who spurned him. But, until recently, Trump's interest in the entertainment business was undiminished."
Salkin writes that before The Apprentice, Trump did bit player cameos on such sitcoms as "Brooke Shields's Suddenly Susan, The Fresh Prince of Bel-Air with Will Smith, and Fran Drescher's The Nanny."
"No one cared about Donald Trump in Hollywood," said Susan Winston, who produced the broadcasts of nine Trump-owned beauty pageants, Salkin reports. "He was nothing. He didn't mean anything. There were people in Hollywood who had much more power, much more money."
One scorching zinger involves onetime Hollywood producer, now Treasury Sec. Steven Mnuchin and a pathetic Donald Trump aching to be recognized.
"Jeff Klein, owner of Tower Bar, the go-to industry dining room at the Sunset Tower Hotel, quickly recognized where Trump belonged in the Hollywood pecking order," Salkin writes. "When regular Steven Mnuchin, then running a bank in Pasadena, brought Trump in around 2010 or 2011, Klein recalled, 'They demanded a prominent table, the one everyone can see as you come in. It's not where real movie stars sit. It's where WB stars go—table 25. I remember him saying hello to people he didn't know—Brian Grazer or someone like that. He reminded me of Lisa Vanderpump.'"
(Trump photo by palinchak via Bigstock)