Out NFL bisexual Ryan Russell just wants to play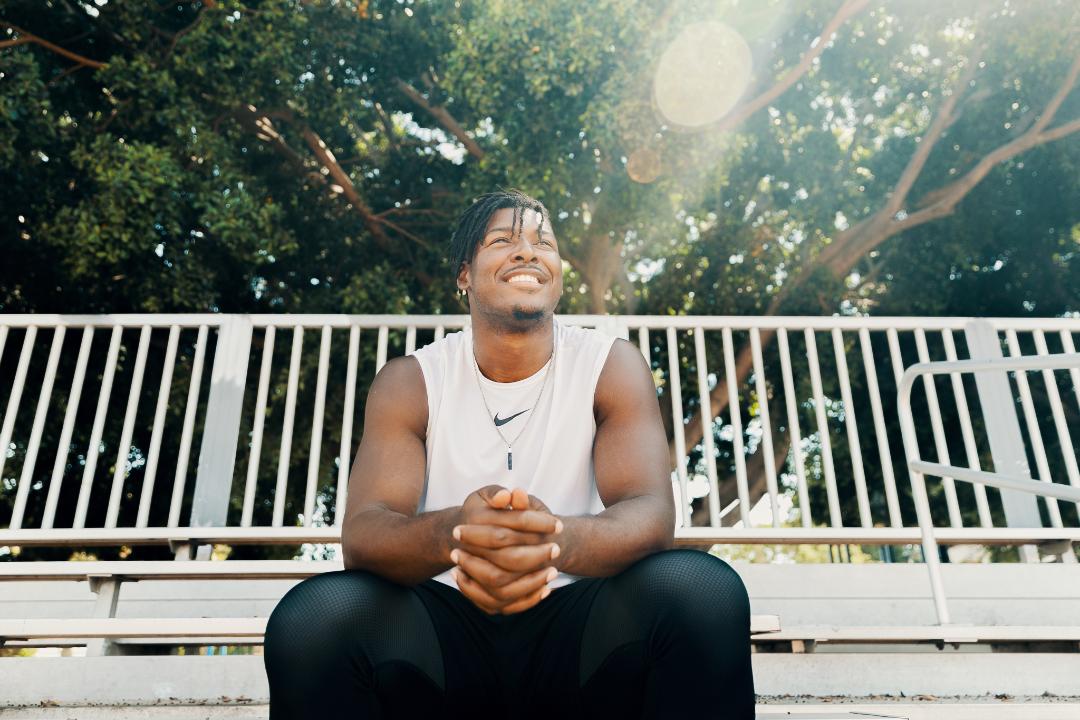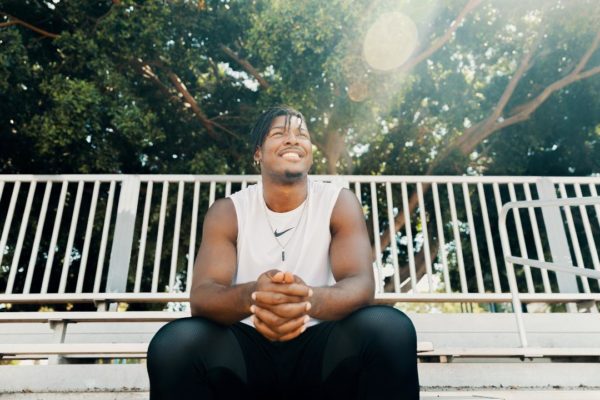 LOS ANGELES — It was a long two days. NFL free agent Ryan Russell came out twice in a personal column on ESPN on Aug. 29 and during the subsequent whirlwind of press—first as a bisexual and second as a defensive end who writes poetry and romance stories.
"My primary objective right now is football and getting back in the NFL and playing. And I think the biggest way that I could also kind of help be a more visible figure in professional football, for other LGBT players, is to be on the field," Russell who continues to train at the NFL's Exos sports program in Carson, tells the Blade. "I know that there's an opportunity for me, and I know that my best years of playing are ahead of me and I can't wait to show the world what I can do."
Russell is diligent about how he frames what others see as a blatant civil rights issue.    
"I want to live my dream of playing the game I've worked my whole life to play, and being open about the person I've always been," Russell wrote on ESPN. "Those two objectives shouldn't be in conflict. But judging from the fact that there isn't a single openly LGBTQ player in the NFL, NBA, Major League Baseball or the NHL, brings me pause. I want to change that — for me, for other athletes who share these common goals, and for the generations of LGBTQ athletes who will come next."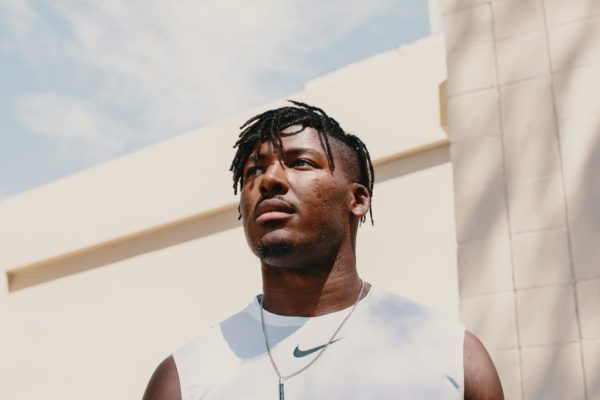 While football is a life-long dream, writing is a necessity of the soul. Russell, 27, started writing at age seven after his stepfather died. Writing helped keep him sane after his best friend Joe Gilliam, with whom he played football at Purdue, died of cancer on Sept. 11, 2018 at age 27.
"Joe's death definitely brought the aspect of life being short to the forefront," says Russell. "He was the best man that I knew. And he was a great athlete, a great brother, a great husband. He did everything right. He never drank, he had an amazing diet. He was, literally, everything that I aspire to be every day.
"He died at 27, so of course, it was a wakeup call for me," Russell continues. "I wanted to live my life openly and honestly and give people in my life the opportunity to know me and support me. It was definitely a moment in my life where a lot of changes happened and I don't want to take these days or these years for granted."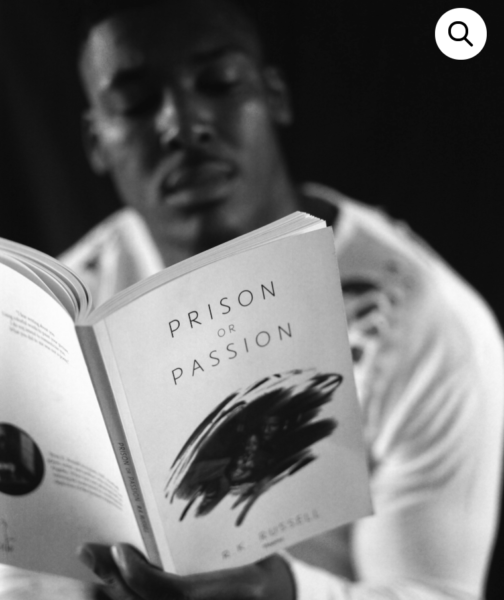 Russell has written about Joe and his own hopes and dreams in his "poetic memoir" entitled "Prison or Passion," available at his website, RKRelentless.com. He also posts snippets on Instagram.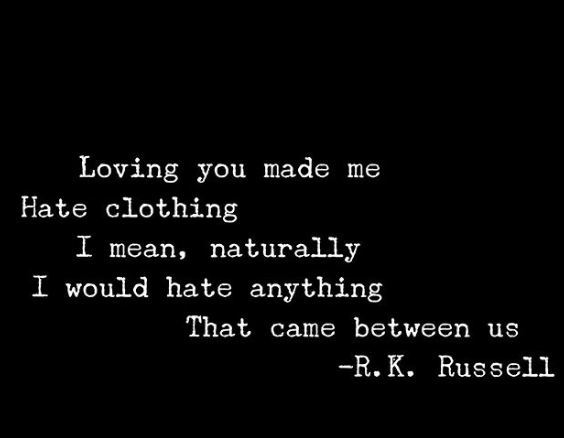 "I'll always write. That's a huge part of me," Russell says. "It's been a part of this process of coming out and I'll continue to write stories. But right now, the focus is football. It's plan A, B, and C."
Russell and his boyfriend Corey O'Brien, a professional dancer and fitness model, also created an 11-minute coming out video for YouTube. In the "more intimate setting," he and Corey lightly kiss and awkwardly address the camera. Finally, Russell starts sharing what had been a burden for so long, encouraging others to find and share their authentic truth, too.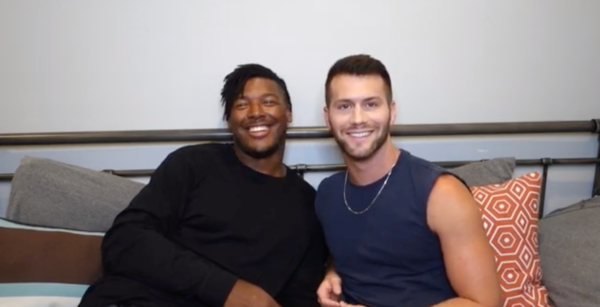 He talks about how he started to experiment with his sexuality while on a full football scholarship at Purdue University, from which he graduated with a double major in sociology and communications. He watched as Michael Sam, all-American at the University of Missouri in 2013 and Southeastern Conference co-defensive player of the year, came out in 2014, was drafted in the seventh round as the NFL's first openly gay player and was cut, never having played in the league.
That prompted Russell to virtually go back in the closet before being drafted by the Dallas Cowboys in the fifth round in 2015. He subsequently played for the Tampa Bay Buccaneers and briefly for the Buffalo Bills before being sidelined with a shoulder injury that required surgery. It was a recent meeting with the San Francisco 49ers that spurred him to come out as bisexual.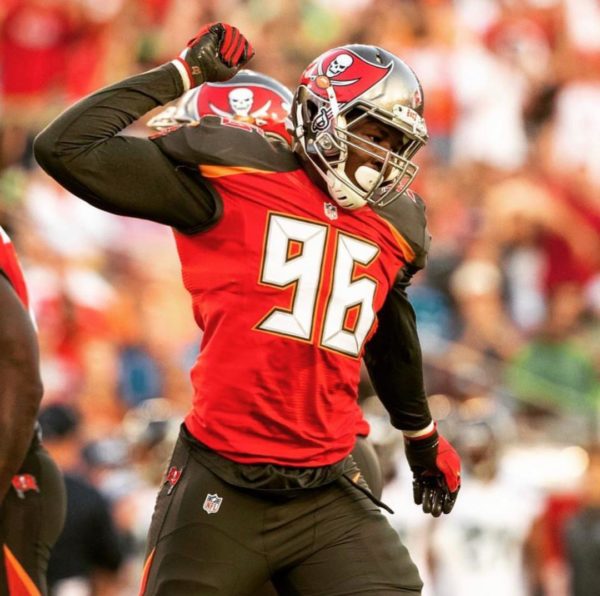 "When I interviewed with the 49ers and they talked about just my potential to play in this league again, that I deserved to play in this league again and I have the ability to, I also thought about maybe not being open and being honest and doing what I did these past three years in the NFL of just keeping these two worlds separate. And that thought, it just kind of seemed unbearable," Russell says.
After talking with manager/documentary producer David McFarland and others, "I realized that my story could reach a larger audience and hopefully impact LGBT athletes—or just even give the NFL a chance to know that there's an LGBT athlete who knows that they're ready to open up and to accept players of different sexualities. That's kind of when the vision got a little bigger," Russell tells the Blade.
"Now that I've been in LA and I've been living my truth and I've lost my best friend and I know how fragile life is—I didn't want to have to compromise. And I thought that the NFL was in a great place to support an LGBT athlete now and moving forward."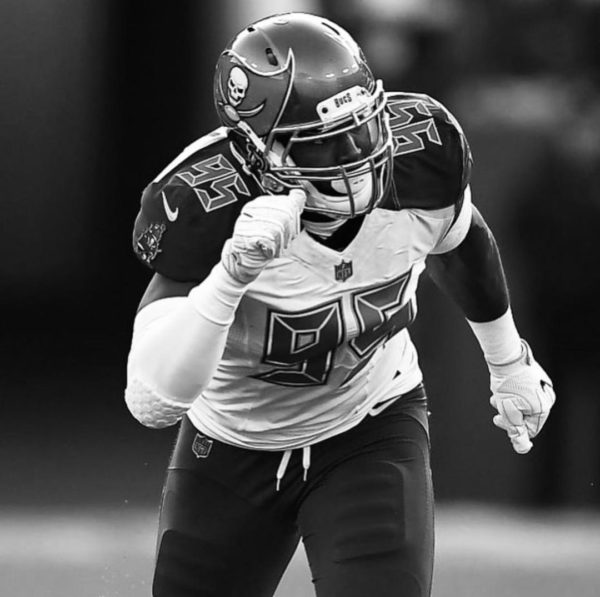 Russell thinks making big plays with ESPN calling out his name "would speak volumes to the NFL and to the organization that had signed me and to LGBT athletes and LGBT kids—and just the whole community," he says. "I have the drive to do that, I have the ability to do that. So that is at the forefront, the next step, the step thereafter, and the step after."
But Russell does not want to stand alone. "Athletes also have to take the steps to be visible and to let the NFL and to let sports organizations support us and embrace us and stand with us. If we don't make the step to first come out, then the NFL or any other professional sports organization doesn't have the opportunity to be there for us," Russell tells the Blade. "With that being said, coming out is just a journey all on its own and I understand everyone's journey is different."
But can the masculine-dominated, militaristic-like multibillion-dollar working world of NFL entertainment learn to accept out LGBTQ players, coaches and staff—as the U.S. armed forces did when Congress lifted the ban on open LGBT military service before Donald Trump?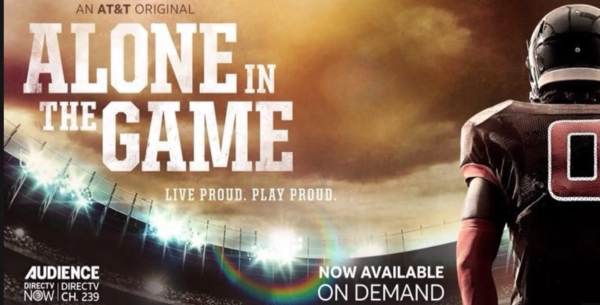 McFarland thinks so, as do some of those interviewed in his documentary "Alone in the Game" about homophobia and transphobia in sports.
"If we can end discrimination in the U.S. military, where lives are at stake, we can absolutely do it in the world of organized sport," says Nathaniel Frank, Researcher at Columbia Law School.
Gay former Secretary of the Army Eric Fanning also discusses the injury to athletes when they have to pretend to be someone else on the playing field—a detriment to mental health on the battlefield under "Don't Ask, Don't Tell," as well.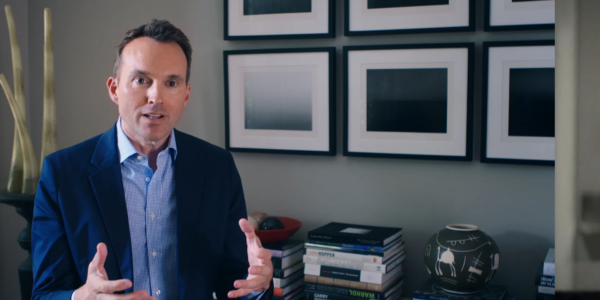 "There's a huge psychic cost to either denying that part of yourself or not being able to share it with those people around you, particularly if you are working in a really intense environment like people in sports are," says Fanning.
"I don't think it's any secret that leadership in sport, not just the leagues but at the collegiate level and at the Olympic elite level and the age group level have questions come up," says McFarland. "How do we identify and deal with an athlete that is struggling in the closet? Because until those athletes come forward to either ask for help or come out and take that brave, courageous move like Ryan did, we don't know. So, it's really important that athletes follow in Ryan's footsteps."
Additionally, it's incumbent on the LGBTQ community to "raise the profile and concern around these issues in sport," McFarland says. "If the environment and the leadership within sport in general made it more conducive where people felt like they belonged, maybe that's a starting point."
The Human Rights Campaign sees homophobia and transphobia in sports as an LGBTQ workplace civil rights issue.
"No workplace should be free of accountability, and no worker, regardless of their job, should be subject to vile hatred in any form," Charlotte Clymer, HRC Press Secretary, Rapid Response, tells the Blade. "This is why the Human Rights Campaign has long spoken out against instances of anti-LGBTQ conduct within the NFL while praising the moments the league has taken a stand for equality, as well as individual players who speak out against anti-LGBTQ bigotry.
"But that's not enough," Clymer continues. "The NFL must resolutely fight white supremacy in all forms, sexual and physical violence of any kind, particularly misogyny, and ensure that the safety, respect, and dignity of all people is a touchstone of their culture. No business is perfect, but imperfection does not absolve us from improvement."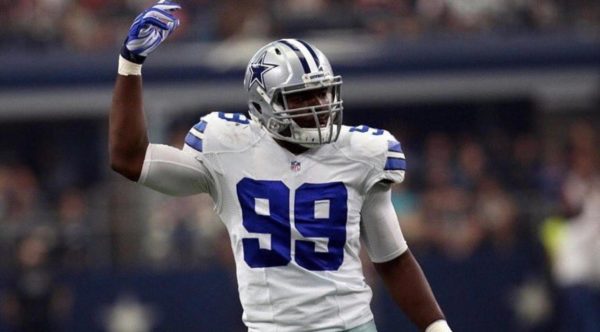 It's a personal issue for Clymer. "As a queer trans kid from Central Texas who grew up loving football, I'm proud of Ryan Russell's brave authenticity," she says. "But that will not be enough until everyone in the NFL has a shoulder-to-shoulder pride in the values of true inclusion. If the NFL wishes to maintain its positioning as inextricable from American culture and values, it needs to realize that the vast majority of Americans demand true inclusion in every workplace. Anything short of that is a failure of morality and patriotism."
"I don't have a big call to action for the NFL," Russell says. "I just want young athletes to know that it's okay to be exactly who they are. And if you come to terms with your truth at your own pace, that's fine, too. There is a place for you in this world of sports, and there are players, teams, and organizations who are waiting to support you and encourage you the same way as they have done for me these past couple days."
(Photos courtesy David McFarland and ESPN)
Delivering justice and equity, Jasmyne Cannick has 'the receipts'
This fight is about getting justice for Ed Buck's victims & also calling out all of the people along the way who failed them & enabled him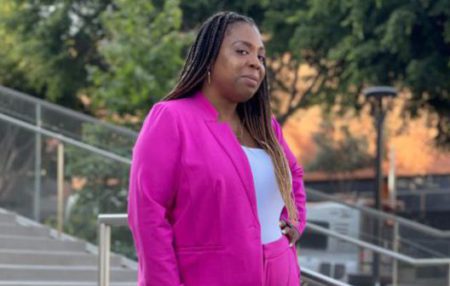 LOS ANGELES – In the world of popular culture the use of the slang phrase 'has the receipts' translates to bringing proof that someone was/is lying. Conversely it also is used to define that a person is being genuine.
Over the past several years as the crimes committed by West Hollywood resident and political activist Ed Buck, as he preyed on Black men were made public, the person holding the receipts was journalist turned advocate Jasmyne Cannick.
Frustrated and angered by what she perceived as lack of serious engagement by local law enforcement in the initial stages of the investigation into the death of 26-year-old Gemmel Moore, Cannick rallied the community and publicly called out law enforcement to take more aggressive action.
She orchestrated and led a grass-roots effort to get the criminal justice system of Los Angeles to listen to Gemmel's mother LaTisha Nixon's plea for justice. She used Gemmel's own words, written in his journal to alert authorities to the depths of the debauchery occurring inside that second floor flat in West Hollywood. She pleaded with law enforcement including the District Attorney for the County of Los Angeles Jackie Lacey to take action.
Her activism and fueling the rage of the greater community finally received the attention of Federal law enforcement and action that culminated in Buck's arrest and the trial.
She stood by the families even as to the horror of many, another Black man died nearly two years after Gemmel (2017) in January of 2019 and like that young life snuffed out too early, Timothy Dean, 55, was found deceased on the trash strewn floor of Buck's flat.
"The lives of Black gay men matter — no matter if they're homeless, survival sex workers or escorts — this is a case that transcends race, class, wealth. Our lives matter, our community matters, and just because someone is unhoused, an addict, may be a survival sex worker, or an escort, or HIV positive does not mean their lives don't matter and we should look the other way when they show up dead in a white Democratic donor's home." ~ Jasmyne Cannick.
In her owns words Cannick writes after the jury delivered guilty verdicts on nine separate federal counts; "It's been a long four years on this road for justice–justice that a guilty verdict would be but one small part off. Real justice is making sure that this never ever happens again. We can't do that with the enabling parties still acting like Ed Buck didn't happen"
She adds, "Ed Buck only got away with it for so long because he was white and because we still don't believe Black victims–even when they tell us what happened to them.
Gemmel Moore told us in his diary, "Ed Buck is the one to thank, he gave me my first injection of chrystal [sic] meth. It was very painful."
Buck was not all that he was portrayed as in the media, but he parlayed his influence, funneled through donations from others, and did ingratiate himself into the Democratic party in California over the years. There is plenty of photographic evidence to substantiate those claims to fame showing Buck rubbing elbows with politicians from all quarters.
Worse though was that rumours of Buck's fetishes were well known and yet even after the death of Gemmel Moore there seemed to be a collective shrugging of shoulders and zero calls for accountability. Cannick however, wasn't having it.
"Former district attorney Jackie Lacey was sitting on a mountain of evidence and still did nothing to prosecute Ed Buck for the deaths of Gemmel Moore and Timothy Dean," she said.
Appearing on BNC's Black News Tonight anchored by journalist Marc Lamont Hill last week, Cannick told Hill that the case intersected race and sexual orientation.
"As much as this case is about Ed Buck, it's also about our housing crisis, and what it makes people feel they have to do — play Russian roulette with their lives just to have a roof over their heads," she stressed.
Cannick is not just a gadfly community activist, in fact far from it. She is a powerful voice for those who have had no voice reminding people that Buck happened because the community allowed him to happen.
In her own words she points out, "Paul Koretz, a candidate for Controller in 2022, who is backed by the Black Democratic establishment and has taken thousands from Ed Buck, told a group that Buck's victims were all "disadvantaged Black hustlers."
"So while this fight is as much about getting justice for Ed Buck's victims it's also about calling out all of the people and entities along the way who failed them and enabled Ed Buck. Not doing so ensures a repeat of this situation because Ed Buck isn't the only Ed Buck," she pointed out. "Entities like the L.A. County Sheriff's Department who many of Ed Buck's victims said didn't take their complaints about Ed Buck seriously."
"But even though Ed Buck's crimes have been made public throughout his trial, not much has changed. The silence in Los Angeles' is deafening. If I wasn't sitting in the courtroom myself, I probably wouldn't know the trial was happening.
There's been no mention of the trial or justice for Ed Buck's victims from the Los Angeles County Democratic Party, California Democratic Party, Stonewall Democratic Club, or any of the dozens of elected officials he gave his money to," she noted.
In a conversation with the Blade on Monday Cannick said that the next phase for her advocacy is to seek financial compensation for Buck's victims. But beyond that is challenging community leaders and elected officials to address the very causes of what gave Buck ready access to the disadvantaged Black men in the first place; homelessness and helping the unhoused is her top priority.
She also serves now as an elected "At-Large" member of the leadership team of the Stonewall Democratic Club, the very place where Buck donated sums of money and rubbed elbows with Democratic Party leadership who gave Buck credibility and status.
For now there are some community leaders who are stepping up to acknowledge Cannick's holding the receipts including the City Council and Mayor of West Hollywood who honoured her community work during a regularly scheduled Council meeting Monday.
West Hollywood Mayor Linsey Horvath tweeted afterwards, "Thank YOU for your fearless leadership in pursuit of truth and justice, @Jasmyne Our community is safer, and survivors have more confidence that they will be heard & believed, because of you."
Thank YOU for your fearless leadership in pursuit of truth and justice, @Jasmyne Our community is safer, and survivors have more confidence that they will be heard & believed, because of you. #weho #believesurvivors #BlackLivesMatter #blackgaylivesmatter #AllBlackLivesMatter https://t.co/vq4t8IjLij

— Lindsey P Horvath (@LindseyPHorvath) August 3, 2021
BNT: Buck case highlights intersection of race & sexual orientation
Journalist Jasmyne Cannick, said that the case "intersected race." She joins "Black News Tonight" to discuss the case and its impact.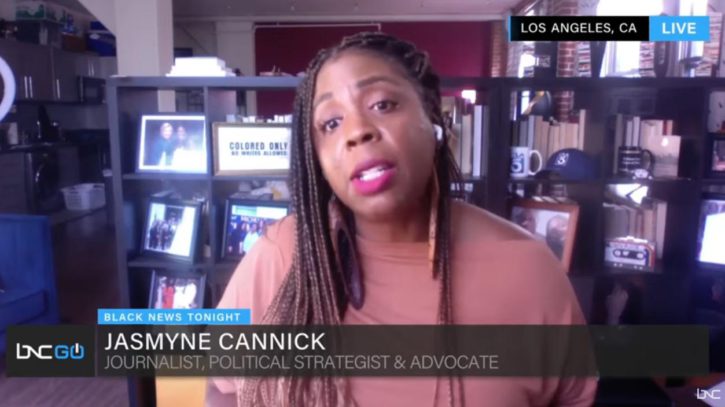 PHILADELPHIA – Appearing on BNC's Black News Tonight anchored by journalist Marc Lamont Hill Wednesday, Los Angeles based political strategist and journalist Jasmyne Cannick, who has covered the Ed Buck case, told Hill that the case intersected race and sexual orientation.
"As much as this case is about Ed Buck, it's also about our housing crisis, and what it makes people feel they have to do — play Russian roulette with their lives just to have a roof over their heads," Cannick stressed.
LA City Council votes to prevent sidewalk camping, Garcetti says he'll sign
The homeless crisis in California and in the greater Los Angeles region in particular has been exacerbated by the coronavirus pandemic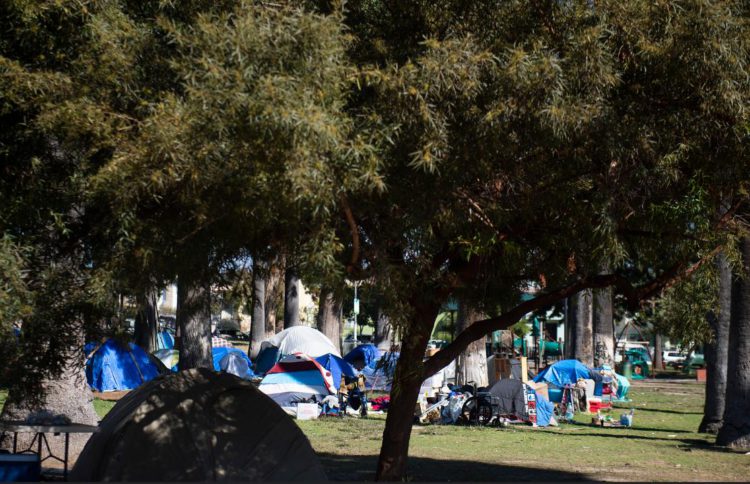 LOS ANGELES – In a 13-2 vote Wednesday, the Los Angeles City Council voted to stop people from camping in public spaces including the areas around parks, schools, homeless shelters, bridges and overpasses, and other similar structures, as well as any encampment that would block sidewalks in violation of the Americans with Disabilities Act.
A spokesperson for Los Angeles Mayor Eric Garcetti said that he will sign the ordinance.  Once signed, the measure will go into effect 30 days later. The ordinance bans encampments on sidewalks and driveways, freeway overpasses and on-ramps, and near libraries, parks, schools and homeless shelters.
It specifically bans homeless encampments from within 500 feet of schools, day care facilities, parks and libraries. Under the ordinance people who don't move would be fined, not arrested, and only after they are given two-weeks notice and offered shelter.
The homeless crisis in California and in the greater Los Angeles region in particular has been exacerbated by the coronavirus pandemic which saw thousands losing their jobs and some being evicted although moratoriums implemented by state and local officials have greatly reduced the evictions numbers.
Opponents of this ordinance are decrying it as another effort to criminalise the homeless population. Councilman Paul Krekorian who represents Council District 2, North Hollywood, Studio City, Sun Valley, Valley Glen, Valley Village, and Van Nuys, takes issue with that characterization saying;
"This ordinance, first of all, does not make homelessness illegal. It does not criminalize homelessness. It does not make any conduct that is fundamental to being human illegal. What it does do is it guarantees that we will reestablish passable sidewalks. It protects the users of our public infrastructure and the unhoused residents of our city from being put into positions of interaction with automobiles, around loading docks, driveways and so forth. It guarantees access to our fire hydrants, entrances to buildings."
Homeless and civil rights activist Eddie Cruz told KTLA, "this ordinance is targeting a specific group of people in the unhoused community. We believe that this is an irresponsible attack from the City Council and an irresponsible way to deal with the homelessness crisis that is occurring in Los Angeles," Cruz said.
Councilman Mitch O'Farrell, whose Council District encompasses Echo Park, scene of a series of confrontations over the homeless encampment that ultimately was cleared in part with the Los Angeles Police Department assisting, said in a statement that the ordinance "helps regulate shared public spaces while acting with compassion and purpose to help put people experiencing homelessness on a path to wellness."
"This ordinance establishes fair and clearly defined rules for how sidewalks in Los Angeles are regulated — while linking those rules to a comprehensive, compassionate strategy for street engagement that will establish reasonable pathways to positive outcomes and, ultimately, permanent homes," O'Farrell said.
L.A. City Council approves measure to bar homeless encampments: