September 5, 2019 at 4:00 pm PDT | by Karen Ocamb
Will Trump Live-Tweet the HRC/CNN LGBTQ Democratic presidential town hall?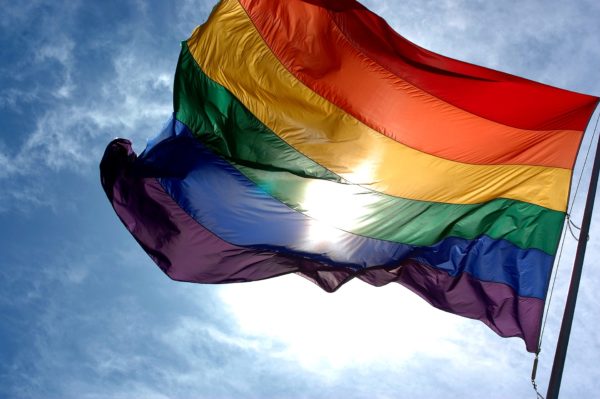 Last March, outgoing Human Rights Campaign President Chad Griffin announced that the HRC Foundation was co-hosting an LGBTQ-focused 2020 Democratic presidential forum with UCLA on Oct. 10, the day before National Coming Out Day. But HRC was quietly in talks with CNN about the prospect of the national cable channel broadcasting the in-depth examination of LGBTQ issues by top notch reporters and presidential candidates.  On Sept. 4, HRC announced the partnership deal with CNN, which necessitated a venue change to The Novo at LA Live to accommodate the live CNN broadcast.
Everything changed.
There's the historical aspect, of course. No similar LGBTQ-focused political event has ever been broadcast to a such a wide audience. HRC Foundation has hosted two other such forums—one in 2004 that included eventual Democratic presidential nominee Sen. John Kerry and The Visible Vote '08 forum on August 9, 2007 in Los Angeles that was broadcast on cable by forum co-host LOGO. This one made national news briefly, and included the top two Democratic contenders New York Sen. Hillary Clinton and Illinois Sen. Barack Obama.
But Twitter did not exist then and most people subscribed to a sense of civility and common decency in public spaces. Now the President of the United States uses Twitter to vent about personal vendettas. In fact, Donald Trump has been effusive in his hatred for both CNN and out gay anchor Don Lemon, who most likely will be one of the moderators of the HRC/CNN town hall.
That raises a whole host of other questions. Will Trump Live-Tweet his responses to his potential Democratic opponents? Will his fans? Will CNN set up a monitored chat-room for their live-stream, including on CNN en Español? Will pro and anti-Trump demonstrators make news protesting outside the venue, as well?
The HRC/CNN LGBTQ Democratic presidential town hall at LA Live has the potential to expose LGBTQ people and issues to the world, as well as the ongoing homophobia and LGBTQ hatred from Trump and his white supremacist supporters.
And then there is the event itself. Entitled Power of Our Pride, individual candidates seeking the Democratic presidential nomination and the opportunity to directly challenge Donald Trump will be sequentially asked about their beliefs about and plans for the LGBTQ community.
Six of the 10 candidates who have made the Democratic National Committee debate stage have confirmed their participation: former Vice President Joe Biden, South Bend, Indiana Mayor Pete Buttigieg, former Housing and Urban Development Sec. Julian Castro and Senators Kamala Harris, Amy Klobuchar and Elizabeth Warren.
But while Buttigieg may be gay and the other candidates may have LGBTQ friends and staff and may support the Equality Act, it is questionable that they realize that LGBTQ voters are still officially second-class citizens, the extent to which LGBTQ immigrants and asylum seekers are often brutally victimized, and may reference the epidemic of murders of black transgender women but do not know any black trans woman other than Laverne Cox and Janet Mock.
"For nearly 40 years, the Human Rights Campaign has fought to realize a world in which LGBTQ people are safe, equal and free in every aspect of our lives," HRC President Alphonso David said in a press release. "Today, at a time when our most basic civil rights and democratic values are under attack, our work has never been more urgent. We are eager to hear from this field of Democratic presidential candidates about how they plan to win full federal equality, defend the fundamental equality of LGBTQ people, and protect the most vulnerable among us — both here in the United States and around the globe — from stigma, institutional inequality, discrimination, and violence."
David added: "This town hall comes at a critical time in our fight to achieve equality for lesbian, gay, bisexual, transgender and queer people (LGBTQ) in this nation. Today, in 30 states, LGBTQ people remain at risk of being fired, evicted or denied services because of who we are. Thirty-five states have yet to ban the dangerous and debunked practice of 'conversion therapy,' which is harming our young people. Hate crimes are rising, and more than 100 transgender people — most of whom are transgender women of color — have been killed in the United States in the last five years. Although the federal government should be protecting all residents, the Trump-Pence Administration is directly attacking our community by banning transgender troops from serving our country openly, undermining health care services for people living with HIV, and seeking to erase LGBTQ people from protections under law."
The structure is still being worked out but it looks like it will basically follow the format CNN has used for other town halls. A CNN person will moderate with the individual candidates following one after another for perhaps up to four hours. The moderator will ask questions and there may be a CNN reporter introducing video packages about particular issues then asking a question from the audience.
Perhaps the most interesting questions will come from invited audience members. CNN will no doubt have editorial quality control over the questions to ensure they meet broadcast standards—ie, the questions are not laced with profanity—and to be able to proper and succinctly introduce the questioner. But since this is a partnership, HRC will no doubt look for people and questions that tell stories and best articulate the LGBTQ dilemma to try to elicit the best response from the candidates.
And the LGBTQ vote is no joke. HRC estimates a minimum of 10 million LGBTQ voters nationwide—in addition to what HRC says are the millions of "pro-equality" voters—parents, siblings, friends, colleagues, and allies whose vote might make a difference in the Democratic primaries, including California's delegate rich primary on Super Tuesday.
"In 2018, LGBTQ voters cast ballots in higher numbers than the general population. LGBTQ voters cast more than 7 million ballots in all — a turnout of roughly 70 percent, compared to a turnout of 49 percent among the general population — and comprised 6 percent of the entire electorate," HRC said in a press release.
Which raises another question: will Trump try to Tweet-tout his re-election endorsement from the Log Cabin Republicans during the HRC/CNN town halls to try to win over some LGBTQ and "Equality" voters? Or will the temptation to Twitter-smear CNN and Don Lemon prove more powerful than wanting to win?
The culture wars are about to engage in one of its most public battles for the hearts and minds of fair-minded voters.