October 15, 2019 at 3:10 pm PDT | by Anonymous
I'm a bullied Palm Springs teacher
(Editor's note: Without enforcement, California's progressive anti-discrimination laws are toothless, as illustrated by this teacher's account. He asked for anonymity fearing retaliation)
I locked myself in the bathroom stall, crying and afraid, not sure if I could go back out. This wasn't a memory of when this happened in junior high and high school after being harassed and attacked for being gay, but now, as a teacher, in my 40s. How could this happen at work?
I am writing this anonymously because I am still under duress at work. I have reported these situations to Human Resources and multiple people in the district seeking help and support, as well as local and national LGBTQ organizations. I am afraid of what is going to happen to my career, the safety of LGBTQ youth in our district, and the civil rights of my fellow LGBTQ teachers.
At the end of 2016, I moved from the Midwest to San Diego for a new teaching position. While there, I was sent to training offered by GLSEN.
Sitting in the training in the fall of 2017, I learned about the Fair Education Act, the School Success and Opportunity Act, and Seth's Law. I felt empowered. I knew I needed to return to the classroom and be a visible role model to help decrease the staggering rates of suicides and homelessness for LGBTQIA youth. I remember sitting there, emotional, as I shared the bullying and harassment I experienced as a gay youth and my regret that I had not been an out and visible gay teacher for my students much sooner.
My students at the time were 6-8th graders, mostly refugees from Syria, Iraq, and Afghanistan. I had spent the last year with the majority of these students.
I told my principal that my students would ask about my new engagement ring and I wouldn't lie anymore as I had the past 20 years. I told her this was my time to share who I am with my students. My principal was incredibly supportive.
Walking to my classroom, my students noticed my ring and shouted, "What's her name?" This time, I said I would tell them all about it once inside the classroom. They took their seats and I said, "I have something to share with you. I love you all and you matter a great deal to me, and I have been afraid to share this with you."
As tears rolled down my face, I told them I was gay and I told them my fiancé's name. At first, some of the students didn't quite understand so the more advanced English speakers explained in Arabic and Farsi. Then the students started clapping, saying, "We love you! Don't cry."
These students, some who had been shot, many who had lived in refugee camps, experienced the worst this world has to offer. They left repressive societies where LGBTQ people were often killed, beheaded, thrown off buildings or suffered other atrocities – and they embraced me with open arms.
This beautiful experience gave me the confidence and strength to never go back in the closet professionally.
I had come so far since my days growing up in North Dakota and Minnesota. In elementary school, a few kids started calling me "fem." I wasn't sure what that meant and finally asked a friend. He said I was like a girl and must like guys. I still really didn't understand but knew it must be something bad. My world of fear began to form.
In 6th grade, in junior high, I immediately got pegged as gay by a few kids. I learned quickly that being gay, or thought of as gay, was the worst possible thing that you could be, at least so I thought.
By 7th grade, when I finally began to understand that I was gay, I became very depressed. I thought myself to be the only gay kid at my school. My grades dropped and the counselor pulled me into his office thinking I might have been doing drugs, but that was not the case.
It was at this time I began to have thoughts of suicide. I also prayed each day that God would change me.
In my freshman year, I got chased each day and shoved into lockers by a couple of guys, Brad and Jeff. I would hide in bathrooms, try to be the first to leave class, and rush to my next class, and would have to try and leave school early or late to avoid them.
By 12th grade, after hearing daily that it is better to be dead than be gay, I attempted suicide for the first time.
I went to my room, grabbed my dad's handgun and placed the barrel in my mouth. As soon as the cold metal of the barrel hit my teeth, I began to cry and placed the gun on the ground.
Although I wasn't successful, I tried twice more, the next times were by slitting my wrists and downing pills. I had to be hospitalized.
During my college years, I decided to "suppress" my gayness and hopefully find a girl and get married. I mostly spent my 20s with a lot of self-hatred.
Finally, after moving to California in 1999 for my first teaching job, I began to accept and embrace myself.
Coming from North Dakota, I figured I could be fired for being gay, so I never shared who I was with my students. Even in California, I never taught with an open and visible LGBTQI teacher at the elementary or middle school level.
The next 20 years passed by. In between, I went to farrier school in 2011 in Montana, moved to Oklahoma the same year and was diagnosed with HIV in 2015.
After San Diego, my fiancé and I decided to move to Palm Springs in the summer of 2018 so we could afford to buy a home. The area we moved to is internationally known to be a very accepting place for LGBTQ people so we had no worries.
But three weeks into the school year, my new principal called me into his office during my lunch break. He began to immediately interrogate me as to why I had shared with my students that I was gay. He interrogated me for times and dates when I had shared this and repeatedly asked what my being gay has to do with the curriculum.
I cannot describe the dark place this brought me. After my initial horror and shock, I told him that I have every right to share that I am gay, and have a fiancé, just as every straight person shares openly about their husband, wife, or kids.
I left his office devastated, worried that my job was in jeopardy. I went back to my table with my teammates, explaining what happened, then went to the bathroom and locked myself in the stall and cried, just as I had so many times back in junior high and high school.
The bell rang and it was time to pick up my 4th graders. Back in the classroom, I decided to immediately call HR and let them know this happened and that I believed it to be illegal.
Come Monday morning, I received an email from HR simply stating that the principal was simply doing his job and following up on a parent complaint.
Being new to the district, and not having tenure, I felt powerless. I suffered through months of sometimes subtle, sometimes not so subtle harassment.
I was able to switch schools for the 2019-2020 school year. While there are other LGBTQ teachers at my school, I am, once again, the only open and visible gay teacher.
At my new school, I was placed in a situation where I had to stand up for my students, some who were being denied food when they arrived late — and most unbelievably, to ask that Christian Bible verses be stopped from being placed in our school mailbox every day.
The Bible verses did not stop. I requested again that they stop, citing the Establishment Clause of the Constitution and how the Bible is often used to justify discrimination, hatred, and even death towards LGBTQIA.
Since reporting these incidents, I have been bullied and harassed by both fellow teachers (who were upset the Bible verses stopped) and administrators.
The majority of LGBTQIA teachers I have met in the district are afraid to be open and visible at work. They are afraid of reprisals from parents, their administrators, and the district.
If we, as LGBTQIA adults do not feel safe in Palm Springs, can you imagine how LGBTQIA youth feel in our district?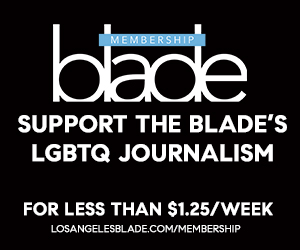 Sign Up for Blade eBlasts