Blade guide to Palm Springs Pride
Dancing in the streets, food and a celebration of diversity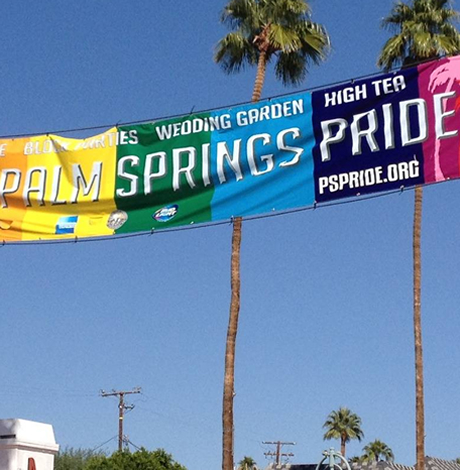 The Greater Palm Springs Pride Festival is a destination of choice this weekend for many LGBTQ Angelenos and their allies, and with good reason. It's the largest LGBTQ gathering in the Coachella Valley, set against the palm tree lined backdrop of beautiful downtown Palm Springs and drawing visitors from around the world to celebrate the diversity and unity of the desert community.
Kicking off on Friday evening, Palm Springs Pride is a weekend-long, continuous party, with 4 music venues, cutting edge DJ stages, dancing in the streets, and over 150 food vendors, exhibitors and non-profit organizations on hand to serve your every need.
To make this year's festival even more festive, for the first time in its history, you can enjoy an adult beverage while strolling through the LGBTQ entertainment experience on North Palm Canyon Drive.
Best of all, the festival is, as always, a free event – though donations will be accepted at entry points to help keep Pride free for everyone to attend.
Keeping visitors occupied all weekend long are a diverse array of artists and entertainers, beverage lounges offering premium cocktails along with wine and microbrews, a selection of festive food purveyors, and a variety of items for purchase including, jewelry, snacks, and sweets. There's plenty to do, and while many folks enjoy going with the flow at Pride and letting it take them from one experience to the next, it can be helpful to keep a few key times and places on your calendar to ensure you get the most out of the festival – especially when it comes to the entertainment.
With that in mind, here's the schedule of headlining acts that will be appearing throughout the weekend:
Friday, Nov. 1
Arena Stage:
5:00pm – That '80s Band
7:30pm – DJ Autumn Leilani
9:00pm – Kristine W, Queen of the 90's dance music
Pride Stage:
7:30pm – Prince Poppycock
8:15pm – Ada Vox, pop singer, drag queen & top 8 finalist, "American Idol" '18
KGAY Stage:
4:00pm – Ray Rhodes
Saturday, Nov. 2
Arenas Stage:
7:30pm – Lee Dagger of Bimbo Jones
9:00pm – Heather Small
9:40pm – Black Sabbitch
Pride Stage:
4:50pm – Sateen
5:30pm – Pepper Mashay
6:30pm – Betty
8:00pm – TLC
KGAY Stage:
2:00pm – Paul Cowling
6:00pm – Ryan Skyy
Sunday, Nov. 3
Arenas Stage:
3:45pm – Maxine Nightingale, Grammy nominated legend of pop and disco
Pride Stage:
4:00pm – OneUp, LGBTQ finalists from NBC's "The Voice" '18
KGAY Stage:
12:00pm – DJ Kidd Maddony
There are a host of other entertainers scheduled the throughout each day of the festival, on these three stages as well as the US Bank Stage. You can find a complete listing and schedule at pspride.org.
You might also want to take note of these scheduled events:
On Saturday from 11a.m.– 5 p.m, the Pride Youth Zone, a free event open to those 14-21, will be the hub for LGBTQ+ youth and their allies at the Pride Festival. The Youth Zone features continuous entertainment and activities, free food and drink, games, dancing, DJ Eric Ornelas, karaoke, seating, contests, games, youth-only confidential testing, drag and make-up fun, great conversation, creative expression, chalk drawing, shade from the sun, toilets and a washing station, safe sex information. Everything is free, and all youth are embraced. Located on Arenas Rd. behind Lulu California Bistro. Pride Youth Zone is the safe space for queer youth to hang out and meet others within the Pride Festival.
On Saturday from 11am – 5pm, and Sunday from 11am- 4pm, you can find the Children's Garden, a playful place for children — from infants to pre-teen – and accompanying adults, at 221 S. Palm Canyon Drive. A private family-only place, offering hands-on fun for you and your kids where all kids are encouraged to have fun during Pride and learn the importance of being proud with who they are – as well as free kid-friendly activities, complimentary snacks and cool drinks, a nap area, and a clean port-a-potty along with a diaper-changing station, to ensure that the needs of a festival-going family are fulfilled. Parents are required to stay in the children's play area with their children.
Sunday, of course, is also the day of the Greater Palm Springs Pride Parade. Stepping off from Tachevah and Palm Canyon Drive, it travels south on N. Palm Canyon to Amado, where it ends at the festival entrance. There will be emcee commentary at 4 reviewing stands (one at each of the 4 festival stages), remote broadcasts from local radio stations Mix 100.5 and Mod 107.3, and an official online broadcast station at Eight4Nine Restaurant & Lounge. In addition, a Deaf Pride reviewing stand will feature Sign Language Interpretation.
The festival hours are as follows:
Friday, November 1
5pm – 10pm, Arenas District Pride Kick Off Celebration
6pm-10pm, Downtown street Party
Saturday, November 2 – Pride Festival
11 am – 10 pm, Downtown Palm Springs and @ 11:30pm in the Arenas District (exhibitors close at 9pm)
6 pm-11:30 pm, Arenas District Block Party
Sunday, November 3- Pride Festival & Parade
11 am – 5:00 pm, Downtown Palm Springs (exhibitors close at 4:30pm)
11 am – 6:00 pm in the Arenas District (exhibitors close at 4:30pm)
10am – Noon, Pride Parade
If that's not enough to keep you entertained all weekend long, here are a few other Pride-related events that might be of interest:
Friday, Nov. 1
5pm – 7pm: Kiehl's Pride Celebration, offering shopping, a raffle, and complementary cocktails and treats (175 N. Palm Canyon Dr.)
5:30pm – 7:30pm: Trina Turk Pride Kick-off. Trina Turk, Mr. Turk and Celebrity Guests invite you to an evening of sipping, shopping and giving back in the Palm Springs boutique. (891 N. Palm Canyon Dr. RSVP requested to [email protected].)
Saturday, Nov. 2
12pm – 4pm: Flagging in the Desert. Gather your friends and come celebrate flagging, magical music and, of course, Pride at Sunrise Park in the heart of Palm Springs, with Los Angeles DJ Michael Duretto providing the day's soundtrack. Bring your blanket, picnic and refillable bottle – water and ice will be provided. A free event.
12pm – 5pm: Love Boat Palm Springs Pride Pool Party. GED Magazine is proud to present the 2nd Annual Love Boat Pool Party benefiting Greater Palm Springs Pride. So grab your tanning lotion and get ready for an epic day by the pool. This highly anticipated event with multiple big-name DJs, Drag Queens, Live Entertainment, Celebrity hosts, Raffle Prizes and giveaways, and the hottest go-go dancers around. Tickets are $15 to 25 in advance; $30 at the door. (333 E. Palm Canyon Dr.)
Sunday, Nov. 3
9am – 3pm: Pride Champagne Brunch at Eight4Nine. For the 4th consecutive year Eight4Nine Restaurant and Lounge will offer a Pride Champagne Brunch menu, with parade viewing from the patio, lounge or saved premium seating on the parade route. Additionally, you will be helping your local Pride organization. with 25 percent of the sales donated to Greater Palm Springs Pride to help keep Pride free and accessible for everyone.Call 760-325-8490 or visit eight4nine.com to make your reservations early, it always sells out! (849 N. Palm Canyon Dr.)
Whether you choose to spend all your time at the festival or spread out and enjoy some of these peripheral offerings, Palm Springs Pride is sure to cap off your 2019 Pride season with plenty of good times to be remembered!
Turning pain into positive & using art as therapy – Carl Hopgood
He knew he wanted to embark on a path toward a "bold, exciting life" among other "creative people" while "doing amazing things and living"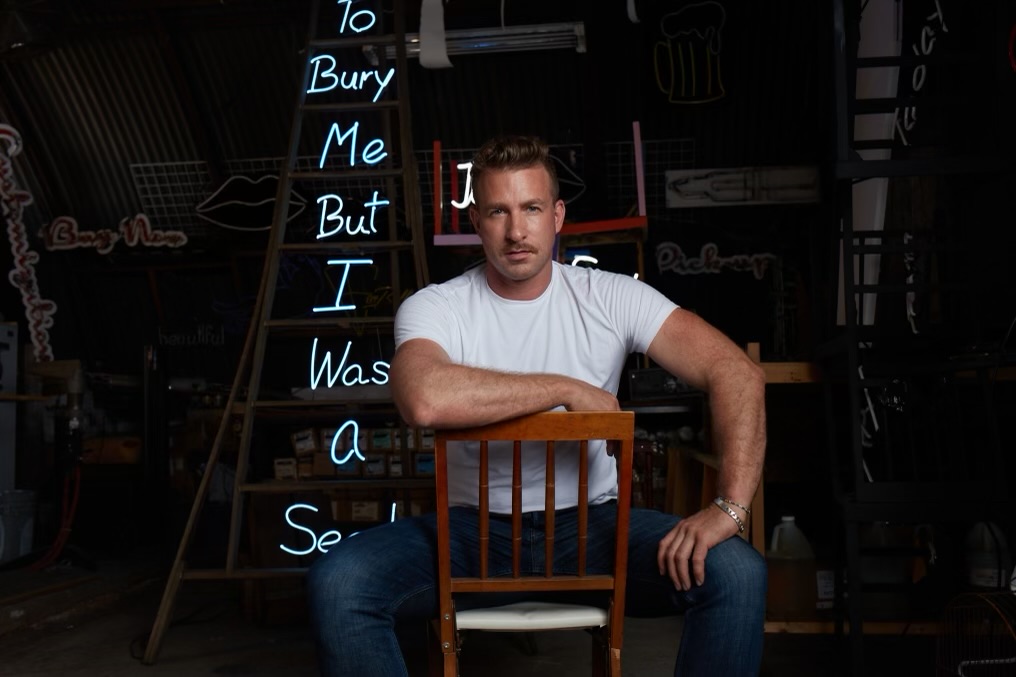 LOS ANGELES – Like many people born with an inclination toward creative expression, Carl Hopgood has known from a very young age that he wanted to be an artist.
Growing up on a small farm in rural Wales, the Cardiff-born Hopgood spent his childhood surrounded by animals and nature, letting his imagination run wild and creating worlds he envisioned with baskets, fruit boxes, flowers, stones, tabloid clippings, and other items that struck his fancy. Then, at 7, he was invited to spend an afternoon with his best friend, whose cousin was visiting; that cousin happened to be Richard Burton, and he happened to be accompanied by his even more famous wife, Elizabeth Taylor.
Hopgood was not just star-struck, he was inspired.
"My world was never the same after that day," he tells the Blade. "They told stories about Hollywood, London, glamorous parties, movies, photography… and Andy Warhol! Andy Warhol was my first artist crush. He was also born on a farm, so I felt an immediate connection."
After that experience, he knew he wanted to embark on a path toward a "bold, exciting life" among other "creative people" while "doing amazing things and living."

Four decades and one continental transplant later, it can safely be said that Hopgood has accomplished his goal.
A successfully established LA-based artist, he's created a unique body of work that includes pieces in Neon, Sculpture, Film / Video Installation, and canvas painting; his collectors include Morgan Freeman, Eugiono Lopez, The Vinik Family Foundation, The Groucho Club and Rupert Everett; and recent exhibitions of his work – like his neon art installations 'Looking For Love In All The Wrong Places', 'My Heart Is Open', and 'You Changed My Life' at the Maddox Gallery in West Hollywood, and 'Chair Therapy' at United Talent Agency's UTA Artspace LA – have garnered a flurry of enthusiasm and increasing national attention.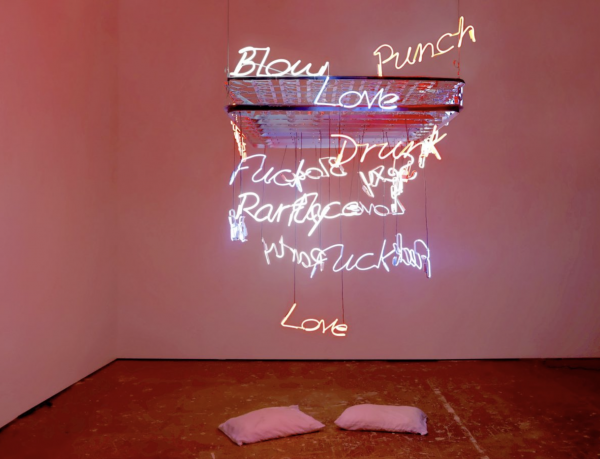 The latter installation created a particular stir with its inclusion of a controversial neon sculpture called "Just Say Gay", Hopgood's response to the draconian anti-LGBTQ legislation championed by Florida Governor Ron DeSantis; that work was acquired by prominent collector Beth Rudin DeWoody and will be on display from December 2023 at her Bunker Art Space in West Palm Beach, Florida.
When talking with the Blade, Hopgood is keen to focus the discussion on a new goal – the completion of a documentary about the creation of "Chair Therapy" – but he's certainly willing to start the conversation by talking about the sense of queer defiance behind "Just Say Gay" and many of his other works, because the two subjects go hand in hand.
"Being a gay man of Welsh and Greek heritage," he proudly proclaims, "the fight against bullying, repression, injustice and discrimination became central themes of my artistic expression."
As he explains, that fight is rooted in a traumatic childhood experience. "I was bullied by classmates," he remembers. "They would chase after me, push me to the ground and kick me in the groin. I managed to escape and found sanctuary under a stack of chairs in the school assembly hall. The school therapist helped me cope by using a technique called Empty Chair Therapy, where you would talk to an empty chair about your feelings.
"I decided turn this pain into something positive and use art as my therapy."

Much later, the young Hopgood would be inspired by the confrontational aesthetic of Damien Hirst – after reading a scathing criticism of one of his works in the paper – and follow in the controversial artist's footsteps to Goldsmiths College in London, eventually becoming part of a movement with fellow graduates like Steve McQueen, Jason Martin, Ceal Floyer, Angela De La Cruz and Alessandro Raho.
"It was an incredible moment to be a young artist in 1990s London."
Nevertheless, after 20 years in the London art scene, he decided it was time for a change.
"I had just watched a documentary featuring David Hockney," he explains. "The freedom and possibility of David's work was clearly inspired by Southern California with its beautiful palette and open, sunny skies. It was a stark contrast to the gloomy weather of the UK, and the anxiety and depression that accumulated over the years. I had heard about the growing LA art scene –LACMA, MOCA and The Broad were beginning to attract an international audience – and I decided that moving to Los Angeles would be good for both my mental health and creativity."
The choice was a fortuitous one for him – "It was the perfect time to go," he says, "and I was ready to work in new mediums and expand my repertoire." Then, like the rest of us, he had to put all his plans indefinitely up in the air.
"In early 2020, when the pandemic hit," he tells us, "I would see all the bars and restaurants shuttered in West Hollywood. It was like a ghost town. Looking through the store front windows, all I could see were chairs stacked on top of each other – and that image took me straight back to my unhappy childhood."
He decided to use it for inspiration and began work on the first sculpture in the "Chair Therapy" series ("My Heart is Open") – which as he describes, addresses "toxic masculinity, oppression and queer identity, themes I've always championed."
Those themes are doubtless also at least partly behind his desire to see the planned documentary – titled "Fragile World" – reach fruition. Filmed during the pandemic, it profiles Hopgood by charting his personal artistic journey, but centers on the development of "Chair Therapy", in which he combined found and vintage wooden chairs with neon lights shaped into positive words to provide hope, love and support for a community who were hardest hit by Covid and the shutdowns it necessitated.
"Seeing those stacked chairs and tables, in those empty establishments, I knew some would be forced to close for good. I felt so helpless, but I knew there was something I could do."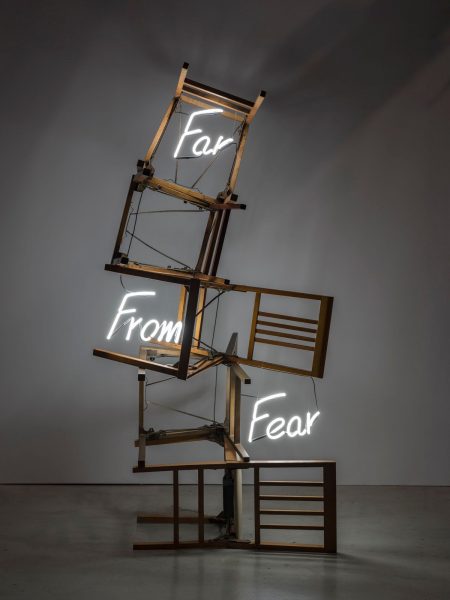 Now, with his own hard-hit community – alongside many others – facing aggressive legislative oppression from the extremist right, he's determined to see the film finished, so that the same empowering message of optimism embodied in his work can be spread to a larger audience as a reminder not to let the bullies break their spirit. To that end, the documentary's director and producer, LA-based British filmmaker Kate Rees Davies, has set up an Indiegogo campaign to raise the funding necessary to finish the project.
Another motivation, perhaps even more personal, might be found in Hopgood's revelation of a hidden influence in another work from the "Empty Chairs" series: "Twelve Steps", which explores the massive financial success of a California citrus industry made possible by the hard work of a segregated Mexican immigrant labor force. "I was also inspired in that piece by a line from Greek poet Dinos Christianopoulos," he says, "who was sidelined by the Greek literary community in the 1970s because he was gay. It's a small but powerful couplet which was included in the collection 'The Body and the Wormwood' that reads, 'What didn't you do to bury me, but you forgot that I was a seed.'"
For Hopgood, perhaps, the documentary also represents a seed, one that he himself has planted in hope of spreading its positive power into the world – and he's counting on the support of his patrons through Indiegogo for the water, light and nourishment it requires to grow.