October 30, 2019 at 8:09 pm PDT | by Scott Stiffler
Life in Palm Springs means vacation all year long
For Chris Wilmore and Alan Johns, the road leading to a new home was anything but straight, and definitely not made out of yellow bricks — but when they finally arrived in Palm Springs, says Wilmore, "It was like Oz. Coming from a red state which is not always welcoming to the gay community, we really enjoy the fact that we live in such a warm and welcoming place."
Residents of the seldom-sees-rainfall city since June of this year, Wilmore, 48, and Johns, 59, pulled up stakes after residing in Atlanta. The previously peripatetic couple—together for 20 years, married for four—have spent time living in Durham, Richmond, and New York City (with a stint in Atlanta prior to their arrival there four years ago).
"With both of our lines of work," says Johns, "we can live anywhere."
Johns, who once had a career in university finance, is currently an Executive VP with the national executive recruiting firm Cejka Search—and Wilmore, after a career in PR and social media, notes he's "also in the executive search game," as an associate consultant who "assists Alan with his searches."
Asked why they chose Palm Springs, Johns notes his work often took him to southern California. So a few years ago, "I started looking around at the housing options… In Palm Springs, the prices are much less than Los Angeles or San Francisco. It's a very affordable town; easy to get around in, and the gay community is very strong here." It's also, he notes, "nice to have the city to yourself when the snowbirds have gone."
"We've always loved California for the weather and the lifestyle," notes Wilmore, who, with a tone in his voice that disavows the temptation to indulge in a deep dive diss of Atlanta, says the couple's diehard Democratic blue streak is just a better match for California's "diversity and multicultural aspect. It's like its own country — and Palm Springs is fantastic, because it has more of a vacation atmosphere. Less people, less traffic."
The couple has been taking full advantage of that vacation vibe, which Wilmore describes as a "choose your own adventure" aesthetic. Spending time in the desert, shopping at Farmers Markets, and hiking in the higher elevations via "a tram that goes to the top of the mountain, which is a great getaway and a great place to take visitors," says Wilmore, are among their regular activities. "I like to say, 'You can go at your own pace, and find something for every taste.' "
Johns notes the art and culture, sans hustle and bustle, along with "wonderful dining options" and annual events such as the Palm Springs International Film Festival as contributors to the feeling of "being on vacation all year long."
As for where they put down stakes, "We picked a new development called Icon," says Wilmore, "in the Racquet Club West neighborhood of Palm Springs. It's a modern development that is still being built."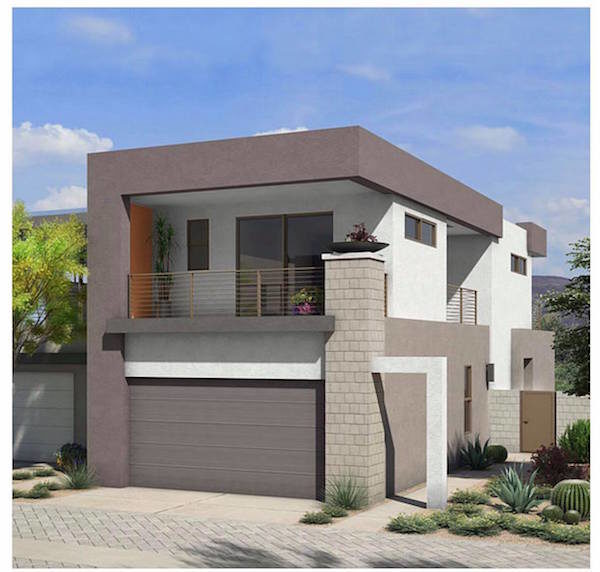 "The design is very contemporary," says Johns, "and the finishes they offered were very high-end. Each home has its own pool and hot tub, in a private, walled backyard, so that's really nice."
Candice Katayama is VP of Sales and Marketing at Far West Industries, which created Icon (www.iconpalmsprings.com).
Katayama says the projected date for the gated community's completion is mid-2020, at which point there will be 46 single-family detached homes, up to 2,040 square feet, plus casitas on certain locations. Homes come with a pool and Tesla solar panels, voluminous ceiling heights, and sealed, polished concrete flooring on the first floor. Attached two-car garages are also standard features. Homes start from the high $500,000s.
Wilmore says another pleasant surprise in the "standard feature" category was the sheer amount of homes sold to gay men or LGBTQ+ couples. Asked to comment on that robust demographic, Katayama says, "We are blind to all of the different people who are attracted to the community — but I can tell you that the people who choose these homes have really great taste in architecture, as well as what they choose for inside of their home." Current residents include, she added, "people who are in the business," such as interior designers.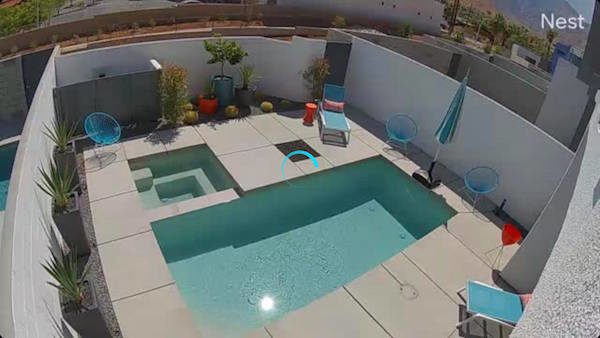 "Modern living inspired by revered mid-century modern architects of historic Palm Springs, with a savvy contemporary flair" is the Icon tag line, which Katayama says shows itself in the "clean lines on everything, and exterior colors, like blue and the golden yellow. It really pops… very interesting, when you look at it, architecturally. It's just a good use of space… And we're so close to downtown Palm Springs, a little over a mile. It's an easy walk, or bicycle ride, away."
Johns says he and Wilmore acclimated to life at Icon quickly, and with ease. "We didn't know anyone" upon arrival, he notes. "And now, our best friends here are our neighbors. We've really come home."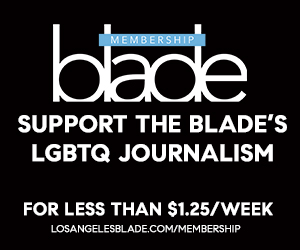 Sign Up for Blade eBlasts