"Orry" play spills gay secrets of classic Hollywood, but focuses on matters of the heart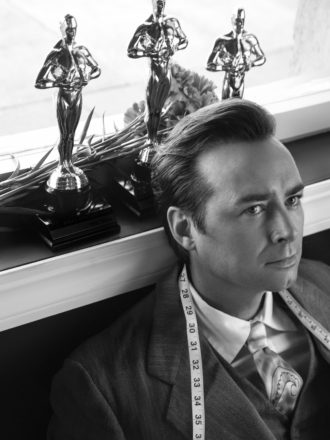 Orry-Kelly is an enigmatic name. It reveals nothing about the man who held it, but it carries a hint of mystery that makes you want to know more.
As even the most casual fans of classic Hollywood can probably tell you, Kelly was a costume designer that dressed Hollywood's biggest stars and costumed some of its most iconic movies; some of them might also be able to tell you he capped off his career with three Oscar wins out of four nominations.
Beyond that, though, they'd likely be hard pressed to tell you more. In the decades since his death, only industry insiders and people who knew him personally had much information about Kelly's private life outside of the essential biographical details and, perhaps, a few salacious tidbits of gossip. That changed when a relative found the manuscript of his memoir in a pillowcase that had gone untouched for 50 years; titled "Women I've Undressed," it was published in 2015, at long last revealing his story to the world as only he himself could tell it.
Now that story is about to hit the stage, as writer/performer Nick Hardcastle debuts his new play, simply titled "Orry," at the Lee Strasberg Theatre in West Hollywood. It's a theatrical distillation of the memoir in which the iconic designer returns to celebrate his own fabulous life on the occasion of his funeral, and for Hardcastle, it's been a labor of love.
He, like Kelly, is an Australian who came to America to pursue an entertainment career; they each found success before coming to Hollywood, Kelly in New York and Hardcastle in his native country.
"The more I get to know him, the more I relate," says Hardcastle.  "I'm from a tiny little coastal town in New South Wales, just like him, and I couldn't wait to get out of my small town, either."
He's come a long way. Beginning as a host for a popular music video program in his homeland, he parlayed that into a multi-faceted career in which he's piled up countless credits as a TV host – alongside dozens for film, TV, theatre and musical theatre acting. He's also the co-founder of the Australian Theatre Company, which, like many of the other platforms from which he works, aims to promote cultural exchange between Australia and the US. He's been in Los Angeles for the last seven years.
"I'd always been aware of Orry-Kelly, since I lived in Hollywood," he says. "I don't know that I knew who he was before I moved here, but Orry has always been mentioned as an Australian pioneer in the film industry."
Still it wasn't until he saw a documentary about Kelly – "Women He's Undressed," by another Australian, Gillian Armstrong – that he was inspired to create his own show about him.
"This seemed like the perfect story," he gushes, "this Australian who came over to New York in the twenties, who had a Broadway career before coming to Hollywood and creating an incredible legacy. After watching the film, I was so compelled by his story that I called the publisher of the memoir the next day and asked, 'Who has the theatrical rights to this book?' I was fortunate enough that I was the first person to make that call."
In developing the script, he worked closely with his director, Wayne Harrison, who was also his dramaturg. Hardcastle himself portrays Kelly – "He's a fascinating character," he says, "and he's deeply flawed, which is great for me!"— with only two other performers to fill in other roles around him.
"It's an intimate show, but it's really quite a big show," he stresses. "We do it all in as entertaining a way as possible. Orry was a showman, an artist and a performer – we've tried to incorporate music and film, and puppetry and song, all the things that speak to what his life was, so even though it is fairly intimate, hopefully it doesn't feel small."
As for the story itself, one of the biggest challenges was deciding what to include. The dense memoir contains anecdotes and reminiscences from a man who had a personal and/or a working relationship with some of the biggest names in Hollywood, and audiences were sure to be interested in hearing about that – but Hardcastle opted for a different focus.
"There's too much to cover in all that material that's just not necessarily dramatic," he says. "Orry lived such a full, and rich, and layered life – but when you want to see a whole life story onstage in 90 minutes, you need to find a narrative that audiences can connect to. It was really about the 'heart connection,' so that we really care, at the end, what he's gone through."
"We had to isolate some things. We thought that his identity, and love, were the things that were going to connect the audience to his story. There was one relationship in particular that was very important, someone that was in his life for a really long time. That's the relationship that we hone in on in the show, and, of course it was with Archie Leach."
Leach is better known, of course, by his professional name – Cary Grant – and the true nature of his long-term "friendship" with former roommate and fellow heartthrob Randolph Scott has already long been debated. Less well-known, however, is that he and Kelly, who were roommates in New York before coming to Hollywood, had an on-and-off-again love affair that lasted into the mid-thirties – at least, according to Kelly.
"He's my source material, the memoir is what I'm drawing from, but it's not my comment on Cary Grant, at all," Hardcastle is quick to point out.
"Having said that," he adds, "it's still a comment on the system at the time – and let's face it, that system still exists today."
"Orry went through the twenties in New York, where it was like a sort of Babylon," Hardcastle explains, "Then he came to Hollywood where at first it was 'anything goes,' and then the Hays Code comes in – suddenly everybody has gone into hiding, and the studio is in control of your life. They change your name, change your identity, marry you off and move you three doors down the street from your lover, they give you drugs to keep you up and keep you down – it was just horrific, and I don't think Orry ever wanted to be complicit in that way of life."
"He was not a 'yes man.' He was unapologetically honest, and I think that put a lot of people off."
Kelly's distaste for the Hollywood closet was likely inconvenient for the power players in the film industry, and Hardcastle acknowledges that might be part of the reason his private life stayed buried for so long – a wrong he's proud to help right.
"I feel like I'm the custodian of his story, and that's a huge privilege and responsibility, and I just can't wait to share it with everyone."
"Orry" runs Nov 2-11 at Lee Strasberg Theatre in West Hollywood. For tickets and more information call 855-326-9945 or visit www.Gentleman-George.com.
After COVID hiatus, John Waters resumes touring schedule
'Every single thing is different after COVID'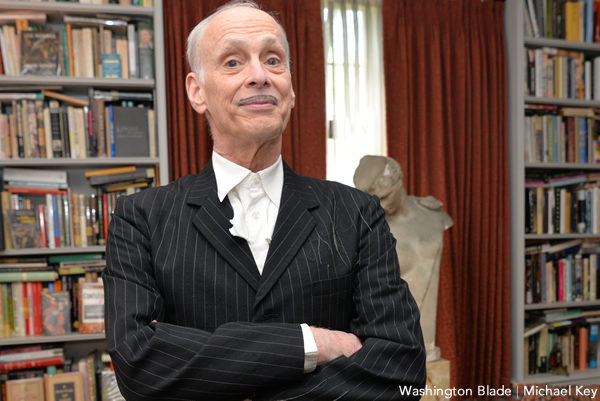 For the first time in nearly two years, writer and filmmaker John Waters will be appearing on stage this fall before live audiences in the Baltimore-Washington area, Los Angeles and San Francisco.
Waters, who lives in Baltimore, is scheduled to bring his spoken-word holiday show, "A John Waters Christmas," to The Birchmere in Alexandria, Va., on Dec. 15, and Baltimore Soundstage on Dec. 21. He'll also be at the Great American Music Hall in San Francisco on Nov. 29 and The Vermont Hollywood on Dec. 2.
Waters' holiday shows were cancelled in 2020 due to the theater closings and travel restrictions put in place to prevent the spread of COVID-19. Some book signings for fans were converted to Zoom sessions. He last toured the country in November and December of 2019.
This year, with vaccinations on the rise, Waters has made a few in-person appearances, including a concert with gay country crooner Orville Peck in Colorado in July, where he was "special guest host"; a Q&A session with fans in Provincetown in August and a music festival last weekend in Oakland, Calif. He's scheduled to visit another 18 cities between now and the end of the year, including a weekend in Wroclaw, Poland, where he'll be honored during the American Film Festival there in November.
Waters said he has completely rewritten his spoken-word shows to reflect changes brought about by the COVID pandemic. "I haven't done it in a year and a half," he said in an interview with Town & Country magazine. "Every single thing is different after COVID. You cannot do the same show. Nothing's the same."
Former LA Blade Editor Karen Ocamb, journalist of the year awardee
The AIDS crisis was her entry into the movement for LGBTQ equality. She had worked in LGBTQ and independent media for nearly 30 years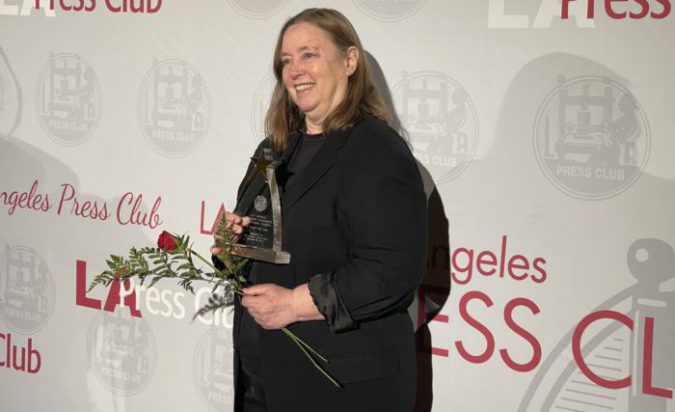 LOS ANGELES – Former Los Angeles Blade editor Karen Ocamb was awarded Journalist of the Year for 2020 at the 63rd annual Los Angeles Press Club's Southern California Journalism Awards gala, which was held Saturday evening at the Millenium Biltmore Hotel in Los Angeles.
The Los Angeles Press Club was founded in 1913 and honors journalists through its annual National Arts and Entertainment Journalism Awards and SoCal Journalism Awards.
The annual gala is held to celebrate the best of Southern California journalism and features and honors journalists working in all media platforms of print, radio, television or digital (online). Ocamb won in the category of 'print' with a circulation under 50,000. Her fellow nominees were Lina Lecaro, LA Weekly and Hayley Munguia, Long Beach Press-Telegram.
The LA Press Club judges noted in their decision bestowing the award, "Karen Ocamb's passionate reporting of the struggles of the LGBTQ community and journalists covering LGBTQ issues during the pandemic earns her a Print Journalist of Year award."
She was also a runner-up in two other categories securing second place in 'Pandemic Reporting Digital' (Online) with awardee Jon Regardie, Los Angeles Magazine, "A Month Inside the COVID-19 War Room with Mayor Eric Garcetti" securing first place. (Karen Ocamb, Los Angeles Blade, "Seeking Truth in the War on the Coronavirus")
Ocamb also secured second place in the category of 'Commentary: on political, social, cultural, investigative, judicial, economic or other serious subjects.' The awardees were Ryan Lo and Chandra Bozelko, Reno Gazette Journal, "Klobuchar's Own Central Park Five Situation" (Karen Ocamb, Los Angeles Blade, "Strong at the Broken Places")
Ocamb, who now works in media relations for Public Justice, a national nonprofit progressive legal advocacy organization that has been fighting for civil rights, environmental protection and consumer and workers' rights for more than 35 years, was the founding news editor of the Los Angeles Blade in 2017.
After spending the 1960s as a student against the war in Vietnam, fighting for civil rights and exploring the counter-cultural movement, Ocamb joined CBS News in New York and learned to be a journalist under the mentorship of such icons as Walter Cronkite, Dan Rather and Bob Schiefer. Her final job for the network was producing the 1984 Olympic coverage for CBS News affiliates at TV City in Los Angeles.
Free to pursue her social justice passions and discuss her opinions, Ocamb volunteered on the ballot campaign for West Hollywood cityhood. It was during this time that her friends started dying of AIDS. By the late 1980s, serving as a quasi-healthcare worker was not enough and Ocamb returned to journalism, this time freelancing for Frontiers News Magazine and other gay press publications.
The AIDS crisis was her entry into the movement for LGBTQ liberation and equality. She has worked in LGBTQ and independent media since then, culminating in her position as news editor and reporter for the Los Angeles Blade.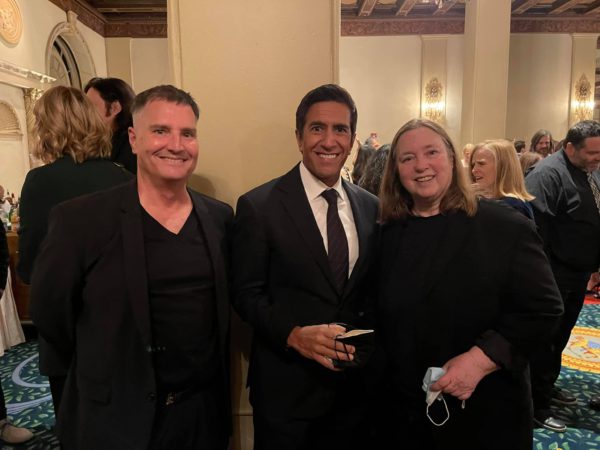 In 2019, Ocamb won a special recognition award from LGBTQ media watchdog group GLAAD.
"After initially starting her career at CBS News and producing the 1984 Olympics in Los Angeles, Ocamb joined the LGBTQ press in the 1980s after more than 100 friends died from AIDS," GLAAD said in a release at the time. "She has since become a leading force and champion for LGBTQ media. She is known for her smart, fair, and professional writing style as well as her staunch dedication to shining the spotlight on underreported LGBTQ people and issues."
Troy Masters, publisher and founder of Los Angeles Blade, said of Ocamb's award, "There is truly no one I have worked with over the past 35 years in LGBT journalism who has a greater integrity or devotion to the community than Karen.  Her work always explores the evolution of every subject she covers, giving it rich and lucid context that helps the stories jump off the page.  She always knows when more than a 'just the facts' story is needed and she steps it up in a way that bridges generations and ideas.  She's the writer and editor I always dreamed of having and I can think of no one more deserving of this honor."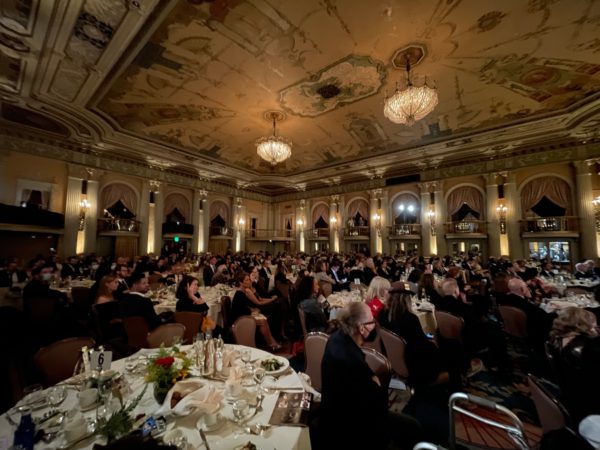 Editor's note links to the stories submitted and judged are here, here, here, and here.
Michael Kearns, the Godfather of LGBTQ+ authenticity
Michael's work has been described as "collisions of sex and death, of eroticism and grief," but he has truly dug to an even deeper level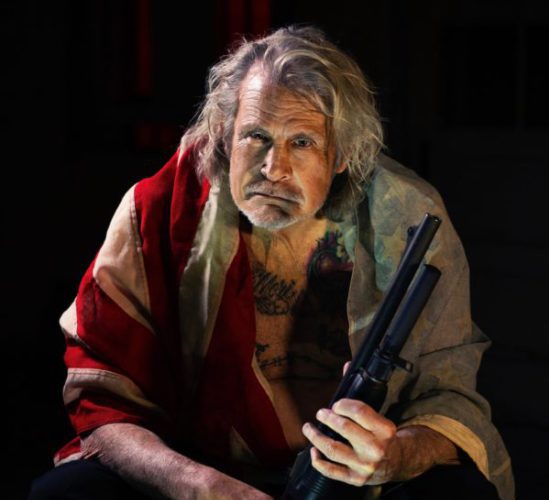 HOLLYWOOD – The arc of LGBTQ+ history over the past 50 years has been one of constant upheaval and evolvement. From a period when it was both illegal and insane to be gay, through the achievement of being able to serve openly in the military, to marriage equality and the ability to create families to today's fight against the tyranny against Trans people, the movement has not stopped to take a breath.
Michael Kearns, the first recognized "out" actor on the Hollywood landscape, has been a visible presence through it all. More importantly, he has always" been visible on the gay scene. In the seventies he epitomized the free love and erotic freedom that many gay men lived. He was featured in classic gay porn movies and did a PR stint as the face of the "happy hustler."
"That was my introduction to a lot of people," Michael told me when we sat down for a chat on Rated LGBT Radio. "I kind of captured the zeitgeist of the times, the freewheeling seventies. We forget that there was that period of time when sexuality was joyful and exciting and thrilling."
In the eighties he was visible in mainstream media as a gay man playing gay men characters. In 1983, Michael was cast in a minor role on the Cheers Emmy winning episode "the Boys in the Bar." He was instantly recognized for his gay sexual iconic status by LGBTQ audiences, even though the population at large did not know who he was. The casting director who fought for his casting was Stephen Kolzak, who would himself become a prominent AIDS activist before he died at 37 in 1990. Stephen casted Michael to make a statement. He wanted to signal to the LGBTQ community that Cheers had our backs. "He was one of the only ones that had the guts," Michael remembers.
"There were a lot of stereotypes in television regarding gay portrayals. I was pegged and cast in some of those roles. I did play the stereotype, but rather than a straight guy playing those roles, I brought authenticity. I was real. Straight guys playing gay would always spoof the role. They were always 'winking' and signaling to the camera 'I am not really that way.' So, the performances are by in large horrible, even with some academy award winners. The actors were constantly saying that it was not who they were—if they weren't making that clear on the talk shows, they were doing it in the performance itself.' Michael says.
Michael soon morphed into an HIV positive man playing HIV positive characters, while off camera becoming a visible and vocal AIDS activist. "It was a new kind of cliché. They had to always make me look horrible. The ghastlier the better. They could not have an HIV character who looked normal—as I did when I arrived at the set. Finally, I had enough and refused to do that anymore." Michael then immersed himself in theater where he found greater character honesty and truth.
As gay men captured their identities in the 90s as husbands and fathers, Michael was there too—becoming one of the first gay men to adopt a child. It is that role, as a father, that Michael has said is his greatest.
Today, Michael has been a driving force behind QueerWise, a multigenerational writing collective and performance group. Through QueerWise, Michael gives poetic voice to talent that would otherwise be voiceless. Its members include published poets, writers of fiction and non-fiction, playwrights, singers, musicians, social activists, dancers, actors artists and teachers.
This weekend, on Sunday October 17th, QueerWise launches its latest work, The Ache for Home.
"The Ache for Home is a video presentation of heartfelt stories from formerly homeless/unhoused individuals in and around West Hollywood. It was developed through a mentorship program facilitated by QueerWise members. The production represents citizens-turned-writers who share their inspirational stories from those glamorous streets and sidewalks, ranging from soaring self-acceptance to narratives of truth-telling defeats," states Michael. The production can be seen on QueerWise's YouTube Channel starting 5pm October 17.
The Ache for Home features a young cis male with a passion for music and art, who finds joy "when I can put a smile on someone's face and give back", a retired mixed race bisexual government worker who is a voracious reader and literacy advocate, two trans males share their experiences of living on the street, and a former resident playwright who was homeless for 44 days and nights in the city. "I am thrilled at our inclusion of transmen in this work," Michael says. "It is a poorly represented community within a poorly represented community."
On current controversies with media and transgender targeting, particularly the Dave Chappelle issue, Michael remarks, "I am glad it is generating passion. It is bringing up conversation on the plights of black trans women who are victimized at an alarming rate, we should not say victimized… we should say murdered. I am glad we are shedding light on that."
Michael's work has been described as "collisions of sex and death, of eroticism and grief," but he has truly dug to an even deeper level. The Ache for Home takes its inspiration from the Maya Angelou quote, "The ache for home lives in all of us, the safe place where we can go as we are and not be questioned." Michael Kearns work has always encouraged us to go, and live, "as we are." He is the amalgamation of eroticism, grief, healing, and appreciating the richness of life itself.
He is the godfather of LGBT+ authenticity. In earlier days, he may have represented sex, he may have walked us through a period of darkness and death into the arms of the creation of the new family. He has now brought us home, and when we look at him, we see a new quality.
Wisdom.
********************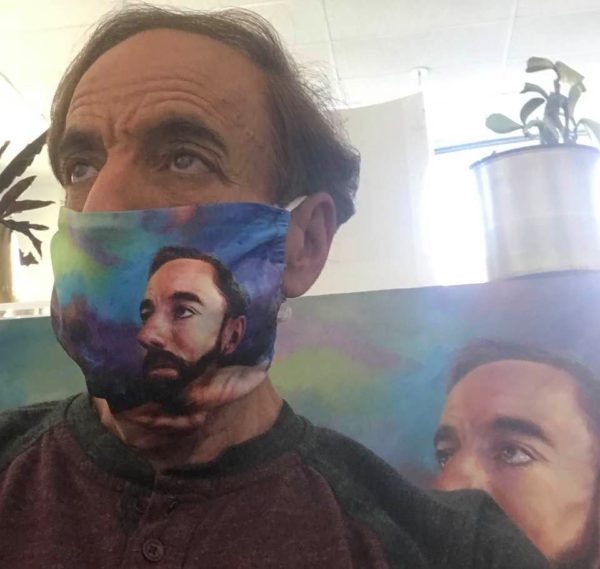 Rob Watson is the host of RATED LGBT RADIO, a national podcast and he's one of the founders of the evolequals.com.
A gay dad, business man, community activist and a blogger/writer, Watson is a contributor to the Los Angeles Blade covering entertainment, film, television, and culture with occasional politics tossed in.
********************
Listen to the show here: