Trump admin to allow adoption agencies to refuse placement in LGBT homes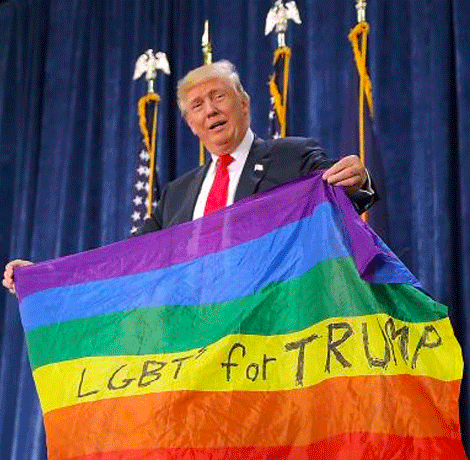 The Trump administration is moving forward with a proposed regulation that will allow taxpayer-funded adoption agencies to refuse placement into LGBT families over religious objections.
The Department of Health & Human Services went public on Friday with the regulation, which will undo an Obama-era policy prohibiting discrimination discrimination on the basis of sexual orientation among federal grantees.
The proposed regulation, which will have far-reaching implications, was immediately was criticized by LGBT rights supporters.
Julie Kruse, director of federal policy at Family Equality Council, said in a statement the policy was "outrageous," especially at the start of National Adoption Month.
"The American public overwhelmingly opposes allowing taxpayer-funded adoption and foster care agencies to turn away qualified parents simply because they are in a same-sex relationship," Kruse said.
Mara Keisling, executive director of the National Center for Transgender Equality, said in statement the regulation would also allow anti-trans discrimination in health care.
"This rule is an abuse of taxpayer dollars in the name of empowering hatred and bigotry towards society's most vulnerable members," Keisling said. "Stigma and prejudice are fueling a public health crisis among transgender people across the country, one that manifests itself as suicide, addiction, intimate partner violence and HIV. Enabling providers of life-saving services to worsen these crises by rejecting transgender people is a moral crime and a severe abdication of HHS's mission to preserve public health."
According to NCTE, the rule will allow anti-trans discrimination in HIV and STI prevention programs, opioid programs, youth homelessness services, health professional training, substance-use recovery programs and other life-saving services.
The proposal seeks to gut an Obama-era rule that barred entities receiving money under federal contracts, including adoption agencies, from discriminating on the basis of sexual orientation.
As the new proposed notes, HHS has already granted an exemption from the Obama-era rule to South Carolina, which sought to get out of the regulation on behalf of the Miracle Hill Ministries adoption agency.
The rule seeks to justify itself by saying the Obama-era regulations aren't based on statute and religious-affiliated groups have complained and filed lawsuits over meeting those requirements. These groups, HHS noted, assert the policy is unlawful under the Religious Freedom Restoration Act and the First Amendment.
"The existence of these complaints and legal actions indicates [the Obama-era rule] imposed regulatory burden and created a lack of predictability and stability for the department and stakeholders with respect to these provisions' viability and enforcement," the rule says.
It's true the Civil Rights Act of 1964, which prohibits discrimination in federal programs, has no language against either sex discrimination or anti-LGBT discrimination. The Obama-era rule, therefore, is more than an expanded interpretation of discrimination based on sex as defined under the law to include anti-LGBT discrimination.
The proposed rule also relays reports religious-affiliated agencies will cease to provide services altogether if forced to comply with the Obama-era rule, which HHS concludes "would likely reduce the effectiveness of programs funded by federal grants by reducing the number of entities available to provide services under these programs."
In recent years, Catholic adoption agencies have closed in Massachusetts, Illinois and D.C., citing new laws that bar anti-LGBT discrimination and allow same-sex couples to marry. Those decisions pre-dated the Obama-era rule, but show the extent these agencies are willing to go to deny placement into LGBT homes.
Religious-affiliated agencies have also challenged the Obama-era rule in court. Just last month, a federal judge in Michigan ruled in favor of St. Vincent, a Lansing-based adoption agency that sued both the state and federal government to allow it to refuse to certify LGBT homes for adoption.
As a result, the Trump administration proposal seeks an amendment to the Obama-era regulation with the following language to give federal grantee more leeway — including the ability to discriminate against LGBT people — in the services they provide:
"It is a public policy requirement of HHS that no person otherwise eligible will be excluded from participation in, denied the benefits of, or subjected to discrimination in the administration of HHS programs and services, to the extent doing so is prohibited by federal statute," the language says.
The new regulation was expected. In May, Axios reported the Trump administration was planning to implement a rule to allow adoption agencies to reject same-sex parents.
In a speech on the National Day of Prayer in February, President Trump expressed solidarity with religious affiliated agencies seeking to place children into homes consistent with their religious beliefs, even if that means denying placement into LGBT families.
"My administration is working to ensure that faith-based adoption agencies are able to help vulnerable children find their forever families while following their deeply held beliefs," Trump said.
The Washington Blade has placed request in with the White House seeking comment on how the proposed rule squares with Trump's professed support for LGBT people.
An HHS spokesperson referred the Blade to a news statement summarizing the proposed rule in response to an inquiry on why it's necessary and its potential negative impact on LGBT people.
Tony Perkins, president of the anti-LGBT Family Research Council, applauded the Trump administration in a statement for moving forward with the anti-LGBT regulation.
"Thanks to President Trump, charities will be free to care for needy children and operate according to their religious beliefs and the reality that children do best in a home with a married mom and dad," Perkins said.
An estimated 440,000 children are currently in the foster care system in the United States, and more than 123,000 kids are now available for adoption.
Obama rallies for Warnock as Walker goes transphobic in latest ad
"Tomorrow is the last day for early voting and then we need to get people out to the polls on Tuesday, which means we still got work to do"
ATLANTA – Former President Barack Obama held a rally with Sen. Raphael Warnock (D-GA) tonight in Atlanta as the Georgia election runoff for the U.S. Senate seat currently held by Warnock enters its final week.
Speaking to the enthusiastic crowd in the historic Pullman Yard, Obama urged supporters to continue pressing to secure Warnock's chances as early voting ends Friday ahead of next Tuesday's election.
"Now I know a lot of folks have been voting early over the last few days, that is a good thing. That is an encouraging thing. But — you knew there was a but —plenty of folks haven't voted yet. Tomorrow is the last day for early voting and then we need to get people out to the polls on Tuesday, which means we still got work to do," Obama said.
A spokesperson for the the Georgia secretary of state's office told the Blade that more than 1.1 million votes have been cast so far.
Warnock's Republican challenger meanwhile focused on his opposition to transgender rights. In a recent campaign ad, Herschel Walker is featured alongside cisgender former University of Kentucky swimmer Riley Gaines, who tied with University of Pennsylvania trans female swimmer Lia Thomas.
In the ad Gaines says she "worked so hard" at competitive swimming but she was "forced to compete against a biological male."  The ad also goes on to attack Warnock in the Chyron onscreen stating: "Raphael Warnock voted to allow biological men to compete in women's sports." That particular charge by Walker's campaign is factually incorrect as the U.S. Senate has not held any votes on the subject of transgender women in sports.
Politico's National political reporter Natalie Allison tweeted:
Herschel Walker is up with a new runoff ad about transgender athletes, featuring a swimmer who tied with Lia Thomas.

"My senior year, I was forced to compete against a biological male," Riley Gaines says in the ad for Walker's Senate campaign. pic.twitter.com/MlVxnJwkgB

— Natalie Allison (@natalie_allison) November 21, 2022
During the rally in Atlanta this evening Politico reported Warnock received roaring applause when he poked fun at Walker, something Obama also did, referencing a series of outlandish comments the retired football star has made over the course of his candidacy.
"We all know some folks in our lives who, we don't wish them ill will, they say crazy stuff … but you don't give them serious responsibility," Obama said.
"He was an amazing running back," Warnock said of Walker. "And come next Tuesday, we're going to send him running back to Texas."
Walker, who was raised in the Peach State and was a star player at the University of Georgia, lived the majority of his adult life in Texas before returning to run for Senate in 2021.
Politico also noted that Warnock, the pastor of the Atlanta church that Martin Luther King Jr. attended, tied the election to the long struggle of African Americans for equal rights, noting the crowd had gathered on the 67th anniversary of Rosa Parks refusing to get up from a bus seat in Montgomery, Alabama. Walker is also African American.