Katie Hill hires expert revenge porn attorney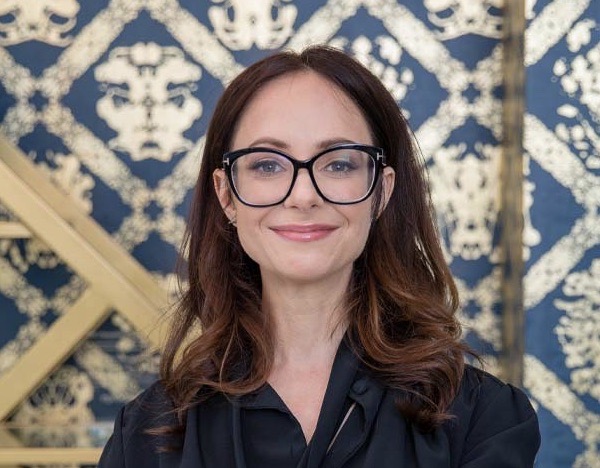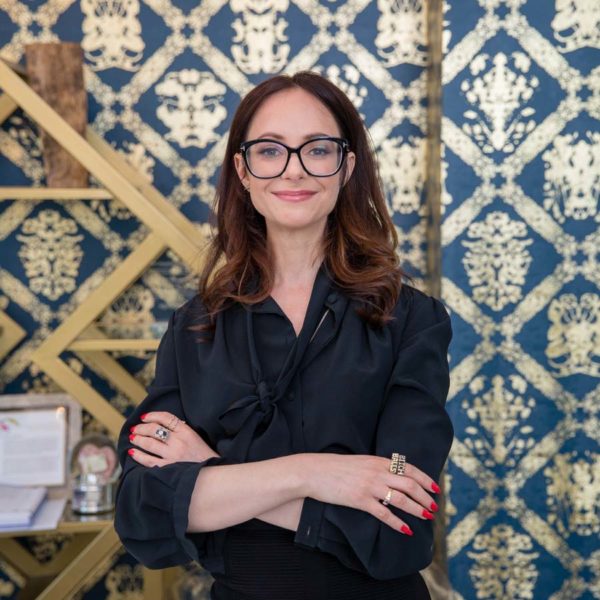 Rep. Katie Hill's apologetic, deeply personal and fiery farewell speech to Congress Thursday afternoon is still making waves, even over the din of the House vote on rules for the impeachment inquiry. And now, it appears Hill has hired Carrie Goldberg, a Brooklyn-based woman attorney who is an expert in the kind of revenge porn and cyber exploitation that prompted Hill's resignation.
Even before Hill took to the well of the House to deliver her remarks, The New York Post reported that she had hired Goldberg, who represents one of Harvey Weinstein's victims, among others. On her law firm's website,Goldberg describes herself "as a victims' rights attorney who has built a team that provides cutting edge legal help for clients under attack by pervs, assholes, psychos, and trolls. Her book Nobody's Victim was published in August 2019."
Women were waiting for this news after listening to the agony Hill depicted as the victim of a recognizable double standard and persistent cyber cruelty.
"I'm leaving because I didn't want to be peddled by papers and blogs and websites used by shameless operatives for the dirtiest gutter politics that I've ever seen and the right wing media to drive clicks and expand their audience by distributing intimate photos of me – taken without my knowledge, let alone my consent – for the sexual entertainment of millions," Hill said to an empty House chamber and countless C-Span viewers.
"I'm leaving because of a misogynistic culture that gleefully consumed my naked pictures, capitalized on my sexuality and enabled my abusive ex to continue that abuse, this time with the entire country watching," Hill said.
"I am leaving because of the thousands of vile threatening emails, calls, and texts that made me fear for my life and the lives of the people I care about," she said. "Today is the first time that I've left my apartment since the photos, taken without my consent, were released – and I'm scared."
Hill said there were "hundreds more photos and text messages" that her enemies intended to release "bit by bit until they broke me down to nothing."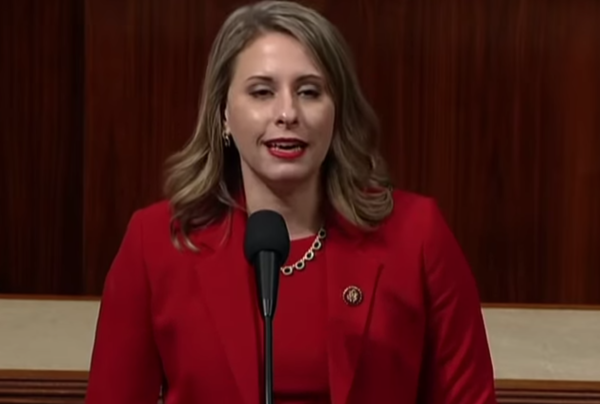 But, she added emphatically: "We will not stand down. We will not be broken. We will not be silenced. We will rise and we will make tomorrow better than today. Thank you and I yield the balance of my time, for now but not forever."
With that, Hill left the House center stage – but her counter-offensive appears to have just begun – Brooklyn-style.
Goldberg's law firm "fights for victims of sexual assault, stalking, and blackmail – online and off. We fight for people under attack and fight against the assholes, psychos, pervs and trolls who think they can get away with it," the website announces. "We are done living in a world of abuse and we are not afraid to sue the *&%$ out of schools, tech companies, and employers who tolerate it. There are many ways to get justice for our clients – economic justice, restraining orders, advocacy in Campus Disciplinary proceedings, exposing a predator, getting the piece-of-shit thrown in jail."
The Post describes Goldberg as a "revenge porn warrior."
"This is a historic situation where an alleged abusive ex, bloodthirsty opposition, and a media without morals joined forces to hijack a brilliant young woman's hard-fought congressional seat. It's a new low for democracy," Goldberg told The New York Post.
"Everybody who participated in Representative Hill's humiliation is on notice that we will track them down," Goldberg said. "Anybody who continues to share, barter, peddle, sell images of Representative Hill will be found out and be brought to justice one way or another. Whether you are an ex-partner, a political opponent, a publisher, or the Republican National Committee, don't think for a second you'll be getting away with destroying a woman's life."
"Investigation into the universe of defendants is just beginning," Goldberg told The Post.
Goldberg cautioned that proving and prosecuting revenge porn cases are difficult but she's committed to seeking justice for Hill.
"I'm so grateful that in the past five years, our country has gotten to a place where there are legal options for Representative Katie Hill, and others who've suffered the vile humiliation of having their intimate pictures shared and published without consent," Goldberg said. "The legal options may not be perfect and we need a federal revenge porn law that provides both civil and criminal justice, however our law firm exists to demand justice for victims of sexual violence."
Hill's ex, Kenny Heslep, hasn't responded to multiple media requests for comment that he is the source of the revenge porn. But his parents told BuzzFeed News that the leak of the nude photos and his cell phone text messages resulted from his computer being hacked.
However, a timeline developed by Michael Finnegan and Matt Pearce at the LA Times suggests otherwise.
The Times piece begins:
"Kenneth Heslep's divorce from Katie Hill had grown nasty by the time he told a podcaster in late September that he was ready to talk publicly about his split with the Democratic congresswoman.

"Any interest in an interview, and the whole story yet?" Heslep texted Stephen Daniels, host of "Talk of Santa Clarita," punctuating the offer with a smiling-face emoji. It was 1:40 a.m.

Daniels declined. "It was clear he wanted to air dirty laundry," Daniels recalled Wednesday.

Conservative websites soon revealed that they had obtained some of Hill's private texts and nude photos of her, including one with a campaign aide.

The main authors of the articles, it turns out, were former campaign advisors to Steve Knight, the Republican congressman ousted by Hill a year ago.

The result was a shocking shift in fortune for a woman on a rapid rise to power after capturing a long-held Republican seat in 2018 in the northern suburbs of Los Angeles. Hill has announced her resignation. Her last day is Friday."
Federal court blocks part of Alabama trans medical treatment law
"Kids in Alabama can now continue to receive this lifesaving care, & doctors cannot be prosecuted simply for doing their jobs"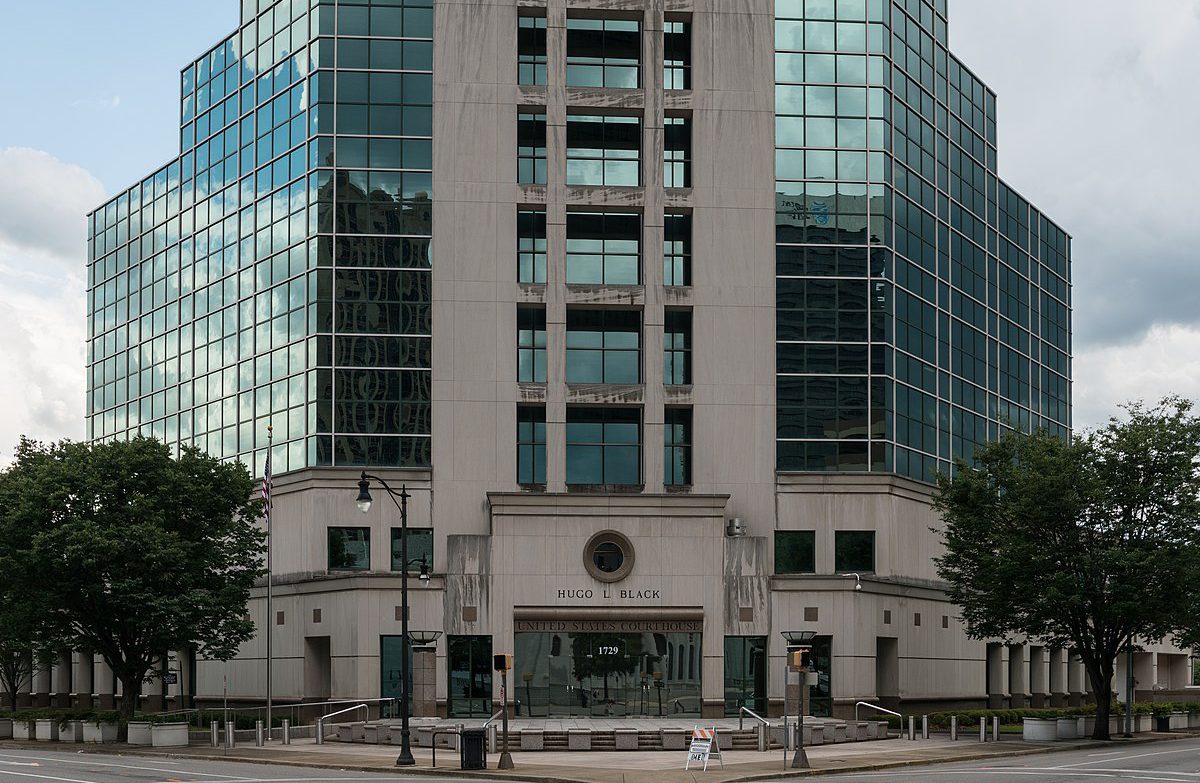 BIRMINGHAM, Ala. — In a 32 page ruling released Friday evening, U.S. District Judge Liles Burke preliminarily enjoined the state from enforcing the law criminalizing medical care for transgender minors in Alabama.
The law made it a felony for Doctors and licensed healthcare providers to give gender-affirming puberty blockers and hormones to transgender minors.
Burke, who was nominated to the bench by former President Donald Trump to serve on the U.S. District Court for the Northern District of Alabama, wrote that the section of the Alabama Vulnerable Child Compassion and Protection Act that makes treatment of trans minor children a felony; "the Court finds that there is a substantial likelihood that Section 4(a)(1)–(3) of the Act is unconstitutional and, thus, enjoins Defendants from enforcing that portion of the Act pending trial."
Judge Burke however ruled that all other provisions of the Act remain in effect, specifically: (1) the provision that bans sex-altering surgeries on minors; (2) the provision prohibiting school officials from keeping certain gender-identity information of children secret from their parents; and (3) the provision that prohibits school officials from encouraging or compelling children to keep certain gender-identity information secret from their parents.
The U.S. Department of Justice had challenged the state's SB 184 – a bill that would criminalize doctors for providing best-practice, gender-affirming care to transgender and nonbinary youth.
In the filing by the Justice Department, the complaint alleges that the new law's felony ban on providing certain medically necessary care to transgender minors violates the Fourteenth Amendment's Equal Protection Clause. The department is also asking the court to issue an immediate order to prevent the law from going into effect.
S.B. 184 makes it a felony for any person to "engage in or cause" specified types of medical care for transgender minors. S.B. 184 thus discriminates against transgender youth by denying them access to certain forms of medically necessary care.
It further discriminates against transgender youth by barring them from accessing particular procedures while allowing non-transgender minors to access the same or similar procedures. The penalties for violating the law include up to 10 years of imprisonment and a fine of up to $15,000. S.B. 184 would force parents of transgender minors, medical professionals, and others to choose between forgoing medically necessary procedures and treatments, or facing criminal prosecution.
The United States' complaint alleges that S.B. 184 violates the Equal Protection Clause by discriminating on the basis of sex and transgender status.
LGBTQ legal rights advocates SPLC, GLAD, NCLR, and HRC, joined by co-counsel King & Spalding LLP and Lightfoot, Franklin & White LLC, had previously filed a legal challenge in federal district court against Alabama SB 184.
Shannon Minter, the Legal Director for the National Center for Lesbian Rights, one of the legal rights advocacy groups who had sued Alabama told the Blade late Friday night:
"We are thrilled by this outcome, which will provide enormous relief to transgender children and their families. As the court recognizes, this is well established medical care that has been endorsed by 22 major medical associations. Thanks to this decision, kids in Alabama can now continue to receive this lifesaving care, and their doctors cannot be prosecuted simply for doing their jobs. This is a huge victory for compassion and common sense and a much needed antidote to the tidal wave of hostile legislation targeting these youth."
In addition to the U.S. Justice Department, the doctors challenging SB 184 in Ladinsky v. Ivey are Dr. Morissa J. Ladinsky and Dr. Hussein D. Abdul-Latif, both providers at the Children's Hospital of Alabama and members of the medical staff at the University of Alabama at Birmingham Hospital and the teaching staff at UAB School of Medicine. Dr. Ladinsky and Dr. Abdul-Latif have long-term expertise in caring for transgender children of Alabama families. Under SB 184, they both face criminal penalties including up to 10 years in prison if they continue to provide that support to their patients.
The Alabama family plaintiffs are proceeding anonymously to protect their children. They include Robert Roe, and his 13-year-old transgender daughter Mary, of Jefferson County; and Jane Doe and her 17-year-old-transgender son John, of Shelby County. These families have deep ties to Alabama. If SB 184 is allowed to go into effect both families will be forced to choose between leaving the state, breaking the law, or facing devastating consequences to their children's health.
********************
Suspect named in murder of lesbian newlyweds had committed suicide
The suspect named by the Sheriff's Office was a co-worker of one of the victims at the McDonald's in Moab, Adam Pinkusiewicz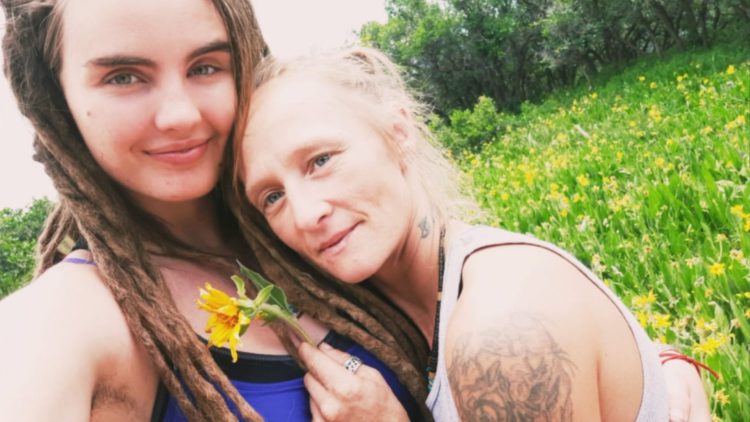 MOAB, Ut. – The Grand County, Utah Sheriff's Office released a statement that a suspect was identified in the double homicide last August of a newlywed lesbian couple Kylen Schulte, 24, and Crystal Beck Turner, 38. The suspect named by the Sheriff's Office was a co-worker of one of the victims at the local McDonald's fast food restaurant in Moab, Adam Pinkusiewicz, 45.
The women's bodies were discovered August 18, 2021 at their campsite in the South Mesa area of the La Sal Loop Road in Grand County located less than 50 miles from the Colorado-Utah state line.
Grand County Sheriff Steven White said that he had asked for the assistance of agents from the Salt Lake City field office of the Federal Bureau of Investigation along with law enforcement agents from the Utah State Bureau of Investigation, as the investigation into the shooting deaths of the women.
Investigators with the Grand County Sheriff's office say that Pinkusiewicz allegedly told an unidentified source that he "killed two women in Utah and provided specific details that were known only to investigators." According to the Sheriff's office he had been camping at the same time as the two women and then left Utah shortly after the bodies were found. He later committed suicide although details are not being released due to an active ongoing investigation.
First woman to lead a branch of the military confirmed by Senate
While women have served as service branch secretaries- Fagan would be the first servicewoman to serve as the leader of a military branch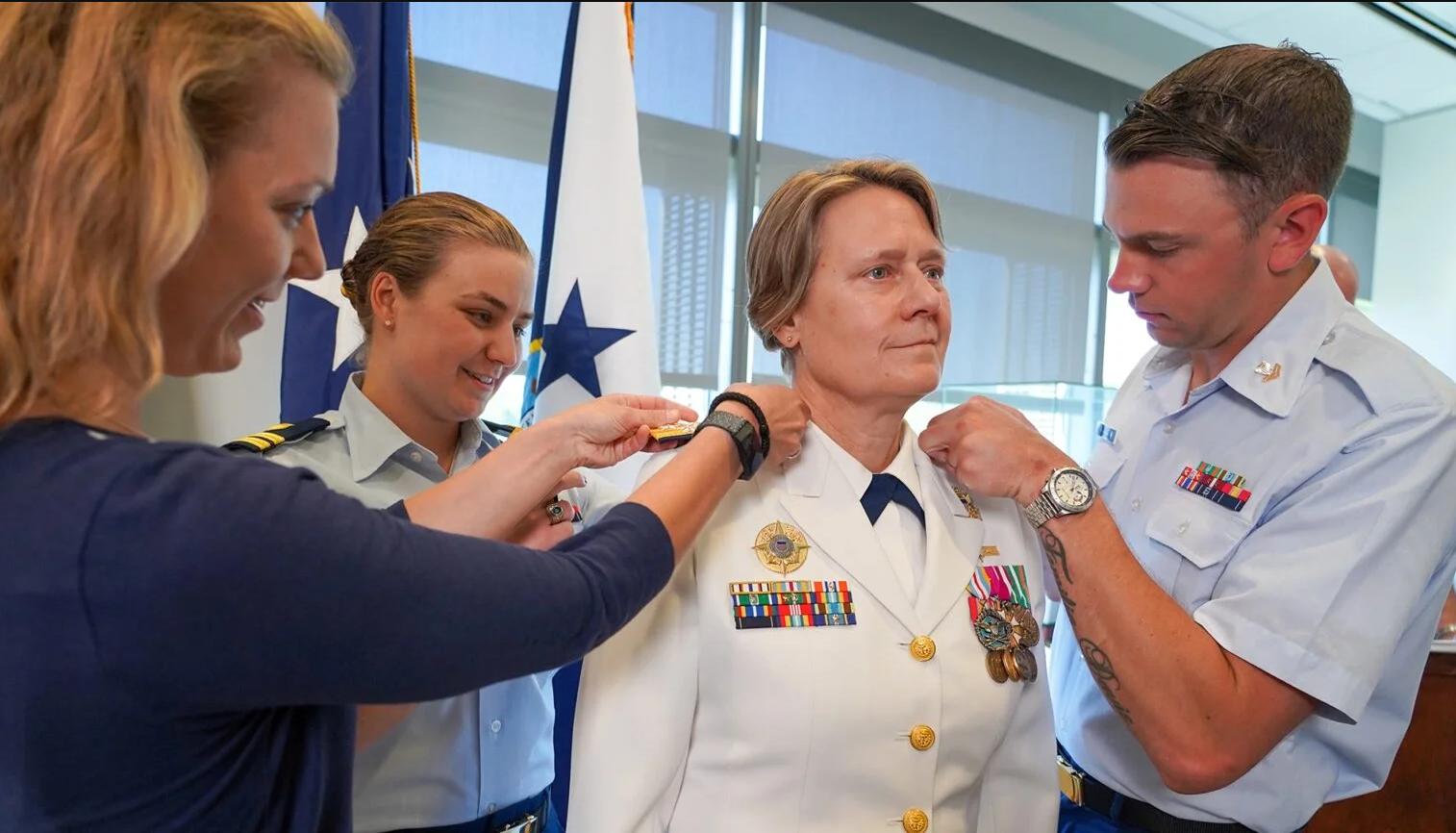 WASHINGTON – The Senate has confirmed Admiral Linda L. Fagan as the 27th Commandant of the United States Coast Guard. The current Commandant Admiral Karl L. Schultz is set to retire at the end of this month. President Joe Biden nominated Adm. Linda Fagan to lead the service, a military branch that operates within the U.S. Department of Homeland Security in peacetime this past month.
Fagan, promoted to the rank of four-star Admiral in June of 2021, is the Coast Guard's first woman to serve as a four-star flag officer and currently serves as the service's Vice-Commandant.
Task & Purpose magazine noted that while women have served as service branch secretaries — Christine Wormuth is the current Secretary of the Army — Fagan would be the first servicewoman to serve as the leader of a military branch.
In a statement issued Thursday, President Biden congratulated her.
"It is with deep pride that I congratulate Admiral Linda L. Fagan on her confirmation by the Senate as Commandant of the U.S. Coast Guard. Admiral Fagan is the Coast Guard's first woman to hold the rank of four-star admiral. Today, she again makes history not only as the first woman to lead the Coast Guard—but also as the first woman Service Chief of any U.S. military service. Admiral Fagan's leadership, experience, and integrity are second to none, and I know she will advance the Coast Guard's mission to ensure our nation's maritime safety and security.
My administration is committed to seeing more qualified women in senior leadership and command roles; making sure women can succeed and thrive throughout their military careers. Today, Admiral Fagan's confirmation as Commandant of the U.S. Coast Guard signals to women and girls across our nation they have a place in protecting their country at the highest level."
The admiral is a1985 graduate of the Coast Guard Academy in New London, Connecticut and over the course of career spanning 36 years she has served on seven continents, the Coast Guard's New York Sector, Commander First Coast Guard District in Boston, Coast Guard Defense Force West, Coast Guard Pacific Area, as well as stints as the service's headquarters in Washington D.C. apart from her post as Vice-Commandant and duty at sea aboard the only heavy icebreaker in the Coast Guard's inventory, the USCG Cutter Polar Star.
It wouldn't be the first milestone for Fagan to achieve in the Coast Guard. When she was promoted to vice commandant in 2021, she became the first-ever four-star admiral in the branch. In an interview with "CBS This Morning" that year, she described nearly being pulled from her first sea deployment, as the ship's executive officer was hesitant to have her aboard as the only woman in the crew.
She also noted her commitment to helping the Coast Guard continue to recruit and retain women, including her own daughter, in its ranks. "We've made a lot of progress in the junior ranks, we need to keep making progress," she said.