Stonewall to DA Jackie Lacey: Restore trust or resign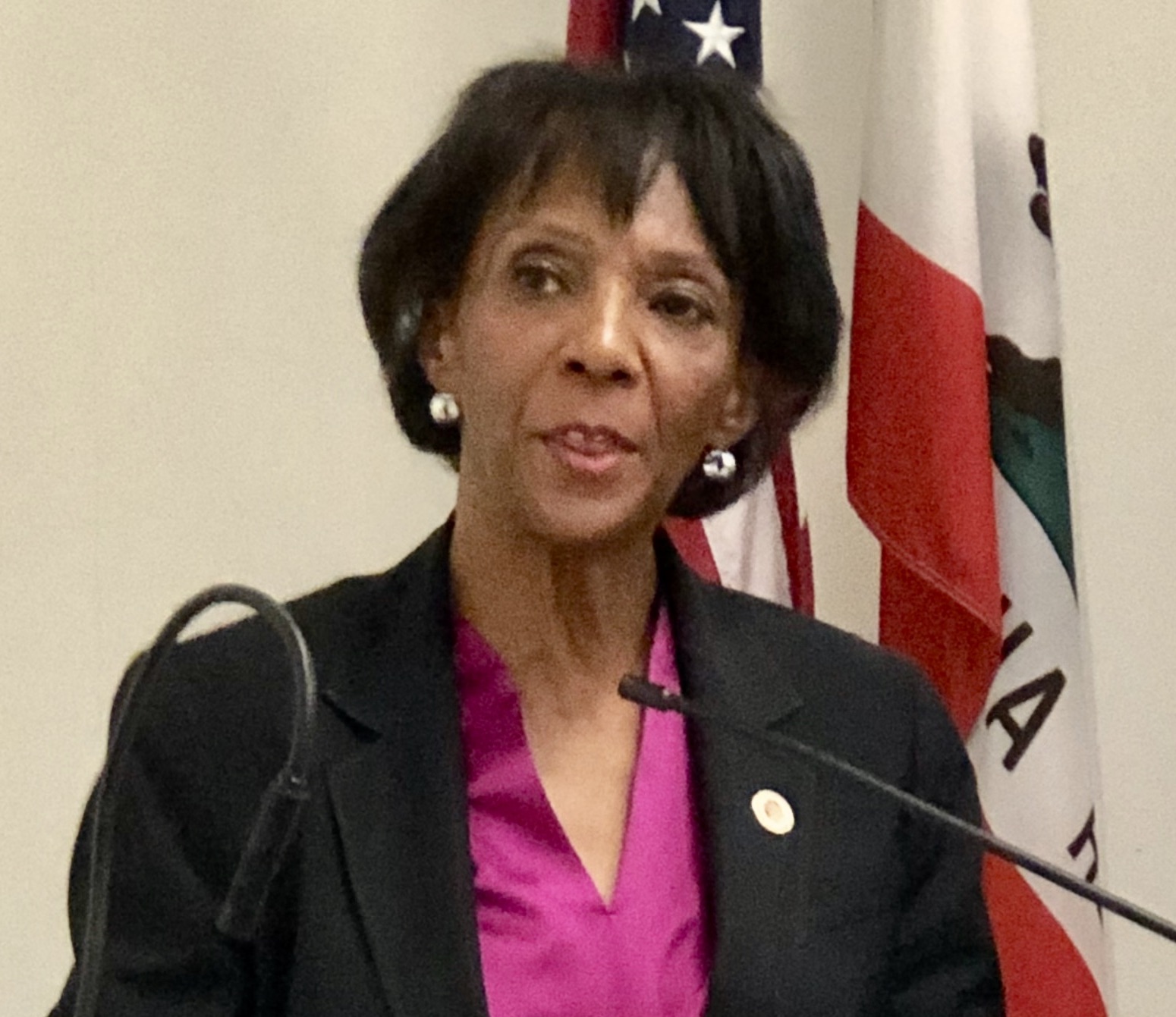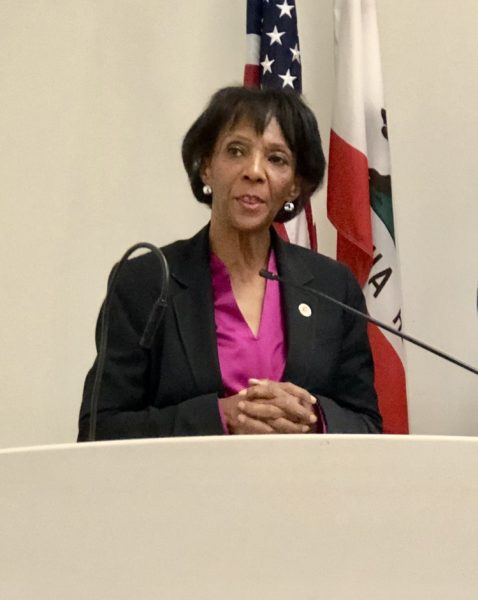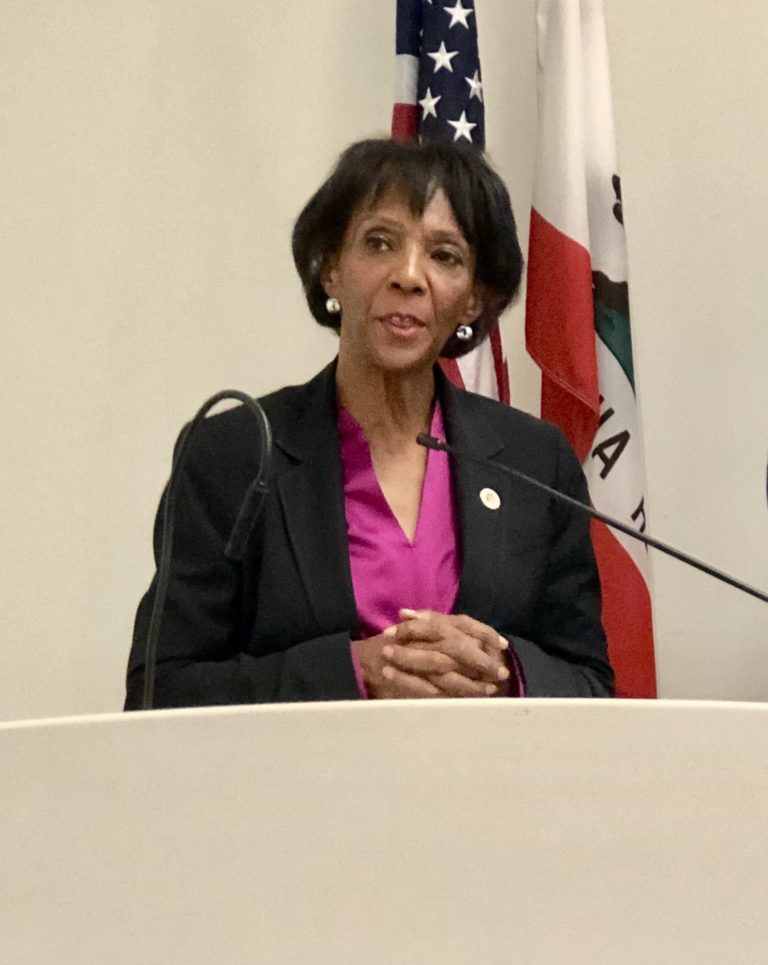 (Editor's note: This is a different kind of report. The primary election for Los Angeles District Attorney next March is going to be hugely important. I attended the Oct. 28 Stonewall Democratic Club meeting with LA County DA Jackie Lacey in West Hollywood to see how she answered community questions about the notorious Ed Buck case. But Black Lives Matter and family members of young Black men shot by police showed up and confronted Lacey with such raw pain and anguish – to be met by such a cold, logical legal formality – I felt it was important to make a fuller record of the interaction. – Karen Ocamb)
Jackie Lacey was shaking.  The District Attorney for Los Angeles County, the largest local prosecutorial office in the nation serving more than 10 million residents over 4,083 square miles, was surrounded by burley bodyguards and scores of Sheriff's deputies with six squad cars standing by at the West Hollywood Library lest a scuffle broke out with the roughly 20 angry members of Black Lives Matter.
Lacey apparently expected a more traditional, parliamentary rules-driven meeting of the 44-year old Stonewall Democratic Club on Oct. 28. Facing a difficult re-election campaign, the LA DA came to the public political meeting to respond to a scolding Resolution that the LGBTQ-focused club was presenting for a membership vote.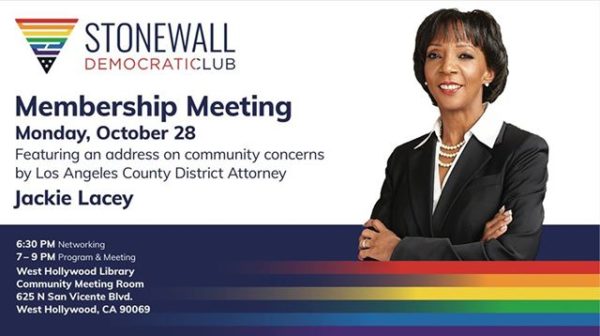 Authored by Stonewall member Jasmyne Cannick, Legislative Action Chair Dr. John Erickson and Political Vice President Jane Wishon, the non-binding Resolution focused on the erosion of trust in the District Attorney's office after allegations of "racial bias, unfairness, lack of communication, lack of public transparency," and failure to meet publicly with communities of color; mishandling of the case against West Hollywood resident Ed Buck in the deaths of Gemmel Moore and Timothy Dean; failure to prosecute "police officers and Sheriff's deputies who use deadly force against unarmed civilians, particularly African-American and Latino people; and for seeking the death penalty despite voters' rejection and Gov. Newsom issuing a moratorium in March 2019.
Lacey was perhaps unaware that Stonewall stood with Jasmyne Cannick and the families of gay Black victims Gemmel Moore and Timothy Dean as their families painfully expressed frustration and demanded action at numerous news conferences over what appeared to be the favored treatment of white Democratic donor, Ed Buck.
After establishing the caveat that she couldn't say much because of the ongoing investigations, Lacey opened with an apology.
"I want to say something I should have said a long time ago. I'm sorry, to the Moore family and the Dean family for the loss of their loved ones," Lacey said, interrupted by cat calls of "too late."
Lacey tried to explain the required filing criteria in a criminal case. "We have to have legally sufficient and admissible evidence, and we have to have evidence of the identity of the perpetrator, and we have to make sure that the investigation is complete and thorough," she said. "Finally, after looking at the prosecution's case, we have to look at not just the evidence proving guilt, but also look at any sort of defense that may be plausible given our evidence. Here is the posture that we found ourselves in the Gemmel Moore case."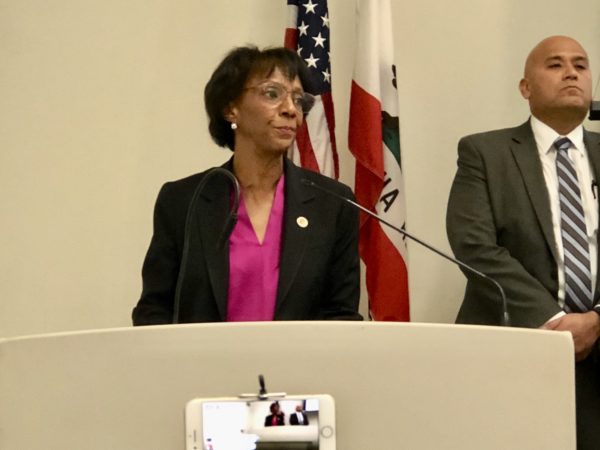 The audience listened respectfully until she mispronounced "Gemmel."
"Learn his name, that's basic respect," said one. "Wow," said another.
While she appeared nervous before, now Lacey looked as if she was preparing to be pummeled. "Gemmel Moore. I'm sorry," she said.
Lacey explained that state law required proof that "Buck injected meth" into both Moore and Dean resulting in their deaths. But there were mitigating factors: Buck called 911 and appeared to have attempted to administer aid. "He gave very self-serving statements that could not initially be rebutted by the physical evidence," she said.
But the primary hinderance to prosecuting a case in Moore's death on July 27, 2017 was that "the original sheriff's deputies on the case were not homicide deputies. They were deputies from the station, and at first they treated it as though it were an overdose," she said, which is what the coroner ruled in both cases – accidental overdose from methamphetamine.
But the deputies noticed a red toolbox they wanted to investigate and a "coroner's investigator gave them information that turned out to be incorrect" – the misapplication of a government code, which meant they were not able to use the evidence of methamphetamine they found.
"So that presented a challenge and we continued to look for evidence in this case," Lacey said. "At some point we began to hear that there were more victims of Mr. Buck. However, when those victims were interviewed after being granted immunity, there were things that we couldn't corroborate because we knew that they were going to be cross-examined about some of the things that they said. For instance, sometimes the victim would say that he received medical treatment at a particular hospital and we would go to that hospital and not be able to get those medical records."
In another case, Lacey said, "we would have a victim who said, 'I made a police report,' and we couldn't find any record of that police report. It wasn't until that third credible witness came forward that we caught a break in this case."
In the meantime, Lacey said, "before that third victim came forward, the federal government, the FBI and the DEA began working with the sheriff's department to see if they could prove a case under federal law, because under federal law you would not have needed to prove that Buck injected either of these gentlemen. You would just need to prove that he furnished the drugs."
The third victim was found credible, had information they could corroborate, and was able to testify. That gave the DA sufficient evidence to file charges against Buck.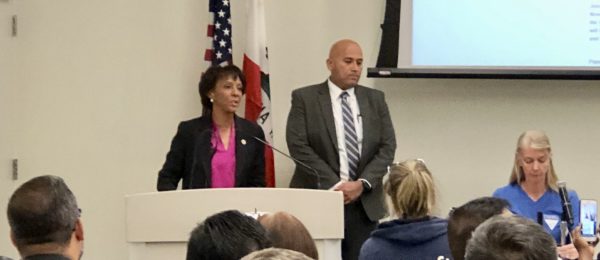 "The charges that we filed were a maximum sentence of five years and eight months and the bail, the maximum bail was going to be four million dollars," Lacey said. "After searching Mr. Buck's home and other things during his arrest, we discovered that four million dollars bail, he was able to make that bail, and we did not want him out. About that time the feds decided they would go ahead with their case and they asked us to relinquish Mr. Buck's body so they could prosecute their case."
Since federal prosecutors only had to prove that Buck furnished the drugs, not that he injected Moore or Dean and since could charge Buck with 20 years to life, with no bail, Lacey decided to turn Buck over to the feds.
"You will note though that the feds also had problems in the sense that originally in their complaint they said they had 10 victims, but when the grand jury indicted there were only five victims," Lacey said. "Nevertheless, the case continues, and we are holding our case in the event they are not able to convict Mr. Buck. And that's where that case stands."
There were a number of unasked questions, such as what took Lacey so long to talk to the Black and LGBTQ  impacted communities after Gemmel Moore's death. Though the Sheriff's Department launched several investigations, they failed to share information and only glancingly offered sympathy for Moore's mother and friends. With the dearth of accurate, fully-explained information, the community relied on the media and stories emerging from others involved with Ed Buck.
Some of those accounts were detailed, such as the coroner's report in Moore's death that noted the evidence tainted for prosecutors, including "24 syringes with brown residue, five glass pipes with white residue and burn marks, a plastic straw with possible white residue, clear plastic bags with white powdery residue and a clear plastic bag with a 'piece of crystal-like substance,'" according to the LA Times. 
That Nov.  18, 2017 LA Times story also notes that a notebook had been collected by the coroner, which the paper reviewed. "Ed Buck is the one to thank," Moore appears to have written, The Times wrote. "He gave me my first injection of chrystal [sic] meth."
Lacey also made no mention of whether the federal civil rights lawsuit filed against her and LA County by Gemmel Moore's mother, LaTisha Nixon, played any role in her decision to relinquish the case to federal prosecutors. Nor did she go into more about Buck's finances regarding that $4 million that he apparently had to make bail and pay attorney Seymour Amster, who vigorously defended his client. Inexplicably, Buck apparently is now being represented by a public defender.
Lacey came prepared to specifically respond to Stonewall's Resolution but she seemed unprepared for the encounter with angry family members of young Black men shot by law enforcement officers who screamed their agony at her, trying to hold her accountable, trying to get her to listen to them, to commiserate, to share their pain then take action.
In some ways, the Stonewall meeting was reminiscent of the early days of ACT UP when dying protesters or their loved ones screamed at blank-faced government bureaucrats who blandly explained that medications take a very long time to develop. At Stonewall, the Black Lives Matter families of murdered Black men screamed for justice and the prosecution of the officers involved in shooting their unarmed loved ones, calling out their names: Albert Ramon Dorsey. Grechario Mack. Ryan Twyman. Eric Rivera. Lee Jefferson. Christopher Deandre Mitchell.
Stonewall's Wishon got Lacey to agree to meet publicly with the families and a small group from Black Lives Matter.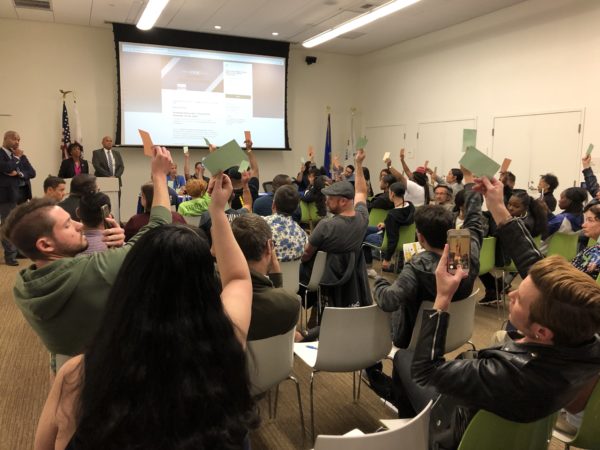 But Stonewall members voted to push Lacey even further in the conclusion of their non-binding Resolution:
"THEREFORE, BE IT RESOLVED​ that the Stonewall Democratic Club recognizes that Los Angeles County District Attorney Jackie Lacey's actions and reports of alleged misconduct have eroded the trust of the public, the District Attorney Department's governmental partners, and this body; we call upon District Attorney Jackie Lacey to take immediate actions to restore trust in her department and to meet publically with members of the black community, indigenous communities and the communities of color before the end of the calendar year or resign; and
BE IT FURTHER RESOLVED ​this resolution shall be communicated to the members of the County Board of Supervisors and all elected individuals who have endorsed her 2020 re-election campaign," the resolution reads.
Lacey has agreed to an interview with the Los Angeles Blade next week.
While Lacey has received a lot of notice and bad press around her handling of the Buck case – mentioned by gay veteran Deputy District Attorney Richard Ceballos as one reason he's challenging her re-election – to most of LA County she appears as a tough-minded, no-nonsense career prosecutor. Even her critics give her props for her work in the area of mental health. A slew of elected officials – including out Supervisor Sheila Kuehl, Assessor Jeff Prang, City Controller Ron Galprin, and Long Beach Mayor Robert Garcia -have already endorsed her re-election on June 2, 2020.
Lacey would seem to be a shoe-in, except Ceballos, out Deputy District Attorney Joseph Iniguez and now former San Francisco city and county DA George Gascon are knocking hard on that door of inevitability.
And then there are the grieving mothers, the members of Black Lives Matter whose cries of "Jackie Lacey must go!" rocked that West Hollywood community room with anger, pain and sense of betrayal.
Lacey was elected in 2015 as LA County's first woman and first African American DA and has garnered many accolades as a prominent member of the Black community. Honored by the mainstay LA Sentinel for Women's History Month in March 2017, she told Managing Editor Brandon I. Brooks that after more than 30 years in the prosecutor's office, she wants her legacy as DA to be "the best."
"I want them to look at the wall of District Attorneys, I'm number 42, Jackie Robinson's number," she told Brooks. "I want them to say, 'she was the best district attorney we had. We may have not realized it at the time, but she made changes….she was good for the L.A. county.'"
There were moments during the Stonewall meeting when the screaming would subside, as if there was still a modicum of respect for the high achievement made by this Black woman. But with the respect came a sadness, a sense of betrayal that Lacey did not seem to grasp the depth of emotion and despair at the persistent injustice and racism suffered and endured by these women who, it seemed, the top prosecutor with more than 30-years experience would rather just go away.
Lacey addressed the issue of excessive force by police officers and the apparent reluctance to prosecute officer-involved shootings because it was raised in the Stonewall resolution.
Lacey said:
"Since I've been DA we have filed cases against 79 officers. They involve on-duty and off-duty conduct. They include everything from wage theft and workers' compensation to rape and murder. We have filed criminal cases that allege excessive force against 13 officers, including an LAPD officer by the name of Mary O'Callaghan.

We are currently prosecuting the first case filed for an officer-involved shooting in 20 years. These are challenging cases and we have gotten convictions through guilty pleas and guilty verdicts, but some of the cases have resulted in not guilty verdict. These cases are challenging, and these cases are challenging because it is difficult to convict an officer in these cases. We have reviewed the officer-involved shooting cases from 2016, 2017 and 2018. Maybe some of the information I give you-…"
And that's when the meeting started going off the rails, with family BLM members calling out names –  Albert Ramon Dorsey and Grechario Mack killed in 2018.
"Can we please be respectful?" someone asked.
"You be respectful of these families whose loved one's were killed by police. You shut up," one leader responded. "To ask families whose loved ones have been killed by police to be polite while she sits here and lies in their faces is asking too much."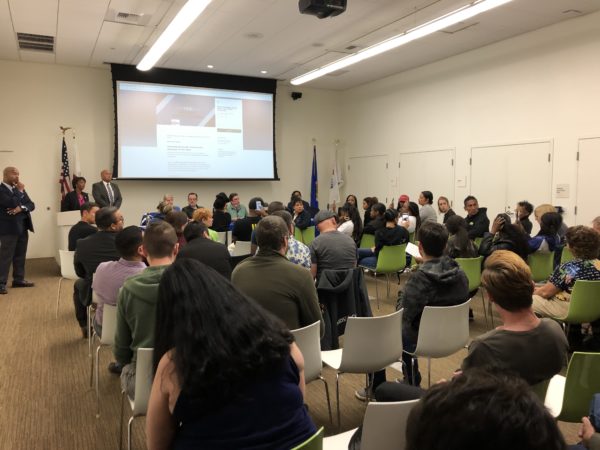 "Justice for Ryan Twyman," Twyman's relative yelled as others joined in. "Shot at over 30 times."
"By your police officers. I know you got that case. Even if it's not on your desk, I know you've seen it, baby. 34 shots," someone said. "Let's talk about that. 2019 — but you know, you seen now, you seen it on the news, it hit your desk, you got a phone call. You know about it. Ryan Twyman. Address that."
"Your Los Angeles sheriff officers who shot Ryan Twyman over 34 times, went back to the car reloading. I'm sure you've seen that video. Was that in you all policy and procedure? I think not. That's how you all train your sheriff's officers?"
The protesters quieted to let Lacey speak – but she just picked up where she left off.
"In 2016, there were 89 officer-involved shootings. 73 involved a person with a gun, a knife or a simulated weapon," Lacey said, looking at her notes and just plowing through the presentation. "In 2017 there were 82 officer-involved shootings. 71 involved a person with a gun, a knife or a simulated weapon."
"What's a simulated weapon?" someone asked.
"A replica firearm," Lacey said, barely acknowledging the interruption. "In 2018 there were 63 officer-involved shootings and 50 of them…."
"Eric Rivera," a protester yelled.
"… involved a person with a gun, a knife and a simulated weapon," Lacey continued.
"Right, Eric Rivera," someone said.
"With regard to the officer-involved shootings and in-custody deaths. Since I've been DA, we have put up all of the documents, all of the information that we have available, to try to understand what happened," Lacey said.  "I do have sympathy for the families of those who lost people to the hands of police. I do care. I do care. We are doing the absolute best we can, given the state of the law."
The audience wanted her to discuss the deaths but she trudged on to answer the points raised by the resolution, closing with what seemed to be a pitch for her re-election, given her achievements in office.
"As the proud lawyer, I obtained the first race-based hate crime murder conviction in the state," she said, urging Stonewall members "not to issue this resolution, but to look at the facts, follow the law and make sure that you have all of the information. The district attorney's office, though not perfect, and I am not perfect, does an excellent job every day…"
"Is this a mea culpa?" someone asked.
"… of trying to make sure that the right thing is done for the right reasons," she continued.  I have presented you with the facts and I ask you to carefully consider that," thanking Stonewall for the opportunity to come speak to the group.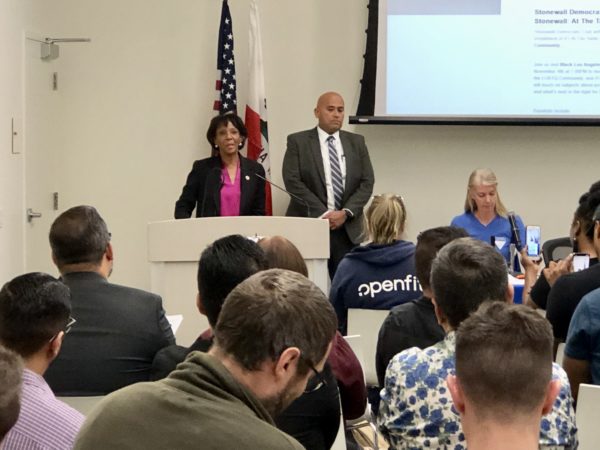 But the audience was not having it, arguing that Lacey has avoided speaking to the Black community.
"We have asked you for two years," the BLM leader said, "to speak to the black community and you've run from us. We had to come all the way — more than half of this audience is Black people from South LA, from Compton, from Inglewood, who had to come all the way out here for you to face us. You told me directly you were afraid that we would yell at you. You signed up to be yelled at. That's what your job is. You are an elected official and you are shushing people who are the families of people who've been killed by police that you refuse to prosecute. Lee Jefferson. How long ago was Lee killed?"
"The day before Thanksgiving, 2011, when officers riddled my son with bullets. 23 years old," said Stephanie Jefferson.
The room hushed for a moment. Then, as Wishon tried to asked submitted questions, the tone got dark. Not aggressive, no hint of violence – but dark, pain deepened by too many long days of having been neglected.
"It's racism that you come here and not to black communities. That's racism. You are a black face on white supremacy. And you should ashamed of yourself," said one protester.
"You know you see us outside your office on Wednesdays," said another."You need to address that. That's not cool while these people are out here every single Wednesday, at your office because we want to know why our families are being murdered and you're not arresting these officers?"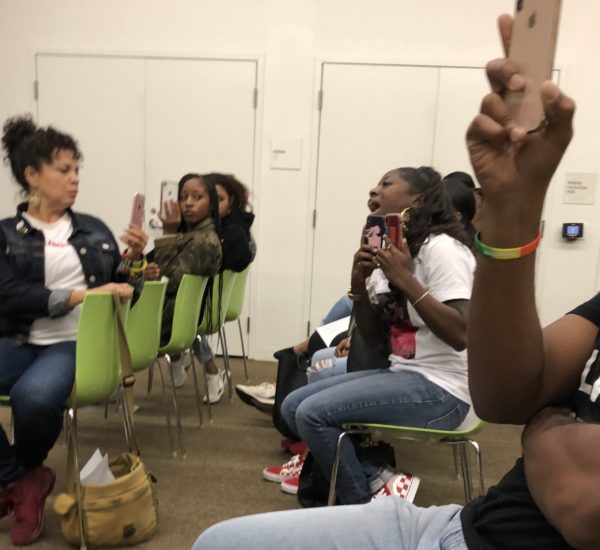 "I am here to restate Ryan Twyman was murdered for no reason. 34 shots, opened the back door. Assault rifles. That don't make no sense. And you're not going to address it. You're not going to prosecute nobody. You're not going to do nothing about it. You just going to stand up there and act like that's not a problem. Like your sheriff is supposed to be doing that. That is not a policy and procedure," said the leader, a relative of Ryan Twyman.
Some Stonewall members pushed back, saying this was not BLM's meeting and they were disrespecting everyone else.
"Not trying to disrespect her," the leader said. "In our defense, we've been trying to talk to her for a very long time. Sir, I understand where you're coming from, and we're not trying to disrespect your meeting, but this is our first time being able to see her and address her with our problems. That we have a problem. This is some serious shit."
"Okay. I regret that I walked out of the town hall two years ago. I should have stayed and listened," Lacey said. "And prior to that I had been meeting with groups in the community, and I must admit that back then I wish I had stayed. I don't know whether it would have changed anything."
"We gave you chances to do it again and you refused," said a protester.
What I want is a dialogue. That's all I'm asking for. I will listen, you can scream," said Lacey, trailing off. "I am regularly in the black community."
"Not in an open meeting," said Twyman's relative. "Stop lying. We offered you, we asked you for a forum and a dialogue two years ago. You called me. I still have the text messages. And the voicemails."
"I am willing to meet, as long as we can sit down and have a dialogue. That's all I'm asking," Lacey said.
"You're asking families to be polite to you," said the leader.
"The last time we met I was not given an opportunity. I felt I was never…," Lacey said.
"My brother wasn't given a opportunity…..," said the protester.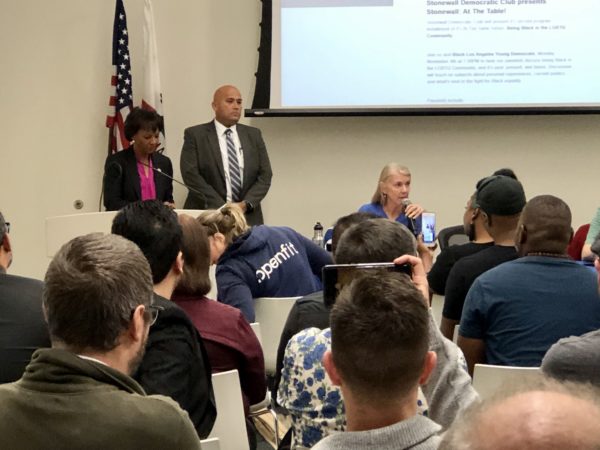 Lacey answered questions posed by Wishon with continued interruptions and comments. But it all came back to Lacey meeting with members of the Black community, perhaps at a public meeting hosted by a Democratic club in South LA.
Lacey agreed. Then she seemed to posit qualifications. "I want to make this offer one more time. Any victim — anyone who has had someone who has died in the hands of police, I'm making that offer. I'm willing to meet with individual families privately. I'm making that offer," she said.
"No," said a protester as another argued against a private meeting.
"Obviously you're saying, 'No thank you,'" Lacey said with a flash of snark.
"My brother was killed on the news. My kids are going to see that video," argued a protester, to which Lacey replied that she didn't put the video there.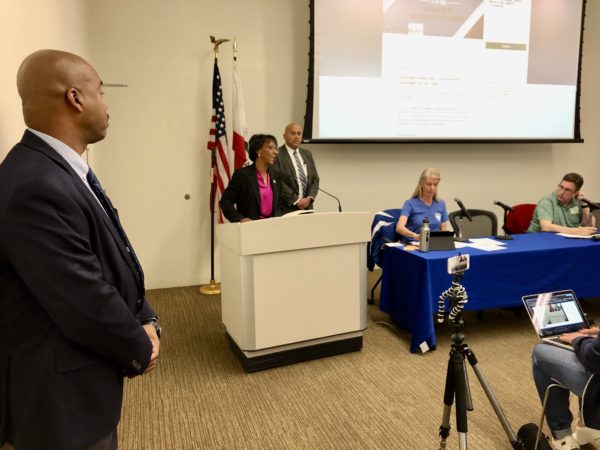 After more back and forth, Lacey made another concession.  "All right. I will meet with families privately and I will also meet with Black Lives Matter, but I want it to be a smaller group," Lacey said.
The group insisted on a totally public meeting.
And then came this question:  "When there is a situation with a civilian and officers are called, why are family members not allowed to help de-escalate the situation? Why are they kept away? And sometimes this turns into a big shooting.
"Only the police can answer that. I am not there when the shooting occurs and so I don't think it's right for me to give whatever the reasons are with regard to why that's happening," Lacey said.
"But you investigated. You signed off on it. So how come you can't answer it? You investigated, you signed off. It's your signature on the paperwork," said the leader.
"We are not the lead investigating officers. We send our officers out there to look over…," Lacey said before being interrupted. "The lead investigator are the internal affairs investigators who do the actual investigations. We have investigators, one investigator, one prosecutor, who show up at every officer-involved shooting and some in-custody deaths. We are not the lead agency in that particular matter."
Lacey was explaining herself from the position of having spent 30 years in the prosecutor's office.
Stephanie Jefferson, the mother of Lee Jefferson, responded with a mother's eviscerated heart:
"I mean when it's going down, when they had my son in that house, in the back house, hiding — how come they didn't let his grandmother on that phone to talk to him? I was on my way there. He was killed less than an hour before I could even just talk to him. His grandmother was standing outside. Nobody could talk to him. They wouldn't let no one talk to my son. They killed him. Murdered him…

They riddled him with bullets. 23 years old. You still have Kareem at home. I don't have my son at home. You still have April. I don't have that. He's gone. Every day I have to live with this. I have to tell his daughter. His daughter knows the police killed him. His sisters know that. He has a lot of family. He has a lot of friends and he has a lot of people that love him. They tried to criminalize my son after the fact, to justify it, because they said he was a gang member. He didn't ask to be killed…..

What is the negotiation tactic? There was no robot. There's no tear gas to try to get him out if he posed a threat. How can someone pose a threat if they're hiding?"
"I can't disagree with you. I wasn't there," said Lacey.
"Well, if you can't disagree, then why would you sign off? Why would you say that they were justified because he posed a threat to the public," said Stephanie Jefferson. "He did not pose a threat to the public."
"You were asking me about the tactics. I'm not going to argue with anyone who lost their son. I'm not," Lacey said.
"You can't. And you know what else they did? They also handcuffed him after he's dead, with shots in his eyes and his heart, all over his body. How can he be handcuffed and his back be bruised from them stepping on him? Why step on a dead body?" Jefferson said.  "Why did the detective have to be at the coroner's office when they do the autopsy? They know why he died. They know what bullet hit him. He got shot 14 times. Eight of those shots were fatal. The day before Thanksgiving."
"So how can officers found out of policy not be held accountable for murder?" Wishon asked.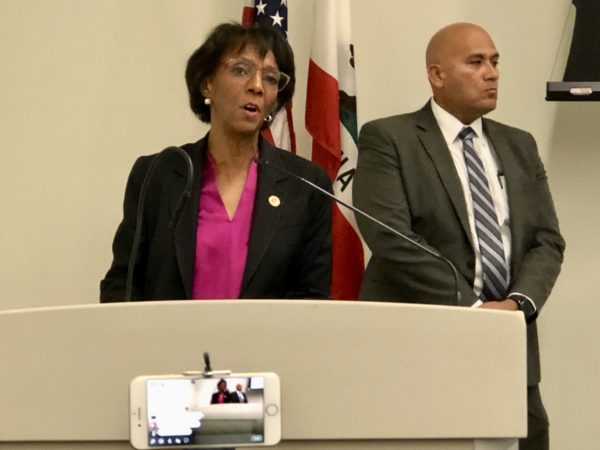 Lacey said:
"Out of policy is different from criminal liability. With regard to out of policy, the standard of proof for out of policy is much lower than for criminal behavior. With regard to criminal behavior, we have to prove beyond a reasonable doubt with evidence that the person is guilty of a crime. And so oftentimes, it is not unusual for someone to find that it's out of policy but we may not be able to prove that the officer committed murder or manslaughter.

And that's the difference. And there's a lot of confusion about that. I can understand where the confusion comes from, but that's the difference between out of policy and criminal behavior. With criminal, you have to be able to prove beyond a reasonable doubt that someone is guilty."
But the officers, were "working the next day. Like come on Jackie, make this make sense, because you're not making it make sense," the leaders noted. "If this was your child, I would be doing the same thing in representation for you….We families out here, and we hurting."
"You a cold, cold lady," said one protester as the meeting was winding down. "I don't know what's wrong with you."
Lacey left shortly after Stonewall passed the resolution. None of the protesters followed her or tried to impede her path.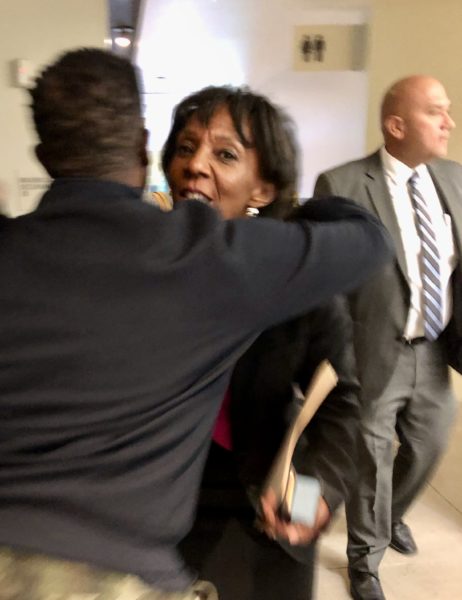 As she entered In the back of the room and outside when she left, Lacey was greeted by supporters, including longtime gay Democrat Ari Ruiz. The DA looked shaken, worn out, as if still grappling with why the rude protesters refused to give her the respect and deference usually afforded a woman of her station. Her demeanor seemed to say: If only they would let her explain how the law works. If only they realized that I really do care.
Inside, Cannick and other Stonewall members were shocked at how "disconnected" Lacey seemed from the community and the pain. Cannick said they intended to take the resolution to all the elected officials who've endorsed her for them to reconsider what seems like elected automatically endorsing another elected.
"Part of our approach at Stonewall is to hold our elected officials accountable – we endorse candidates who we believe will uphold our values of equality, justice, fairness, and respect for all. We are not a rubber stamp for incumbents who have not upheld those values," Wishon told the Los Angeles Blade.
After looking at both the LA County Sheriff and the LA County DA and how their offices interact with the LGBTQ community and the greater LA County communities, "we found that we had questions and there seemed to be issues that ran counter to those values," she said.
Stonewall wrote resolutions "calling upon the elected official to increase transparency, improve communication with the community, and restore the trust that had been lost," and asked the elected to address those concerns. Both resolutions passed, but in the Sheriff's case, the resolution was toned down while in Lacey's case, the amendments asked her for action or to resign.
Wishon said this about the Stonewall meeting she facilitated:
"The pain and grief of the families who have lost their loved ones to officer-involved shootings was nearly overwhelming. Before the meeting I asked to be introduced to all the families – their pain is unimaginable for me, as a Mother. And their pain sometimes took verbal form – crying out to the DA for help in making sense of what had happened. They had serious questions, unanswerable questions at times, about why this had happened to their loved ones and why there was no justice.

For me, it was difficult to witness such raw pain and I felt it important to respect their grief and their loss by allowing them to express it. At the same time, we needed to hear the DA's answers so it was a delicate balance between allowing the family members to speak and asking them to hold while the DA answered their questions. I do think it helped that we had the audience write questions that I read – I heard more than one family member say "That's my question" with some pride and I hope it also brought some small bit of closure to them to hear their questions and concerns taken seriously by the Club and the DA.

The process last night was entirely separate from the endorsement process by intention. We will take up the DA race in January 2020."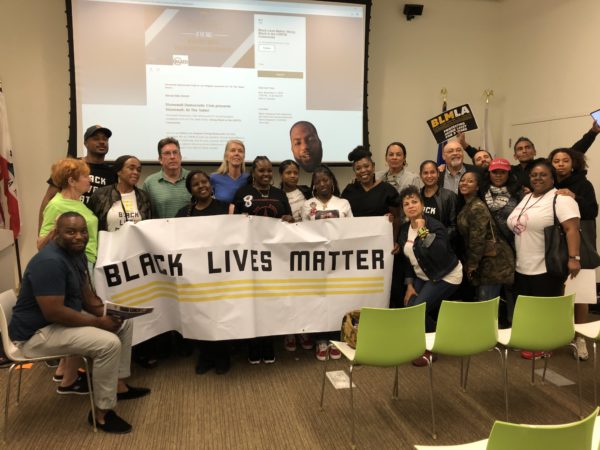 The Stonewall Resolution:
DISTRICT ATTORNEY JACKIE LACEY NEEDS TO RESTORE COMMUNITY TRUST IN HER DEPARTMENT

WHEREAS​ The Stonewall Democratic Club holds the elected officials we have endorsed to high standards in keeping with our values of equality and justice yet the trust in Los Angeles County District Attorney Jackie Lacey's department has been eroded by allegations of racial bias, unfairness, lack of communication, lack of public transparency and has failed to meet publically with members of the black community, indigenous communities and the communities of color; and

WHEREAS​ Jackie Lacey allegedly has mishandled and refused to press charges against Democratic donor Ed Buck for the 2017 death of Gemmel Moore and the 2019 death of Timothy Dean in Buck's apartment claiming insufficient evidence​. ​She has repeatedly refused to take a tougher stance in prosecuting police officers and Sheriff deputies who use deadly force against unarmed civilians, particularly African-American and Latino people. Her office has not filed charges against an officer in an ​on-duty​ shooting in more than 15 years; and

WHEREAS​ voters in her constituency, Los Angeles County, have repeatedly rejected the death penalty at the ballot box and California Governor Gavin Newsom issued a moratorium on the death penalty in March of 2019, putting a halt to all executions under his watch. Yet District Attorney Jackie Lacey's office has continued to seek the death penalty in capital trials sending 22 people to death row, every single one of the 22 people was a person of color.

THEREFORE, BE IT RESOLVED​ that the Stonewall Democratic Club recognizes that Los Angeles County District Attorney Jackie Lacey's actions and reports of alleged misconduct have eroded the trust of the public, the District Attorney Department's governmental partners, and this body; we call upon District Attorney Jackie Lacey to take immediate actions to restore trust in her department and to meet publically with members of the black community, indigenous communities and the communities of color before the end of the calendar year or resign; and

BE IT FURTHER RESOLVED ​this resolution shall be communicated to the members of the County Board of Supervisors and all elected individuals who have endorsed her 2020 re-election campaign.

Authored by
Jasmyne Cannick, Member, Stonewall Democratic Club
Dr. John Erickson, Legislative Action Chair, Stonewall Democratic Club Jane Wishon, Political Vice President

Adopted October 28, 2019
Los Angeles Mayor: Supreme Court decision "fundamentally un-American"
Mayor Eric Garcetti spoke to the Los Angeles Blade reflecting on Friday's U.S. Supreme Court reversal of Roe v. Wade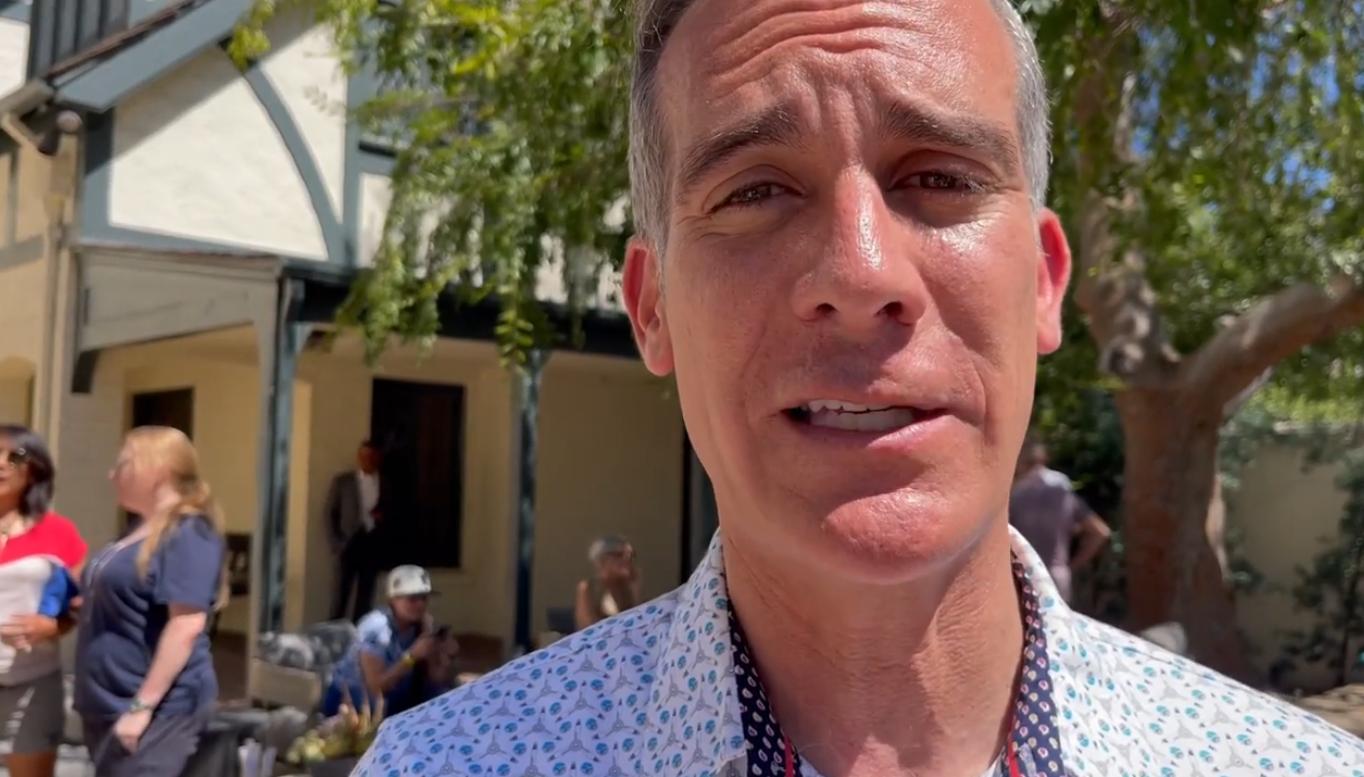 LOS ANGELES – During the Los Angeles Mayor's Pride Garden Party held at The Getty House, the official residence of the mayor Saturday afternoon, Mayor Eric Garcetti spoke to the Los Angeles Blade reflecting on Friday's U.S. Supreme Court reversal of Roe v. Wade.
Garcetti noted that "here in LA we defend those rights" after taking aim at the actions of the high court Friday in the ruling on the Mississippi case of Dobbs v. Jackson Women's Health clinic. "Make no mistake, we have to be active," Garcetti added.
WATCH:
Reminder: 101 closed through DTLA until 10pm Sunday
The closure began at 10 p.m. Saturday and will be completed by 10 p.m. Sunday, the Los Angeles Bureau of Engineering announced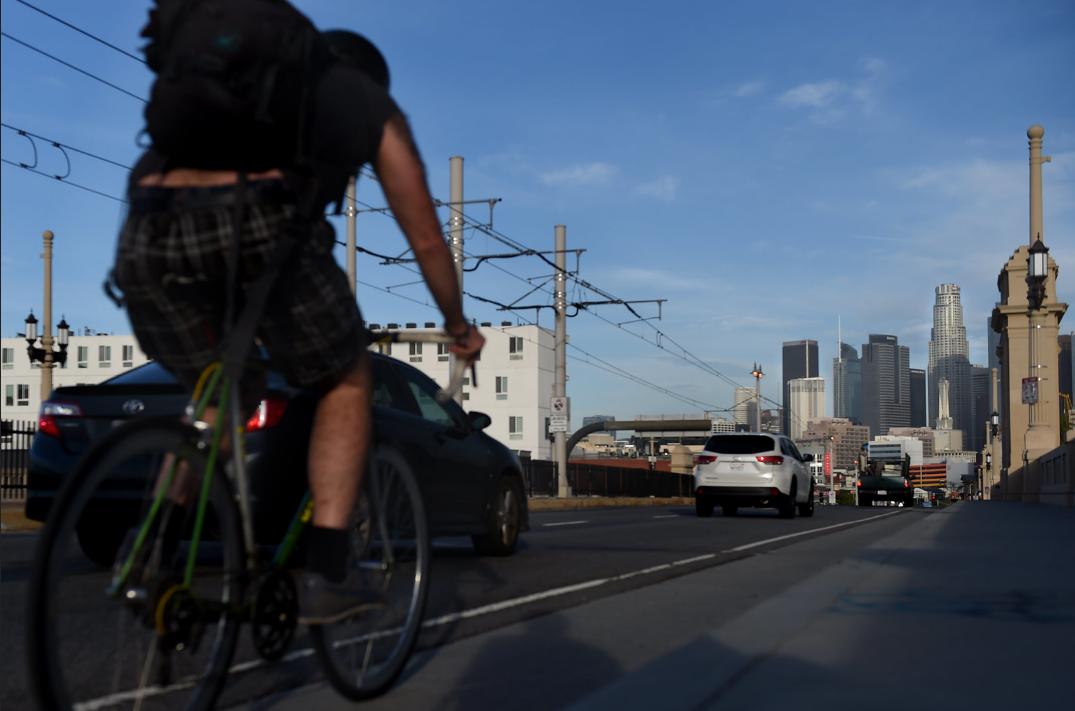 LOS ANGELES – (KTLA) Motorists are being reminded that the stretch of 101 through the downtown area of Los Angeles is shut down for road restoration and reconstruction work.
KTLA reported the closure began at 10 p.m. Saturday and will be completed by 10 p.m. Sunday, the Los Angeles Bureau of Engineering announced.
The 24-hour closure between State Route 60 and the 10 Freeway interchange is needed for the Sixth Street Viaduct Replacement Project, which aims to replace the original, seismically-deficient structure built in 1932, authorities said.
During the closure, the California Department of Transportation will also be doing slab replacement work along the same stretch of the 101 Freeway.
The closure will center around the east side of the viaduct construction site in Boyle Heights. While the stretch is closed, drivers headed west on State Route 60 from the Pomona area will not be able to access the 101, officials said.
Off-ramps and on-ramps in the area will also be closed during as road work gets underway.
Drivers who reach the closure will see signs directing them to a detour.
The new $588 million viaduct is expected to be completed in Summer of 2022, stretching between Boyle Heights and the Arts District.
Officials say it is the largest bridge project in the history of Los Angeles.
LA-DWP & Mayor Garcetti announce new outdoor watering restrictions
Sprinkler watering will be allowed Monday & Friday at odd-numbered addresses in the city, and even-numbered addresses on Thursday & Sunday

LOS ANGELES – In a press conference Tuesday Los Angeles Mayor Eric Garcetti and officials from the Los Angeles Department of Water and Power (LADWP) announced that outdoor watering in the city will be restricted to two days a week starting June 1.
The announcement comes as the Metropolitan Water District of Southern California declared an unprecedented water shortage emergency two weeks ago, imposing restrictions after MWD's board voted to adopt the emergency measures to "reduce non-essential water use" in certain areas. Cities and smaller water suppliers that get water from MWD are required to start restricting outdoor watering to one day a week, or to find other ways to cut usage to a new monthly allocation limit.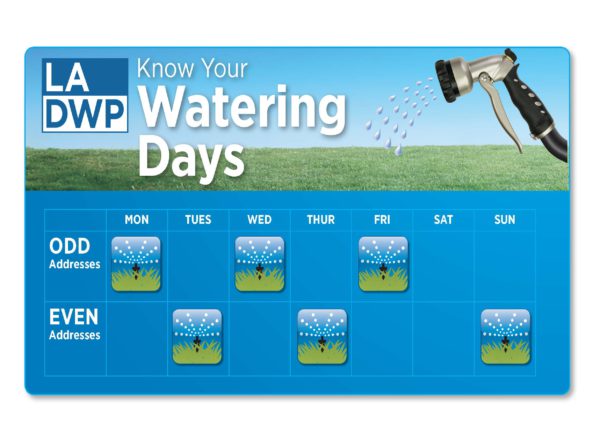 In Tuesday's press conference Mayor Garcetti said L.A.'s two-day limit was still more lenient than the one imposed by the Metropolitan Water District of Southern California, which has ordered many of its member agencies to restrict outdoor watering to once a week.
Sprinkler watering will be allowed on Monday and Friday at odd-numbered addresses in the city, and even-numbered addresses on Thursday and Sunday.