November 4, 2019 at 8:01 pm PST | by Karen Ocamb
Former Rep. Katie Hill's Palmdale offices evacuated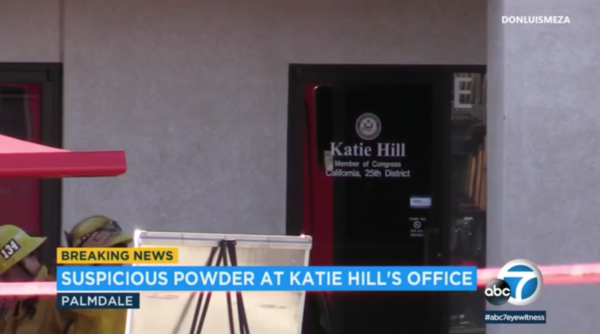 The Palmdale, California offices of former Rep. Katie Hill were evacuated Monday afternoon after two people complained of irritation after coming into contact with white powder in a suspicious envelope, according to several local news reports.
The Los Angeles County Fire Department and hazardous materials crews responded to a call at Hill's office at West Avenue M14 in Palmdale just after noon, CBS Los Angeles reported. Fire officials said tests were run on two people who complained of irritation due to the powder, but the tests came back negative.
KABC-TV reported that the powder has not yet been identified.
Hill, 32, a bisexual who admitted an "inappropriate' relationship with a female campaign staffer but denied one with a congressional male staffer, resigned from Congress last week amid an ethics investigation, saying she was the victim of revenge porn from her ex-husband and did not want to be a distraction from the important work of the House of Representatives.
The Los Angeles Times reported in their timeline of her downfall that her ex-husband worked with a former Republican operative for former Rep. Steve Knight, the anti-LGBT politician Hill defeated in 2018, to get nude photos of Hill and another woman published on the internet.