Dolly Parton scores big with new EDM hit, 'Faith'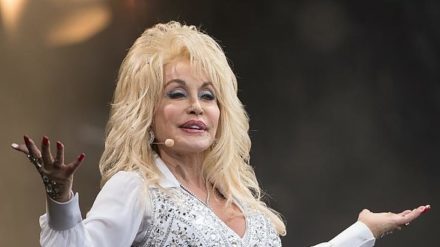 Dolly Parton is already an icon beloved by the LGBT community, there's no doubt about that, but the singer is winning a whole new generation of fans with her latest single.
Parton's newest track, "Faith," is a collaboration with Swedish electronic duo Galantis and Dutch artist Mr. Probz, and it has landed her the top spot on Billboard's Dance/Electronic chart – the first time the multi-platinum selling country superstar has achieved that distinction.
The song debuted at number one on Billboard's Dance/Electronic Digital Song Sales chart for the week of Nov. 9. It was streamed 1.8 million times in the U.S. and sold 4,000 downloads in its first week, according to Nielsen Music.
The song, a cover of a 1987 John Hiatt tune, was originally written by Hiatt while in the process of re-stabilizing his career and personal life after getting sober from drugs and alcohol. According to Parton, speaking at a press event celebrating her 50th anniversary at the Grand Ole Opry, the song's message of positivity fits perfectly into her current musical themes.
"This world is just so dark and ugly and awful. I can't believe how we just can't have a little more light and a little more love," she said. "So I'm gonna try and make it my business to do more songs that are more uplifting. Not just all Christian-based songs, but songs that are just about better things, and have a little more light."
Parton will perform "Faith" as part of a medley on tonight's 2019 CMA Awards. She will also co-host with Carrie Underwood and Reba McEntire, as part of the organizations push to honor iconic women in the genre.
As if the singer weren't busy enough, later this month, Parton's new show "Heartstrings" will debut on Netflix, promising "the Dolly music you love, the stories you've been waiting for." An anthology series that showcases the stories, memories, and inspirations behind her most beloved songs, every episode will be scored with "new and classic Dolly music." Episodes vary in tone, and the cast will include Kathleen Turner, Delta Burke, Gerald McRaney, Ginnifer Goodwin, Julianne Hough, Kimberly Williams-Paisley, Timothy Busfield, and Melissa Leo.
New doc illuminates Patricia Highsmith's life and work
'Intercourse with men is like steel wool to the face'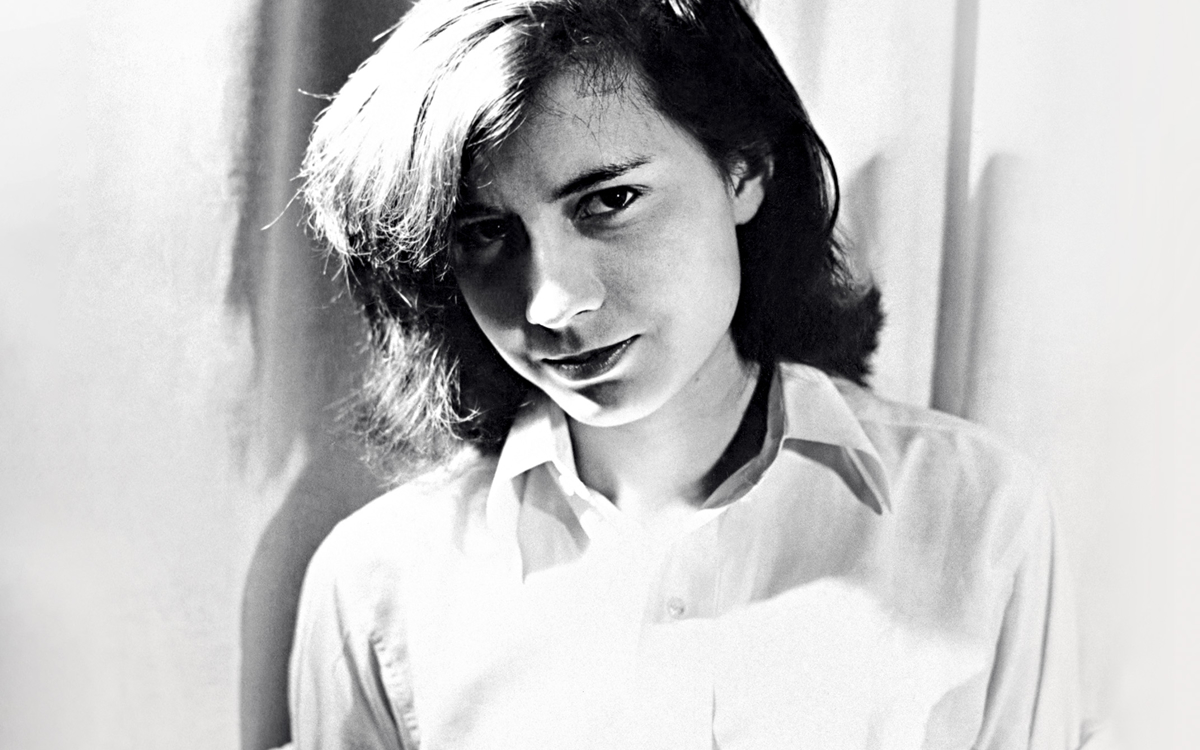 If you've been transfixed by the amusement park scene in Alfred Hitchcock's "Strangers on a Train," rooted for the sociopath Tom Ripley in the 1999 film "The Talented Mr. Ripley" or been moved to tears by the love of Therese and Carol in Todd Haynes's movie of "Carol," Patricia Highsmith is etched in your DNA.
Highsmith, who lived from 1921 to 1995 wrote more than 50 books (novels and short story collections). Nearly all of her books were made into movies.
Recently, "Loving Highsmith," a fab documentary about Patricia Highsmith has been released. The film, written and directed by Eva Vitija, opens Sept. 2 at the Film Forum in New York and Sept. 9 at Landmark's Nuart Theatre in Los Angeles. "Loving Highsmith" premiered at the Sydney Film Festival and bowed at the Frameline Film Festival in June.
Highsmith, like Tom Ripley and many of her other fictional characters, led a double life. She was a lesbian. But, because of the homophobia of her era, Highsmith had to be closeted about what she called "the ever present subject" of her "homosexuality."
Except in the 5,000 pages of her diaries and notebooks. (1,000 pages of her diaries and notebooks were published in 2021 in "Patricia Highsmith: Her Diaries and Notebooks: 1941-1995.")
Even if Highsmith weren't acclaimed for her mastery of suspense, she would be a queer hero.
In 1952, her novel "The Price of Salt" was published under the pseudonym "Claire Morgan." (It was reissued in 1990 under the title "Carol" and with Highsmith's real name.)
Then, fiction featuring queer characters had to end unhappily: they died or went to jail. "The Price of Salt," a rare exception, became a lesbian cult classic. Its protagonists end up together – alive and not in prison.
"Loving Highsmith" deftly uses writings from her diaries and notebooks as well as interviews with her family and lovers to illuminate not only Highsmith's life and work but queer culture in the 1950s.
The film skillfully interweaves archival clips from interviews with Highsmith and famous film adaptations of her work with stories from her relatives and lovers. Gwendoline Christie ("Game of Thrones") reads excerpts from Highsmith's work.
Too often watching documentaries of talented, deceased icons is deadly. You feel like you're entombed in lifeless talking heads and stagnant images.
You don't have to worry about "Loving Highsmith." Its talk and images make Highsmith's story come alive.
As the film makes clear, Highsmith was quite "loving." She had many lovers – in New York, England, France and Germany. Despite trying to cure herself with analysis, Highsmith sexually liked women. "Sexual intercourse [with men] is to me like steel wool to the face," she says.
Highsmith's mother, by the accounts of Highsmith herself, her family and her lovers, was a horror show. She told Highsmith that she was sorry she hadn't aborted her. When Highsmith was 14, her mother berated her for "making noises" like a "les."
New York had many gay bars in the 1950s, we learn from "Loving Highsmith." But homophobia was so rampant that you wouldn't get off at a subway stop near a bar out of fear that a straight friend, family member, or co-worker would see you going into a queer bar.
There is one problem with "Loving Highsmith." It soft pedals Highsmith's anti-Semitism and racism. It mentions Highsmith's prejudices only once: saying Highsmith in her old age reverted to the bigotry of her grandparents.
Highsmith's bigotry grew more virulent in her old age. But, though she had Jewish friends, Highsmith was anti-Semitic throughout her life.
This doesn't diminish Highsmith's literary achievement or iconic role in queer history. Anti-Semitism and racism were likely common in Texas where Highsmith was born and lived before moving to New York when she was six. "Loving Highsmith" is a thoughtful, informative documentary. It would have been more insightful if more attention had been paid to Highsmith's prejudices.
Even with this caveat, "Loving Highsmith" is a must-see documentary. It will send you racing to read the nearest Highsmith book at hand.
Two new political memoirs reveal how the sausage of democracy is made
Top Dem, GOP spin-meisters weigh in on Trump, Buttigieg, more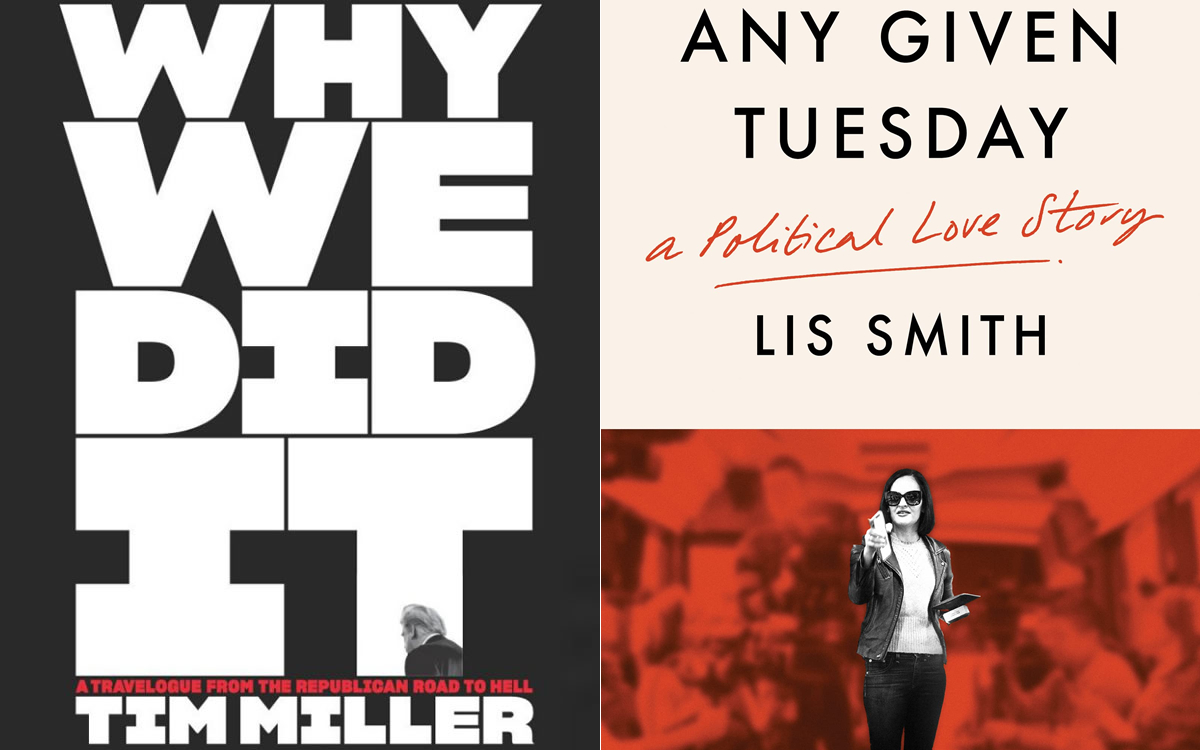 'Why We Did It: A Travelogue from the Republican Road to Hell'
By Tim Miller
c.2022, Harper
$26.99/259 pages
'Any Given Tuesday: A Political Love Story'
By Lis Smith
c.2022, Harper
$22.39/304 pages
The lilies of the field, the Bible tells us, "neither toil nor spin." If only, they had met Tim Miller and Lis Smith!
Miller and Smith, two top-tier spinmeisters have written memoirs. Fasten your seatbelts. These aren't the usual tepid politico's tales.
As you read, you'll laugh out loud one minute. Then gulp down your go-to comfort food or libation while (literally) worrying about the fate of our democracy.
"Next to love, the most sacred thing you can give is your labor," James Carville says to staff and volunteers in the last days of Bill Clinton's 1992 presidential campaign in a real life Aaron Sorkin moment in the 1993 documentary "The War Room."
Miller and Smith both saw "The War Room" when they were kids. Miller would grow up to be a Republican strategist who left the party over Trump. Smith would become a top Democratic political operative. But "The War Room" instilled in both of them a love of the public service and game of politics.
Miller, who lives in Oakland, Calif., with his husband Tyler and their daughter Toulouse, is a former Republican political operative. He was communications director for Jeb Bush's 2016 presidential campaign and spokesman for the Republican National Committee during Mitt Romney's 2012 presidential campaign. Miller left the GOP to become a leader of the "Never Trump" movement. After calling it quits with Trump, Miller worked briefly as a consultant for Scott Pruitt, Environmental Protection Agency administrator during the Trump administration. Now, Miller is an MSNBC analyst, a writer at large with "The Bulwark" and the host of "Not My Party" on Snapchat.
The Republican Party has a history – from Ronald Reagan's abysmal record on AIDS to Donald Trump's transphobic policies – of being anti-queer. You're likely wondering how Miller, as a gay man, could stomach working for the GOP.
In "Why We Did It," Miller puts himself and some of the people who "enabled" Trump under the microscope.
"America never would have gotten into this mess if it weren't for me and my friends," Miller writes, "We were the 'normal' Republicans."
When Trump arrived, they didn't take him seriously. They didn't, "get off on the tears of immigrant children," Miller writes. Nor would they have been caught "dead in one of those gaudy red baseball caps," he adds.
"Why in the fuck," Miller asks, "did the vast, vast majority of seemingly normal, decent people whom I worked with go along with the most abnormal, indecent of men?"
The first half of the memoir is Miller's story of how he "compartmentalized" being a gay man with being an operative for the largely homophobic GOP.
Take when he worked for John McCain's presidential campaign. Though he was gay, Miller told McCain to walk it back after McCain said "gay marriage should be allowed if there's a ceremony kind of thing."
In the second half of the book, Miller examines why people such as Elise Stefanik opted to "take the red pill" and work for "the great MAGA future."
"Why We Did It" is dishy, dark, and soul-churning.
Smith, a top Democratic strategist and veteran of 20 campaigns, has worked for everyone from Claire McCaskill to Barack Obama. She was a senior communications adviser for Pete Buttigieg's presidential campaign.
Thankfully, "Any Given Tuesday" isn't a stuffy political memoir. It's smart, snarky, and gossipy. Smith is James Carville in high heels.
"Any Given Tuesday" is about Smith's life in politics intertwined with stories from her personal life.
Due to sexism, her love life was politicized. Smith became a tabloid target when she fell in love with former New York Gov. Eliot Spitzer. Former New York City Mayor Bill de Blasio, after learning of Smith's relationship with Spitzer, fired her from her job with his administration. (Though she had worked for de Blasio's campaign.)
You wonder if this would have happened if Smith had been a man. But Smith gets many digs at de Blasio. After her firing, de Blasio tried to win Spitzer's political endorsement. "Both of us had tried to get in bed with Eliot," she writes of de Blasio's failure to win Spitzer's backing, "but only one of us had been successful." (Smith and Spitzer no longer have a relationship.)
Unlike Miller, Smith doesn't have to twist herself into a compartmentalized pretzel to do her work. Like Miller, she's hopped up on the "game" of campaigns. Though Smith doesn't agree with everything everyone she works for believes in, she's generally in synch with centrist Democrats.
Among the most interesting chapters of "Any Given Tuesday" are those about her work on Buttigieg's campaign. If you're queer or queer-friendly, even if you don't agree with his politics, you get the historic significance of Buttigieg's campaign.
Smith's account of being on the road with the "Buttibus" and prepping Buttigieg for the candidates' debates is entertaining and informative. It's moving when Smith, a seasoned, snarky hack, comes to believe Buttigieg is "the one" — the candidate who truly would serve this country well.
In "Any Given Tuesday," Smith reveals how the messy sausage of democracy is made. In "Why We Did It," Miller makes even die-hard atheists pray that democracy will last.
The Blade may receive commissions from qualifying purchases made via this post.
Anti-LGBTQ+ narrative more than 400% following Florida's 'Don't Say Gay
Human Rights Campaign & Center for Countering Digital Hate warn of growing influence extremists are wielding online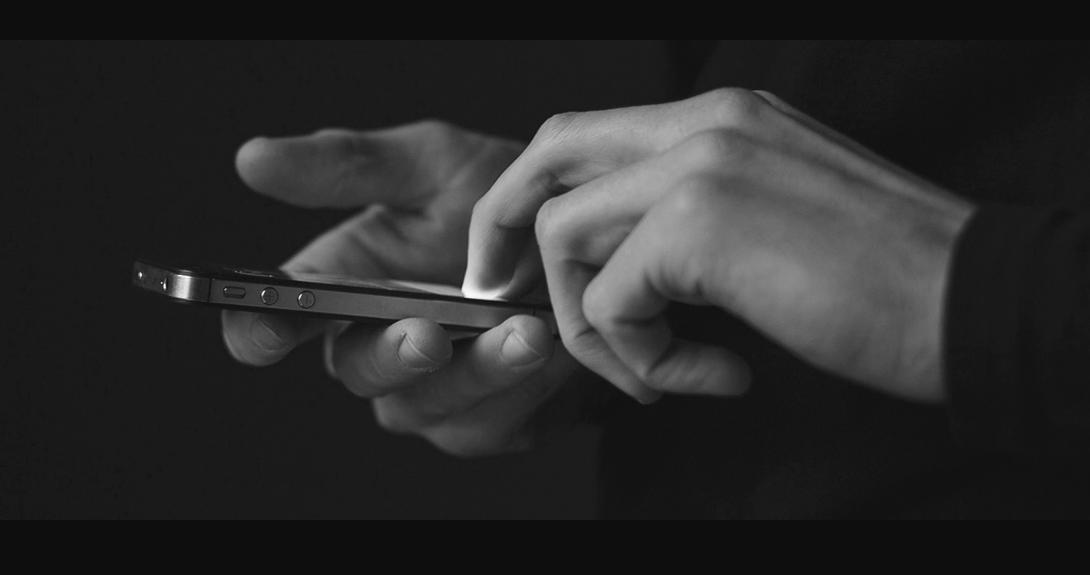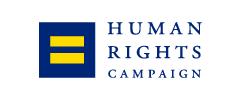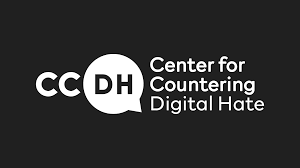 By Henry Berg-Brousseau | WASHINGTON – In the wake of the passage of Florida's discriminatory "Don't Say Gay or Trans" bill, extremist politicians and their allies engineered an unprecedented and dangerous anti-LGBTQ+ misinformation campaign that saw discriminatory and inflammatory "grooming" content surge by over 400% across social media platforms, according to a new report released by the Human Rights Campaign and the Center for Countering Digital Hate. 
The report — Digital Hate: Social Media's Role in Amplifying Dangerous Lies About LGBTQ+ People — reveals that the average number of tweets per day using slurs such as "groomer" and "pedophile" in relation to LGBTQ+ people surged by 406% in the month after the Florida bill was passed, resulting in a sharp spike in online homophobia and transphobia that social media platforms not only failed to crack down on, but also profited from.
The report also reveals that the anti-LGBTQ+ content was largely driven by a small group of extremist politicians and their allies who together are driving a coordinated and concerted campaign to attack LGBTQ+ kids in an effort to rile up extreme members of their base ahead of the midterm elections. According to the report's findings:
In a matter of mere days, just ten people drove 66% of impressions for the 500 most viewed hateful "grooming" tweets — including Gov. Ron DeSantis's press secretary Christina Pushaw, extremist members of Congress like Marjorie Taylor Greene and Lauren Boebert, and pro-Trump activists like "Libs of TikTok" founder Chaya Raicheck.
Posts from these 10 people alone reached more than 48 million views, and the top 500 most influential "grooming" tweets all together were seen 72 million times.
The astonishing visibility these posts garnered is a direct result of Twitter's failure to enforce its own policies banning anti-LGBTQ+ slurs. Twitter failed to act on 99% of the 100 hateful tweets reported to them anonymously by CCDH researchers, even after it had stated 'grooming' slurs were against its policies on hate speech.
On Facebook and Instagram, 59 paid ads promoted the same narrative. Despite similar policies prohibiting anti-LGBTQ+ hate content on both social media platforms, only one ad was removed.
"As social media platforms fail to enforce their own standards — enabling a wave of online anti-LGBTQ+ hate to grow without restraint — extremists are wielding dangerous influence, seeking to radicalize Americans, incite hate against LGBTQ+ people, and mobilize the extremists within their base ahead of the midterm elections," said HRC Interim President Joni Madison. "But the rise of this online vitriol doesn't just have political implications — there are deadly, real world consequences as violent rhetoric leads to stigma, radicalization, and ultimately violence. Nearly one-in-five of any type of hate crime is now motivated by anti-LGBTQ+ bias, and the last two years have been the deadliest for transgender people, particularly Black transgender women. HRC, along with our partners at the Center for Countering Digital Hate, urgently calls on social media companies to act swiftly and transparently to stop the spread of extremist and hateful misinformation, including the grooming narrative."
"We're in the middle of a growing wave of hate and demonization targeting LGBTQ+ people – often distributed digitally by opportunistic politicians and so-called 'influencers' for personal gain," said Imran Ahmed, CEO of the Center for Countering Digital Hate. "Online hate and lies reflect and reinforce offline violence and hate. The normalization of anti-LGBTQ+ narratives in digital spaces puts LGBTQ+ people in danger. Facebook and Twitter claim in their rules to prohibit this kind of targeted hate and harassment but they simply don't enforce those rules on bad actors — rules which are designed to protect others' rights. The clear message from social media giants is that they are willing to turn a blind eye. LGTBQ+ rights have been transformed after decades of hard-won progress, but progress is fragile unless you continue to defend it."
Key Findings of the Report
➤ Anti-LGBTQ+ 'grooming' rhetoric on social media platforms drastically increased following the passage of Florida's Don't Say Gay or Trans law.
Researchers used the social analytics tool BrandWatch to collect a sample of 989,547 tweets posted between January 1 and July 27 that mention the LGBTQ+ community alongside slurs such as "groomer", "predator" and "pedophile".

In the month following the passage of the 'Don't Say Gay or Trans' law, the volume of 'grooming' related content increased by 406%.

6,607 tweets a day overall on average, up from 1,307 the month before

1,385 tweets a day using the phrase "OK groomer" on average, up from 54

4,053 tweets a day referring to Disney alongside slurs on average, up from 37

In the week following Twitter's statement that tweets calling transgender or nonbinary people "groomers" violate its policies on hate speech, there were 8,075 tweets per day on average mentioning the slurs alongside the LGBTQ+ community
➤ 'Grooming' rhetoric is being spread by a small group of radical extremists as part of a coordinated and concerted effort to attack LGBTQ+ kids to rile up extreme members of their base, the only voting bloc they are moving on these issues, ahead of the midterm elections.
Researchers used BrandWatch to identify the 500 most-viewed hateful 'grooming' tweets from our wider sample, which were viewed an estimated 72 million times in total and received 399,260 likes and retweets.

Within this smaller sample, tweets from just ten people were viewed an estimated 48 million times, equivalent to 66% of the reach of the 500 most-viewed tweets. Amongst the top ten people responsible for driving the 'grooming' narrative on Twitter are:

Marjorie Taylor Greene – Representative for Georgia's 14th Congressional District
James Lindsay – "Anti-woke" activist and author
Lauren Boebert – Representative for Colorado's 3rd Congressional District
Christina Pushaw – Press secretary to Governor of Florida
Frank Drew Hernandez – Contributor to Turning Point USA

The top 500 'grooming' tweets were viewed 72 million times
➤ Meta profits from ads promoting 'grooming' narrative on Facebook and Instagram.
Using Meta's Ad Library, researchers identified 59 ads promoting the narrative that the LGBTQ+ community and its allies are 'grooming' children.

Meta accepted up to $24,987 for the ads, which have been served to users over 2.1 million times.

32 of the 59 ads, receiving 2 million impressions, focus 'grooming' accusations on Disney after the company came out in opposition of the 'Don't Say Gay or Trans' bill.

As of August 1, Meta continued to run 'grooming' ads despite stating on July 20 that baselessly calling LGBTQ people or the community "groomers" is covered by its hate speech policies.
➤ Hateful content has gone virtually unchecked, despite anti-discrimination polices at Facebook and Twitter.
An audit found that Twitter failed to act on 99% of the 100 hateful tweets reported to them anonymously by CCDH researchers after it had stated 'grooming' slurs were against its policies on hate speech.

Just one of the 59 ads promoting the 'grooming narrative' was removed by Meta, and the platform has continued to accept such ads after it had stated 'grooming' slurs were against its policies on hate speech.
➤ There are real life consequences to anti-LGBTQ+ hate being spread online.
Legislative — Legislators in state houses across the country introduced 344 anti-LGBTQ+ bills this session, and 25 of them passed. These bills and laws attack the LGBTQ+ community, particularly transgender and non-binary young people and their families, preventing them from accessing age-appropriate medical care, playing sports with their friends, or even talking about who they are in school.
Anti-LGBTQ+ Violence — Nearly 1 in 5 of any type of hate crime is now motivated by anti-LGBTQ+ bias; The last two years have been the deadliest for transgender people, especially Black transgender women, we have seen since we began tracking fatal violence against the community.

Reports of violence and intimidation against LGBTQ+ people have been making news across the country: White nationalists targeted a Pride event in Idaho; Proud Boys crashed Drag Queen story hour at a local library in CA to shout homophobic and transphobic slurs.
Mental Health Outcomes: More than 60 percent of LGBTQ+ youth said their mental health has deteriorated as a result of recent efforts to restrict access to things like gender-affirming care for transgender youth.
The full report and dataset can be found on HRC's website here.