Black men's body parts for sale
Ed Buck case is about a warped sexual fantasy involving a mythological appendage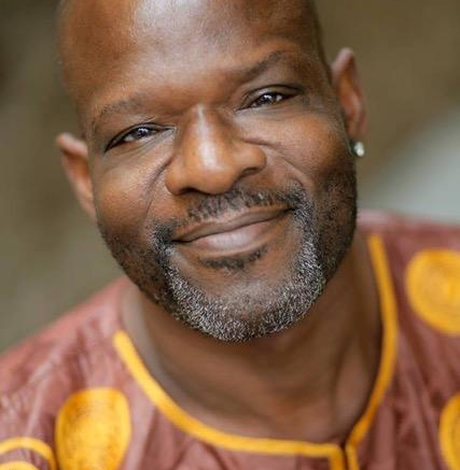 The deaths of Gemmel Moore and Timothy Dean and the near death of several black men in the West Hollywood home of Ed Buck are indicative of an artificially created, heightened demand for that mythological black male appendage below the belt.
Let's be clear: this is not a desire for the individual black man, his personality or his looks – it's a craving for just the appendage. And many white and brown gay men are willing to pay large sums of cash to possess it, even if only for a short period of time.
To some gay black men like me, this hunting for a distinct black male body part feels much like the African elephant being hunted to near extinction for its ivory tusk, which is ground up and used to ostensibly enhance sexual prowess. It is proof of the power of marketing on the human mind.
The marketers of the porn industry and con artists in the American media know how to market this appendage very well — creating the sexual desire for black men that poor black boys are pursued to fulfill. Most white men know that they don't possess the natural ability to attract the desires of black men unless money is part of the equation: it's almost a given that if you're a gay black boy in a predominately white gay world you will be offered money for sex.
Too often, it becomes easier and much more lucrative to offer up your body than to try and get a job within the broader gay community.
If an individual Asian, Latino or white man decides to make a little money by doing a porn scene, their entire race is not identified by their individual actions. Unfortunately, however, that does not transfer to black men.
The general perception is that each individual black man must be like all black men, even though not all black men can all play sports, rap, dance or have a penis large enough to fit the commonly held mythology.
The horrible blowback from this sex marketing mindset is largely to blame for the deaths of Gemmel Morre and Timothy Dean. In the city of West Hollywood, there are scores of white gay male escorts. When the term "sex worker" is applied to them, they are basically offered a modicum of respect.
But it took the deaths of two black gay men — one a known escort — and the near death of a third black gay escort, before the known white suspect was ever taken into police custody.
This screams of racial disparities and prejudices about how black men's lives are devalued. In this case, it is particularly ugly to see the legal power structure that promotes the belief that Gemmel Moore and Timothy Dean's deaths were self-inflicted — accidental overdoses, according to the coroner — as if black men devalue themselves so much that they would choose to die in Ed Buck's apartment.
I do not believe their deaths were "accidental." I believe they died because of Ed Buck's warped sexual fantasy about a black man's penis.
The powerful elite that owns and operates online and offline media with an objective and mission to monetize the public's appetites and desires knows what sells. They have also led in the messaging of what and who black gay men are.
We gay black men do not possess a metaphoric megaphone to shout to the world: WE BLACK GAY MEN ARE NOT WHAT YOU'VE BEEN TOLD."
If we did, then I'm confident our perceived identities would not be so sexually skewed.
We black people once again have to take control of our own identity and once again, like the civil rights movement of the 60s, create a new black LGBTQ movement.
Check out LosAngelesBlackLGBTMovement.org or see the Facebook page.
Paul Scott is founder of the Los Angeles Black LGBTQ Movement.
Proud Boys & QAnon expose dangerous hatred of Trans people at Wi Spa
They have one agenda and that is to do harm to and in this case to denigrate and do political, social and physical harm to trans people.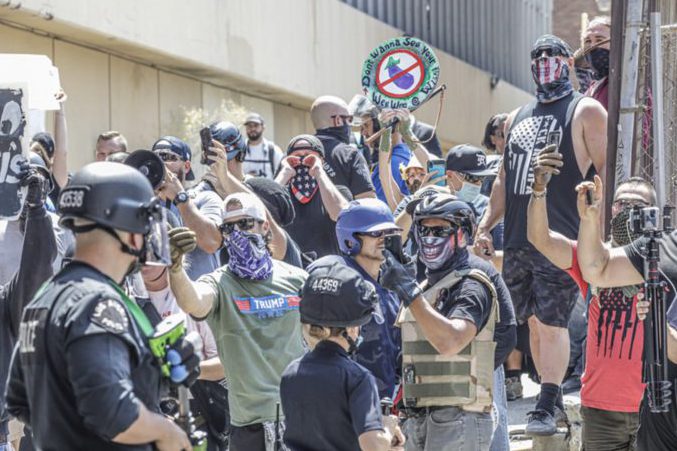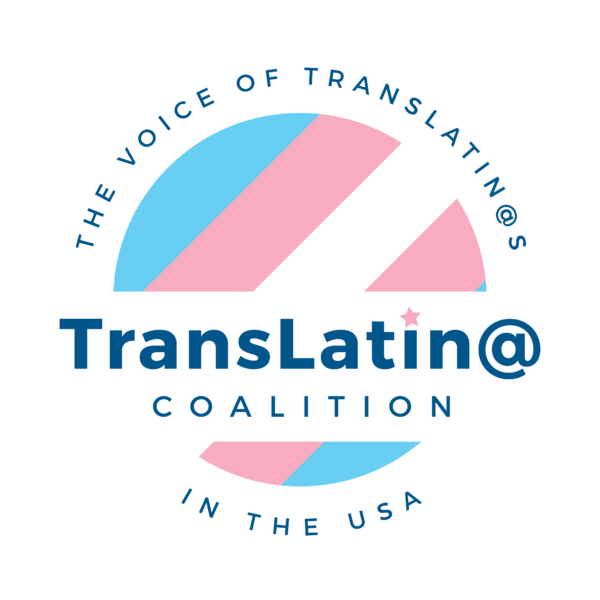 By Bamby Salcedo | LOS ANGELES – Proud Boys are great at stirring things up but perhaps not so great at staging their protests.
As the leader of Los Angeles based The [email protected] Coalition, a nationally recognized organization that provides direct services to trans people in Los Angeles, I am alarmed by the events that have unfolded around WiSpa in Koreatown.
At WiSpa, a transgender woman is said to have exposed her male genitaliia in the presence of children. One of the accusers says her children were unwittingly naked in a hot tub with a trans woman who was also naked.
All the problems with the last paragraph aside (and there are quite a few), the person(s) who made that complaint has remained anonymous and the transwoman who is accused has never come forward and has never been identified.
The complaints went viral on a video, however and has resulted now in 2 protests, the most recent becoming a threat to public safety and resulting in the arrest of 41 people and the seizure of a cache of weapons.
At the protests, to my knowledge, none of our clients nor I was present and none of us had any significant knowledge that there would be such a protest as no one has reached out for us to participate.
I have many friends who are trans-identified and no local activists we are familiar with participated in either of the protests, at least no one from our side of the fence. Not a single person who participated in the protest are individuals known to me and I have heard of no members of my organization who knew any of them, either.
And we would know, as word runs fast in our community.
Our offices are less than 3 blocks from WiSpa and the protests took place near our front door. Perhaps there's some strategy in that. And to me, the strategy is simply orchestrated by people who are not even connected to the local trans community.
The [email protected] Coalition is in the business of showing up to support our trans siblings and advocate and defend our rights. The fact that we have not shown up should speak volumes to every concerned party in the nation.
I believe the whole situation was wholly manufactured and manipulated, particularly by people who are trying to gain followers and those in the right who with their continued efforts are trying to create violence against our community.
Right wing agitators created the situation to give them a platform to spread anti-trans propaganda. They are happy to use lies and bring weapons such as mace, pepper spray, knives and guns, happy to incite violence and to seek wider support for their hate with faux-outrage.
It is a known fact that where Proud Boys go, their counterparts follow, giving the appearance of a much greater threat. We've seen it in Berkeley, in Charlottesville, in DC, at BLM marches around the country and in many other places. This is what they are known for.
They have one agenda and that is to do harm to and in this case to denigrate and do political, social and physical harm to trans people.
Whether we knew the counter-protestors or not, the LAPD needs to be called out for using excessive force to intervene, especially where, as it was assumed, counter protesters were LGBTQ community members exercising their free speech rights.
The LAPD's violence at the protest of course also amplifies the intended anti-trans and anti-left message of the Proud Boys and the right. It fuels the optics.
There have been reports that the counter-protestors were unknown actors and followers of the right wing, raising the possibility that the counter-protestors were there just for the thrill of the fight.
Let me be clear: Extremist right-wing forces do not have anything better to do and are trying to keep busy attempting to continue to spark the national debate about public accommodation laws and transgender bodies.
We know they are willing to bring and use weapons. They have no regard or respect for other people who are not like them.
Our community and our allies need to be cautious. The LGBTQ community has long been mindful of the need to vet situations before we respond to them the way this crazy group of people are doing it. That's why we need to be strategic about how we participate in these types of situations. .
Proud Boys, Q-Anon and many other conservative groups are looking for a fight. We need to keep our community safe because we need all of us to change the narrative that they are trying to portray. We need to let all of those conservative groups and LAPD that we are better than them
The stakes are too high and we must be smart, vigilant and strategic about creating a better world for all of us.
Stand down Proud Boys: we will not take your bait.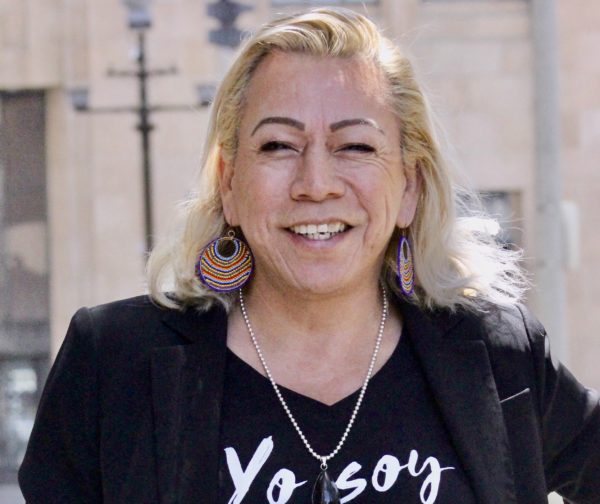 Bamby Salcedo is the President and CEO of Los Angeles Based [email protected] Coalition. She is a highly regarded, nationally and internationally recognized activist, advocate, community organizer and social justice advocate and professional.
Why it's so urgent to tell Senators to pass the Equality Act now!
Today, millions of Americans lack basic non-discrimination protections just because of who they are or whom they love.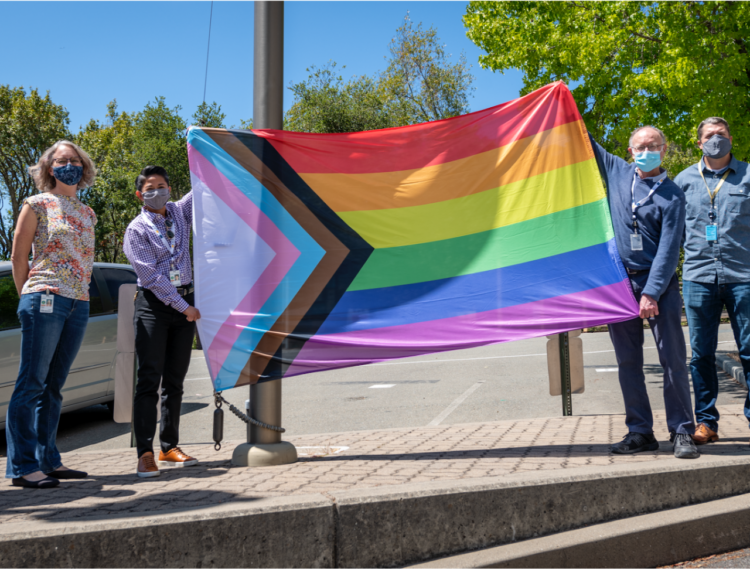 By Karen Ocamb | Concerned that passage of the Equality Act isn't seen by Congress with the same urgency as the LGBTQ and allied communities, the Freedom & Opportunity For All coalition held a tele-town hall on July 14 to urge advocates to urgently call U.S. Senators and press for LGBTQ protections now.
President Biden had pledged to sign the bill — which has support from a majority of Americans — within his first 100 days. Speaker Pelosi ushered passage of the bill (H.R. 5) through the House in February by a vote of 224 to 206. But the Equality Act has since stalled in the Senate with no apparent strategy to reach the 60-vote threshold necessary for passage.
Advocates are calling on the LGBTQ community and allies to pressure the Senate before the window closes on securing full equality for LGBTQ Americans. Public Justice is proud to support their efforts and encourages our own supporters to join this critical outreach to lawmakers.
Representatives from Freedom & Opportunity For All, which includes 18 national LGBTQ and ally organizations, told the tele-town hall audience of 2,000 listeners that the LGBTQ community "needs non-discrimination protections now more than ever" as LGBTQ people and their families "face an unprecedented legal barrage of attacks around country."
That assessment seems confirmed by recent research about LGBTQ youth that has largely, and unfortunately, gone unnoticed.
In its 2021 National Survey on LGBTQ Youth Mental Health, The Trevor Project, the national suicide prevention and crisis intervention organization for LGBTQ youth, indicates that 75 percent of LGBTQ youth reported experiencing discrimination based on their sexual orientation or gender identity at least once in their lifetime; 42 percent seriously considered attempting suicide in the past year, including more than half of transgender and nonbinary youth; and LGBTQ youth attempted suicide at more than twicethe rate of those who did not experience discrimination in the past year.
In an earlier survey, The Trevor Project estimated that more than 1.8 million LGBTQ youth between the ages of 13 and 24 seriously consider suicide each year in America, and at least one attempts suicide every 45 seconds. The message our federal government sends to these young people when it refuses to take action to respect and protect the dignity of LGBTQ people is both unmistakable and unquestionably harmful.
Discrimination and suicide statistics for LGBTQ people of color are even more striking. According to a June report from Cornell University's What We Know Project, LGBTQ people of color — especially those who live in states with active anti-LGBTQ laws or no protections — experience egregiously disproportionate rates of discrimination impacting the full range of their humanity, leading to poorer mental and physical health and serious attempts to die by suicide.
LGBTQ people of color also experience greater economic insecurity. For instance, the majority of Black LGBT people (56%) live in low-income households (below 200% of the federal poverty level) compared to 49% of Black non-LGBT Americans, and Black LGBT adults are also more likely to experience food insecurity than Black non-LGBT adults (37% compared to 27%).
"This research brief makes clear the tangible harms that discrimination inflicts on LGBTQ people of color, and the urgent need for public policy that reflects what the research tells us about how we can reduce those harms," said the study's author, Dr. Nathaniel Frank.
As Human Rights Campaign President Alphonso David told the town hall audience, "despite all the progress that has been made, LGBTQ people with multiple marginalized identities face discrimination in their day to day lives." There are gaps in the rights for women and people of color and "there are no federal protections for us from discrimination in business. As a Black and gay man, I could take an Uber or Lyft and be thrown out for who I am." The Equality Act would provide those protections and "deliver on the promise of our democracy."
Advocates' hopes were high during Pride Month in June when the White House seemed to be taking up the cause.
"Freedom and equality are fundamental American values. But today, millions of Americans lack basic non-discrimination protections just because of who they are or whom they love. President Biden believes that every American must be able to live freely, openly, and safely. That's why he continues to call on the Senate to swiftly pass the Equality Act, legislation which will provide long overdue federal civil rights protections to LGBTQ+ Americans and their families, while strengthening some key civil rights laws for people of color, women, people with disabilities, and people of faith," said the White House in a June 25 release.
Public Justice is a strong ally in this fight for civil rights. That's why we announced support for the Equality Act when it was first re-introduced on February 18 by Sen. Jeff Merkley of Oregon and out gay Rep. David Cicilline of Rhode Island.
As we said then, "The Equality Act seeks to secure gender identity and sexual orientation as protected classes under the federal Civil Rights Act and would ban discrimination against LGBTQ people in nearly every aspect of American life, from the workplace to housing and the marketplace. Last year, the Supreme Court's decision in Bostock v. Clayton Countyestablished protections for LGBTQ people under federal law, prohibiting discrimination against LGBTQ people in the workplace on the basis that anti-LGBTQ employment discrimination is sex discrimination.
However, passage of the Equality Act would take it a step further and amend the Civil Rights Act of 1964 to prohibit anti-LGBTQ and sex discrimination in public accommodations and federal programs while ensuring that it would be much harder to undo future bans on discrimination. Additionally, the Equality Act would expand the definition of public accommodations, including spaces like retail stores, banks, transportations services, and healthcare services. Americans in every state — and regardless of religion, party affiliation, and economic status — support this measure.
During the Freedom & Opportunity For All coalition tele-town hall, Congresswoman Mary Gay Scanlon of Pennsylvania and National Center for Transgender Equality Executive Director Rodrigo Heng-Lehtinen asked respondents to talk to family, friends and "recruit all the people we care about" to press for the Equality Act. We hope Public Justice supporters will heed their call and join the push to pass the Equality Act today.
As dedicated public interest advocates, we know that injustice is America's enemy, holding us all back and preventing our country from working the way it was meant to work. Passage of the Equality Act is consistent with our advocacy fighting bullying, advocating for safer schools and working for transgender inclusion, especially in schools and school athletic programs. We have long believed those values — of opportunity, equality under the law and the full inclusion of all people in our justice system and our society — should be non-partisan. In fact, they should be bipartisan.
That's also why Heng-Lehtinen encouraged the town hall audience to talk to both Democratic and Republican senators. "We cannot take any support for granted," he said, asking advocates to tell their own stories about experiencing or fearing discrimination, not just their policy position. "Stories can lead to meaningful change," he added. "Your mission is to persuade them."
Scanlon, a member of the House Judiciary Committee, said the Equality Act is "close to my heart" because her baby sister came out to her 40 years ago. "You have to do whatever you can to make sure the person you love can live fully. Everyone should have an equal chance at the American Dream."
Today, we call on all advocates for justice, and our entire Public Justice family, to do just that. To help, call the capitol switchboard at (202) 224–3121 and ask your Senators to support the Equality Act now.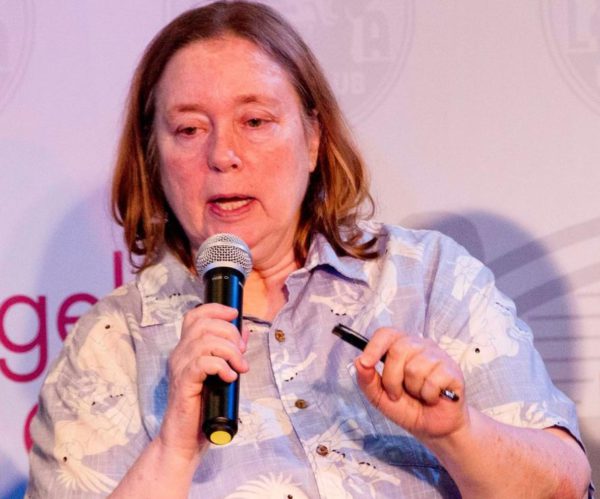 Karen Ocamb is the Director of Media Relations for Public Justice, a national nonprofit legal organization that advocates and litigates in the public interest. The former News Editor of the Los Angeles Blade, Ocamb is a longtime chronicler of the lives of the LGBTQ community in Southern California.
Crowd beats gay men after man flashes cross, rage sends men to hospital
This makes Corsica a very dangerous place for out queer people, which Benoît et Mickaël discovered all too well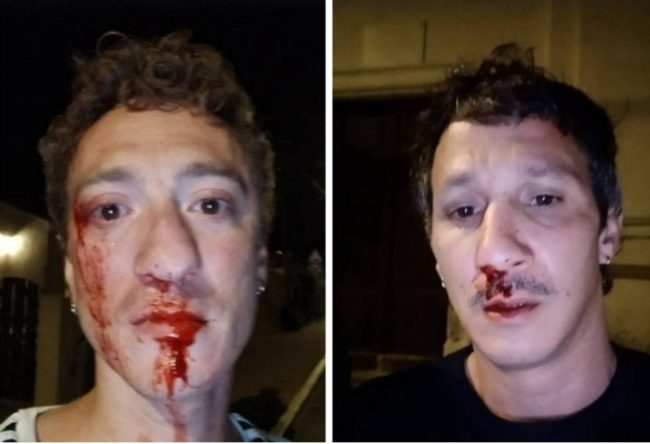 By James Finn | CORSICA, France – Would you be shocked if I told you a mob in France ganged up on a gay couple and beat them badly enough that one thought he was going to die and both ended up in the hospital? The story is shocking in a way, but has powerful lessons to teach about religious disdain for LGBTQ people and about how churches must start behaving more morally. As Christian friends of mine say, churches need to become more Christian and less hateful.
This happened last night in a French tourism hot spot
A gay French couple were gathered with family for Bastille Day and fireworks on the French island of Corsica. Before the evening ended, religious insults were flung and both men were badly beaten by a large crowd while a larger crowd looked on.
They heard the crowd chanting 'pédés!' pédés! pédés!' as if happy to have driven them out of the village.
One of the men, while he was being kicked and punched, remembered Samuel Luiz, a gay man in Spain beaten to death by a homophobic crowd earlier this month. He feared he would share Samuel's fate.
He almost did.
It all started when a group of youths aged about 15 to 20 spotted the couple dancing in a club with straight family members. The young people jeered and mocked the couple, then one of them approached and showed off a photo of somebody urinating on a rainbow flag. He flashed a Christian cross and said being homosexual is "against nature."
The gay couple, whom the French pro-LGBTQ publication TÊTU identifies only as Benoît and Mickaël, say they remained calm but left the club to take a stroll in the village of Macinaggio. They wanted to get some air and get away from the crowd of hostile youths.
They did not succeed in deescalating.
The original youth who flashed the Christian cross spotted the men in the village and started hurling insults again. Another man grabbed Mickaël's arm and called him a pédé, short for pédéraste, a highly inflammatory French pejorative for gay men.
That's when everything blew up.
A crowd of about twenty descended on Benoît and Mickaël, beating them while a crowd of about 60 looked on. Mickaël told TÊTU that the onlookers acted as if they were grabbing popcorn to enjoy the show.
Mickaël says he took five blows before getting cornered between two cars and set on by 10 men. He told TÊTU blows were raining down so fast he feared for his life. "Heureusement que je n'ai pas perdu connaissance, qui sait ce qui aurait pu se passer… est-ce que je serais encore en vie ?"
My translation: "Fortunately, I didn't lose consciousness, who knows what might have happened, would I still be alive?"
He says he was thinking of murdered Samuel Luiz at that moment, just as police alerted by Benoît's family arrived at the scene. But the crowd wasn't done. From inside an ambulance rushing them to the hospital, the couple say they heard the crowd chanting 'pédés! pédés! pédés!' as if happy to have driven them out of the village.
From reporting released so far, the extent of the men's injuries isn't clear. At least one broken bone is involved, but they don't appear to be in danger of losing their lives. According to franceinfo, local police are investigating the incident and a local prosecutor has opened a formal inquiry.
What does a Christian cross have to do with all this?
This incident, like the earlier mob killing in Spain, isn't getting much press in the English speaking world, though LGBTQ Nation has written it up. And while accounts accurately reflect what the men told TÊTU and spelled out in their own Instagram accounts, reporters seem to be ignoring a large trumpeting elephant.
Nobody is reporting that this story revolves around Roman Catholicism, around Catholic Church teachings and practices that fire up hatred and violence against LGBTQ people.
Most English speakers probably think of France as being very accepting in terms of LGBTQ matters. After all, the French take secularism seriously today, and a look back into history reveals a society that didn't tend to criminalize members of gender and sexual minorities.
That's why Oscar Wilde fled to France after his prison term at hard labor for sodomy in England.
But the story of French homophobia is more complex than that. The State stayed out of sexual matters after the 18th century, relying on the Church to enforce cultural norms. The Church still takes that role seriously when it has the power to discriminate against LGBTQ people.
As the Christian Science Monitor reports, many parts of France today remain culturally conservative, with agencies run by the Catholic Church openly discriminating against LGBTQ people despite nominally supporting secularism — even in regions where the population has largely stopped attending church.
For example, while same-sex couples may legally marry and adopt in France, many "family councils" that must approve adoption petitions are dominated by Catholic clergy and conservative Catholic lay workers who oppose adoption by gay couples and rarely or never approve such adoptions.
While same-sex marriage barely ruffled big French cities like Paris, whose cosmopolitan population took it in stride when it became law 8 years ago, the same cannot be said universally. "Manif pour Tous" (Protest for All) is a largely Roman Catholic, far-right, racist coalition that led anti-marriage protests and continues to stir up controversy over adoption.
They are not shy about flinging homophobic stereotypes and insults. (When they aren't busy stereotyping and reviling immigrants in starkly racist terms.)
Here comes that elephant
Much of France's population has stopped going to church. While many French people still identify culturally as Catholic, most don't practice the religion and fewer still give credence to Catholic teachings that condemn LGBTQ people with vicious language.
Corsica, on the other hand, is exactly the opposite. 92% of the population identify as Catholic, and most of them describe themselves as practicing Catholics. Churches are packed on Sundays and public religious processions are common throughout the year.
This makes Corsica a very dangerous place for out queer people, which Benoît et Mickaël discovered all too well last night.
When that young man flashed a Christian cross and told them homosexuality is "against nature," he was repeating a common Church teaching. Official Catholic teaching describe sex between same-sex couples as "acts of grave depravity." Children learn in Catholic schools that gay people are disordered, a stance they will not back down from despite overwhelming evidence from practically every medical organization in the world that the Church is dead wrong.
Both the depravity and disordered teachings spring from a falsehood the Church spreads that homosexuality and transgender identity go against nature or "annihilate nature."
Crowds often chant that nature nonsense where populations are majority Catholic. From Poland with its anti-gay street mobs and "LGBT Free" zones, to Italy where anti-gay street violence is a serious social problem, to Ghana and other West African nations where Catholic leaders call down hate on gay people and lobby politicians to put us in prison, Catholicism strikes fear into the hearts of queer people.
Even in the United States where we worry more about evangelical Christians and their alliance with Republicans, Catholic Church officials work hard to hurt queer people. Just last fall, the American Conference of Catholic Bishops lobbied Congress to kill a national suicide hotline just because it reaches out specifically to LGBTQ people in crisis.
Last month, the Vatican tried to use treaty powers to stop an Italian hate-crime law that adds queer people to protected categories, even though anti-queer hate crimes are endemic in Italy. Among other things, the Vatican was angry the law does not exempt Catholic schools from participating in a annual event to teach about and work against homophobia and transphobia.
Nobody should be mocked and beaten over Christian teachings
I'm sure nobody would disagree with me that religion should never be an excuse for violence. But you know what? Even as Catholic bishops in Poland tell people violence is unacceptable, they compare LGBTQ advocates to Nazis and Soviet communists, referring to our Pride flag as a "rainbow scourge."
Those Corsican boys last night weren't the first to show off photos of people pissing on rainbow flags. That goes on in Poland all the time, often in crowds headed by Catholic priests and bishops.
A Catholic priest in Chicago burned a rainbow flag a couple years ago to the delight of his congregation. And while his bishop disciplined him over it, that doesn't undo the damage.
That boy last night didn't flash a cross and repeat Catholic teaching by accident. Twenty young men didn't beat the shit out of two gay men by accident. Sixty people didn't look on approvingly by accident.
They were hating on queer people like they learn in church. That has to stop. It has to stop now.
I don't care what your religious affiliation is; if you teach that gay people commit "acts of grave depravity," you are teaching hate that will lead to violence. If you teach we are "disordered," you are teaching hate that will lead to violence. If you teach we "go against nature," you aren't just wrong — you're teaching hate that will lead to violence.
This isn't complicated, it's obvious.
Isn't it time to stop the hate? Isn't it time to stop the violence? I'm not a Christian, but I grew up with stories about Jesus and his followers. I don't recognize Jesus in common Christian hate speech.
I don't know if Benoît and Mickaël are people of faith, but I know they were terrified when they saw that cross flashed at them. If you're a Christian, that should you tear you up inside.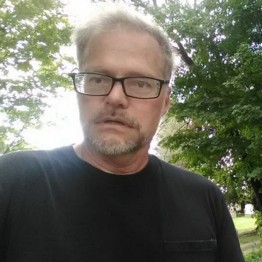 James Finn is a former Air Force intelligence analyst, long-time LGBTQ activist, an alumnus of Queer Nation and Act Up NY, an essayist occasionally published in queer news outlets, and an "agented" novelist. Send questions, comments, and story ideas to [email protected]
The preceding piece originally appeared at Prism & Pen, 'Amplifying LGBTQ voices through the art of storytelling,' and is republished by permission.