November 20, 2019 at 12:40 pm PST | by James Wen
Don't give up! Remain fierce on Transgender Day of Remembrance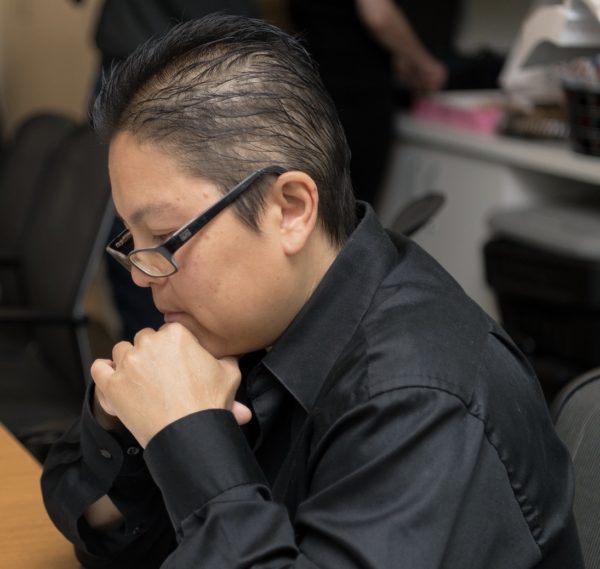 Wednesday, November 20, 2019, marks the 20th observance for International Transgender Day of Remembrance.  This somber ceremony was first organized and founded by transgender community member, Gwendolyn Ann Smith, in 1999 in memory of the November 1998 murder of Rita Hester, a black transwoman living in Alston, MA.  Sadly, in 2019, people are still killing black transwomen and trans/non-binary people of color.  The United States has already added 22 known murders of transgender & non-binary community members, of which 21 are our black trans/non-binary siblings.
Worldwide, there has been 331 reported killings of transgender and gender diverse people over the previous 12 months.  The majority of these murders are occurring in Brazil and Mexico with a combined total approaching 200 deaths, while the United States trails in as a third place country with 22 known murders.  What???  Make no mistake, unlike the celebratory pageants in our community, this third place is a literal dead end for all of our fallen siblings.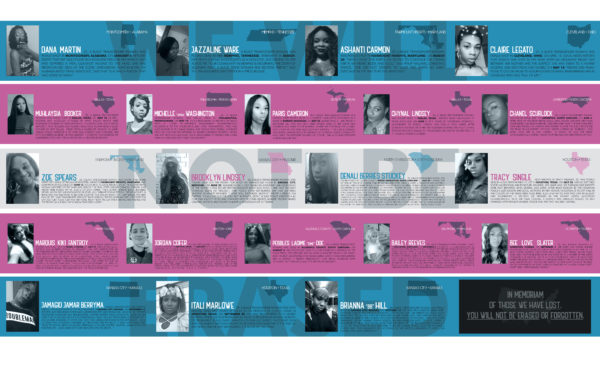 (TDOR banner courtesy LA City Councilmember Mitch O'Farrell's office)
Instead of their vibrant hearts and souls shining light in the world, it is our remaining courageous community  members who thrust brightly lit candles toward the sky at an annual vigil creating one torch.  This human stand for liberty is a metaphor clearly spotlighting  that there is an epidemic in America: black transwomen are killed at a disproportionate rate.
For the past 20 years, specifically transgender women of color, are murdered. The epidemic goes deeper than the gender we identify, and speaks directly to our nation still learning what it means to be a diverse and inclusive country of people.  The days of waiting for change to come to the door are moving behind us, and the act of physically visiting with our neighbor is re-emerging.  While the speed and ease of electronic communication has left an indelible mark on society, the human race is still a social being.
As a community, we are stepping forth into the light shined by the collective human torch when we become visible trans and non-binary people interacting with people who do not know our community.
Our vulnerability and creativity on issues help expand how unmet needs can be met.  On this journey, one repeatedly hears "Don't give up."
That message isn't just for the trans and non-binary individual.  The message for humanity is also:  "Don't give up on each other."  We may not have walked a 1,000 miles in each other's shoes, however, we are all able to work on respectfully listening more deeply to one another's stories of plight, rise in courage, and intersect at our common human needs.  What tops your list?
For me it is love and safety.
I am thankful the caring people in my sphere who listen, help advocate with me, and are curious.
Who is in your sphere?  Do they listen, help advocate, and are respectfully curious about you?
Who has your back and stands with you even when it rains?  Is it a person, is it a group, is it an organization?  Then there are rules, red-tape, disagreements, wieldy legislative processes, and let us not forget the ones who intend harm.  How do we work to have our needs met when that's in the way?
One of my teachers shared with me that the only job that will be left when the world reaches peace will be listening followed by teaching and serving.  Think about it.  How have I learned to overcome obstacles?  I reached out to safe people invested in listening, teaching, and serving or they miraculously came to me.  Some taught me how to be better self-advocate, some helped me pick out my first suit, some taught me how to see objections in a new way, while others simply offered me a ride home, some nosh, and a place to lay my head.  I listen better because I keep company with good listeners and then we create action together or sometimes we intersect as we act on what is meaningful action to achieve an outcome.
Our freedom from violence, and into a harbor of safety must not be compromised nationally and globally.  On this November 20th, let us join together in a commitment to press forward through being actively engaged in good works that create meaningful and lasting transformation.  From engaging civically (i.e. voting, advocating, speaking)  to helping another trans/non-binary community member to be safe, healthy, housed, fed, employed, and cared for – you may never know, that in doing so, you may have saved life!
The City of West Hollywood is observing Transgender Day of Remembrance on Wednesday, November 20, 2019, 6 PM at the Center for Early Education | 563 N. Alfred Street, West Hollywood *Off-site validated parking at West Hollywood Library | 625 N. San Vicente, West Hollywood
**Public transportation and ride share services are recommended.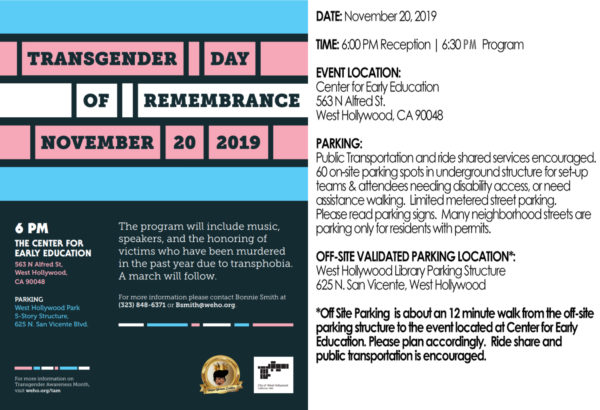 Photo of James Wen, Member of West Hollywood and Los Angeles Transgender Advisor Board, courtesy Wen.