Maria & Jason's wedding: 'I am because you are'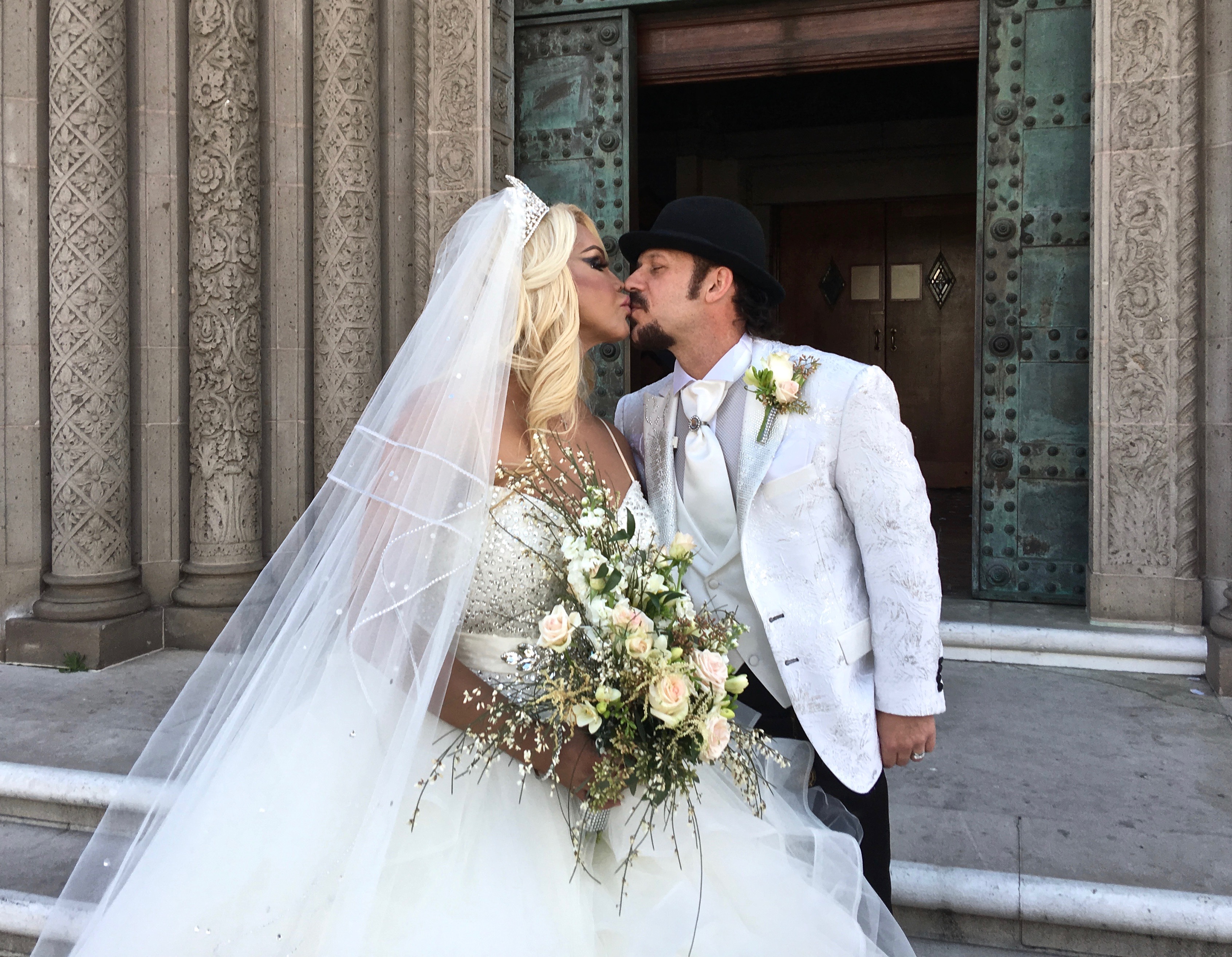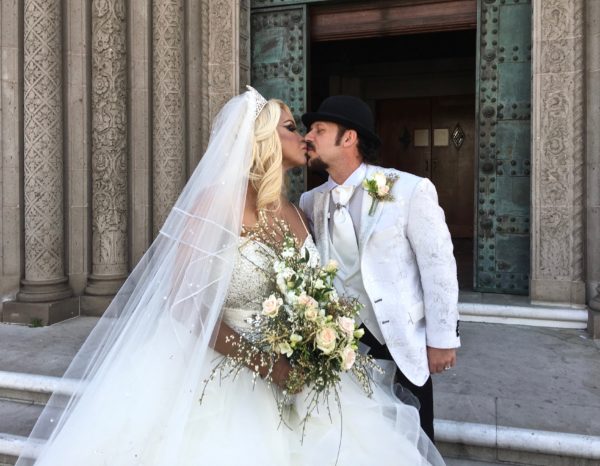 The rain clouds parted, letting the sun shine down on St. John's Cathedral in downtown Los Angeles as if God knew how magnificent this moment was for Maria Roman and Jason Taylorson, and their family, friends and the LGBT community that has appreciated Maria's leadership in the transgender and HIV communities for more than 20 years.
For a few hours on March 23, 160 participants and guests shed their concerns over the constant threat of violence and erasure in Donald Trump's America and turned the spotlight on the uplifting romance of a trans woman and a cis-gender straight man who too often are left out of discussions about marriage equality.
But not Maria and Jason. As Metropolitan Community Church Pastor Alejandro Escoto recounted as he officiated their service, Jason, an artist and musician, lived about a block away from Maria and used to watch her jogging in the neighborhood. They officially met in the summer of 2013. By March 23, 2014, they moved in together.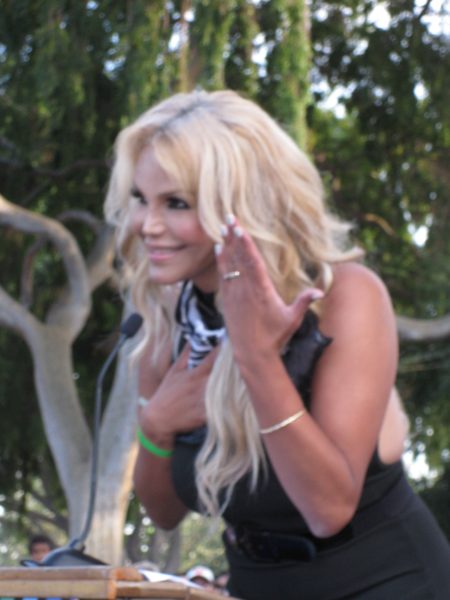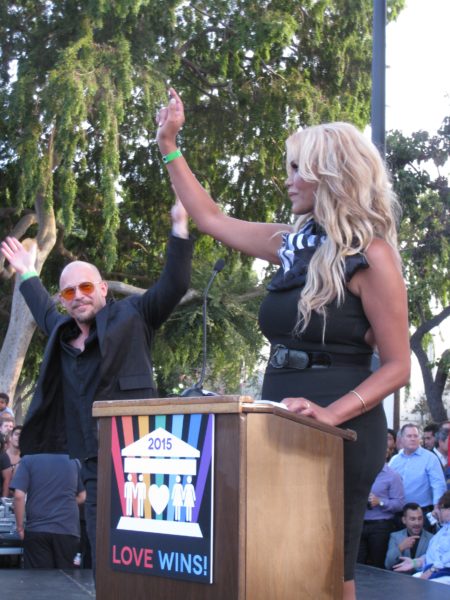 By June 2015, they were engaged, which Maria celebrated with the LGBT community in West Hollywood after the June 26 Supreme Court decision declaring marriage equality. And they were obviously in love no matter where they went or who was watching.
Their love was a cause for celebration not just out of respect for the beloved trans activist but as a symbol that love and romance is possible beyond the internalized shaming myths society imposes.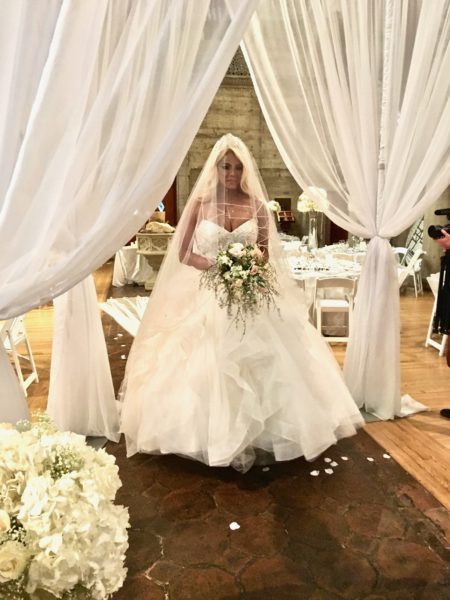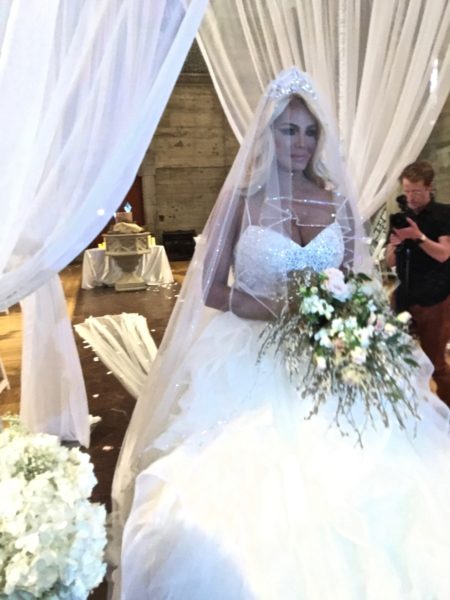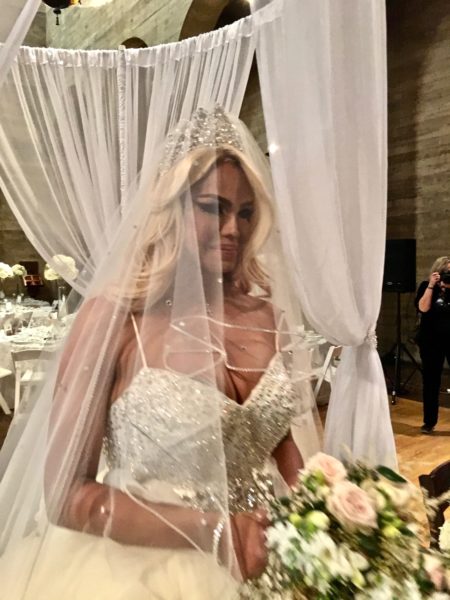 Maria was a resplendent bride.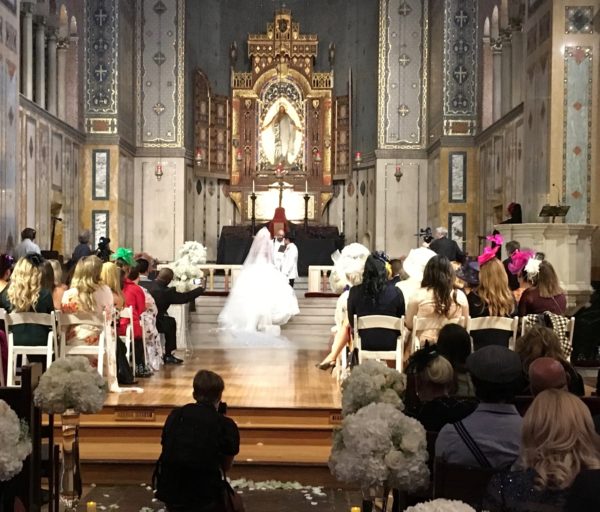 During the elegant ceremony , Pastor Escoto read two biblical passages, and Soneto LXIX, a poem by Pablo Neruda:
Maybe nothingness is to be without your presence,
without you moving, slicing the noon
like a blue flower, without you walking
later through the fog and the cobbles,

without the light you carry in your hand,
golden, which maybe others will not see,
which maybe no one knew was growing
like the red beginnings of a rose.

In short, without your presence: without your coming
suddenly, incitingly, to know my life,
gust of a rosebush, wheat of wind:

since then I am because you are,
since then you are, I am, we are,
and through love I will be, you will be, we'll be.

(Tal vez no ser es ser sin que tú seas,
sin que vayas cortando el mediodía
como una flor azul, sin que camines
más tarde por la niebla y los ladrillos,

sin esa luz que llevas en la mano
que tal vez otros no verán dorada,
que tal vez nadie supo que crecía
como el origen rojo de la rosa,

sin que seas, en fin, sin que vinieras
brusca, incitante, a conocer mi vida,
ráfaga de rosal, trigo del viento,

y desde entonces soy porque tú eres,
y desde entonces eres, soy y somos,
y por amor seré, serás, seremos.)
Escoto shared the couple's story how Maria came to realize that "Jason doesn't judge her – and she realized that in her good and not so good moments, Jason was there. It didn't take long for Maria to know that he was a keeper."
She also saw how he cared for his blind old dog and realized he would take good care of her, too. "And Jason knew that behind the beauty was a woman who not only cared for him but also cares for the community."
Escoto also dispensed some marital advice about accepting each other's faults.
"Perfection is a fault all its own. Loving one another without highlighting one another's faults is love in action," he said. "Forgiving comes about because we learn from each other's mistakes. Maria and Jason, love is sharing."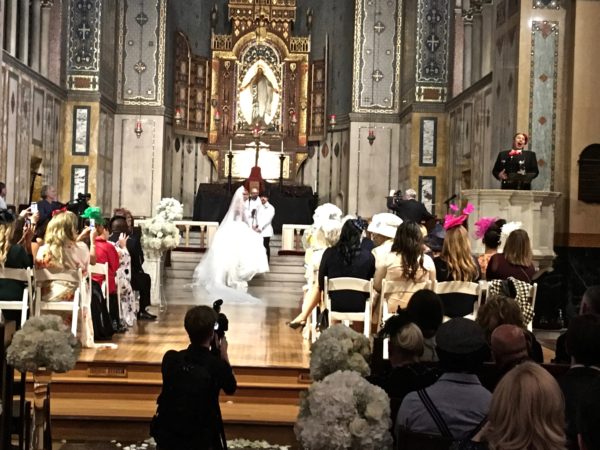 A wonderful singer wrapped everyone's feelings in a musical bow.
Escoto asked Jason and Maria to look into each other's eyes as they recited their vows, to "look at the window of the soul of your beloved" and each take the other "just as you are. I shall love and respect you for who you are. I shall trust you and respect your integrity. My faith in you is a result of my abiding love for you. I shall love you through all our years and in all that life may bring."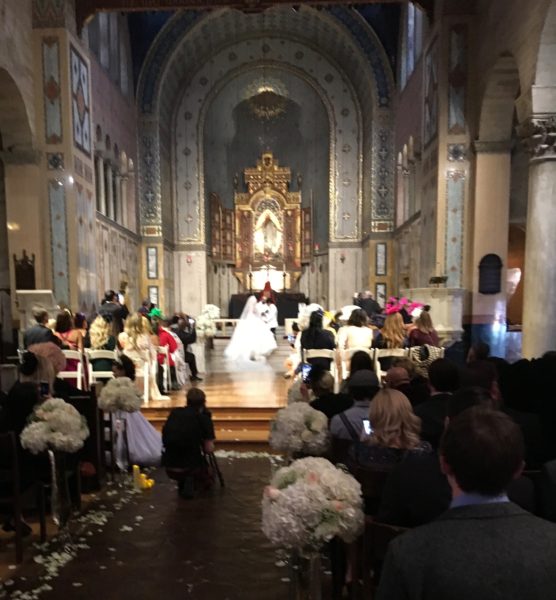 And then:
"You have declared before all of us that you will live together in marriage. You have made special promises to each other. You have symbolized it by the holding of hands, the taking of vows and the exchanging of rings.

You have declared before all of us that you will live together in marriage. You have made special promises to each other and in doing so, as an ordained clergy for the Metropolitan Community Church, by the authority vested in me by the State of California and the United States government, I now pronounce you legally united in marriage. May no one separate what God has united. (Applause)"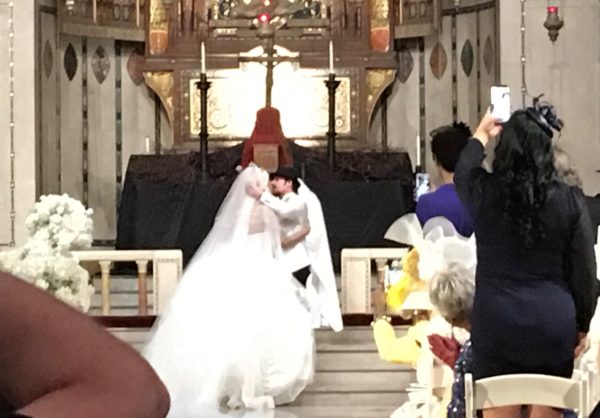 But after the kiss and before the couple turned to their family and friends for the full recognition of their love, Escoto bestowed upon them an Apache blessing:
"Now you will feel no rain, for each of you will be the shelter for each other. Now you will feel no cold for each of you will be the warmth for the other. Now you are two persons but there is only one life before you. You will go now to your dwelling to enter into your days of your life together. May your days be good and long upon the earth. Blessings to both of you today and ever more."
Therefore, on behalf of the community, I introduce the newly weds—Jason Taylorson and Maria Roman-Taylorson."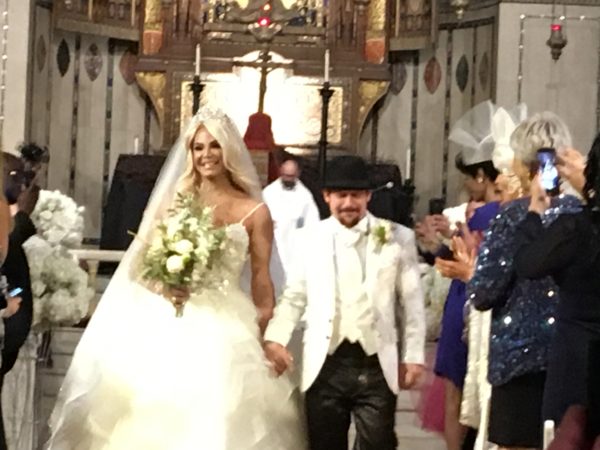 They became the first trans/cis couple to get married at the historic St John's Cathedral in its over 100-year history.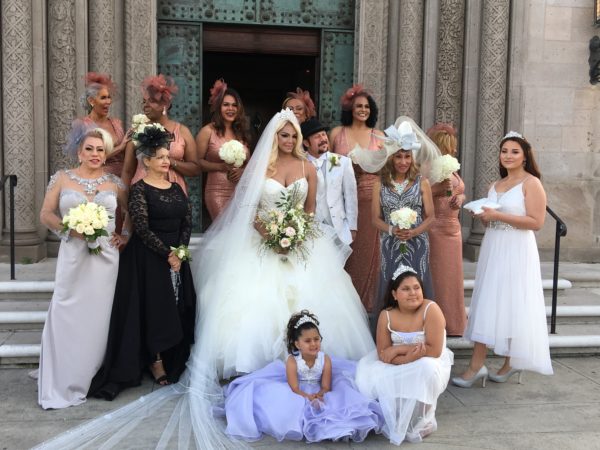 Their story is being developed as a documentary entitled "TransTale," which will also feature comments from Maria's beautiful biological mother and her bridal entourage—her community mother, Karina Samala; her best friend and Maid Of Honor, longtime activist and [email protected] Coalition founder Bamby Salcedo; and Maria's 16 year old trans flower girl, Zoe Luna, who was featured in HBO's "Quinceanera."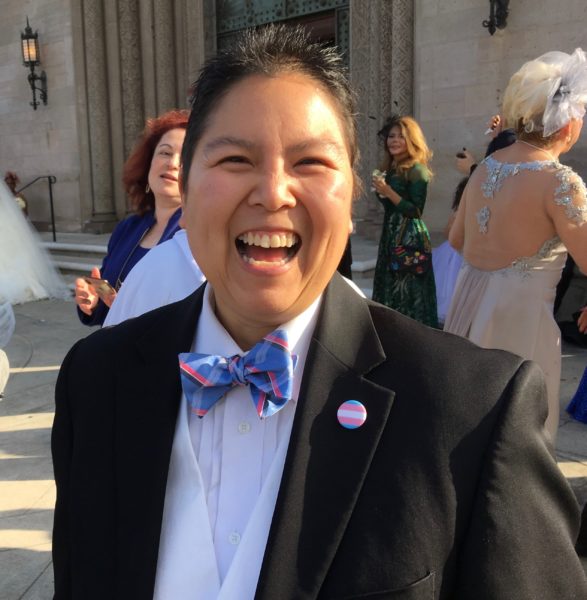 Among the quests were James Wen, who serves on the West Hollywood Transgender Advisory Board with Karina Samala,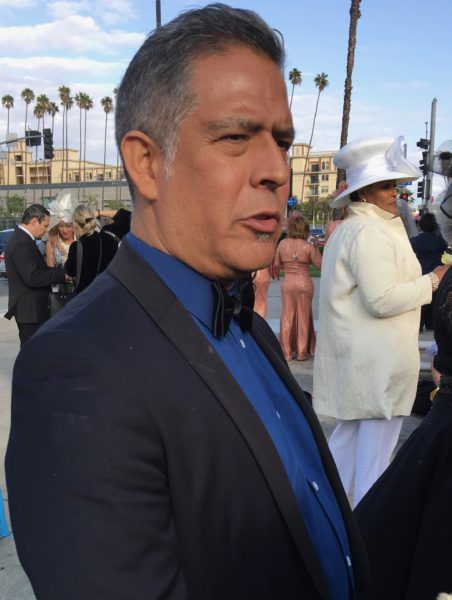 and documentary filmmaker Dante Alencastre
Amita Swadhin and her boyfriend, trans boxer Patricio "Cacahuate" Manuel, who says he may have a fight coming up, as well as Manuel's manager Rodney Scott and longtime LGBT aide to several California Assembly Speakers, Liliana Perez.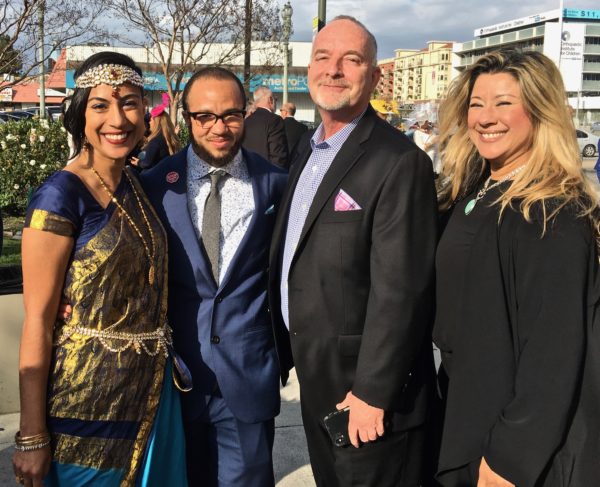 Here are some photos from the wedding: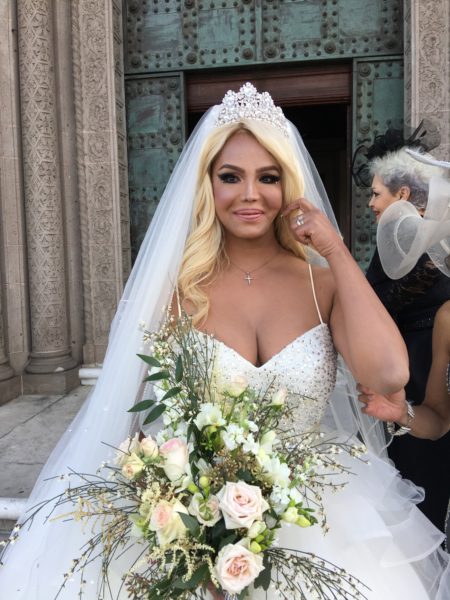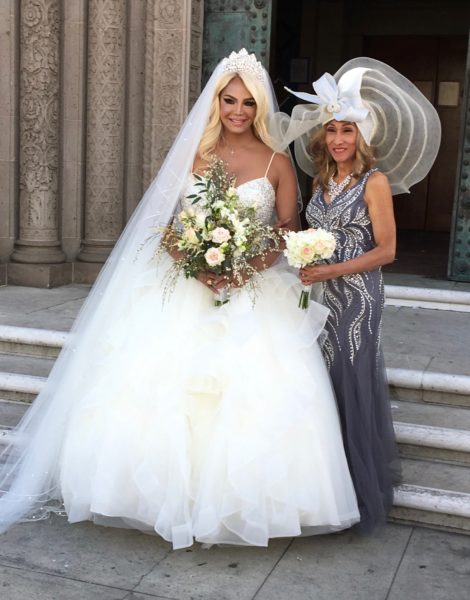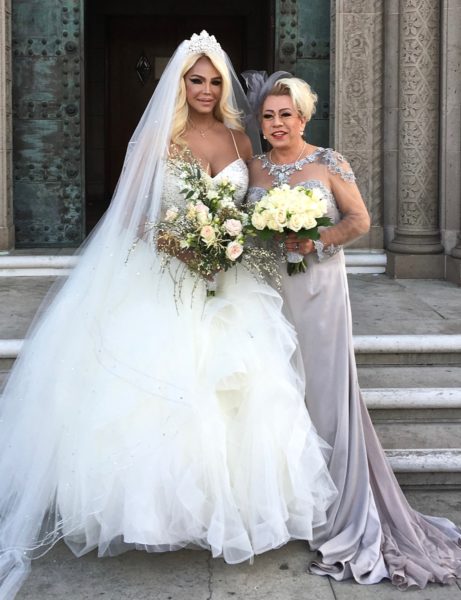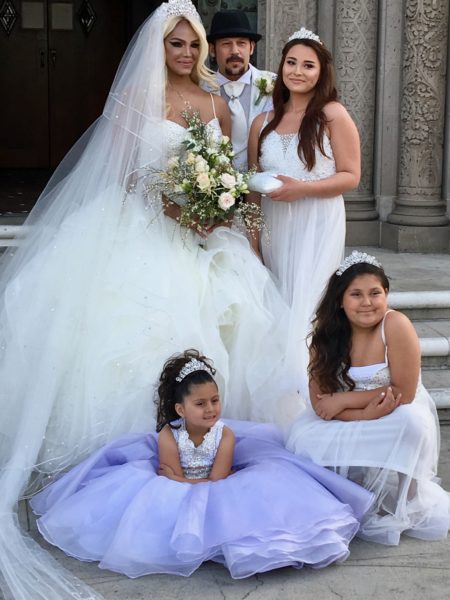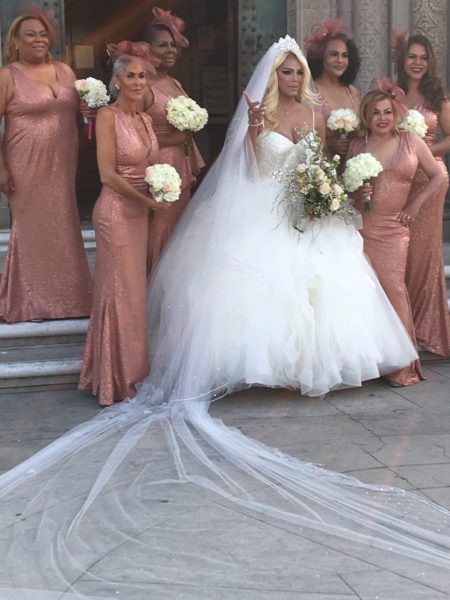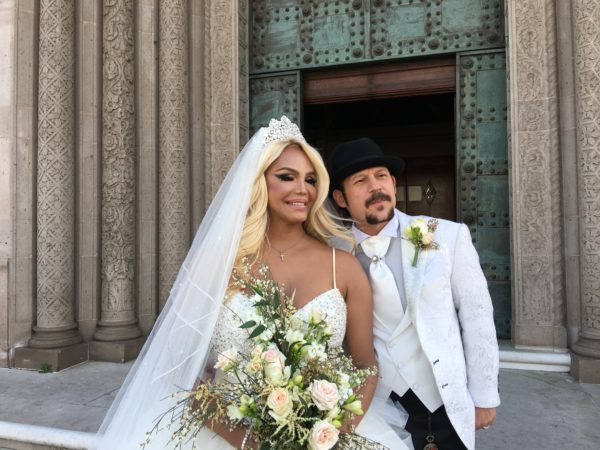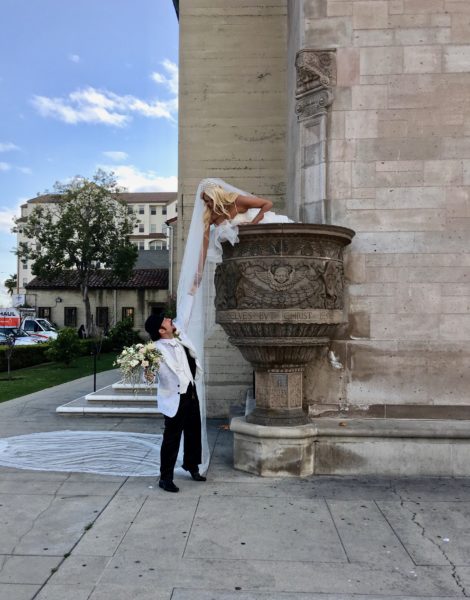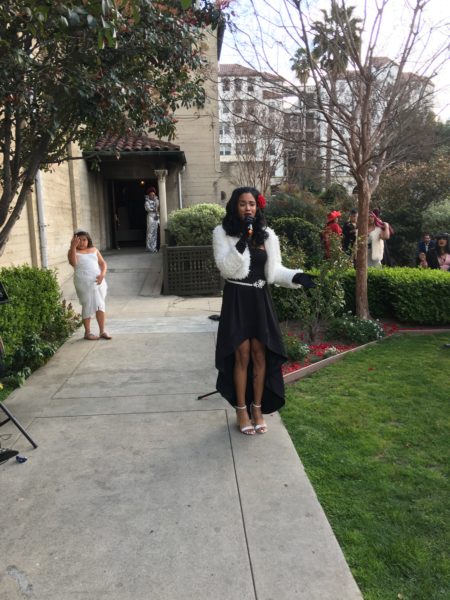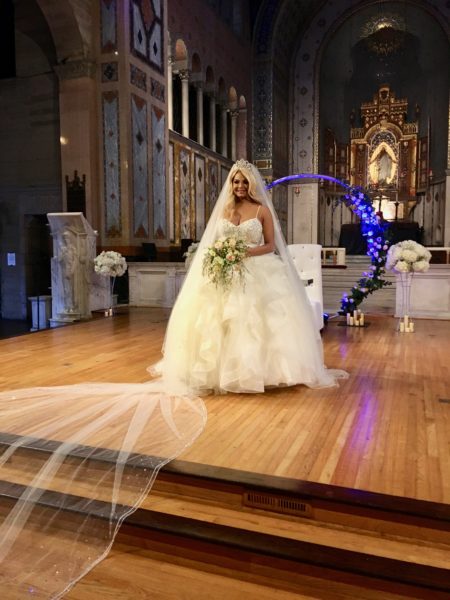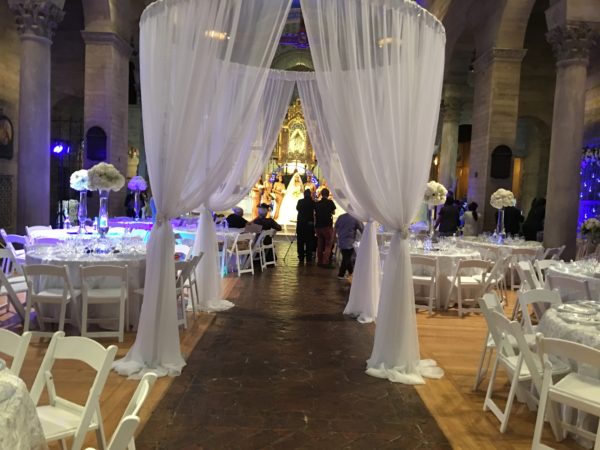 LAPD: Body found on fire hanging in tree in Griffith Park likely a suicide
The person's age, identity and gender have not yet been determined, but they are believed to be a person who frequents the park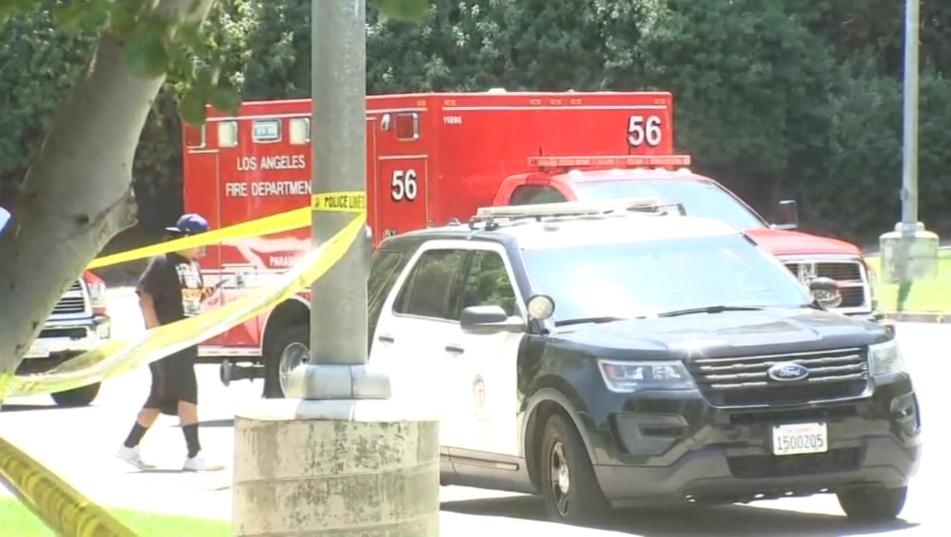 LOS ANGELES – The body of an unidentified person deceased found hanging from a tree near the Griffith Park's merry go round was likely a suicide a detective with the Los Angeles Police Department said Tuesday.
The body was discovered at around 12:30 p.m. on fire and hanging from a tree. Los Angeles City firefighters put the flames out and LAPD detectives investigated and found no signs of foul play, determining that most likely the cause of death was suicide.
"It appears to be self-immolation," said LAPD detective Michael Ventura. "This is going to be somebody who brought some gasoline, brought some lighters. We have had, they are rare, but we do have cases where people will self-immolate. Or they choose to set themselves on fire."
The person's age, identity and gender have not yet been determined, but they are believed to be a person who frequents the park on a regular basis Ventura said.
Independent freelance journalist Vishal P. Singh, who was on scene tweeted about the incident:
Firefighters from @LAFD are carefully removing things from the tree in Griffith Park. @LAPDHQ and the Park Rangers are here, too, investigating the body found hanging from a tree and on fire here. pic.twitter.com/5xBxviZRki

— Vishal P. Singh (they/he) 🏳️‍⚧️ (@VPS_Reports) August 9, 2022
KABC reported:
Editor's note: If you or someone you know is struggling with suicidal thoughts or mental health matters, please call the National Suicide Prevention Lifeline at 800-273-8255 or dial 988
LAPD respond after protestors disrupt LA City Council vote on homeless
All of City Council left except for Councilmembers Raman, Harris-Dawson, & Bonin who have previously voted against the expansion of 41.18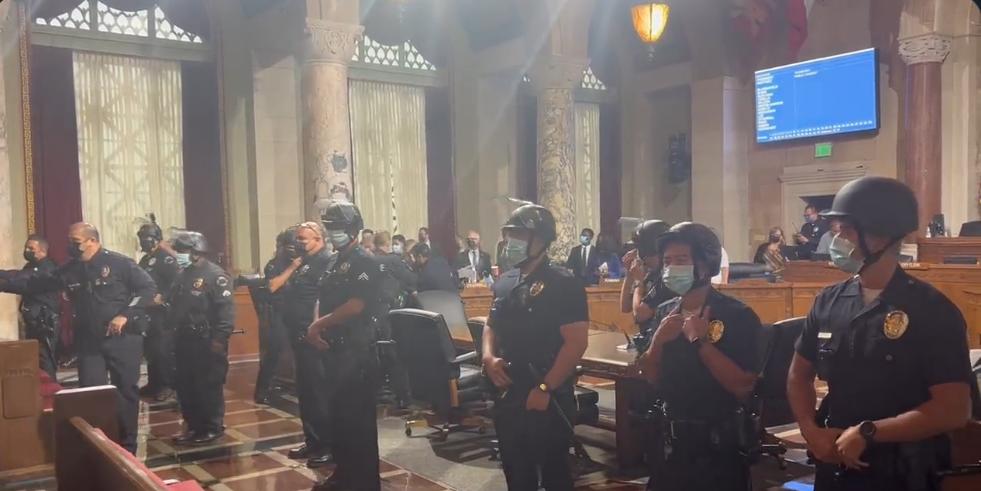 LOS ANGELES – After protestors angrily voiced opposition and one charged towards the council dais disrupting the LA City Council's impending vote Tuesday on a mass expansion of 41.18 zones, which will prohibit encampments of unhoused persons near schools and daycare centers, the Los Angeles Police Department's Riot Squad was called-in.
The meeting erupted into chaos after a member of the public who was speaking climbed over a bench and charged toward Council President Nury Martinez. Police quickly filled the council floor to apprehend the person and another member of the public. Activists screamed at police, and at least one audience member attempted to spray water on officers.
Martinez abruptly recessed the meeting as dozens of activists in the room chanted "Abolish 41.18!" – a reference to the city law prohibiting homeless encampments at libraries, freeway overpasses and other locations.
Jonny Peltz, a freelance reporter for Knock LA, a nonprofit community journalism project, live tweeted the proceedings.
Before meeting starts there are chants of "Shame on you!" pic.twitter.com/7HdnvdOQgD

— Jon peltz (@JonnyPeltz) August 9, 2022
Crowd holding up mostly 'abolish 41.18' signs. Council President told the crowd to "grow up" as they were jeering pic.twitter.com/28dVNpZF4j

— Jon peltz (@JonnyPeltz) August 9, 2022
BREAKING: Riot squad now out at City Hall. Two protesters have been arrested pic.twitter.com/gX9utGVHLj

— Jon peltz (@JonnyPeltz) August 9, 2022
Crowd is staying and chanting. All of City Council left except for Councilmembers Raman, Harris-Dawson, and Bonin (who have previously voted against the expansion of 41.18). LAPD also lining the side of City Council chambers pic.twitter.com/Whmvd9P2xf

— Jon peltz (@JonnyPeltz) August 9, 2022
KTLA reported the Council voted to ban homeless encampments within 500 feet of city schools and day care centers after protesters again rallied against the expanded motion.
The final vote on the motion 11-3 in favor of the widespread ban.
Before the updated motion passed, camps were banned within 500 feet of facilities deemed sensitive, such as schools, day care facilities, parks and libraries but only if those areas have been designated for enforcement.
Tuesday's vote means a blanket ban on encampments within 500 feet of every private school and day care centers in the city.
LAPD increases patrol force by 200 in Hollywood to combat rising crime
"If you come here to commit crime, you will be arrested, you will be prosecuted, you will be jailed or imprisoned," said O'Farrell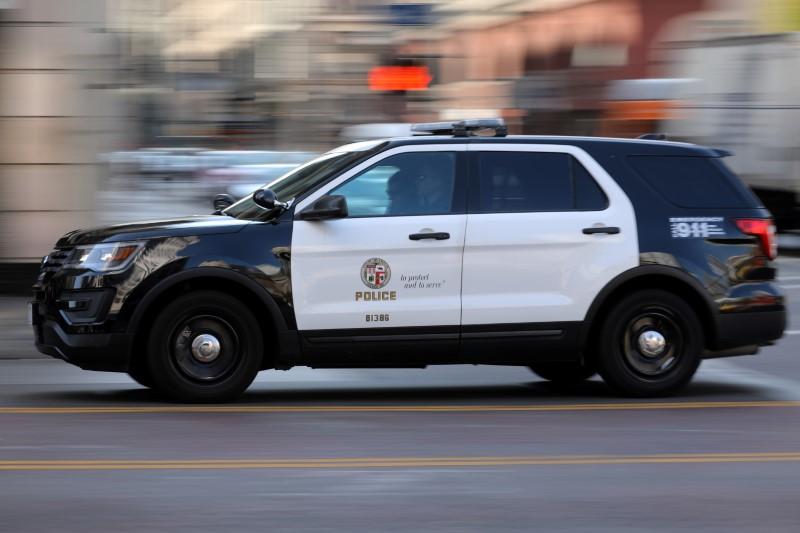 HOLLYWOOD – The Los Angeles Police Department has been deploying additional resources over the past seven months as the neighborhoods around Hollywood have experienced sharp increases in petty thefts, robberies, shootings and homicides.
On Wednesday, Out Los Angeles City Councilmember Mitch O'Farrell hosted an event to spotlight more aggressive actions being taken by the LAPD and other city officials to stem the uptick in crime in the heart of the City's entertainment district.
"If you plan to come to Hollywood to commit crime, you are not welcome," said Councilmember O'Farrell. "All Angelenos should feel safe where they live and work. By bringing additional LAPD shifts to Hollywood, we are strengthening the holistic approach my office is taking to public safety – one that brings unarmed services to people in distress, while ensuring our LAPD officers have the necessary tools to effectively prevent and address crime."
"If you come here to commit crime, you will be arrested, you will be prosecuted, you will be jailed or imprisoned," said O'Farrell adding; "There is no permissiveness in Hollywood. We're not going to permit or tolerate that."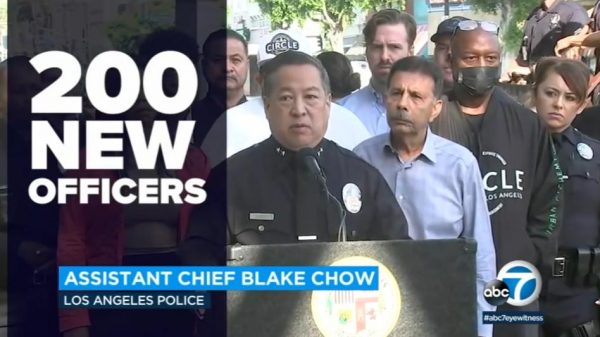 "That's really basically about 200 more officers out on the street here on Hollywood Boulevard. "They're going to be on foot, they're going to be in patrol cars, they're going to be on horseback, they're going to be on bikes," LAPD Deputy Chief Blake Chow told attendees and reporters attending the event.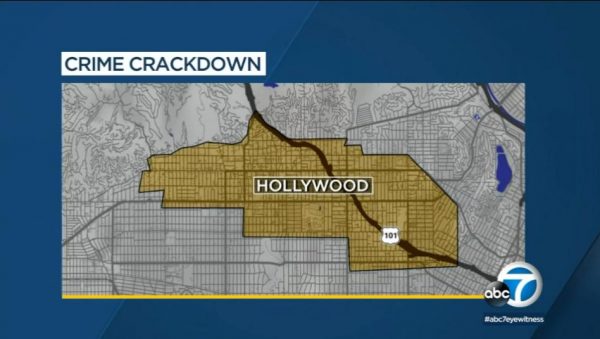 Year to date, Hollywood has seen a 75% increase in homicides and 35.6% increase in shots fired, while robbery and theft have risen by 19.4% and 24.7% respectively, compared to 2021. This latest effort to enhance public safety follows Councilmember O'Farrell's groundbreaking work to bring the CIRCLE program, the City's first unarmed model of crisis response, to Hollywood, in addition to supporting a City budget that accounts for attrition rates within LAPD's ranks.
"People need to feel safe when they're in Hollywood," said Deputy Chief Chow. "We're thankful to Councilmember O'Farrell for these additional resources and look forward to quickly putting them to use to prevent, deter and address crime."
"Public safety requires robust collaboration and an all-hands-on-deck approach," said James Hegler, Director of Operations for the CIRCLE Program. "We're proud of our successful working relationship with Councilmember O'Farrell and LAPD, which helps us bring unarmed services to Angelenos in need so that LAPD can focus their resources on actual crime."
"Public safety is an essential part of a thriving local economy," said Kathleen Rawson, President and Chief Executive Officer of the Hollywood Partnership. "As Hollywood emerges from the pandemic, having officers on the street and available to respond to calls is necessary for our businesses to safely keep their doors open and welcome visitors back to this iconic boulevard."
In addition to deployment of added LAPD resources, O'Farrell on Wednesday introduced a motion that, when approved by the City Council, would strengthen LAPD's presence in Hollywood with additional officer shifts.
The $216,000 effort would be funded directly by O'Farrell's office as part of his comprehensive approach to public safety in Hollywood a spokesperson said in a statement.