Transmen honored by City of Los Angeles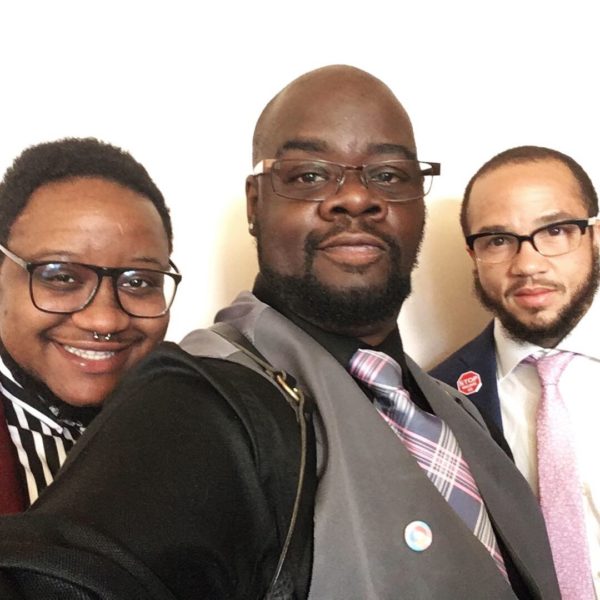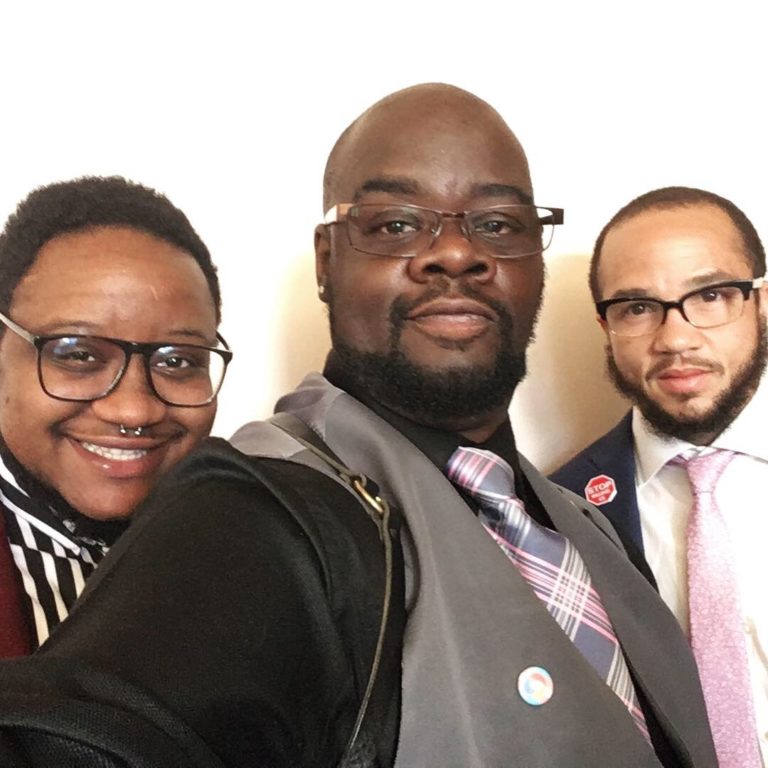 The International Transgender Day of Visibility was launched on March 31, 2009 to celebrate the vibrant lives of transgender people, too often framed only in terms of tragedy and death in the news and during the Transgender Day of Remembrance. Ten years later, Los Angeles City Councilmembers Mitch O'Farrell and David E. Ryu, in conjunction with the city's Transgender Advisory Council, decided to specifically honor transmen, who are too often rendered invisible.
Jaden Fields, Rizi Timane and Patricio "Cacahuate" Manuel  enjoyed a breakfast reception with O'Farrell before the City Hall ceremony, followed by official photos after the presentation.
"March 31st is the Transgender Day of Visibility, an international event that serves to celebrate the accomplishments and victories of transgender and gender non-conforming people while recognizing the work that is still needed to save trans lives," O'Farrell said.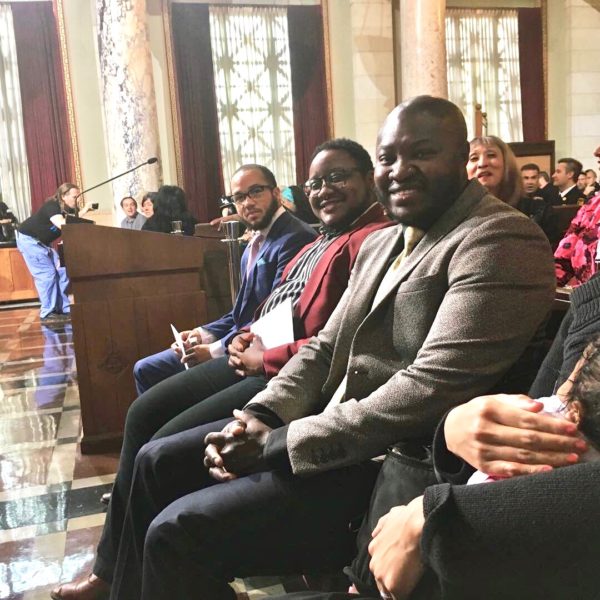 Ryu introduced Jaden Fields, a black trans community activist, health educator, and poet who co-founded Toolbox, a trans masculine support group.  
 "If someone had told me as a child here in Los Angeles, that at 28, I would be standing here in City Hall being recognized as a black transman doing work for my community.  I would not have believed them; I would not have believed that little black child could be here.  We're often not seen in the larger fight for trans rights," Fields said.
Rizi Timane, a Nigerian singer, actor, licensed therapist author of Unspoken Compromise, founded Happy Transgender Center to provide support for transgender individuals and their families during the transition process:  
 "Growing up in Northern Nigeria, experiencing severe poverty, and also experiencing gender dysphoria," Timane said. "It has been a journey through all of the bullying and through all of the addictions.  I think by sharing our stories, we warm hearts toward the transgender community."  Timane's wife of 13 years, and his newborn baby were also at the ceremony.
Los Angeles has already become familiar with native Angelino Patricio Manuel, who is of Mexican, Irish, and African descent.  He made history as the first U.S. Boxer to fight as a woman, and later as a man:
"I really look forward to a day when we as transpeople don't have to fight so hard to make our dreams a reality," Manuel said, "but until that day comes I say, 'Put 'em up!'"
"Jaden, Rizi, and Pat are an integral part of our courageous community.  By being visible black transmen, they are re-shaping cultural and gender narratives," James Wen, a member of the West Hollywood Transgender Advisory Board, told the Los Angeles Blade.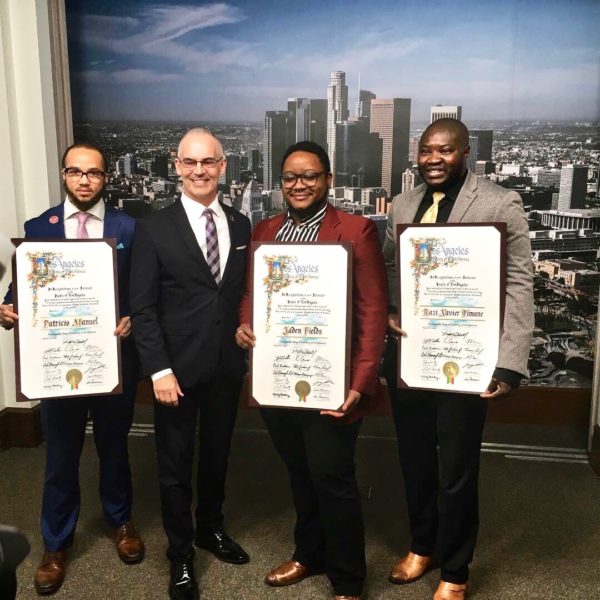 "Everyday, and especially today, I am very proud to call these men my friends. As a black transman, member of the TAC (LA Transgender Advisory Council) and the founder of Invisible Men, I know how often our lives, stories and accomplishments are overlooked and under represented. I'm so excited to see this kind of visibility and empowerment for these men. This is well deserved for the work they do in our community!,"  Luckie Alexander, Founder of Invisible Men, told the Los Angeles Blade. "We began this as a online platform for trans men to have the ability to tell their own narratives instead being handed who they were according to the world."
Alexander, Chair of TAC's Employment Committee, said March 31 marks the first anniversary of Invisible Men, which created a short documentary telling the stories of 12 Trans masculine and Non Binary individuals called the 'Legacys' and is now expanding "to identify or create resources lacking for this demographic."
Invisible Men will hold a celebration and fundraising event at The Abbey in West Hollywood on April 18.
Here's the video of the celebration of Transmen at LA City Hall:
BNT: Buck case highlights intersection of race & sexual orientation
Journalist Jasmyne Cannick, said that the case "intersected race." She joins "Black News Tonight" to discuss the case and its impact.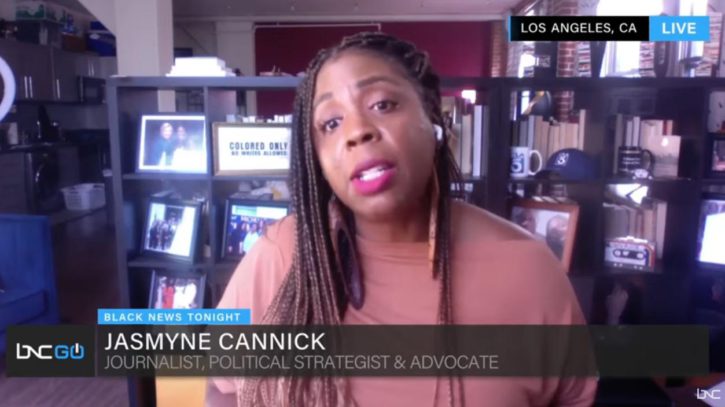 PHILADELPHIA – Appearing on BNC's Black News Tonight anchored by journalist Marc Lamont Hill Wednesday, Los Angeles based political strategist and journalist Jasmyne Cannick, who has covered the Ed Buck case, told Hill that the case intersected race and sexual orientation.
"As much as this case is about Ed Buck, it's also about our housing crisis, and what it makes people feel they have to do — play Russian roulette with their lives just to have a roof over their heads," Cannick stressed.
LA City Council votes to prevent sidewalk camping, Garcetti says he'll sign
The homeless crisis in California and in the greater Los Angeles region in particular has been exacerbated by the coronavirus pandemic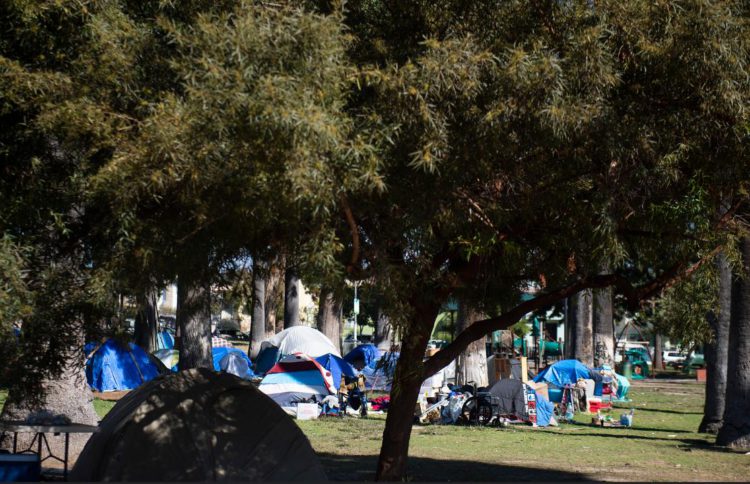 LOS ANGELES – In a 13-2 vote Wednesday, the Los Angeles City Council voted to stop people from camping in public spaces including the areas around parks, schools, homeless shelters, bridges and overpasses, and other similar structures, as well as any encampment that would block sidewalks in violation of the Americans with Disabilities Act.
A spokesperson for Los Angeles Mayor Eric Garcetti said that he will sign the ordinance.  Once signed, the measure will go into effect 30 days later. The ordinance bans encampments on sidewalks and driveways, freeway overpasses and on-ramps, and near libraries, parks, schools and homeless shelters.
It specifically bans homeless encampments from within 500 feet of schools, day care facilities, parks and libraries. Under the ordinance people who don't move would be fined, not arrested, and only after they are given two-weeks notice and offered shelter.
The homeless crisis in California and in the greater Los Angeles region in particular has been exacerbated by the coronavirus pandemic which saw thousands losing their jobs and some being evicted although moratoriums implemented by state and local officials have greatly reduced the evictions numbers.
Opponents of this ordinance are decrying it as another effort to criminalise the homeless population. Councilman Paul Krekorian who represents Council District 2, North Hollywood, Studio City, Sun Valley, Valley Glen, Valley Village, and Van Nuys, takes issue with that characterization saying;
"This ordinance, first of all, does not make homelessness illegal. It does not criminalize homelessness. It does not make any conduct that is fundamental to being human illegal. What it does do is it guarantees that we will reestablish passable sidewalks. It protects the users of our public infrastructure and the unhoused residents of our city from being put into positions of interaction with automobiles, around loading docks, driveways and so forth. It guarantees access to our fire hydrants, entrances to buildings."
Homeless and civil rights activist Eddie Cruz told KTLA, "this ordinance is targeting a specific group of people in the unhoused community. We believe that this is an irresponsible attack from the City Council and an irresponsible way to deal with the homelessness crisis that is occurring in Los Angeles," Cruz said.
Councilman Mitch O'Farrell, whose Council District encompasses Echo Park, scene of a series of confrontations over the homeless encampment that ultimately was cleared in part with the Los Angeles Police Department assisting, said in a statement that the ordinance "helps regulate shared public spaces while acting with compassion and purpose to help put people experiencing homelessness on a path to wellness."
"This ordinance establishes fair and clearly defined rules for how sidewalks in Los Angeles are regulated — while linking those rules to a comprehensive, compassionate strategy for street engagement that will establish reasonable pathways to positive outcomes and, ultimately, permanent homes," O'Farrell said.
L.A. City Council approves measure to bar homeless encampments:
Battle lines drawn over proof of vax as Delta variant explodes
"A community has the right to protect itself against an epidemic of disease which threatens the safety of its members"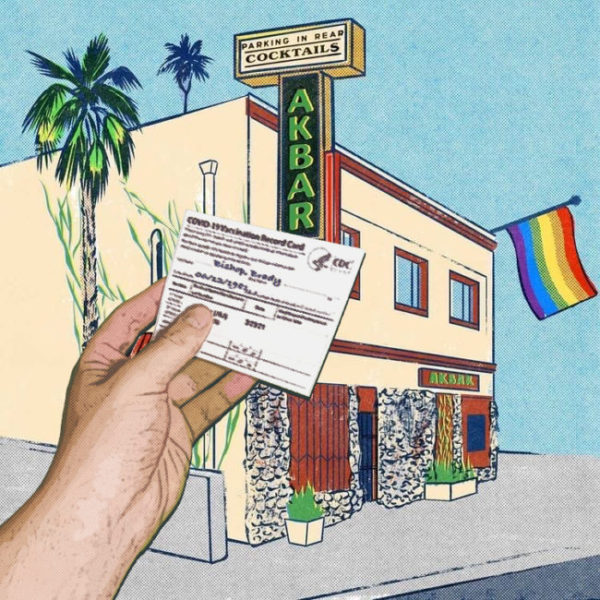 SILVER LAKE- For the owners of the Akbar on the edge of Hollywood self-described as a neighborhood oasis cocktail bar and nightclub, the reality of the affect of the highly contagious and rapidly transmitted Delta variant of coronavirus forced them to require proof of vaccination against COVID.
Last week the bar notified its customers on social media and at the door that proof of vaccination and a mask are now required to gain entry into Akbar. The notification helpfully added the message that "CA.gov has launched a way of downloading your vaccination record so you have a digital copy of it on your phone – https://myvaccinerecord.cdph.ca.gov/ -"
The bar also noted; "We will also accept your vaccination card (photo of it is acceptable) and valid ID together. We value our community health and feel we all must accept the responsibility to keep each other safe while socializing. Thank you for understanding."
Thirty-nine miles and 43 odd minutes away in Huntington Beach in Orange County, the owner of Basilico's Pasta e Vino posted flyers outside his business and on social media requiring proof that customers are not vaccinated.
The flyers read: "Notice: Proof of being unvaccinated required. We have zero tolerance for treasonous, anti-American stupidity. Thank you for pondering."
KABC 7 reported, "Many people are bothered, according to reviews on Yelp. Dozens left low ratings for Basilico's with comments like one that read: "What a slap in the face to all those who died from COVID-19." The increased public attention led to Yelp temporarily disabling posting on the page."
After the Los Angeles Times ran a piece on the restaurant, the owners responded on their Facebook page:
'LOS ANGELES TIMES' PRINTS AN ARTICLE ABOUT US, AND AGAIN HERE COME THE HATERS, AND WITH IT, THE HARASSING NON-STOP PHONE CALLS, THREATS AND HUNDREDS OF ONE STAR REVIEWS. AND GUESS WHAT? WE AT 'BASILICO'S PASTA E VINO' WEAR IT ALL AS A BADGE OF HONOR!ATTENTION: TINY TYRANTS, WANNABE LITTLE DICTATORS, PRO-LOCKDOWN / PRO-MASK / PRO-MANDATORY VACCINE MINI GESTAPO AMERICAN TRAITORS AND SNITCHES, AND YES ESPECIALLY 'GAVIN PELOSI' AND 'STRONZO FAUCI' … WE FEEL BLESSED TO GO INTO BATTLE AGAINST ALL OF YOU IN DEFENSE OF AMERICAN LIBERTY AND FREEDOM, SO BRING IT ON! SEE THE ARTICLE HERE:https://www.latimes.com/…/huntington-beach-restaurant…
In the past two weeks as the number of cases exploded, Los Angeles County issued a first in the nation indoor mask order for residents in an attempt to contain what one health official described as drinking from a fire house as the numbers of cases rose by nearly 2,000 per day at one point crossing over to nearly 3,000.
The Centers for Disease Control and Prevention, citing increasing concern around the fast-spreading and highly contagious delta variant on Tuesday, reversed its earlier mask guidance to specifically target areas of the country with the highest levels of the coronavirus and recommended that everyone in those areas, vaccinated or not, wear a mask as the delta variant continues to spread rapidly across the U.S.
However, city and state officials realized that the co-mingling of vaccinated and non-vaccinated Californians was the primary driving factor especially the 20% of the state's residents who have yet to take the vaccination or have refused.
On Monday, Governor Gavin Newsom announced California is implementing a first-in-the-nation standard to require all state workers and workers in health care and high-risk congregate settings to either show proof of full vaccination or be tested at least once per week.
"We are now dealing with a pandemic of the unvaccinated, and it's going to take renewed efforts to protect Californians from the dangerous Delta variant," said Newsom. "As the state's largest employer, we are leading by example and requiring all state and health care workers to show proof of vaccination or be tested regularly, and we are encouraging local governments and businesses to do the same."
The new policy for state workers will take effect August 2 and testing will be phased in over the next few weeks. The new policy for health care workers and congregate facilities will take effect on August 9, and health care facilities will have until August 23 to come into full compliance.
Appearing on MSNBC and CNN, Newsom claimed that individuals who refused to take the vaccine posed a risk to the public similar to drunk driving.
"It's like drunk drivers, you don't have the right to go out and drink and drive and put everybody else at risk including your own life," the governor said.
Newsom also denounced high-profile conservatives, including Fox News host Tucker Carlson. In a harsh exchange on Twitter, Newsom aggressively put down an attack by Georgia Rep. Marjorie Taylor Greene (R) a noted QAnon and conspiracy afficando:
Disgraceful? Here's a word — murderous.

Your anti-vaccine lies are literally killing Americans. Your own supporters are following you off a cliff and into the ICU.

Come clean about vaccines — they save lives. https://t.co/pJjlzJ3TVJ

— Gavin Newsom (@GavinNewsom) July 26, 2021
One day after state officials announced that state and healthcare employees will soon be required to show proof that they've been vaccinated or must undergo regular testing for COVID-19, the City of Los Angeles will require city employees to provide proof of vaccination against COVID-19 or undergo weekly testing for the virus.
As more bars, nightclubs, and restaurants are poised to require proof of vaccination for entry, the question has been posed as to whether that is in fact legal. According to Michele Goodwin, a professor of law at UC Irvine and director of the Center for Biotechnology and Global Health Policy, in a May 25 2021 interview with CapRadio's Sasha Hupka, also a contributor to PolitiFact California, a business has the right to refuse entry.
"If a person refuses to disclose their vaccination status, a business cannot search their pockets or vehicle for proof they are vaccinated. However, it can ask for the information to be voluntarily disclosed. If it isn't, a business has the right to refuse entry," Goodwin said adding; "Businesses can establish standards for entry that do not violate statutory or constitutional provisions in a state or federal law."
"In fact, even government entities like schools and the Army have historically been able to require vaccinations based on legal precedent set by Jacobson v. Massachusetts in 1905. The case upheld the power of states and other government entities to enforce compulsory vaccinations in the interest of public health," Hupka reported noting;
"A community has the right to protect itself against an epidemic of disease which threatens the safety of its members," Justice John Marshall Harlan wrote in the majority opinion in the case.