November 20, 2019 at 11:52 am PST | by Karen Ocamb
Trans flag flies over California Capitol; Pelosi, Newsom, LGBTQ Caucus and Equality California statements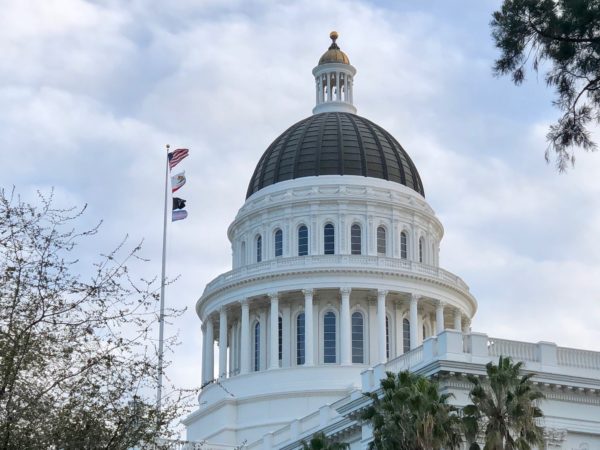 Remember their names. Dana Martin, Jazzaline Ware, Ashanti Carmon, Claire Legato, Muhlaysia Booker, Michelle Washington, Paris Cameron, Chynal Lindsey, Chanel Scurlock, Zoe Spears, Brooklyn Lindsey, Denali Stuckey, Tracy Single, Bubba Walker, Kiki Fantroy, Jordan Cofer, Pebbles LaDime Doe, Bailey Reeves, Bee Love Slater, Jamagio Jamar Berryman, Itali Marlowe. Briana Hill.
Gov. Gavin Newsom ordered the Transgender Pride Flag be flown above the California State Capitol on Nov. 20 in honor of Transgender Day of Remembrance. So far this year, 22 transgender people are known to have been killed in America, most Black trans women.
"By flying the Transgender Flag above the Capitol, we solemnly remember our fellow Californians who lost their lives to anti-trans violence and all who loved them," Newsom said in a statement. "They remind us that, despite our remarkable progress toward full inclusion, LGBTQ people still face an unacceptable level of violence and discrimination. As we honor their memory and work to build a California for All, we recommit ourselves to promoting safety and equality for the transgender community."
"It's time to end the epidemic of violence against the transgender community, plain and simple," said Palm Springs City Councilmember Lisa Middleton, the first transgender person elected to a non-judicial office in California. "On this Transgender Day of Remembrance, we are reminded that, while California has been a leader in protections for transgender people and transgender representation, our work is far from over. From Palm Springs to Sacramento, Los Angeles to Washington, DC, and everywhere in between, our transgender community deserves to be safe, deserves a seat at the table and deserves to live happy, healthy lives."
House Speaker Nancy Pelosi also issued a statement:
"On Transgender Day of Remembrance, we mourn for all the brave transgender individuals who have suffered violence, bullying and discrimination or have been murdered for living as their true selves.  These courageous individuals are our friends and loved ones, neighbors and colleagues and they deserve our admiration, respect and protection.

"Sadly, since Day One, the Trump Administration has inflicted a shocking, hateful anti-LGBTQ agenda on America that undermines our founding promise of equality.  Under the leadership of Chairman Joe Kennedy and the Transgender Equality Task Force, the Democratic House is standing strong against these heartbreaking attacks, particularly those waged against transgender women of color, who suffer a disproportionately high rate of homelessness, drug addiction, HIV, sexual assault and murder.  Democrats are proud to protect and honor the service of our brave transgender servicemembers, in stark contrast to a cruel Administration that works relentlessly to humiliate the heroes who stepped forward to serve and protect our nation.  And this year, House Democrats took bold action to finally, fully end discrimination against all LGBTQ Americans by passing the historic Equality Act.

"This Transgender Day of Remembrance, Democrats honor the transgender individuals we have lost, and continue to fight to ensure that every transgender American can live free from fear and violence.  Today and on all days, we reaffirm our bedrock value that everyone is entitled to the right to life, liberty and happiness, regardless of who they are or whom they love."
The California LGBTQ Legislative Caucus also issued statements.
"To end violence against transgender people, we need fundamental change – change that fully includes and embraces the trans community," said Senator Scott Wiener (D-San Francisco), Chair of the California Legislative LGBTQ Caucus. "Anti-trans violence is a serious threat and disproportionately affects trans women of color. Today we recommit to ending violence against trans people and moving toward a more justice and inclusive society."
"Transgender Day of Remembrance reminds us that we have an epidemic in this country with our transgender community, particularly transgender people of color, frequently becoming targets of hatred and violence," said Assemblymember Todd Gloria (D-San Diego), Vice Chair of the California Legislative LGBTQ Caucus. "We have much more work to do to protect our transgender community. Today, we are raising the transgender pride flag above our State Capitol in solidarity with our transgender community and to demonstrate our continued commitment to do that important work and ensure California is a safe, inclusive, and accepting place for all people."
Equality California Executive Director pledges not only to remember but "to be a relentless partner" in the fight and identified the locations where the known trans murders occurred.
"As we raise the Transgender Pride Flag over the State Capitol, we do so in memory of the at least twenty-two transgender people who have been murdered this year," said Equality California Executive Director Rick Zbur. "We remember Dana Martin and Chynal Lindsey. We remember Jordan Cofer, Bee Love Slater and Itali Marlowe. Their lives matter. Violence against transgender people — and transgender women of color, in particular — is a crisis that demands our attention and immediate action. Our work to protect transgender people — particularly trans women of color — won't stop until every member of the community feels safe in their schools, places of worship, hospitals and everywhere. On this somber day, Equality California pledges to be a relentless partner in the fight for transgender liberation and full, lived equality."
Equality California added: "The at least 22 transgender people who have been lost to anti-transgender violence so far in 2019 include Dana Martin (Montgomery, Alabama), Jazzaline Ware (Memphis Tennessee), Ashanti Carmon (Ashanti Carmon), Claire Legato (Cleveland, Ohio), Muhlaysia Booker (Dallas, Texas), Michelle "Tamika" Washington (Philadelphia, Pennsylvania), Paris Cameron (Detroit, Michigan), Chynal Lindsey (Dallas, Texas), Chanel Scurlock (Lumberton, North Carolina), Zoe Spears (Prince George's County, Maryland), Brooklyn Lindsey (Kansas City, Missouri), Denali Berries Stuckey (North Charleston, South Carolina), Tracy Single (Houston, Texas), Kiki Fantroy (Miami, Florida), Bubba Walker (Charlotte, North Carolina), Pebbles Ladime "Dime" Doe (Allendale County, South Carolina), Jordan Cofer (Dayton, Ohio), Bailey Reeves (Baltimore, Maryland), Bee Love Slater (Clewiston, Florida), Jamagio Jamar Berryman who sometimes went by the name Ja'leyah-Jamar (Kansas City, Kansas), Itali Marlowe (Houston, Texas) and Brianna "BB" Hill who sometimes spelled her name Breonna Be'Be Hill (Kansas City, Missouri). A list of people around the world who have been lost to anti-transgender violence in 2019 compiled by the Remembering Our Dead Project is available here."
Photo of Trans flag flying over Capitol courtesy Equality California