Trans flag flies over California Capitol; Pelosi, Newsom, LGBTQ Caucus and Equality California statements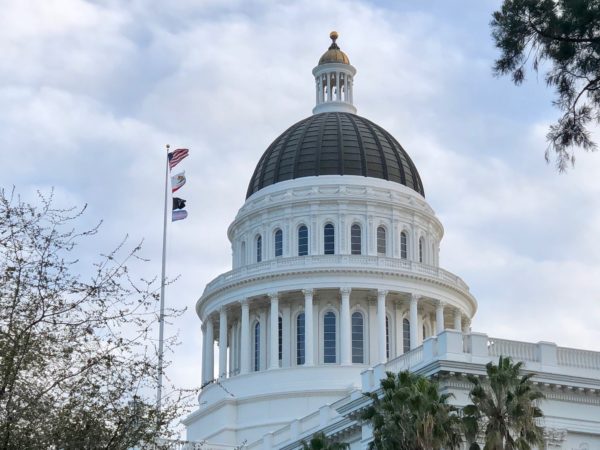 Remember their names. Dana Martin, Jazzaline Ware, Ashanti Carmon, Claire Legato, Muhlaysia Booker, Michelle Washington, Paris Cameron, Chynal Lindsey, Chanel Scurlock, Zoe Spears, Brooklyn Lindsey, Denali Stuckey, Tracy Single, Bubba Walker, Kiki Fantroy, Jordan Cofer, Pebbles LaDime Doe, Bailey Reeves, Bee Love Slater, Jamagio Jamar Berryman, Itali Marlowe. Briana Hill.
Gov. Gavin Newsom ordered the Transgender Pride Flag be flown above the California State Capitol on Nov. 20 in honor of Transgender Day of Remembrance. So far this year, 22 transgender people are known to have been killed in America, most Black trans women.
"By flying the Transgender Flag above the Capitol, we solemnly remember our fellow Californians who lost their lives to anti-trans violence and all who loved them," Newsom said in a statement. "They remind us that, despite our remarkable progress toward full inclusion, LGBTQ people still face an unacceptable level of violence and discrimination. As we honor their memory and work to build a California for All, we recommit ourselves to promoting safety and equality for the transgender community."
"It's time to end the epidemic of violence against the transgender community, plain and simple," said Palm Springs City Councilmember Lisa Middleton, the first transgender person elected to a non-judicial office in California. "On this Transgender Day of Remembrance, we are reminded that, while California has been a leader in protections for transgender people and transgender representation, our work is far from over. From Palm Springs to Sacramento, Los Angeles to Washington, DC, and everywhere in between, our transgender community deserves to be safe, deserves a seat at the table and deserves to live happy, healthy lives."
House Speaker Nancy Pelosi also issued a statement:
"On Transgender Day of Remembrance, we mourn for all the brave transgender individuals who have suffered violence, bullying and discrimination or have been murdered for living as their true selves.  These courageous individuals are our friends and loved ones, neighbors and colleagues and they deserve our admiration, respect and protection.

"Sadly, since Day One, the Trump Administration has inflicted a shocking, hateful anti-LGBTQ agenda on America that undermines our founding promise of equality.  Under the leadership of Chairman Joe Kennedy and the Transgender Equality Task Force, the Democratic House is standing strong against these heartbreaking attacks, particularly those waged against transgender women of color, who suffer a disproportionately high rate of homelessness, drug addiction, HIV, sexual assault and murder.  Democrats are proud to protect and honor the service of our brave transgender servicemembers, in stark contrast to a cruel Administration that works relentlessly to humiliate the heroes who stepped forward to serve and protect our nation.  And this year, House Democrats took bold action to finally, fully end discrimination against all LGBTQ Americans by passing the historic Equality Act.

"This Transgender Day of Remembrance, Democrats honor the transgender individuals we have lost, and continue to fight to ensure that every transgender American can live free from fear and violence.  Today and on all days, we reaffirm our bedrock value that everyone is entitled to the right to life, liberty and happiness, regardless of who they are or whom they love."
The California LGBTQ Legislative Caucus also issued statements.
"To end violence against transgender people, we need fundamental change – change that fully includes and embraces the trans community," said Senator Scott Wiener (D-San Francisco), Chair of the California Legislative LGBTQ Caucus. "Anti-trans violence is a serious threat and disproportionately affects trans women of color. Today we recommit to ending violence against trans people and moving toward a more justice and inclusive society."
"Transgender Day of Remembrance reminds us that we have an epidemic in this country with our transgender community, particularly transgender people of color, frequently becoming targets of hatred and violence," said Assemblymember Todd Gloria (D-San Diego), Vice Chair of the California Legislative LGBTQ Caucus. "We have much more work to do to protect our transgender community. Today, we are raising the transgender pride flag above our State Capitol in solidarity with our transgender community and to demonstrate our continued commitment to do that important work and ensure California is a safe, inclusive, and accepting place for all people."
Equality California Executive Director pledges not only to remember but "to be a relentless partner" in the fight and identified the locations where the known trans murders occurred.
"As we raise the Transgender Pride Flag over the State Capitol, we do so in memory of the at least twenty-two transgender people who have been murdered this year," said Equality California Executive Director Rick Zbur. "We remember Dana Martin and Chynal Lindsey. We remember Jordan Cofer, Bee Love Slater and Itali Marlowe. Their lives matter. Violence against transgender people — and transgender women of color, in particular — is a crisis that demands our attention and immediate action. Our work to protect transgender people — particularly trans women of color — won't stop until every member of the community feels safe in their schools, places of worship, hospitals and everywhere. On this somber day, Equality California pledges to be a relentless partner in the fight for transgender liberation and full, lived equality."
Equality California added: "The at least 22 transgender people who have been lost to anti-transgender violence so far in 2019 include Dana Martin (Montgomery, Alabama), Jazzaline Ware (Memphis Tennessee), Ashanti Carmon (Ashanti Carmon), Claire Legato (Cleveland, Ohio), Muhlaysia Booker (Dallas, Texas), Michelle "Tamika" Washington (Philadelphia, Pennsylvania), Paris Cameron (Detroit, Michigan), Chynal Lindsey (Dallas, Texas), Chanel Scurlock (Lumberton, North Carolina), Zoe Spears (Prince George's County, Maryland), Brooklyn Lindsey (Kansas City, Missouri), Denali Berries Stuckey (North Charleston, South Carolina), Tracy Single (Houston, Texas), Kiki Fantroy (Miami, Florida), Bubba Walker (Charlotte, North Carolina), Pebbles Ladime "Dime" Doe (Allendale County, South Carolina), Jordan Cofer (Dayton, Ohio), Bailey Reeves (Baltimore, Maryland), Bee Love Slater (Clewiston, Florida), Jamagio Jamar Berryman who sometimes went by the name Ja'leyah-Jamar (Kansas City, Kansas), Itali Marlowe (Houston, Texas) and Brianna "BB" Hill who sometimes spelled her name Breonna Be'Be Hill (Kansas City, Missouri). A list of people around the world who have been lost to anti-transgender violence in 2019 compiled by the Remembering Our Dead Project is available here."
Photo of Trans flag flying over Capitol courtesy Equality California
LAPD: Body found on fire hanging in tree in Griffith Park likely a suicide
The person's age, identity and gender have not yet been determined, but they are believed to be a person who frequents the park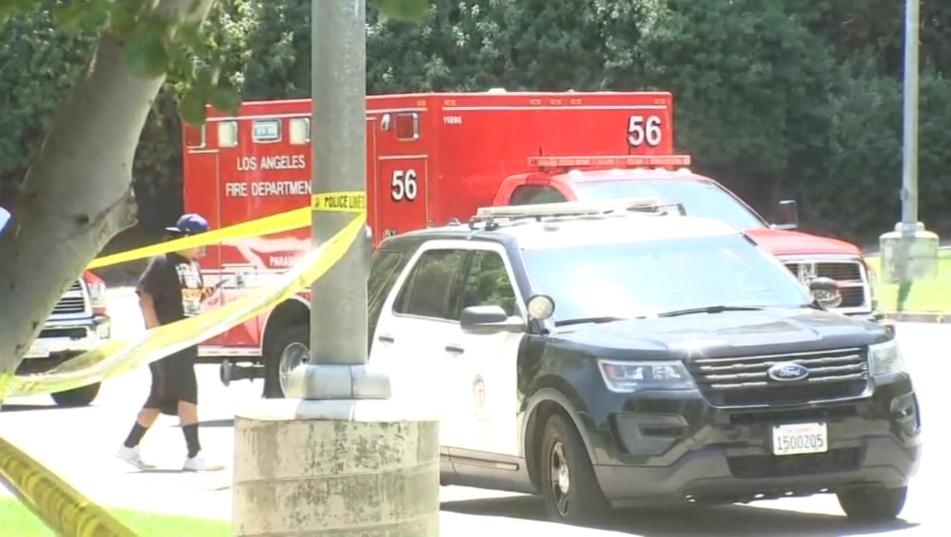 LOS ANGELES – The body of an unidentified person deceased found hanging from a tree near the Griffith Park's merry go round was likely a suicide a detective with the Los Angeles Police Department said Tuesday.
The body was discovered at around 12:30 p.m. on fire and hanging from a tree. Los Angeles City firefighters put the flames out and LAPD detectives investigated and found no signs of foul play, determining that most likely the cause of death was suicide.
"It appears to be self-immolation," said LAPD detective Michael Ventura. "This is going to be somebody who brought some gasoline, brought some lighters. We have had, they are rare, but we do have cases where people will self-immolate. Or they choose to set themselves on fire."
The person's age, identity and gender have not yet been determined, but they are believed to be a person who frequents the park on a regular basis Ventura said.
Independent freelance journalist Vishal P. Singh, who was on scene tweeted about the incident:
Firefighters from @LAFD are carefully removing things from the tree in Griffith Park. @LAPDHQ and the Park Rangers are here, too, investigating the body found hanging from a tree and on fire here. pic.twitter.com/5xBxviZRki

— Vishal P. Singh (they/he) 🏳️‍⚧️ (@VPS_Reports) August 9, 2022
KABC reported:
Editor's note: If you or someone you know is struggling with suicidal thoughts or mental health matters, please call the National Suicide Prevention Lifeline at 800-273-8255 or dial 988
LAPD respond after protestors disrupt LA City Council vote on homeless
All of City Council left except for Councilmembers Raman, Harris-Dawson, & Bonin who have previously voted against the expansion of 41.18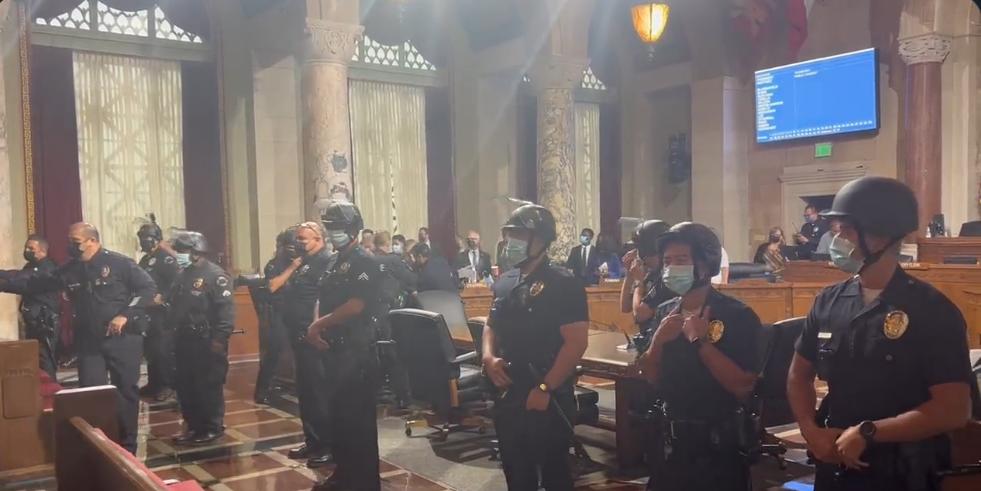 LOS ANGELES – After protestors angrily voiced opposition and one charged towards the council dais disrupting the LA City Council's impending vote Tuesday on a mass expansion of 41.18 zones, which will prohibit encampments of unhoused persons near schools and daycare centers, the Los Angeles Police Department's Riot Squad was called-in.
The meeting erupted into chaos after a member of the public who was speaking climbed over a bench and charged toward Council President Nury Martinez. Police quickly filled the council floor to apprehend the person and another member of the public. Activists screamed at police, and at least one audience member attempted to spray water on officers.
Martinez abruptly recessed the meeting as dozens of activists in the room chanted "Abolish 41.18!" – a reference to the city law prohibiting homeless encampments at libraries, freeway overpasses and other locations.
Jonny Peltz, a freelance reporter for Knock LA, a nonprofit community journalism project, live tweeted the proceedings.
Before meeting starts there are chants of "Shame on you!" pic.twitter.com/7HdnvdOQgD

— Jon peltz (@JonnyPeltz) August 9, 2022
Crowd holding up mostly 'abolish 41.18' signs. Council President told the crowd to "grow up" as they were jeering pic.twitter.com/28dVNpZF4j

— Jon peltz (@JonnyPeltz) August 9, 2022
BREAKING: Riot squad now out at City Hall. Two protesters have been arrested pic.twitter.com/gX9utGVHLj

— Jon peltz (@JonnyPeltz) August 9, 2022
Crowd is staying and chanting. All of City Council left except for Councilmembers Raman, Harris-Dawson, and Bonin (who have previously voted against the expansion of 41.18). LAPD also lining the side of City Council chambers pic.twitter.com/Whmvd9P2xf

— Jon peltz (@JonnyPeltz) August 9, 2022
KTLA reported the Council voted to ban homeless encampments within 500 feet of city schools and day care centers after protesters again rallied against the expanded motion.
The final vote on the motion 11-3 in favor of the widespread ban.
Before the updated motion passed, camps were banned within 500 feet of facilities deemed sensitive, such as schools, day care facilities, parks and libraries but only if those areas have been designated for enforcement.
Tuesday's vote means a blanket ban on encampments within 500 feet of every private school and day care centers in the city.
LAPD increases patrol force by 200 in Hollywood to combat rising crime
"If you come here to commit crime, you will be arrested, you will be prosecuted, you will be jailed or imprisoned," said O'Farrell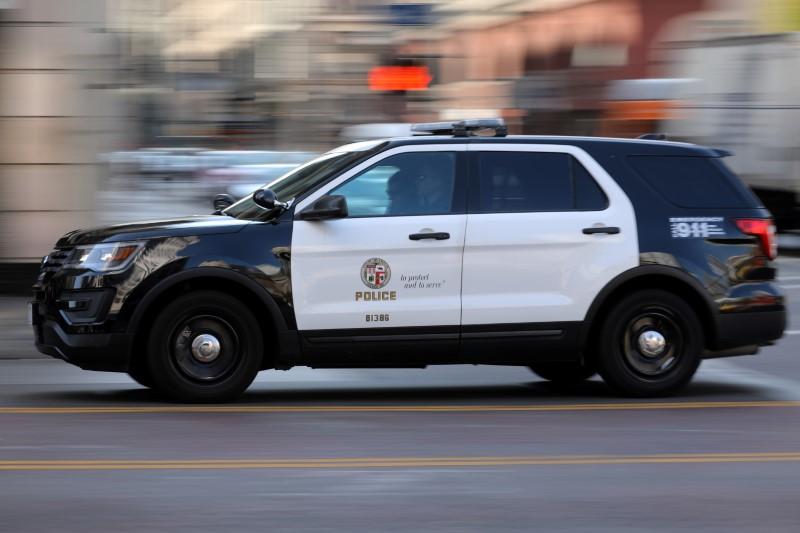 HOLLYWOOD – The Los Angeles Police Department has been deploying additional resources over the past seven months as the neighborhoods around Hollywood have experienced sharp increases in petty thefts, robberies, shootings and homicides.
On Wednesday, Out Los Angeles City Councilmember Mitch O'Farrell hosted an event to spotlight more aggressive actions being taken by the LAPD and other city officials to stem the uptick in crime in the heart of the City's entertainment district.
"If you plan to come to Hollywood to commit crime, you are not welcome," said Councilmember O'Farrell. "All Angelenos should feel safe where they live and work. By bringing additional LAPD shifts to Hollywood, we are strengthening the holistic approach my office is taking to public safety – one that brings unarmed services to people in distress, while ensuring our LAPD officers have the necessary tools to effectively prevent and address crime."
"If you come here to commit crime, you will be arrested, you will be prosecuted, you will be jailed or imprisoned," said O'Farrell adding; "There is no permissiveness in Hollywood. We're not going to permit or tolerate that."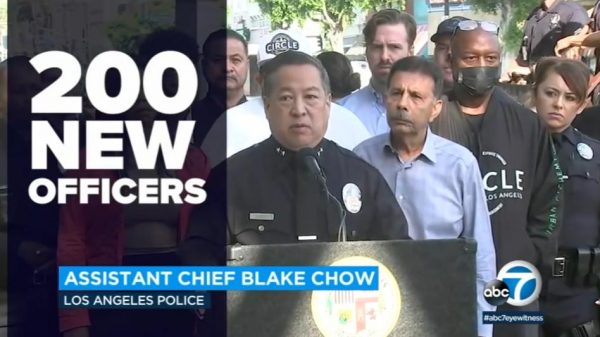 "That's really basically about 200 more officers out on the street here on Hollywood Boulevard. "They're going to be on foot, they're going to be in patrol cars, they're going to be on horseback, they're going to be on bikes," LAPD Deputy Chief Blake Chow told attendees and reporters attending the event.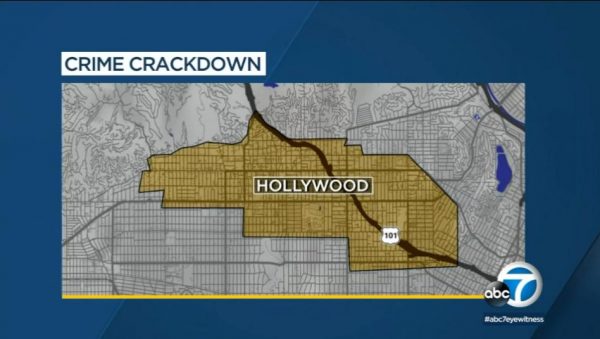 Year to date, Hollywood has seen a 75% increase in homicides and 35.6% increase in shots fired, while robbery and theft have risen by 19.4% and 24.7% respectively, compared to 2021. This latest effort to enhance public safety follows Councilmember O'Farrell's groundbreaking work to bring the CIRCLE program, the City's first unarmed model of crisis response, to Hollywood, in addition to supporting a City budget that accounts for attrition rates within LAPD's ranks.
"People need to feel safe when they're in Hollywood," said Deputy Chief Chow. "We're thankful to Councilmember O'Farrell for these additional resources and look forward to quickly putting them to use to prevent, deter and address crime."
"Public safety requires robust collaboration and an all-hands-on-deck approach," said James Hegler, Director of Operations for the CIRCLE Program. "We're proud of our successful working relationship with Councilmember O'Farrell and LAPD, which helps us bring unarmed services to Angelenos in need so that LAPD can focus their resources on actual crime."
"Public safety is an essential part of a thriving local economy," said Kathleen Rawson, President and Chief Executive Officer of the Hollywood Partnership. "As Hollywood emerges from the pandemic, having officers on the street and available to respond to calls is necessary for our businesses to safely keep their doors open and welcome visitors back to this iconic boulevard."
In addition to deployment of added LAPD resources, O'Farrell on Wednesday introduced a motion that, when approved by the City Council, would strengthen LAPD's presence in Hollywood with additional officer shifts.
The $216,000 effort would be funded directly by O'Farrell's office as part of his comprehensive approach to public safety in Hollywood a spokesperson said in a statement.