November 20, 2019 at 11:30 am PST | by Karen Ocamb
TrevorLIVE honors Cybill Shepherd, receives $6 million grant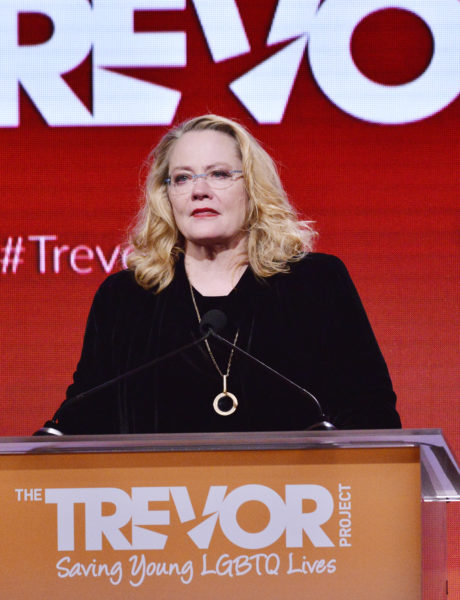 The Trevor Project's annual TrevorLIVE gala at the Beverly Hilton honored Cybill Shepherd, Hayley Kiyoko and the PwC Charitable Foundation, raising more than $1.2 million. Additionally, the LGBTQ suicide prevention and crisis intervention organization announced they were the recipient of a $6 million investment over the next four years from the PwC Charitable Foundation. The Foundation is also immediately providing nearly $2 million in pro-bono consulting services and other services.
Cybill Shepherd, a longtime LGBT ally, received the Champion Award and tearfully acknowledged her late sister, who was unable to live openly as a lesbian.
"No, my sister did not have the support that these young people will be getting from this wonderful, wonderful organization; and so, I want to thank everyone here tonight, because we all have in our lives people that we would have liked to have saved." Shepherd said.
"There is still so much more to do. We recently put out research that there are more than 1.8 million LGBTQ young people in the US who seriously consider suicide each year," said Amit Paley, CEO of The Trevor Project. "We are literally talking about life and death. That is why we need to build a global movement to end suicide among LGBTQ young people NOW. "
Paley was referring to their 2019 National Survey on LGBTQ Youth Mental Health  Recently, the CDC released their School Health Profiles 2018 report. A  key finding noted that youth who identify as gay, lesbian, or bisexual, are not sure about their sexual identity, or have had same sex sexual contact "experience higher prevalence of health-risk behaviors like substance use, sexual risk, and suicide risk, and experience greater risk of violence victimization than sexual majority students."
Additionally, the report said, "Transgender students are more likely to report substance use, suicide risk, sexual risk behaviors, and violence victimization, than cisgender students"
"A safe and supportive school environment is imperative to a comprehensive public health approach aimed at ending suicide among LGBTQ youth," Amy Green, PhD, Director of Research for The Trevor Project, said in a statement.
"Our recent survey of LGBTQ youth mental health shows that 39% of LGBTQ youth respondents seriously considered attempting suicide in the past twelve months. We know that youth who attend schools that have policies that are inclusive and supportive of LGBTQ have reduced rates of suicide attempts," she said. Ongoing efforts by school districts "to support vulnerable populations such as LGBTQ youth are vital to saving lives and providing life-affirming care."
For more information, visit thetrevorproject.org. If you need to talk with someone, please call The Trevor Project helpline at 1-866-488-7386 or text START to 678678.
PHOTO: BEVERLY HILLS, CALIFORNIA – NOVEMBER 17: Champion Award winner Cybill Shepherd speaks onstage during The Trevor Project's TrevorLIVE LA 2019 at The Beverly Hilton Hotel on November 17, 2019 in Beverly Hills, California. (Photo by Jerod Harris/Getty Images for The Trevor Project)