Top California cast in the impeachment drama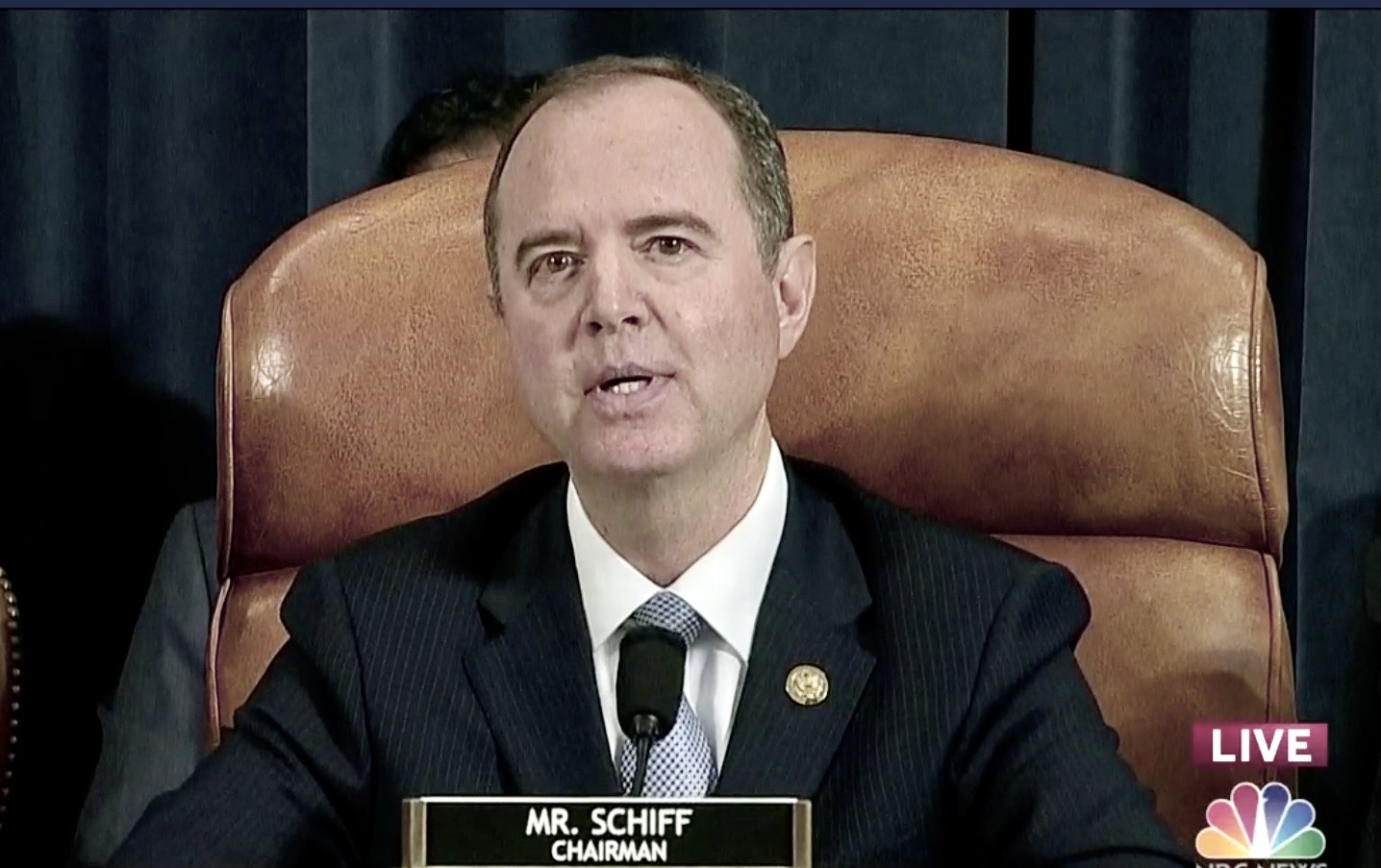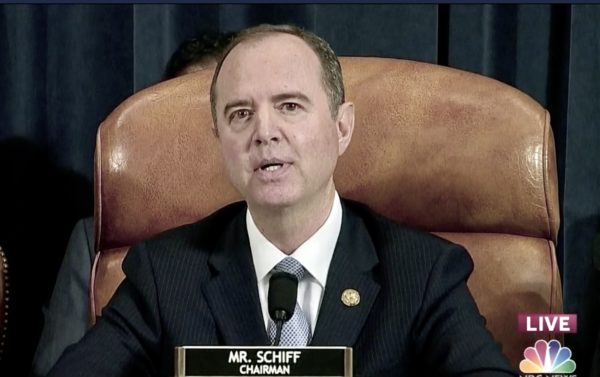 Only three times before in American history has a president faced impeachment in the U.S. House of Representatives, though none resulted in conviction and removal of office by the Senate. In an irony of ironies, the top leaders in this historic fourth impeachment inquiry into the conduct of President Donald J. Trump are Democratic and Republican Californians.
House Speaker Nancy Pelosi, a San Francisco icon and third in line for the presidency, called for an official impeachment inquiry on Sept. 24 after resisting calls for impeachment over Russian interference in the 2016 election – including loudly from Los Angeles icon Rep. Maxine Waters, chair of the Financial Services Committee, which is investigating Trump's finances. Pelosi thought voters should decide Trump's fate at the ballot box in 2020, thus avoiding a black hole for many freshman Democrats who flipped red seats blue in 2018, including several in Southern California.
However, Pelosi could not blink after a whistleblower revealed that Trump himself threatened to withhold congressionally appropriated military funds in a call to the new president of Ukraine until President Volodymyr Zelensky dug up dirt on Trump's expected 2020 rival, Joe Biden and his son Hunter.
"The actions of the Trump presidency revealed dishonorable facts of betrayal of his oath of office and betrayal of our national security and betrayal of the integrity of our elections," Pelosi said. "No one is above the law."
Pelosi's political counterpart, House Minority Leader Kevin McCarthy of Bakersfield, responded with a word salad. Speaker Pelosi "does not speak for America when it comes to this issue. She cannot decide unilaterally what happens here," he told reporters. "Our job here is a serious job…Our job is to legislate, not to continue to investigate something in the back when you cannot find any reason to impeach this president….It's time to put the public before politics."
McCarthy's job is to keep Republicans in line in their absolute fealty to Trump. But that can prove difficult, such as when Trump compared the impeachment inquiry to a "lynching" in an Oct. 22 tweet.
"That's not the language I would use," McCarthy said in response. "I don't agree with that language, it's pretty simple."
Inexplicably, McCarthy seemed to only learn about Trump's alleged extortion during a "60 Minutes" interview. Anchor Scott Pelley read excerpts of the White House-released summary of the call, during which Zelensky said Ukraine was ready to buy more Javelins missiles "for defense purposes." Trump replied: "I would like you to do us a favor, though…."   "You just added another word," said McCarthy, referring to "though."
"No, it's in the transcript," said Pelley.
McCarthy has scored dunce points before, proudly admitting on Fox News, for instance, that Republicans used the incessant Benghazi hearings as a political strategy to make Sec. of State Hillary Clinton "untrustable."
Trump calls McCarthy "my Kevin."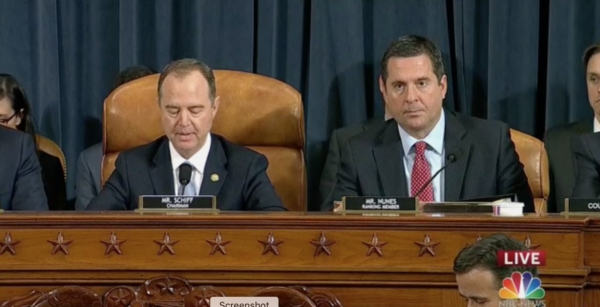 On Nov. 13, the Intelligence Committee opened their impeachment hearings to the public. Like the House leadership, the Intelligence Committee is run by two Californians – Chair Rep. Adam Schiff whose district spans from Burbank to West Hollywood – and Ranking Member Rep. Devin Nunes, who represents Fresno and Tulare County.
Until the Democrats won a majority in the House in 2018, Nunes chaired the Intelligence Committee and seemed to work in cooperation with Schiff, until he joined what some see as "the cult of Trump" and used numerous outlandish stories to defend the president, including writing a four-page memo alleging an FBI conspiracy against Trump.
Trump's sense of authoritarian immunity seems to have rubbed off on Nunes. Since last March, Nunes has been involved in a frenzy of lawsuits, including a defamation lawsuit against Twitter and two accounts — "Devin Nunes' Mom" (@DevinNunesMom) and "Devin Nunes' Cow" (@DevinCow) – for mocking him. He also sued journalist Ryan Lizza for reporting that the Nunes dairy farm had actually been moved to Iowa by his family in 2007.
Nunes' opening statement at the televised inquiry was replete with conservative talking points and conspiracy theories. And he mocked the two credible witnesses, Trump appointees, saying that the main staged performance by the Democrats — "the Russia hoax — has ended, and you've been cast in the low-rent Ukrainian sequel."
Schiff, a former federal prosecutor, on the other hand, wore the solemnity of the constitutional crisis on his face.
"The questions presented by this impeachment inquiry are whether President Trump sought to exploit that ally's vulnerability and invite Ukraine's interference in our elections? Whether President Trump sought to condition official acts, such as a White House meeting or U.S. military assistance, on Ukraine's willingness to assist with two political investigations that would help his reelection campaign? And if President Trump did either, whether such an abuse of his power is compatible with the office of the presidency?" Schiff said.
"The matter is as simple, and as terrible as that. Our answer to these questions will affect not only the future of this presidency, but the future of the presidency itself, and what kind of conduct or misconduct the American people may come to expect from their Commander-in-Chief," Schiff said.
"If this is not impeachable conduct, what is? Does the oath of office itself — requiring that our laws be faithfully executed, that our president defend a constitution that balances the powers of its branches, setting ambition against ambition so that we become no monarchy — still have meaning?" Schiff asked.
The stakes are as high as preserving the republic itself. "These are the questions we must ask and answer," Schiff said. "Without rancor if we can, without delay regardless, and without party favor or prejudice if we are true to our responsibilities. Benjamin Franklin was asked what kind of a country America was to become, "A Republic," he answered, "if you can keep it." The fundamental issue raised by the impeachment inquiry into Donald J. Trump is: Can we, keep it?"
Schiff is not the only Californian challenging Trump and his GOP loyalists. Rep. Eric Swalwell, a former deputy district attorney who represents Alameda and part of Contra Costa County, is an important Intelligence Committee explainer-in-chief on television, as is another popular explainer-in-chief, MSNBC's Rachel Maddow whose parents live in Swalwell's district.
Rep. Jackie Speier, who represents most of San Mateo County, also has some special insight into the GOP's extreme loyalty toward Trump. And as a survivor of the 1978 Jonestown massacre where followers of Jim Jones assassinated Speiers' mentor Rep. Leo Ryan and left her for dead after being shot five times.
On Oct. 31, she reacted angrily to a Devin Nunes trope on Fox's "The Ingraham Angle" when the Intelligence Committee was taking depositions like a congressional grand jury.
"So many millions of Americans' minds are poisoned," Nunes told Laura Ingraham. "There's a cult going on in the basement in a SCIF behind locked doors….Then you walk outside the doors, and you see another cult. That's the media."
"Devin Nunes calling the Intelligence Committee's fact-finding mission a cult is despicable. I know about cults. Cults are led by maniacal narcissists who expect complete adoration and relinquishment of independent thought. I suggest Mr. Nunes look elsewhere," Speier tweeted.
There are other smart Californians sitting on the committees investigating Trump, including Reps. Karen Bass, Zoe Lofgren, Judy Chu, Ted Lieu, Katie Porter, Harley Rouda, and Ro Khanna, among others.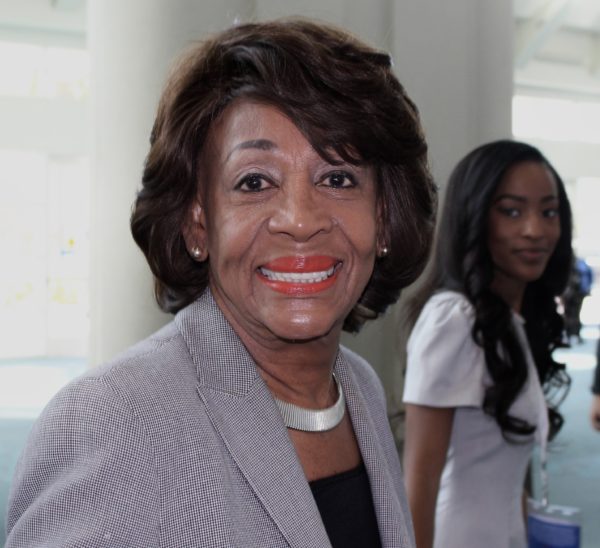 And then there's Rep. Maxine Waters who, as Chair of the Financial Services Committee, has been investigating Trump's financial dealings from campaign finance violations through pay outs to prn star Stormy Daniels to possible money shenanigans through Deutsche Bank, Capitol One and other financial institutions. Trump has successfully fought the release of his business records and tax returns but the official impeachment inquiry may change that.
"I understand that all of the chairs of the six committees will be involved in basically coming up with what should be articles of impeachment based on the work that we have been doing," Waters told Rachel Maddow. "Some will have more to say about what those articles should be based on the work that they have been doing, some will say less. And we will agree basically what those articles should be based on our experiences that we've had with our investigations. And that will be what the Judiciary Committee will be working with."
And Waters' patience has worn thinner than thin. "I think he's gotten away with enough that he does not believe that we can do anything to stop him.  He has discovered the awesome powers of the presidency.  The Constitution of the United States never anticipated that a president would use his powers this way and he has learned that he can get away with it.  He's brazen," Waters told CNN's Andrew Cuomo on Sept. 27.
Pelosi is hoping the impeachment inquiry will wrap up by the end of the year but the Judiciary Committee is expected to take several weeks to study the different reports and decide if and what to write for articles of impeachment.
If impeached by the House, as expected, Trump would then face a trial in the Senate where California Sens. Dianne Feinstein and former prosecutor Kamala Harris will be waiting to join their California castmates in producing a Hollywood ending.
Biden calls Club Q owners; community grapples with aftermath
Fallout over the shooting continues as anger mounts at what many in the LGBTQ+ community see as a resurgence of anti-LGBTQ+ hate speech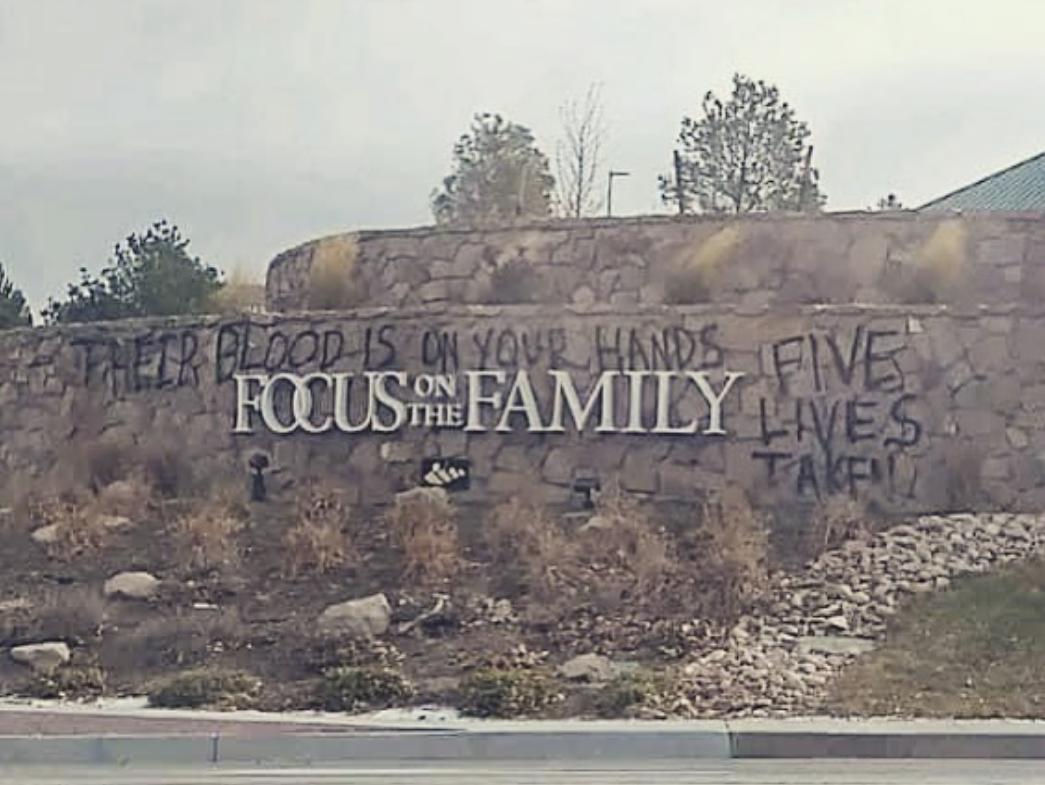 COLORADO SPRINGS – As the LGBTQ+ community continues to mourn the loss of the five people killed in last weekend's mass shooting, focus is now shifting to a reflection of anti-LGBTQ sentiment that has evolved from prejudice to incitement according to Nic Grzecka a co-owner of Club Q.
In an interview with the Associated Press, one of his first since the chaos of the aftermath created by the mass-shooting, Grzecka said he believes the targeting of a drag queen event is connected to the art form being cast in a false light in recent months by right-wing activists and politicians who complain about the "sexualization" or "grooming" of children.
Even though general acceptance of the LGBTQ community has grown, this new dynamic has fostered a dangerous climate, he said.
"It's different to walk down the street holding my boyfriend's hand and getting spit at (as opposed to) a politician relating a drag queen to a groomer of their children," Grzecka said. "I would rather be spit on in the street than the hate get as bad as where we are today."
On Thursday, President Joe Biden spending the Thanksgiving holiday with the First Lady and family members in Nantucket, Massachusetts, called Grzecka and Club Q co-owner Matthew Haynes.
The President and the First Lady offered condolences and reiterated their support for the community as well as their commitment to fighting back against hate and gun violence. They also thanked the two men for the 'incredible contributions they have made and will continue to make to Colorado Springs.'
The president told reporters enroute to Nantucket, reflecting on the mass-shooting at the LGBTQ+ club and then another mass-shooting Tuesday, at a Wal-Mart store when a night manager opened fire in a breakroom in Chesapeake, Va., killing six, and wounding at least half a dozen more, said he has plans to support a bill banning assault rifles during the lame-duck session before the next Congress is seated in January.
"I'm going to do it whenever — I got to make that assessment as I get in and start counting the votes," Biden said
As the memorial outside Club Q grows, more attention is now being focused on the needs of the survivors and others in the LGBTQ + community in Colorado Springs affected by the mass-shooting.
An annual 'Friendsgiving' feast for the members of the LGBTQ+ community unable to spend time with relatives because of their being LGBTQ+ and which was normally held by the owners and staff of Club Q was shifted to a community dinner at the Colorado Springs MCC Church.
In an Instagram post, earlier in the week, Grzecka thanked Colorado Governor Jared Polis, state Attorney General Phil Weiser, Colorado Springs Police Chief Adrian Vasquez and city councilmember Nancy Henjum whose district the LGBTQ+ club is located, "for your hard work to ensure there was a Crisis Center to service the Club Q and Colorado Springs community during the holiday."
Fallout over the shooting continues as anger mounts at what many in the LGBTQ+ community see as targeted hate amplified by a resurgence of anti-LGBTQ+ hate speech online and by right-wing media outlets and far-right figures such as Fox host Tucker Carlson.
Colorado Springs is also home to Focus on the Family, one of the largest anti-LGBTQ+ groups in the United States. The Christian ministry group has opposed same-sex marriage, LGBTQ+ service in any branch of the U.S. armed forces and continues to advocate for the discredited practice of conversion therapy.
Late Thursday person or persons unknown vandalized the sign at the main entrance to the group's headquarters complex. "We went out there to investigate if there was a crime that took place," Colorado Springs Police Department spokesperson Sgt. Jason Ledbetter told the Gazette regarding the overnight incident. "There is no suspect information at this time."
In a Instagram post, Club Q owner Grzecka displayed a picture of the vandalized sign with graffiti spray painted in black reading; "Their blood is on your hands five lives taken."
In his message accompanying the picture, Grzecka noted:
Focus on the Family moved to our city in the 90's, was a large group behind pushing through amendment 2 along with Colorado for family matters. People such as Dr. James Dobson and Will Perkins have spread a nasty, false and hurtful narrative about our LGBT community.
Amendment 2 was passed in 1992, and Colorado Springs ( El Paso county) were the votes to pass the amendment, the same amendment that gave our city the nickname "hate city USA"
Words have consequences and your continuous false narrative about the lgbt community has consequences,
@focusonthefamily this message added to your sign has more truth to it than you may actually be able to understand.
This is not vandalism this is not an attack on Christian's. This message is just that a message that was delivered in a way to ensure you receive it.
@cityofcos, Mayor Suthers when can we meet to discuss how this type of Anti Gay speech, is coming from our own backyard.
The Gazette also reported that people from around the nation are holding in-person and online fundraisers for victims and families of the Club Q mass shooting.
While the state has an official online donation site, the Colorado Healing Fund, a private online drive, also has become one of the largest appeals.
Good Judy Garage in Denver, an LGBTQ business, raised $25,000 in two hours after starting a GoFundMe drive on Sunday. The initial goal was upped to $50,000 and now is at $750,000, as donations continue to pour in. As of Friday, the amount collected was $761,707 raised.
Link to the GoFundMe: https://www.gofundme.com/f/support-for-the-club-q-families-and-survivors.
Focus on the Family headquarters sign vandalized in wake of Club Q shooting https://t.co/VZc3HQTKEy

— KKTV 11 News (@KKTV11News) November 25, 2022