Pope compares politicians who use anti-LGBTQ hate speech to Hitler
Catholic advocacy groups welcome pontiff's comments.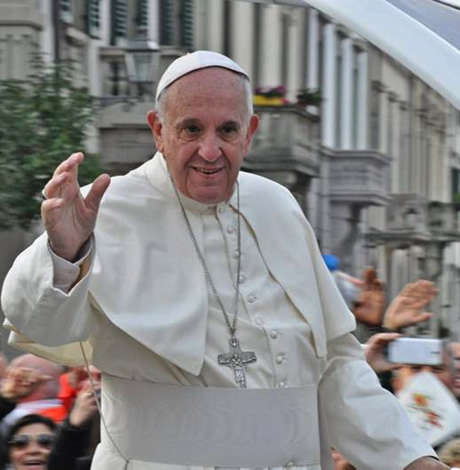 Pope Francis on Friday compared politicians who use hate speech against LGBTQ people and other minority groups to Adolf Hitler.
"It is not coincidental that at times there is a resurgence of symbols typical of Nazism," said Francis during an international law conference, according to Reuters. "And I must confess to you that when I hear a speech (by) someone responsible for order or for a government, I think of speeches by Hitler in 1934, 1936,"
"With the persecution of Jews, Gypsies and people with homosexual tendencies, today these actions are typical (and) represent 'par excellence' a culture of waste and hate," added Francis. "That is what was done in those days and today it is happening again."
Francis made his comments against the backdrop of continued government-sponsored persecution, violence and hate speech based on sexual orientation and/or gender identity in Uganda and dozens of other countries around the world. The Vatican's tone towards homosexuality and other LGBTQ-specific issues has moderated since Francis assumed the papacy in 2013, but activists have pointed out to the Los Angeles Blade that church teachings on them have not changed.
"It is very important that Pope Francis is speaking out against the resurgence of hate speech that is occurring in many countries, and recognizes that this speech endangers the lives of minorities, including LGBTQ people," Marianne Duddy-Burke, executive director of DignityUSA, a group of LGBTQ Catholics, told the Blade on Friday in a statement. "I hope that leaders and individuals around the world understand why the Pope is speaking out against this trend, and take stock of their role in creating climates that can lead to violence."
Duddy-Burke added she hopes "his words are also understood to be applicable within the Church, and that Catholic leaders who say hateful, disparaging and dehumanizing things or act to limit the human rights of LGBTQ people and others immediately change their ways."

"Ultimately, this kind of statement must lead to a rejection of church teachings that demonize and dehumanize LGBTQ people," Duddy-Burke told the Blade. "Using words like 'evil' or 'disordered' when speaking about us must end."
Francis DeBernardo, executive director of New Ways Ministry, a Maryland-based group that ministers to LGBTQ Catholics, in a statement described Francis' statement as a "long time coming."
"This simple message will save lives, protect people from harm, help keep families together and work towards eradicating hateful attitudes," said DeBernardo. "When the Pope speaks, people listen — regardless of faith or political leanings."
"It is especially important to hear these words from the Pope Francis' mouth because much of the persecution against LGBTQ people occurs in nations with a strong Catholic population, often with the approval of local Catholic bishops," added DeBernardo.
WeHo Arts unveils new holiday street pole banner by Sophie Morro
The city has also installed annual holiday lights on street poles and around trees lining Santa Monica Boulevard to make the city festive

By Paulo Murillo | WEST HOLLYWOOD – The annual holiday street pole banners went up this week throughout the city of West Hollywood. The City's WeHo Arsts unveiled the new holiday artwork by artist Sophie Morro along Santa Monica Boulevard, San Vicente Boulevard, and Melrose Avenue.
A total of 29 of the new banners were produced this year and will become part of the annual collection of holiday street pole banners on display in WeHo to celebrate the holidays. Banners include past holiday artwork by Shag (Josh Agle) and Mosa Tanksley.
The city has also installed annual holiday lights on street poles and around trees lining Santa Monica Boulevard to make the city festive around the holiday and New Year's celebrations.
Sophie Morro is an artist based in Los Angeles. Her oil paintings are largely informed by an autobiographical narrative with nods to spirituality, dreams and the otherworldly. Visit sophiemorro.com to learn more about the artist.
In April, 2022, the City of West Hollywood Arts Division made a call seeking a visual artist to provide artwork for the city's annual winter / holiday card and street pole banner display. The deadline to submit their work to WeHo's Performing Arts and Cultural Affairs Subcommittee was May, 2022.
The new artwork will also be used on the City's annual end of year Winter / Holiday card, social media promotions along with the printed street pole banners. Artists were invited to submit existing work samples to demonstrate their style and technique.
The Request for Qualifications was open to artists who live in California. Artists who live in
West Hollywood and artists of color, women, artists with disabilities, and LGBTQIA+ artists
were highly encouraged to apply. The artists who applied will remain eligible to be selected as semi-finalists for 3 calendar years without needing to reapply.
The City of West Hollywood's Arts Division and Arts and Cultural Affairs Commission believe
that all people in the City of West Hollywood have the right to celebrate and engage in meaningful and relevant arts and cultural experiences.
Each member of the community should have access to the arts which reflect and nurture individual identities, affirm personal value, and foster belonging in the community. The right to participate freely in the cultural life of the community is recognized as a basic human right.
The Division and Commission's definition of diversity includes all ways in which people
differ, including but not limited to, race, ethnicity, gender, socioeconomic status,
education, age, gender identity, gender expression, sexual orientation, ability,
geography, citizenship status, religion, language, physical appearance, and the
intersection of these various identities.
*******************************
Paulo Murillo is Editor in Chief and Publisher of WEHO TIMES. He brings over 20 years of experience as a columnist, reporter, and photo journalist.
The preceding article was previously published by WeHo Times and is republished with permission.