November 17, 2019 at 3:33 pm PST | by John Paul King
Trevor Project teases "big announcement" at tonight's TrevorLIVE LA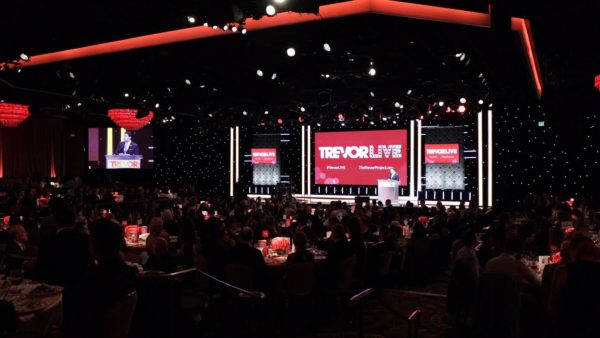 [UPDATED: Watch TrevorLive LA on the LA Blade Facebook page NOW}
The Trevor Project, the world's largest suicide prevention and crisis intervention organization for LGBTQ young people, says "a big announcement is coming tonight" as they tonight honor Cybill Shepherd, PwC Charitable Foundation, and Hayley Kiyoko at their annual "TrevorLIVE" fundraising gala at the Beverly Hilton in Los Angeles.
No details yet on what that announcement might be, but you can find out tonight by watching the live stream of TrevorLIVE, as The Trevor Project honors Shepherd as the 2019 recipient of the "Champion Award," recognizing the outstanding support of an ally and their commitment to supporting their mission.
Being honored along with Shepherd is PwC Charitable Foundation, Inc., as the recipient of the "20/20 Visionary Award," presented to corporations supporting LGBTQ inclusion around the world. In addition, Trevor's "Youth Innovator" award will be presented to Hayley Kiyoko.
Zazie Beetz ("Joker") and Sasheer Zamata ("Saturday Night Live") will serve as hosts for the gala, joined by presenters and special guests Jane Lynch, EJ Johnson, Heidi Klum, and Gigi Gorgeous, along with Grace Vanderwaal as performer.
Shepherd is the Golden Globe-winning actress and long-time ally and activist of LGBTQ rights known for her role as Phyllis Kroll in the critically acclaimed Showtime lesbian drama "The L Word," a show often seen as the first major representation of lesbians on mainstream television. Shepherd's daughter, Clementine Ford, will continue her mother's legacy as a star in the forthcoming sequel series "The L Word: Generation Q."
PwC Charitable Foundation, a public charity that invests in emerging solutions to society's greatest challenges in education and humanitarianism, has a history of supporting underrepresented populations and underserved communities, including The Trevor Project.
Hayley Kiyoko has used her voice in the music industry to shine a light on marginalized communities. Her support has included the use of her "One Bad Night" music video to raise awareness about violence against transgender women; donating bras from her sold-out Expectations tour to homeless LGBTQ youth; teaming up with Cameo to raise money on their platform for The Trevor Project; and continued recognition and representation of queer women of color on a national stage.
TrevorLIVE's star-studded red carpet and awards ceremony will be live-streamed Nov. 17, at 9 p.m. ET / 6 p.m. PT, on The Trevor Project's Facebook, Twitter, and YouTube, powered by Revry, the first queer global streaming network and the exclusive live-streaming partner and official streaming network of TrevorLIVE LA and New York.