'Firing Line' host Margaret Hoover explains the GOP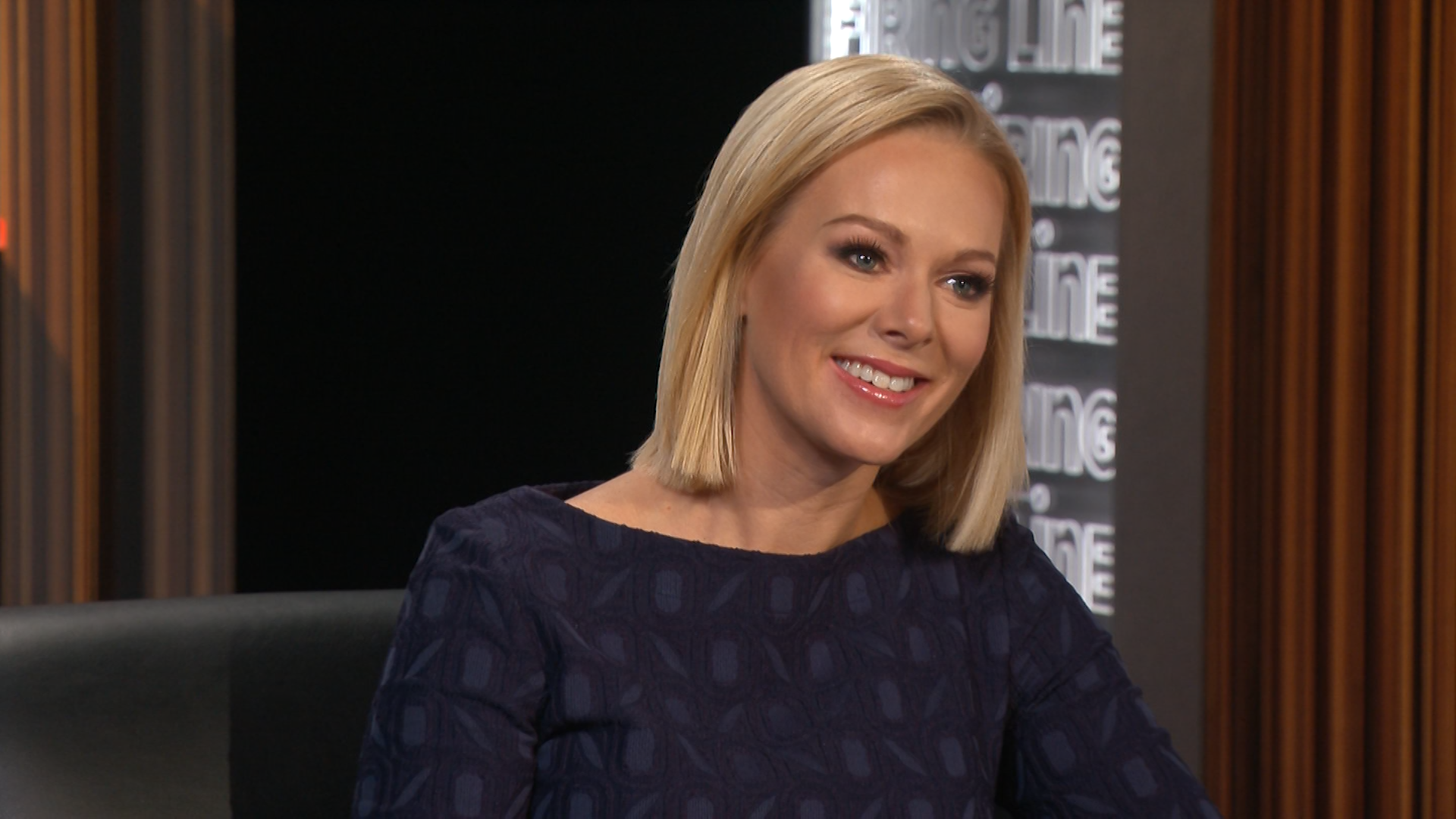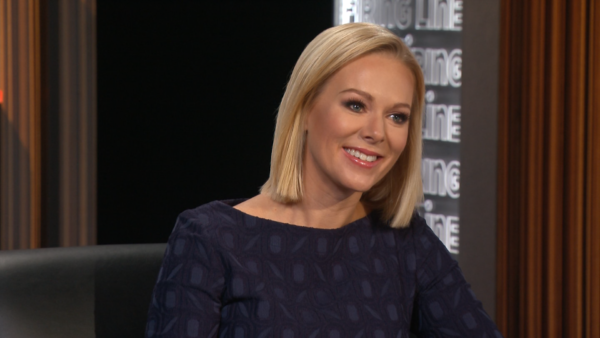 Overheard almost all the time everywhere: There has never been a more divisive time in American history than now. No caveats for the Civil War or the protests against the war in Vietnam.
But to those who are confused, frightened and angry about the House impeachment inquiry into President Donald J. Trump as the unraveling of democracy, today feels much like William Butler Yeats's poem "The Second Coming:" "Things fall apart; the centre cannot hold."
The poem was written in 1919 about the social and economic chaos that followed the end of World War I. It's an era Margaret Hoover, Republican political commentator, LGBTQ advocate and host of PBS' "Firing Line with Margaret Hoover,"knows something about.
After World War I, Hoover's great grandfather Herbert Hoover, an engineer and businessman, was called upon by President Woodrow Wilson to lead the salvation of war-destroyed Europe through massive organized food relief efforts. The stock market crashed seven months after Hoover was sworn in as president of the United States and his term became historically associated with the beginning of the Great Depression.
Margaret Hoover believes that Herbert Hoover has been misunderstood over the years and in studying his life to provide his defense, she was deeply inculcated with the concept of "American Individualism," which she later turned into a book with the subtitle: "How a New Generation of Conservatives Can Save the Republican Party."
The concept of individual freedom led her to the fight for LGBTQ equality and not giving up on the legacy of the GOP.
"I haven't left the party. I have too many elephants in my collection to give them all up. Some of them were my great-grandfathers. They are precious relics of a long history of principled men and women standing for values I still agree with — individualism tempered by communal responsibility, robust international leadership tempered by realism, economic libertarianism, suffrage, abolition," Hoover tells the Blade.
"Conservatives missed the boat on modern civil rights, but Republicans helped pass both the Civil Right Act and Voting Rights Act," she notes, reflecting on an era of congressional bipartisanship. "When I feel utterly disconnected to the GOP, perspective is a useful tool. In 160-plus years, it's really the last 30 years that have elements that give me pause. And in a two-party system, neither party will ever have a monopoly on virtue. I'd rather help fight to make the GOP better where it's falling short."
Hoover thinks she and legendary attorney Ted Olson may be the only two well-known Republicans who came to their support for LGBTQ equality based on their deep belief in individual freedom, rather than in response to having an LGBTQ relative. Hoover served on the Advisory Council for the American Foundation for Equal Rights (AFER) when Olson successfully argued the federal case against Prop 8 with Democratic stalwart David Boies.
"The first time I remember thinking about LGBT equality was when I was 12, when a friend's dad came out," says Hoover, now 41. "It was the early '90s, and I just did the math then and decided that LGBT Americans shouldn't have to relate to their government any differently than straight Americans."
Additionally, she says, "I always thought LGBT freedom was entirely consistent with the brand of Western Conservatism I grew up with in Colorado — the same western conservatism that was socially libertarian, that explained why Barry Goldwater's family brought Planned Parenthood to Arizona and why he famously remarked at the end of his life that you don't have to 'be straight to shoot straight,' regarding gays serving openly in the military."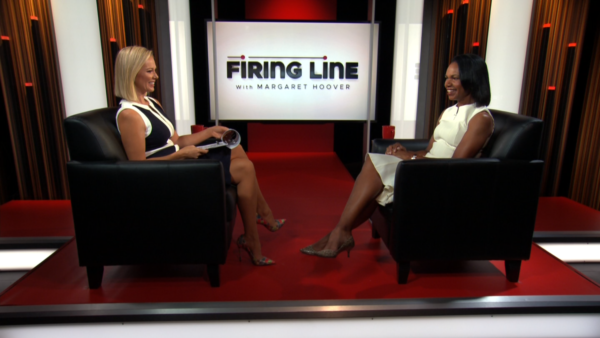 Margaret Hoover talks with former Sec. of State Condoleezza Rice (Photo courtesy "Firing Line")
Hoover's not happy with how Trump has taken over the Republican Party.
"I think the president has abused the powers of his office and betrayed the trust the American people bestowed on him. I suspect he'll be impeached," Hoover says. "But one can't engage with the question of impeachment absent the reality that a House impeachment vote will likely lead to an acquittal by the Senate. Ultimately, I worry that our system has become so hyper-partisan that no one can think for themselves anymore because going against your party will cost you your job. There's no moral courage."
But while Hoover recognizes that arguing with staunch Trump supporters can be painful — such as at a holiday meal — she urges compassion to avoid severing connections that could be repaired in time.
"In dealing with anyone you love in politics — and I'd be careful not to call Trump supporters cultists — my mom and dad and family aren't cultists, too many smart people have fallen into an 'us against them' that is tearing us apart. So check yourself," she says. "When dealing with anyone I love in politics, I think of my friend Jean Safer's book — "I Love You but I Hate Your Politics" — and I just focus on the love part.
"For the politics," she continues, "rededicate your personal efforts to changing your elected leader or the policies you care about or the president. But the people in our lives, and the love in our lives, are the relationships that make or break us as happy humans thriving in the world. When the relationships in our lives are off, we're off.  So, you have to separate how you love, and how you think about politics."
In addition to AFER, Hoover has put her personal efforts toward the American Unity Fund – her non-profit "dedicated to advancing the cause of freedom for LGBTQ Americans by making the conservative case that freedom truly means freedom for everyone."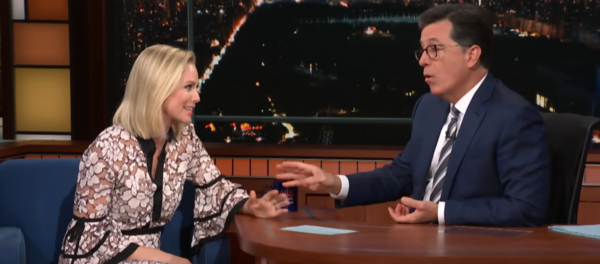 This is not just a nice note on the resume. Hoover advocates for the cause of LGBTQ Americans everywhere, including during a June 2018 appearance on "The Late Show with Stephen Colbert" pitching her new "Firing Line" show.
Colbert — who became famous among conservatives during his Comedy Central show "The Colbert Report" (2005-2014) — watched the original "Firing Line" as a kid and marveled at creator William F. Buckley, the father of conservativism and a TV star, and for 33 years, the longest running host of a TV show.
After noting that she would not even try to be William F. Buckley, Hoover suddenly digressed into an LGBTQ tangent when asked if she was a conservative.
"I consider myself a conservative to a certain extent. I moonlight as an LGBT advocate. I run an LGBT advocacy organization (big applause) that works with Republicans," Hoover said. "We make the case that freedom means freedom for everyone. And where that really lends itself at this moment in time is to secure full civil rights protections for LGBT Americans because there are still 28 states where you can be fired for being gay! All these things that Republicans don't know — and those states are mostly red states so you need Republicans to engage Republicans on that front. There are many people who are socially conservative who would not say I'm conservative because of those views."
On "Firing Line," Hoover has a polite, civil "contest of ideas" for roughly 30 minutes with one guest to explore a subject in depth. Some interviews broke news such as her interview with Rep. Alexandria Ocasio-Cortez on Israel and the Palestinians and former New Jersey Gov. Chris Christie on prosecuting Jared Kushner's father. Others are subjects that need further investigation, such as discussing cyber security for the next elections with Sen. Mark Warner.
Other interviews are both professional and personal, such as her interview with friend Meghan McCain and Cindy McCain after the one-year anniversary of Sen. John McCain's death.
"I'm a huge fan of 'Firing Line' and grew up watching it," said Meghan McCain, another LGBTQ ally. "It's such an iconic brand."
Hoover surprised them with a 1998 clip of John McCain on the original "Firing Line" with Buckley. Meghan, then 13, had a crush on Leonardo DiCaprio and her father was concerned she would take up smoking after watching DiCaprio smoke on film. She didn't.
Hoover noted how Democrats are now mentioning McCain to signal bipartisanship.
"I think my husband would have a real chuckle over it, I really do," said Cindy McCain, who noted how close McCain was with Democratic icon, the late Sen. Ted Kennedy.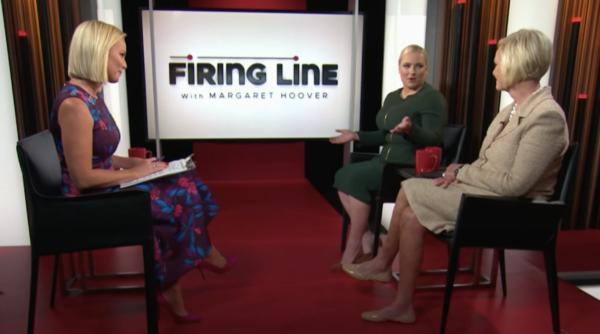 Meghan had a different view. "I remember people taking real low blows and low shots at him — and I also appreciate people respecting and bringing him up. But I also think that maybe if you hadn't demonized him so much and demonized Mitt Romney so much, maybe it wouldn't have bred the feeding ground for Trump because Trump didn't just come," she said.
John McCain was "always looking to reach across the aisle, to work alongside — he was a truly decent, wonderful man. I'm not just saying that because he's my father," said Meghan. "And now we have someone who has, I believe, no character, no discipline, has no interest in working with the other side, and I think that it was the beginning of it, if we look back now in the past 10 years."
When Trump speaks ill of her father, "I go crazy. I turn into the She-Hulk," Meghan said. "I get very emotional and very angry, and normally have to call you (Hoover). Or my husband."
Meghan, who identifies as a conservative, not a Republican, told Hoover that her father insisted that she join ABC's "The View."
"I was called a mushy RINO (Republican In Name Only) for most of my career," she says. "All of a sudden, I'm like the queen conservative and no one's more surprised about it than I am."
She's worried about the party, post-Trump.
"Whatever you want to say about the left or people like AOC, they do a really good job of speaking to young people," Meghan said. "And I think, for us — and I always laugh — Young Republican groups start at 40. I think post-Trump America, for the party, is gonna be a very, very dark place to rebuild."
How millennials approach politics is of concern to Hoover, too. "Here are these authoritarian regimes that are gaining in ascendance and credibility and you ask millennials now whether they think it's imperative that you live in a liberal democracy – only 30 percent of them agree. So, I do think we need to make these arguments anew," she told Colbert.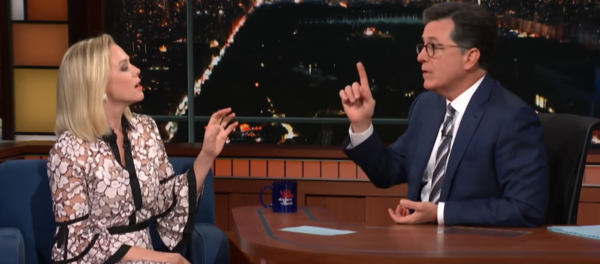 But, he retorted, do they only hear the word "liberal" and not know that the base of the idea of liberal democracy is a free democracy?
"What I think we need to do both on the show and generally — and this is probably the largest contest of my life — is make the case for the ideas behind the Bill of Rights, for free speech, for freedom, for individual freedom," Hoover said. "I think that is the major contest of our moment."
But, Hoover said, "the party has been Trumpified. The conservative movement is more a conservative populism that has very little to do with the tenants and pillars that Buckley put together and that (Ronald) Reagan put together." She has more in common "with George Will and (the late) Charles Krauthammer and the folks who have a real problem with the president and his approach."
Hoover notes that her "Firing Line" style is very different from the erudite and elitist William F. Buckley.
"Buckley was trained in Oxford style debate performance in an era where formality reigned supreme and WASPs ruled the elites," Hoover tells the Blade. "I'm a product of a cultural moment where reality TV and millennials yearn for authenticity in a more diverse country that's known what conservatives are for decades, thanks to Buckley.  But his tradition — the legacy of engaging someone in a long form exchange of ideas, to understand how they think and what they think and what ideas they think will solve our current problems — has hit a nerve.  What's old is new again."
Hoover also believes that "Buckley unfairly gets cast as a homophobe, which I think is a myth, because of one terrible and over-reported moment with (gay) Gore Vidal on television in 1968."
The two men did not like each other but were under contract with ABC to do a debate, during which Vidal called Buckley a "crypto-Nazi" and Buckley called Vidal a "queer." Michael Lind, an intellectual who knew them both, wrote in Politico in 2015 that "The Best of Enemies" documentary about the feud gets "just about everything" wrong, "but especially the battle between left and right."
As it turned out, Buckley actually had gay friends, including his National Review best friend, Marvin Liebman, also a co-founder of the conservative movement, who came out in a moving letter published in the July 9, 1990 issue of the National Review.
"I am almost 67 years old. For more than half of my lifetime I have been engaged in, and indeed helped to organize and maintain, the conservative and anti-Communist cause," Liebman wrote. "All the time I labored in the conservative vineyard, I was gay."
Buckley's editor in chief response to Liebman, his "brother in combat" and "dear friend," was formal but written with "affection and respect" for Liebman. Buckley wrote that he understood the "pain" inflicted by society on gays "sometimes unintentionally, sometimes sadistically. It is wholesome that we should be reproached for causing that pain." He also promised that National Review "will not be scarred by thoughtless gay-bashing."
But Buckley added that his "Judeo-Christian tradition" considers homosexuality "unnatural, whatever its etiology."
Liebman was amused, the Washington Post reported at the time. "He's been my best and closest friend. That's just the way he is," Liebman said. "I don't feel remotely put down by it. You know, he has these crazy ideas — Judeo-Christian bull. But he's a nice man."
Interestingly, Buckley's older brother Jim, a former U.S. senator from New York for whom Liebman had fundraised, picked up a hefty dinner check, then raised his glass in a toast. "'This is my way,' he said with the characteristic Buckley grin, 'of saluting an act of courage,'" the Washington Post reported July 9, 1990.
In another act of courage, Sean Buckley, Jim Buckley's college-age grandson, came out as gay on April 26, 2015 in The Daily Beast, which at the time was run by Hoover's husband, John Avlon. The couple met during former New York City Mayor Rudolph W. Giuliani's 2008 presidential bid; they both subsequently became CNN contributors.
But what Liebman described as anti-gay "Judeo-Christian bull" is still around and still a GOP obsession, now termed "religious liberty." Hoover believes a congressional Republican strategy is needed to secure LGBTQ equality.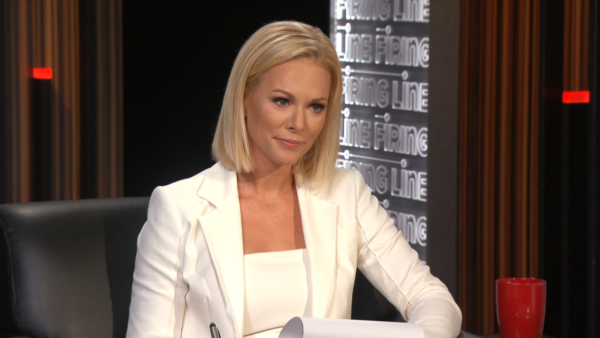 "I support full political freedom for LGBT Americans and a fully comprehensive bill to secure LGBT freedom in federal law," Hoover tells the Blade. "I'm unconvinced the Equality Act is a realistic path toward bipartisan passage of a bill that will do this. At the same time, I reject the notion that religious liberty is inherently at odds with LGBT freedom.
"I've been working for three years on an alternative to the Equality Act that will become public soon, that takes a page out of the historic LGBT nondiscrimination law in Utah where the Church of Jesus Christ of Latter-day Saints supported protections in employment and housing for gay and transgender people in the state—the most religious state in America!" she says. "By taking the concerns of religious leaders sincerely, we can strike a balance that fully protects LGBT Americans from discrimination in employment, housing, public accommodations and beyond, and earn the necessary bipartisan support for achieving these protections nationwide in the near-term."
Right now, Hoover hopes, "Firing Line with Margaret Hoover" illustrates how intellect, compassion and civility can set an example to make bipartisan progress.
Florida prohibits Medicaid reimbursement for trans healthcare
Lambda Legal tells the LA Blade its "exploring all possible avenues for challenging this discriminatory rulemaking"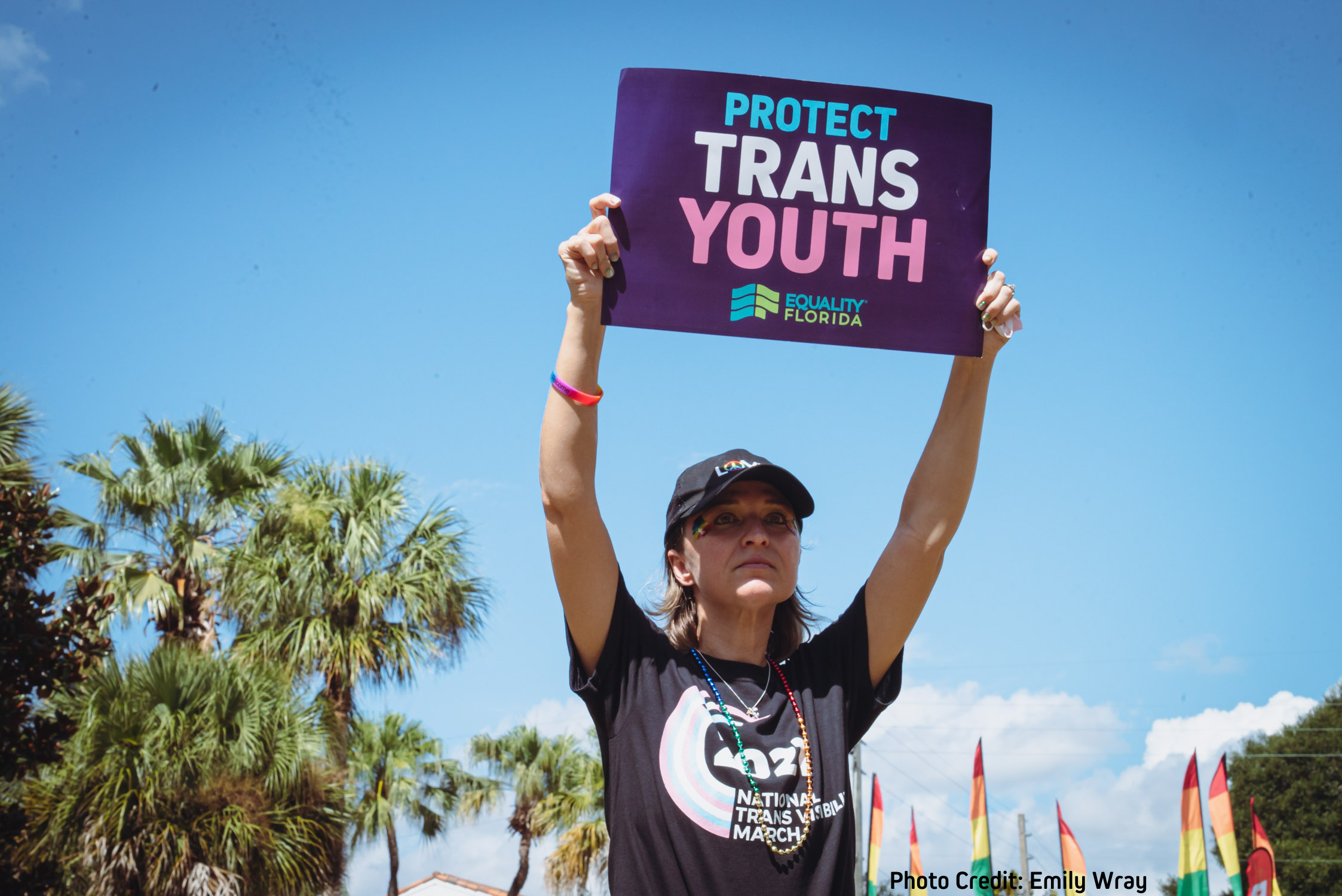 TALLAHASSEE – On Thursday, Florida officially joined the roster of conservative states whose Medicaid programs carve out coverage exemptions for transgender related healthcare, including gender-affirming therapies for young people.
Against the guidance of mainstream medical opinion, the state's Agency for Health Care Administration (AHCA) ratified new rules prohibiting taxpayer reimbursement for puberty blockers, hormone therapies, or surgical procedures to treat gender dysphoria.
"We are exploring all possible avenues for challenging this discriminatory rulemaking," wrote Carl Charles, senior attorney at Lambda Legal, in an emailed statement to The Los Angeles Blade. "Lambda Legal has secured victories on this issue in other states such as Alaska (Being v. Crum), and just this month in our case, Fain v. Crouch, in West Virginia."
The American Academy of Pediatrics (AAP) and its Florida Chapter (FCAAP) wrote in an emailed statement to The Blade that they were "disheartened" by AHCA's finalization of rules blocking Medicaid coverage for gender affirming care:
"The state's interference with the physician-patient relationship and its prohibition of this vital care will negatively impact Floridians who are trying to live their lives as their true, healthiest selves. As pediatricians, our only goal is to work with families and provide our patients with the best evidence-based care possible. When necessary and appropriate, that includes gender-affirming care. The AAP and FCAAP will continue to stand up in support of all young people, including those who are transgender."
The U.S. Centers for Medicare and Medicaid Services did not return a request for comment in time for publication. The U.S. Department of Health and Human Services did not immediately respond to a request for comment.
Also on Thursday, Florida's AHCA inaccurately accused HHS and the AAP of misleading the public about the safety of transgender related healthcare, though it was not the first time the state's health agency has butted up against its federal counterparts and associations of medical practitioners.
AHCA previously issued a bulletin in April that prompted rebukes from groups including the Endocrine Society, which accused AHCA of spreading misinformation about healthcare treatments for transgender people, including youth. The bulletin's contents also conflicted with official positions on these matters held by HHS.
A coalition of legal advocacy organizations including Lambda Legal immediately condemned the AHCA's latest move in a joint statement Thursday, writing: "Ignoring thousands of public comments and expert testimony, Florida's AHCA has finalized a rule that will deny Medicaid coverage for all medically necessary gender-affirming care for both youth and adults. This discriminatory and medically unsound rule will take effect on August 21, 2022, putting transgender people in jeopardy of losing access to critical gender-affirming health care services."
The statement also took aim at Florida Gov. Ron DeSantis: "AHCA's actions, at the behest of Governor DeSantis and his political appointees, are morally and legally wrong as well as medically and scientifically unsound. This rule represents a dangerous escalation in Governor DeSantis's political zeal to persecute LGBTQ+ people in Florida, and particularly transgender youth."
The Movement Advancement Project publishes a chart tracking state-by-state Medicaid coverage for transgender-related care, which is a patchwork of different exemptions and carveouts that generally maps onto the extent to which each leans conservative.
Much like with other public health insurance programs like state employee health plans, discriminatory state Medicaid programs have often been the subject of litigation challenging them, in lawsuits that are often successful.
Nikole Parker, Equality Florida's Director of Transgender Equality in an emailed statement said:
"Just over one week from today, Florida's Agency for Health Care Administration, at the behest of Governor DeSantis, plans to strip thousands of vulnerable Floridians of their health care. Transgender people have been accessing gender-affirming care through Medicaid for years. That care is now being shut off by a state agency that has been corrupted, weaponized, and stacked with extremists by a governor desperate to fuel his own political ambitions.
Today, more than 9,000 transgender Floridians access care through Medicaid. On August 21, the state government will put  that care on the chopping block. As further evidence for his complete disregard for the health and well being of transgender Floridians, the DeSantis Administration has done nothing to quantify or assess the terrible impact this rule would have on the thousands of transgender people who rely on Medicaid for their care. The transgender community, like all people, shouldn't have necessary, life-saving care stripped away by extremist politicians working overtime to stoke right-wing fervor. This brazen, politically-motivated attack is cruel, dangerous and puts the health of thousands at risk."
Virginia's Gov. Youngkin will force teachers to out their LGBTQ+ students
"I firmly believe that teachers and schools have an obligation to make sure that parents are well informed"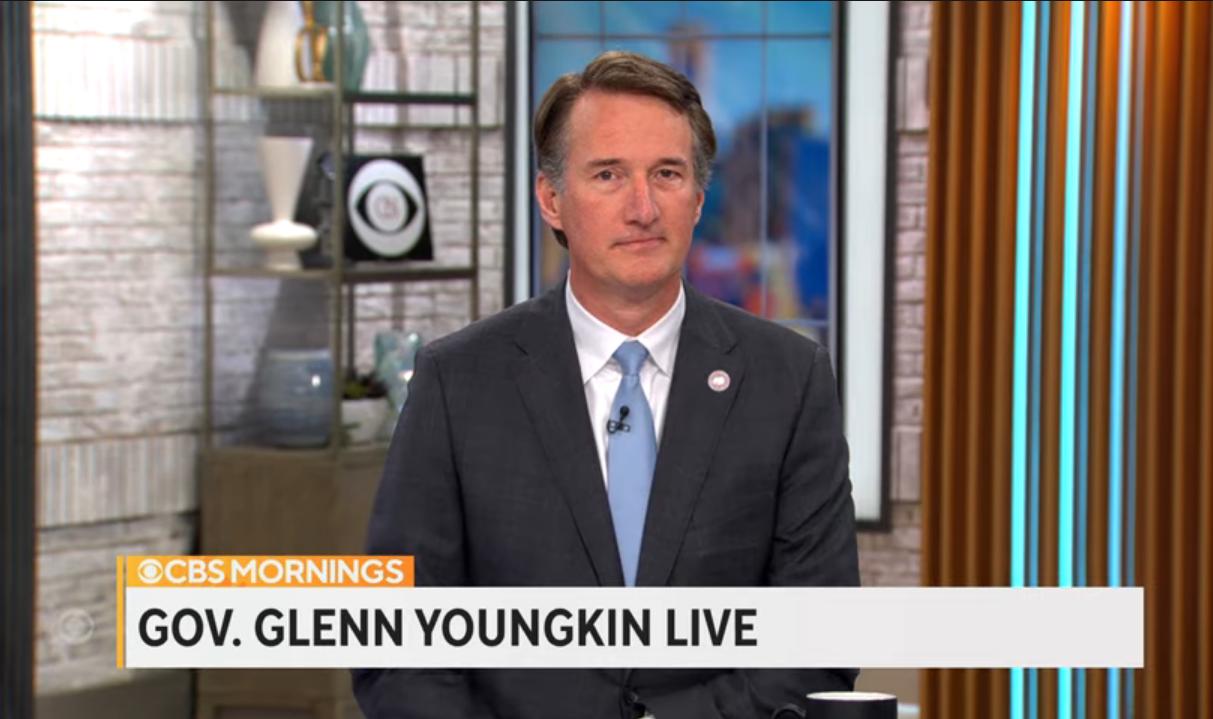 RICHMOND – Virginia Republican Governor Glenn Youngkin affirmed his support on Tuesday for measures that would require teachers to notify parents of their children's sexual orientation or gender identity, regardless of the students' consent. 
The move was justified under the pretext of protecting "parental rights," a specious argument that has given cover to policies enacted by conservative legislatures across the country that target LGBTQ+ people, including students, in public schools.
"With regards to informing parents with most important decisions about their children…Parents should be at the forefront of all of these discussions," Youngkin told WJLA News. "And I firmly believe that teachers and schools have an obligation to make sure that parents are well informed about what's happening in their kids' lives."
Critics, however, charge that coming out is an intensely personal act, that taking away a student's ability to do so on their own terms can be psychologically damaging, intrusive, and hurtful. In some cases, for students whose parents or guardians might harbor anti-LGBTQ+ views, it can be dangerous.
Lambda Legal reports between 20 and 40% of homeless youth identify as LGBTQ+ and are "frequently rejected by their families or fleeing abusive long-term placements." Forcibly outing young LGBTQ+ people can mean they will be forced to live on the streets.
Notwithstanding Youngkin's efforts to portray himself as a moderate when campaigning for governor, Tuesday's statement follows a series of extreme rightward moves he has made with respect to education policies in the state that concern LGBTQ+ youth and subject matter.
Florida's controversial "Parental Rights in Education" bill, which critics termed the "Don't Say Gay" bill, was similarly premised on the right of parents to control the material to which their children will have access in school.
In reality, the overbroad legislation prohibits any classroom discussion of sexual orientation or gender identity for students in certain grades, which could potentially lead to disciplinary action against a teacher who mentions their same-sex spouse.
Youngkin has similarly taken aim at educational materials in public schools, such as by signing into law SB656, which requires parental notification of nebulously defined "sexually explicit content."
Just after taking office in January, he set up a "tip line" to solicit comments from Virginia parents on "divisive practices" or the inclusion of curricula and materials they may consider objectionable.
Plaintiffs in multiple lawsuits, the most recent of which was filed on Monday, accuse Youngkin of violating public records laws by his refusal to share "tip line" emails with news media organizations.
Out Vermont state senator wins Democratic primary in U.S. House race
Tuesday's victory makes her likely to become the first woman and openly LGBTQ+ person to represent the heavily Democratic state in Congress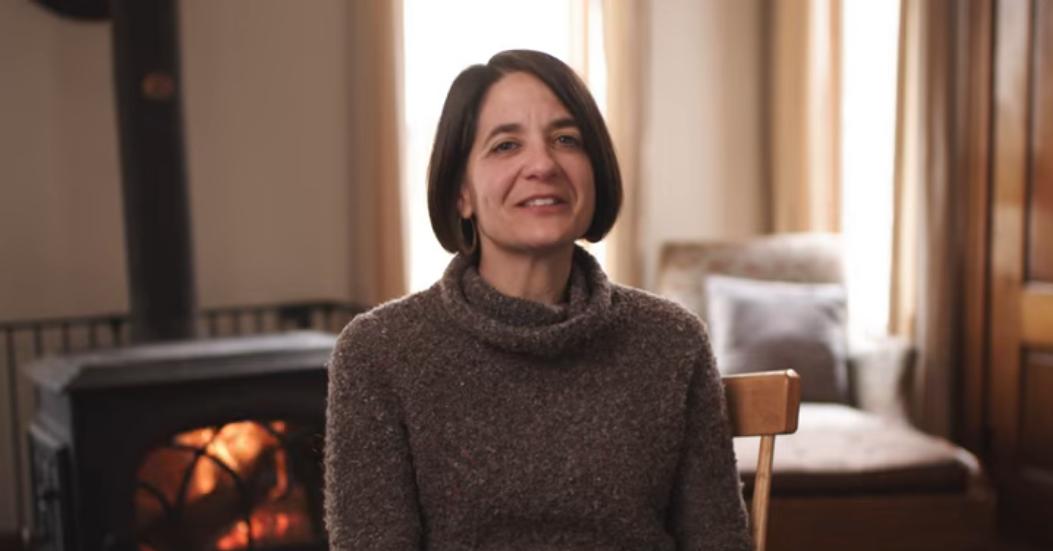 MONTPELIER – The Green Mountain State's state Senate president pro tempore has won the Democratic nomination for the state's at-large congressional seat, the state's lone seat in the U.S. House of Representatives.
Becca Balin is running to succeed U.S. Rep. Peter Welch and Tuesday's victory makes her likely to become the first woman and openly LGBTQ+ person to represent the heavily Democratic state in Congress if elected in November. Vermont is the only state that has never had a female member of its congressional delegation.
The VTDigger, a statewide news website, reported; "Balint, 53, is the first openly gay woman elected to the Vermont Senate and the first woman to serve as its president. The former middle school teacher and stay-at-home mother won her first political contest in a race for her southeastern Vermont Senate seat in 2014.
She rose quickly through the ranks of the Democrat-controlled chamber, becoming majority leader in 2017, at the start of her second term. Four years later, in 2021, she was elected pro tem — the top position in the Senate."
Becca Balint, the president pro tempore of the Vermont Senate, has won the Democratic primary for the state's open congressional seat. She could become the first woman and the first openly gay person to represent the state in Congress. https://t.co/RaAgwmtQJD

— The Associated Press (@AP) August 10, 2022