December 3, 2019 at 5:48 pm PST | by John Paul King
Todd Masterson just wants to be your 'Gay Fat Friend'
With an ever-expanding ocean of gorgeous would-be models and influencers vying for your attention on social media, it sometimes feels like it's hard for any of the rest of us to stand out from the crowd – but one West Hollywood resident has succeeded, and he's doing it by beating the "hotties" at their own game.
The man in question is Todd Masterson, the stand-up comedian and writer behind an Instagram account known as "Gay Fat Friend." Borrowing images from other Instagram users, he edits himself into pictures of ripped, muscular gay men – alone, at parties and gatherings, out and about with their friends – and posts the result with an amusingly inane caption.
Its popularity has caught him off-guard.
"You always want things to take off," he says. "You joke about things going viral. And now we're talking about this stuff like it's real, and it's like… you know… it's just weird."
It's particularly surprising for the comedian since he's already got some impressive credits under his belt. He wrote jokes for Joan Rivers on 'Fashion Police' for the last two years before she died, as well as writing the challenges for 'RuPaul's Drag Race' in season 7. He's currently  employed at KPCC, Pasadena's NPR station, handling listener emails; he says he does stand-up "pretty much full time," but can't find a manager who won't tell him to "come back after you get famous."
He quips, "Is that's what's happening now? Am I getting famous?"
Masterson created the "Gay Fat Friend" persona on Instagram as a joke, but the idea came in response to his observations about the way overweight men are often treated within the gay community.
"It all started because I follow a bunch of these guys who are sort of 'WeHo famous,' if you will," Masterson explains. "I've followed them forever, and we have lots of mutual friends, but I don't really know them – I see them out and about, I'm at the same parties with them, but I've never been introduced to them. And they're always together, and they always shirtless, and none of them have any fat friends.
"And I always used to joke, 'Are they afraid of fat people? How does this happen? They go to so many parties and gatherings, and there's never a fat person there!' Then I thought, 'You know what? I have this fun Photoshop app that's really easy to use, I'm just gonna put myself in their pictures and see what happens. Because it's like, it doesn't change anything, you know? Everybody is still smiling and having a good time."
Originally, the pictures were mostly for his friends. He posted the first group all at once, on his personal account, thinking they would get a few laughs and that would be it, until someone suggested he start a separate Instagram page and keep posting more of them there. He was hesitant, at first.
"I didn't want to be one of those people," he jokes. "It felt like one of those things where people create a Facebook page for their dog."
Nevertheless, he created an account with the handle @gayfatfriend and started posting sporadically, "maybe once a week," he says.
"At first no one noticed – until my friend Eliot Glazer shared one on his Instagram stories. Eliot was on 'Broad City,' he's kind of a body positivity guy, gay, in the community, you know. He's got a big following, and I got a thousand followers in one day. Then I thought, 'Oh wow, I guess I should probably start posting every day.'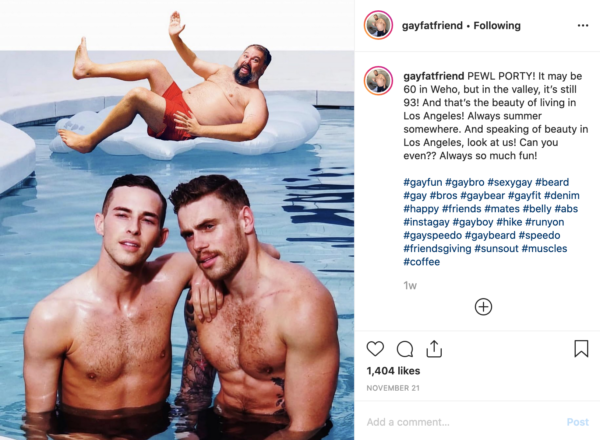 A week later, Masterson says, his page was shared by someone named Brendan ("who's kind of a famous singer in Australia"), and it jumped to 2000 followers as it spread internationally. Two weeks later, the number is at more than 5000 and still rising, and he says that "hot muscle-y WeHo guys" are messaging to ask him to put himself into their pictures, or into the pictures of friends they "really want to roast."
"It's so much fun now," he chuckles. "People say they look forward to seeing the posts every day, it's like a highlight of their day – and I have all these pictures to choose from, there's an endless supply of shirtless hot guys on Instagram. They're not hard to find."
As for the guys whose pictures he digitally photo-bombs, Masterson says, "Some of them love it, some of them, hate it." He shrugs, adding, "People are like, 'you're really trolling them,' but I'm not. I never say anything mean. I'm literally not making fun of them, I really do want to be their friend. I've always wanted to be their friend, I just never understood why they don't want to be friends with me."
He reflects, "I think a lot of guys are afraid of fat people, almost. Fat is definitely a thing to be afraid of in our community, and it doesn't have to be. I'm fat, and I've been fat my whole life, and that word has always had a lot of shame attached to it. But I don't know if it's because I'm getting older, or because my husband and I have been together for eight years and I'm really happy, but I've kind of reached the point where I don't really care anymore, in a way – like I don't freak out about dieting or anything, and I don't fear the word 'fat.' Like it isn't an insult to me, any more, if that makes sense?"
"That's why I never really thought of 'Gay Fat Friend' as a body positivity thing," he adds. "I wanted to do it as a joke, and then I was like, 'Oh yeah, this really appeals to body positivity.' It kind of shows people, 'Look, it's just a body, we all have bodies.' And now a lot of people comment that I'M the hottest one in the pictures, and I'm like 'Wow, people think I'm hot! That's so fun!' I've always said, 'there's a lid for every trash can.' You are gorgeous to somebody – it may be one person, it might be half the world, but your body is definitely attractive to somebody."
Now that Masterson is making a dent with his Instagram alter-ego, does he have something else up his sleeve?
"Like every other comedian and writer in LA, I have a pilot I'm trying to sell," he tells us. "It's called 'SASSquatch.' It's about a gay sasquatch that leaves the Pacific Northwest to live as a gay sasquatch in West Hollywood. He works in an Amazon call center, he lives with his best friend in West Hollywood, she's a plus-sized gal. He has a Tindr date with a hot muscle guy. He's constantly being followed by scientists and bigfoot hunters, like paparazzi, and he's always like, 'you know what, come on you guys, leave me alone.'
"It's literally like 'Harry and the Hendersons' meets 'Broad City.'"
If the show itself is half as funny as that premise sounds, this is one "gay fat friend" we'll soon be seeing more of.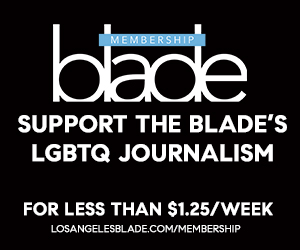 Sign Up for Blade eBlasts