10 great kinda-sorta Christmas movies for your holiday viewing
Seen the staples a zillion times? Here are a few with holiday settings off the beaten path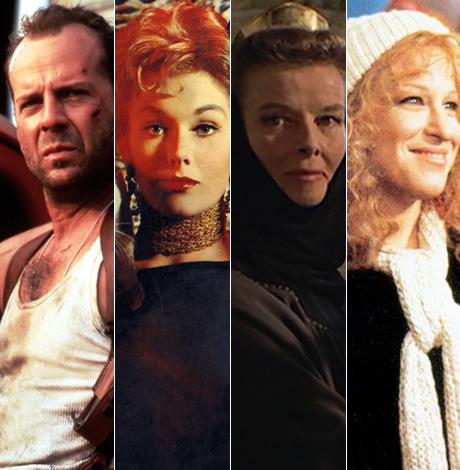 Christmas movies are funny. Some folks never tire of the classics — "Miracle on 34th Street" (1947), "It's a Wonderful Life" (1946) or "A Christmas Carol" (1938). But maybe you've worn those into the ground and are ready for something else.
If you can't stomach the saccharine heteronormativity of the Hallmark schlock, here are 10 movies that aren't ostensibly about Christmas but feature either a significant holiday scene or happen to take place around the holidays. From the warm fuzzies to outright terror, these run a surprisingly wide emotional gamut.
In no particular order …
1. "Eyes Wide Shut" (1999) — The final movie by legendary cinematic auteur Stanley Kubrick was released in July but is famously set in December. This polarizing sex mystery — some consider it Kubrick's final masterpiece, others say it's a steaming, meandering turd — uses lights of the season to ominous effect as Dr. Bill (Tom Cruise) pursues his ritualistic labyrinth. Opinions vary as to what it all means — some have even hypothesized it's ultimately a depiction of the dark side of Christmas consumerism.
2. "The Lion in Winter" (1968) — It's Christmastime, 1183 and King Henry II (Peter O'Toole) decides to let his wife, Eleanor of Aquitaine (Katharine Hepburn in an Oscar-winning role) out of jail. Literary-caliber wit and one-upmanship ensue.
3. "Bell, Book and Candle" (1958) — Fresh off "Vertigo," Jimmy Stewart and Kim Novak reunite for this frothy romantic comedy in which Gillian (Novak) casts a spell on her new neighbor Shep (Stewart) and, of course, calamity ensues. If a jazzed-out, '50s-set authentic Greenwich Village Christmas vibe sounds appealing, this one has it.
4. "Has Anybody Seen My Gal" (1952) — Another Technicolor wonder from Hollywood's boom years, this one finds Rock Hudson as soda jerk Dan; the object of his affection Millicent (Piper Laurie) is from a family grappling with sudden wealth. The Christmas scene is beautifully shot. Look for James Dean in an uncredited cameo.
5. "Female Trouble" (1974) — The convoluted and increasingly dark plot of this John Waters classic gets started all because Dawn Davenport (Divine) discovers on Christmas morning that "nice girls don't wear cha-cha heels." It's a queer Xmas classic.
6. "Stella" (1990) — Bette Midler breathes new life into this third screen adaptation of a '20s novella (Barbara Stanwyck had the role in 1937) as the feisty, brash title character who mothers a child with a man from the other end of the social spectrum. Tender Christmas scenes add poignance to a genuine weepy.
7. "Die Hard" (1988) — An office Christmas party goes horribly awry but John McClane (Bruce Willis in his prime) saves the day. "Die Hard 2" (1990) also takes place on Christmas Eve. The films have become de facto seasonal classics in recent years. Ironically, they were both summer blockbuster releases in their first runs.
8. "Rosemary's Baby" (1968) — Christmas scenes are tangential in this Polanski-directed thriller about a young woman Rosemary (Mia Farrow) experiencing a very unusual pregnancy. But if you want a Satanic twist on the Annunciation, this is always a fun one to revisit.
9. "The Bells of St. Mary's" (1945) — Bing Crosby and Ingrid Bergman play a priest and a nun who join forces to save their school from being shuttered. Crosby revives his Oscar-winning role of Father O'Malley (whom he'd played in "Going My Way" the previous year). Its original Dec. 6 release date dovetails with its warm holiday scenes.
10. "The FBI Story" (1959) — Taken literally, this brisk, Jimmy Stewart vehicle may seem initially like little more than a J. Edgar Hoover puff piece. As a consultant on the film, Hoover made sure his agency comes out looking stellar throughout. As a pure thrill ride, however, I found it vastly more watchable than the leaden 2011 biopic J. Edgar. A Christmas passage finds Vera Miles (who has great chemistry with Stewart) decorating their home in full, mid-century holiday splendor.
HONORABLE MENTION — "Psycho" (1960) — You may have forgotten, but the Hitchcock classic takes place over the course of nine days starting Dec. 11. Odd, then, that Norman (queer actor Tony Perkins) and Mother have no tree up when Lila (Vera Miles) comes snooping in their creepy house just five days before Christmas. Hitchcock chose the December setting because a second unit crew sloppily picked up Christmas decorations when filming process plates prior to principle photography. You can spot them briefly in the scene when Marion (Janet Leigh) sees her boss from her car just before leaving town.
Charles Busch reflects on the paths he didn't take in new book
'Leading Lady' a riveting memoir from legendary entertainer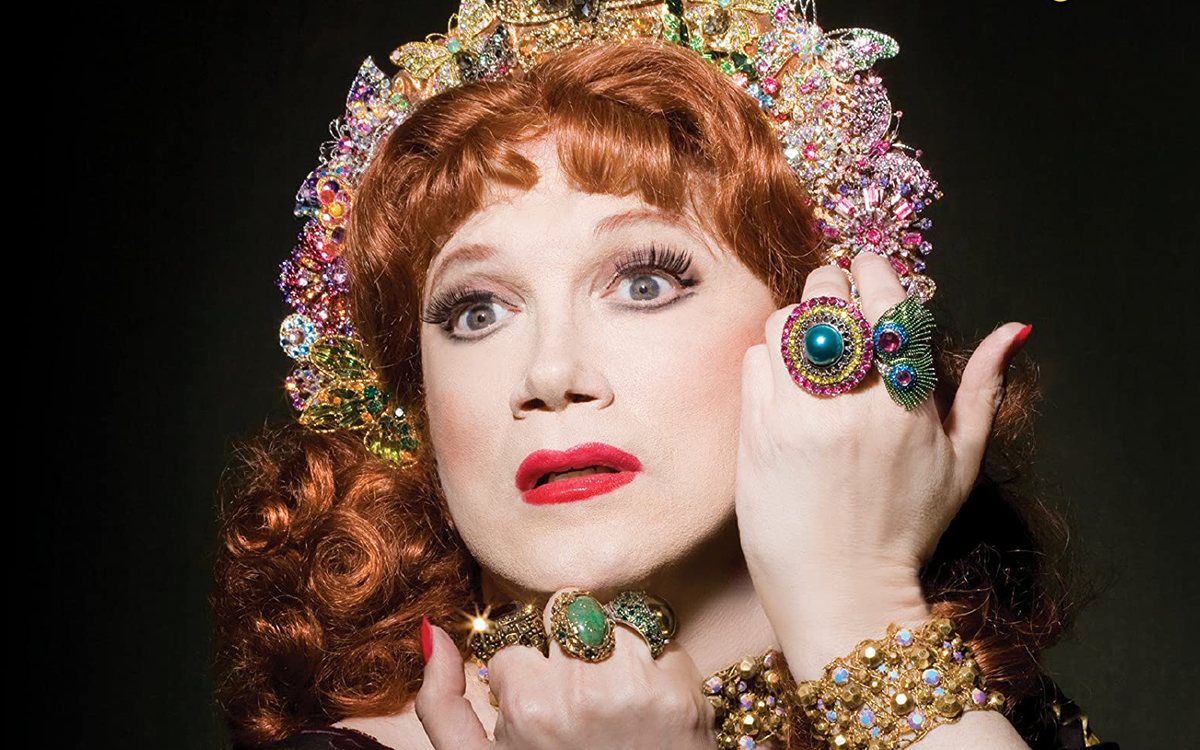 "Charles, I'm telling you, I go to plays in rat-infested basements where I'm the only one who shows up," the late queer icon Joan Rivers once told the queer, legendary playwright, actor, director, novelist, cabaret performer and drag icon, Charles Busch. "I can see the actors peeking through the curtain and groaning, 'Oh God, that old bitch in the fur coat is here. Does that mean we've gotta go on?'"
Busch reminded Rivers that she'd seen him perform in a rat-infested basement.
This is just one of the many stories that Busch, born in 1954, tells in his riveting memoir, "Leading Lady: A Memoir of a Most Unusual Boy," which comes out on Sept. 12.
"Leading Lady" is a page-turner. Some of its tales of Busch's life and career, such as his account of a Christmas party with Rivers as a guest, are dishy. Others, like his memories of trying to care for his beloved Aunt Lil, when he knew she was dying, would make even the Wicked Witch in Oz tear up.
The memoir, is, as Busch says on his website (charlesbusch.com), the story of "a talented artist's Oz-like journey."
"Leading Lady" isn't linear. This isn't a detriment. Busch deftly intertwines memories of his life and career from his mom dying when he was seven to being raised by his loving Aunt Lil to being the author and star of the cult classic "Vampire Lesbians of Sodom" to watching Kim Novak handle fans to being the Tony-nominated writer of "Tales of the Allergist's Wife" to being creative during the pandemic.
"Storytelling is a huge part of my life," Busch told the Blade in a lengthy phone interview, "I get into various adventures and, I think, this could be a good story to tell."
Interviewing Busch is like chatting with a fab storyteller over coffee or a glass of wine. Except that you're talking to a legend who's entertained and inspired queers (and discerning hetero audiences) for decades. (I'm wearing my "Vampire" T-shirt as I write this.)
As a playwright, Busch writes "linear" plays, with a beginning, middle and an end, he said. As a cabaret singer, "the way I sing songs is telling a story," Busch said.
Since childhood, he's been creating vivid scenes in his imagination. From early on, Busch has felt as if he's both a spectator and star in the movie of his life.
It seemed inevitable that he'd write a memoir. It's the ultimate form of storytelling. "You reach a certain point in your life," Busch said, "where you're more reflective and see your life as a whole."
"You reflect on the paths you didn't take," he added.
Busch spent his childhood in Hartsdale, N.Y. He had two older sisters, Betsy and Margaret. His mother's death was devastating for Busch. His Aunt Lil and Joan Rivers have been among the women who have been "mothers" to Busch since his mom died.
Once, Busch said he and Rivers dined with friends. "Joan Rivers said 'I wish I had a gay son I could phone at midnight and discuss whatever movie was on TCM,'" he recalled.
Busch would have loved to have been Rivers's "gay son."
Life in Hartsdale was hard for Busch after his mother passed away. His father was often absent and showed little interest in his children.
Things were miserable for Busch when his grandmother, for a time, cared for the family. He knew, as a boy, that he was gay and hated going to school where a movie-and-theater-loving kid who liked to draw wasn't one of the cool kids.
Yet Busch forgave his "father's failings," he writes in "Leading Lady, "because he gave me the theater."
Busch became entranced with the theater when his father, an aspiring opera singer who performed in summer stock, took him to the old Metropolitan Opera House in New York City to hear Joan Sutherland sing the role of Amina in Bellini's "La Sonnambula."
Busch was saved from a life of boredom and bullying when Aunt Lil, his mother's sister, took him to live with her in Manhattan. There, like Auntie Mame, she raised him. She prodded him into applying to the High School of Music and Art in New York City. He was accepted there.
After high school, Busch graduated with a bachelor's degree in drama from Northwestern University in 1976.
"My Aunt Lil is the leading lady [of the title of his memoir]," Busch said, "she was the most influential person in my life."
One of the reasons why Busch wrote "Leading Lady" was to paint a full portrait of her. "It was important that it not be this kind of gauzy, sentimental memory piece," he said, "making her out to be a saint."
Aunt Lil adopted Bush when he was 14. Her goal was that he would go to college, become independent, be a survivor – make a place for himself in the world.
"I don't know what would have happened if she hadn't stepped in," Busch said.
"She was very intellectual," he added, "I've never met anyone [else] with such a pure devotion to thinking. It was a little intimidating."
Aunt Lil's standards for caring – for giving of oneself – were so high that it was almost impossible to meet them. "She believed that you should anticipate what people would need," Busch said, "before they told you."
Looking back, Busch is most proud of himself when, "I've gone past my natural self-absorption," he said, "when I've thought of someone else."
Busch is being too hard on himself. In "Leading Lady," and when interviewed, he's caring and curious as well as witty, savvy, and as you'd expect, a bit campy.
His sister Margaret died recently. "She declined gradually over nine months," Busch, said, choking up, "I gave her my bedroom and I slept on my sofa."
Like many of her generation, Aunt Lil didn't understand queerness or drag. But she loved Busch. She didn't go to see his productions, he said. "She could have gone like other parents," he said, "and been tight-lipped. And said something nice that she didn't believe."
But "she didn't want to lie or be hurtful," Busch added, "so, for her, it was: can't I just love and support you, and not go?"
Aunt Lil didn't get Busch's sexuality. But she knew about secrecy. Busch learned of a terrifying secret that his aunt had long kept hidden. In the 1930s, during the Depression, Aunt Lil worked as a nurse. One day, when she worked overtime, one of the patients suffered a burn. She had to leave nursing. "Her sister in a nasty mood revealed this," Busch said, "Aunt Lil never discussed it."
In the 1970s, Busch had trouble getting into theater because there were only roles for actors playing straight male characters. "The only way I could get on stage was to write my own roles," he said, "I have a rather androgynous nature."
Busch found that the feminine within him was a place of authority and strength. "I'm fine when I play male characters," he said, "but I'm better when I play female characters."
Why this is so liberating for him is a bit of a mystery to Busch. "But I accept and love it," he said.
Times have changed since Busch made his first big splash with "Vampire Lesbians of Sodom." "In 1985, being a drag queen was considered a negative," Busch said, "my generation of drag performers bristled at being referred to as drag queens."
Busch no longer bristles. "I feel like the characters," he said, "I enjoy costumes and getting the right wig."
"But, I go from male to female not through trickery or anything visual, I transfer through my soul."
In "Leading Lady," Busch recalls AIDS and other dark moments from the past. Many of his friends and colleagues died from AIDS. "AIDS was the World War II of our generation," he said.
But Busch, in his memoir and in his life, isn't only looking back. He's very much in the present. Busch is embarrassed to say he was lucky. During the pandemic, devastating to many, he made art. He did play readings on Zoom and finished writing "Leading Lady" which he'd worked on for 14 years.
During the pandemic, Busch with Carl Andress co-wrote and co-directed the movie "The Sixth Reel." The film's cast includes Busch, Julie Halston (Busch's longtime muse), Margaret Cho and Tim Daly.
Busch describes the film, an homage to the Hollywood madcap movies of the 1930s, as "a comic, caper movie."
"I play a disreputable dealer in movie memorabilia," Busch said, "a legendary lost film is found, and I see it as my ticket out of debt."
The "Sixth Reel" is playing from Sept. 21 to Sept. 27 at the LOOK Dine-In Cinema West 57th Street in New York City.
"I hope the run in New York will encourage people to distribute this little movie," Busch said.