Our country must live in us
Rebuilding together against lies and madness
I know it's time for holiday cheer when my building's lobby is festooned with fake Christmas presents. Fortunately, nearby collection bins for coats and non-perishable food show the real spirit of giving.
We are beset, however, by counterfeits. A Russian asset poses as an American patriot. Republicans vilify Stanford law professor Pamela Karlan for a punning reference to Barron Trump as if she had roasted and eaten him like the witch in a folktale, despite their own history of gleeful attacks on teens from Chelsea Clinton to Greta Thunberg. Former Speaker Newt Gingrich laments, "On the eve of Christmas it is really sad to see the dishonesty and the partisanship," referring to Democrats, amazingly enough, considering that he himself impeached Bill Clinton six days before Christmas.
Think of Donald Trump as a meaner, duller, and less competent version of Eddie Murphy's Billy Ray Valentine in the 1983 film Trading Places, who is caught up in a wager between plutocrats over what will happen if they replace the managing director of their brokerage firm with a street hustler. In our case, the wagerer is Vladimir Putin, who helped dupe American voters into replacing a thoughtful and decent president with a mobbed-up developer to see if he could turn a republic into a third-rate crime syndicate.
So far, Trump's biggest hustle has been remarkably successful: he vandalizes our country by exploiting race- and class-based resentments to profiteer while posing as a reformer.
Everyone is onto him except his diehard supporters. Last week, he made himself a laughingstock at the NATO meeting in London, while back in Washington, House Speaker Nancy Pelosi asked key committee chairs to start drafting articles of impeachment.
Trump and his enablers seem to believe that crimes done in broad daylight are okay. As far as they are concerned, we are in a post-factual age. It is easy to wax self-righteous and hypocritical when glibness and shamelessness trump logic and evidence. It is easy to sell out your country when you convince yourself that the worst person is an agent of God while you yawn over the teachings of your Savior.
Despite his threats to lock up Hillary Clinton over her use of a private email server, Trump routinely commits worse security breaches by using cell phones, in addition to constantly blabbing classified information.
All but one House Republican voted against the Voting Rights Act restoration bill. They loved the Supreme Court's 2013 ruling in Shelby County v. Holder, which gutted the VRA and paved the way for massive voter suppression in the name of fighting imaginary voter fraud. Republicans mock "do-nothing Democrats" while 275 House-passed bills await action on Mitch McConnell's desk.
A Daily Beast headline says, "Ex-Infowars Staffer: We Made Up Shariah Law Threat Stories." Freedom of speech has become the refuge of disinformation ops.
While Democratic candidates argue over healthcare and education, Trump regales a small business roundtable with ignorant musings on light bulbs and low-flush toilets. He waits for Senate Republicans to absolve him of corrupting the election so he can continue corrupting it, while impeachment critics tell us to resolve our concerns via the election as Rudy Giuliani returns to Ukraine.
This is farce without laughter. Trayvon Martin's murderer sues Martin's family. Child-molesting reactionary Roy Moore, who narrowly lost an Alabama senate race, rises again. The Border Patrol let a migrant teen die of untreated flu. The devil himself could not be more heartless.
Pope Francis (@Pontifex) tweeted on Dec. 3, "God's works begin by sprouting from a seed, from little things." First we must see clearly. A demagogue's incitements have swayed too many fellow citizens. He is at odds with reality, compassion, respect, and the Constitution. He has threatened civil war. Democracy cannot endure one group's supremacy nor a leader who holds himself above the law and continually sows discord. Belief in our country requires upholding its values, as brave civil servants have done in the face of threats and slander.
Against the aggressive lies, against the madness, let us not defeat ourselves by making the perfect the enemy of the good. Let us rebuild together with honesty, accountability, and hope.
Richard J. Rosendall is a writer and activist. He can be reached at [email protected].
Copyright © 2019 by Richard J. Rosendall. All rights reserved.
Why I'm running: Christy Smith
Reproductive freedom, marriage equality, trans rights and more are under the most dire, imminent threats they've faced in decades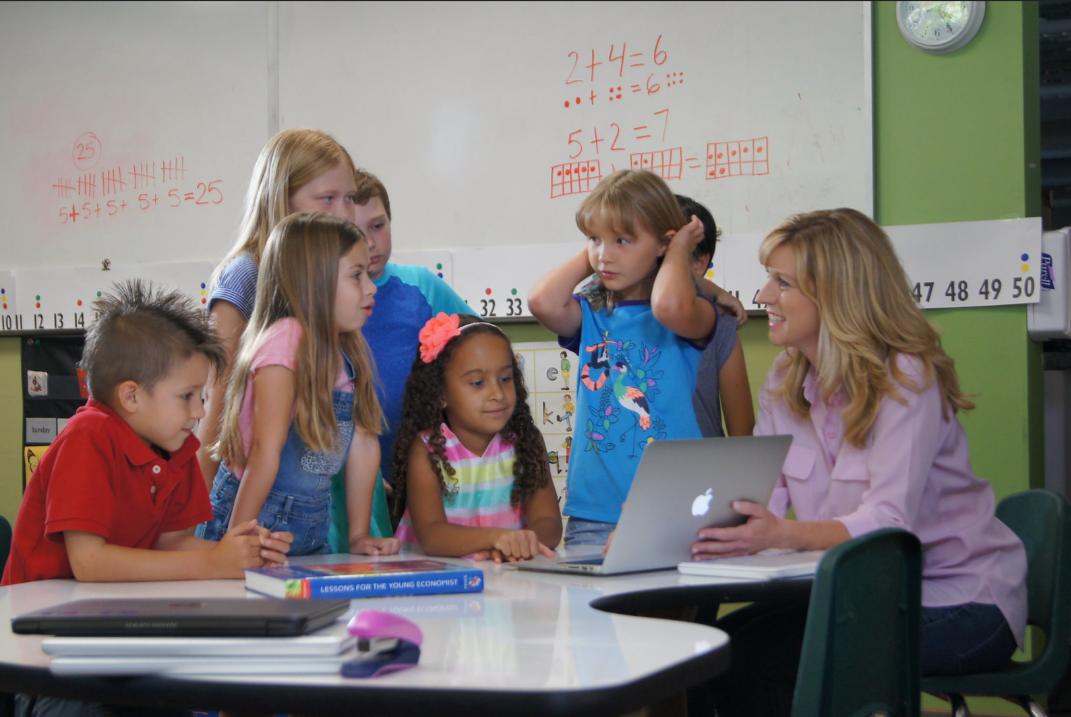 By Christy Smith | SANTA CLARITA – I'm Christy Smith, a former State Assemblywoman, local school board member, education activist, mom, and 40-year resident of Santa Clarita who is running to serve the 27th Congressional District.
During my brief time in the Assembly, I authored nine bills that were signed into law, including a landmark law that removes barriers for survivors of human trafficking to access victims' compensation as well as education reform and college affordability bills.
I'm running for Congress to fight for the issues that matter most to the people of the 27th District– advancing educational, social, economic, and environmental equity and fighting for a better future for everyone.
The present challenges we face right now offer myriad critical causes that demand our activism: voting rights, the climate crisis, reproductive freedom, LGBTQ+ rights, and economic justice. For me, making the leap from lifelong activism to running for Congress has been a leap of both faith and desperation.
The energy that stems from the incredible relentless activism here in California restores my faith that a better, more just future is possible and that we are charting that course right here and now. But, desperation because of our bleak situation drives me as well. As a mother and an eternal optimist, I am desperate to leave a functioning democracy and just society to the next generation.
The country we leave to the next generation will be the most diverse in history with greater challenges than any faced before. We are leaving them ill prepared. More troubling, the hard-fought gains of the social movements who came before us in the fight for privacy, liberty, equity, and justice are the very targets that insidious political operatives have chosen to use as the wedge to create factionalism in our national community.
Reproductive freedom, marriage equality, trans rights and more are under the most dire, imminent threats they've faced in decades. I am running for Congress, desperate to hold the line on the progress and stand defiantly for the grand, achievable dream of building a more perfect union.
In Congress, I'll fight to keep our communities safe, combatting hate crimes, defending reproductive rights, and passing laws that ensure the full, lived equality of everyone. I'll also expand access to quality, affordable healthcare, fight to invest more resources in public education so every student can succeed, combat climate change and fight for environmental justice, get weapons of war off our streets, create an equitable economy that works for everyone, and protect our democracy.
In 2020, I ran against extremist Congressmember Mike Garcia and came within 333 votes of winning the race. Please join me, and we'll drive this extremist agenda out of LA County and fight for a better future for all of us.
Why I'm running: Ron Galperin
My agenda as State Controller is to scrutinize spending and to hold our state accountable for producing results
By Ron Galperin | LOS ANGELES – We are in a pivotal moment in our State and our nation. Trust in government is at an all-time low. Many have lost faith in the ability of government to perform. Our political discourse has devolved and facts are too often substituted with spin.
And so the kind of work that a Controller does – helping to keep government working, honest, and effective – is now more important than ever. That's why I'm running for CA State Controller – and why I'm asking for your vote.
As the elected Controller of the City of Los Angeles, it's my job to be the truth-teller, the adult in the room, the visionary, and the watchdog. I have reimagined what a Controller's office could be – and I want to do the same for our state. And, as L.A.'s first and only openly LGBTQ+ citywide elected official – and the first in my family born in the U.S. – I know how much representation matters, and I feel a special responsibility to be a voice and a leader for inclusion and for equity.
When I first took office in 2013, I brought to the job of Controller my experiences as a journalist, an attorney and a businessperson – along with an understanding of government, having led two city commissions. My office has brought radical transparency to L.A., including our open checkbook, putting every account online, trackers for every dollar spent and dashboards measuring performance.
It isn't just about money – but about how we're impacting people's lives. During COVID, we mapped thousands of free food distribution centers and have continued to update this resource. I have also used my office to be an advocate for increasing equity through our city's first Equity Index, and reports on Pay Equity and Diversity with Equity. I've been a strong proponent of contracting equity – seeking to have more government contracts with small, minority and LGBTQ+ owned businesses. My office has also highlighted and worked to address the impacts of COVID on our LGBTQ+ households and we launched a comprehensive map of resources for homeless LGBTQ+ youth. My intent is to continue this crucial work as State Controller.
The State Controller is the Chief Fiscal Officer of the fifth largest economy in the world. Although this position yields a great deal of power and impacts the day-to-day lives of every Californian — many people still don't know too much about what a Controller does – or can do. In addition to serving as the state's finance watchdog, the Controller is responsible for responsibly disbursing the state's financial resources, independently auditing government agencies that spend state funds, issuing financial reports, and administering the payroll system of state employees.
The CA Controller also serves on more than six dozen boards and commissions, including the California Health Facilities Financing Authority, State Lands Commission, California State Teachers' Retirement System, California Public Employees' Retirement System, Board of Equalization, Franchise Tax Board, California Pollution Control Financing Authority, the California Debt Limit Allocation Commission, California Alternative Energy Source Financing Authority, the California Education Facilities Authority, and the California Victim Compensation Board. In short, it is a job that is charged with keeping our government honest, accountable and effective.
My agenda as State Controller is to scrutinize spending and to hold our state accountable for producing results. I want the Controller's office to be THE place for people to see information that they trust, for ideas and for solutions to our greatest challenges.
I will continue to be a relentless and independent force when addressing the dual crises of homelessness and lack of affordable housing – as I have in L.A., holding politicians accountable through groundbreaking reports on homelessness spending – and how we can and must make more progress with the monies we're spending. And, I have an actual action plan to create transparency and accountability on homelessness and affordable housing across California. We can and must use the resources at our disposal to house people now. For example, using vacant, publicly-owned properties would bring thousands of people off the streets, and help them get access to health, mental health and other critical services they so badly need.
California needs a Controller not only with the experience and credibility to safeguard the people's dollars – but the commitment to making sure California is using its resources to do the most good for our diverse communities. And, as the father of twins with my husband, I want to see a better future for all Californians.

As State Controller, I will use the power of this office to break down injustice and systemic discrimination that exists throughout California and to build a more equitable future for all our residents. You can learn more at www.RonforCalifornia.com. Please join me!
Texas Trans girl assaulted over GOP lies about Uvalde shooting
Why was this teen girl assaulted by a grown man she'd never met, harassed by four strangers who could tell she was trans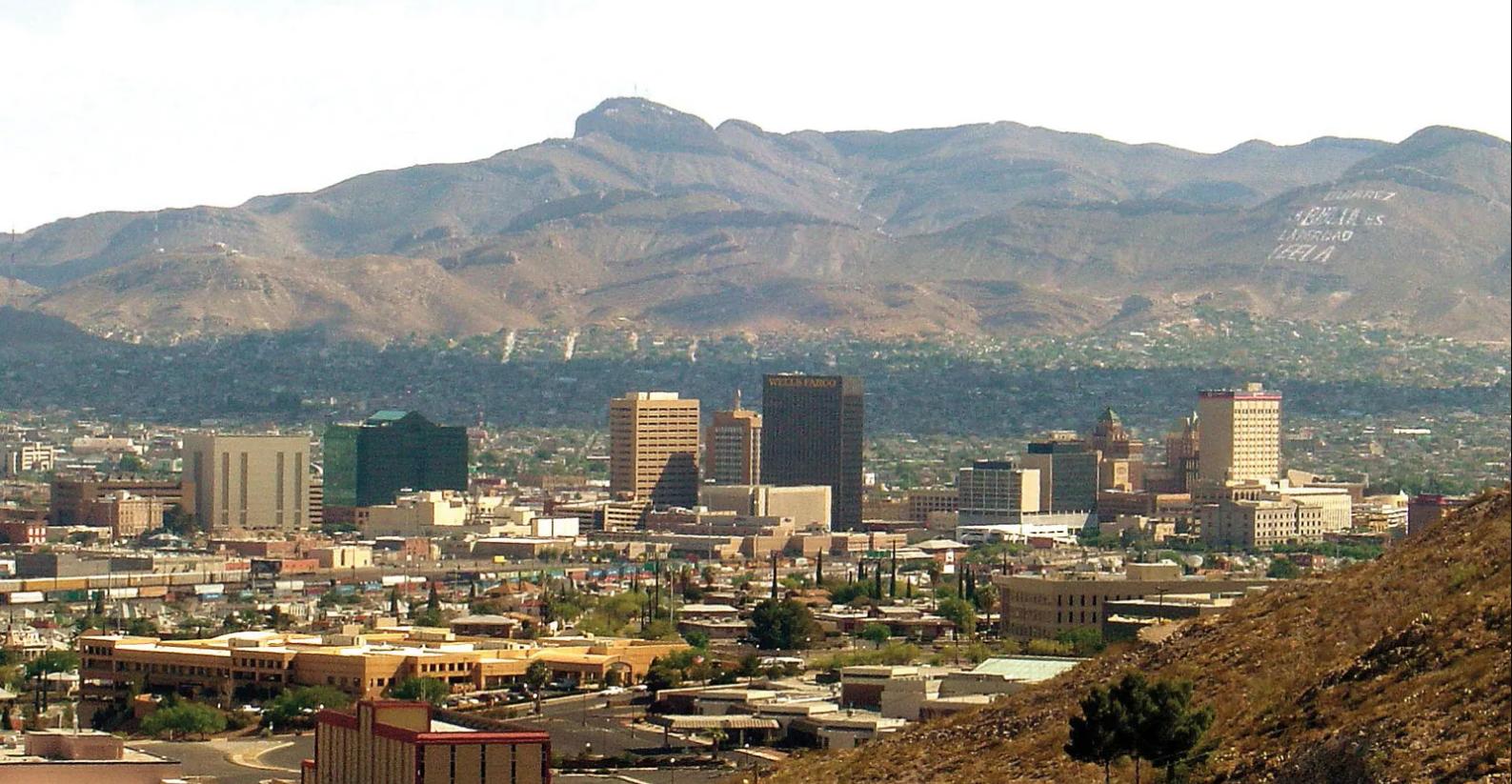 By James Finn | DETROIT – "Oh look, it has a dick," snarled one of four men last night outside an El Paso library where Tracey had just finished her high school homework before heading to the halfway house where she lives because her parents kicked her out for being transgender.
In a phone interview today, Tracey told me the man grabbed her arm and forced her body around to make her look at him, saying "Yeah, you know they're perverting kids instead of killing them."
She had no idea what he meant, but she was scared, like she says she usually is on the streets of El Paso these days. "I'm only 17!" she told the man who grabbed her.
Another man said, "Yeah, you know it was one of your sisters who killed those kids. You're a mental health freak!"
She twisted away and rushed off on her bicycle, stopping to phone the El Paso Police, who refused to take an assault report. Hours later, during a phone session with a Rainbow Youth Project counselor, Tracey heard about false rumors flying around the Internet — that the horrific mass shooting at Robb Elementary School in Uvalde, Texas had been committed by a "transsexual leftist illegal alien." The rumor was amplified in a big way by Paul Gosar, a dentist and Arizona Republican Congressmember who styles himself a doctor on Twitter.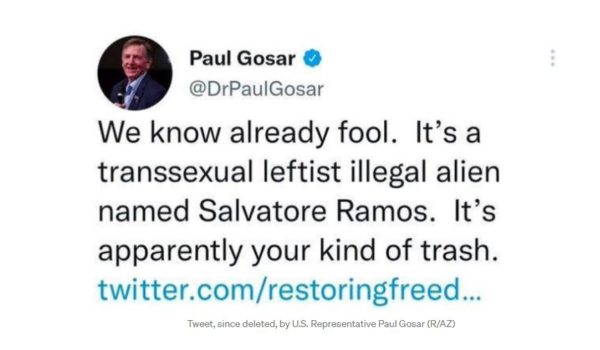 Nobody is quite sure where that false claim got started, but it spread rapidly, based on photos of a person unrelated to the attack. The 18-year-old man who killed 19 children and 2 adults yesterday is neither transgender nor an illegal immigrant.
Gosar amplifying this scapegoating rumor is not unusual. According to Brody Levesque, writing about the Uvalde shooting in the LA Blade, "Gosar is an anti-immigration, anti-vaxxer, radical right hardliner who routinely cozies up to white nationalists." He's typical of the Trump-supporting hard-right faction that now dominates the GOP.
Let's talk about the school shooting, then come back to Tracey, Gosar, and scapegoating
I've felt sick to my stomach since late yesterday when I learned about the horrific mass shooting about 80 miles outside San Antonio. I couldn't stop crying for the parents of those 19 little children who are never coming home again. I despaired at a staunch, reflexive Republican reaction against even minimal gun regulation. I sat glued to President Biden addressing the nation, and I thrilled to Golden State Warriors coach Steve Kerr's impassioned plea for action on gun control.
I had no idea as I was mourning for those children and their devastated parents that a GOP talking point about mental health would soon dominate Fox News and conservative social media. I never could have conceived that the narrative was already twisting itself up with that other GOP mantra, that trans teens are mentally ill and that people who support them are committing child abuse.
But they did come together, in El Paso, with Tracey. So, let's talk about Tracey.
Tracey is not mentally ill. She's not dangerous. She's not hurting anybody. But she spent two months this spring living on the streets because fellow students threatened to out her as trans to her parents. When she tried to get ahead of that by coming out to her parents on her own terms, they told her to get out.
She goes to high school every day watching her back, because students, teachers and other staff are hostile to her. She used to confide in a kind guidance counselor, but she doesn't anymore because the counselor got in trouble after people falsely claimed she'd encouraged Tracey to "become" trans.
Tracey told me that isn't true. She started socially transitioning in 9th grade before she met the counselor. She just liked sitting down for a few minutes with a kind adult.
She can't anymore.
Tracey can't talk to her counselor at a community clinic anymore either. They shut their doors to trans teens a few weeks ago when the Texas government began investigations based on Texas AG Ken Paxton's legal finding that supporting transition is child abuse. It doesn't matter that Tracey just wants to talk and get support. The clinic isn't taking any chances.
The only people Tracey could turn to for support last night were at the Rainbow Youth Project hundreds of miles away in Indiana. They calmed her down after her assault, listened to her fears, and provided as much emotional support as possible over the phone. Then they called the El Paso Police Department for her, who once again refused to take a report. (The EPPD did not immediately respond my request for comment.)
A Rainbow Youth volunteer flew to El Paso from out of state two months ago to advocate for Tracey. They got her off the streets and into a room in a halfway house Tracey calls "nice and comfortable." She says she calls them when she's feeling down, and they often check in on her. She sounds a little weepy when she tells me the only kind people she can to talk to now don't live in Texas. She hopes that changes when she turns 18.
Let's talk about scapegoating
Tracey doesn't want to hang up when I'm ready to start writing this article, but I need to focus, to ask myself why this teen girl with a soft Texas accent got assaulted last night by a grown man she'd never met, harrassed by four strangers in their early 20s to late 30s who could tell she was trans and wanted to blame child killings on that.
Look, the U.S. has an epidemic of mass shootings going on. We must confront that together as a nation. So, how about we stop the scapegoating? I don't know what's happened to Republican leadership, why they won't face up to gun violence, but I can see something clearly. They keep demonizing LGBTQ people. Because that's apparently easier than tackling tough problems.
And last night? That scapegoating terrified a teen girl just trying to ride home on her bike.
How about we knock it off? How about we leave people like Tracey alone? How about we tell Paul Gosar to do his real job instead of stirring up hate? How about we stand up for people who aren't hurting anyone?
I don't know about you, but I'm sick over the Uvalde shooting, and I sure would have liked to focus on that today. What's going on, America? Can we stop bashing trans people, please?
************************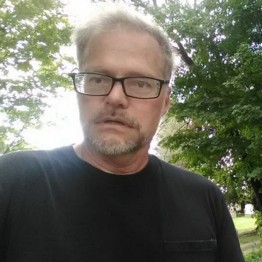 James Finn is a columnist for the LA Blade, a former Air Force intelligence analyst, an alumnus of Queer Nation and Act Up NY, and an "agented" but unpublished novelist. Send questions, comments, and story ideas to [email protected]
********************
The preceding article was previously published by Prism & Pen– Amplifying LGBTQ voices through the art of storytelling and is republished by permission.