December 12, 2019 at 2:48 am PST | by John Paul King
#BOOM! dresses up to ring in 2020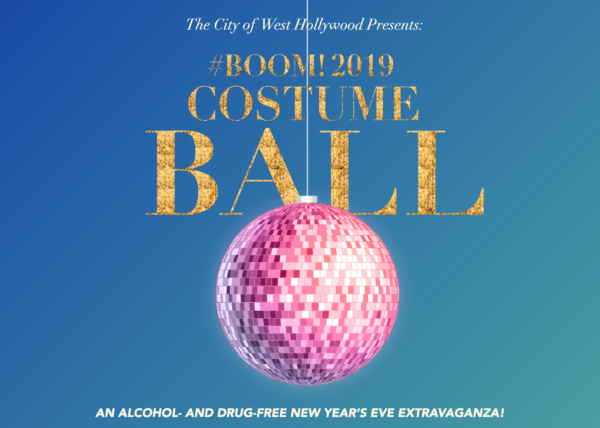 With 2020 less than a month away, sober revelers are looking forward once again to #BOOM!, Weho's fabulous New Year's Eve bash that's not only free of drugs and alcohol but free of charge.
The official announcement reads:
Cher? Beyonce? Marilyn Monroe? Ruth Bader Ginsburg? Who do you admire most? Come dressed as YOUR FAVORITE ICON and strut your stuff on the catwalk in #BOOM! 2020's Costume Showcase! (Participation in costume showcase and/or catwalk optional). 
 #BOOM!, West Hollywood's premiere alcohol- and drug-free New Year's Eve event, brings hundreds of people together for a fabulous celebration that is FREE of charge. The event is organized to provide a safe and healthy environment for individuals who choose not to be around drugs or alcohol on New Years Eve. 
 #BOOM! 2020 features red carpet icon photo stations, Host Glen Alen, DJ Eddie X, dancing, food, and Hollywood body painting artist Marky Make Up! All amenities are free. 
 The event is Tuesday December 31, 8 p.m. to 1 a.m. 31, West Hollywood Park Auditorium, 647 N San Vicente Blvd.
Sponsored by the City of West Hollywood, APLA Health, West Hollywood Recovery Center, Los Angeles LGBT Center and others. Admission free, capacity limited. Reserve your spot now at Eventbrite boom2020.eventbrite.com 18 and up.
Space is limited. Save your spot by going to: www.boom2019.eventbrite.com
Free shuttle and limited parking available. For more information, contact Alexis Sanchez at 310-215-9924, ext. 135 or asanchez@publicstrategies.org. 
BOOM! is sponsored by the City of West Hollywood, Los Angeles LGBT Center, Institute for Public Strategies, West Hollywood Project and APLA Health.