December 13, 2019 at 2:07 am PST | by John Paul King
New donations for AIDS Monument push total fundraising over $4.5 million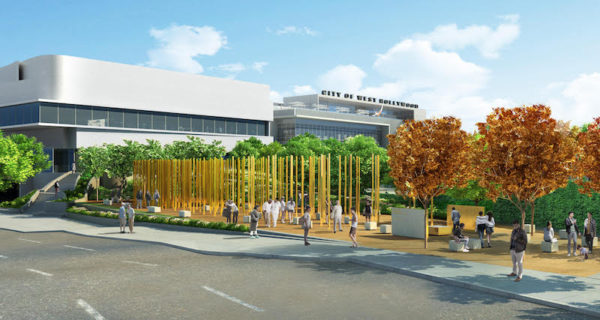 The Foundation for the AIDS Monument has announced that new philanthropic contributions have raised its total donations to more than $4.5 million
According to a statement released earlier this month:
A number of leading philanthropists have made significant contributions to the Foundation for the AIDS Monument, as part of the year-end 2019 World AIDS Day appeal. Recent contributions include $50,000 from the David Geffen Foundation, $50,000 from the Herb Ritts Foundation, and $50,000 from J. Hobart and her partner Mary Wilberding.
Additional major support in similar amounts has been provided by the Dwight Stuart Youth Fund, Elton John AIDS Foundation, Broadway Cares/Equity Fights AIDS, Bobby Heller and Charly Shahin, Laurie Block in honor of her brother Larry Block, and Mike Rose and Ruben Rodriguez.
Cedars-Sinai Medical Center Foundation has provided the largest donation to date in the amount of $500,000, and Visit West Hollywood provided contributed $250,000 over 5 years.
"We are truly honored by the generosity shown by our leadership donors, and the significant help these donations provide in moving the dream of this beautiful Monument closer to reality.  We honor so many that we have lost, and will build this Monument as a lasting point of love and memory — and a significant place for future learning and education about the past and the struggle to end AIDS forever," said Tony Valenzuela, the Foundation's Executive Director.
Over 500 individuals have provided donations to the Foundation for the AIDS Monument, and over $4.5 million has been raised by the volunteer board of directors since 2014.  The City of West Hollywood has been a key government partner in the campaign, and will assume stewardship of the physical Monument when it is built in West Hollywood Park on San Vicente Boulevard.
The Monument Campaign has been funded primarily by individual donors, who have provided support via direct donations and through events including house parties and photo auctions.
Government entities including the County of Los Angeles and State of California have provided $450,000, thanks to the leadership of Sen. Ben Allen and Supervisor Sheila Kuehl.
Permanent naming opportunities are provided to donors at $25,000 and over.  All donors will be recognized on the Campaign website and in additional newsletters.
If you are interested in making a donation, visit the Foundation's website.
You can watch a simulated flythrough of the proposed monument below.