UN honors Cyndi Lauper for human rights and LGBTQ advocacy (interview, photos)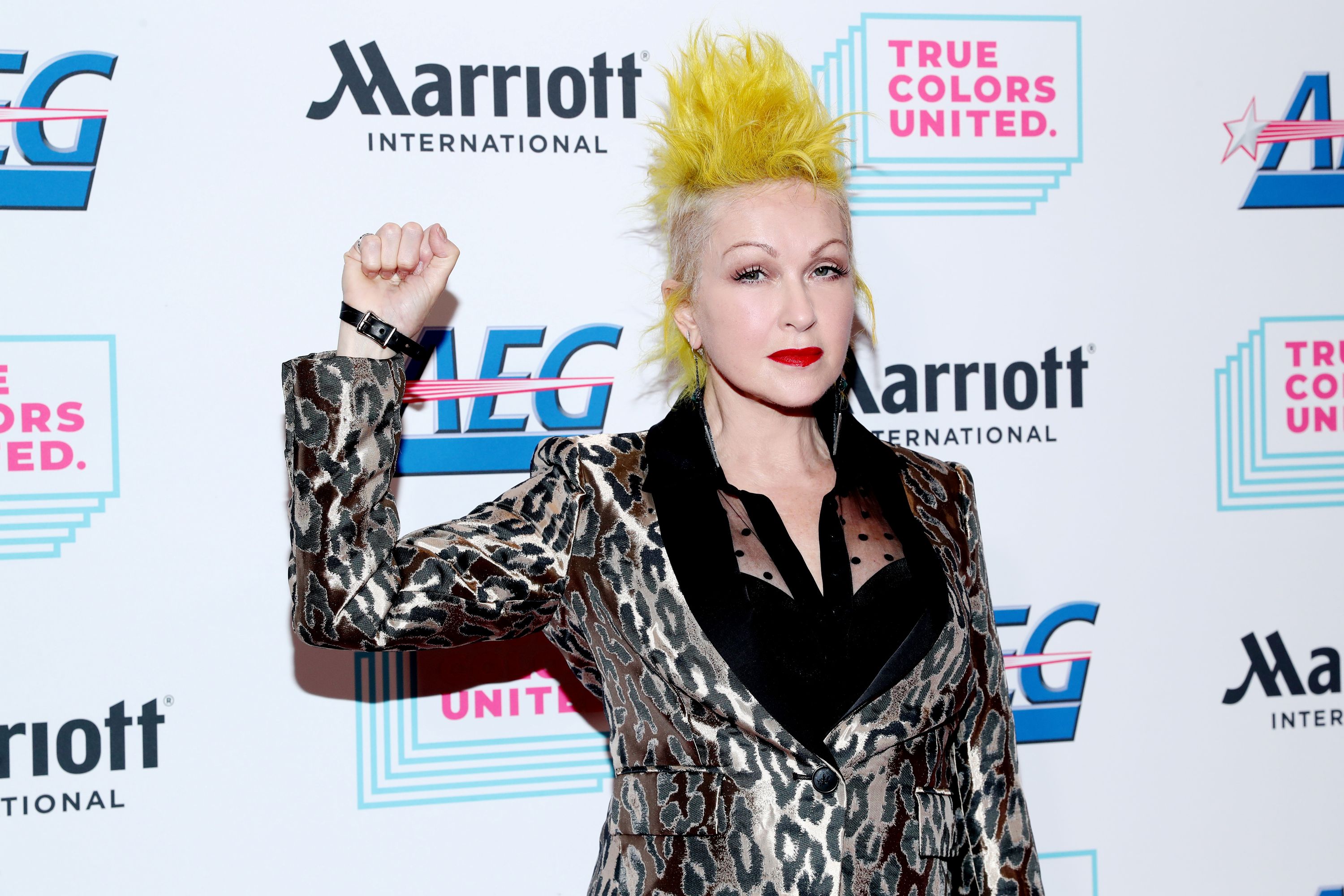 Donald Trump aside, most Americans believe the United Nations tries to peacefully fix global problems. Feminist historians note, for instance, that Eleanor Roosevelt, as the determined chair of the UN Human Rights Commission, crafted the Universal Declaration of Human Rights and wooed and cajoled commission members — despite some members' deeply held misogynistic attitudes toward women — to accept this still relied-upon model of how human beings should behave toward each other.
It is something of a symbolic marvel, then, that in this Trumpian era — 71 years after the UN General Assembly adopted the Declaration, establishing Dec. 10 as Human Rights Day — that the UN came to Los Angeles to present a prize for LGBTQ advocacy, a component of human rights it took the UN decades to acknowledge.
That's what happened Dec. 10 when Laurent Sauveur, representing the UN office of Human Rights, flew from Switzerland to Los Angeles to present singer, songwriter, actor and LGBTQ icon Cyndi Lauper with the first High Note Global Prize for her LGBTQ advocacy worldwide. The brief ceremony occurred during Lauper's annual "Home for the Holidays" all-star concert at The Novo benefiting True Colors United, her non-profit organization advocating for LGBTQ homeless youth.
"Today is a very special day. Today is Human Rights Day," Sauveur said, noting the adoption of the Universal Declaration of Human Rights by the international community. "This is why it is a beautiful symbol to award, on this very day, the first High Note Global Prize to Cyndi Lauper. Cyndi is an artist who is fiercely dedicated to make the promise of the Declaration – that all human beings are born free and equal — the reality for everyone."
Musicians, the UN representative said, "hold a very special place in society as they have the ability to inspire people to take action. And we are honored to celebrate one of its greatest tonight – Cyndi Lauper. Throughout her career, Cyndi has been an advocate – a remarkable advocate – for women's rights, and for the rights of the LGBTQ community. She has written and sung their songs and powerfully embodied the cause of equality, touching the lives of millions through her work with True Colors United."
Other than outbursts of applause, The Novo Theater was still as Sauveur spoke. Yes, entertainment, laughter, and songs by unlikely duets such as Lauper and Marilyn Manson and with Henry Rollins was the call of the evening. But there was also a sense that this event served a transformative higher cause.
It was there in the catch in Kesha's voice as she introduced Sauveur before joining him to present the honor. No one who watched the 60th annual Grammy Awards in January 2018 can forget the powerful moment of sisterhood when Lauper and other women clad in suffragette white emotionally backed up a defiant Kesha singing "Praying," symbolizing the enormity of the #MeToo movement.
"This Global award holds a special place for artists as it's given to a remarkable person who uses their musical gifts to promote human rights and to speak truth to power," Kesha said. "As many of you know, Cyndi has spent decades fighting for human rights – for LGBTQ rights – and she has never backed down. A recent example was her testimony to the U.S. Senate in which she secured approximately $250 million in new annual funding to invest in preventing youth homelessness – of which a disproportionate number is LGBTQ youth. Cyndi has stated that 'we each have a personal responsibility to make sure LGBTQ youth are treated with dignity and respect.' I couldn't agree more."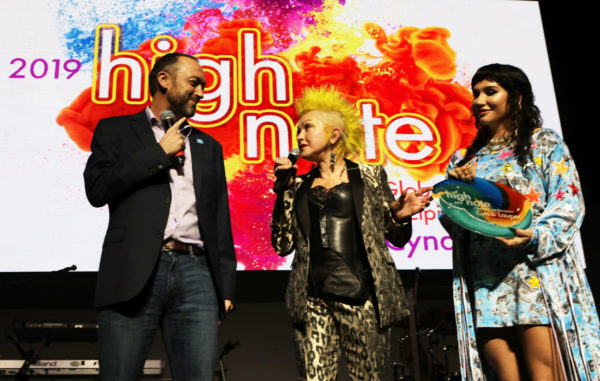 Laurent Sauveur, Chief External Officer of United Nations Human Rights, and pop superstar Kesha presented Cyndi Lauper with the first-ever High Note Global Prize on December 10, 2019 in Los Angeles. (Photo by David Rose)
Lauper took the large multi-color Venetian plate from Keisha, looked at it, turned to Sauveur and said, "This is like some kind of art! It's a real piece of art!"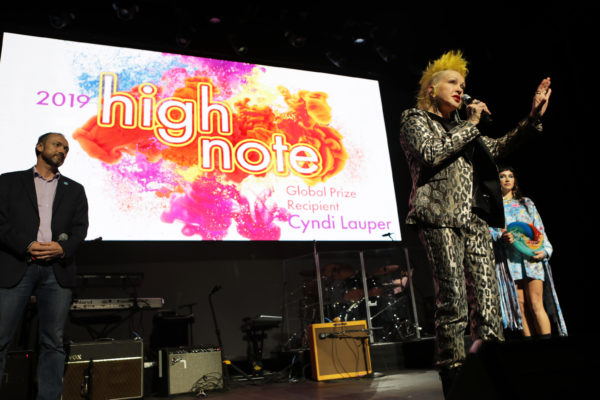 Cyndi Lauper tells the "Home for the Holidays" audience about LGBTQ homeless youth (Photo by David Rose)
Then, in her own passionate fashion, Lauper spiritually channeled human rights activist Eleanor Roosevelt, sharing that her activism is motivated by knowing that 40 percent of the youth among America's more than 4 million homeless are LGBT kids who are there just because of who they are. But, just as Roosevelt sought a solution for the hatred targeting refugees after World War II, Lauper said she believes the problem of LGBTQ youth homelessness is "fixable."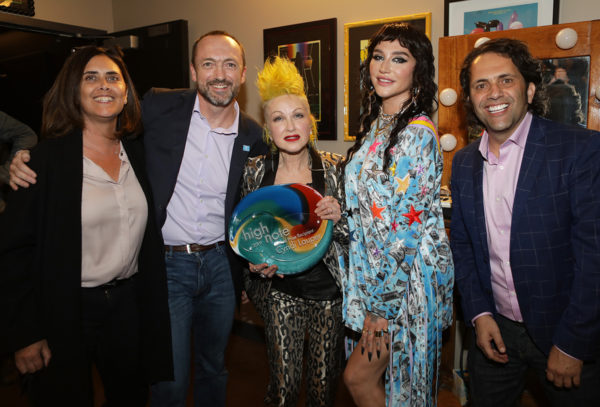 Backstage: Chantel Sausedo, Executive Producer of The High Note Global Initiative; Laurent Sauveur, Chief External Officer of UN Human Rights; Cindy Lauper, High Note Global Prize Laureate; superstar Kesha; and David Clark, Creator of The High Note Global Initiative. (Photo by David Rose)
Greyson Chance gave artistic testimony to Lauper's power of inspiration. He sang  a ballad about loving someone who does not love you back, such as children who love rejecting parents, and told a story of how, at age 13 in 2011, he and Lauper performed at the Human Rights Campaign gala honoring President Barack Obama.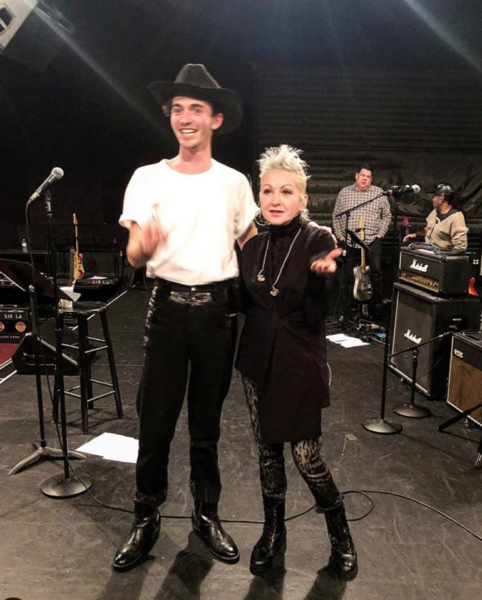 Chance sat between his mother and Lauper when Obama gave an impassioned speech about equality and the work ahead for activists in the civil rights community.  Lauper took his shoulder, got New York aggressive and told him to take Obama's words to heart as the foundation for both his mission in life and of his music. That was a moment of revelation, Chance said, and when he finally did come out as a gay man in Oklahoma and started knocking on doors for Freedom Oklahoma, he thought about Lauper's inspiration when he felt discouraged and lost.  Now 21, he knows he's one of the lucky ones whose parents did not discard him into the heap of millions of unwanted LGBT youth who live in our streets.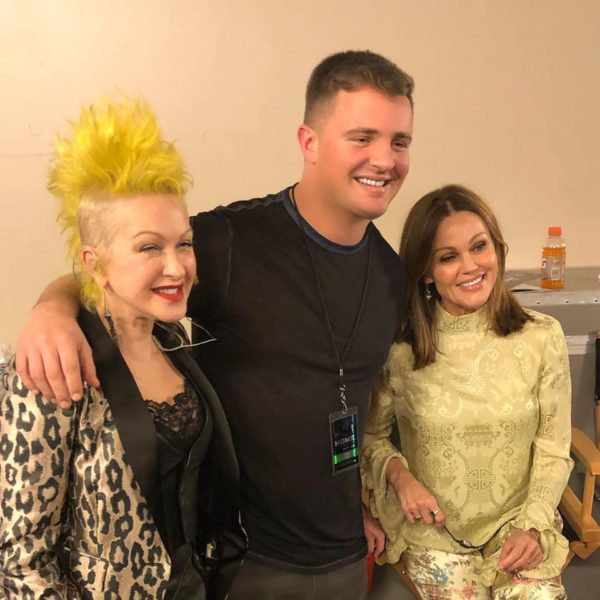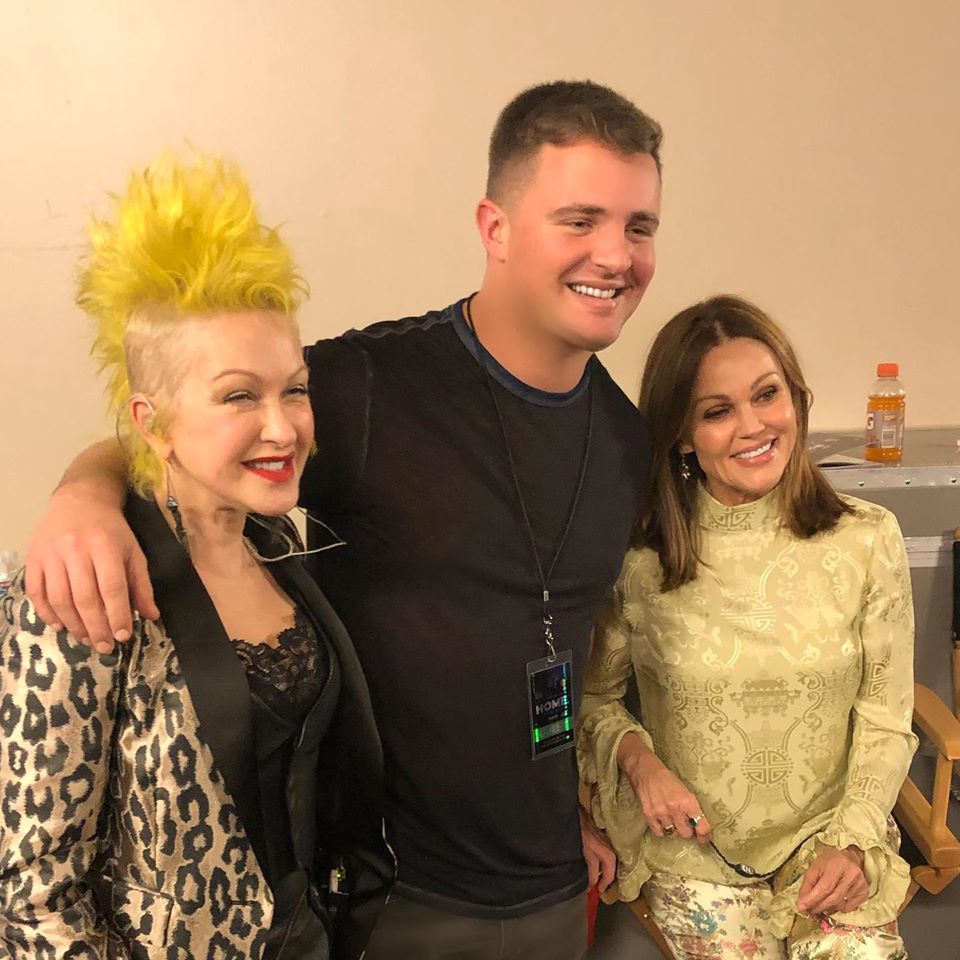 Cyndi Lauper, James Duke Mason, Belinda Carlisle backstage at The Novo at LA Live. (Photo courtesy Duke Mason)
The message resonated. "It was a truly incredible night. Not only for me as the son of one of the performers, but it was amazing as a young gay man to see the outpouring of love and support for the most vulnerable in the LGBTQ community. Incredibly moving and powerful," longtime West Hollywood activist James Duke Mason told the Los Angeles Blade. Mason's mother, Belinda Carlisle, sang a duet with Lauper on her LGBTQ anthem "True Colors."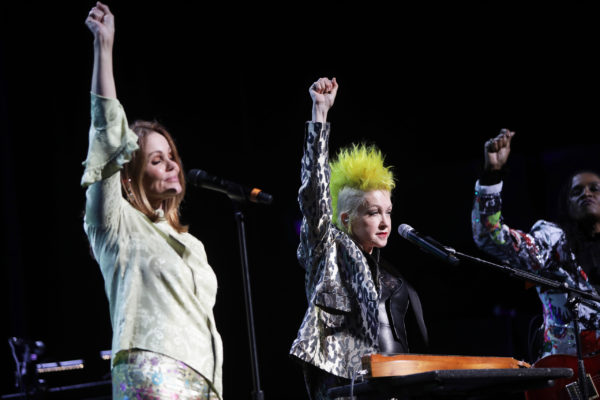 Belinda Carlisle and Cyndi Lauper after singing "True Colors" (Photo by David Rose)
Lauper initially came to the attention of the LGBTQ community in the early 1980s with the playful "Girls Just Want to Have Fun" with a video full of girls of color.
Gay men with AIDS seized the song as a defiantly joyful response to the inevitability of death.
"I saw many of my friends ill. I saw everyone ill. It was unfortunate that at that time the president did not acknowledge AIDS even though his friend Rock Hudson was very ill with it," Lauper told the Los Angeles Blade in a phone interview. "But yeah, I know that it gave a lot of people joy. I wanted it to."
And perhaps that's the simple genius of her soulful connection to humanity: Lauper wants to use her artistic talent to benefit others, as exemplified in this line from "Kinky Boots:" "If your glitter rusts/ Let me raise you up (and up)." In 2013, she made history becoming the first woman to win a Tony Award for best score as a solo female writer for that Broadway hit.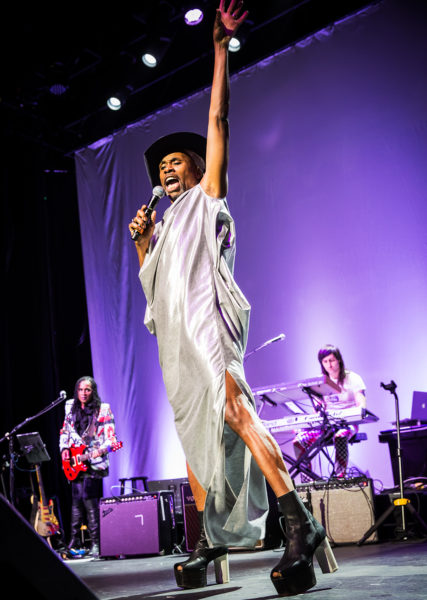 "Kinky Boots" star Billy Porter (Photo by Rich Polk, courtesy True Colors United)
"I'm a friend and family of the community," Lauper told the Los Angeles Blade. And her life has been enmeshed with the community, through the struggles of her lesbian sister Ellen and her friends, such as her best friend Gregory Natal who had been kicked out of his home at 12 for being gay, survived homelessness on the streets, and subsequently died of AIDS at age 27.
"Blue Angel, Gregory—- his nickname was blue because he had blue eyes," she said. "We did the 'She Bop' video [accidentally inspired by gay porn] together and that was around the time he told me that he had AIDS. And as he got sicker and he was in the hospital, he wanted me to write a song for him like 'That's What Friends Are For' and that's Burt Bacharach. But I am not Burt Bacharach remotely, one could only aspire to be like that.
"But I wrote about what I knew. So I wrote 'Boy Blue' and my grief. And fortunately, that was a song in which I poured out my heart and liver, which is not good for repetitive play," Lauper said. "I wanted it to be live and I wanted the sound of that drum to have the soul, that archaic part of your soul that you call too, because it was an important song. So I wanted a call to people's souls and then I wanted to speak to the tender part in their heart. And so that's why I sung it like that.
"And in the end, it turned out to be just what Gregory wanted because years later I realized that that song helped a lot of people, a lot of different kinds of people, people who were ill, people who were different, people who were so sad," Lauper said.
Lauper got super creative for her video performance of "The Ballad of Cleo and Joe," inspired by a "very Fellini-esque" dance troupe of drag performers with whom she'd gone on the road. Very pregnant with her nine pound son, she glued little mirrors on her stomach to make it look like a disco ball and mimed moves while turning on a turntable. "What was I trying to tell my [unborn] son? That it's an inclusive world and we are who we are and it's good to embrace who you are and once you accept yourself, you can accept others, too, " she said.
But it was "True Colors" that brought emails, first one, then another, then an avalanche. "It was all these emails about people who were disenfranchised by their friends, their family, and their jobs. They had nothing, nothing. And they were suicidal and they heard this song and it gave them strength and they were able to not kill themselves. And then I thought, "People killing themselves just because of who they are?" So I called my sister and I talked to her it and I said, "El, when the time comes, you and me, we've got to get something about this." And she said, "Absolutely." And then when the time came and we did that campaign with PFLAG, Stay Close, we did that together."
Lauper says her "ah-ha moment" about becoming the kind of artist/activist the UN honors occurred "back in the aughts (2000s) when I heard actually the president at the time speaking as if hate crimes against LGBTs was okay and it's not okay. And when civil rights was just being pared down and down and down, and that made me first say, 'You know what? Enough is enough now.' And anything I could do to use my voice, I felt like, 'Let's do this.'"
Cyndi Lauper and Judy Shepard in 2014 (Photo from Lauper's Twitter page)
Meeting Matthew Shepard's mom Judy Shepherd — she is on the board of the Matthew Shepard Foundation — and meeting Gregory Lewis and Kathy Nelson through the Human Rights Campaign that "really changed my perspective on things," Lauper said, "because I, at one point, felt like, 'What the heck? No matter what we do we're just still pawns here.' And then I felt that you can do something. I stepped into it and then before I knew it, things were actually changing. We were doing something. We had the inclusive True Colors tours," focused on "LGBT homeless youth because this is a fixable situation because they're only homeless because they're LGBTQ. And that means that with programs and advocacy and helping people get back on their feet and back into society. And it will help society itself because throwing away youth because of who they are is not a solution of any kind, it's just a very close-minded ignoramus kind of thing."
Lauper didn't want to discuss Donald Trump, whom she knew from New York and for whom she says she did not vote. She had not remembered the ads he took out against the Central Park Five, and while he bad mouthed her dear lesbian friend Rosie O'Donnell, she wanted to use her appearance on Season 9 of the "Celebrity Apprentice" to promote and win money for what was then called her True Colors Fund.
But Lauper's firing in Episode 9, which aired May 9, 2010, prefigured behavior Americans now see since the Trumps moved into the White House. Lauper was fired "for telling Mr. Trump that the color of the celebrity room, which was the judges' favorite room and for which Cyndi was given much credit, was actually Holly's idea. Cyndi was also criticized for bossing around the men who had come to work on the apartment," according to an analysis on Wikipedia. 
Apparently judge Don Jr. wanted to fire Holly Robinson-Peete, until Lauper told the truth, which Trump's son called a "tactical mistake." As she exited, Lauper as the experience was "like high school."
"Well, [Trump's] son said that it was not easy being his son, which obviously it's not. But I think that I just would have had no idea. I have no comment on that," Lauper told the Los Angeles Blade. "I want to stay in the politics of uniting people, not separating them.
"I do believe in the Constitution. I really do," Lauper said. "I don't care if you're Republican or Democrat or liberal – what the heck, we're all Americans. And as long as we can talk together, we can solve things together and that's what we're supposed to do. And we have a Constitution that protects us with checks and balances and that's what we should believe in and that's what I believe in. That's what I was taught since I was a kid.
"I have nothing to say about the President," Lauper said. "I only have something to say about what we can fix in this country together and we can help each other. And you don't throw youth away, ever. And the most fixable, logical fix is the LGBTQ kids because they're just there because they're LGBTQ, which is not a problem. The only problem is they're homeless and they need to be helped. And they're the most vulnerable, too. Because these youths have other issues. And so once we learn about this most complex issue, we fix that then the others are easier to fix, you understand?…We need the advocacy, the programs, and a helping hand.
"If your glitter rusts, let me raise you up," Lauper adds, quoting a line from "Kinky Boots."
One imagines Eleanor Roosevelt would have cheered Cyndi Lauper being awarded a human rights award by the United Nations.
'Leave Our Kids Alone' group protest, LAPD make arrests
A separate group gathered to rally in support of LGBTQ+ youth, ultimately leading to an unlawful assembly declaration & at least two arrests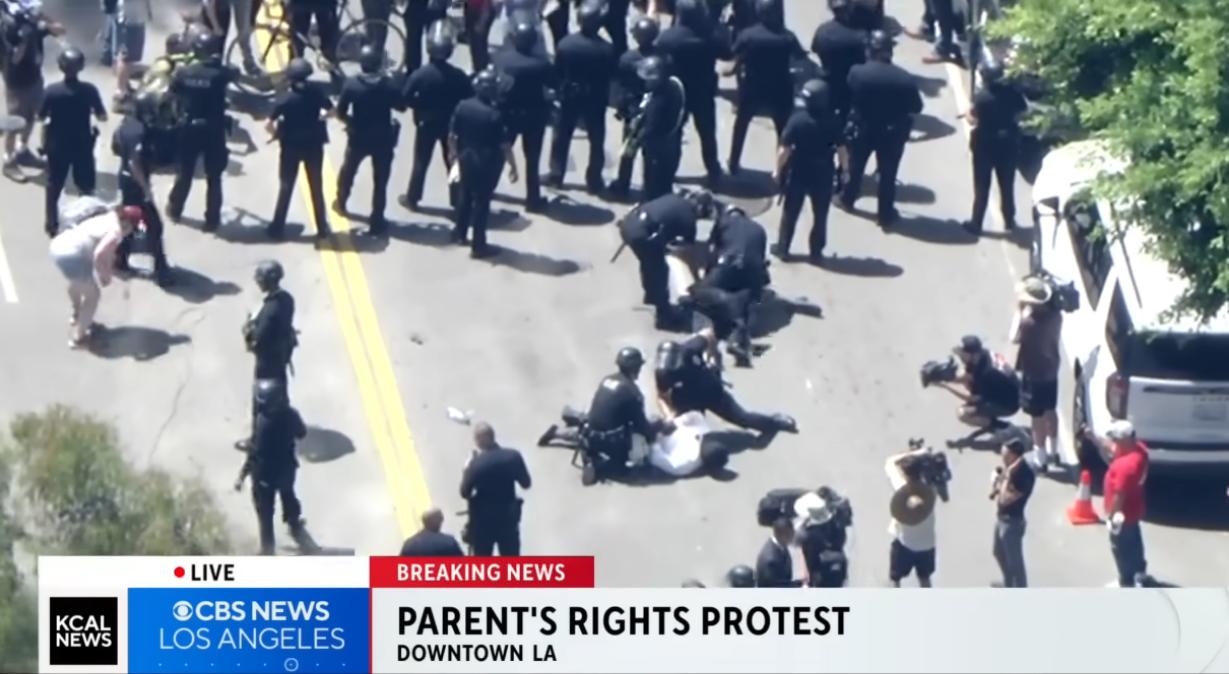 LOS ANGELES – Approximately 200 people from the loosely organized social media based group 'Leave Our Kids Alone' (LOKA) marched through downtown Los Angeles today in support of parental rights and notification policies in schools.
A separate group gathered to rally in support of LGBTQ+ youth, ultimately leading to an unlawful assembly declaration and at least two arrests as the Los Angeles Police Department deployed about 40 officers and supervisors to keep the groups apart.
On the LOKA group Instagram and Facebook posts, organizers called for the Tuesday rally at 10:00 AM writing: "Calling all California parents to stand United and rally for our kids. Whether it's the school boards or Sacramento in their attempts to indoctrinate kids and separate them from families – parents have had enough."
The group on its social media posts claim they are supporting parental rights and opposing "indoctrination," "sexualization" or "grooming" of children in schools.
KCAL CBS-Los Angeles reported the LOKA group assembled outside Los Angeles City Hall, then marched to Los Angeles Unified School District headquarters, where some participants sat in the intersection. Some people in the Leave Our Kids Alone group waved American flags while others carried signs with slogans such as "Parental Rights Matter" and "Parental rights are non-negotiable," and many wore shirts saying "Leave our kids alone." One held a sign reading "Teach the Bible, not porn."
The protest was in support of forcing the LAUSD Board to adopt policies that would 'Out' trans children and also minimize the so-called influences regarding LGBTQ+ students.
On X/Twitter members of the group live-streamed the march and protest:
Los Angeles CA – Leave Our Kids Alone #saveourkids #leaveourkidsalone

We are live on YouTube and rumble. pic.twitter.com/ytOtQ20kOM

— Oreo Express Normal/Not Mentally Ill (@OreoExpress) August 22, 2023
The counter-rally was organized by Ground Game LA and Queer Nation Los Angeles, plus another Queer affirming group which are opposed to parental-notification policies, noting such policy requirements can put LGBTQ+ students at risk if their families are not accepting of their gender identity.
KCAL also reported that members of the smaller counter protest, some of whom waved Pride flags, prompting LAPD officers to set up skirmish lines to keep the groups separated. According to reports from the scene, police attempted to push the counter-protesters back, but two people allegedly resisted and were taken into custody.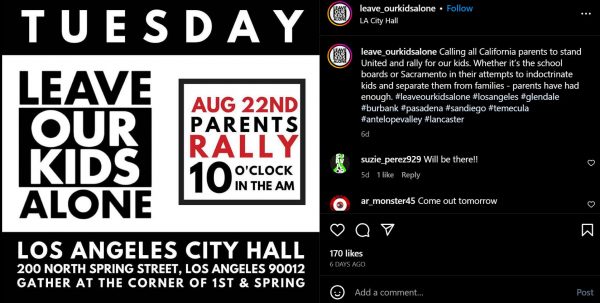 The LOKA group first rose to prominence after a group of parents took to social media and distributed flyers to protest a scheduled June 2 LGBTQ+ Pride event at Saticoy Elementary School on 7850 Ethel Avenue in North Hollywood.
Then on June 6, the group and others clashed with Glendale Police and LGBTQ+ supporters outside a meeting of the Glendale Unified School Board over LGBTQ+ studies and the GUSD polices on addressing LGBTQ+ related issues.
News footage from CBS Los Angeles KCAL showed approximately fifty Glendale police officers attempting to keep the two groups separated and then fists were thrown as both sides engaged in physical assaults. A Glendale police spokesperson confirmed that some arrests had been made but wouldn't comment further.
The group has also been present at school board meetings in Temecula, Murietta Valley, Orange County and Chino protesting for polices that would forcibly 'Out' LGBTQ+ kids and also remove LGBTQ+ materials, books, and Pride flags from classrooms.
California Attorney General Rob Bonta announced  earlier this month that his office is opening a civil rights investigation into potential legal violations by the Chino Valley Unified School District (CVUSD), which adopted a policy that forces schools to "out" students whose gender identities may be changing.
The Murrieta Valley Unified School District Board (MVUSD), had approved a policy mirroring one recently adopted by the Chino Valley Unified School District (CVUSD), that forces school faculty and staff to "out" students to parents whose gender identities may be changing.
Bonta in an emailed statement to the Blade said: "I am deeply disturbed to learn another school district has put at risk the safety and privacy of transgender and gender nonconforming students by adopting a forced outing policy. My office remains committed to ensuring school policies do not target or seek to discriminate against California's most vulnerable communities. California will not stand for violations of our students' civil rights."
Related:
Parent's rights group and counter protesters clash Downtown LA: