Out son of new Argentinian president represents with Pride Flag at father's inauguration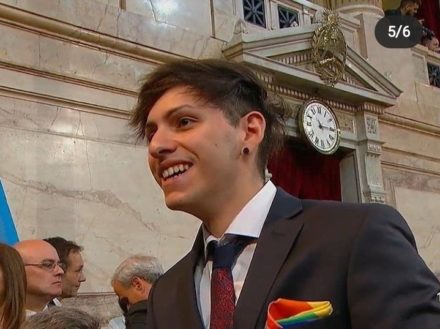 The son of new Argentinian president Alberto Fernández attended his father's inauguration ceremony this week wearing a Pride flag.
Estanislao Fernández, who is known in Argentina as a popular drag performer and cosplayer by the name of Dyhzy, made headlines last month when he participated in the Buenos Aires 28th annual Pride celebration, locally known as Marcha de Orgullo, which had an estimated attendance of 300,000 people.
The 24-year-old Fernández showed up at his father's inauguration wearing a rainbow-colored pocket square, which he wore in official photos for the event. To make sure there was no doubt about the statement, he later posted a video on his Instagram stories revealing that the pocket square was a folded Pride flag. The video was reposted by multiple followers on social media.
dyhzy sos el amor de mi vida,que decirte https://t.co/gadaoyjyGZ

— ??????? (@cryingforizzy) December 13, 2019
His father, who defeated conservative incumbent President Mauricio Macri in October, is a liberal Peronist who has spoken in support of LGBTQ rights. He has expressed his pride and support for his out LGBTQ son on multiple occasions, such as in a June radio interview in which he said, "I would worry if my son was a criminal, but he is a great man."
Argentina is known for progressive LGBTQ rights. Same-sex sexual activity was made legal in the South American country in 1887, it has recognized same-sex marriage since 2010, and it has one of best track records in the world on trans rights.
Nevertheless, conservatives there and throughout Latin America have been persistent in their efforts to bully and ridicule the younger Fernández since his father announced his candidacy in May. Eduardo Bolsonaro, the son of conservative Brazilian president Jair Bolsonaro, responded to news of Alberto Fernández' victory by posting a re-tweet of a photo of himself holding a gun, comparing himself with a photo of Estanislao dressed in a Pikachu costume and commenting, "This is not a meme."
Estanislao's response, posted in Portuguese (the official language of Brazil), was the comment, "Brazilian brothers, we are in this fight together. I love you."
Later, he followed up with a tweet in Spanish on his own Twitter account, to say, "Many people from Brazil began to follow me and I want to tell the LGBTTTIQQA + community and allies of Brazil that we are together in this fight. Remember that love always conquers hatred and among us, we must always take care of ourselves."
Estanoslao has identified as bisexual.
Padilla, local leaders celebrate passage of Respect for Marriage Act
"There's no better place than San Francisco to celebrate passage of the Respect for Marriage Act & affirm lives of millions of LGBTQ people"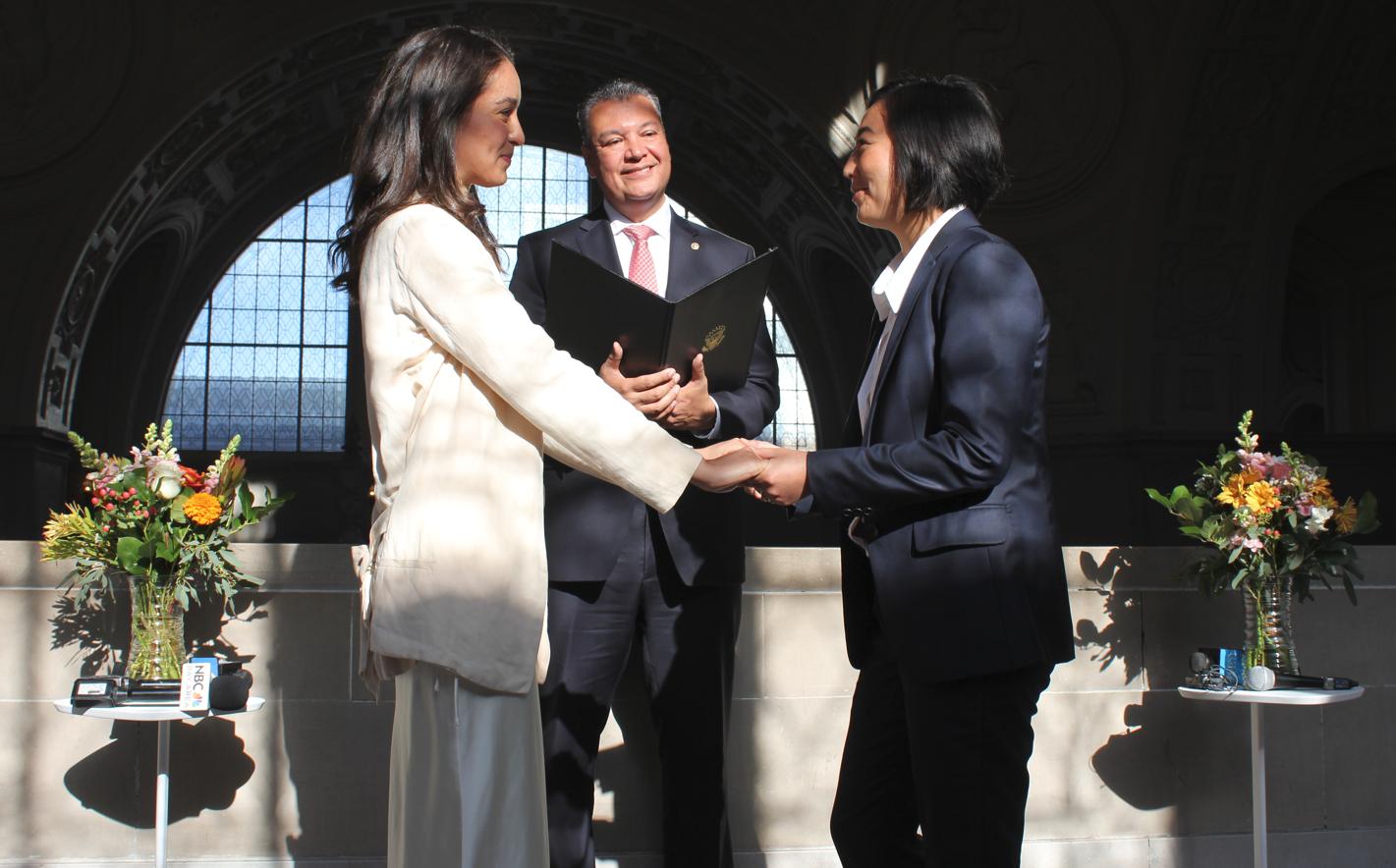 SAN FRANCISCO —  U.S. Senator Alex Padilla (D-Calif.) on Friday hosted a press conference with San Francisco Mayor London Breed, State Senator Scott Wiener, Equality California Executive Director Tony Hoang, and local leaders following the Senate passage of the Respect for Marriage Act.
Senator Padilla also officiated a vows renewal ceremony of Cyn Wang and Tessa Chavez, a local lesbian couple, at San Francisco City Hall to mark the historic occasion.
The Respect for Marriage Act requires the federal government to recognize a marriage between two individuals if the marriage was valid in the state where it was performed and guarantee that valid marriages between two individuals are given full faith and credit, regardless of the couple's sex, race, ethnicity, or national origin. The legislation passed the Senate by a vote of 61-36.
"There is no better place than San Francisco to celebrate the passage of the Respect for Marriage Act and unequivocally affirm the lives of millions of LGBTQ people and interracial couples across our country," said Senator Padilla. "We celebrate the progress that we have made today, but recognize the work still left undone to fully protect the rights of LGBTQ Americans. I'll continue working to build on our efforts until we ensure that every American is treated equally under the law, free from discrimination."
"I was proud to introduce the Respect for Marriage Act over the summer, and I'm even more pleased that the bill passed the Senate this week with strong bipartisan support," said Senator Dianne Feinstein. "The Respect for Marriage Act will guarantee legal protections for millions of marriages in the United States. Simply put, Americans should be free to marry the person they love, regardless of sexual orientation or race, without fear of discrimination or fear that their marriages will be invalidated. This was a historic vote and one that every proponent of equality can be proud of."
"The Respect for Marriage Act is an important step forward in the continued fight for LGBTQ and racial equality in America," said State Senator Scott Wiener. "Today, we celebrate this victory for our civil rights, and tomorrow we recommit to fight even harder against the right-wing Supreme Court's efforts to legalize discrimination in this country."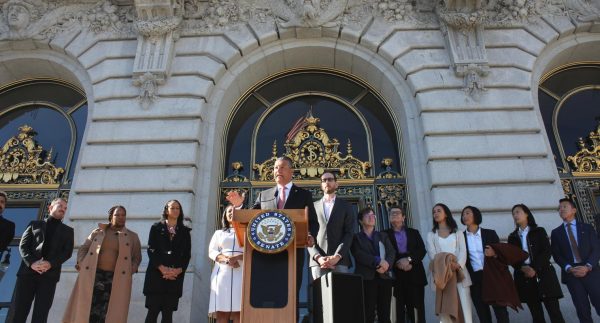 "San Francisco's history is inseparable from the history of the LGBTQ community and the movement for marriage equality locally, at the state level, and nationally," said Mayor Breed. "As we celebrate the passage of the Respect for Marriage Act, we honor those who have endured discrimination and hate, and the many who lost their lives in the quest for equality. We recommit ourselves to protect the fundamental rights of all people regardless of who they are or whom they love. Thank you to Congressional leaders, especially Senators Dianne Feinstein and Alex Padilla, and Speaker Pelosi for their leadership to pass this historical legislation."
"Equality California applauds this historic vote and the critical leadership of Senators Baldwin, Feinstein and Padilla, in getting this bill across the finish line," said Equality California Executive Director Tony Hoang. "While this is an important step in affirming the dignity of the LGBTQ+ community, it will not end all discrimination against LGBTQ+ people or erase the hateful rhetoric of anti-LGBTQ+ politicians and extremists. Equality California will continue to fight for full, lived equality for all LGBTQ+ people until the work is done."
"The Respect for Marriage Act removes an ugly, discriminatory stain on our federal law books – the 1996 so-called "Defense of Marriage Act" – and replaces DOMA with a rule requiring government at all levels to treat all married couples equally nationwide," said Jenny Pizer, Chief Legal Officer, Lambda Legal. "We hope we never need it.  But if the U.S. Supreme Court were, outrageously, to erase the constitutional protection for the freedom to marry, this law will substantially reduce the harms. Yet, even if the Respect for Marriage Act were to become necessary, it would not be sufficient. We still urgently need the Equality Act to become law, to protect LGBTQ people from the widespread discrimination that persists in the commercial marketplace and in public services with harsh, unacceptable consequences."
"It is a historic moment for the advancement and preservation of basic civil rights for all Americans, but by no means is our work done," said Kris Perry, Prop 8 Plaintiff & Nonprofit Director. "Our family and thousands of families like ours can breathe easier tonight knowing our fundamental rights are protected."
"After the Supreme Court overturned a woman's right to choice, we feared same-sex marriages were next," said Cyn Wang and Tessa Chavez. "The Respect for Marriage Act gives our family clarity and a sense of relief that our marriage, and those of all married couples regardless of sexual orientation or race, will be protected in this country."
The Respect for Marriage Act now goes to the House of Representatives for passage and then to the President's desk to be signed into law.
Senator Padilla is committed to pursuing equality for the LGBTQ community, including in employment, housing, and credit lending.
Earlier this year, Padilla introduced the LGBTQ Business Equal Credit Enforcement and Investment Act, legislation that would protect the 1.4 million LGBTQ-owned businesses in the nation from lending discrimination to ensure equal access to economic opportunities. Padilla also joined Senate Democrats in introducing a resolution recognizing June as LGBTQ Pride Month to highlight the work of the LGBTQ community in fighting to achieve full equality, including for marriage.