My only wish from Santa this year
Blade contributor seeks freedom from ICE detention this Christmas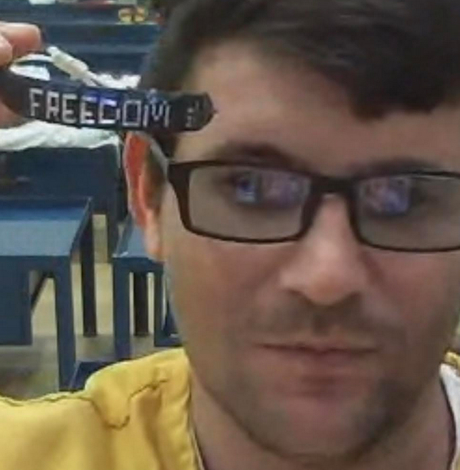 Editor's note: Yariel Valdés González is a Blade contributor who won political asylum in the U.S. on Sept. 18. He remains in U.S. Immigration and Customs Enforcement custody at Bossier Parish Medium Security Facility in Plain Dealing, La., because ICE has appealed Judge Timothy Cole's ruling in his favor.
PLAIN DEALING, La. — In my homeland of Cuba, Santa Claus has never been very recognizable. The Communist dictatorship does not think much of this fat and jolly character who it says only indoctrinates children in order to cover up the "capitalist consumerism" the U.S. sustains. Cuban children and adults, nevertheless, adore the Christmas spirit that Santa brings each December. We decorate trees, we get together to eat and share with family and even the little ones — and others not so much — receive and give presents to each other before the end of the year or on Epiphany. Stores in Cuba, which are all run by the government, are, contradictorily, decorated with lights and fake pine trees not for Christmas, but to celebrate the end of the year and to mark a new anniversary of the Cuban revolution's triumph on Jan. 1.
This is what matters!
The regime maintains its anti-Christmas façade, a kind of "parallel world" in which it only lives because Cubans are tired of such a false and ridiculous display. So much so that I had to bite my tongue many times while working as a radio presenter in my city because I could never mention the word "Christmas." This vocabulary provokes terror among the directors of any official media outlet, where you cannot legitimatize this anti-Communist tradition. Santa never appeared on Cuban television or in newspapers. The spirit of Santa, to the government, and all that it represents brings with it too many frivolities that are typical of the "enemy of the North" and can ideologically "contaminate" the people. Cuban Christmas is a bit clandestine, quasi-illegal, underground, present for the people and non-existent to those who govern the country. My Cuba is so complex and ambivalent. Despite this reality, I always enjoyed Christmas in my own way in my country. It was an opportunity to visit my family and partner and surround myself with feelings of happiness and love. I am, however, looking forward to my first Christmas in the U.S. and not just for the presents as many may think.
I came to this country at the end of March to ask for political asylum because of the persecution that I suffered in Cuba as an independent journalist. I faced work and ideological sanctions in the island's official press, expulsion from the state-run media system, interrogations and arbitrary detentions, travel bans that did not allow me to leave the country for journalism events. State security officials also carried out voracious and excessive interrogations against my family and friends in my neighborhood. All of this is part of a strategy to persecute and instill fear against independent reporters, those who can neither be controlled nor censured. Freedom of expression, and freedom of press even more so, does not exist in Cuba. Only the Communist Party, with an absolute reign of more than 60 years, is responsible for controlling each written and spoken word. The relationship between the party and media is like the relationship between a master and slave. The consequences will be harsh if you don't follow orders. These are the rules of this unjust and totalitarian power game.
I was able, with a lot of luck, to escape such a hell and on Sept. 18, six months after I arrived in this country, Judge Timothy Cole determined I was worthy of asylum. He granted me the protection for which I had searched so much and for which I fled my country, leaving behind my family, my boyfriend, my friends and colleagues who are still living through a real witch hunt for the simple reason of telling the truth about Cuba.
Repression against independent Cuban media professionals has increased to extremely worrying levels with house arrests, illegal detentions that last several days, physical and psychological violence, registration and confiscation of work equipment, assaults and personal threats or those made on social media by an army of digital combatants who engage in so-called cyberbullying.
Prohibitions on traveling from the island to professional events and conferences under the absurd pretext the independent press is doing the bidding of foreign powers that finance it to force a regime change in Cuba and other barbarities have also increased. This and much more is what awaits me if I am forced to return to Cuba. The possibility of being deported is once again hanging over my head after ICE appealed the asylum granted to me in September. I remain incarcerated at this moment while an appeals court (the Board of Immigration Appeals), comprised of three judges in Virginia, considers my case for a second time.
My life and my future is literally in their hands.
Many people may think I am too dramatic, but those who think differently than the Cuban dictatorship and publicly show it in digital journalism outlets unleash the most ferocious anger. Us freelancers are considered a "national security threat," dangerous and subversive traitors who don't even deserve the air they breathe and the punishment will be double if they are part of the LGBTQ community because the island recently has not been afraid to reveal itself as it truly is: An intolerant and homophobic tyranny. The government has deemed me persona non-grata because of my collaboration with publications branded "counterrevolutionary and subversive" like Tremenda Nota, the Washington Blade's media partner in Cuba, CubaNet and others like YucaByte or this weekly, whose international news editor, Michael K. Lavers, is on the list of those who are "prohibited" from entering the country. I am afraid of how I will be treated if I were to set foot on the island. You can rest assured that I would have never given up my mom's hug or my elderly grandparents' affectionate kiss if my fundamental rights as a human being were not viciously trampled and my life was not in danger. I guess it was a survival instinct that made me close my eyes and suddenly abandon these bonds of blood and love.
I have fought for my salvation from inside a prison for nine months. From detention at the Bossier Parish Medium Security Facility in Louisiana, the Deep South, I intend to remain optimistic and keep the faith, even though my hope withers a little with each passing day of this confinement. The constant support of my family in Miami and Cuba, my lawyer, as well as my closest friends and colleagues in this country and on the island are the only things that have kept me from an emotional collapse and a dead end.
Each night before I go to sleep I pray that justice will once again be done, because these judges are considering whether I deserve the opportunity to live without fear in this great nation. I only hope they uphold Judge Cole's decision that he issued more than two months ago. It would be, without a doubt, the best gift that I could receive this Christmas. Like an excited child, I hope Santa Claus brings his sled to Louisiana and gives me the only present for which I fervently ask each minute: Freedom.
Freedom!
Lack of access & accountability; WeHo City Hall is in dire straits
In addition to the lack of access and accountability at City Hall, the city's finances are in a critically perilous situation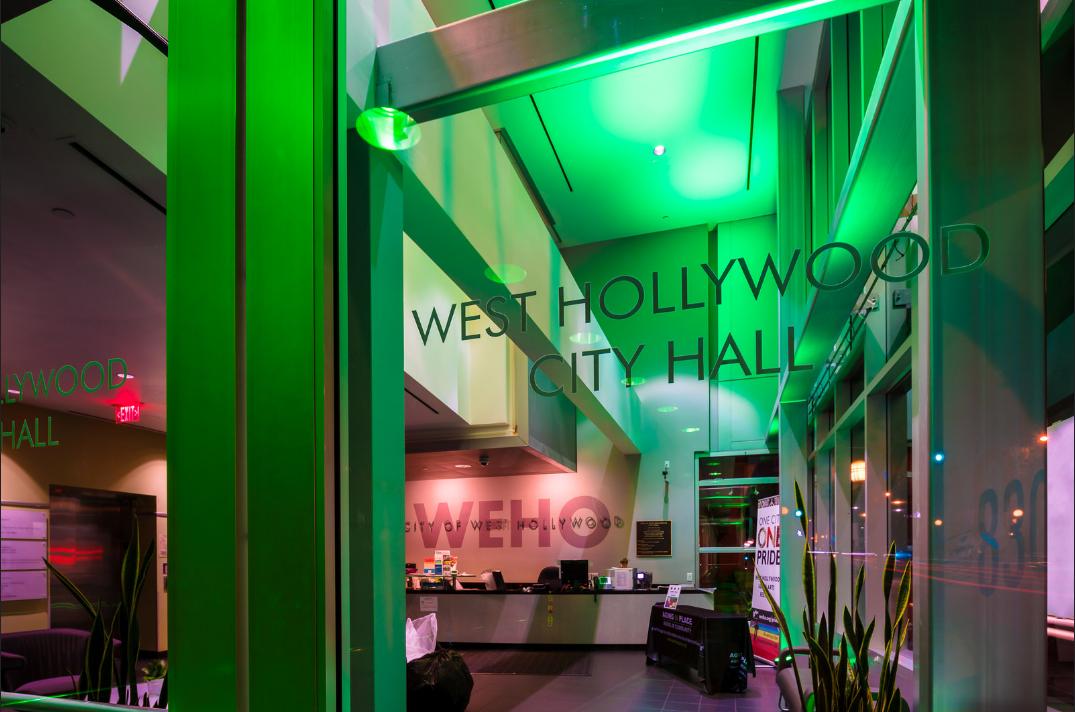 Editor's note: The following commentary does not reflect the views of the staff and publisher of the Los Angeles Blade and is independently submitted for publication. All 'Letters to the Editor' or op-eds will be considered. Please feel free to submit requests to [email protected]
By James Duke Mason | WEST HOLLYWOOD – The last time I spoke out publicly about West Hollywood politics was in the lead up to the 2020 elections.
It's been more than a year since I left my position on the West Hollywood Lesbian & Gay Advisory Board, and almost three years since my last City Council campaign. I've spent my time focusing on my writing and activism, and also pursuing some professional opportunities. But the state of the city is so dire at the moment that I feel now is an important time to speak out and be part of the conversation.
We've now been living with COVID since March 2020; you'd think by now that the city would have figured out a way to manage the pandemic and move forward with city business, yet City Hall has been closed to the public and Council meetings are being held virtually. It was hard enough before for the public to get face time with their Councilmembers or city staff, but now it's literally impossible. City Hall is supposed to be closed till the end of this month but perhaps beyond; who knows when Council meetings will be held in person again? At this point it's absurd when we could easily resume business with masks, vaccine requirements etc.
"The state of the city is so dire at the moment that I feel now is an important time to speak out and be part of the conversation."
In addition to the lack of access and accountability at City Hall, the city's finances are in a critically perilous situation. Some accused me of being hypocritical when I, as someone who once ran as a fresh face, endorsed John Heilman and John Duran in the last election.
What those people failed to understand is that I wasn't for change for the sake of change; at a time of great challenges I believed it was necessary to have experienced, steady leadership for our city, and sure enough Sepi Shyne and John Erickson have failed to live up to their responsibilities.
The city is digging into it's reserves to stay afloat, which is a massive difference from where we were just a few years ago when we were considered one of the best run cities in America.
The biggest crisis we face is the surge in crime that West Hollywood has seen as of late which has received nothing more than a weak, ineffective response from the City Council.
The other night two British tourists were robbed at gun point on Santa Monica and La Cienega Boulevard, just the latest in a long series of violent crime in or near our city. So far I haven't heard any of the Councilmembers propose any concrete solutions; instead their time is spent on fake, performative progressive virtue signaling which actually are nothing more than self aggrandizing moves to further their political careers.
If they were actually concerned about advancing the progressive agenda then they would be taking on issues that actually really make a difference in people's lives; homelessness for instance which is at an all time high.
Where is the tangible action on that front, and how can these Councilmembers call themselves progressives when they haven't done anything to help these innocent people? Homelessness is a disaster, and Sepi Shyne and John Erickson have been asleep at the wheel.
There's been no action at a moment when we desperately need it. Unfortunately the two of them aren't up for re-election until 2024, but we do have several of the other seats up in November, and I will be sharing news about who I support later this year. It's time for us to take our city back and put it on the right track.
********************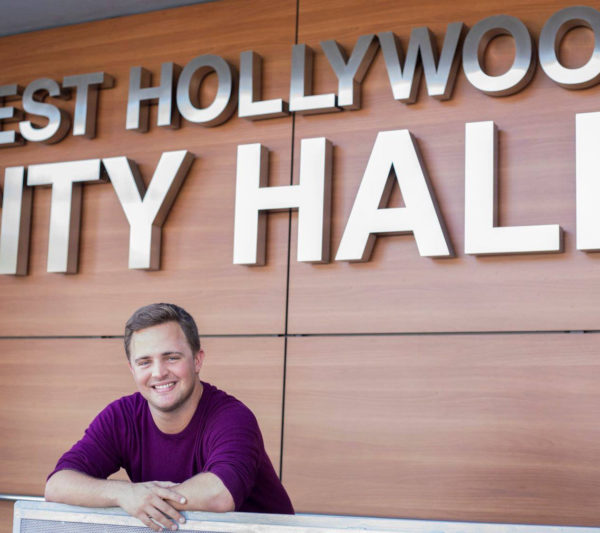 James Duke Mason is a writer, activist and former city official. From 2015 to 2020 he served on the West Hollywood Lesbian & Gay Advisory Board, including a year as Co-Chair.
Photo courtesy of James Duke Mason
Where's the LGBTQ+ outrage over Sen. Kyrsten Sinema?
LGBTQ people are still official second-class citizens without full equal rights & figured out long ago that there is no "both sides" fairness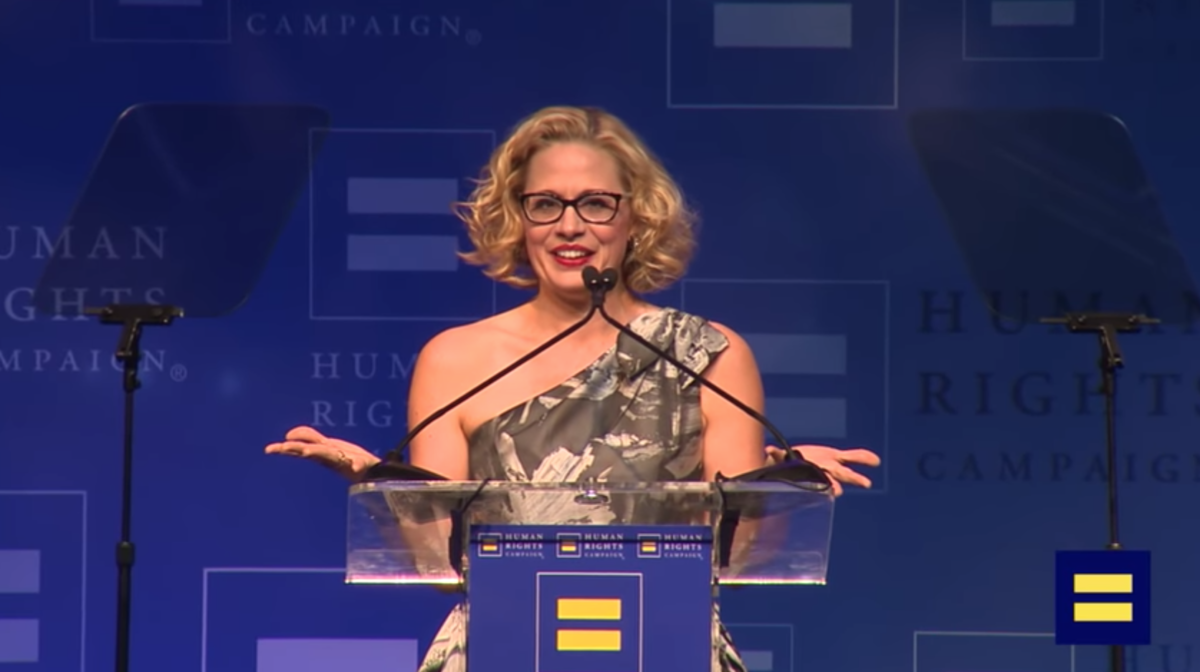 By Karen Ocamb | WEST HOLLYWOOD – I've been waiting and waiting but nothing. What the hell, Human Rights Campaign? Are we really OK with letting this hyper-flirty, bisexual nouveau conservative Democrat from Arizona continue to say she's representing us while holding hands with Sen. Joe Manchin in crushing democracy?
Last October, when Arizona Democratic U.S. Senator Krysten Sinema found super infamy by fighting President Biden's infrastructure spending bill and much of her Democratic Party's call to end the procedural Senate filibuster, The Advocate cited criticism from Black gay New York Rep. Ritchie Torres.
"There is a sense in which we no longer live in a democracy; we live under the tyranny of Kyrsten Sinema," Torres told CNN. "I welcome the ideological diversity of the party. I can live with dissent. My colleagues and I have trouble living with what we perceive to be erraticism. The perception of erraticism is brought on by a lack of communication and clarity for where she stands."
Last Thursday, Sinema gave a soap opera-choked up speech saying she would not vote to change the filibuster because "eliminating the 60-vote threshold will simply guarantee that we lose a critical tool that we need to safeguard our democracy from threats in the years to come." First of all, the threat is here and now and the fact that she doesn't get that makes her inept and craven. The ramifications are huge: without democracy, there is no access to justice.
Secondly, as House Majority Whip James Clyburn told CNN on Sunday, Democrats are seeking a carveout to the filibuster to enable a simple majority to vote on fundamental principles like voting rights.
"When it comes to the Constitution of the United States of America, no one person sitting downtown in a spa ought to be able to pick up the telephone and say you are going to put a hold on my ability to vote. And that's what's going on here," Clyburn told Jake Tapper. "So I would wish they would stop that foolishness because if we do not protect the vote with everything that we've got, we will not have a country to protect going forward."
After Thursday's speech – which she insultingly delivered as Biden was on his way to talk to lawmakers about the critical need to pass the Freedom to Vote Act and the John Lewis Voting Rights Advancement Act – MSNBC's Joy Reid noted that Sinema's rationale for defending the filibuster "is as inconsistent as it is immoral." Sinema supported bypassing the filibuster just over a month ago "in order to raise the debt ceiling on a party-line vote. She doesn't think Republicans should be allowed to damage America's credit, but she thinks allowing them to damage American democracy is a virtue."
Reid noted that Sen. Raphael Warnock called out the contradiction last month after the debt limit vote.
"Be very clear, last week we changed the rules of the Senate to address another important issue, the economy. This is a step, a change in the Senate rules we haven't been willing to take to save our broken democracy, but one that a bipartisan majority of this chamber thought was necessary in order to keep our economy strong. We changed the rules to protect the full faith and credit of the United States government. We've decided we must do it for the economy, but not for the democracy," Warnock said.
Audacity, thy name is Sinema: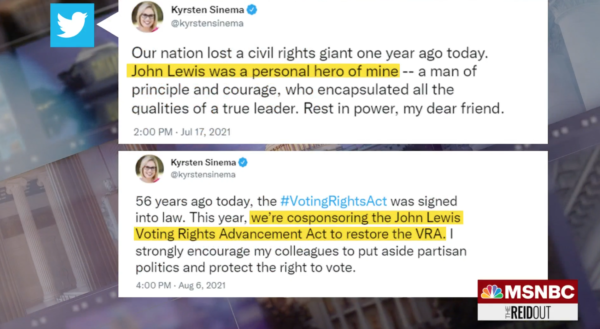 With Sinema's obstinate obstructionism flaring up days before Martin Luther King Day and before a Senate vote on the John Lewis Act – named for the late civil rights icon she claims to have loved – more and more critics are noting how the filibuster was created to further lynching and racist Jim Crow laws. "There's nothing partisan about saying the filibuster has mostly been used for racist reasons, I think everybody would agree that that's true," Harvard Law professor Michael Klarman told the Associated Press.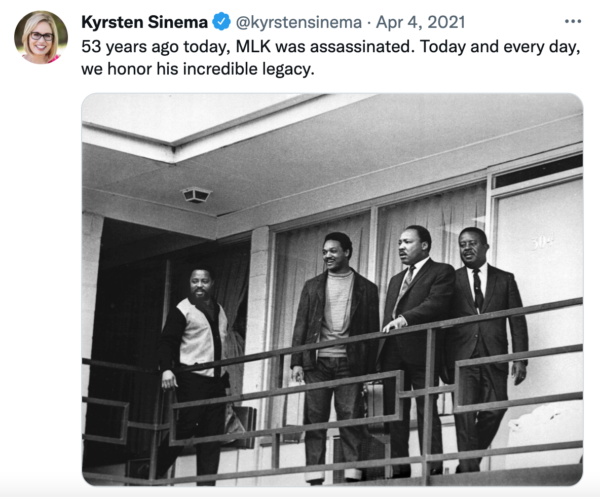 On Saturday, MSNBC's Tiffany Cross said the subtext out loud. "Sinema is a Democrat, but she is in many ways upholding white supremacy," Cross said on "The Cross Connection" after showing a clip of Sinema's Thursday speech. "I don't think I can roll my eyes hard enough and you kind of just want to say, 'Girl, bye.'"
It's not like we didn't notice that Sinema – who used her story of childhood poverty to get elected – has courted infamy. In March 2021, Christine Linnell made an important point in an Advocate commentary.
"Arizona's Sen. Kyrsten Sinema may have taught us a valuable lesson in the past week: when it comes to politics, visibility and representation will only take you so far," she wrote. "Sinema, the first openly bisexual person to be elected to Congress, went viral for the wrong reasons on Friday when she voted against a provision in the coronavirus relief package that would have increased the minimum wage to $15 an hour. And she didn't just vote against it, but went out of her way to get Minority Leader Mitch McConnell's attention before giving a sassy thumbs-down on the floor of the Senate."
Linnell cited journalist Ryan Grim's March 5, 2021 tweet, re-tweeting a C-Span video clip: "Here's @SenatorSinema walking on to the floor, patting Mitch McConnell on the back, looking back to make sure he sees her, then giving the thumbs down to a $15 minimum wage."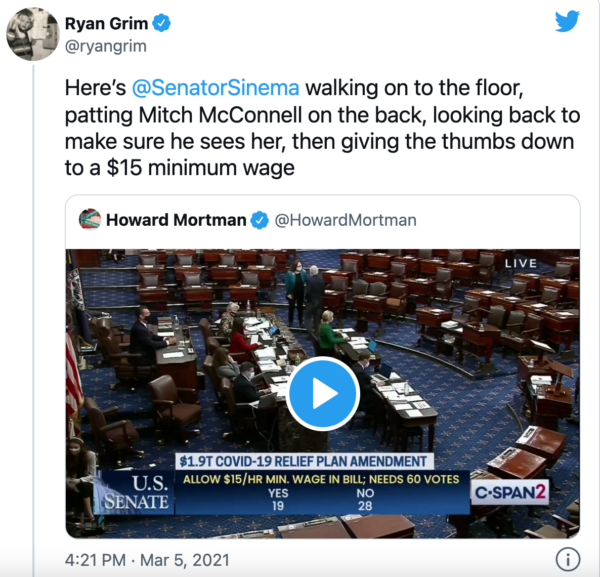 But Sinema is no John McCain and then, like now, it's hard to see what principle she was upholding.
I interviewed Sinema in 2018 for the Los Angeles Blade when she was running for the Senate and noted a tracking report from Nate Silver's FiveThirtyEight indicating that Sinema voted in line with Trump's position 54.7% of the time.
"This isn't a matter of one party being right and the other being wrong," Sinema said. "If we allow our basic values to become just another political football, we'll all lose. If President Trump is willing to work together to stand up for Arizonans, I'll work with him….I learned early on that you get more things done when you're willing to work together…The problem with Washington is that people don't listen to those who have different points of view so they never find the common ground needed to really solve problems. When you actually talk with people and work across the aisle, it's amazing how much you can accomplish."
The problem is that Trump's Republican Party is subsumed by white supremacists for whom lying and treachery is a convenient, amoral means to an authoritarian end. There is no negotiating in good faith here. There is no bipartisanship when one partisan side is angling for white straight male supremacy.
And the thing is, we LGBTQ people — who are still official second-class citizens without our full equal rights – figured out long ago that there is no "both sides" fairness when you're talking about the far right. Ask Joan Garry of GLAAD. CNN used to pit Joan against some religious right nut until finally she (standing in for all of us) said we would not acknowledge the religious right or white supremacists as the equivalent of our movement for equality and social justice.
Yet here we are as Sinema – who claims to represent LGBTQ people – acts as if Trump's white supremacy is equivalent to Biden/Pelosi/Schumer and GLAAD ' agenda to restore Constitutional voting rights.
But where are WE? Do we not remember Silence = Death?
"At consequential moments in history, they present a choice," Biden said in his speech from Atlanta on Jan. 11. "Do you want to be the side of Dr. King or George Wallace? Do you want to be on the side of John Lewis or Bull Connor? Do you want to be on the side of Abraham Lincoln or Jefferson Davis?"
What side do you want to stand on, LGBTQ people?
Ironically, Sinema foreshadowed this moment in her speech before the Human Rights Campaign on March 10, 2018. "It's up to us now to make certain that being gay, lesbian, bisexual or transgender will never again be an impediment to success. These battles will take place on many fronts. Under our new President, that's unfortunately meant returning to some of the fights we thought were behind us," she said, noting that she was running for the Senate "to stand up for the values that unite us as Americans," including "the right to define our own destinies. The belief that no one should be different in the eyes of the law, the freedom to reach for every opportunity and fulfill our greatest potential. We here, we together, we have a moral obligation to continue this work. And standing together, I know we can win."
Standing together? From Jan. 1, 2021, Krysten Sinema tweeted about LGBTQ people/issues only FIVE (5) times – three of which were during June Pride Month.
I reject any assertion that Krysten Sinema represents me as an LGBTQ person. What about you?
Arizona Representative Kyrsten Sinema Speaks at HRC Los Angeles Dinner:
********************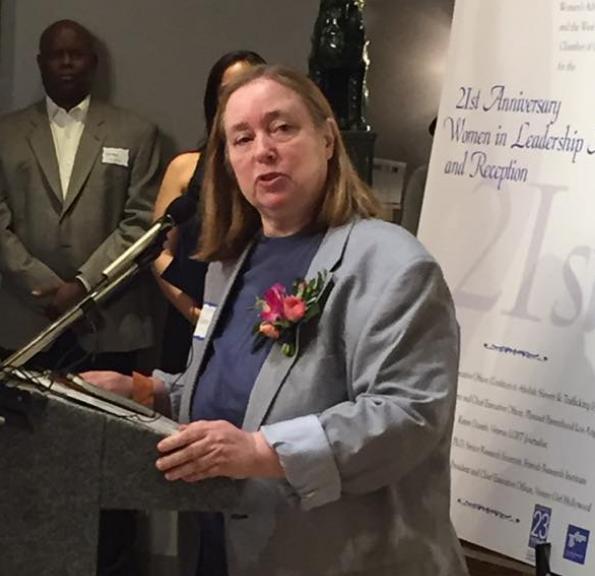 Karen Ocamb an award winning veteran journalist and former editor of the Los Angeles Blade has chronicled the lives of LGBTQ+ people in Southern California for over 30 plus years.
She lives in West Hollywood with her two beloved furry 'kids' and writes occasional commentary on issues of concern for the greater LGBTQ+ community.
National LGBTQ Task Force Action Fund; 'On voting rights under attack'
LGBTQ Task Force Action Fund urges the U.S. Senate to pass the Freedom to Vote Act & the John Lewis Voting Rights Advancement Act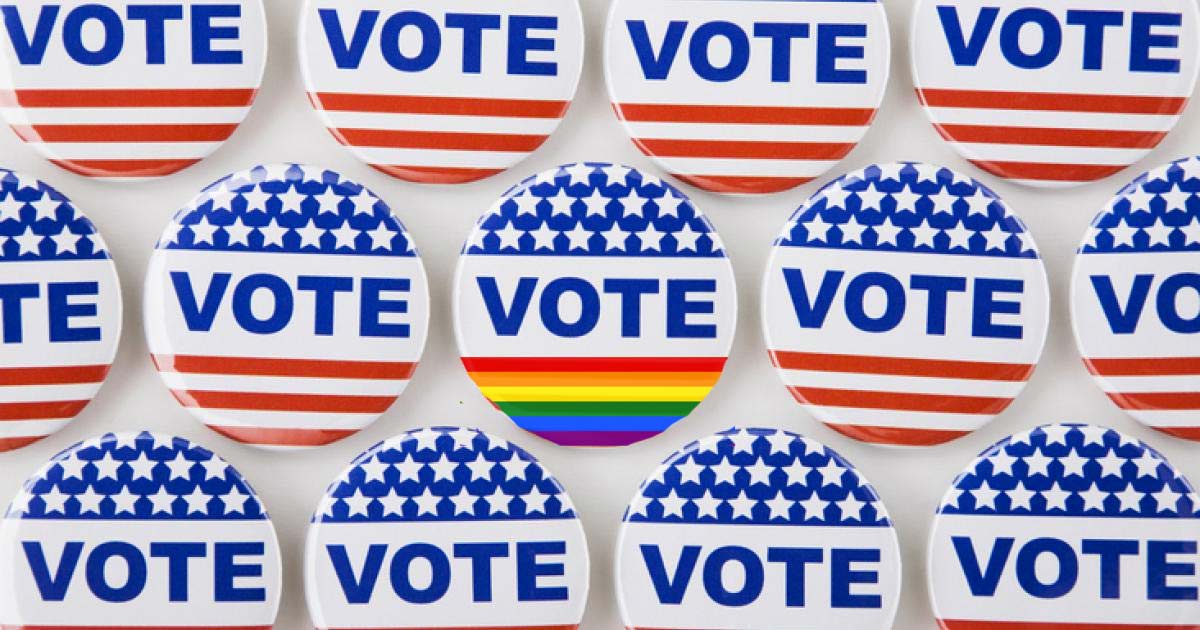 By Kierra Johnson | WASHINGTON – Voting rights are a cornerstone of our democratic process and have been under attack by conservative political extremists. These extremists have tried everything from partisan gerrymandering to mass purges of voter rolls in attempts to undermine the work of election officials, sow false doubt in legitimate election results and curb access to registering and casting votes. 
There are many things to be divided over but right now there is an opportunity to be aligned in eradicating barriers to voting. We have an opportunity to restore faith in the American people that there are still foundational values and inalienable rights that can hold us together. The right to vote is a baseline. It is an essential part to exercise our power and participate in our democracy.
George Washington was quoted as saying, "The power of the constitution will always be in the people. It is entrusted for certain defined purposes and for a certain limited period, to representatives of their choosing: and whenever it is executed contrary to their interest, or not agreeable to their wishes, their servants can and undoubtedly will be recalled."
This is the plainest argument for eradicating barriers to voting for any and all of our people. However, it also explicitly explains why attacks on voting rights and access have increased as the demographics of this country have changed.
When LGBTQ+ Americans, People of Color and other marginalized populations vote in high numbers, elections are greatly impacted and it can make the difference in local, state and federal elections. The fear of losing power and the threat of losing an elected seat is not justification for our leaders to carve out LGBTQ+ folks, People of Color, women, poor people and so many other already marginalized groups from the political process.
Members of congress often have the hard job of making decisions that require them to weigh numerous nuances and complex decision points with varying intended and unintended consequences on communities. However, on the question whether to eradicate barriers to voting – the answer is clear. Our beloved people deserve access to our democracy. We have a right to it and therefore the right to vote – regardless of our political views. Any member of congress who is advocating for anything less than ensuring and protecting the right to vote for all of the people in their districts and states is in fact advocating to take away the power of the people to elect and hold accountable those who should be legislating on their behalf.
The choice is simple: are you on the side of all voters or are you willing to allow restricting of the vote for political ends? Will you advocate for all of the people that you claim to represent or will your sacrifice and abandon us community by community? Every decision will firmly place our elected officials on either the right or wrong side of history.
Instead of leaning into tactics that alienate and distance people from our democracy and each other, what if instead our elected Officials were inspired to get back to the real work of getting more of our people to more actively and consistently participate in civic engagement. What if they were willing to commit to learning more about the fears and dreams of those in the community that they know the least about and invest in meeting their needs and creating opportunities from them to thrive!
Our Democracy is broken and further restricting access to the political process will not heal the fractures that have only grown deeper and wider over these last years. Senators must take leadership and pass legislation that will protect and ensure free and fair elections. The strength of our Democracy and of our people depend on it.
Ongoing state legislative attacks in 2021 and 2022 on voting rights, many of which are barely disguised plans to suppress votes of Black people, as well as people from other historically marginalized communities such as the LGBTQ community, are undemocratic, racist and just plain wrong.
Some new and proposed state voting laws qualify as inhumane, for example, making it illegal to provide water and food to voters standing in hours-long lines.
Some of these attacks ignore the reality of people's daily lives, outlawing assistance to voters with disabilities so they can cast ballots by mail from home, limiting voting hours, limiting, or ending ballot drop-box accessibility for people working several jobs to support minor children and elderly parents, and requiring identity documents to counter supposed voter fraud that research shows is practically nonexistent.
Identity document requirements pose specific challenges for many transgender and gender non-binary people due to some outdated state laws and financial and other barriers to updating documents like legal fees, a lack of access to inclusive health insurance and an inability to afford or overcome discriminatory policies and practices to receive gender-affirming care.
The path forward is clear – we need our federal elected officials to take leadership, take action, and protect voting rights NOW in order to rebuild and strengthen our democracy. This country belongs to all of us. This is our democracy, and we demand our rightful place in it. Pass the Freedom to Vote Act and the John Lewis Voting Rights Advancement Act now!
********************
Executive Director, Kierra Johnson, joined the Task Force in 2018 as Deputy Executive Director and previously served on the board of directors.
As a bisexual Black woman, Johnson is one of a few out queer-identified women of color at the helm of a national LGBTQ organization.
She is recognized as a national expert on queer and reproductive rights issues and has testified in front of the U.S. House of Representatives.