'Little Women' a smart, richly realized period romance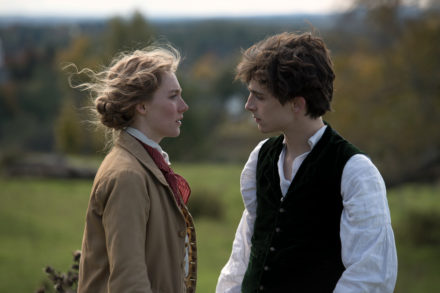 If you are one of those people who has heard of "Little Women" for your entire life yet somehow never got around to reading it, you might have trouble following second-time director Greta Gerwig's respectfully deconstructed new film adaptation of the classic Louisa May Alcott novel.
That is not meant to be read as a negative; it's merely a mild warning that someone expecting straightforward linear storytelling from a film based on a 150-year-old book might have to pay close attention in order to keep up with what's going on, since the director takes a decidedly contemporary narrative approach in this smart, richly realized period romance – for a romance it is, albeit one flavored by post-modern irony.
Gerwig was hired by Sony Pictures to write the script for the planned adaptation – the eighth big-screen incarnation of the novel – back in 2016, before her awards-season victory lap following the release of "Lady Bird," her feature directing debut. The success of that film resulted in the studio asking her to direct "Little Women" herself.
It was a smart decision. With the same razor-sharp insight and humanistic wisdom she brought to her previous effort, Gerwig lovingly dissects Alcott's 19th century tale to illuminate it from within, jumping back and forth through time in order to connect the dots between the narrative's themes, and inviting audiences to ponder the way those threads still run through our contemporary culture today.
Despite the potentially jarring narrative style, it's not necessary to know the plot going in; but to sum up, "Little Women" is the story of the four young daughters of the March family – Meg, Jo, Amy, and Beth – as they grow from young girls into young women. Nurtured by a loving mother (whom they call "Marmee") in the absence of their father, who is ministering to wounded soldiers in the wake of the Civil War, they also form bonds with their wealthy neighbor and his handsome grandson, Laurie, helping to shape their lives as they grow toward adulthood.
It's a straightforward saga from a modern perspective, though the book has been lauded as groundbreaking for its time – its subtle challenge to deeply encoded cultural expectations influenced generations of young female readers, who related to its four heroines' misgivings about the constrained social roles that await them in adult life, and was praised by renowned critic and author G.K. Chesterson for having "anticipated realism by twenty or thirty years." It's precisely those forward-thinking qualities that Gerwig brings to her reinterpretation, and they help her to create a movie that is neither merely a well-made and pleasant period drama, nor a savvy, subversive think piece, but a film that works equally well as both.
The production values are a contributing factor, of course. The obvious high quality of the filmmaking talents involved behind the scenes provides a solid base from which Gerwig can build her vision; Yorick Le Saux's cinematography evokes the natural-light-infused grainy glow of the great mid-seventies period films of directors like Kubrick and Altman, the costumes by Jacqueline Durran underscore important themes by capturing the subtle variations of women's attire mandated by fashion and social class, and the score from Oscar-winner Alexandre Desplat strikes a delicate balance by maintaining the restrained conventions of 19th-century music while letting a more modern, free-spirited playfulness run throughout.
It's in the performances, most of all, that the film is able to break free from the conditions of its 150-year-old source material. Emma Watson (Meg), Florence Pugh (Amy), and Eliza Scanlen (Beth) all bring heartbreaking honesty to their roles, while Laura Dern's Marmee is a sublime portrait of idealized motherhood that transcends sentiment through the authenticity of her compassion. Meryl Streep delivers a characteristically layered supporting turn as cantankerous-but-kind-hearted spinster Aunt March, and Chris Cooper rises above the maudlin tendencies of melancholy-but-sweet neighbor Mr. Laurence.
To single out Timothée Chalamet's Laurie when every performance is a standout might seem egregious, especially in a film that is expressly about women; but he brings such a sense of immediacy to role that he cannot be overlooked. Indeed, he's a young actor whose charisma makes him the focus every time he's onscreen, and he does not waste that gift. He takes this notoriously opaque, underwritten character and gives him a powerfully multi-dimensional specificity that makes us see the fragile, confused human heart that beats beneath his sometimes callow, often faithless surface and makes us love him as much as the March girls inevitably do.
Even so, the movie belongs to Saoirse Ronan, and appropriately so. As Jo, she is every bit the plucky "All-American Girl" heroine, but her version of that stereotype looks like modern-day girl power. She makes the character's journey a struggle to hold onto that power, from naïve overconfidence through personal hardship to humble-yet-emphatic reclamation of her own agency, and she takes us with her every step of the way.
She also takes on the double duty of serving as a stand-in both for author Alcott, who wrote Jo with clear autobiographical parallels, and director Gerwig, who in her vision takes on the burden of speaking feminine truth in a medium dominated by masculine power, just as Alcott did when she fought against the insistence of her publisher (male, of course) that she marry off her proto-feminist heroine at the end of the book. The writer lost that fight, compromising to meet his demands in order to ensure publication, and inevitably resulting in enduring criticism that "Little Women," for all its supposed progressiveness around women's rights, ultimately validated the ruling paradigm that a woman who wasn't a wife and a mother was irrelevant.
By taking on the author's mantle, however, Gerwig gets the last word for both of them. She makes the real-life history of Alcott's creative dispute part of Jo's story as well, both subverting the intention of the imposed "happy ending" and exonerating the author by portraying her – or at least her fictional alter-ego – as a savvy, self-aware woman who knows she is winning the war by surrendering the battle.  The fact that the director simultaneously makes us hope for that same happy ending simply serves to highlight the skill with which she navigates the complex myriad of perspectives she brings to her film.
It's because of this that Gerwig – just as with her debut effort – becomes the real star of her movie without ever stepping in front of the camera. She establishes herself here as a female auteur – a rarity in the still-misogynistic Hollywood film machine – that has the personal vision it takes to bring home the narrative's ultimate truth that these "Little Women" chafe at the boundaries forced upon them by society, and that each, in their way, nurses a longing to break free.
That's something with which most of us – male or female, gay or straight, or anywhere between either of those increasingly outdated binaries – can surely relate, and it makes "Little Women" a sure bet for a trip to the movies this holiday season.
Turning pain into positive & using art as therapy – Carl Hopgood
He knew he wanted to embark on a path toward a "bold, exciting life" among other "creative people" while "doing amazing things and living"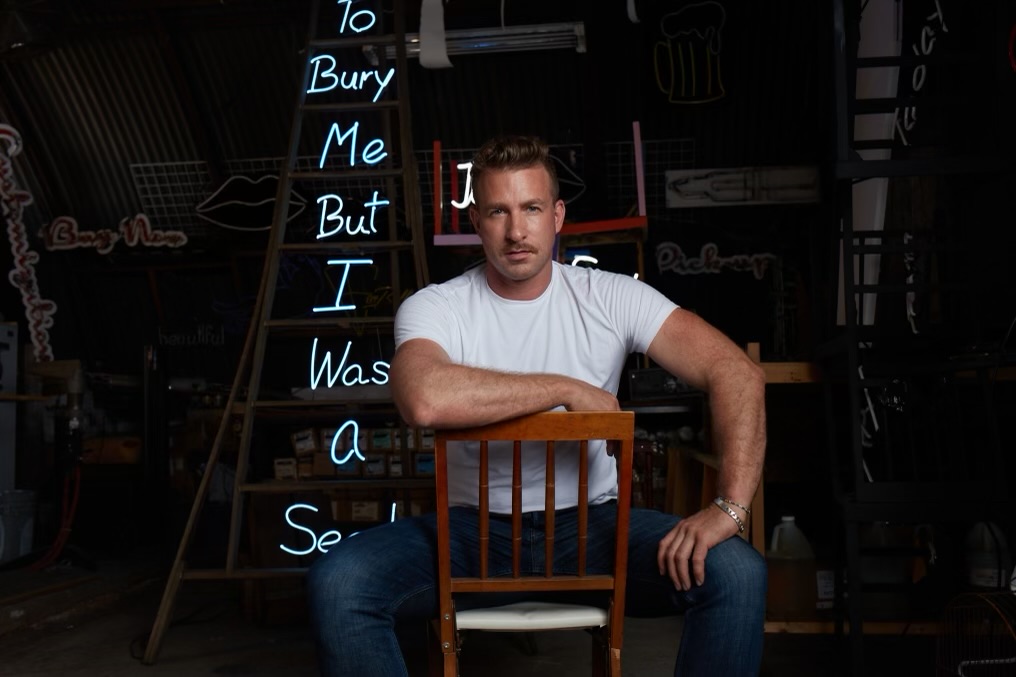 LOS ANGELES – Like many people born with an inclination toward creative expression, Carl Hopgood has known from a very young age that he wanted to be an artist.
Growing up on a small farm in rural Wales, the Cardiff-born Hopgood spent his childhood surrounded by animals and nature, letting his imagination run wild and creating worlds he envisioned with baskets, fruit boxes, flowers, stones, tabloid clippings, and other items that struck his fancy. Then, at 7, he was invited to spend an afternoon with his best friend, whose cousin was visiting; that cousin happened to be Richard Burton, and he happened to be accompanied by his even more famous wife, Elizabeth Taylor.
Hopgood was not just star-struck, he was inspired.
"My world was never the same after that day," he tells the Blade. "They told stories about Hollywood, London, glamorous parties, movies, photography… and Andy Warhol! Andy Warhol was my first artist crush. He was also born on a farm, so I felt an immediate connection."
After that experience, he knew he wanted to embark on a path toward a "bold, exciting life" among other "creative people" while "doing amazing things and living."

Four decades and one continental transplant later, it can safely be said that Hopgood has accomplished his goal.
A successfully established LA-based artist, he's created a unique body of work that includes pieces in Neon, Sculpture, Film / Video Installation, and canvas painting; his collectors include Morgan Freeman, Eugiono Lopez, The Vinik Family Foundation, The Groucho Club and Rupert Everett; and recent exhibitions of his work – like his neon art installations 'Looking For Love In All The Wrong Places', 'My Heart Is Open', and 'You Changed My Life' at the Maddox Gallery in West Hollywood, and 'Chair Therapy' at United Talent Agency's UTA Artspace LA – have garnered a flurry of enthusiasm and increasing national attention.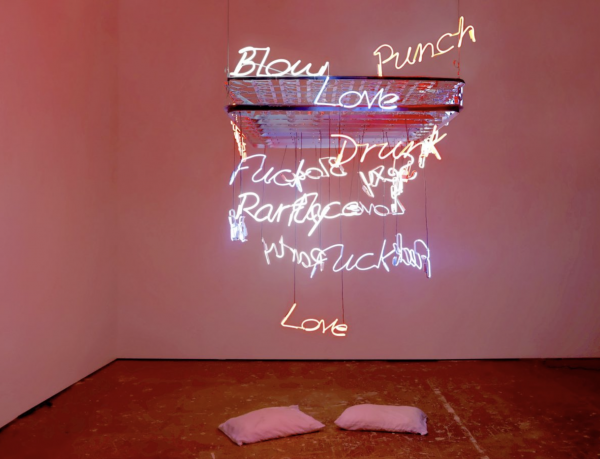 The latter installation created a particular stir with its inclusion of a controversial neon sculpture called "Just Say Gay", Hopgood's response to the draconian anti-LGBTQ legislation championed by Florida Governor Ron DeSantis; that work was acquired by prominent collector Beth Rudin DeWoody and will be on display from December 2023 at her Bunker Art Space in West Palm Beach, Florida.
When talking with the Blade, Hopgood is keen to focus the discussion on a new goal – the completion of a documentary about the creation of "Chair Therapy" – but he's certainly willing to start the conversation by talking about the sense of queer defiance behind "Just Say Gay" and many of his other works, because the two subjects go hand in hand.
"Being a gay man of Welsh and Greek heritage," he proudly proclaims, "the fight against bullying, repression, injustice and discrimination became central themes of my artistic expression."
As he explains, that fight is rooted in a traumatic childhood experience. "I was bullied by classmates," he remembers. "They would chase after me, push me to the ground and kick me in the groin. I managed to escape and found sanctuary under a stack of chairs in the school assembly hall. The school therapist helped me cope by using a technique called Empty Chair Therapy, where you would talk to an empty chair about your feelings.
"I decided turn this pain into something positive and use art as my therapy."

Much later, the young Hopgood would be inspired by the confrontational aesthetic of Damien Hirst – after reading a scathing criticism of one of his works in the paper – and follow in the controversial artist's footsteps to Goldsmiths College in London, eventually becoming part of a movement with fellow graduates like Steve McQueen, Jason Martin, Ceal Floyer, Angela De La Cruz and Alessandro Raho.
"It was an incredible moment to be a young artist in 1990s London."
Nevertheless, after 20 years in the London art scene, he decided it was time for a change.
"I had just watched a documentary featuring David Hockney," he explains. "The freedom and possibility of David's work was clearly inspired by Southern California with its beautiful palette and open, sunny skies. It was a stark contrast to the gloomy weather of the UK, and the anxiety and depression that accumulated over the years. I had heard about the growing LA art scene –LACMA, MOCA and The Broad were beginning to attract an international audience – and I decided that moving to Los Angeles would be good for both my mental health and creativity."
The choice was a fortuitous one for him – "It was the perfect time to go," he says, "and I was ready to work in new mediums and expand my repertoire." Then, like the rest of us, he had to put all his plans indefinitely up in the air.
"In early 2020, when the pandemic hit," he tells us, "I would see all the bars and restaurants shuttered in West Hollywood. It was like a ghost town. Looking through the store front windows, all I could see were chairs stacked on top of each other – and that image took me straight back to my unhappy childhood."
He decided to use it for inspiration and began work on the first sculpture in the "Chair Therapy" series ("My Heart is Open") – which as he describes, addresses "toxic masculinity, oppression and queer identity, themes I've always championed."
Those themes are doubtless also at least partly behind his desire to see the planned documentary – titled "Fragile World" – reach fruition. Filmed during the pandemic, it profiles Hopgood by charting his personal artistic journey, but centers on the development of "Chair Therapy", in which he combined found and vintage wooden chairs with neon lights shaped into positive words to provide hope, love and support for a community who were hardest hit by Covid and the shutdowns it necessitated.
"Seeing those stacked chairs and tables, in those empty establishments, I knew some would be forced to close for good. I felt so helpless, but I knew there was something I could do."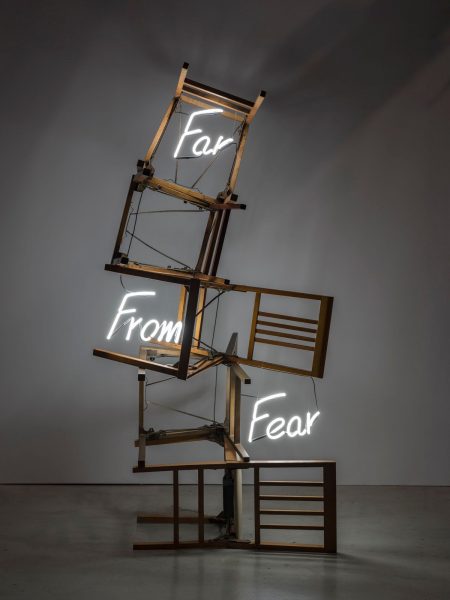 Now, with his own hard-hit community – alongside many others – facing aggressive legislative oppression from the extremist right, he's determined to see the film finished, so that the same empowering message of optimism embodied in his work can be spread to a larger audience as a reminder not to let the bullies break their spirit. To that end, the documentary's director and producer, LA-based British filmmaker Kate Rees Davies, has set up an Indiegogo campaign to raise the funding necessary to finish the project.
Another motivation, perhaps even more personal, might be found in Hopgood's revelation of a hidden influence in another work from the "Empty Chairs" series: "Twelve Steps", which explores the massive financial success of a California citrus industry made possible by the hard work of a segregated Mexican immigrant labor force. "I was also inspired in that piece by a line from Greek poet Dinos Christianopoulos," he says, "who was sidelined by the Greek literary community in the 1970s because he was gay. It's a small but powerful couplet which was included in the collection 'The Body and the Wormwood' that reads, 'What didn't you do to bury me, but you forgot that I was a seed.'"
For Hopgood, perhaps, the documentary also represents a seed, one that he himself has planted in hope of spreading its positive power into the world – and he's counting on the support of his patrons through Indiegogo for the water, light and nourishment it requires to grow.