December 28, 2019 at 11:09 am PST | by John Paul King
Jerry Herman dies at 88
Tony Award-winning composer and out Broadway icon Jerry Herman has died at 88, according to Associated Press.
Herman, known for such cheery, old-fashioned musicals as "Mame," "Hello, Dolly!" and "La Cage aux Folles," died Thursday of pulmonary complications in Miami, where he lived with his partner, real estate broker Terry Marler. His passing was confirmed by goddaughter Jane Dorian early Friday. He was a longtime HIV survivor, having been diagnosed in the 1980s.
Herman wrote the music and lyrics for 10 Broadway shows and contributed to several more. He was a two time Tony-winner for Best Musical ("Hello, Dolly!" and "La Cage aux Folles"), a two time Grammy-winner (Best Cast Album for "Mame" and Song of the Year for "Hello, Dolly!"); he was also a Kennedy Center honoree.
The composer's optimism and simple, straightforward melodies and lyrics were sometimes used by critics to disregard his relevance as a Broadway creator, particularly when prevailing trends moved toward darker, more complex shows in the 1970s.
When he won his second Tony, for "La Cage Aux Folles" in 1984, Herman said, "This award forever shatters a myth about the musical theater. There's been a rumor around for a couple of years that the simple, hummable show tune was no longer welcome on Broadway. Well, it's alive and well at the Palace [Theatre]."
The spirit of hope that Herman maintained in his upbeat compositions is evident from the titles of his well-known songs, such as "I'll Be Here Tomorrow," "The Best of Times," "Tap Your Troubles Away," "It's Today," "We Need a Little Christmas" and "Before the Parade Passes By."
For many, Herman's most beloved composition was "I Am What I Am," from "La Cage," which became an LGBTQ anthem with its potent lyrics, such as the final verse:
I am what I am
And what I am needs no excuses
I deal my own deck
Sometimes the aces, sometimes the deuces
There's one life, and there's no return and no deposit;
One life, so it's time to open up your closet
Life's not worth a damn
'Till you can say
"Hey world, I am what I am."
Herman is survived by Marler, and goddaughters Dorian and Sarah Haspel, who is Dorian's own daughter. Plans for a memorial service have yet to be announced.
Watch videos of some of Herman's most beloved compositions below.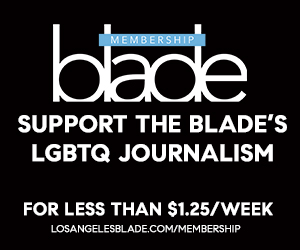 Sign Up for Blade eBlasts