Absolut Vodka at vanguard of LGBTQ engagement
Iconic brand among first to embrace its queer customers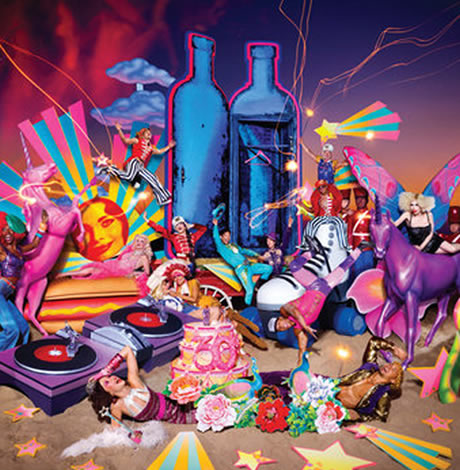 Pride parade-goers given to grouse about the sheer volume of corporate floats, logos, and swag may well have a point about over-saturation. Yet as the year of Stonewall 50 winds down, it's worth noting that for the longest time, mainstream brands wouldn't be seen in public, even in June, with the community they now unabashedly woo.
Notable exceptions exist. American Airlines, IBM, and Wells Fargo have long been present, year-round, in LGBTQ-specific media—but beyond paying Pride month lip service, most high-profile players have yet to establish a presence. Apple and Starbucks, for example, cannot claim so much as a single tear sheet from the gay press, or a mainstream ad featuring LGBTQ content.
Absolut Vodka, however, has spent decades sending a message of solidarity as clear and potent as its product.
To date, the progressive Swedish company has spent $31 million+ on LGBTQ marketing, and donated $40 million+ to LGBTQ charities. It launched a campaign with Equality California, joined others in suing the Trump administration for rollbacks to transgender rights, and have been partnering with the Gay & Lesbian Alliance Against Defamation since 1989, when it became a founding sponsor of the GLAAD Media Awards.
Absolut's direct marketing to the community began in 1981, the company's timeline notes, with full-page back cover ads in The Advocate and After Dark magazines. Although the first spirit maker to do so, other recognizable names were engaging at the time, says Mike Wilke, a former journalist and founder of AdRespect.org.
In his capacity as an LGBTQ ad historian, Wilke notes the pre-Absolut presence of Casablanca Records, Yves Saint Laurent, Jägermeister, Coors, and Pernod Ricard in After Dark—the 1968-1983 soft-pornish entertainment magazine whose shirtless cover boys flew off the shelf and under the bed of many a gay man coming into his own.
Even so, "These were all mainstream ads," Wilke says, noting it would be years before anyone ventured outside the realm of coded content. Absolut imagery included a purple-laced corset worn by a gender-nonspecific individual, and a ruler with "8" at every inch marking.
"At the time, we called it 'gay vague,' " recalls Todd Evans, of Rivendell Media, who places advertisements for the National LGBT Media Association (this publication is among its members). "It was 'gay' to you and me, but the mainstream world might not know it."
Wrote Stuart Elliott, in an October 2011 New York Times article charting Absolut's 30-year track record, the company "ran its regular ads in the L.G.B.T. media; the 1981 placements were 'Absolut Perfection,' with a halo hovering over the bottle. More recently, the brand has sponsored ads that are tailored for the market."
Still, says Wilke of the early 1980s, associating one's mainstream product with the gay community "was risky." (This was less than a decade since the American Psychiatric Association removed homosexuality from its Diagnostic and Statistical Manual of Mental Disorders.)
That lingering stigma was about to have company. As Absolut entered the fray, Wilke recalls, other major advertisers "were actually starting to show interest in the gay market. Then AIDS happened, and everything pulled back."
Rather than retreating, Absolut doubled down.
"They continued to advertise through the '80s," notes Evans, "buying every back page ad that was available in gay media," as well as hosting special events at brick and mortar establishments.
"It was no secret," says Evans, "that drinking was a big part of gay culture, so it made sense to have a consistently maintained presence [in print and at bars]. It was an inexpensive way to own the market, and it earned them the thankfulness of the community… Any national advertiser coming into our media, it's a big deal, to this day. And if you're over 50, chances are you're still an Absolut patron, because you remember that time in our lives, of not having acceptance."
As often happens when untapped markets reveal their profit potential, other spirit makers came pouring into the pages of LGBT (pre-"Q") magazines and newspapers.
But by that time, says Wilke, Absolut had "maintained their presence for many years, building loyalty and name recognition. So I'd say they've been highly successful at being known as one of the most gay-friendly brands of all time, even when they had fierce competition for the gay dollar. A number of competitors were doing, in my opinion, a very good job at marketing. But they got there much later."
With increased cultural visibility came gay-specific ad content. In 2000, an "Absolut GLAAD" ad sung the organization's praises—and in 2008, the "In an Absolut World" ad had pumped-up baseball fans in the foreground, implying approval of the message on the scoreboard behind them ("Mark will you marry me?—Steve"). Absolut was also an early adopter of a little show called "RuPaul's Drag Race," becoming a presenting sponsor in 2011, while it was still airing on Logo.
"That was a real risk," says Evans. "Either the show was going to take off, or it wasn't. So it shows a level of willingness to keep moving forward."
"In the early days," says Wilke, "we were thrilled to be validated by a major advertiser… Speaking as a gay man who pays attention to this stuff, I feel more excited when I see a great ad that speaks to me, more than I do with a general market ad. I think it's a natural reaction, and that's why it's done."
John McCourt, GLAAD's Senior Director of Business Development & Integrated Marketing, notes, "When brands authentically represent LGBTQ people and the issues that affect the community most in their marketing, then they can certainly expect to attract more LGBTQ consumers. Authenticity is key."
But acknowledging our orientation is not enough, says McCourt, who notes companies "need to recognize the difference between supporting the LGBTQ community and marketing to them," especially in a "a post-marriage-equality United States" where the community "expects more from brands than choosing to wrap a rainbow around their products."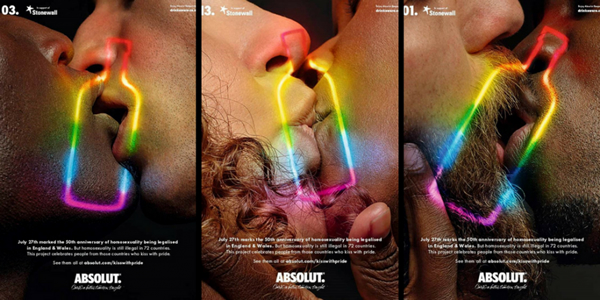 Aligning one's ad campaign with LGBTQ nonprofits is "essential," asserts McCourt, who cites Transgender Awareness Week and LGBTQ History Month among the "plethora of reasons to support LGBTQ people all year round," as opposed to ghosting us once the last speck of June glitter has been cleared from the gutter.
"We believe that outreach, engagement, and support is an ongoing commitment that lasts well beyond June Pride Month," says Absolut Vice President Regan Clarke, who cites the Absolut Pride Bottle as an example. Once designed in partnership with the late Gilbert Baker (the Pride flag designer), the Pride bottle, Clarke notes, "now has nationwide, yearlong distribution."
"That shows you what level they're at," says Evans. "That's what advertising is all about—reminding you, 'We're here, and we're going to be here.' And think about how that has helped the market. Stoli Vodka did a campaign this year [and previously], where they did a commemorative Pride bottle. So Absolut is encouraging more business in the gay market, because other companies are trying to do something different, or outdo them."
Asked how they intend to maintain their foothold, Clarke said Absolut is committed to "provoking dialogue that leads to cultural change every day."
To that end, Absolut's multi-year commitment to GLAAD, McCourt notes, "has helped us to grow our media representation programs, such as the GLAAD Media Institute, our Transgender Media Program, and Spanish Language & Latinx Media Program."
McCourt describes the Absolut team as "well aware of the nuances that come with marketing to a marginalized community," noting they "welcomed GLAAD's guidance" for Absolut's David LaChapelle Stonewall-inspired Pride campaign and Celebrating Trans Acceptance film.
Of their LGBTQ-centric advertising, outreach, and philanthropy, Clarke says Absolut hopes other corporate entities "will listen, learn, and take action… We only celebrate when everyone is invited."

West Hollywood-based Grindr LGBTQ+ dating app goes public
"Grindr is well positioned to be a public company and will continue to expand the ways it serves the LGBTQ+ community"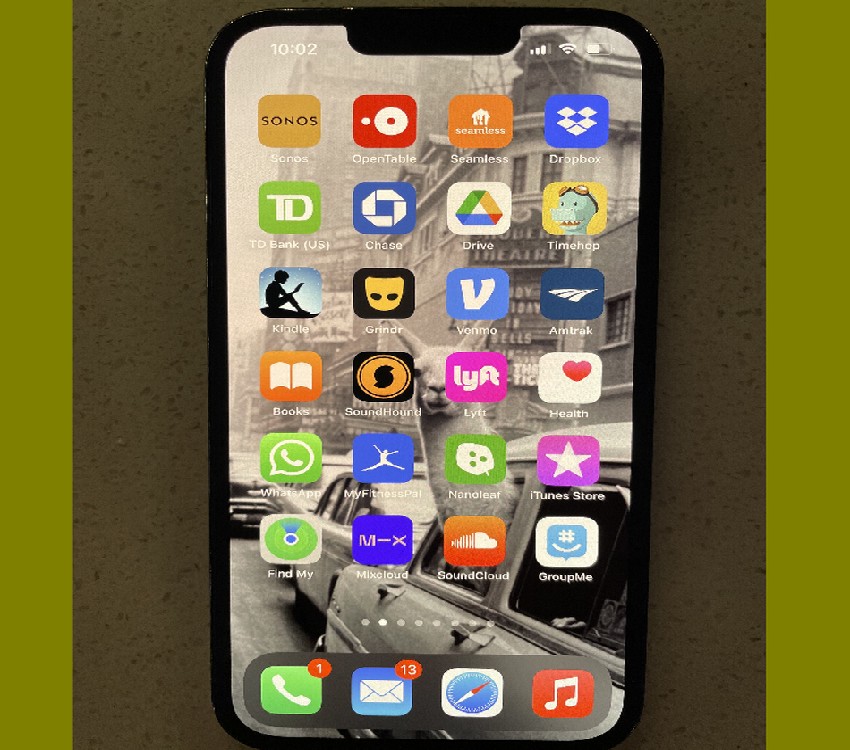 WEST HOLLYWOOD – The LGBTQ+ mobile phone dating app Grindr announced in a statement that it had merged with a special purpose acquisition company on Monday. The merger agreement gives the 13-year-old dating app company the ability to help pay off and satisfy debt as well as fund future growth.
The merger with Tiga Acquisition Corp. is a deal that values the combined company at $2.1 billion. The acquisition company will raise $384 million in cash proceeds, which will consist of $284 million of TAC's cash in trust plus up to $100 million in a forward purchase agreement.
Grindr, founded in 2009, is a widely popular dating app in the LGBTQ+ community, attracting 10.8 million monthly users in 2021, with 80 percent of its users being under the age of 35, according to the statement. 
"Grindr is the leading platform focused on the LGBTQ+ community for digital connection and engagement. We have a near ubiquitous global brand in the community we serve, impressive scale, best-in-class user engagement metrics and adjusted EBITDA margin, and we're still just beginning our monetization and growth journey," said Jeff Bonforte, Chief Executive Officer of Grindr.
"Grindr is well positioned to be a public company and will continue to expand the ways it serves the LGBTQ+ community, from products, services to the philanthropic and advocacy work done through Grindr 4 Equality," he added.
James F. Lu, Chair of Grindr's Board of Directors, said, "Bringing Grindr to the public markets with TAC furthers our mission to connect the LGBTQ+ community. This transaction is a milestone event, not only for our iconic company, our people, partners, and investors, but also for the community we serve around the world. We are grateful for the resilience, courage, and creativity that are some of the LGBTQ+ community's unifying characteristics. Lastly, we are thrilled to work with Ray Zage and Ashish Gupta and the entire TAC team, and appreciate their confidence and support in this important journey."
There have been some issues globally as the Hill reported: Chinese officials removed the dating app rom its Apple App Store in February, citing compliance issues with China's Personal Information Protection Law. 
The Personal Information Protection Law, which took effect at the end of 2021, requires that data stored in applications that is transferred to other locations be approved by government officials. The law also limits the personal information stored in apps.
The popular app also was removed from app market services from Chinese companies such as Tencent Holdings Ltd. and Huawei Technologies Co. Alphabet Inc.'s Google Play Store is unavailable in China.
Equator Coffees opening its first-ever Southern California café
*10% of Equator's Ivy Station opening week sales will be donated to the
Los Angeles LGBT Center*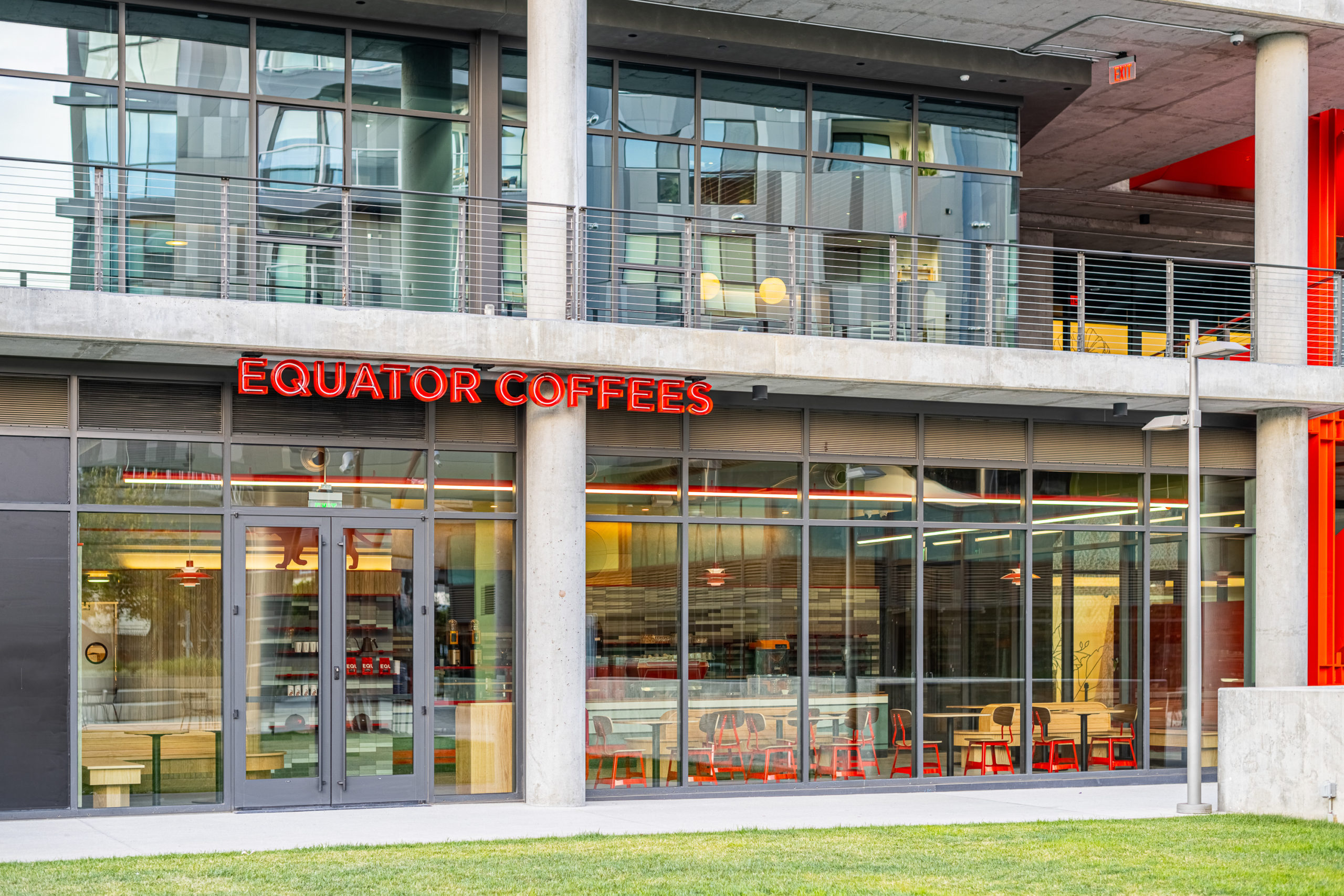 LOS ANGELES – Equator Coffees, the sustainable B Corp coffee roasting company known for boutique chef blends and Fair Trade organic coffees, is opening its first-ever Southern California cafe in Culver City at Ivy Station on March 4, 2022.
Founded by partners Helen Russell and Brooke McDonnell, the company has been craft roasting in the Bay Area for over 25 years. Equator Coffees' newest location in their collection of bustling cafes marks the company's first-ever cafe in Southern California.
The 1400 square feet, 50+ seat indoor-outdoor cafe joins Equator Coffees' ten beloved Northern California outposts. Equator Coffees' focus on quality, sustainability and social responsibility makes it poised to be a welcome addition to the Los Angeles area, and the thriving and culturally vibrant community of Culver City.
To celebrate Equator Coffees' arrival in Southern California 10% of the Ivy Station cafe's opening week sales will be donated to the Los Angeles LGBT Center, which provides health, housing, education and social services to thousands of LGBT individuals and families in Los Angeles and beyond. Additionally, February 16th – March 2nd the cafe will offer the "Finca Sophia Flight"; a two-cup flight of award-winning Panamanian Gesha coffees from Equator's own Finca Sophia Coffee Farm, available exclusively at Equator Coffees' Culver City location.
"Making people's lives better through coffee informs every connection we make, from farmer to roaster to the barista preparing your cup, and to consumers and the communities that our cafes inhabit" says Helen Russell, Co-founder of Equator Coffees. "We are excited to join the burgeoning community of Culver City, and to have the opportunity to offer families, professionals, and visitors alike, delicious coffees from around the world with distinct flavor profiles that are ethically sourced."
Equator's brewed coffee and specialty drinks are truly special, and the Culver City cafe will offer their seasonal single origin pour over program, a choice between the house Tigerwalk espresso blend and a rotating seasonal single origin espresso, a delightful menu of specialty espresso beverages such as shakeratos and the Habibi latte, as well as a full selection of whole bean coffee, including their #1 seller and devotee-favorite, the full-bodied Equator Blend, and the Washed Gesha and Natural Gesha coffees from Panama's Finca Sophia Coffee Farm.
Building upon their long standing relationship with the culinary community, Equator will partner with celebrated LA chefs Susan Feniger and Mary Sue Milliken on the Socalo Spiced Latte, a signature cafe de olla-inspired latte with piloncillo, cinnamon, and star anise, and Guava Empanadas, as well as new coffee collaboration – 'Mary Sue and Susan's SOCALO Las Rosas, Colombia' – a medium roast produced by the Las Rosas Women's Coffee Project of West Hulia, Colombia; all available at the new Culver City cafe. The all-day menu, bearing a SoCal twist, will offer pastries from Farmshop Market in Santa Monica and artisanal breads from Bub & Grandmas'.
EQUATOR COFFEES OPENS CAFE IN LOS ANGELES
Ivy Station, Culver City Outpost Is Brand's
First Southern California Location
Opening March 4, 2022
*10% of Equator's Ivy Station opening week sales will be donated to the
Los Angeles LGBT Center*
Equator Coffees collaborated with Kellie Patry Design to create a cafe inspired by the California topography and the metro line which runs parallel to the Ivy Station location and seamlessly flows into the building's adjacent public greenspace. The streamlined interior is imbued with color, futurism, and playfulness, and the design connects the interior and patio with curving white oak benches, offering a subtle homage to metro design. The cafe features details like a tile mural by Thomas Williams mimicking ocean waves, and Louis Poulsen's pendants wash light over the dining room. On designing the new cafe, Patry reflects: "Forward-thinking, Helen and Brooke's journey along the Equator is at the core of my inspiration. Equator Coffees is a tireless savvy welcoming company led by equally stirring women. I think of the cafe as Flapper Chrome morphed into Espresso Futurism, at a metro stop in Culver City."
Equator Coffees' Culver City location will feature Ground Control 'Cyclops' brewers, allowing for Equator's renowned coffees to shine. This cutting edge coffee brewer creates a layered brew via a multiple extraction, full immersion brewing process. Brewing coffee through the eyes of chemistry is a hallmark of Equator's philosophy, which is driven home by the Ivy Station cafe's addition of the La Marzocco KB90 espresso machine; a uniquely precise piece of brewing equipment that is designed to eliminate physical stress, allowing baristas an empowering working environment where they can dial in the most delectable drinks imaginable.
Equator Coffees Culver City is located at 8900 Venice Blvd #105, Los Angeles, CA 90232 and will be open from 7:30am-3:30pm daily. For more info, visit here and follow along @equatorcoffees
FCC votes to lift restrictions on Broadband in Multi-tenant buildings
Internet providers must also now inform tenants about the existence of exclusive arrangements in plain language that is easily accessible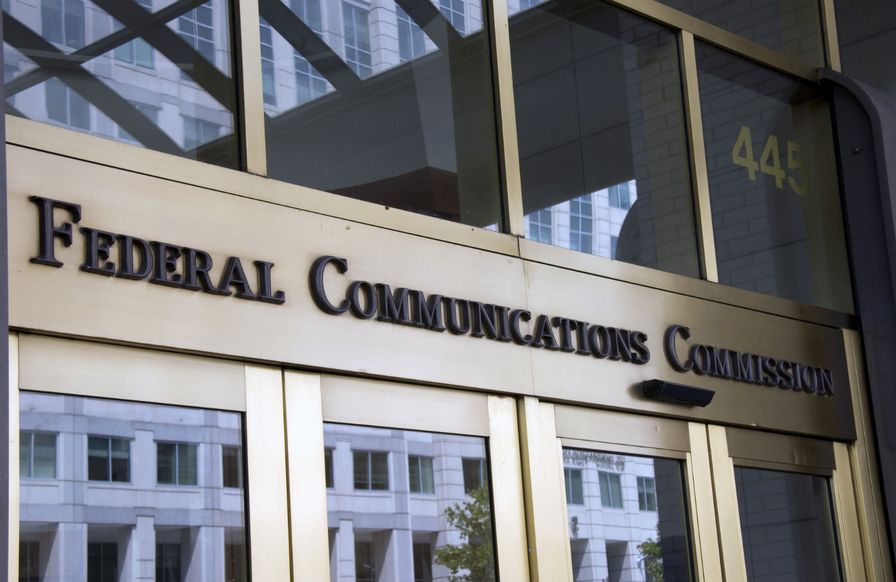 WASHINGTON – The Federal Communications Commission (FCC) voted unanimously 4-0 Tuesday, to unlock broadband competition for those in multi-tenant buildings like apartments and office buildings.
The new rules prohibit building owners and broadband service providers from entering into "sweetheart deals" – revenue-sharing agreements that keep competitive providers out of buildings and limit purchasing options for tenants. Internet providers must also now inform tenants about the existence of exclusive marketing arrangements in plain language that is easily accessible.
The FCC also voted to crack down on evasion of rules designed to increase competitors' ability to access building wiring to provide service.
"One third of this country live in multi-tenant buildings where there often is only one choice for a broadband provider, and no ability to shop for a better deal," said Chairwoman Rosenworcel. "The rules we adopt today will crack down on practices that prevent competition and effectively block a consumer's ability to get lower prices or higher quality services."
Have you lived in an apartment building that only allowed ONE internet provider?

Thanks to @POTUS Competition agenda, today @FCC voted to crack down on "sweetheart deals" between landlords & service providers. We are helping lower the price of internet for millions of Americans. https://t.co/Ek6NWRvdV2

— Jen Psaki (@PressSec) February 15, 2022
The White House noted in a press release that cable providers have long argued that curbing the practices cited by the FCC may inhibit investment and deployment in buildings.