January 7, 2020 at 1:15 am PST | by John Paul King
LGBT Center to hold grand opening celebration for new Center South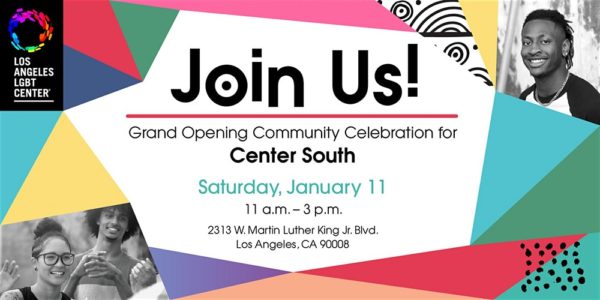 The Los Angeles LGBT Center is sending out an invitation to join them this weekend for the grand opening of their newest location, Center South!
On the heels of its momentous 50th anniversary, the Los Angeles LGBT Center rings in the new year with the grand opening of its newest facility in the Leimert Park neighborhood of South Los Angeles on Saturday, January 11. Doors will open at 11am, with remarks and a ribbon-cutting ceremony scheduled for 11:30. Following the ceremony, the community is invited to take self-guided tours of Center South and participate in a celebration from 12 – 3, which will include food, giveaways, a resource fair, and entertainment..
Scheduled to speak at the ceremony are Center CEO Lorri L. Jean and Los Angeles County Department of Public Health Director – Division of HIV and STD Programs Mario J. Pérez, with more speakers to be announced.
With grant support from Los Angeles County, Center South earmarks the Center's first-ever expansion into the South Los Angeles neighborhood and long-term commitment to care for LGBT people living throughout the city. Additionally, Center South is made possible by four local organizations—Bienestar Human Services, Black AIDS Institute, Children's Hospital Los Angeles, and The Wall Las Memorias Project—that have joined forces with the Center to address the societal and health needs of LGBT people of color living in South Los Angeles.
The 5,500-square-foot community space will include HIV testing; access to PrEP and PEP services; housing case management; mental health services; a computer lab; drop-in safe space; and more. All of Center South's programs and services will be provided for free or at low cost to everyone, with a focus on serving the needs of young gay and bisexual men of color ages 12 to 29.
You can RSVP to the free event here.