January 11, 2020 at 3:04 pm PST | by Karen Ocamb
Iconic LGBTQ ally John Lewis has Stage 4 pancreatic cancer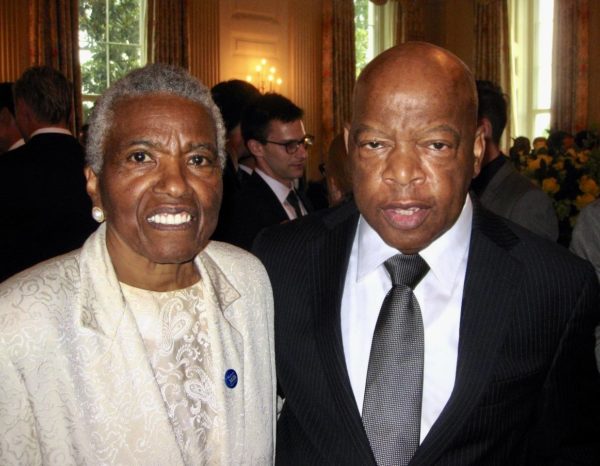 On the precipice of a new year, a new decade, terrible news about the five-decades strong civil rights icon John Lewis broke Twitter. On Dec. 29, Georgia Rep. John Lewis —the hero of the March 7, 1965 "Bloody Sunday" march across the Edmund Pettus Bridge to win voting rights for America's Black citizens — announced that he has been diagnosed with Stage 4 pancreatic cancer.
"I have been in some kind of fight – for freedom, equality, basic human rights – for nearly my entire life. I have never faced a fight quite like the one I have now," Lewis said in a statement. "So I have decided to do what I know to do and do what I have always done: I am going to fight it and keep fighting for the Beloved Community. We still have many bridges to cross."
Lewis is a longtime LGBTQ ally. On May 17, 2019, for instance, he compared the profound Brown v Board of Education desegregation decision issued by the Supreme Court on May 17, 1954 to the need to pass the Equality Act, the LGBTQ civil rights bill.
"Today, on this day, we have an opportunity to send a message now to help end discrimination in our country and set all of our people free," Lewis said on the House floor when the Equality Act was introduced.
"You and I are partners. We are part of an ongoing struggle to redeem the soul of America, to help people in this country and around the world come to grips with one simple truth: we are one people. We are one family. We are the human family," Lewis said at the Human Rights Campaign gala in 2016.
LGBTQ icon Jewel Thais-Williams, longtime owner of Catch One Disco in Los Angeles, was excited to meet America's first Black President, Barack Obama at an LGBTQ reception at the White House and "thrilled" to meet Lewis, the courageous teenager with whom she identified from afar.
"Some 60-plus years ago when I was a teenager, I wished I could march and be part of the civil rights movement," Thais-Williams told the Los Angeles Blade. She vicariously experienced the young people being hosed, beaten, and jailed, including Lewis. "So when I met him, there was a special kindred spirit of feeling like I knew him always. When they were beaten, I felt that."
Thais-Williams wishes Lewis well. "He's one of my heroes," she said. "It was a thrill meeting one of the legendary survivors of the 'Bloody Sunday' march that made it possible for Barack Obama to be in the White House."