January 28, 2020 at 11:27 am PST | by Karen Ocamb
Homosexuals forgotten during 75th anniversary of Auschwitz liberation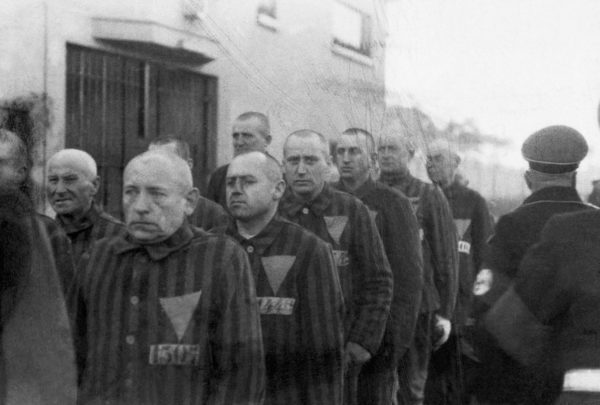 According to the United States Holocaust Memorial Museum, the total number of those murdered by Nazis and their collaborators during the Holocaust was 17 million men, women and children: 6 million were Jews and 11 million were other ethnicities, including Soviets, Slavs, Poles and Ukrainians, Romanis/Gypsies (classified as enemies of the state, like Jews), the disabled – and homosexuals.
No one really knows or seems to care how many LGBTQ people were killed, tortured, maimed or castrated, except, thankfully, the US Holocaust Museum. "More than one million gay Germans were targeted, of whom at least 100,000 were arrested and 50,000 were convicted and imprisoned," reports the Museum via Wikipedia. An estimated 5,000 to 15,000 gay men were imprisoned in concentration camps and died at high rates, according to a survivor. They were forced to wear identifiable pink triangles, as were those convicted of pedophilia and bestiality.
But unlike other survivors liberated from concentration camps as World War II ended, gays were persecuted and re-imprisoned under Germany's anti-gay law, Paragraph 175.
Adding to the cruelty is the ongoing insult of erasure. On Jan. 23, world leaders gathered in Jerusalem to commemorate the 75th anniversary of the liberation of Auschwitz on Jan. 27, 1945, repeating the promise to "never forget," except the homosexuals.
"We gather to fulfill the solemn obligation, an obligation of remembrance, to never let the memory of those who died in the Holocaust to be forgotten by anyone anywhere in the world," said Vice President Mike Pence, via Fox News. "Today we remember what happens when the powerless cry for help and the powerful refuse to answer."
Photo of homosexual prisoners in Nazi concentration camp (Photo courtesy U.S. Holocaust Memorial Museum)