Shores and Dickey: A playwright and his muse take us 'This Side of Crazy'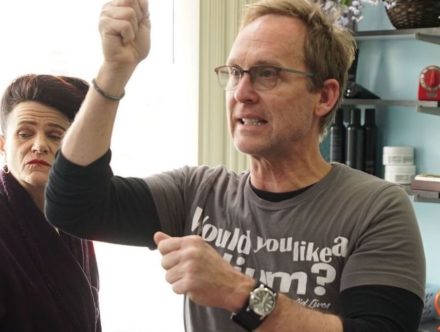 From the ease they have with each other, you can tell Del Shores and Dale Dickey go way back.
Of course, he's a playwright and she's an actress that have worked together several times; but the sense of comfortable familiarity they share goes deeper than professional respect – although there's plenty of that to go around, too. It's the kind of connection only possible when there are so many common threads binding two people's lives together that they are comfortable enough to finish each other's sentences.
The Blade spoke to the pair recently ahead of the upcoming LA premiere of Shores' latest play, "This Side of Crazy," which opens January 31 at the Zephyr Theatre in West Hollywood.
The award-winning Texas-born Shores is best known for his play (and subsequent movie) "Sordid Lives," which he later expanded into a prequel series for Logo and a sequel, "A Very Sordid Wedding." Before that, he was a writer for shows like "Dharma and Greg" and "Queer as Folk," and his second play, "Daddy's Dyin', Who's Got the Will?," had already become an award-winning hit and spawned a movie adaptation.
As for Dickey, she's a familiar face thanks to a career that has included memorable appearances on TV ("My Name is Earl," "True Blood," "Breaking Bad") and an Oscar-nominated supporting turn in "Winter's Bone."
Their latest project together is a play that sounds like it's cut from the same cloth as "Sordid Lives," in which a lauded gospel songwriter has promised a reunion appearance from her three adult daughters, once a beloved little-girl vocal trio ("little superstars for Jesus"), at a tribute concert dedicated to her music. The only problem is that the three women have been long estranged; the eldest is a Christian YouTuber, the youngest is a lesbian atheist, the middle girl (played by Dickey) is in a mental institution for "anger issues," and the complicated circumstances of their past makes a reconciliation not only unlikely, but possibly inadvisable.
Their conversation with the Blade is below.
How did your paths first cross?
Del Shores: It was at a play, I think in '96, ironically at the Zephyr Theatre. It was a play by Horton Foote, and my friend who was in it, called me and said, "You have to come and see it tonight because Horton Foote is here and I know how much you love him." So, I sat right behind Horton Foote – didn't meet him, just soaked it in – and then this person flew on stage that played this crazy, drunk woman, and maybe five minutes into her performance I thought, 'Who the fuck is that?' Her work was just so truly mind-blowing.
Dale Dickey: Del was really complementary about my performance. He mentioned how much he appreciated having real southern people in his shows, and asked if maybe I would audition for him sometime. He was getting ready to do a revival of "Daddy's Dyin," and so I went and auditioned for him – and he cast me. And that was the beginning of that. It's been like, 23 years, and this is our seventeenth collaboration.
DS: And by the way, that was the last time she ever had to audition for me.
Dale is not the only one you keep bringing back. There's a whole cadre of players that seems to gravitate toward your work. Why do you think that is?
DD: I think almost all of us are from the south.
DS: Except for Bonnie Bedelia, she's not really southern. And Olivia [Newton-John], of course. Maybe Southern Australia.
I like it because they hear the same thing that I hear. They hear the same song, they're from the same dirt. I write with them in my head and I don't really have to explain much. We're so in sync.
DD: There are a lot of people who can play southern roles, who aren't from the south, even though you know we all cringe when there's a bad accent.
But you know, I could do a Neil Simon play, and do well, or David Mamet – but I wouldn't be the perfect choice, as opposed to someone who grew up in that part of the country. I grew up in Tennessee, which is kinda similar to Texas, in many ways, so Del's writing is just in my make-up, it's in my bones.
So it's more than just work that connects you.
DS: We have become family. We are all at each other's houses, and functions, and holidays. We love each other. It's the same thing in our gay community, sometimes we have to have a chosen family, or a 'logical family,' as Armistead Maupin says. I love that.
Speaking of family, it sounds like you've created another outrageous one for "This Side of Crazy."
DS: It's another dysfunctional family, and this one's really twisted and dark.
You're known for these over-the-top southern characters. Do you feel like they are exaggerations?
DS: I don't feel like I'm exaggerating at all, I really don't. I think that people who are not from the south sometimes think that, but people who were raised in the south see my plays and they go, 'Oh, no, no, that's the way it is.' 'Sordid Lives' has the most extreme characters, I think, of my plays, and I can't tell you how many people write to me and say, 'Oh, I have an Aunt Cissy, I have an Aunt LaVonda,' or 'Juanita' was my mother.'
I honestly didn't even think my family was eccentric until I wrote "Daddy's Dyin,'' and people were talking about "Del Shores' eccentric family." I was like, "Oh, they are?"
DD: It's heightened truth. Del's plays have this high, high hilarity, and then boy, they just drop. That's real life.
Is that what we can expect from "This Side of Crazy?"
DS: It has comedy, like all of my work does, but it also has some very intense drama, like a lot of my work as well has had.
What it comes down to, for me – there are certain crimes, certain sins, certain violations in relationships, where you have to ask, 'Is forgiveness even possible?' That's what's explored in this play. This woman has made a crazy promise, but there are these circumstances – it's so extreme, these people should all probably never see each other again. They were all raised in the church, where forgiveness is a very big thing, but sometimes the circumstances are so severe that it's almost impossible.
My theory is that a lot of people fake forgiveness, and there's a lot of festering going on within the hearts and souls of people, and this play allows those all to explode.
DD: Very well put. Over the years, I've seen many families torn apart by tragedies, arguments, where they don't talk to each other for years, and they suffer. People can suffer from that, when you cannot heal. It's an important message.
"This Side of Crazy" runs from January 31 – March 8. For tickets and more information, visit www.delshores.com.
Black Deafhood: A journey at the intersection of sexuality, disability, race
Gallaudet's Bobbi-Angelica Morris on their activism and art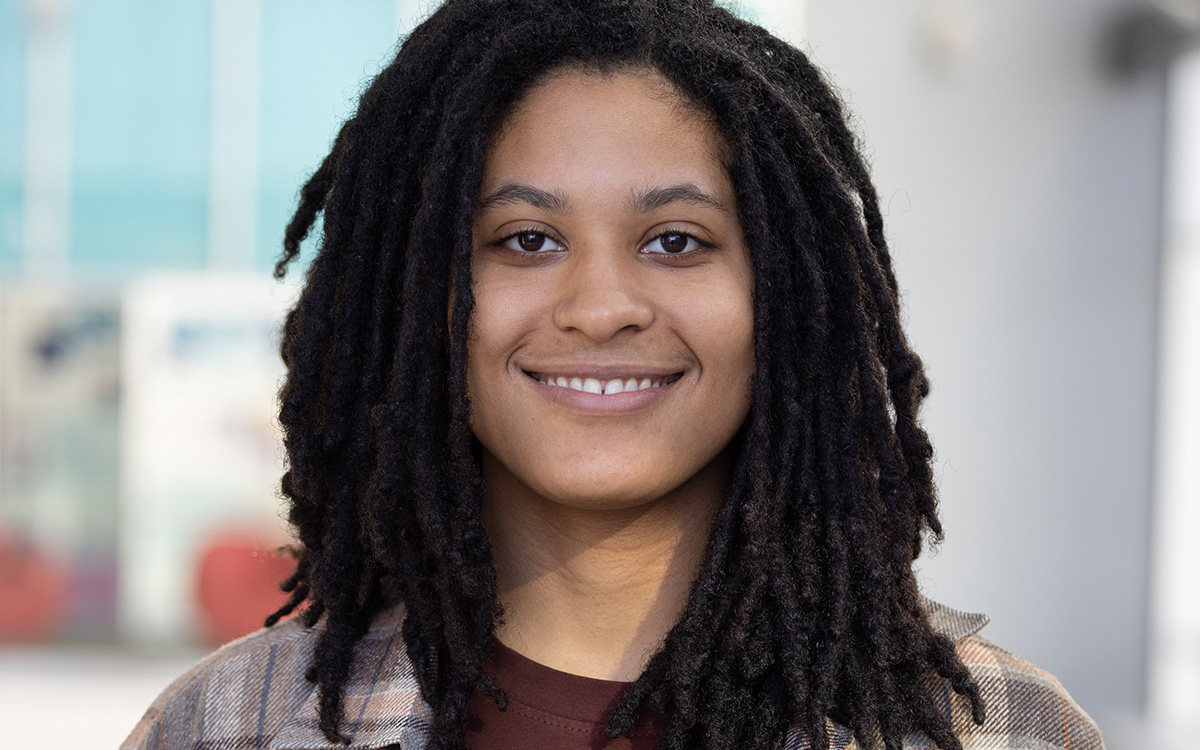 Editor's note: One in four people in America has a disability, according to the CDC. Queer and Deaf/disabled people have long been a vibrant part of the LGBTQ community. Take two of the many queer history icons who were disabled: Michelangelo is believed to have been autistic. Marsha P. Johnson, a hero of the Stonewall Uprising, had physical and psychiatric disabilities. Today, Deaf-Blind fantasy writer Elsa Sjunneson, actor and bilateral amputee Eric Graise and Obama administration Assistant Secretary of Labor for Disability Employment Policy Kathy Martinez are just a few of the people who identify as queer/Deaf/disabled. The stories of this vital segment of this queer community have rarely been told. In its series "Queer, Crip and Here," the Blade is telling some of these long unheard stories.
"My 'coming out' story looks more like me telling someone my favorite cookie flavor is chocolate chip," Bobbi-Angelica Morris, a Gallaudet University graduate student, activist, poet, photographer, videographer and visual artist, told the Blade, "than an emotional roller coaster."
"I've always embodied this carefree energy pertaining to who I am, what my purpose is, and how I show up for others," added Morris, who is Deaf/Hard of Hearing and identifies as a Black, nonbinary, queer and abolitionist artist.
Earlier this year, Morris, 23, received the Mary Bowman Arts in Activism Award from the National AIDS Memorial, the San Francisco organization that displays the internationally acclaimed AIDS Memorial Quilt.
Over the phone and in email, Morris spoke with the Blade about a range of topics – from her "Deafhood" to how she felt safe at a queer Halloween party.
Morris, who uses she/they pronouns, grew up in different parts of the East Coast. They spent most of that time in Richmond, Va.
"Growing up, most of the people around me would ask if I was gay," Morris said, "because I fit into the stereotypical realms of present day msc [masculine] presenting dykes."
"No one questioned me when I actually came to terms with my queer identity," they added.
Before enrolling in Gallaudet, Morris spent most of their time as a student with hearing people in schools, where most teachers and students didn't communicate in American Sign Language (ASL). Morris was the only Deaf student in their classes until they graduated from the University of Virginia in 2022 in Charlottesville. There, they majored in global development studies and minored in ASL with a concentration in disability studies and community development.
Growing up, Morris didn't know about ASL or the creativity and history of Deaf culture.
"It wasn't until I was in elementary school," Morris said, "that an audiologist said I qualified for hearing aids."
In their poetry, Morris, who speaks and signs their work, reflects on their family and their experience of being Deaf.
"I reflect on my own Deafhood:/ my playground fights/ with uneducated parents," Morris writes in a poem, "When little Black Deaf girl doesn't hear someone speak to her,/that someone thinks little Black Deaf girl is disrespectful."
Like many Deaf/Hard of Hearing people, who go to school when they don't know American Sign Language, and there are no ASL interpreters, Morris felt isolated.
"I had no knowledge of the Deaf community or of Black Deaf history," they said.
Some in Morris's family and community couldn't accept that Morris is Deaf. "Some, not out of maliciousness, prayed for my healing," they said.
What Morris calls her "Black Deafhood," has been a long journey at the intersection of sexuality, Deafness, disability, Blackness, gender, activism, and art.
Deafhood is a "journey that a Deaf person undertakes to discover his, her or their identity and purpose in life," according to a Deafhood Foundation statement on deafhood.org.
Hearing people often perceive of Deafness as a disease that should be cured, and of Deaf people as incompetent, second-class, less-valued, citizens.
Just as coming out helps queer people to affirm their sexuality and connect with the LGBTQ community and history, Deafhood empowers Deaf people to have pride in themselves – to connect with the Deaf community, history and culture.
As it often goes with finding and loving your queer self, Deafhood is a process.
In middle school, Morris watched "Switched at Birth," the popular TV series. The teen and family drama features Deaf and hearing actors and scenes in ASL.
The show jump-started Morris's interest in Deafness and the Deaf community. "But, I still didn't understand my connection [with the Deaf community]," Morris said.
Curious to discover something about Deaf culture, Morris started an informal class – a club. There, they and their friends learned signs from YouTube videos.
At the University of Virginia, Morris took a sign language class. They studies abroad for a time in India.
At Gallaudet, Morris began to feel connected to the Deaf community. They are a student in the Master of Social Work program at Gallaudet's School of Civic Leadership, Business, and Social Change. Morris will graduate with an M.S.W. degree in 2024.
They are equally committed to making art and activism – to working for social justice for Black, Deaf/disabled, queer, and other marginalized groups. A love of art and social change is etched in their bones.
"I am an abolitionist and an artist," Morris said, "I cannot be one without the other."
Their abolitionist identity is connected to how they experience intersectionality. Morris sees their life as connected "to the movement for total liberation of all our people, beings, and non-beings in this present day and beyond," they said.
Because they are an artist, they have a responsibility to use their skills to educate, inspire and protect "everyone and everything that abolitionists fight for daily," Morris said.
From early on, Morris loved being creative. During an unstable childhood, art helped Morris to express their feelings.
Fortunately, art ran in Morris's family. "My bio-mom is an amazing artist," Morris said, "so we would draw things together."
Later, Morris's god-mom gave Morris materials that sparked their interest in painting and photography.
In middle school, Morris got into spoken word poetry when one of their Boys and Girls Club mentors showed them a spoken word video. At the University of Virginia, Morris participated in poetry slams. In their Gallaudet social work program, they impressively deploy their artistic and activism chops.
Their advocacy projects are numerous. Morris is developing ASL G, a non-profit organization. The group's mission "is to develop community garden coalitions and programming for art and health wellness through disability justice," Morris said.
Morris was the former creative outreach coordinator of VOCA, a non-profit that supports BIPOC, Deaf artists.
"I have family members that have been incarcerated," Morris said. "Because of that, I want to fight the injustice of the prison industry and mass incarceration."
Morris is the president of Students Against Mass Incarceration (SAMI), a student club at Gallaudet.
Ableism, audism (discrimination against Deaf people), homophobia and racism are issues for Morris. "The white presence is prominent in many institutions," they said, "often they're predominantly white."
Morris likes being a Gallaudet student. But, "there's a lack of racial competency at Gallaudet as there is in the whole of America," they said.
The queer community has provided safe spaces for Morris.
Once, Morris and their partner attended a queer Halloween party in Charlottesville. "Half the people in attendance knew or were learning sign language," Morris said. "I think it was then that I realized how connected the queer community was in ensuring no one was left out."
Morris went to the party as Beast Boy, and their partner went as Raven from Teen Titans.
Follow Morris on Instagram @Blckrainbow5