GLAAD extols LGBTQ ads, trolls One Million Moms on eve of Super Bowl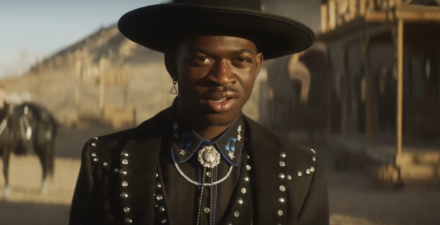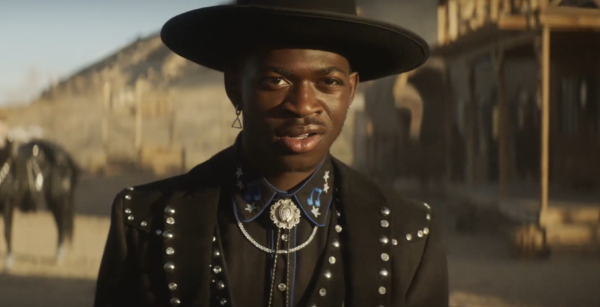 A Doritos ad starring Little Nas X is one of 7 LGBTQ-inclusive spots that will air during this weekend's Super Bowl broadcast (Image courtesy Doritos/Frito-Lay)
With the news that this weekend's live broadcast of Super Bowl LIV will feature at least eight LGBTQ-inclusive ads, it's fitting to pause and take a moment to appreciate how far we've come in the struggle for LGBTQ acceptance – even if it's only to remind ourselves that, no matter how disheartening the political tides may be, there is still reason to hope that support for the community continues to grow within the culture at large.
On Friday, GLAAD issued a statement marking what they called "an unprecedented level of LGBTQ inclusion" scheduled for Sunday's FOX airing of the NFL championship game, as well as the milestone represented by San Francisco 49ers coach Katie Sowers, who is the first out LGBTQ woman to serve as a coach in a Super Bowl game. They also took the opportunity to give the homophobic conservative advocacy group One Million Moms a taste of their own medicine, announcing they had launched petition a calling for the organization to "call it quits."
The statement included comments from GLAAD President and CEO Sarah Kate Ellis, who said, "The level of diverse LGBTQ inclusion from at least seven brands during advertising's biggest night, coupled with Katie Sowers' trailblazing role on the field as Offensive Assistant Coach of the 49ers, mark a rainbow wave at the Super Bowl this year."
GLAAD went on to chart some of the progress that has been made in LGBTQ representation by advertisers on the Super Bowl broadcast, citing a 2007 Snickers ad depicting two men who become disgusted when they accidentally kiss, a Coca-Cola ad from  was celebrated for an ad featuring a diverse collection of American families, a Coca-Cola ad from 2014 that featured a family with two dads, and another from 2018 that used gender-neutral pronouns.
In addition, the LGBTQ media advocacy organization noted several out LGBTQ celebrities who have appeared in Super Bowl commercials over the years, such as RuPaul (who was the first drag queen to do so, twenty years ahead of this year's ad featuring "Drag Race" alumni Kim Chi and Miz Cracker), Ellen DeGeneres, Neil Patrick Harris (who has appeared twice), and Carson Kressley, who co-starred with Cindy Crawford in a 2005 Diet Pepsi ad.
The brands offering this year's eight LGBTQ inclusive ads, as noted by GLAAD, are:
Pop Tarts (with Jonathan Van Ness)
Sabra (with Kim Chi and Miz Cracker, former contestants on "RuPaul's Drag Race")
Microsoft (with 49ers coach Katie Sowers)
TurboTax (with Trace Lysette and Isis King, as well as other LGBTQ members of the ballroom community)
Doritos (with out Grammy-winner Lil Nas X)
Olay (with Lilly Singh, out bisexual host of NBC's "A Lilly Late with Lilly Singh," and the host of the GLAAD Media Awards in New York on March 19)
Amazon Alexa (with Ellen DeGeneres and Portia de Rossi
Budweiser (with married World Cup champs Ali Krieger and Ashlyn Harris)
GLAAD also took note of a petition launched over Sabra's ad by One Million Moms, a group they have previously called out (along with its sole spokesperson, Monica Cole) for being run by the American Family Association, a conservative lobbying organization officially designated by the Southern Poverty Law Center as an anti-LGBTQ hate group. In the petition, OMM raises issue to the commercial's inclusion of drag queens Kim Chi and Miz Cracker, saying, "Normalizing this lifestyle is contrary to what conservative, Christian parents are teaching their children about God's design for sexuality."
In response to OMM's latest in a long history of failed campaigns against brands that have taken steps toward LGBTQ inclusion, GLAAD announced that it has launched its own petition, blasting the organization for claiming a mission to "stop the exploitation of children" when "nearly all of their public work and actions center on targeting brands/networks that include LGBTQ people in programming or ads," and calling on them "to pack it up and go home."
Ellis commented, "Leading brands have learned that fringe anti-LGBTQ organizations like Monica Cole and so-called One Million Moms project of the AFA, are not a reflection of where Americans are. Family-friendly brands today include all families, including LGBTQ ones."
When the eight scheduled LGBTQ-friendly commercials air during Sunday's game between the 49ers and the Kansas City Chiefs, it will mark a record level of inclusivity for ads airing during the Super Bowl.
As Ellis puts it, "Now, American families will see and cheer on LGBTQ icons… it's about time."
Below, you can watch Little Nas X star opposite movie icon Sam Elliott in his Doritos ad, which will air during the Super Bowl LIV broadcast on Sunday, February 2, at 6:30pm ET.
Canadian soccer player first out Trans and non binary Olympian
I feel proud seeing `Quinn' on the lineup- I feel sad knowing there were Olympians before me unable to live their truth because of this world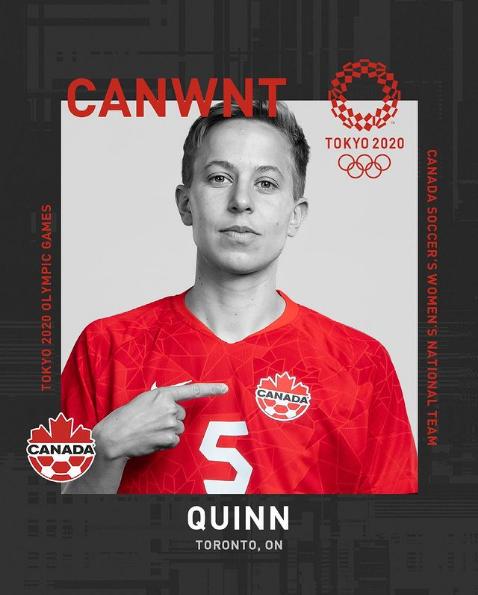 TOKYO – The Canadian professional soccer player, a midfielder for OL Reign and the Canada women's national soccer team, made history this week as the first openly transgender and non-binary athlete to participate in the Olympic games when they started Wednesday night in a 1-1 draw match in Sapporo between Canada and opposing the team Japan.
"I feel proud seeing `Quinn' up on the lineup and on my accreditation. I feel sad knowing there were Olympians before me unable to live their truth because of this world," they wrote on Instagram. "I feel optimistic for change. Change in legislature, Changes in rules, structures, and mindsets."
Quinn, who came out as trans in 2020, was also a member of the Canadian team that won the bronze medal at the 2016 Olympics held in Rio de Janeiro, Brazil.
"Mostly, I feel aware of the realities," Quinn continued. "Trans girls being banned from sports. Trans women facing discrimination and bias while trying to pursue their Olympic dreams. The fight isn't close to over […] and I'll celebrate when we're all here."
ABC News Sports reported that the International Olympic Committee has allowed transgender athletes to participate at the Olympics since 2004, but until this year, none had done so openly. In addition to Quinn, Hubbard and Wolfe, some transgender athletes are competing without discussing their transition. Some have been outed and harassed online by people who oppose transgender athletes competing.
The current rules specify certain conditions for transgender women to compete in women's sports. Among them, athletes must demonstrate lower testosterone levels for 12 months before competing, and athletes can only qualify four years after transitioning, at the earliest.
Quinn is not the only transgender athlete participating in this year's summer Olympic Games in Japan. Laurel Hubbard, a trans woman from New Zealand competing in weightlifting for the Kiwi team and Team USA women's BMX freestyle team has a trans BMX racer, Chelsea Wolfe, holding down a reserve spot on the team.
Four Olympics, 13 years, and now a Gold Medal for Tom Daley
"I hope any young LGBT person out there can see that no matter how alone you feel right now, you are not alone. You can achieve anything."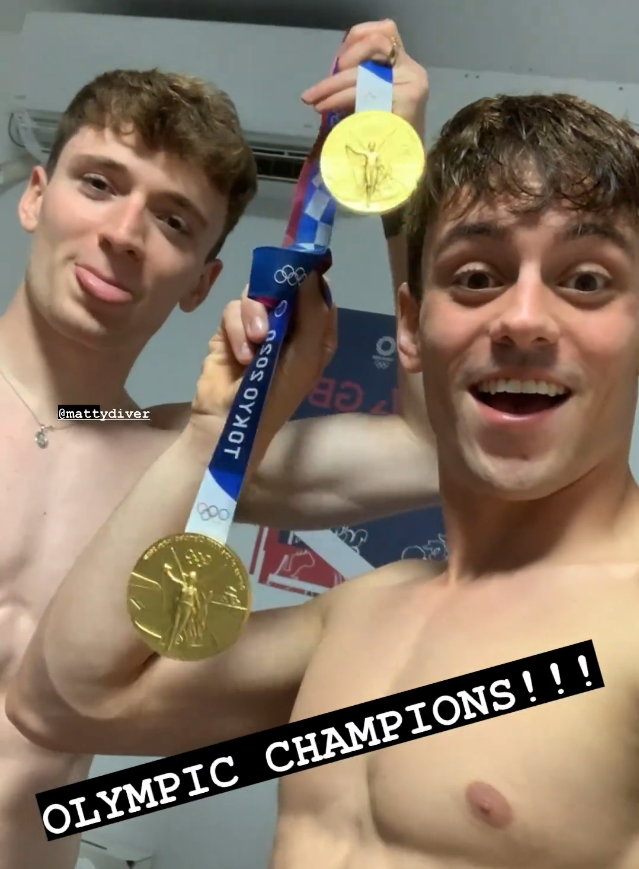 TOKYO – Standing there on the podium with tears forming in his eyes, a masked for Covid-19 British Olympic diver Tom Daley saw his dreams of Olympic Gold finally come true Monday. Watching a live-stream of the event intently, at the moment Daley secured his victory, Tom's husband, writer Lance Black and Tom's mother took in the results and jumped up screaming in joy.
Daley along with his British teammate diving partner Matty Lee won the gold with a score of 471.81 in the men's synchronized diving on Monday at Tokyo 2020 narrowly besting the defending champions, China's Cao Yuan and Chen Aisen by just 1.23 points.
"I still can't honestly believe what is happening," Daley told BBC Sport. "That moment, being about to be announced as Olympic champions, I was gone. I was blubbering."
😢

Mission accomplished.#TeamGB | @TomDaley1994 pic.twitter.com/ClyyTIm1ZP

— Team GB (@TeamGB) July 26, 2021
Daley tells young LGBTQ people: "You can achieve anything"
Later at a press conference, Daley, an openly gay athlete talked about the experience of being gay and at the games;
"In terms of out athletes, there are more openly out athletes at these Olympic Games than any Olympic Games previously. I came out in 2013 and when I was younger I always felt like the one that was alone and different and didn't fit. There was something about me that was never going to be as good as what society wanted me to be. I hope that any young LGBT person out there can see that no matter how alone you feel right now, you are not alone. You can achieve anything."
"I feel incredibly proud to say I am a gay man and also an Olympic champion."

Gold medal winner Tom Daley says he hopes his performance will inspire young LGBT people to realise "you can achieve anything".

Read more: https://t.co/9b5sr5kcZe pic.twitter.com/XCFyZR5S7A

— LBC (@LBC) July 26, 2021
They've done it!#GBR's Tom Daley and Matty Lee win the men's synchronised 10m platform final – a career first gold medal for four-time Olympian Daley!#Diving @TeamGB @fina1908 pic.twitter.com/iiwW5u4JTJ

— Olympics (@Olympics) July 26, 2021
Great Britain's Tom Daley, Matty Lee nail final dive to win gold | Tokyo Olympics | NBC Sports
Out athletes going for summer Olympic gold
At least 142 publicly out gay, lesbian, bisexual, transgender, queer and nonbinary athletes are headed to Tokyo for the Summer Olympic Games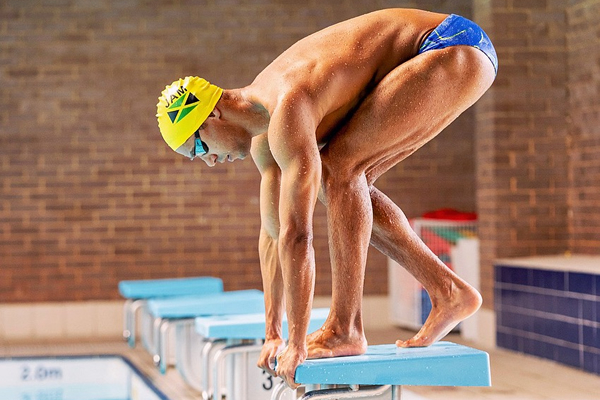 By Kevin Majoros | WASHINGTON – The 2020 Tokyo Olympic Games began on June 23, with competitions continuing through Aug. 8. The Games were postponed in March 2020 as a result of the COVID-19 pandemic.
For many aspiring Olympians, the quadrennial event is the culmination of a lifetime of sacrifices to compete against the best athletes in the world while representing their country on an international stage.
The road to get there is filled with obstacles and this Olympic cycle produced one more barrier in the form of training disruptions that happened in almost every sport.
After all the dust settled during the qualifying process, 627 athletes were named to Team USA. More than 30 of those athletes are out members of the LGBTQ community.
Regarding the other countries competing, according to a recent story by Outsports, "At least 142 publicly out gay, lesbian, bisexual, transgender, queer and nonbinary athletes are headed to Tokyo for the Summer Olympic Games."
Flashback to the 2016 Rio Olympic Games when a correspondent from The Daily Beast used hook-up apps such as Bumble, Tindr, Grindr, and Jack'd to message gay athletes. His published story went on to describe the athletes, creating potentially dangerous situations for the athletes from countries with high anti-LGBTQ violence rates.
What should we expect from the environment in Japan?
There have been a handful of Japanese athletes who have come out recently but for the most part, they are competing in other countries – notably trans soccer star Kumi Yokoyama who plays for the Washington Spirit and out lesbian Shiho Shimoyamada who plays soccer for SV Meppen in Germany.
LGBTQ activists in Japan were hoping that the worldwide attention on the Tokyo Olympics would help push their ruling Liberal Democratic Party to pass EqualityActJapan banning discrimination against LGBTQ people. Their legislature went into recess without passing the measure.
That setback did not stop Pride House Tokyo Legacy from opening in October 2020 in Shinjuku, Tokyo. It will serve as a permanent LGBTQ support center where individuals can feel safe and at home.
Pride House Tokyo Legacy has been authorized as part of the Tokyo 2020 Official Program by the Tokyo Organizing Committee of the Olympic and Paralympic Games along with full support from the International Olympic Committee. Those endorsements make it the first Pride House worldwide to achieve this status.
Visibility for the LGBTQ community is important for a variety of reasons and in the sports world, we tend to point to LGBTQ athletes as role models for younger generations.
Over the next few weeks we will bear witness to the first transgender athlete to compete in Laurel Hubbard as a weightlifter for Team New Zealand.
We will watch lesbian triple jumper Yulimar Rojas compete and carry the flag for her country of Venezuela in the Parade of Nations.
And we will sit enthralled as gay British Olympic diver Tom Daley is cheered on by his three-year-old son Robbie as he attempts to medal again in his fourth Olympics.
The last time the Blade checked in with out Tongan swimmer Amini Fonua, he was in heavy training to qualify for the 2020 Tokyo Olympics and struggling with the funding needed to complete that journey.
Fonua was one of the Olympic athletes that spoke out against The Daily Beast story from 2016, which helped to get the story retracted, with an apology. It was the first instance where the International Olympic Committee, which also chimed in, had ever acknowledged an LGBTQ presence.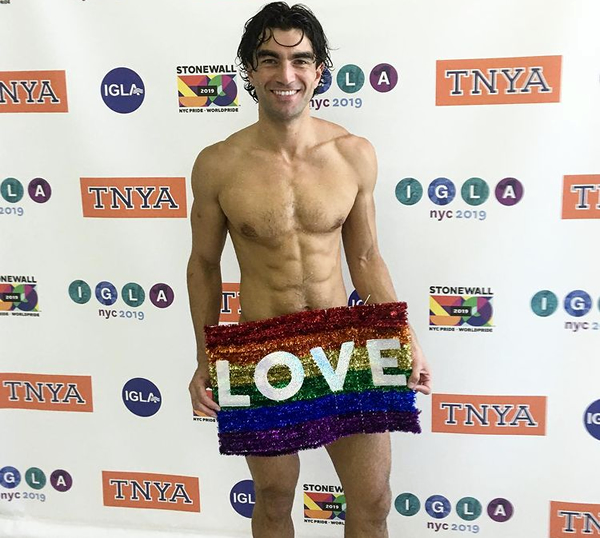 When the pandemic hit, Fonua's training pool closed and his income from teaching swimming lessons dried up. In an effort to be closer to his training group, New York Athletic Club, he moved from New Jersey to New York City mid-pandemic.
To stay in shape, he ramped up his time spent on weight training, running, biking, and yoga.
"The pandemic changed a lot of things for all of us," says Fonua. "This past year has been about survival, and I have done my best with what I have been given."
Eventually pools opened back up with limits on swimmers per lane and time spent in the water. Fonua was only allowed four 45-minute swim practices per week, which is well below the amount of time that elite swimmers spend in the pool.
He also found employment with Fitter and Faster Swim Camps with all of his travel to swim camps completed by train to minimize his exposure to the virus.
As of May 2021, Fonua was not the top Tongan swimmer that would be selected for the Olympic team. He was also facing swim meet entry barriers due to COVID restrictions to even compete for a spot on the team.
In smaller nations and those with developing swim programs, the international federation for swimming, FINA, and the International Olympic Committee allow for universalityentries into the Olympics.
The universality system allows a nation with no Olympic swimming qualifier to enter up to one man and one woman in the Olympics. The two swimmers are chosen based on FINA points, which are calculated using a cubic curve.
Fonua received a last minute entry to the Atlanta Classic swim meet on May 14 where he would have one last shot to make the team. He threw down a time in the 100 meter breaststroke that moved him past the top Tongan swimmer based on FINA points and qualified him for his third Olympics.
For this Olympic experience, Fonua will be thinking about what his father always says to him regarding sports — be competitive, do your best, and have fun.
"I will be staying in the Olympic Village but there won't be any Grindr this time because I am in love. I will be racing on the 24th and still hope to walk in the Parade of Nations the night before," Fonua says. "My mom is the team manager for the Tongan swim team, and I am looking forward to cups of tea with her and visiting Pride House Tokyo. I know it will be different this time because of COVID, but there is nothing like experiencing a city hosting the Olympics."
When you receive an email from out swimmer Michael Gunning, the signature line says Professional Athlete. He laughs when asked about it and says it is a continuation of what he used to write on his school essays — Michael Gunning, The Swimmer.
Gunning, who currently trains in Manchester, England, became fully committed to swimming at age 13 when he won a national competition in England. A few years later he was representing Great Britain on their junior national team.
"We have all heard that Black people don't swim, and I wanted to prove it could be done," says Gunning. "I began chasing those Olympic dreams at every event I swam in."
Despite swimming well in the 200 meter butterfly in the qualifying trials for the 2014 Commonwealth Games, he was left off the Great Britain team.
Jamaica reached out and said they would love for Gunning to swim for them (his father was born in Jamaica). He represented the country for the first time at the 2017 World Championships in Budapest and again at the 2019 World Championships in Gwangju.
"I was really on the fence before saying yes. I felt like I wasn't being taken seriously in the UK and this was an opportunity to do my bit and inspire," Gunning says. "That first experience in Budapest was amazing. The Jamaican team accepted me, and I finally felt good enough."
When the Blade last checked in with Gunning, he was pointing toward the 2020 Tokyo Olympics. At that time, he was the top Jamaican point earner if it came down to a FINA universality selection for the Olympics.
Then the pandemic hit. Gunning was out of the water for more than 100 days and scrambling to stay in shape with dryland training.
"Those were dark and desperate times," says Gunning. "Once I was able to get back in the water, I trained by myself for 20 weeks."
With COVID barriers for training and competitions, Gunning knew all along that another Jamaican swimmer could top his FINA points.
And then it happened.
FINA adjusted their earned points for the 200 meter butterfly downward and another swimmer earned more points in the 200 meter IM.
Gunning had one last shot in June at a meet in Glasgow but did not swim near his best times. He received the news earlier this month that he was not selected for the team.
"Swimming shapes you as a person. Whether you reach your end goals or not, you are so much stronger for it. I don't regret any of the hard work I put in," Gunning says. "Swimming prompted me to come out – swimming gave me that. We still need diversity and inclusion, especially at the grass roots level. I want to be that representation."
With the news being so fresh, Gunning is unclear on his long term path in the pool. He will continue to teach swimming and field offers that come his way. Next year, he will be a Pride House ambassador at the Commonwealth Games in Birmingham.
"The Olympics make role models, and I am excited to support and cheer for the LGBTQ athletes who are competing," says Gunning. "For now, I am going to live every day, one day at a time, being myself and being authentic."