New hate crimes bill introduced in U.S. Senate
Aimed at strengthening enforcement of existing law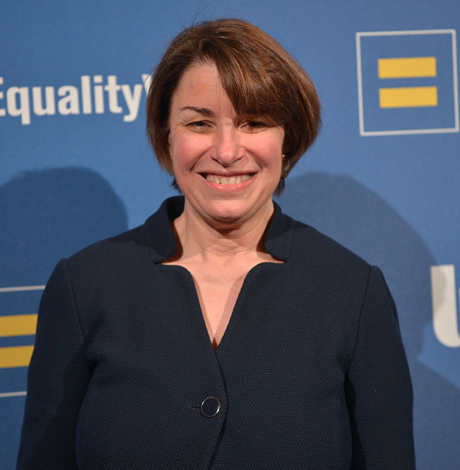 U.S. Sens. Amy Klobuchar (D-Minn.) and Lisa Murkowski (R-Ala.) on Jan. 28 introduced a bill calling for strengthening the enforcement of the Matthew Shepard and James Byrd Jr. Hate Crimes Prevention Act of 2009 by clarifying the law's language related to the motive of people charged with a hate crime.
The newly introduced bill, the Justice for Victims of Hate Crimes Act of 2020, calls for amending the Shepard-Byrd law to make it clear that prosecutors must prove that bias or hate was a "substantial motivating factor" for the crime rather than the sole motive.
The Klobuchar-Murkowski bill follows a proposal by the U.S. Attorney for D.C., Jessie K. Liu, in June 2019 that the D.C. City Council consider amending the District's hate crimes law to make a similar clarification over the motive of a hate crime.
"Since the passage of the Matthew Shepard and James Byrd Jr. Hate Crime Prevention Act in 2009, federal courts have split on the interpretation of the motive requirement in the law," according to a statement released by Klobuchar's office.
"In 2014, the Sixth Circuit Court of Appeals interpreted the law to require that hate crime prosecutors must prove that bias against a protected characteristic was the sole motivation for the crime – a standard that is difficult to prove and could chill the enforcement of the federal hate crimes law," the statement says.
"The Justice for Victims of Hate Crimes Act clarifies that prosecutors must prove that bias against a protected characteristic was a substantial motivating factor for the crime," the statement says.
The Shepard-Byrd law was named for gay University of Wyoming student Matthew Shepard, who was bludgeoned to death by two young men in a remote field outside Laramie, Wyo., in 1998 in one of the nation's most notorious anti-gay hate crimes. The law was also named for Texas resident James Byrd Jr. who was targeted for his race as an African American by attackers to tied him with a rope to a truck and dragged him to death.
LGBT rights organizations played a key role in lobbying for approval of the Shepard-Byrd hate crimes law, which gives the U.S. Justice Department authority to prosecute hate crimes if state and local law enforcement agencies are unable to or decline to prosecute such crimes. The law also authorizes the Justice Department and the FBI to provide assistance to state and local authorities in the prosecution of hate crimes.
The Shepard-Byrd law declares that the federal government through the Justice Department may prosecute a crime of violence "motivated  by prejudice based on the actual or perceived race, color, religion, national origin, gender, sexual orientation, gender identity, or disability of the victim."
"As a former prosecutor, I've seen firsthand the trauma that hate crimes can inflict not only on victims, but also on entire communities," said Klobuchar, who's running for president. "The Justice for Victims of Hate Crimes Act ensures that federal law enforcement have the authority needed to prosecute hate crimes," she said in a statement. "We must do all we can to put an end to attacks motivated by prejudice."
Murkowski said in her own statement that she is proud to join Klobuchar in introducing legislation to provide federal law enforcement "the legal certainty they need" to bring perpetrators of hate crimes to justice.
"Prejudice against groups and individuals because of their sexual orientation, religion, race, or other characteristics has been part of our history," she said "While we have made great progress in protecting our fellow Americans from acts of hatred and bias – discrimination, violence, and stereotyping still continue. It must be put to a stop."
David Stacy, Government Affairs Director for the Human Rights Campaign, a national LGBT advocacy group; and Richard Saenz, Senior Attorney and Criminal Justice Strategist for the LGBT litigation group Lambda Legal, said their respective groups support the Justice for Victims of Hate Crimes Act.
"We have heard of additional issues in the enforcement of the Federal Hate Crimes law such as barriers to reporting and questions concerning the scope of the law, so we applaud steps to strengthen and clarify the federal law and the authority of prosecutors and courts to enforce it," Saenz told the Blade in an email.
Stacy said HRC has observed that career federal prosecutors under the Trump administration have continued to prosecute hate crimes under the Shepard-Byrd law. He noted prosecutions under the law began in full force during the Obama administration after President Barack Obama signed the Shepard-Byrd legislation into law in 2009.
According to Stacy, federal prosecutors have said state and local prosecutors have been more aggressive in prosecuting hate crimes since the Shepard-Byrd law took effect, which was the goal of the law's longtime supporters.
At the time the Shepard-Byrd law was being considered by Congress LGBT rights advocates said the measure was needed, among other reasons, because some local and state prosecutors had declined or appeared unprepared to prosecute anti-LGBTQ hate crimes.
As of this week, a version of the Justice for Victims of Hate Crimes bill had yet to be introduced in the U.S. House of Representatives.
Florida's Duval County Public Schools censors LGBTQ visibility
Duval County Public Schools slammed for removing 'Safe Space' stickers by Equality Florida as schools across state return to classes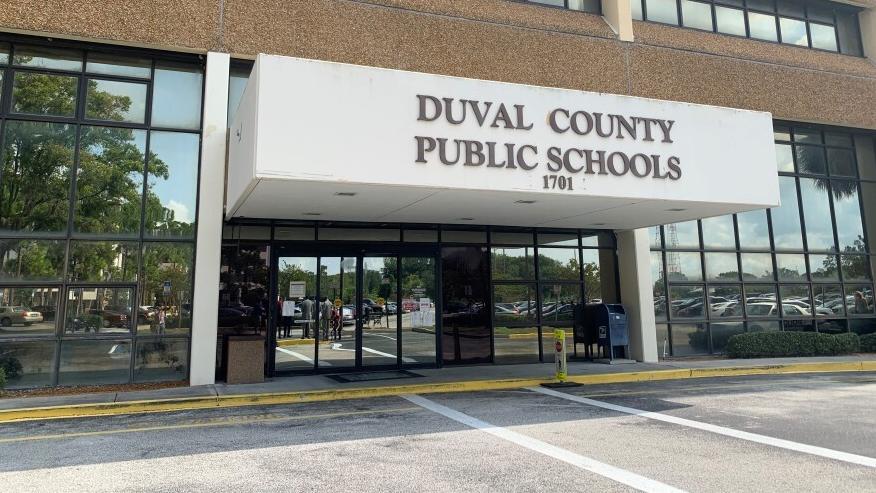 JACKSONVILLE – As Duval County Public School's K-12 students begin their first day of school Monday, they are returning to classrooms that have been stripped bare of visible support for LGBTQ students.
Last week, Duval County Public School's leadership held an emergency meeting with all of the school district's principals in which they were directed to remove all posters, wall decorations, and stickers that support and affirm LGBTQ students, the latest in a wave of what LGBTQ+ advocates say are censorship efforts in the wake of the Don't Say LGBTQ Law (HB 1557) taking effect across the state.
Equality Florida — a statewide civil rights organization focused on the LGBTQ community — published a statement criticizing Duval County Public Schools officials for putting out guidance to principals that advised the removal of the rainbow signage.
"The district's censorship of LGBTQ-inclusive classroom environments sends a dangerous message to young people," said Joe Saunders, Equality Florida Senior Political Director.
"In tearing down rainbow Safe Space stickers and tossing inclusive posters into the trash, Duval County Public Schools is telling students that there is something inherently wrong with LGBTQ people — and telegraphing to LGBTQ youth that they should remain hidden. Despite false assurances from Republican proponents of the Don't Say LGBTQ Law that its scope would be narrow and its impacts limited to grades K-3, we are witnessing sweeping effects of this intentionally-vague policy across the state, with broad censorship of LGBTQ people being applied to every grade level."
The Florida Times-Union newspaper reported Duval Schools officials say the removal is one facet of a district-wide rebrand of its existing "All In For Safe Schools" campaign that will better comply with the new Parental Rights in Education Act, which became law in July. Equality Florida calls the gesture "censorship."
The move from Duval County Public Schools comes as schools across the state grapple with implementing the Don't Say LGBTQ law. Already, the law has resulted in the banning of books and stigmatizing of families in counties across the state. Exactly what advocates say they warned about since the law's inception. This decision by Duval County Public Schools to censor LGBTQ inclusion across the district has angered the community.
It also comes as LGBTQ youth, the very students now seeing their identities scrubbed from Duval classrooms, continue facing higher risks of depression, anxiety, bullying, discrimination, and suicidality than their peers.
A recent study by the Trevor Project showed a staggering majority of LGBTQ youth sharing that recent policy battles like that over HB 1557 and the subsequent impacts have had a negative impact on their mental health.
"We are in the process of rebranding the 'All In for Safe Schools' program," district spokesman Tracy Pierce told the Times-Union. "The purpose of the rebranding is to send a clear message to all students that the support available through the program is open to them and not limited to any specific student population."
"School districts are charged with doing everything in their power to mitigate the harms of HB 1557 and ensure that every student is protected in school and every family is respected. Duval County Public Schools should reverse course and recommit to cultivating an environment that is inclusive of and celebrates all students," said Equality Florida's Saunders.
In another circumstance of Florida's newly minted 'Don't Say Gay' law's negative impact, last month a 12-min training video aimed at teaching middle and high school students how to prevent bullying and support their LGBTQ+ peers in Duval County Public Schools has been removed from student access.
Jacksonville Today journalist Claire Heddles reported at the time that besides the video, the district planned to dramatically reduce a LGBTQ+ support guide.
The video is now inaccessible and, in response to questions from Jacksonville Today, Duval Schools District spokesperson Tracy Pierce said, "The materials you referenced have been removed for legal review to ensure the content complies with recent state legislation."
CMS, HHS pledge 'prevent anti-Trans policies taking effect' in Florida
"Attempts to restrict, challenge, or falsely characterize this potentially lifesaving care as abuse is dangerous"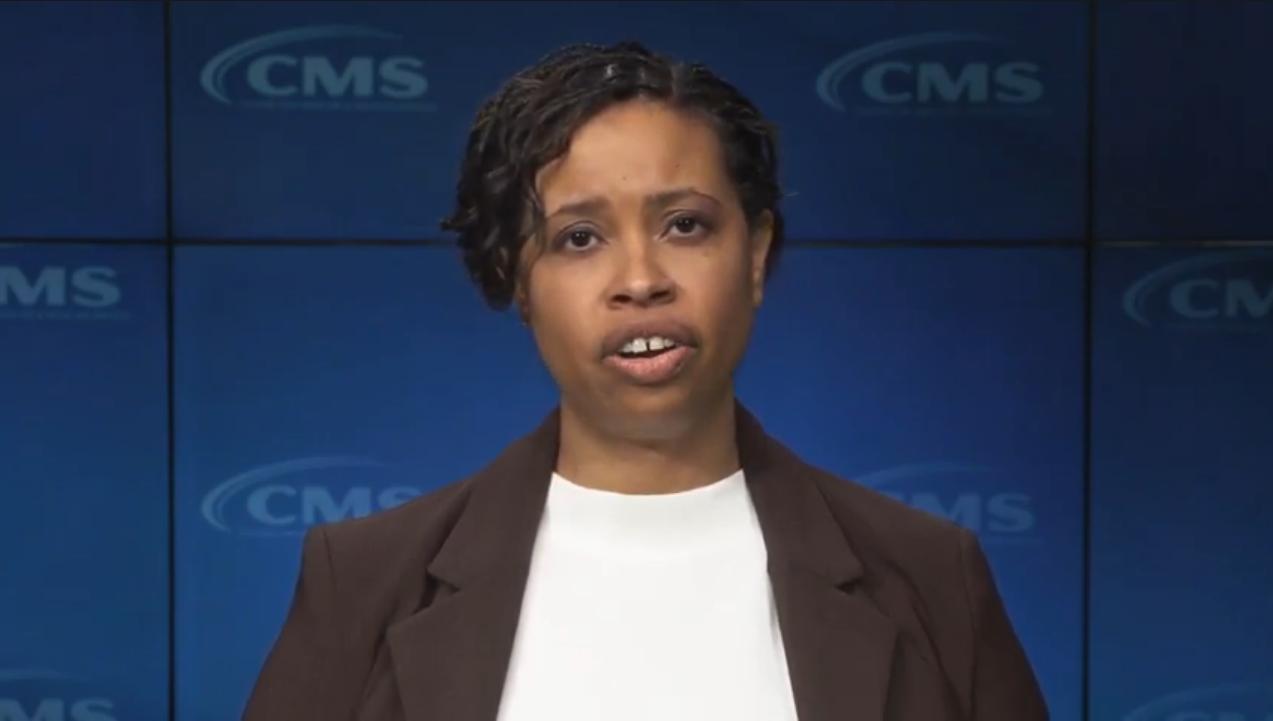 WASHINGTON – After Florida's Agency for Health Care Administration (AHCA) signaled its plans to stop Medicaid reimbursements for transgender related healthcare last week, U.S. federal health officials expressed concerns with the move in an exclusive statement to The Los Angeles Blade. 
The U.S. Centers for Medicare & Medicaid Services (CMS) and the U.S. Department of Health and Human Service's (HHS) Office of Civil Rights (OCR) pledged they would "continue to do everything within our authority to protect Medicaid beneficiaries' access to care and prevent discriminatory policies from taking effect."
Pursuant to AHCA's announcement of the new rules, coverage exemptions would be carved out of the state's Medicaid plans for health treatments like puberty blockers, hormone therapies, or surgical procedures for gender dysphoria.
Florida will join other conservative states that have moved in recent years to prohibit or restrict access to transgender healthcare, particularly for young people. In May, the Texas Supreme Court ruled the state could weaponize its Child Protective Services to investigate parents for child abuse for giving their transgender children medically approved health treatments.
In March, the HHS's OCR issued a Notice and Guidance on Gender Affirming Care, Civil Rights, and Patient Privacy, writing: "Attempts to restrict, challenge, or falsely characterize this potentially lifesaving care as abuse is dangerous. Such attempts block parents from making critical health care decisions for their children, create a chilling effect on health care providers who are necessary to provide care for these youth, and ultimately negatively impact the health and well-being of transgender and gender nonconforming youth.
In May, OCR announced Title IX's rules prohibiting discrimination on the basis of sex includes sexual orientation and gender identity, with HHS Secretary Xavier Becerra writing, ""Fear of discrimination can lead individuals to forgo care, which can have serious negative health consequences. It is the position of the Department of Health and Human Services that everyone – including LGBTQ people – should be able to access health care, free from discrimination or interference, period."
Shortly after the news in Florida broke on Thursday, the LGBTQ+ legal advocacy organization Lambda Legal told The Blade, "We are exploring all possible avenues for challenging this discriminatory rulemaking."
The American Academy of Pediatrics (AAP) and its Florida Chapter (FCAAP) also shared a statement with The Blade condemning the state's "interference with the physician-patient relationship and its prohibition of this vital care."
Michigan AG Nessel joins coalition opposing Florida's 'Don't Say Gay' law
"Non-inclusive educational environments have severe negative health impacts on LGBTQ+ students, resulting in increased mental health issues"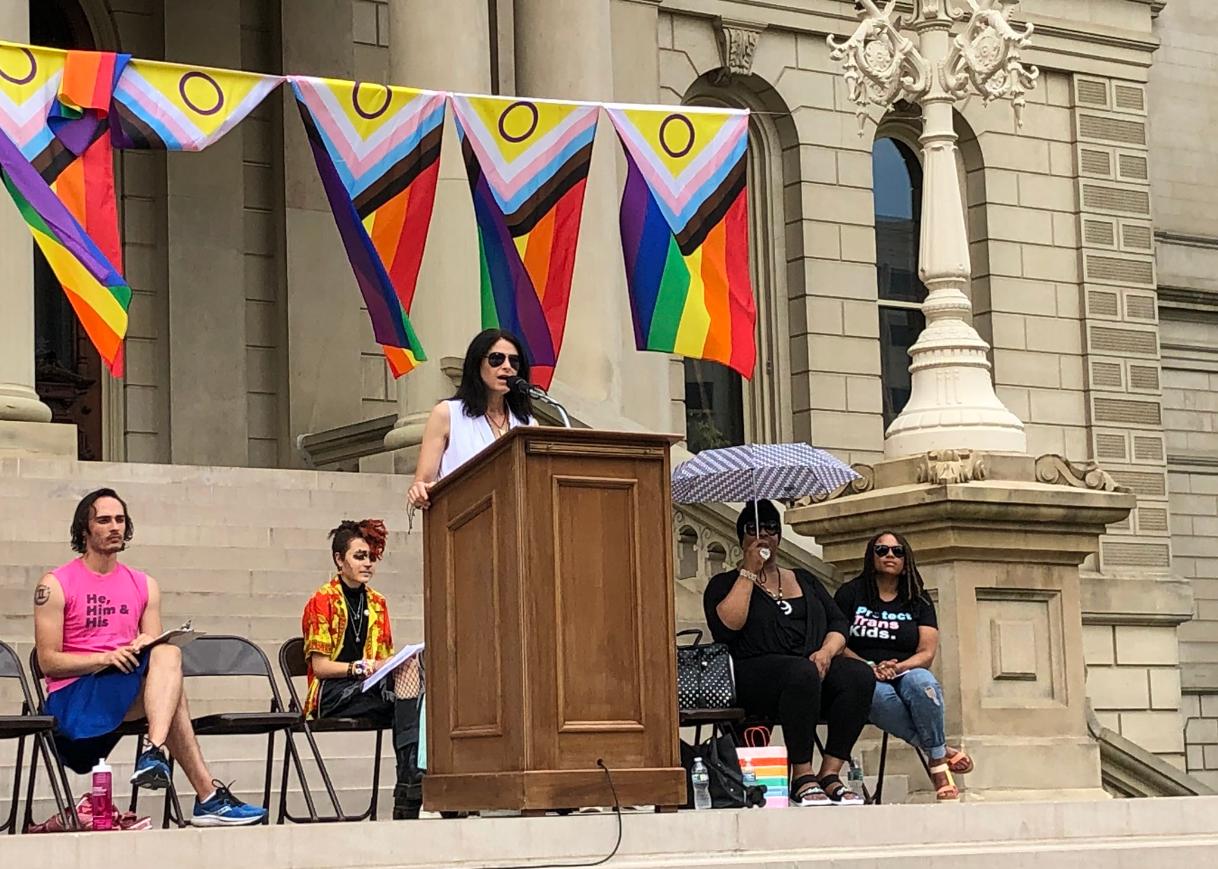 By Jon King | LANSING – Michigan Attorney General Dana Nessel has joined a coalition of 16 attorneys general from across the country in filing an amicus brief opposing Florida's "Parental Rights in Education Act," otherwise known as the "Don't Say Gay" law.
Nessel, a Democrat who is Michigan's first openly gay top statewide official, says that the law, which prevents classroom discussion of sexual orientation or gender identity, poses a serious threat to LGBTQ+ students who she says are particularly vulnerable to discrimination.
"This bill is an affront not just to educators, but also to LGBTQ+ students, especially those who may already be experiencing the stigmatizing effect of their identity at school," Nessel said. "This bill is not motivated by the desire to limit inappropriate content in classrooms. It is meant to have a chilling effect on how educators do their jobs and may also violate the First Amendment rights of students and teachers alike. I gladly join my colleagues on this brief and hope it discourages other states, including Michigan, from considering similar legislation."
The law is being challenged in federal district court by a group of students, parents, teachers and organizations seeking to prevent its enforcement by alleging that it violates, among other things, the Equal Protection Clause and the First Amendment.
The law entirely bans "classroom instruction" on sexual orientation or gender identity in kindergarten through Grade 3 while also requiring the state education agency write new classroom instructions for standards that must be followed by grades four through 12.
Opponents say that because the law does not define many of its key terms, like "classroom instruction," it is forcing Florida teachers to censor themselves out of fear of prosecution. That fear is further compounded by the fact that the law also allows a parent to bring a civil claim against a school district to enforce its prohibitions.
There are two main points in the brief.
"Florida's law is extreme," it states. "Although Florida claims the Act is intended to protect children and preserve parental choice, the attorneys general have curricula in place that allow for age-appropriate discussion of LGBTQ+ issues while respecting parental views on the topic."
"The law is causing significant harms to students, parents, teachers, and other states," claims the brief. "Non-inclusive educational environments have severe negative health impacts on LGBTQ+ students, resulting in increased rates of mental health disorders and suicide attempts. These harms extend to youth not just in Florida, but throughout the country."
Nessel is joining the amicus brief alongside Attorneys General from New Jersey, California, Colorado, Connecticut, Delaware, the District of Columbia, Hawaii, Illinois, Maine, Maryland, Massachusetts, Minnesota, Nevada, New York and Oregon.
*********************
The preceding article was previously published by the Michigan Advance and is republished with permission.
*********************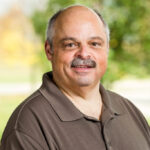 Jon King has been a journalist for more than 35 years. He is the Past President of the Michigan Associated Press Media Editors Association and has been recognized for excellence numerous times, most recently in 2021 with the Best Investigative Story by the Michigan Association of Broadcasters. He is also an adjunct faculty member at Cleary University. Jon and his family live in Howell, where he also serves on the Board of Directors for the Livingston Diversity Council.
*********************
The Michigan Advance is a hard-hitting, nonprofit news site covering politics and policy across the state. We feature in-depth stories, briefs and social media updates, as well as top-notch progressive commentary. The Advance is free of advertising and free to our readers. We wholeheartedly believe that journalists have the biggest impact by reporting close to home, explaining what's happening in our state and communities — and why. Michigan has hundreds fewer reporters than just a couple decades ago. The result is too many stories falling through the cracks.
The Advance is part of States Newsroom, a national 501(c)(3) nonprofit supported by grants and a coalition of donors and readers. The Advance retains editorial independence.