February 3, 2020 at 5:34 pm PST | by Karen Ocamb
Mike Bloomberg skipped Iowa, is campaigning hard nationally, and wants LGBTQ support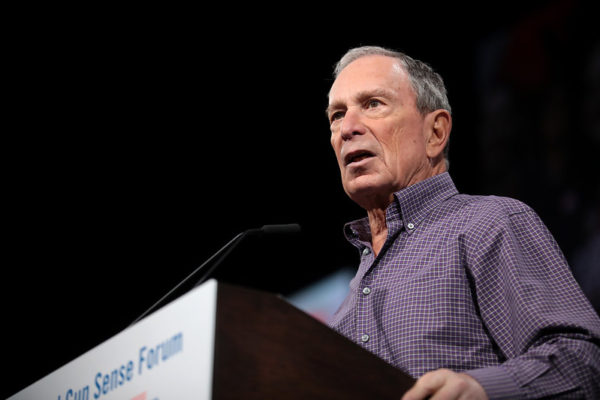 (UPDATED 2/4): Democratic presidential candidate Mike Bloomberg says he intends to double his ad buys around the country and increase his paid staff to 2,000 after the chaos in the Iowa caucuses. Bloomberg is developing hard counter-programing against President Donald Trump through ads and appearances, such as those throughout California Monday as everyone else focused on Iowa, winning the endorsement of California State Treasurer Fiona Ma.)
The word got out early. President Donald Trump wanted Republicans to acquit him in his Senate impeachment trial before his big Super Bowl Sunday interview, certainly before Tuesday's State of the Union address. But Senate Majority Leader Mitch McConnell, who took an oath to fairly consider the articles of impeachment charging Trump with abusing the power of his office and obstructing Congress, was forced to make a deal – for which he got defendant Trump's permission, to set the assured acquittal for Wednesday.
Meanwhile, the Sunday shows were filled with Trump Senate backers who voted to block further witnesses such as former National Security advisor John Bolton from testifying and essentially embracing Trump lawyer Alan Dershowitz's argument that even if Trump withheld congressionally appropriated military aid for Ukraine in its battle against Russia until it announced investigations into Joe and Hunter Biden, it wasn't wrong. "If the president does something that he thinks will help him get elected, in the public interest, that cannot be the kind of quid pro quo that results in impeachment," Dershowitz argued on the Senate floor.
Lead House impeachment manager Rep. Adam Schiff clapped back at the insanity. "If you say you can't hold a president accountable in an election year where they're trying to cheat in that election, then you are giving them carte blanche," Schiff said.
But the nation's attention shifted quickly to the developing spat between Trump and fellow New Yorker, former three-time New York City Mayor Mike Bloomberg, who entered the Democratic primary race too late to qualify for the first four contests.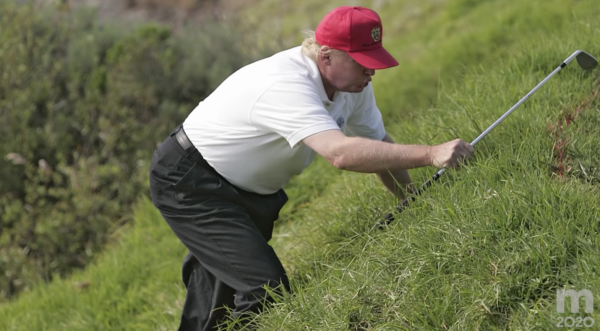 The two billionaires spent $11 million on political Super Bowl ads. Bloomberg teed up the fight on Friday with an ad mocking Trump's infamous cheating at golf (there's already a whole book out about that.)
As mayor, Bloomberg hired Trump to build a golf course. "That's true," Bloomberg says in the ad. "But he was the only bidder and running a golf course is the only job I would hire him for."
Trump countered by spending the weekend at Mar-a-Lago, golfing at his nearby golf course and shirking a visit with Venezuelan leader Juan Guaido to attend a Super Bowl Party with paying guests at his for-profit club in Palm Beach. That cost the taxpayers $3.4 million, according to a Huffington Post analysis, bringing "the taxpayer-funded total for his golfing hobby to $130.4 million."
The only snippet released as a teaser to Trump's petty 8-minute pre-Super Bowl interview with Fox friend Sean Hannity was his take on Bloomberg. He criticized the Democratic National Committee for its rule change enabling Bloomberg to participate in the Feb. 19 debate in Las Vegas then snarked on Bloomberg's height (the former mayor is about 5-foot-8 inches tall.)
"He wants a box for the debates, why should he be entitled to that?" Trump said to Hannity. "Does that mean everyone else gets a box?"
Bloomberg's campaign spokesperson Julie Wood responded: "The president is lying. He is a pathological liar who lies about everything: his fake hair, his obesity, and his spray-on tan."
Trump "lies about everything," Bloomberg said at an East LA campaign stop Sunday  with supporter former LA Mayor Antonio Villaraigosa. "I stand twice as tall as he does on the stage — the stage that matters," Bloomberg said. "I think Donald Trump knows that I can beat him, and that's why he comes back with those kinds of comments."
The stage that "matters" no doubt refers to Bloomberg's real wealth as a billionaire, not just marketing pronouncements without evidence. Axios' Jonathan Swan notes "the eye-popping FEC data about Mike Bloomberg's Q4 spending, as well as Bloomberg already running a national campaign. "Iowa and New Hampshire have 65 delegates," said Bloomberg's national spokesperson Galia Slayen. "California, Michigan and Pennsylvania have 726."
Bloomberg will be in the critical swing states of Michigan and Pennsylvania Tuesday, the day Trump delivers his State of the Union before a House divided.
Swan reports that Trump takes Bloomberg more seriously than his campaign advisors. "A senior administration official, who told the president that Bloomberg has no hope of winning the Democratic nomination, said Trump replied: 'You're underestimating him,'" believing in the power of Bloomberg's money.
"His outsized wealth and outsized ego are matched by his overwrought jealousy and spitefulness towards the president," senior Trump advisor Kellyanne Conway told Swan. "Jealousy is a dangerous motivator for people, leading them to confuse with a sugar high that money can buy with substance that voters demand to hear."
"Mike got into this race with the singular goal of defeating Donald Trump and a strategy of contrasting his record of accomplishment with Trump's lies and broken promises," Bloomberg adviser Howard Wolfson retorted. "Clearly it's working."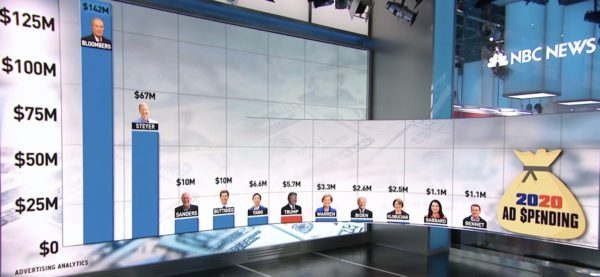 Screengrab of MSNBC anchor Rachel Maddow report on campaign ad spending
"Bloomberg's fortune dwarfs Trump's wealth and has played into a number of insecurities Trump has long held about the former mayor, according to two presidential confidants who spoke on condition of anonymity to discuss private conversations," AP's Jonathan Lemire reported Jan. 24. "Not only is Bloomberg vastly richer than Trump, but he has also had an easy entry into the most elite Manhattan social circles, the same ones that looked down on Trump as a tabloid creation and reality TV star."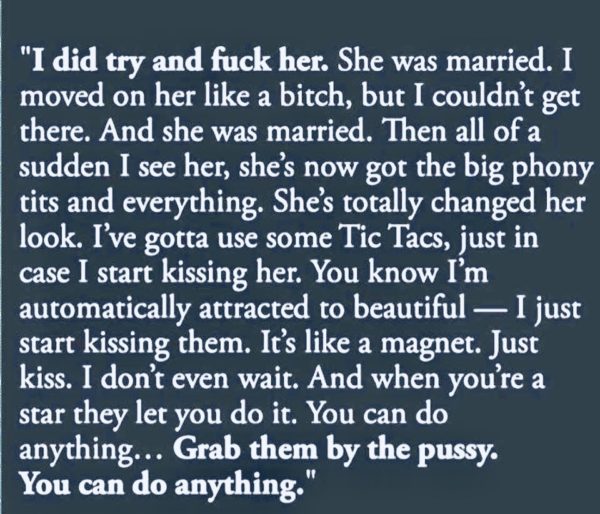 Presidential candidate Donald J. Trump heard on Access Hollywood tape released Oct. 7, 2016. 
That contrast was supposed to play out in the head-to-head of expensive Super Bowl ads. Trump's first 30 second ad featured Alice Johnson, a nonviolent drug offender championed by Kim Kardashian West, whose sentence was commuted by Trump  in 2018. The second 30 second ad featured images of rallies, military might and industrial workers touting his economy. "And ladies and gentleman, the best is yet to come," Trump says.
Bloomberg's one minute ad was narrated by Calandrian Simpson Kemp whose young football-loving son, George H. Kemp, was shot to death in Texas in 2013, highlighting Bloomberg's long and strong support for gun control. "When I heard Mike was stepping into the ring, I thought, 'Now we have a dog in the fight.'" Kemp says.
But the debate over who won the ad war died quickly with one tweet after the Kansas City Chiefs won the Super Bowl on Sunday, beating the San Francisco 49ers 31–20. "You represented the Great State of Kansas, and, in fact, the entire USA, so very well," Trump tweeted, suggesting another #SharpieGate by putting the Chiefs in Kansas City, not Missouri.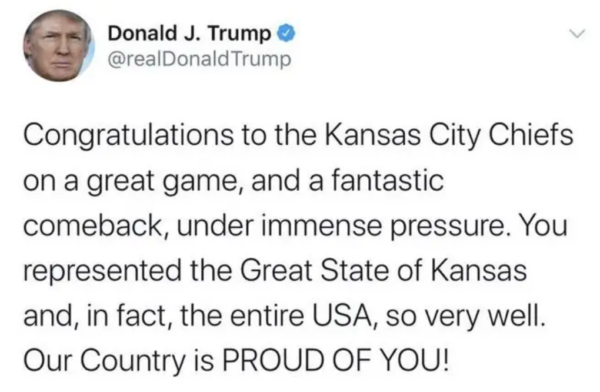 "It's Missouri, you stone cold idiot," tweeted former Missouri Democratic Sen. Claire McCaskill.
But, sign of the times, attention shifted again Monday as Senators heard closing arguments in Trump's impeachment trial and Democratic Iowans prepared for the arduous  caucuses, apparently tortured by indecision and concern that they may "F—It Up" and award the precious first-voting-state momentum to a candidate that can't beat Trump.
"All that momentum that comes out of Iowa and New Hampshire, I think, still is so determinative," California Gov. Gavin Newsom said in a New York Times story about Vermont Sen. Bernie Sanders' momentum in California. "Let me tell you, as someone who's run multiple times statewide, there's still no substitute for momentum, still no substitute for generating energy on the nightly news."
And if Sanders wins in Iowa and New Hampshire, even if he doesn't do well in South Carolina, he's doing well in Nevada and extremely well in California. That momentum heading into Super Tuesday might make Bloomberg the most likely moderate candidate left to combat Sanders for the Democratic presidential nomination.
The University of California, Berkeley Institute of Governmental Studies poll shows Sanders leading by 26 percent of likely primary voters, with Massachusetts Sen. Elizabeth Warren second with 20 percent; former Vice President Joe Biden with15 percent; former South Bend, Indiana Mayor Pete Buttigieg at 7 percent and Bloomberg at 6 percent after blanketing the state with ads since he announced his candidacy  on Nov. 24, 2019.
Bloomberg – who has been a Democrat, a Republican, an Independent and now a Democrat again – spent more than $30 million in ads in December alone and is expected to spend $300 million on TV spots by March, in ads now running nationally targeting Trump rather than his Democratic primary rivals whom he says he will financially support if he's not the nominee.
"If Donald Trump wins re-election, he will make extorting a foreign head of state for campaign purposes look like child's play. Bloomberg said about impeachment on Dec. 18, 2019. "2020 is not just an election. It's a referendum on whether to save our Constitution – or let Trump light it on fire. That's why it's so important we nominate the candidate who gives us the best chance to defeat Trump and bring our country back together."
Those words echo House impeachment manager Schiff's closing argument to Senate Republicans on Monday.
Bloomberg spent Monday in California, which has 20.3 million registered voters and just started its early vote-by-mail, as well as voting directly at county election offices.
Thanks to his ubiquitous ads, Bloomberg is now surging in some national polls. A Reuters/Ipsos poll conducted Jan. 29-30 has him third behind Biden (23% of registered voters) and Sanders (18%). The survey "found that 12% of registered Democrats and independents said they would vote for Bloomberg in the state nominating contests," up from 5% in a similar poll in of December. He's third in the latest Hill-HarrisX poll, too.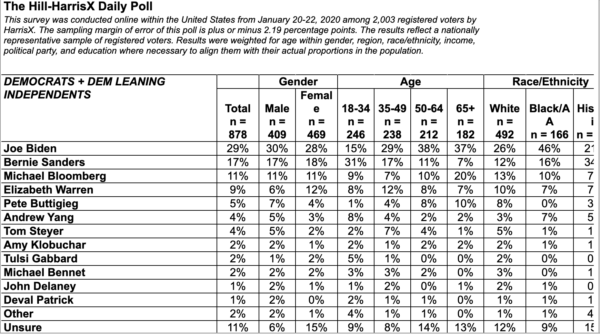 He has a 7-point lead over Trump in Michigan and, reports the Milwaukee Journal Sentinel, "If you're a Wisconsin voter, you can be excused if you think former New York City Mayor Michael Bloomberg is the only Democrat running for president. While the other contenders are slugging it out in four early states, the billionaire businessman is flooding the country with TV ads, including plenty in Wisconsin," which holds its primary on April 7.
Meanwhile, Bloomberg is also racking up a slew of endorsements. In addition to Villaraigosa, whom Bloomberg helped with the former LA mayor's charter schools initiative, he's backed by San Jose Mayor Sam Liccardo and San Francisco Mayor London Breed. Like Warren who famously has "a plan for that," Bloomberg also has a spate of plans targeting issues and demographics, including a plan on immigration, a Path Forward for Latinos and an economic justice plan for Black America.
Apparently, a number of black mayors have accepted his apology for his damaging "stop and frisk" policy as mayor. "I was wrong," Bloomberg told the congregation at a black megachurch in Brooklyn last November. "And I am sorry."
The latest endorsement comes from Washington DC Mayor Muriel E. Bowser who stood next to Bloomberg at a news conference Thursday at the Atlas Performing Arts Center on H Street NE and declared the former mayor "the only candidate who will unify the country and defeat Donald Trump."
The choice of location for the news conference was to underscore Bloomberg's plan for affordable housing and the homeless crisis.
"What's most important to me is we have a candidate who can defeat Donald Trump," Bowser said. "I think Mike has demonstrated the commitment to be in this race until the end and put the necessary resources in to get it done."
Bowser joins Stockton, California Mayor Michael Tubbs, Columbia, South Carolina Mayor Steve Benjamin and former Philadelphia, Pennsylvania Mayor Michael Nutter, among others, in Bloomberg's "Mayors for Mike" campaign.
Jeffrey Slavin, the gay mayor of the Montgomery County, Md., town of Somerset, was also in attendance and told the Washington Blade that "he is among a growing number of LGBTQ city and town officials from across the country that are supporting Bloomberg for president."
Bloomberg, who two days earlier released his plan for LGBTQ+ Equality, touted his record of support for LGBT rights.
"Well just to address that one community, my recollection is…I went and got the Republican Senate of the State of New York, as well as the Democratic House, to pass a law permitting gay marriage in New York long before anybody else that I know who's running for office ever even thought about it or certainly said anything about it,"Bloomberg told the Washington Blade's Lou Chibbaro Jr. "My credentials among the LGBTQ- plus community, I think, are impeccable and would not be overstating it if you ask people from New York City."
Bloomberg and his campaign reached out specifically to the LGBTQ community, pitching his platform to regional LGBTQ publications in a conference call on Jan. 28. His team also noted announced endorsements from former "Project Runway" judge Tim Gunn and designer and performer Isaac Mizrahi who joined Bloomberg's National LGBTQ+ Leadership Council.
Gay City News' Matt Tracy was not particularly impressed, noting that Bloomberg's LGBTQ platform essentially matches his rivals.
Most importantly, he qualified Bloomberg's record on marriage equality, which the gay newspaper closely covered over the years. "[Bloomberg] painted a rosy picture of what was a far more complicated record on marriage equality. While Bloomberg indeed endorsed marriage equality in 2005, he simultaneously appealed a state ruling that same year declaring that city clerks must issue marriage licenses to same-sex couples," Tracy wrote. "He later poured money into the fight in Albany, but despite his being the largest donor to the Republican Senate majority at the time, there is no indication he helped bring around the four GOP votes that won the day for marriage equality in 2011."
However, he is still a hero to many same sex couples, such as Jonathan Mintz and John Feinblatt, whom Bloomberg mentioned on the call.
Kerry Eleveld, former White House reporter for The Advocate, summed up the different attitudes after Bloomberg left office. "Like so many things in life, where you stand on Bloomberg's contribution to the LGBT movement depends on where you sit," Kerry Eleveld wrote in The Advocate in 2013, as quoted in Trudy Ring's Nov. 24, 2019 story on his presidential announcement. "Those who championed the 2011 marriage equality push consider him a hero for helping persuade state Senate Republicans to listen to their better angels. Those who work on issues of poverty and homelessness, which disproportionately affect LGBT youth, dismiss him as an impervious economic elitist who has largely turned a blind eye to New York's record homeless population and an inadequate shelter system."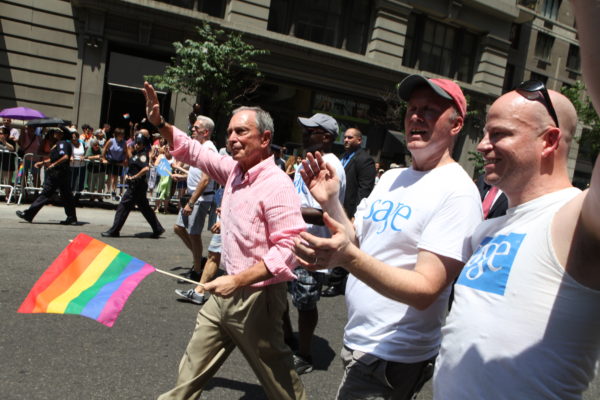 Mike Bloomberg in the 2013 Pride Parade in New York (Photo courtesy of the City of New York) 
Bloomberg told LGBTQ reporters on the call that LGBTQ rights "really does mean a lot to me" so he wanted to speak directly rather than through a surrogate. Having the presidential candidate on the record expressing and detailing support for LGBTQ equality is even more important now as advocacy groups such as Equality Federation report 226 anti-LGBTQ bills filed in state legislatures.
He talked about convincing Republican state senators to vote for marriage equality in 2005 "and I asked them to listen to their families and especially their children. That's what I did, and that turned enough votes to pass it. Marriage equality passed in New York State," Bloomberg said.
Shortly thereafter, he sat down with John Feinblett, an advisor in the city hall, and said he'd be honored to officiate at his marriage to commissioner Jonathan Mintz. "We could do it on the very first day that marriage equality was legal," Bloomberg said. "In the years after, I worked to spread marriage equality around the country," by which he meant funding the winning marriage equality campaigns in Maine, Maryland, Minnesota, and Washington.
Bloomberg said:
"Those days were special because there were major victories, both political and personal, and in a fight that started for so many people in the village in Sheraton Square back in 1969. Now, we've come a long way since 1969 when Stonewall happened. Back then, New York and virtually every other state had laws on the books that made same-sex relationships a crime. Think about that. You could go to prison for years just for being intimate with a person you loved in the privacy of your own home. But for all the progress we have made on equality since then, we're faced with new reminders of just how much farther we still have to go every single day.

"The fact is, a judge said to me recently, 'You can be married on Sunday and fired Monday.' In most states, there is no law that stops companies from firing people for their sexual orientation or renting a home to them, and many veterans are still not receiving their full military benefits because they were discharged before the repeal of 'Don't Ask, Don't Tell,' and as we have seen in far too many stories about transgender young people being denied access to medical treatment, harassed, beaten, and even killed for doing nothing more than living their full truth.

Just as the Civil Rights Act of 1964 did not eliminate racism, the Supreme Court ruling on marriage equality did not eliminate bias and hatred towards the LGBTQ+ community. The march for equality and justice has always been too slow, but I will say it has never stopped, and I think it's up to the president to help pick up the pace."
Bloomberg then referred to how Trump is trying to kick "the ball of progress" backwards. Bloomberg continued:
"He's done that by appointing judges with anti-LGBTQ+ views and by not protecting and advancing the rights of LGBTQ+ people around the world. I can just tell you that I will do the opposite as president. I'll work to protect every single member of the LGBTQ+ community from hatred and discrimination. I'll work to pass the equality act to make sure that civil rights laws apply to sexual orientation and identity. I'll take executive action to ensure equal benefits and protections under the law for federal employees, and I will not permit religion to be used as an excuse to discriminate against people. I will also close disparities in healthcare access and quality, and I will set a goal of ending HIV/AIDS by 2030. I think it's an achievable goal, and while we will work to get there, we'll strengthen treatment options and fight stigma.

We'll also work to make schools and communities more inclusive and safer for LGBTQ+ students, restore the United States' standing as a moral leader in the global fight for equal rights.

Let me just make one last point. On Sunday, I gave a speech about the rising tide of hatred in this country and how it has led to violent attacks on all marginalized groups. If we don't confront this reality and do something about it, we risk allowing it to overwhelm us.

Our administration will put a stop to the rampant violence against transgender people and protect them from the bigots who seek to do them harm. For too long, we've turned a blind eye to the horrifying number of transgender people who have been attacked or killed in this country, especially young transgender women of color. We will make hate crimes a top federal priority and direct the FBI to take the lead on these investigations. We'll end the LGBT+ panic defense, which has allowed far too many off the hook for unforgivable acts of murder, and we'll reauthorize the Violence Against Women Act immediately, while also strengthening it to include more comprehensive protections for LGBTQ+ American."
While his platform sounds similar to his Democratic rivals, this may be the first time Bloomberg, as a candidate for the Democratic presidential nomination, has gone so thoroughly on the record — for which he can be held accountable.
"This is a fight and a cause I care deeply about. These expanding freedoms and rights is what America is all about. It's what makes our country the place where the world wants to live. I did it all when I was in New York City. You can look at the record," Bloomberg said. "I'm going to be a president for all Americans, and you can be sure of that, all orientations and identities, all colors and creeds, and I'm going to bring our country back together and start repairing the damage that this president has done. Thank you so much for your time. I'm a believer, and I'm going to get it done."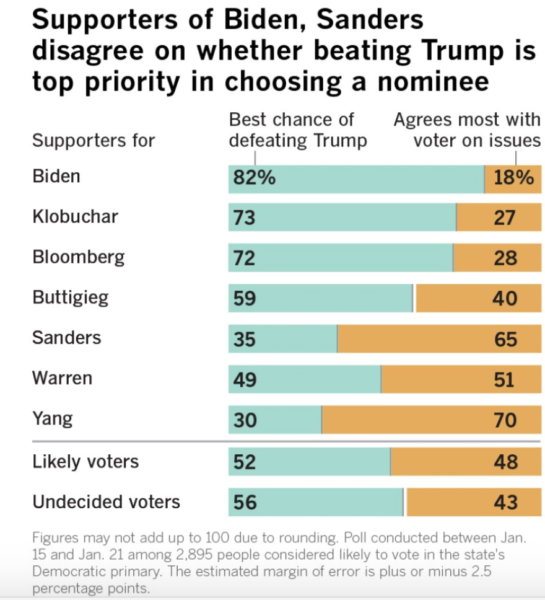 Many LGBTQ voters, like their Democratic counter-parts, want a myriad of priorities in their candidates. But for many others, the priority is to defeat Donald Trump.
Bay Area Reporter News Editor Cynthia Laird reported that Bloomberg toured the East Bay Jan. 17 with Oakland Mayor Libby Schaaf, whose endorsement he did not secure, though "he did excite a small crowd that met at Everett & Jones Barbecue." Among those impressed by the East Coast billionaire was Ken Richard, a gay man from Walnut Creek who told BAR: "The main reason why I support him is he's the only one, in my opinion, who can defeat Trump."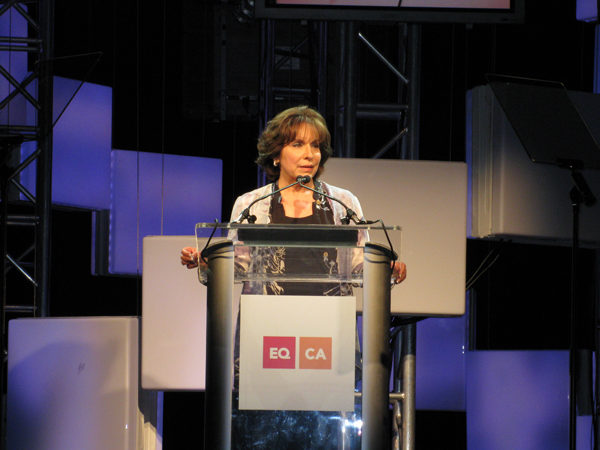 Longtime HIV/AIDS and LGBTQ politico Diane Abbitt, who read his plans, also endorsed on Jan. 28.
"I have decided to endorse Mike Bloomberg for President," Abbitt, whose credentials include co-chair of MECLA, APLA and Equality California, told the Los Angeles Blade. "His positions and history of fighting for full equality for the LGBTQ+ community, his 100% support of a woman's right to choose, his accomplishments in the areas of healthcare, homelessness and economic equality reflect my values.  His commitment to defeating Trump is self-evident by the fact that he is investing his own hard-earned money to fund his campaign. And defeating Trump is my top priority."
First photo:Former Mayor Michael Bloomberg at the Presidential Gun Sense Forum hosted by Everytown for Gun Safety and Moms Demand Action in Des Moines, Iowa (Photo by Gage Skidmore).