Super Bowl 2020 will make LGBT history with rainbows, sparkle, drag
Inclusivity on full commercial display with 11 major brand commercials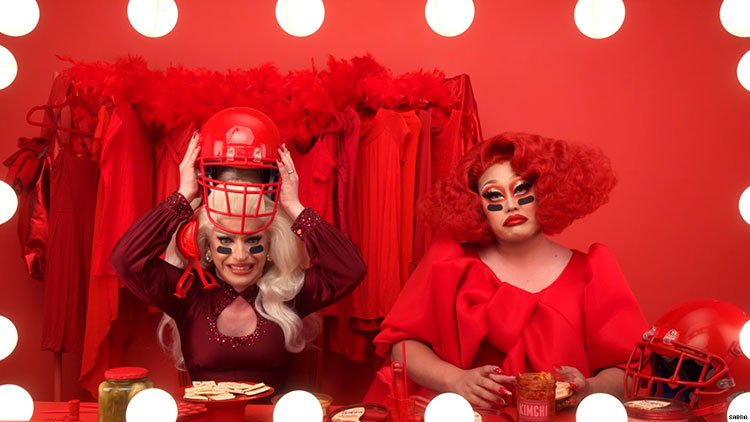 In 2000, RuPaul became the very first drag queen to star in a Super Bowl commercial. Flash forward 20 years later—this year's big event today, where the Kansas City Chiefs will square off against the San Francisco 49ers in Miami, will have more ads that feature LGBTQ+ content than ever before.
"The level of diverse LGBTQ inclusion from at least nine brands during advertising's biggest night, coupled with Katie Sowers' trailblazing role on the field as Offensive Assistant Coach of the 49ers, mark a rainbow wave at the Super Bowl this year," said GLAAD President and CEO Sarah Kate Ellis.
"GLAAD has long been advocating for brands to feature LGBTQ people in ads. Now, we cannot wait for American families to see and cheer on LGBTQ icons like Ellen DeGeneres and Portia de Rossi, Lil Nas X, Lilly Singh, Katie Sowers, Trace Lysette, Isis King, Jonathan Van Ness, Emily Hampshire, Ali Krieger, Ashlyn Harris, Miz Cracker, and Kim Chi – it's about time."
History is also being made on the field with Sowers, the first woman coach to be on the field during the Super Bowl. She will also tell her poignant story—which in the past, involved sexual discrimination— in the Microsoft ad.
https://www.youtube.com/watch?v=_xPn4DXIj5w&feature=youtu.be
As part of their work, GLAAD advocates for brands and companies to include LGBTQ people and families across advertising media.
"LGBTQ people have often been invisible during the Super Bowl – advertising's biggest night – or relegated to ads featuring homophobic tropes and stereotypes," noted Ferraro.
Other brands that you will see during the Super Bowl include Budweiser, who will profile Ali Krieger and Ashlyn Harris, World Cup champions and members of the U.S. women's national soccer team. The couple recently got married to each other.
https://www.youtube.com/watch?v=yt-zXuAAD6Q
In a teaser airing on YouTube, the couple is seen, saying how "good" and "powerful" the commercial is.
TurboTax will bring trans actresses Isis King ("When They See Us") and Trace Lysette ("Transparent," "Hustlers") for a fun "Pose-esque" commercial, with the tagline, "all people are tax people:"
https://www.youtube.com/watch?v=o7G4LppV5qA&feature=youtu.be
Other highlights include a commercial from Doritos, which will air a dance battle between gay rapper/singer Lil Nas X and the always handsome actor Sam Elliott. Demi Lovato, who has spoken out about being fluid, is singing the National Anthem.
https://www.youtube.com/watch?v=9OpuHa2vwdk&feature=youtu.be
Also, Olay is featuring bisexual TV host Lilly Singh, to portray an astronaut with Busy Phillips and retired astronaut Nicole Stott as part of the Procter & Gamble's #MakeSpaceForWomen campaign.
https://www.youtube.com/watch?v=Q-0Ll60FkLg&feature=youtu.be
The Pop Tarts ad features non-binary "Queer Eye" star Jonathan Van Ness, looks fun as well. During a promo for the commercial, Van Ness quips that it's "time for this snack to get a snack," before flipping out over the "so dull, so dry, so crusty" pretzels on the table.
https://www.youtube.com/watch?v=9k3yWV3I37A&feature=youtu.be
Yet another fun highlight during the game will be the Amazon Alexa ad, which stars Ellen DeGeneres and wife Portia de Rossi in their home. The much loved talk show host already debuted the commercial on her show, much to the excitement of fans.
Making their debut in a Super Bowl 2020 ad are two former "RuPaul's Drag Race" competitors, Kim Chi and Miz Cracker, who are being featured in a Sabra hummus ad.
https://www.youtube.com/watch?v=9Ex5xnVm2po#action=share
Tide will feature Schitt's Creek star Emily Hampshire, who recently revealed her pansexual identity.
https://www.youtube.com/watch?v=TEQDto3Se7Q&feature=youtu.be
"It is so important to have representation in the media, especially for minority groups like the LGBTQ community," acknowledged cannabis influencer, Laganja Estranja. "I couldn't think of two better queens to take the torch and lead the way!"
Not everyone is happy about the lgbtq-inclusive ad content. The conservative action group, One Million Moms, is trying to get the advertisements removed from the Super Bowl.
The so-called "One Million Moms" are at it again – this time speaking out against a Super Bowl ad that includes drag queens. It's clear that the hate group's tactics aren't working, and it's time for them to pack it up and go home.https://t.co/QujvegmvrK

— GLAAD (@glaad) January 30, 2020
Created by the American Family Association, which the Southern Poverty Law Center has deemed a hate group, the organization has asked the NFL and FOX to pull the Sabra commercial.
"Sabra Dipping Company LLC is choosing to push an agenda of sexual confusion instead of promoting its actual product," they wrote in a petition to get the commercial deleted. "Normalizing this lifestyle is contrary to what conservative, Christian parents are teaching their children about God's design for sexuality."
Of course, GLAAD created their own petition (sign it ASAP if you have a moment!)
"Unfortunately, for the anti-LGBTQ activists, this year will mark the most diverse and LGBTQ-inclusive advertising seen during the Super Bowl in its history," GLAAD wrote. "Add your name if you agree that it's clear that One Million Moms' tactics aren't working, and it's time for them to pack it up and go home."
Earlier in the week, Esera Tuaolo hosted his third annual Inclusion Party around the Super Bowl and was organized by the non-profit organization, Hate Is Wrong.
.@Shakira just rocked the stage! 🔥 #SBLIV #PepsiHalftime

SOON: Fans can relive their favorite moments from the #PepsiHalftime show HERE https://t.co/TegS1TZFKy pic.twitter.com/yJ1xXI9Ty7

— NFL (@NFL) February 3, 2020
PERIOD pic.twitter.com/QoNB0f9v0v

— taehyung .. :) (@cIoudth) February 3, 2020
Glam in the beautiful sky suite at @HardRock Hollywood, FL. Tonight is going to out of this world!
You all ready? ✨❤️ #SuperBowlLIV #PepsiHalftime pic.twitter.com/Dc0TPdq23j

— Jennifer Lopez (@JLo) February 2, 2020
UPDATE: At least eleven LGBTQ inclusive ads aired during Sunday's broadcast including appearances by: Amazon Alexa: Ellen DeGeneres and wife, actress Portia de Rossi Budweiser: Ali Krieger & Ashlyn Harris, World Cup champions and members of the U.S. women's national soccer team who recently married each other. The two appear after full championship team appears near the end of the ad. Budweiser also released a sweet teaser commercial featuring the couple. Doritos: Lil Nas X, out Grammy Award winner Microsoft: Out 49ers coach Kate Sowers shared her powerful story Olay: Lilly Singh, bisexual host of NBC's A Lilly Late with Lilly Singh, and the host of the GLAAD Media Awards in New York on March 19 Pop Tarts: Jonathan Van Ness, nonbinary star of Netflix's Queer Eye Sabra: Drag queens Kim Chi and Miz Cracker, former contestants on VH1's RuPaul's Drag Race Tide: Emily Hampshire, star of Schitt's Creek, who spoke to The Advocate last week about being pansexual TurboTax: Transgender actresses Trace Lysette (Transparent, Hustlers) and Isis King (When They See Us), as well as other LGBTQ members of the ballroom community Under Armour: Kelley O'Hara, a member of the U.S. women's national soccer team, who famously kissed her girlfriend after winning the World Cup. HGTV also aired a promo for the reboot of 'Extreme Makeover: Home Edition,' featuring out host Jesse Tyler Ferguson.
Christian lawyers take case of anti-trans athletes to appeals court
Besides campaigning for a national abortion ban, Alliance Defending Freedom aims to ban trans girls competing in girls' high school sports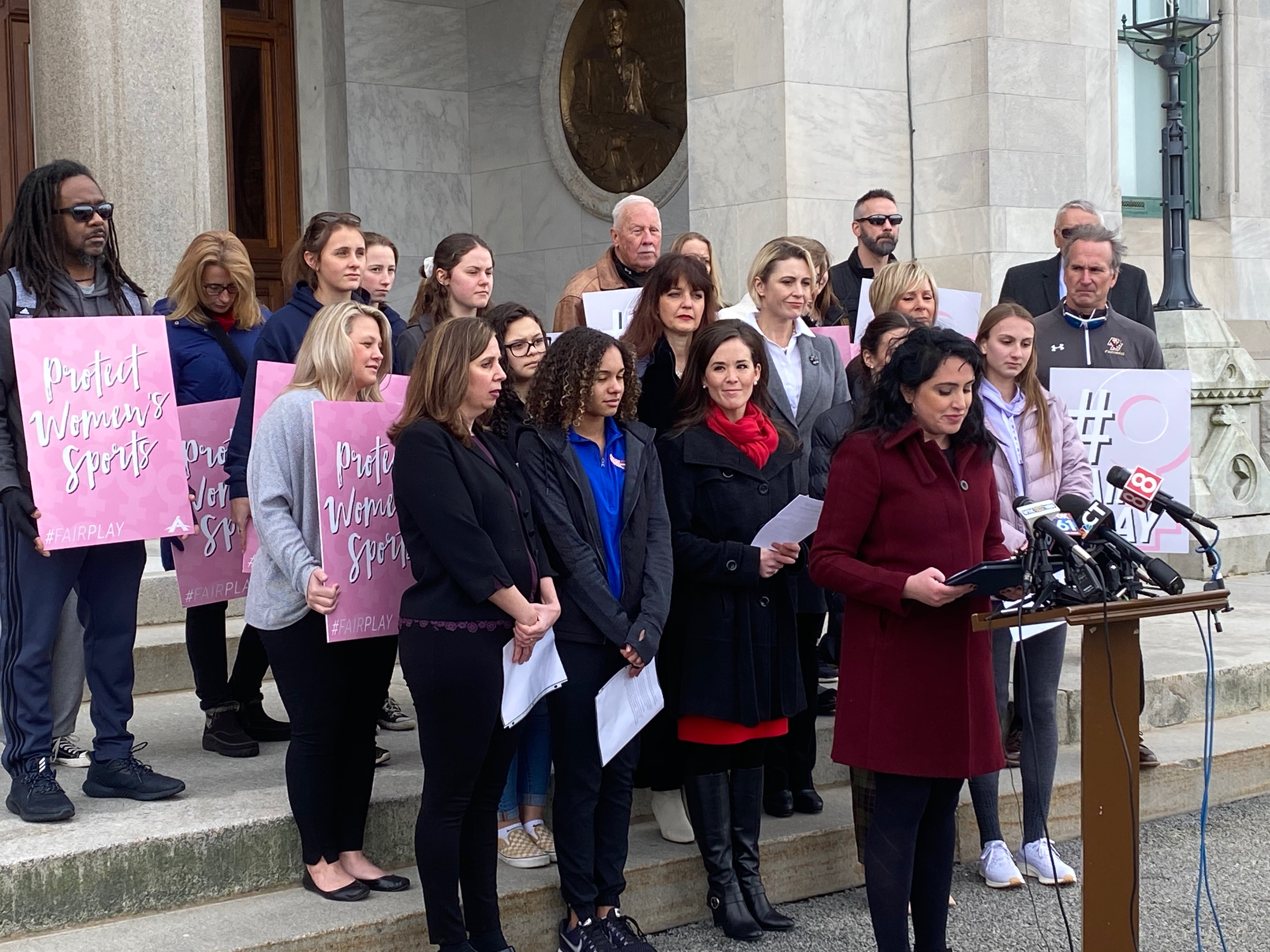 NEW YORK – A federal appeals judge in New York City on Thursday listened to attorneys arguing for and against a ban on transgender athletes in high school sports, the first federal case challenging a policy of inclusion.
Now it's up to Chief Judge Debra Ann Livingston of the Second Circuit of the U.S. Court of Appeals to decide whether a landmark case should be retried or tossed out.
The case, brought by the Alliance Defending Freedom in February 2020, was dismissed by a federal judge in Connecticut in April 2021.
The ADF, a conservative Christian law group labeled an extremist hate group by the Southern Poverty Law Center, is appealing the decision by U.S. District Judge Robert Chatigny. The ADF claims he was biased in favor of the defendants, the Connecticut Interscholastic Athletic Conference and several Connecticut boards of education.
Their original lawsuit and this appeal claims that by permitting transgender student-athletes to compete according to their gender identity, the CIAC and the schools discriminated against the plaintiffs: cisgender women who were track and field athletes in high school in Connecticut. They have all gone on to win collegiate sports scholarships: Selina Soule, Chelsea Mitchell and Alanna Smith.
"Today we argued that my clients, Selena, Chelsea and Alanna, their records and achievements matter, and we ought to be able to prove our case in court," said ADF Senior Counsel Christiana Kiefer outside court in Manhattan. "And so, we're asking that the judges here allow the case to continue to move forward."
A fourth plaintiff, Ashley Nicoletti, was added to the case last year. The women claim they couldn't win against trans girls, and because they were forced to compete with trans girls, they were "denied the chance to be champions."
They also want the court to order the state to change its track and field records and championship-winning results and erase the names of two transgender athletes: Andraya Yearwood and Terry Miller.
In their appeal, and in their press release following today's hearing, the ADF attorneys repeatedly misgendered the two young Black women, referring to them as "boys" and "biological males." Yearwood and Miller are not named in the suit, but American Civil Liberties Union attorneys represented them at the hearing.
The ACLU tweeted what the organization called "the facts" of the case, responding to the ADF's arguments, including that Mitchell and Smith did in fact beat Yearwood and Miller and that three of the four plaintiffs actually did win championships.
"Connecticut's laws preventing discrimination against trans youth in school and sports are consistent with federal law," said Elana Bildner, ACLU Foundation of Connecticut senior staff attorney, in a statement. "For years now, Andraya and Terry have carried more on their shoulders, as two Black trans youth, than most adults face in a lifetime."
"The plaintiffs' argument is filled with hypotheticals about a dystopia where cisgender girls disappear from the podium, but the court must rely on facts," said ACLU attorney Joshua Block. "The facts are that these plaintiffs repeatedly outperformed Andraya and Terry and won an impressive collection of first place trophies in the process. There is enough room on the victory podium for transgender girls too. Under Title IX, all girls, including transgender girls, should be able to participate fully and equally in athletics, in accordance with who they are."
Yearwood and Miller's records and the lawsuit naming them have been cited in several states across the U.S. where legislatures have considered and enacted bans on trans student-athletes. Outside court, Block called this case "sort of Exhibit A," in that effort. "It's held up as an example of the dangers that would happen if transgender girls were allowed to participate. And the reality is that that's based on a completely false premise, because there's no cisgender girls getting pushed off the victory podium. The plaintiffs in this case have been on the victory podium on multiple occasions."
Miller and Yearwood did not win any sports scholarships to colleges and are not pursuing track and field following their graduation from their high schools.
You can read the filing by ADF by clicking here.
The ACLU's statement is here.
Anti-LGBTQ+ Libs of TikTok hit with [another] 7 day suspension
LGBTQ activists pushed for Twitter to permanently ban Libs of TikTok from its platform permanently although so far no actions have been taken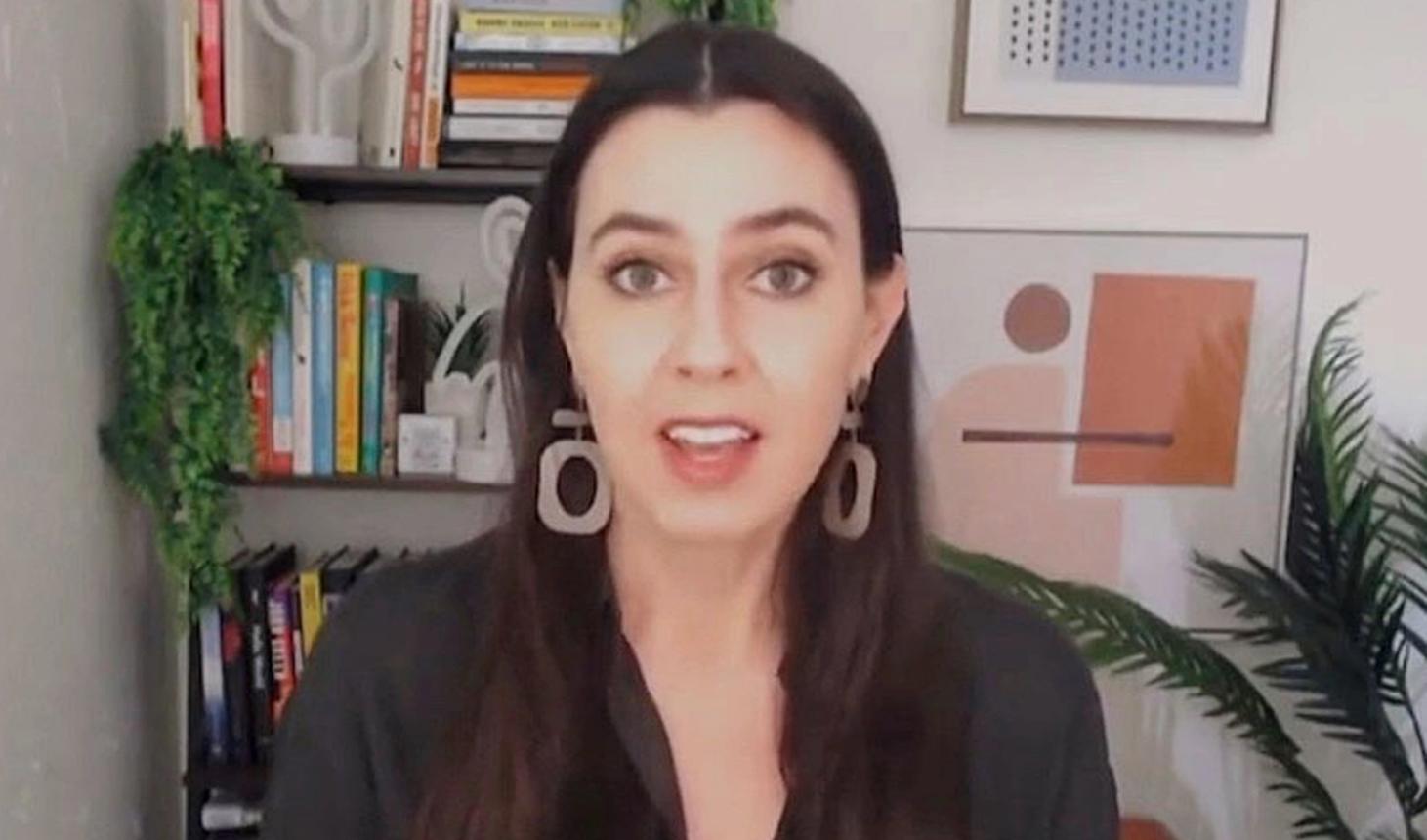 SAN FRANCISCO – The social media account Libs of TikTok, known for its attacks against LGBTQ people, was suspended from Twitter for seven days on Sunday, according to a letter made public Wednesday.
James Lawrence III, a lawyer at the Raleigh-based Envisage Law representing Raichik, sent the letter to Twitter's head of legal, policy and trust Vijaya Gadde – requesting the account be reinstated. It claims Twitter "again wrongfully" suspended Chaya Raichik, who runs Libs of TikTok.
The Los Angeles Blade reached out to Gadde for comment. The request has not yet been returned.
The account has not made a post on Twitter since Sunday.
Libs of TikTok has grabbed headlines for spreading what advocates call anti-LGBTQ hate speech. In August, the account was temporarily suspended from Meta's Facebook for falsehoods attacking Boston Children's Hospital's gender-affirming treatments. The hospital received "well over a dozen distinct threats" following a harassment campaign, according to FBI Special Agent in Charge Joseph Bonavolonta.
More recently, the American Library Association (ALA) sent a letter to FBI Director Christopher Wray expressing concerns about the ongoing serious threats directed toward libraries, asking the FBI to launch an investigation. Raichik, a former Brooklyn real estate agent, promulgated many of the disruptions and threats on social media.
"Our client's reporting may be offensive to Twitter users, including users who identify with protected categories, but that is not sufficient in and of itself to cut LOTT off from your company's platform and our client's audience," Lawrence wrote.
According to the letter, Twitter has suspended the account multiple times – the last coming a month ago.
In a Substack blog post, Raichik said she is the target of a "harassment campaign from the Left to deplatform" her.
"The truth is I haven't engaged in hateful conduct," she said. "I've just exposed the Left's depravity by reporting the facts. There's no rule against that, so they have to make up violations I've never committed."
A spokesperson for GLAAD, an LGBTQ media advocacy group, previously told the Blade the account was "synonymous with maliciously targeting LGBTQ organizations, people, and allies by posting lies, misinformation, and blatant hate,"
In addition, Raichik said she is "not taking it lying down," vowing to sue Twitter if it permanently suspends her Libs of TikTok account. She also asked for donations through her legal defense fund to cover "legal fees associated with fighting back against not only Big Tech, but every single media outlet that has lied about me to try and get me deplatformed."
On Twitter, LGBTQ activists pushed for Twitter to permanently ban Libs of TikTok from its platform.
"They need to be suspended PERMANENTLY," said Alejandra Caraballo, a clinical instructor at Harvard Law School's Cyberlaw Clinic. "No other account has gotten this much special consideration or consecutive lockouts without a permanent suspension. It's clear they are getting special treatment."
Think tank shuts down: Study shows little LGBTQ impact on military
After 24 years of researching LGBT military service bans, the Palm Center announced September 19 it was closing its doors on September 25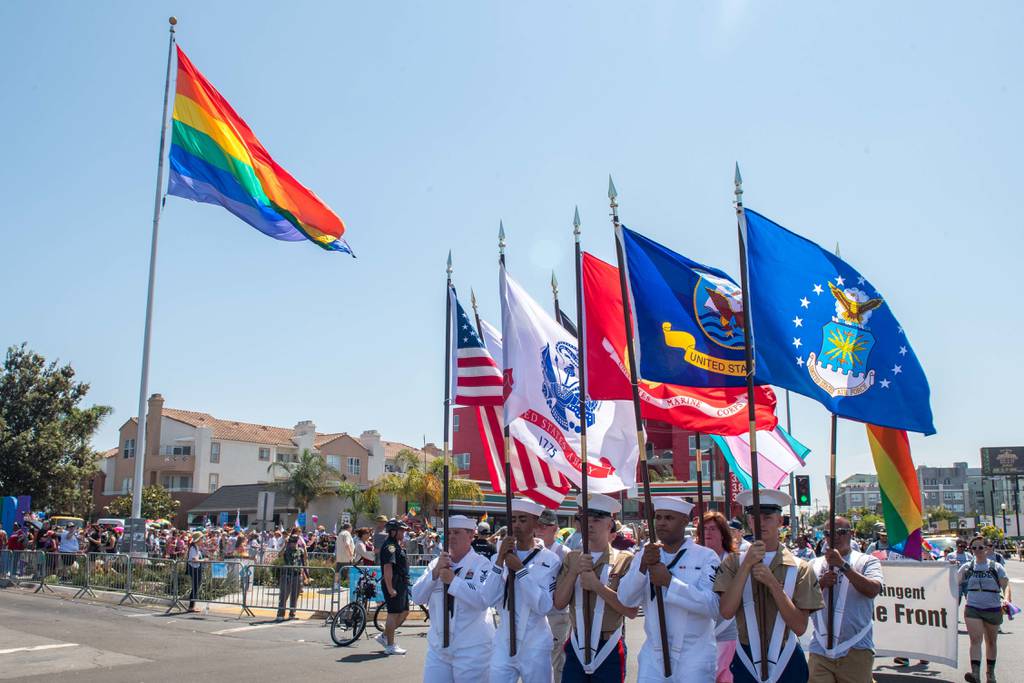 GOLETA, Ca. – The Palm Center, a think tank founded in 1998 at the University of California, Santa Barbara, which researched military policy concerning LGBTQ service members, most notably during the ongoing policy debates that led to the repeal in 2011 of the Clinton era policy known as "don't ask, don't tell," (DADT) announced it is shutting down.
After 24 years of researching LGBT military service bans, the independent research institute, which worked with numerous partner organizations carving out a research niche that involved conducting and publicizing studies that were leveraged to overturn two longstanding bans on service by openly LGBT troops, announced September 19 it was closing its doors on September 25.
In press statement released the Palm Center listed some of its accomplishments:
Spearheading hard-hitting communications campaigns grounded in research, such as uncovering data on Arabic linguists fired for being gay and discovering that the Pentagon was sending gay troops to war, only to fire them upon their return from battle
Paving the way for repeal of the military's transgender ban by dismantling medical arguments that sustained discrimination, and receiving White House recognition for being one of the organizations most responsible for helping the military lift its transgender ban
Cultivating support for inclusion from top leaders such as former Chairmen of the Joint Chiefs of Staff and former U.S. Surgeons General
Conducting 65 research studies, many of which were published in top peer-reviewed as well as military journals
"Few organizations figured out how to move the needle on military opinion so effectively as the Palm Center," said U.S. Navy Admiral Mike Mullen, then-chairman of the Joint Chiefs of Staff, after the repeal of "don't ask, don't tell."
"Its research and policy guidance were invaluable in showing that inclusive service was not complicated and would not harm readiness," he said. "The Palm Center reframed the national conversation over LGBT military service, using facts and research to conclusively demonstrate that inclusion makes our armed forces, and our country, stronger."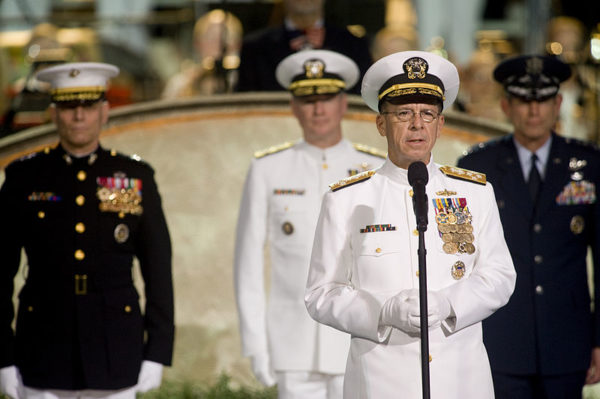 Mullen, who became an LGBTQ hero when, as Chair of the Joint Chiefs of Staff, he testified before the Senate Armed Services Committee in support of repealing the harmful anti-gay Don't Ask, Don't Tell (DADT) policy.
"Mr. Chairman, speaking for myself and myself only, it is my personal belief that allowing gays and lesbians to serve openly would be the right thing to do," Mullen said. "No matter how I look at the issue, I cannot escape being troubled by the fact that we have in place a policy which forces young men and women to lie about who they are in order to defend their fellow citizens."
"For me, personally, it comes down to integrity — theirs as individuals and ours as an institution," he said. "I also believe that the great young men and women of our military can and would accommodate such a change," continued Mullen. "I never underestimate their ability to adapt."
Earlier this month the Palm Center highlighted a 196-page document, published in 2021 by the Joint History and Research Office, which provides support to the Chairman and Vice Chairman of the Joint Chiefs of Staff and to the Joint Staff, that found that opposition to open service by gay, lesbian, and bisexual troops was based on overblown fears among both military leadership and the rank and file.
The study also found that found that concerns about combat effectiveness and unit cohesion were basically unfounded.
The study began in 2012, Joint Chiefs of Staff spokesman Joe Holstead told Military Times this week, in recognition of "the historical significance of the 2010 decision to repeal 'don't ask, don't tell,' " and released ― but not publicized ― in April 2021.
The study, "Repealing Don't Ask, Don't Tell: A Historical Perspective from the Joint Chiefs of Staff," is a public document that appears to mirror a 2016 classified report with the same title. It is unclear why the report was originally classified. The Palm Center sought comment from the Joint History and Research Office but did not receive a response.
"Time and again, opponents of equality have claimed that inclusion would harm America's most important institutions and threaten the nation itself," said Aaron Belkin, director of the Palm Center. "And time and again, that's turned out to be false. This official military study makes clear the yawning gap between fearmongering and reality, and should guide dialogue about similar claims in the present, such as fears that inclusion for transgender Americans is somehow a threat to our society."
The report describes dramatic fears of harm to readiness during the 2009-10 lead-up to the ban's repeal, and contrasts them with consistent findings of no impact. A section entitled, "A Nonissue," reports that some of the service chiefs who had opposed repeal or predicted harm to unit cohesion and effectiveness, conceded that their concerns were unfounded, and that readiness concerns were often based on misperceptions and stereotypes.
General James Amos, Commandant of the U.S. Marine Corps and the most vociferous opponent of inclusion in the upper ranks of the military, had told Congress at the time that repeal "has strong potential for disruption at the small unit level as it will no doubt divert leadership attention away from an almost singular focus on preparing units for combat."
Yet "two months later, General James Amos told reporters that the policy change had been a 'non-event'" and that he was "very pleased" with how the policy change had gone.
Similarly, when the military's combatant commanders were asked to assess the impact of repeal on readiness, effectiveness, cohesion, recruiting, and retention two months after the ban ended, they "reported no impact on any of these categories."
Gen. Martin Dempsey, Chairman of the Joint Chiefs of Staff after Mullen, told Defense Secretary Leon Panetta in 2013 (two years after repeal) that he agreed with the combatant commanders' conclusion that the policy change had "no impact" in undermining readiness.